Tru Earth Eco Strips… Environmentally friendly and lightly packaged. Very convenient to carry even if you travel or on staycation.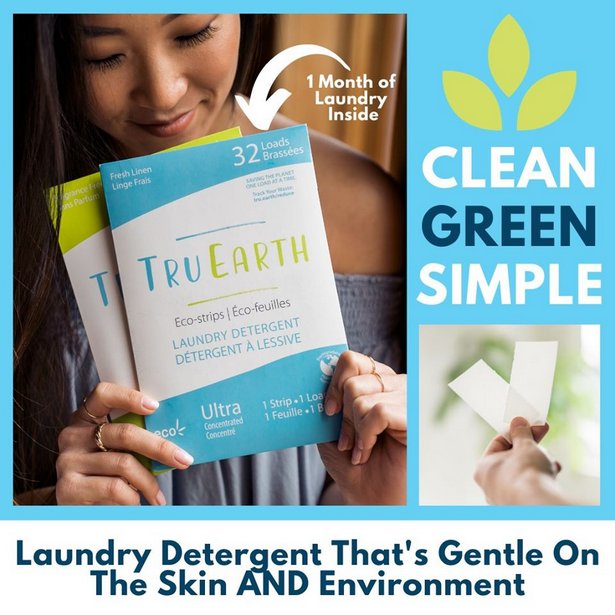 Each laundry strip packs ultra-concentrated, hypoallergenic, eco-friendly cleaning power into a tiny, pre-measured strip of liquid-less laundry detergent that you just toss in the wash. Its low-sudsing formula works in all types of washing machines, including high-efficiency (HE) and hand washing!
The smart formulation effectively seeks out and dislodges dirt molecules and stains, keeping them in suspension until they are rinsed away. It makes your laundry washing chore easier, healthier, more economical, and much kinder to our planet.
Clean, green, and simple!
check out the review on teir webiste from customers.
Tru Earth
Tru Earth Laundry Detergent Strips
Tru Earth Certifications
Paraben-free
Phosphate-free
Free of added dyes
Free of chlorine bleach
Free of 1,4-dioxane, as certified by independent laboratory tests
Readily biodegradable in accordance with OECD 310D
Hypoallergenic, certified by independent dermatologists
Vegan: no animal-based ingredients or testing on animals by us or our ingredient suppliers
Plastic-free – so you can rest easy knowing that you helped reduce 1 of 700,000,000 laundry jugs from ending up in landfills this year. Which means you are making the planet happier and healthier for your kid's future.
www.tru.earth
www.instagram.com/truearthmovement
www.instagram.com/truearthmovement/tagged/