Turn Dad into a BBQ Master
With a Gift Pack of Old Arthur's Sauces and Rubs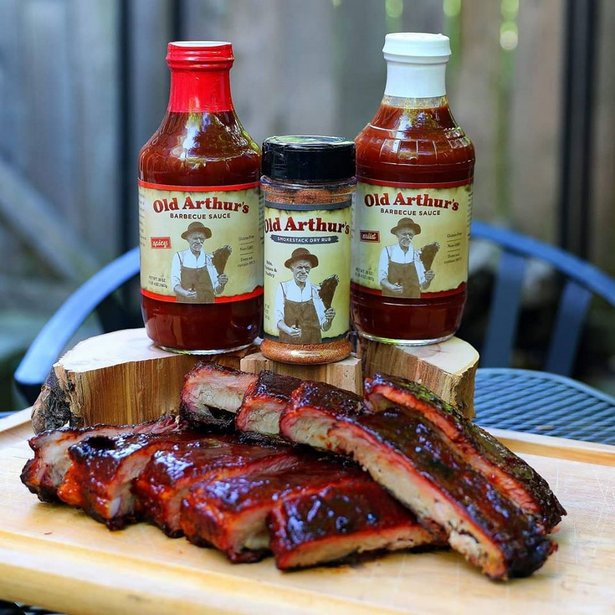 Spice up barbecuing with a gift pack filled with Old Arthur's award-winning sauces and rubs. Crafted by one of America's earliest Pitmasters, these recipes have been passed down through his family for five generations, the Pit Master's Gift Pack is the perfect gift for the grilling enthusiast in your family.
The gift pack contains one of each product in the Old Arthur's line of BBQ sauces and dry rubs.You will receive one botle of Old Arthur's Original Barbeque Sauce and one bottle of Hot & Spicy Sauce, plus six signature dry rubs: Smokestack, Righteous Poultry, Stockyard Steak, Gold Dust, Bootleg and Crossroads. It's a flavorful gift that's perfect for that hard-to-buy-for cook on your list. And it makes a great hostess gift when you're searching for something out of the ordinary.
The Old Arthur name comes from the man who developed these unique blends of flavors, Arthur Watts, who lived to be 108. Born into slavery on a Missouri production farm in 1837, Arthur crafted his seasonings while preparing the owner's family meals over an open pit. Following the Emancipation in 1863, Watts put his cooking skills to work earning a living catering social functions for churches and cities. His reputation as a highly-skilled pit master quickly grew, earning him work throughout central Illinois.
Although Arthur never learned to read or write, his eldest son, Eudell, wrote his recipes down so family members could pass them on to future generations. It was only recently that the family began sharing the flavors commercially—and quickly made a name for themselves. On their debut, Old Arthur's took top honors among 400 new products in Peapod's "Next Best" Gourmet Food Product Contest. Most recently, Old Arthur's was named among the "Top 10 " barbecue sauces of 2020 by Barbecue News Magazine, the industry's leading dedicated publication.
The Pit Master's Gift Pack features a complete sampling of Old Arthur's flavorful blends. It's a perfect starter kit for a beginning cook, but even an accomplished BBQ chef will appreciate its smartly crafted blends.
The Pit Master's Gift Pack, $45, is available through Old Arthur's website at www.OldArthurs.com