TURN HANDS-ON CODING INTO HANDS-ON ART WITH CUBETTO AND CARIOCA® THIS CHRISTMAS
TWITTER | FACEBOOK | INSTAGRAM | YOUTUBE
Primo Toys, creators of Cubetto, are launching Cubetto Code & Colour in partnership with CARIOCA®, encouraging children to code their first graphic design masterpieces without the use of screens, and in a real-world, hands-on setting embrace their creativity and code their own masterpiece.
Designed to bring hours of fun to children aged three and over, Cubetto Colour & Code cleverly brings art and computer programming together. Taking the youngest audience in history beyond coding, the open-ended play kit introduces a new kind of creativity, bringing colouring, expressing and creating into the mix, to transform Cubetto into a drawing bot. The results are tangible graphics that children create in a real-world context, allowing them to experience coding as a tactile activity suited to their developmental level.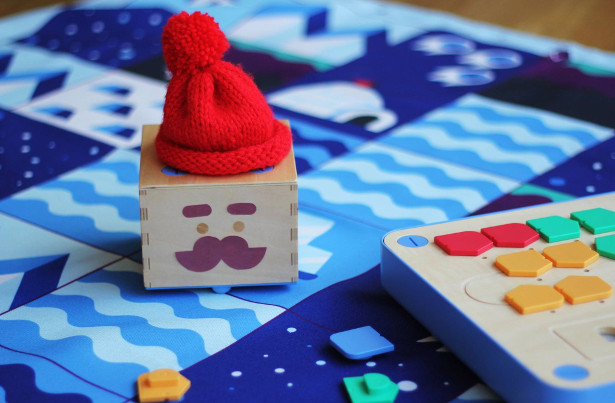 Created in partnership with classic Italian marker pen brand CARIOCA®, a company known worldwide for its high quality art materials, the pack encourages children to Code, Colour, Create away from the screen. Each Cubetto Code & Colour (RRP £210) bundle consists of 1x Washable Colouring Map, 6x CARIOCA® Jumbo Felt Tip Pens, 1x Colouring Adventure Book, 1x Cubetto Graphics User Manual, 1x Doodle Band and 1x Cubetto Playset.
Perfect for families who want to introduce their children to coding, this extension to the award-winning wooden robot, Cubetto, turns children into graphic designers. It gives children the means to do an activity they already love in a brand new way – real-world colouring is amplified through hands-on coding blocks. It's colouring for the 21st century.
Cubetto Code & Colour unlocks the power of hands-on play, while demonstrating that learning to code has just as much in common with arts and crafts as with computer screens. Colouring with code couldn't be easier, simply attach pens to Cubetto using the Doodle Band, and the robot will draw line graphics in response to different sequences on the Control Board. The washable markers mean less mess for parents to clean up, and the washable map allows little ones to start over and over again, opening up the possibility of r an endless number of graphic design masterpieces.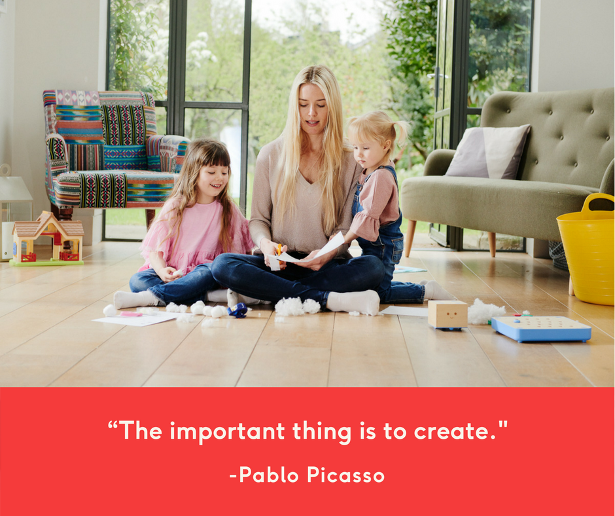 A Montessori-inspired playset, Cubetto was designed to help children of all cultures learn the basics of programming using hands-on blocks, instead of text on screens. The educational wooden toy, which broke records by becoming the most crowdfunded edtech project in history, breaks down tasks into a logical sequence of steps to reach an end result, encouraging computational thinking. An open-ended educational toy, Cubetto Code & Colour helps children learn the basics of sequencing and builds confidence as play continues. Winner of numerous awards, Cubetto has received a prestigious Gold Cannes Lion Award, Red Dot design award and beat Lego in the Junior Design Awards last year.
Primo Toys has already introduced 1 million children to computer programming logic and has become a new standard in early years coding in more than 100 countries. Cubetto is used by and sold in a number of prestigious institutions and outlets including Isetan department stores in Japan, GEM Schools internationally and Austin Independent School District and Maryland Libraries in the USA.
For those who already own a Cubetto Playset, the Colouring Pack (RRP £40) can be purchased separately and includes 1x Graphics Manual, 1x Adventure Book, 1x Colouring Map, 6x CARIOCA® Pens and 1x Doodle Band.
Filippo Yacob, CEO of Primo Toys is looking forward to introducing Cubetto Code & Colour to children all over the world: "We saw that people were trying to draw with Cubetto, so we decided to make a complete polished experience for them. Children can create their first piece of computer generated art, without ever looking at a screen, creating a powerful connection that really opens a door in their mind. Our mission with this new kit is to get children to create computer graphics without the computer, in their natural physical world. Partnering with CARIOCA® was an easy choice, as they share our values, and every child in Italy grows up with their machine washable felt tip pens – they are a symbol of creativity."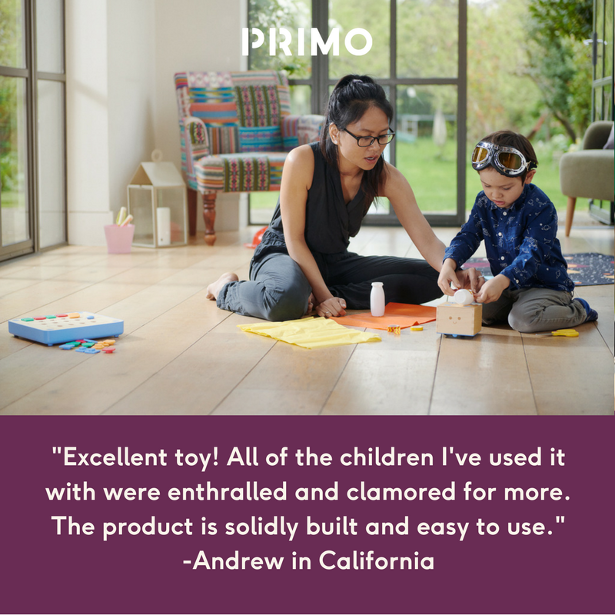 Enrico Toledo President and CEO at CARIOCA® is looking forward to inspiring children's creativity with this innovative new partnership. Enrico says: "With Cubetto Code & Colour and the Colouring Pack we wanted to create a magical experience for children, bringing together tradition with innovation. We believe that drawing helps children to develop the mind and foster creativity, while Cubetto stimulates children to think for themselves creating plans and sequences. Coding and art have a natural synergy, with this new set supporting children to express their own personality and how they see their own world – we create to learn after all."
Jon Marshall, design director at industrial design agency Map Project Office believes the leaders of our future are not just going to be commercially or technically minded, they also need to be creative: "Cubetto is the best product I've come across for early years coding. When you merge the world of art and technology, you open a door in a child's mind and a new connection is created. It will get children to think differently, and harness technology for creative endeavours, providing a powerful result. When you think about any creative industry, there is an element of visual communication involved. Introducing these principles with a tool that is physical, age appropriate, friendly and fun is a great start to the journey."
Pre-order Cubetto Code & Colour here: cubet.to/CodeColourPR
Primo Toys launched a free Ebook recently, helping you to teach children to code.
"Beginning computer programming for kids: An introductory guide to computational thinking and coding for kids aged 3-6 years old." Aimed at parents and educators of children aged 3-6, the comprehensive, 10,000-word ebook covers all bases of teaching children to code.
To download the ebook for free, visit cubet.to/UKEbook.

Primo Toys is backed by investors like Randi Zuckerberg and was founded by Filippo Yacob (CEO), a Forbes 30 Under 30 2017 honoree, and Valeria Leonardi, a mother and entrepreneur with a strong passion for ed-tech.
Awards
· Platinum – Best Interactive Toy 3-6 Years – Loved By Parents 2017
· Gold – Best Innovative Toy – Loved By Parents 2017
· Silver – Best Toy Design – Loved By Parents Awards 2017
· EdTechXGlobal – All Stars Rise Award 2017
· Special mention – Science Toy Award 2017
· Five-Star winner – Early Years Excellence 2017
· Learning Technologies Award 2016 – Most innovative new learning technologies product – UK
· Gold Winner in the London Design Awards 2016
· Red Dot "Best of the Best" for Design Concept 2016 (Shanghai)
· Fast Company Finalist 2016
· Gold Lion for product design – Cannes Lions International Festival of Creativity 2016 (Cannes)
· Platinum Best Toy Design award (3-5 years) – Junior Design Awards 2016
· Product Innovation award – GESS (Dubai)
· Maker of Merit Ribbon – Maker Faire 2013 and 2014 (Rome)
· Innovation award nomination – Opening Minds 2014 (Chicago)
· Movers and Shakers award – EdTechxEurope