Vegetable Tanned Leather Heritage iPhone X Case. www.padandquill.com Blank slates for your inner artisan.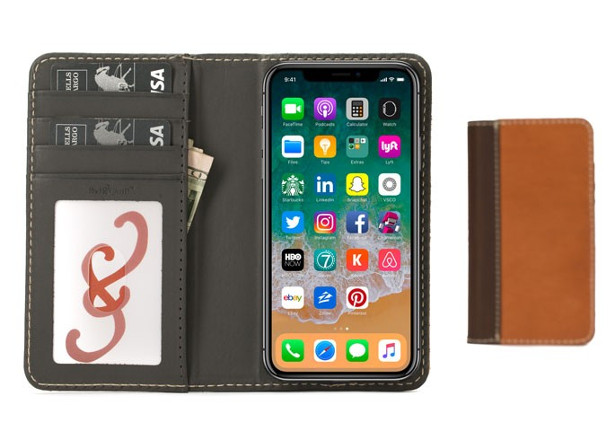 INSTAGRAM | PINTEREST | TWITTER | FACEBOOK | YOUTUBE
Veg Tanned Leather iPhone X Case
These leather iPhone X wallet cases are like blank slates for your inner artisan, made from veg tanned leather that ages like fine whiskey with use. They bring out your inner creativity by letting you patina the leather the way you want. Constructed using old-world leather working techniques, these cases are as durable as they are beautiful.
Additional features: 100% wireless charging compatible, 5 inner pockets for cards, cash and IDs, furniture-grade baltic birch wooden frames, 25-year leather warranty.
Veg tanned means the leather was tanned with barks and plants instead of synthetic chemicals. It's how they've been tanning leather since the middle ages. Nobody else makes iPhone cases like this or with this material. This natural process makes the leather stronger than any other leather and lets it develop a patina that can't be replicated any other way.
This is for people who want to stand out with a ridiculously high-quality iPhone case that disguises your iPhone X as a book and becomes a one-of-a-kind work of art with time.
Heritage Bella Fino iPhone X Case:  www.padandquill.com/featured-products/heritage-bella-fino-iphone-x-wallet-case
Heritage Pocket Book iPhone X Case: www.padandquill.com/heritage-pocket-book-iphone-x-wallet-case