Vyta Sports Day!
Olympians Andy Turner and Martyn Bernard are to attend a VytaApp charity sports day at The Foundry in Vauxhall on Saturday (February 17th)
www.vytaapp.com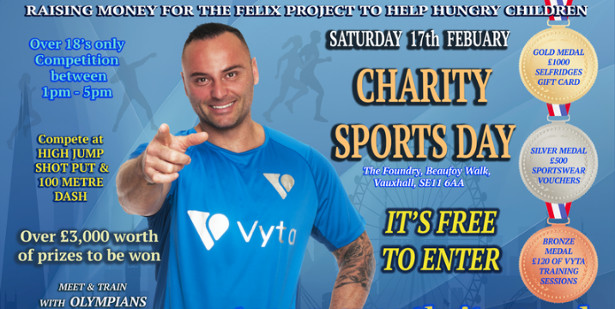 FACEBOOK | TWITTER | INSTAGRAM
Former Commonwealth Games record hurdler Turner and high jumper Bernard, who are now personal trainers, will be assisting competitors compete at shot put ,high jump and the 100 metre dash.
The event, is being organised by a new on demand personal training App Vyta and more than £3,000 of prizes are available to win on the day.
The sports day is raising money for the Felix Project to help feed hungry children and is free to enter.
Vyta founder Josh Ashley said: "This gives members of the public a unique chance to meet and train with world class athletes, they are the best in the business.
"It should be a fantastic afternoon of competition and there are some amazing prizes up for grabs.
"Best of all, we are making a generous donation to The Felix Project which helps feed hungry children. And for the next two months only there are some amazing offers on the Vyta App when you purchase multiple training sessions."
Competitors need to be over 18-years-old, male or female and can enter from 1pm-5pm.
Hurdler Andy Turner, 37, has competed in three Olympic Games and is a European and Commonwealth Gold Medallist.
High jumper Martyn Bernard, 33, is a silver medallist at the Commonwealth Games and a bronze medallist at the European Championships.
For more information: vytaapp.eventbrite.co.uk