WaterField Designs. Ranger iPhone X Case. www.sfbags.com Very Very high Quality, and looks so good with a really useful function!
Whenever you get the aroma of this durable but delicate leather, there is a mysterious feel to this leather, and the workmanship and thought that has produced this perfectly designed item is astounding. It is precise, it has the lines of design, the proportions of exactly the size it should be, and exactly function. Now I just put my phone in my Ranger, and go!" Intouch Rugby Lifestyle, fitness and commerce editor! Best wishes!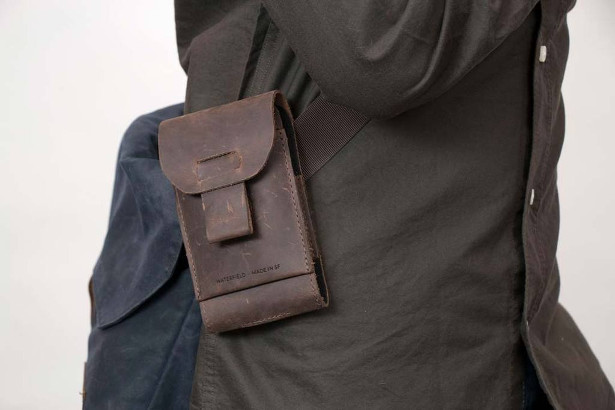 WaterField Unveils the Ranger iPhone X Case—an Innovative Leather Holster for Active Professionals
See more at : www.sfbags.com/products/ranger-iphone-x-case
The unique magnetic systems really set the Ranger iPhone X case apart. You can strap the case onto a belt or just about anything else .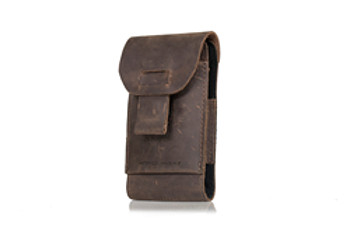 WaterField Designs unveils the Ranger iPhone X case: a slim, full-grain leather iPhone holster with an innovative fastener for enhanced security and hidden, rare-earth magnets to attach the case to belts, pants or straps. The quick-access Ranger is tough enough for trade workers on the job site and stylish enough for professionals at the office.
WaterField Designs, a leader in custom laptop sleeves, bags and cases for digital-minded professionals, announces the Ranger iPhone X Case, a leather iPhone holster with a modern upgrade worthy of the sophisticated iPhone X. The innovative Fidlock closure keeps the iPhone safeguarded inside, and strong, Neodymium rare-earth magnets securely fasten the case to clothing or straps. Both rugged and refined, the premium leather Ranger combines hands-free convenience with easy iPhone access, an ideal combination for active workers and professionals.
"The unique magnetic systems really set the Ranger iPhone X case apart," explained company owner Gary Waterfield. "You can strap the case onto a belt or just about anything else — contractors to their work vests, surgeons to their scrubs, professionals to a suit or strap. It's so versatile, and the full-grain leather gets better and better looking with use."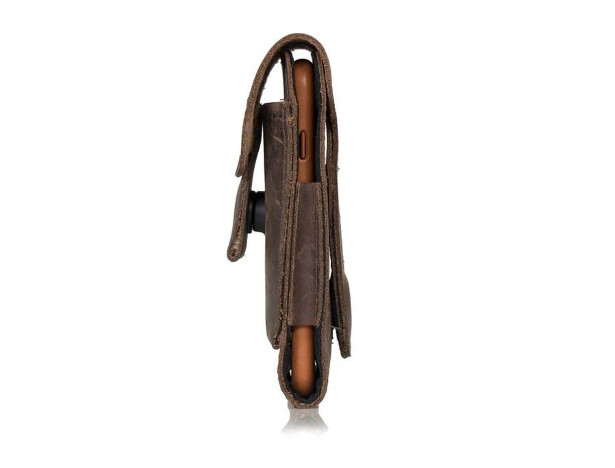 Well-thought out details make the Ranger iPhone X case as functional as it is handsome:
Scratch-free Ultrasuede® lining adds cushioning and helps clean the iPhone screen as users insert and remove it from the case.
Bottom opening allows users to keep ear buds connected and keeps text and call notifications audible when the iPhone is inside the case.
Side openings provide easy access to volume and sleep buttons.
Tapered sides ease iPhone removal.
Front leather pocket can hold earbuds or cash and a key.
Self-finding, Neodymium rare-earth magnetic attachment system easily clamps on to clothing or straps and remains in place.
Fidlock fastener uses award-winning technology to secure flap: two strong magnets easily find each other for convenient, effortless closing; to open, users pull down leather tab to release a mechanical snap, enhancing security.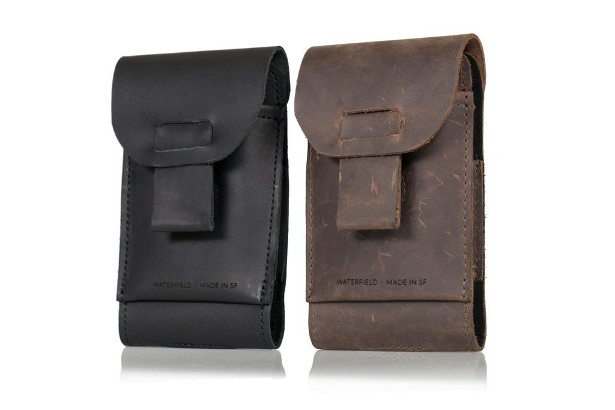 In black or chocolate naturally-tanned, full-grain leather that ages beautifully, the Ranger iPhone X Case pairs as well with workpants as it does with a suit.
The holster-style WaterField Designs Ranger iPhone X Case joins a collection of WaterField iPhone Cases that address an array of style and functionality preferences: the minimalist Suede Jacket, the Finn Wallet, the Cycling Ride and Cycling Club Pouches, and the new iPhone Camera Bag.
Availability & Pricing
The Ranger iPhone X Case
Price: $89.
Size X: Fits iPhone X with or without the Apple Case, or the iPhone 8 with the Apple Case.
Size 8: Fits the iPhone 8+ with or without the Apple Case.
Colors: Full-grain, naturally-tanned black or chocolate (distressed) leather.
Weight and dimensions: 3.2 oz; 6 x 3.5 x .75 inches.