Mama's Moments – Birthing Essentials Kit, £20, Birthing Essentials Maternity Kit Gift Set | Baby Shower Gift Set | Natural Birthing Company
www.naturalbirthingcompany.com
Mama's Moments Birthing Essentials Kit is the ultimate tender-loving care package for pregnant women or women that have just given birth. Containing Four 'Go To' Essentials.
Birthing Essentials contains…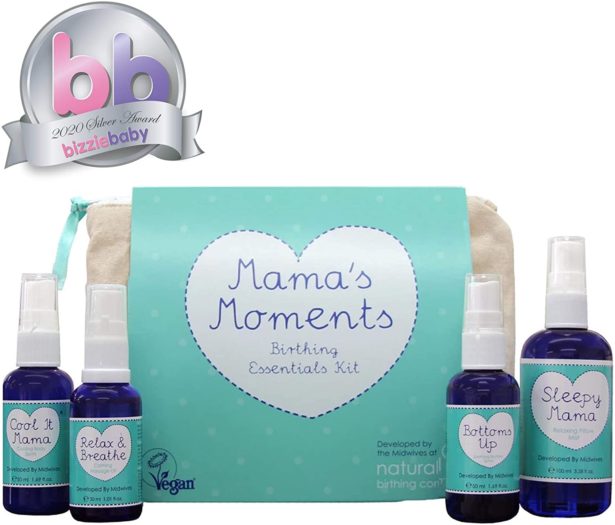 Cool it Mama 1 x 50 ml the perfect companion in labour for cooling and calming you.
Relax & Breathe 1 x 30 ml is our beautiful massage oil that contains a blend of essential oils to help calm, soothe and relax your body and mind.
Bottoms Up 1 x 50 ml perineal spray bottle provides instant relief to your sore vulva and perineal area following childbirth by soothing, cooling and calming the area.
Sleepy Mama 1 x 100 ml is s Relaxing Pillow Mist that brings the feeling of relaxation to both body and mind when you need it the most.
Bosom Buddies Breastfeeding Oils support both your body and mind with common breastfeeding problems, providing you with instant comfort and therefore enabling you to continue your breastfeeding journey.
Ooh! (1 x 10 ml) Oil to soothe Engorged Breasts and symptoms of Mastitus.
Aah! (1 x 10 ml) oil to assist Low Milk Supply.
Ouch! (1 x 10 ml) to help calm and soothe sore nipples.
All three products are made with natural and Vegan friendly Ingredients. Simple and Easy to Apply.