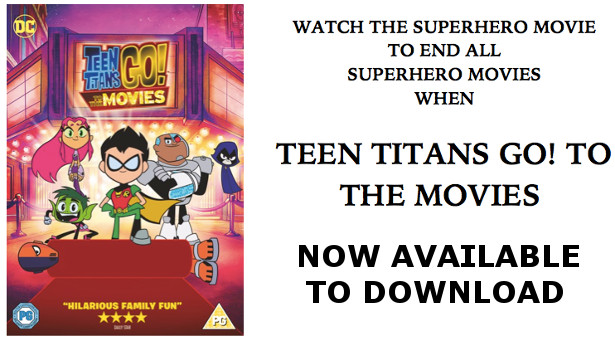 When the Teen Titans go to the big screen, they go big! From Warner Bros. Home Entertainment "TEEN TITANS GO! TO THE MOVIES" finds our egocentric, wildly satirical superheroes in their first feature film extravaganza—a fresh, gleefully clever, kid-appropriately crass and tongue-in-cheek play on the superhero genre, complete with musical numbers. Get ready to LOL when "TEEN TITANS GO! TO THE MOVIES" arrives on Digital Download and DVD on November 26.
The first-ever big-screen version of DC Entertainment and Cartoon Network's animated TV show stars Greg Cipes (TV's "Teenage Mutant Ninja Turtles") as Beast Boy, Scott Menville (TV's "Spider-Man") as Robin, Khary Payton (TV's "The Walking Dead") as Cyborg, Tara Strong (the "My Little Pony" franchise) as Raven, and Hynden Walch (TV's "Adventure Time with Finn & Jake") as Starfire, reprising their roles from the series. Will Arnett ("The LEGO® Batman Movie") and Kristen Bell ("Frozen") also lend their voices as the evil Slade and Hollywood director Jade Wilson.
Peter Rida Michail and Aaron Horvath directed the film from a screenplay by Michael Jelenic and Horvath, which is based on characters from DC. Horvath, Jelenic, Peggy Regan, Michail and Arnett produced the film with Sam Register serving as executive producer. The music is by Jared Faber. Superman was created by Jerry Siegel and Joe Shuster.
"TEEN TITANS GO! TO THE MOVIES" is available on DVD, with the film in standard definition. A Digital version of the film is also available.
SYNOPSIS
It seems like all the superheroes are getting their own movies – everyone but the Teen Titans, that is! Determined to be a star, Robin vows to change this. If only they could get Hollywood director Jade Wilson (Kristen Bell) to notice them! With a few madcap ideas and musical numbers (of course), the Teen Titans head to Tinsel Town. But when Supervillain Slade (Will Arnett) messes with their plans, the Teen Titans will have to become true superheroes to save the world!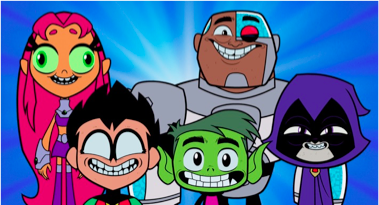 DVD SPECIAL FEATURES
"TEEN TITANS GO! TO THE MOVIES" Standard Definition DVD contains the following special features:
Storyboard Animatics: Time Cycles
The Final Battle
ABOUT DIGITAL
*Digital movies or TV episodes allow fans to watch a digital version of their movie or TV show anywhere, on their favorite devices. Digital movies or TV episodes are included with the purchase of specially marked Blu-ray discs. With digital, consumers are able to instantly stream and download movies and TV shows to TVs, computers, tablets and smartphones through retail services. For more information on compatible devices and services go to wb.com/digitalmoviefaq. Consult a digital retailer for details and requirements and for a list of digital-compatible devices.
Digital Download and DVD Street Date: November 26
DVD Languages: English, Latin Spanish, Canadian French
DVD Subtitles: English SDH, Latin Spanish, French
Running Time: 84 minutes
Rating: Rated PG for action and rude humor
DVD: DLBY/SURR DLBY/DGTL [CC]
#TeenTitansGOMovie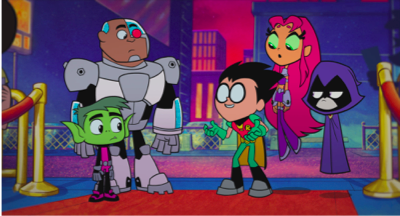 THE CREDITS
About Warner Bros. Home Entertainment, Inc.
Warner Bros. Home Entertainment (WBHE) brings together Warner Bros. Entertainment's home video, digital distribution and interactive entertainment businesses in order to maximize current and next-generation distribution scenarios. An industry leader since its inception, WBHE oversees the global distribution of content through packaged goods (Blu-ray Disc™ and DVD) and digital media in the form of electronic sell-through and video-on-demand via cable, satellite, online and mobile channels, and is a significant developer and publisher for console and online video game titles worldwide. WBHE distributes its product through third party retail partners and licensees.