WHY SKIPPING IS THE PERFECT 'AT-HOME' WORKOUT ! www.wickedmania.com
With National Skipping Day just around the corner check out why skipping has been hailed the fitness craze of 2021 and why the Mega Jump is the perfect rope for the job!
Whether you're a complete novice or like to think yourself a bit of a pro, check out Wicked's YouTube channel (www.youtube.com/wickedvisionTV) for tons of skipping tutorials with none other than UK jump rope champions, Stacie Pegg and Phoebe Gorton.
If you're looking to burn some energy and learn a new skill then check out Wicked's super fun range of active toys for kids aged three to 103. Whether you're a parent playing teacher or working from your kitchen table, Wicked toys offer an escape from the screen, providing a short sharp hit of endorphins, getting the adrenaline pumping and helping to boost mental health! All under a tenner, they're easy on the pocket and can be played alone, with a sibling or the whole family. What's more they are ideal for indoor use, so drizzly days or lack of space needn't stand in your way!
WHY SKIPPING IS THE PERFECT 'AT-HOME' WORKOUT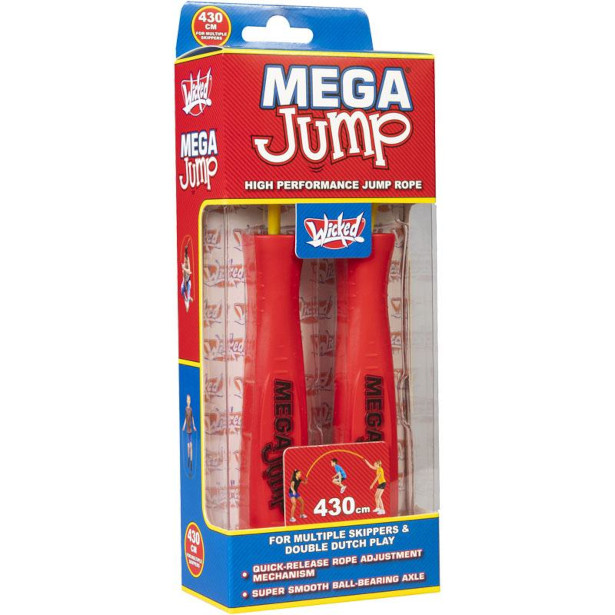 Cheap, effective and super fun, it's easy to see why skipping has been hailed the fitness craze of 2021. What's more you can do it anywhere, including the comfort of your own home or back garden! Rope workouts are all over social media – on TikTok alone #jumprope has more than 600m views and #jumpropechallenge over 53 million, so you won't be short of inspiration when trying out this hot new trend (though did you know that skipping actually dates back to ancient Egypt in 1600 BC – not so new after all then!).
Not only does skipping provide an effective form of indoor cardio, burning three times the number of calories than jogging or running, everybody can skip, no matter their age or skill! What's more, with attention spans and work schedules ever more stretched, there is a growing desire for micro-workouts, aka, short bursts of high intensity training (HIIT) which skipping perfectly lends itself to.
And, far from being purely for adults, children can polish up on their skipping rhymes (example below) whilst having fun, practicing numbers, and learning tricks all without even knowing that they're exercising.
Robin Hood, Robin Hood dressed so good,
Got as many kisses as he could.
How many kisses did he get?
1, 2, 3 . . . . . (count until the skipper gets it wrong)
Great for adults and kids alike, Wicked's Mega Jump (RRP £8) is the next step in jump ropes! Thanks to nifty features including high quality ball-bearing axles for super smooth rotation, a great quality thin rope for high speed and textured handles to increase grip, you'll be busting out those double-unders and full twists in no time! Available in blue or red, and suitable for beginners to advanced jump ropers, a specially designed rope release mechanism makes it easy to adjust the length.
Interested in perfecting your skipping skills, fire over a request and we'll have one to you the very next day!
There's also a longer length version for multiple skippers and Double Dutch play so the whole family can get involved. Of course, a big bonus of skipping is that you can do it on your own but if you are a family that want to set yourselves a challenge then the Mega Jump Double Dutch (RRP £10) is a game changer. Challenge your siblings and or parents to fly through the air.
As Malcolm McLaren sang;
That's right, Skip they do's the double dutch
That's them dancing, Skip they do's the double dutch
That's them dancing
Swing those ropes round and around, All the teams change your partners now
Somersault thru the hoop leap to beat the clicks
That keep on coming. Heh Watch your feet to win the double dutch – stay jumping!
Stockist details – www.wickedmania.com, Hamleys, Amazon.co.uk and other good toy retailers.