From www.mialdn.com MIA. Beard Oil. Spicy & Woody !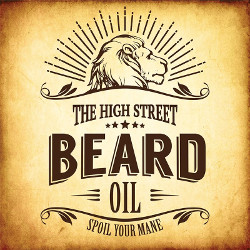 South African Beard Oil made from a blend of African oils & butters. Their beard oil is made with Baobab, Kalahari melon and Marula oil making it incredibly unique! This beard oil acts as a moisturizer that goes straight to the hair follicle and prevents hair from growing brittle.
Spicy – made with Cedarwood and other oils which assist in quicker, thicker, smoother beards. Promoting strong whisker roots and healthy skin. This Beard Oil helps heal skin infections, oily skin, skin break outs and scars. Stimulates blood flow and circulation, and prevents hair fall. It has potent anti-oxidant properties and slows down the signs of wrinkles.
Woody – first rate for oily and greasy skin. Rejuvenates and promotes cell renewal skin ad locks in moisture leaving your skin and hedge soft and young looking. Great for dry and fragile whiskers and skin. Boosts blood flow which in turn promotes hair growth and diminishes beardruff and hair loss all while promoting stronger hair roots.
Made by  The High Street and sold from the UK as a concession by Made in Africa (MIA).
For more information @ source visit >> www.thehighstreetbeardoil.co.za/collections/all
A full list of ingredients and more info can be found on www.thehighstreetbeardoil.co.za/collections/all/products/spicy-beard-oil
Their beard balm is specially formulated with African Mafura butter which is a remarkable conditioner and moisturizer. It helps to restore the vitality of lifeless hair and strengthens dry, brittle and damaged hair.
More information on balm and a list of ingredients can be found here: www.thehighstreetbeardoil.co.za/collections/balm