Who ya gonna call this Halloween?
Haynes is the keymaster of new Ghostbusters Ectomobile Manual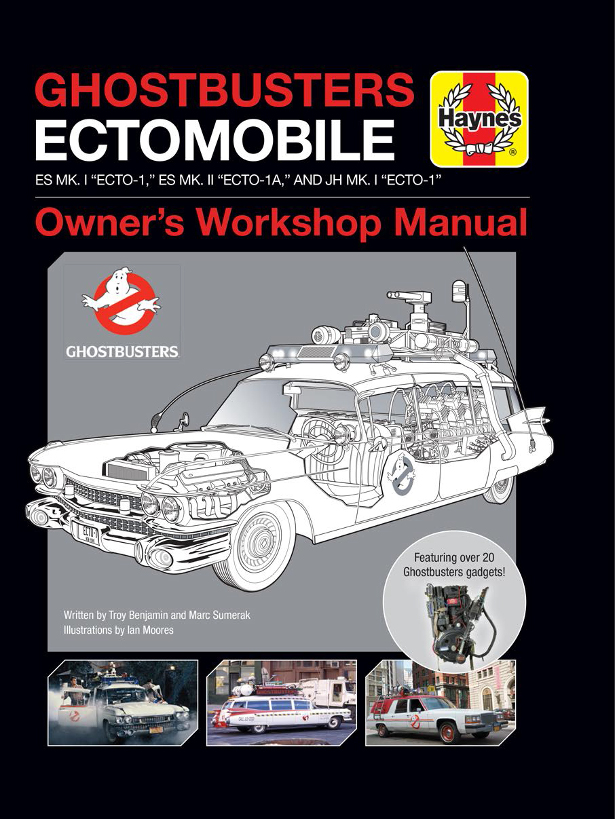 YOUTUBE | FACEBOOK | TWITTER | PINTEREST
12 October 2017: Fans of the classic Ghostbusters movie franchise will this month be coveting a new workshop manual from Haynes, starring the intrepid team's spectre-smashing Ectomobile.
Available just in time for Halloween, the Ghostbusters Ectomobile Owners' Workshop Manual from Haynes takes a look under the bonnet of the Ghostbusters' legendary vehicles.
It also examines the wide array of ghost-catching equipment that featured in the original 1984 Ghostbusters movie, as well as in the 1989 sequel and the all-female re-vamp released in 2016.
Saving New York from supernatural spectres including Slimer, Zuul and the Stay Puft Marshmallow Man, to name but a few, the Ghostbusters team used the Ectomobile and a range of equipment to prevent an apocalyptic paranormal event taking place.
With a focus on the Ectomobile – the converted hearse that serves as the Ghostbusters' main mode of transport in all the movies (albeit in several incarnations) – the manual provides a detailed breakdown of the capabilities of Ecto 1, (Ghostbusters) the ES MK. II 'Ecto-1A' (Ghostbusters II) and JH MK.I 'ECTO-1' (Ghostbusters – 2016).
The Ectomobile's capabilities are analysed, and detailed cutaway images show the car's souped-up engine and in-built ghost-trapping equipment.
The manual also looks at the 'Ecto-2' motorcycle, whilst over 20 of the Ghostbusters' portable gadgets, including proton packs, ghost traps and P.K.E meters also feature in the book.
Officially licensed from Columbia Pictures, the manual is written by Ghostbuster experts Troy Benjamin and Marc Sumerak.
Also featuring commentary from the film's ghostbusting team – Ray Stantz, Peter Venkman, Egon Spengler and Winston Zeddmore – the Ghostbusters Ectomobile Manual is the ultimate guide to the Ghostbusters' iconic car and ghost-trapping gear.
Title details
The Ghostbusters Ectomobile Owner's Workshop Manual is priced at £16.99 and available from www.haynes.co.uk. The book number is H6184. The ISBN is 9781785211843. It is published in October 2017.