IF YOU'RE PLANNING ON SPORTING A BEARD THIS CHRISTMAS AND YOU'RE SEARCHING FOR THE RIGHT GEAR TO MAKE IT HAPPEN, THEN LOOK NO FURTHER THAN MILKMAN GROOMING CO'S ADVANCED BEARD CARE KIT. NOW AVAILABLE IN A SERIES OF COLOURS: BLACK MATTE, ARMY GREEN AND NAVY BLUE. THEY MAKE THE PERFECT CHRISTMAS GIFT IF ONLY FOR YOURSELF. www.milkmanaustralia.com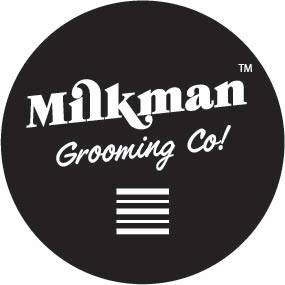 GOOGLE+ | PINTEREST | FACEBOOK | TWITTER | INSTAGRAM | YOUTUBE
The Advanced Beard Care Kit has everything that the true beardsman needs to keep his beard looking #freshbetweentheears.
What's in the Dopp bag?
• Milkman King of WoodTM 2 in 1 Beard Shampoo and Conditioner – head hair isn't the same as beard hair – this shampoo is mild on hair while conditioning the beard to perfection.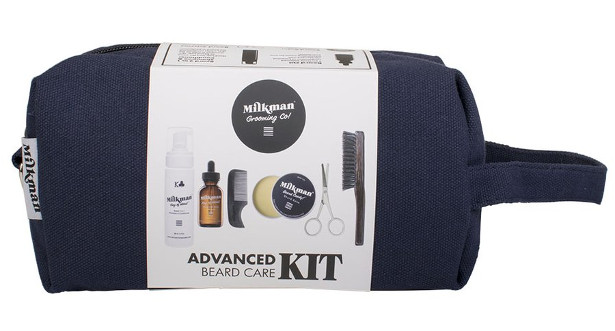 • Milkman King of WoodTM Beard Oil, perfectly balanced combination of botanical beard oils blended with intoxicating scents for true beardsmen.
• Milkman Mini Styler Pocket Comb, made of durable matte plastic this comb is the perfect travel companion. Keep your hair looking its finest any time anywhere,
• Milkman Boar Bristle Beard Brush, this medium stiffness boar bristle brush is designed for beards of all sizes. It comes with a gorgeous durable rubber woood handle.
• Milkman Beard Balm Beard CandyTM, designed to style, condition and fragrance the beard all at the same time. Pure simplicity! • Milkman Affordable Beard Scissors. Made from stainless steel, they are designed to cut beard hairs cleanly & without scratching and they have a blunted tip so you don't accidently stab yourself in the face! RRP (AU): $120.00 AUD (Approx E77 or £68)
If you're looking at a smaller spend then remember all these products can be bought individually. There is also the Essentials Beard Care Kit at RRP (AU) $60.00 AUD containing the Milkman King of WoodTM 2 in 1 Beard Shampoo and Conditioner, Milkman Beard Balm Beard CandyTM, Milkman King of Wood BeardTM Oil, and Comb all in a handsome Dopp Bag!
Or if you're feeling flush, the Ultimate Beard Care Kit is available at RRP (AU) $220 AUD. It's filled with goodies – pictured below. But hurry only a few left! Milkman Beard Care Kits are available online at www.milkmanaustralia.com and all Shaver Shop stores. They make the perfect gift for Christmas!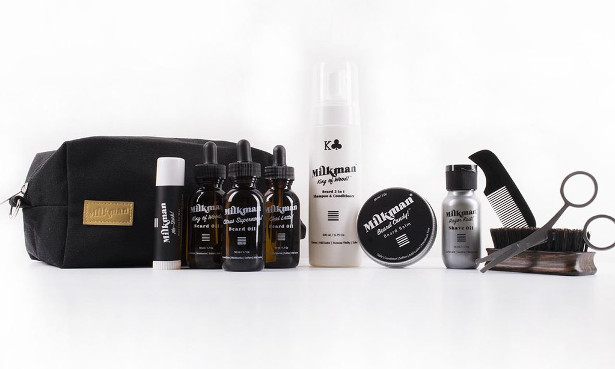 See more at :- www.milkmanaustralia.com
Socials: @milkmanaustralia #freshbetweentheears #milkman #cleanerclosercooler @shavershopau #shavershop #beardkits