A SPECIAL TREAT FOR MOTHER'S DAY: FLOWERBE AND EMILY DAWE CREATE AN ECLECTIC AND MAGICAL SCENE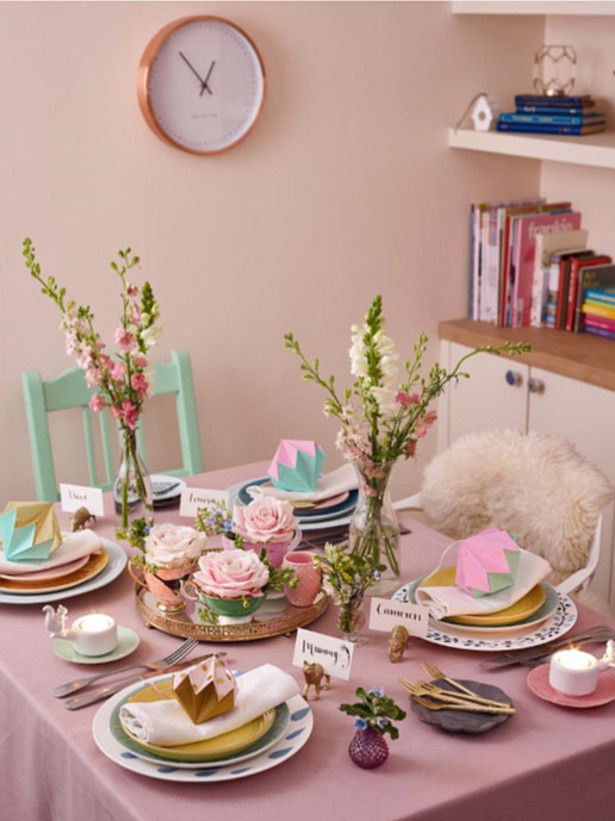 FACEBOOK | INSTAGRAM | TWITTER
In celebration of Mother's Day and Easter this March, FlowerBe collaborated with stylist and craft designer Emily Dawe to create a magical setting using flowers and homemade crafts, taking inspiration from nature and the arrival of Spring.
Mother's Day is one of the most important days of the year and it is a time to show your mum your love and appreciation, to fill the house with flowers and to treat her to a truly special occasion. FlowerBe's March flower selections have been selected for their pure natural beauty and they celebrate seasonal Spring flowers. All of FlowerBe's Mother's Day flower selections will look stunning whether creating a large statement-making arrangement or arranging multiple smaller arrangements around the home.
Mother's Day and Easter are perfect occasions to treat loved ones and to celebrate together at home, and with this in mind Emily created an enchanting and whimsical table scene with posy vases and vessels filled with FlowerBe's seasonal flowers including Sweet Avalanche roses, pink delphiniums, and rich pink tulips.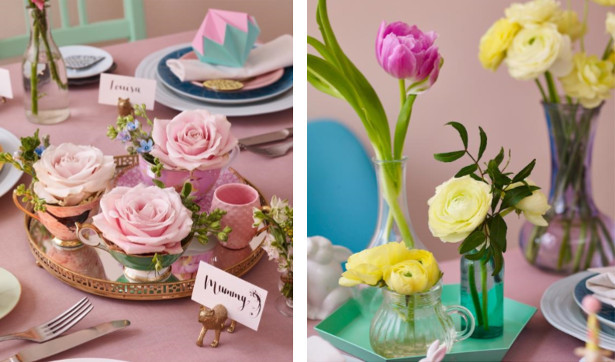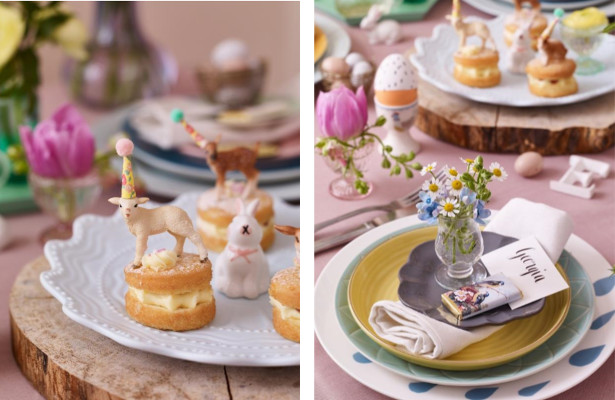 FlowerBe aim to inspire creativity, and Emily's table setting could easily be created at home with flowers and crafts as a fun activity for all the family. Emily is also a paper craft artist and to add her artistic touch to the table she made some pretty paper origami decorations for each setting. She also made tiny hats to adorn miniature spring lambs and rabbits which sit on top of delicious Easter cakes, and used a quill to hand write each guest's name. No Easter table would be without eggs and Emily used acrylic paint to brighten up some ceramic eggs and filled little wire baskets with decadent Rococo chocolate eggs.
FlowerBe worked with Emily to create a eclectic Easter mantlepiece. The wreath was made using garden foliage, Tulip 'Double Price' and egg yolk yellow Solidago. Emily nestled miniature choclate eggs within the
foliage, and decorated the mantlepiece with small posy arrangements of Oxypetalis, whimsical bottles of larkspur and snapdragon, along with Rococo chocolate eggs, and an Easter bunny with a party hat.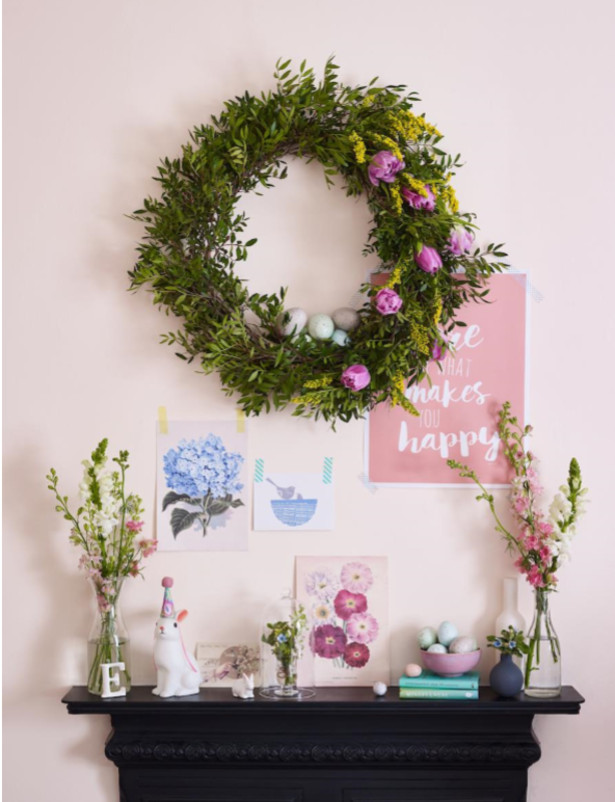 Emily commented: "It was an absolute dream to work with FlowerBe. They provided me with such a stunning selection of flowers to work with, so my job was easy, they really were the starting point for my whole scheme. I've never been a fan of very structured arrangements, I like my flowers to look effortless, fun and quirky, and I really think we achieved this. It's the little finishing touches that really make the difference to make the occasion feel really special – from handwritten place names and mini decorations, to beautiful floral flourishes dotted along the table and mantelpiece."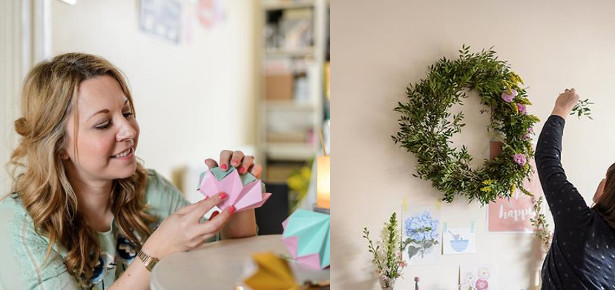 Give the gift of flowers this Mother's Day Choose to give mum a gift of a regular FlowerBe subscription or buy her a one-off arrangement for Mother's Day. FlowerBe's March flower selections are available from 26th February and can be ordered from flowerbe.co.uk. Flowers for Mother's Day will be delivered on Friday 9th March.
FlowerBe's March Tall selection includes: Antirrhinum 'White Potomac', Delphinium 'Ridis Pink', Trachelium 'Lake Powel'l, 'Sweet Avalanche' roses, Oxypetalis, Solidago, and Pistacia.
The Short selection includes: Oxypetalis (blue), Tanecetum, Ranunculus 'Crème Elegance', Tulip 'Double Price', Solidago and Pistachia.
The FlowerBe January Market Special includes stems from both Tall and Short selections.

Lisa Roberts, co-founder of FlowerBe, said: "I love the scene that Emily has created for us this month. She really embraced the bright pastel palette and created a fantasy setting, almost from a children's picture book. This really brings out the playful, natural beauty of our seasonal flowers this month. This is such a special time of year to show your mum how much she means to you and as a mother myself I would adore it if my children created a wonderful scene for me on Mother's Day using flowers and homemade crafts."
About FlowerBe FlowerBe is a creative flower company that delivers beautifully curated selections of loose-cut flowers in inspiring combinations of colours, form and scent. Creativity is at the heart of FlowerBe, and each month they introduce new flower combinations, which allow endless styling possibilities. FlowerBe offer a fully flexible service and customers can choose to sign up for regular deliveries or they can order on demand as required. Customers can also change their options each month to suit their style. Each monthly theme offers three flower selections to choose from, along with a booklet to inspire customers to create exciting displays in their homes. Founded by brother and sister team Lisa Roberts and Sean Millard, FlowerBe is a friendly, family-run company. www.flowerbe.co.uk