ON AMAZON > Toilet Donald…. BEST GIFT EVER – MAKE YOUR MANTEL GREAT AGAIN!!!!!!!!!!!!!!!!!!!!!
Featured in Huffington Post's 2017 Weird Gift Guide to make your Holidays Hilarious!
Guaranteed of quality, this bust was not made by any Donald affiliates so it should last much longer than six months so we can "MAKE AMERICA GREAT AGAIN".
FACEBOOK | TWITTER | YOUTUBE | INSTAGRAM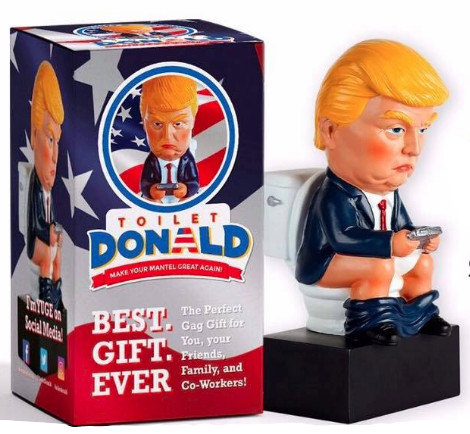 Buy it now on  – www.amazon.com/Toilet-Donald-Trump-Mantel-Piece
It's a paperweight/mantel piece of the President sitting on the toilet while in the act of tweeting from his unsecured phone. Lots of Trump merch out in Internetland, but none that truly depicts his constant use of Twitter like the Toilet Donald.
NEW Toilet Donald Trump Doll Funny Realistic Gag Gift Desk Mantel Piece
The perfect décor for mantles, bookcases, desks or even the bathroom. (Place your Toilet Donald on your toilet so you can drop logs with the greatest President since Lincoln cut down trees.)
Funny White Elephant Gag Gift to guarantee laughs and smiles from his Presidency to his inevitable impeachment.
Global shipping options by Amazon and ONLY Donald Merch that actually looks like the President. Made to get every detail right, from his facial expression and favorite suit/tie combo to his combover.