Three Botanical Beer & Food Pairing Recipes for Father's Day, 21st June 2020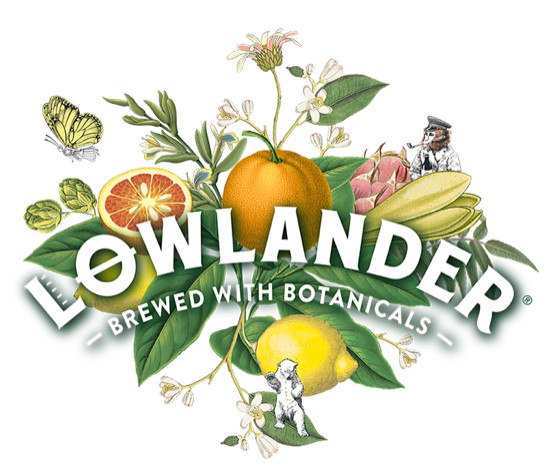 Lowlander Botanically Brewed Beer's approach to beer pairing is simple – beer is better with food and food is even better with beer!
Celebrate fathers everywhere this Father's Day, Sunday 21st June, with a selection of Lowlander Botanical Beers and a delicious home cooked meal. Take beer pairing to the next level with these Lowlander food pairing suggestions:
FOOD PAIRING 1
The crisp flavour and flowery finish of Lowlander White Ale brewed with Curaçao orange, Elderflower and Chamomile, pairs well with seafood and light salads. It also cools the burn of light, spicy Asian dishes. Try it with Samphire, Green Asparagus and Lemongrass Prawn Skewers as the light, fresh and salty flavours are accentuated by Lowlander White Ale. The full recipe is available on Lowlander's website here.
Lowlander White Ale is available from Westons Cider from £36.90 for 24 x 330ml bottles or from Harvey Nichols from £3.00 per 330ml bottle.
FOOD PAIRING 2
Lowlander I.P.A. brewed with Coriander and White Tea, with its citrusy, fruity and bitter flavour goes well with Middle Eastern and rich Asian food. Try it with Indian Spiced Courgette Burgers as the fresh, spicy Indian flavours are accentuated by Lowlander I.P.A. The full recipe is available on Lowlander's website here.
Lowlander I.P.A is available from: Westons Cider from £47.23 for 24 x 330ml bottles or Bath Road Beers from £3.00 for a 330ml bottle
FOOD PAIRING 3
Lowlander 0.00% is a perfect companion for fresh herbs, citrus and fish. The zero alcohol beer also pairs well with spicy Asian dishes as it helps to ease the effects of chilli in a dish. Try it with Bánh Xèo Vietnamese Pancakes which are spicy and perfect for plant-based and veggie dads. The full recipe is available on Lowlander's website here.
Lowlander 0.00% is available from Westons Cider from £32.68 for 24 x 330ml bottles or
Bath Road Beers from £2.50 per 330ml bottle

Barnie's Coffee & Tea Co. Rad Dad Crop•Ex Coffee Gift Set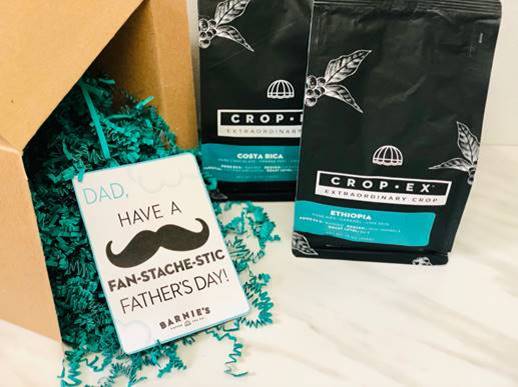 Photo credit: Barnie's Coffee & Tea Co.
Rad Dad Crop•Ex Coffee Gift Set
includes $10 discount to use on future orders
$25 with free shipping (over $45 value)
The perfect gift for the father in your life who appreciates a hint of exotic in their morning cup of Joe. This Barnie's Coffee & Tea Co. Father's Day gift set includes two 12-ounce bags of Crop•Ex single origin coffee. The Costa Rica Tarrazu is a medium-dark roast with hints of dark chocolate and orange peel. The Ethiopia Guji Hambela is a medium-light roast with hints of caramel and lime. Order online at www.barniescoffee.com.
While best known for its delectable flavored coffees, Barnie's also sells Crop•Ex, a premium line of single-origin, small batch roasts. Each Crop Ex specialty coffee can be traced back to its literal roots in family farms around the globe. On the day it's roasted, each bag is hand-signed and dated to validate its authenticity.
About Barnies Coffee & Tea Co.:
Founded in 1980, Barnie's Coffee & Tea Co. is a worldwide leader in premium coffee and tea. One of the first gourmet coffee brands in the U.S., Barnie's Coffee & Tea Co. is steadfastly dedicated to its 40-year mission: pioneering the most dramatically delicious flavored and premium roasts, then delivering them wherever consumers are exploring new grounds. With an ongoing passion for innovation, Barnie's Coffee & Tea Co. provides category-wide consumer products at a variety of price points and taste profiles in diverse channels, from delectable flavored coffees to its Crop•Ex line of single-origin, small batch roasts, and from single-serve and wholesale solutions to Fueled by Barnie's licensed cafes. Barnie's Coffee & Tea Co.'s products can be purchased online, in select grocery stores, at licensed foodservice providers, and at its company-operated café in Central Florida, where it headquarters. To learn more, visit www.www.barniescoffee.com. Follow the beloved coffee roaster on Facebook, Instagram and Twitter (@barniescoffee). #noonedoesflavorlikebarnies

GOURMET GIFTS FOR FATHER'S DAY Step away from the socks, shirts and Scotch and treat Dad to a gourmet gift from Tracklements: www.tracklements.co.uk
"I'm absolutely delighed" InTouch Rugby Fine Foods Editor.

INSTAGRAM | FACEBOOK | PINTEREST
Robust Wholegrain Mustard in a limited edition glazed stoneware jar (RRP £7.15 for 280g) created to celebrate Tracklements 50th anniversary, with an air-tight silicone seal to preserve the mustard's characteristic pungency.
The Tracklements 9-Jar Mini Gift Set (RRP £5.80 for 9 x 25g) – is a perfect selection of condiments to complement every meal from Sticky Fig Relish, Original Onion Marmalade and Apricot & Ginger Chutney to Strong Horseradish Cream, Cranberry and Port & Orange Sauce to the classic Original Onion Marmalade, Fresh Chilli Jam and a variety of Mustards (Robust Wholegrain, Smooth Dijon and Strong English).
Particularly British Piccalilli in a swish Le Parfait jar (260g £5.50) a curious mustard pickle that packs a punch of sharpness and crunch.
Tracklements products can be found in fine food delis and farm shops nationwide and online at www.tracklements.co.uk
@tracklements #happy50tracklements #tastytracklements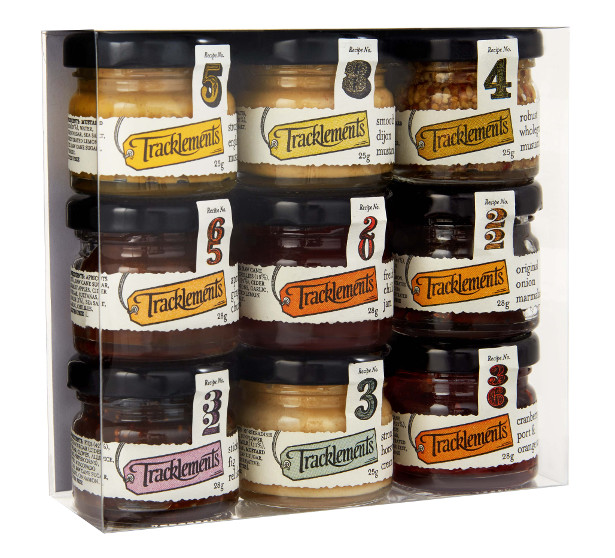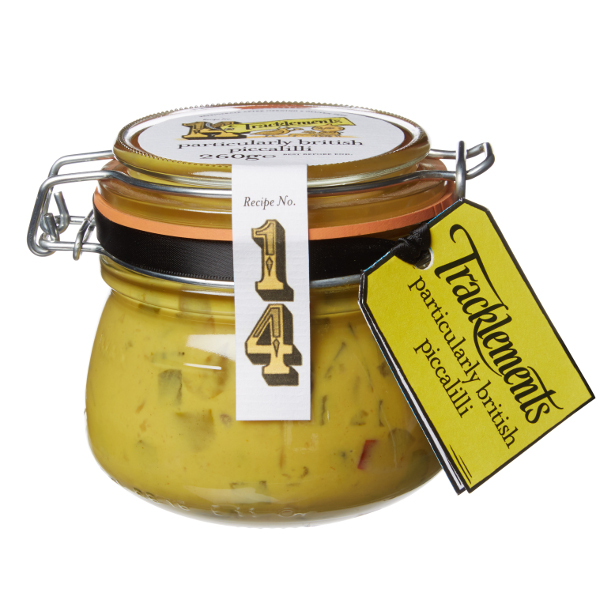 KitchenAid personalised stand mixer for Father's Day.
Father's Day Gifts from British shoe brand Billy Ruffian.
Brogues, Oxfords, Chelsea Boots, Chukka Boots, Loafers and Boat Shoes all come in a variety of colours – offering something for every dad to keep him stylish this summer! Style his look with a red Loafer to give it some pop, or an English tan leather Chelsea Boot to smarten an outfit!
Prices start from £120 up to £200 and you can view the full range here: www.billyruffianshoes.co.uk/range/all-shoes/
Malvern Brogue (RRP £160):

The Brogue has become one of the most versatile shoes in men's wardrobes – suitable for the office, beer garden and even weddings! A pair of Billy Ruffian handmade brogues will take you a long way. With their iconic punched hole pattern and fine detailing, they work with both a considered or a more relaxed look. The Malvern Brogue in Mahogany oiled calf leather is carefully made by hand and then Blake stitched, and completed with a full leather lining and an Italian leather double sole. The Malvern Brogue is also available in Black and Russet Antiqued Leather.
www.billyruffianshoes.co.uk/shop/malvern-brogue-mahogany/
Wilde Card Holder (RRP £15)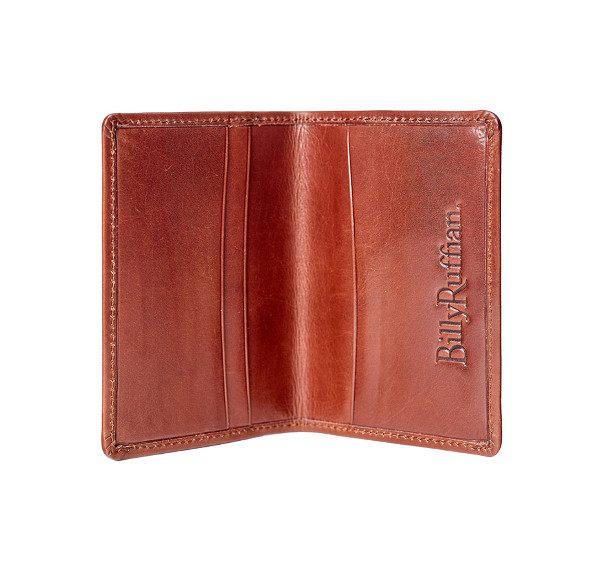 In need of a fresh, new wallet? Treat yourself to the Wilde Card Holder from Billy Ruffian – from Tobacco burnished calf leather – which will develop a beautiful patina over time. Lined with silk and with three card pockets, the folded card case is a refined yet practical essential. To make it extra personal to you, or for a loved one, why not emboss it with initials? You can personalise it with up to four block initials in either gold foil or blind embossing – when a deep impression in the leather is made using heat, to darken the initials.
www.billyruffianshoes.co.uk/shop/wilde-card-case/
Socks in a box (RRP £27.50):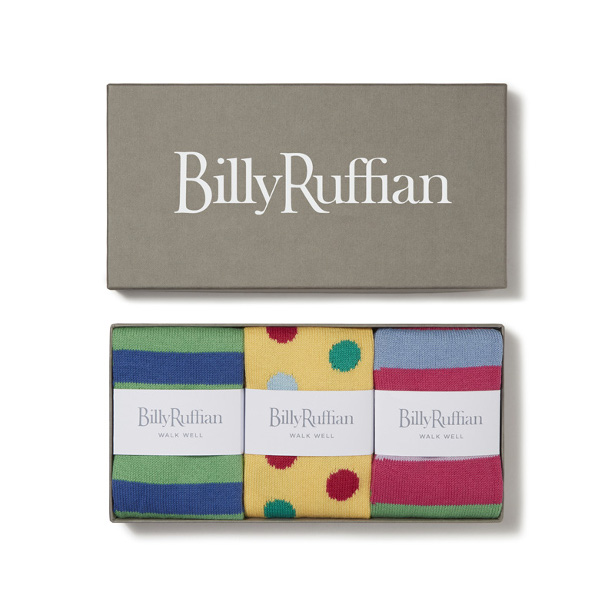 Choose from Billy Ruffian's wide range of colourful, patterned socks and create a selection box of socks to give your outfit a pop of colour. Woven in an English factory operating since the 19th century, Billy Ruffian socks are 80% combed cotton and 20% Nylon yarn – making them soft and comfortable on your feet, and durable too!
www.billyruffianshoes.co.uk/shop/socks-in-a-box/
North Yorkshire Moors Railway.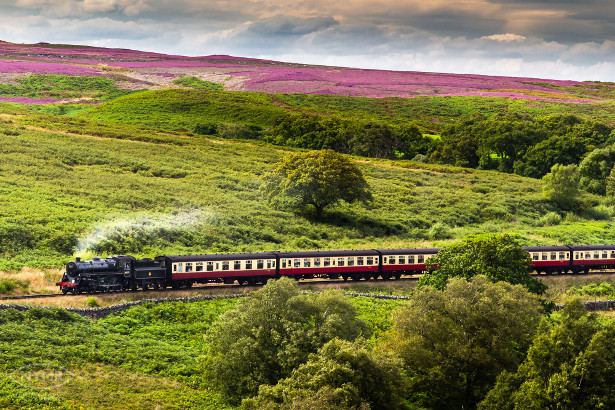 There are two options, depending on how charitable people are feeling!
Firstly, the charity has launched an online store where people can buy a virtual journey on a steam train, virtual tour of a footplate, or even just a bacon buttie, (which is calorie-free as it's a virtual experience). All money raised is in aid of its ongoing crisis appeal to keep the heritage attraction on track, and help it secure a future and prices start at just £3 www.nymr.co.uk/pages/category/virtual-shop
There's also the option to buy gift tokens (from £10) that can be exchanged for a journey through the stunning North York Moors on a heritage steam locomotive, or a pullman dining experience for two: shop.myonlinebooking.co.uk/NYMR/shop/product-list.aspx?catid=3
etnies have a range of matching shoes for all the family, perfect for summer style and Father's Day gifting.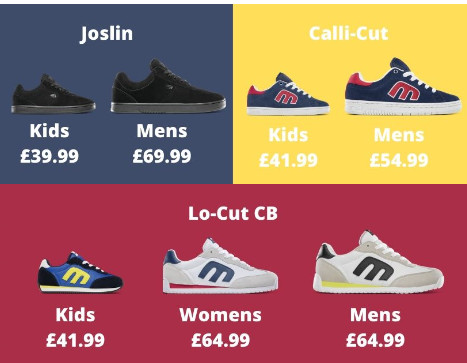 etnies shoes are made for an active lifestyle, and are supportive, durable and comfortable. Whether you're teaching your kids to ride a bike, or master the kick-flip – now you can do it in matching style!
Matching styles include:
Joslin > Mens | Kids
Calli Cut > Mens | Kids
Lo-Cut CB > Mens | Womens | Kids
The IDEA an all-ages picture book about reclaiming your creative beast. The IDEA is a limited edition hard copy of only 1500 in print. The IDEA has been printed on high quality paper with a creamy tone, case bound, section sewn, featuring a beautifully textured wibalin hard cover, and ribbon marker. The chosen printing press publishes all coffee table books for the Tate Modern Gallery in London. Quality is second to none.
And you can buy it here www.korinemme.com/shop/a3gtoutbe7ewfifx19wp6itvfh7ci4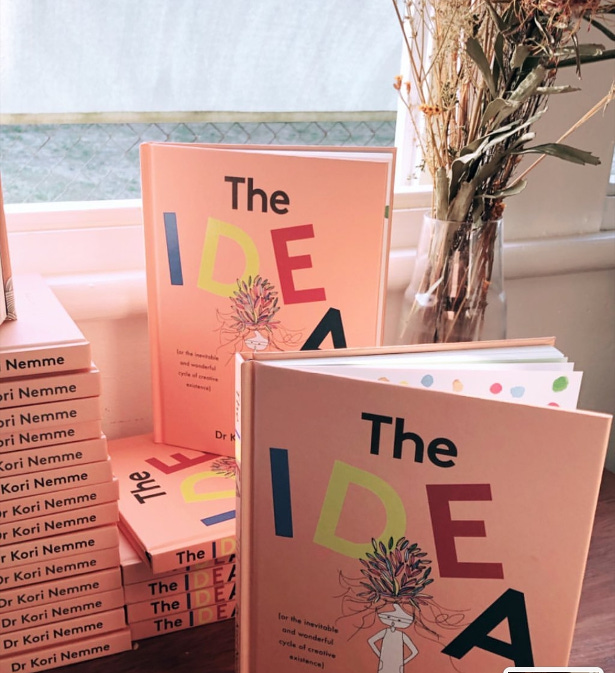 Father's Day Treats from Rosebud Preserves
It is Father's Day on 21st June. Why not treat your dad to a selection of products from award-winning Rosebud Preserves (www.rosebudpreserves.co.uk)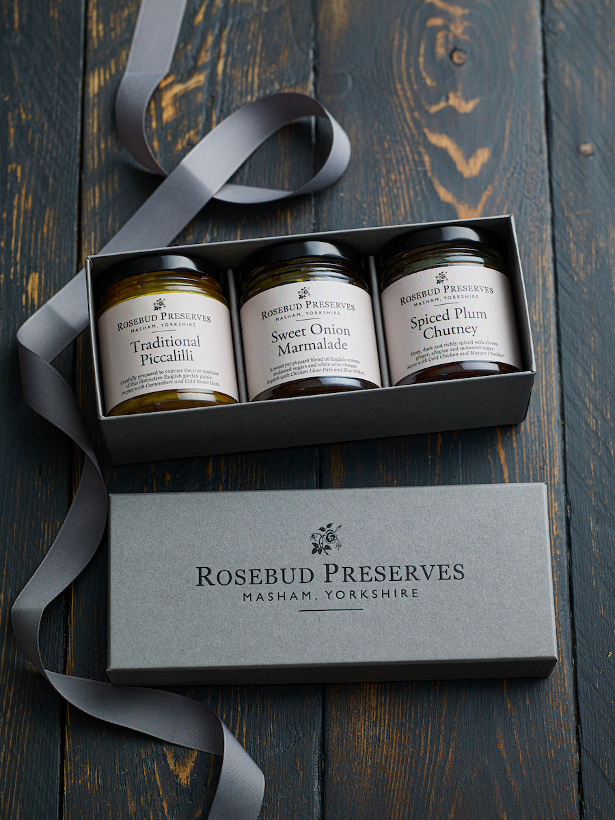 If he loves gin then why not buy him a bottle of its unique Seville Orange Marmalade Distilled liqueur? Alternatively, if he loves his accompaniments, then why not send him one of the three gift boxes outlined below? Each set contains three Rosebud Preserves products all presented in an elegant grey gift box.
Father's Day gifts:
Seville Orange Marmalade Distilled Gin Liqueur (£29.95/35cl/20% ABV) Rosebud Preserves has captured the spirit of its Seville Orange Marmalade in this uniquely distilled Gin Liqueur. It is made in a traditional copper still to create a deep, dark and warming blend of bitter orange, molassed sugar and botanically rich hand crafted gin, with a truly distinctive flavour. It's perfect drunk neat, over ice or simply with some tonic added for a longer drink. The liqueur has been made in partnership with the Spirit of Masham Distillery, a small, craft batch distillery based in the North Yorkshire town of Masham, just a short distance from the home of Rosebud Preserves in Healey.
The Rosebud Preserves Gift Sets: Choose one of the pre-selected gift sets that each contain three products. The stylish mottled grey box is made in England, embossed in matte black foil, and perfectly complements its branded preserves. (Price: £20 for three jars and the box).
Cheese Lovers (£20) The perfect accompaniments for Dad's cheeseboard. Includes Traditional Piccalilli, Sweet Onion Marmalade and Spiced Plum Chutney.
Boozy Preserves (£20) A unique Gin, Brandy and Beer trio for Dad to celebrate. Includes Satsuma & Gin Marmalade, Pear & Brandy Jam and Beer Fruit Chutney.
Yorkshire Favourites (£20) Perennial favourites from our home county come together for Dad's enjoyment. Includes Great Yorkshire Pickle, Yorkshire Rhubarb & Ginger Jam and Old Yorkshire Chutney.
Rosebud Preserves has been making its jams, marmalades, chutneys and jellies at Masham, North Yorkshire, since 1989. The company was started by Elspeth Biltoft and her founding principles, to source local produce whenever possible; to cook traditional recipes; and practice time honoured techniques, without the use of additives, preservatives or pectin; remain the same today.
For the dad who's practically Jamie Oliver…
Expanding Wooden Cook Book Holder – RRP £25.00 bit.ly/2yUVmhK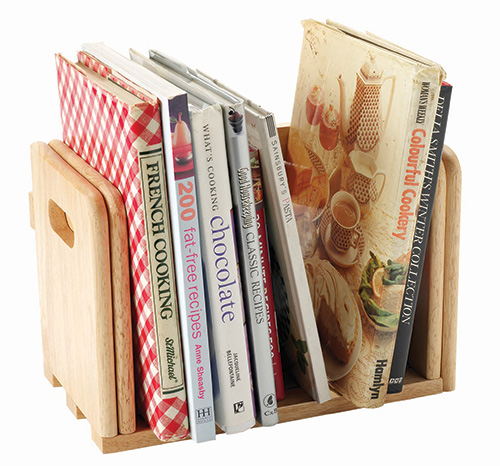 Whether your dad has become a culinary whizz in lockdown, or has always been a cooking connoisseur, this expandable cook book holder is perfect for his ever-expanding cook book collection.
Montezuma's Chocolate – Father's Day Collection
Father's Day Gift Box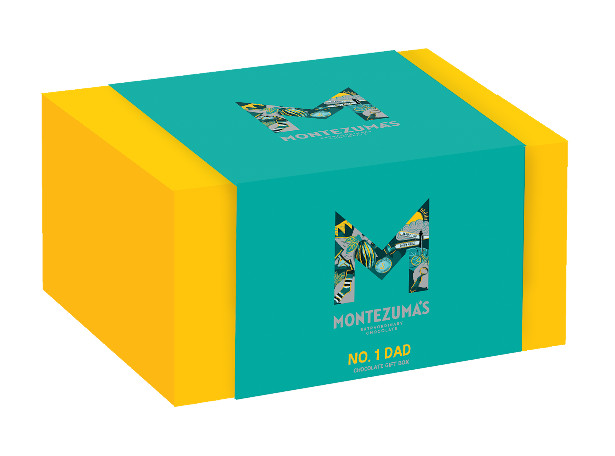 There's no better way to say 'I Love You Dad' than with a gift box full of variety chocolatey goodness!
(Contains: Dark Buttons 90g, Darkside 90g Bar and American Idol Truffle Carton 120g)
RRP: £14.50
Available to purchase in Montezuma's stores and online at www.montezumas.co.uk
Father's Day Bar Library
A selection of some of Montezuma's favourite bars, both Milk and Dark Chocolate, a selection choice perfect for all dad's, no matter their preference.
(Contains: Lordy Lord, Darkside, Happiness, Royal Mint & Sea dog)
RRP: £13.99
Available to purchase in Montezuma's stores and online at www.montezumas.co.uk
Father's Day Button Jar
This 900g jar filled with chocolatey goodness is available in Organic Milk chocolate and an organic (and vegan friendly) Dark Chocolate.
RRP: £28.99
Available to purchase in Montezuma's stores and online at www.montezumas.co.uk
Father's Day Nutterscotch Bar
This 300g rich and creamy milk chocolate with crunchy almonds and sticky butterscotch bar is the perfect bar for dad's. Designed for sharing, but I'm sure your dad will want to have it all to himself.
RRP: £9.99
Available to purchase in Montezuma's stores and online at www.montezumas.co.uk
Caorunn Gin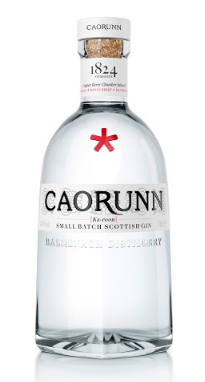 Caorunn gin is an artisanal and small batch, beautifully mixing the rugged charm of Speyside with the urban sophistication of modern Scotland.
Stockist: Sainsbury's, Waitrose, Tesco's
RRP: £28
Be Still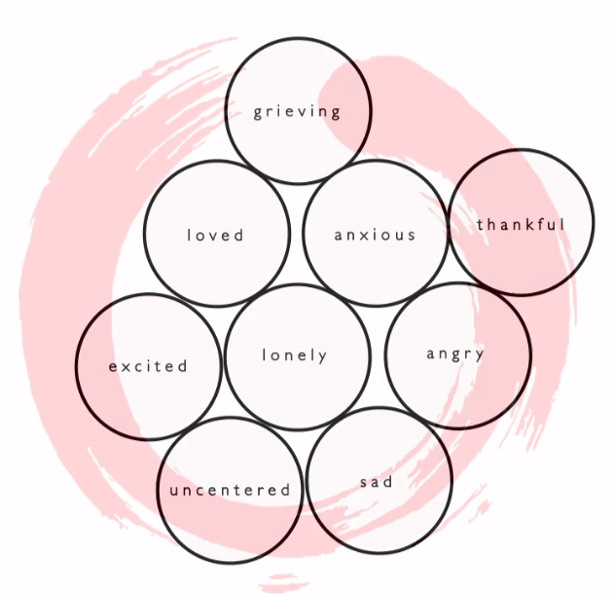 The premiere, live meditation app that will is an everyday companion to achieving inner stillness. During these difficult times, stress and anxiety have become the norm but Be Still is here to help ease your stress and anxiety and provide daily meditations to help you relax and enjoy your time at home.
www.bestilltheapp.com
www.apps.apple.com/us/app/be-still-find-your-peace/id1465305333
This is the story of most men trying to buy a gift for a girl
Once upon a time, there was a guy trying to buy a gift for his girlfriend / wife / partner / mother / mother-in-law / step-mother / aunt / sister / wife's sister's friend (the one with the squinty eye) .
OK, so the last one was an exaggeration. But hey, I know it's you, because it's me too.
We have all been there and sometimes they give us a big enough hint (and even a shopping link) to know what to get them.
Other times, they go, 'oh, wouldn't it be soooo great if you found something I would love without having to ask me.'
Queue panic stricken faces and agreement that you know exactly what they want, but really don't, so you throw loads of money at the problem and it's solved, right?! …Wrong.
So, where do you start. Hmmm… Amazon! Yes, Amazon always has something for everyone. I'll just type in 'gift for woman' and hey, presto – the perfect gift will appear.
I'll tell you what appears, because I did that too.
Candles. Bath bombs. Shiatsu Back Massager.
I don't know about you, but if I gave my other half any of those, I'd be met with a death stare and possibly, the sofa in the living room for the next week.
So, I Googled 'gift for woman'.
Microwave heat slippers. Magical unicorn bed socks. Travel scratch map of the world.
Oh god, she is going to kill me.
Well, what's the solution?
Here's a suggestion that will help get you out of trouble…
On finding a gift that is :-
The right amount of money to have spent
Thoughtful and caring
A bit posh (but understated posh)
Something they will have for ages and think of you every time they put it on (in a good way).
Want to know what it is?!
A Cashmere Scarf.
Now, just hear me out. This stuff is the real deal. If you don't know what Cashmere is, I'll fill you in.
It's made in Mongolia from the hair of goats that graze the Grassland Steppes.
A luxury fibre that is REALLY soft and definitely not scratchy
It's the piece you will invest in for them and they will have for years
It's comes enclosed in a pink silk monogrammed storage bag with care guide, so you
Don't need to think hard about wrapping.
Really, the biggest (or not so big) challenge will be what colour to choose.
It's practical, yet beautiful and luxurious and it doesn't cost a (bath) bomb.
And this is where Amazon CAN help you out, because that's where you can find them.
CARA CASHMERE scarves and wraps will definitely solve your gift giving problems.
For this year at least…
www.caracashmere.com

For Father's Day >> HARIBO Starmix Gift Box (380g) All wrapped up in its own Gift Box!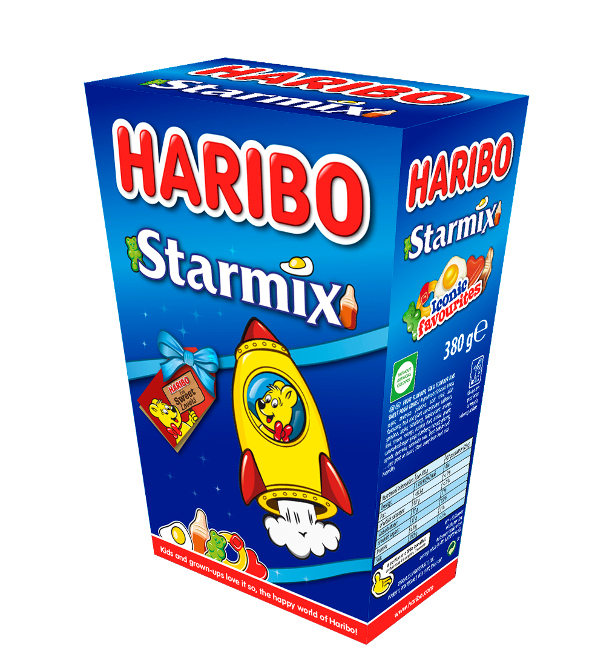 HARIBO Starmix Gift Box (380g)
Featuring a familiar mix of favourites, look no further than HARIBO Starmix for a pocket-money friendly Father's Day treat. All wrapped up in its own Gift Box, this lovely little gesture is sure to hit the sweet spot!
"Haribo have so many wonderful options… check out their website! @ www.haribo.co.uk " InTouch Rugby Gifts Editor!
TCL 9 Series RAY•DANZ Soundbar with Dolby Atmos Receives iF DESIGN AWARD 2020 For Its Unique Design Featuring TCL's Innovative Acoustic Reflector Technology
Shenzhen, May 19, 2020 – TCL Electronics (1070.HK), one of the leading players in the global TV industry and a leading consumer electronics company, underlines its commitment to sound technology innovation as the TCL 9 Series RAY•DANZ soundbar with Dolby Atmos receives the iF DESIGN AWARD 2020 for its unique design of innovative acoustic reflector technology. The TCL RAY•DANZ Soundbar with Dolby Atmos is designed around customer's needs to deliver an immersive Dolby Atmos home entertainment experience. It'll be globally available from May 2020.
"TCL is to leverage its strong capabilities in audio and vertical integration to offer consumers superior sound quality at home. We continue to improve people's lives through smart products and premium experiences." said Kevin Wang, CEO of TCL Industries Holdings Co., Ltd. and TCL Electronics.
Winning the iF DESIGN AWARD is a major achievement regarded as a key breakthrough for TCL to become a leader in functional and innovative soundbar design, extending the TCL brand into new markets and opening up exciting new possibilities for the future.
Seeking better home cinematic experience delivered by a soundbar, TCL has developed the RAY•DANZ technology featuring uniquely rearward angled speakers that beam sound waves towards curved acoustic reflector units. This is a solution that directs sound outward in a wide pattern, providing a much larger soundstage than other soundbars on the market can offer without overly relying on digital processing.
This, together with a centrally positioned speaker to deliver dialogue and a strong center presence, and in combination with Dolby Atmos, delivers an immersive experience with a wide sound stage. The RAY•DANZ technology utilizes advanced Dolby technology to deliver sounds that flow all around, which can be enjoyed anywhere inside the wide sound stage.


Dad would feel really cool in these! He would feel great about it >> www.layoners.com Its a great gift for Father's Day ! Sunglasses.
The eyewear brand for every generation! Range of products include trendy sunglasses as well as retro and classic shapes. You name it, we have it! In 2019 we added range of fashionable swimwear girls just can't resist!
BE GLORIOUS. Attract looks. Wear killer glasses. Wear LAYONERS.
Don't think twice, check out now!
Trendy, classic and retro eyewear. Sunglasses for all generations and lifestyles.
A pair of jaw-dropping sunglasses are always better than one 🕶️ Gentlemen, pick your favorite piece for SUMMER 2020
Men's EYEWEAR ➡️ www.layoners.com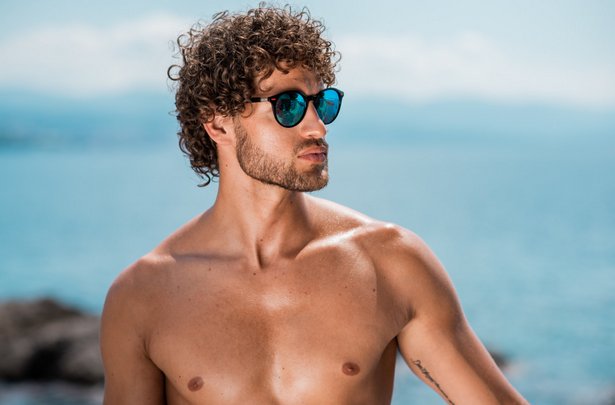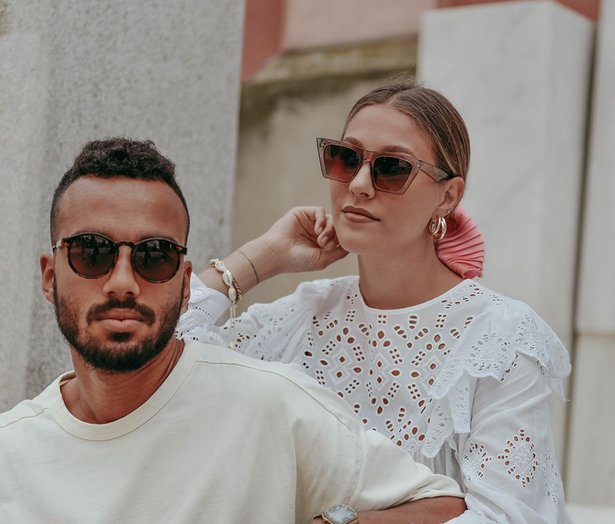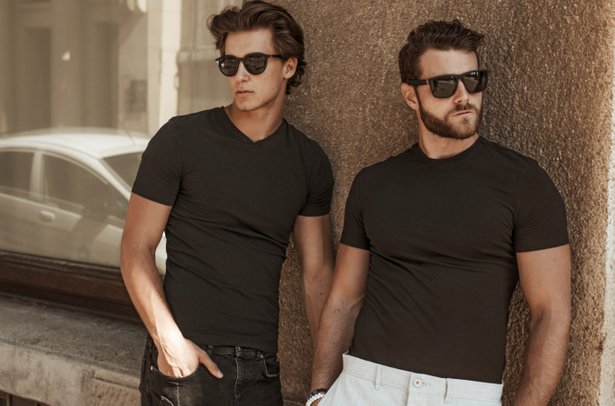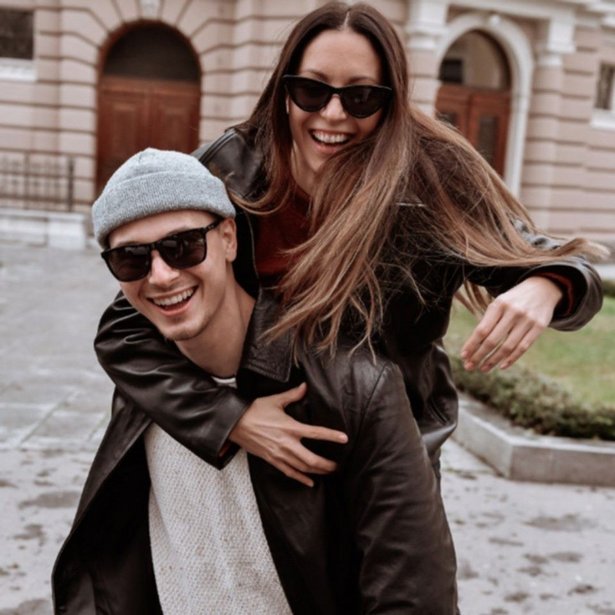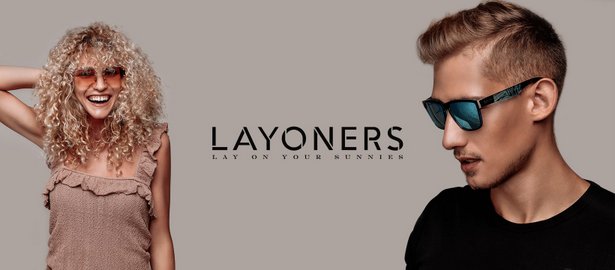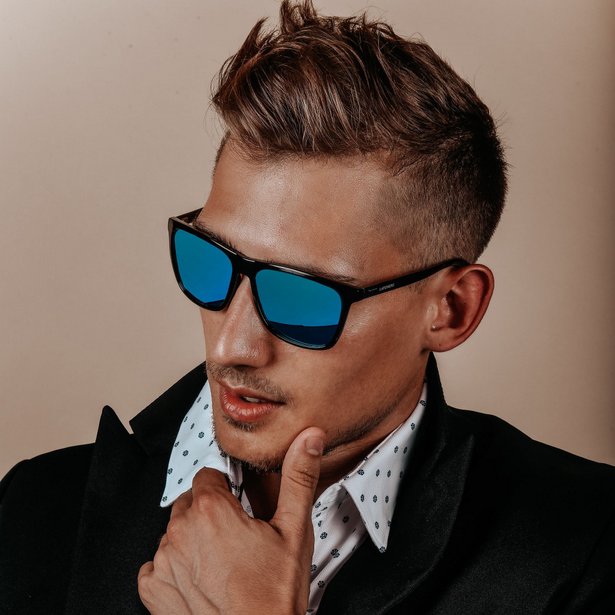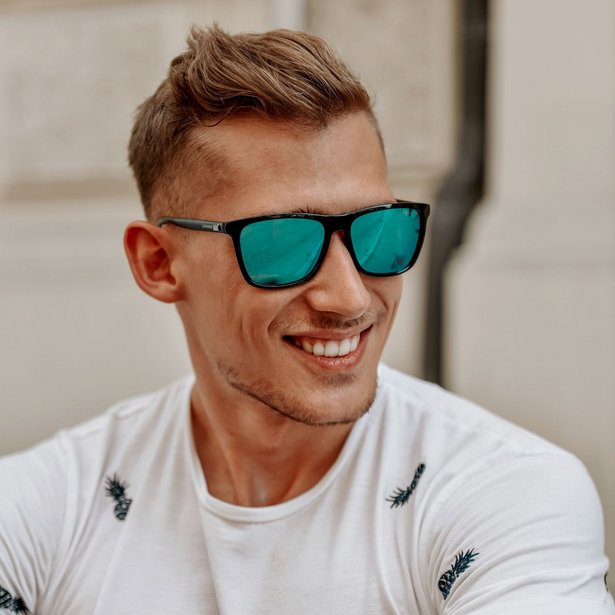 Delicious Experiences

(www.deliciousexperiences.com), which offers the best possible gifts for the food/drink loving Dad who would never otherwise splurge on himself to have direct access to the world's best chefs and culinary experts. All experiences on the platform are private and virtual, so Dad can spend some quality time (with a few others in the same home, if he wants) in a virtually held class learning to cook his favorite dishes, mix cocktails, or enjoy some fantastic wine with a sommelier.
Some Dad-perfect experiences that we love include the Badass Burgers class with the King of Fast Casual (James Beard Award Winner and Former Culinary Director of Chipotle, splurge $625)), a wine tasting session with a Parisian Michelin Star Sommelier, or for a real splurge ($125-175), whisk away for a mixology session with the former head of the Four Season Singapore bar ($155), or for a splurge you can get him some time with the Master of Spice, Lior Lev Sercarz who creates spice blends for the country's best restaurants and celebs (major splurge, $1250). The options are endless, and gift certificates can be purchased as a set amount so that Dad can choose his preferred experience.