BOOK! Stupid Humans, comical science fiction novel!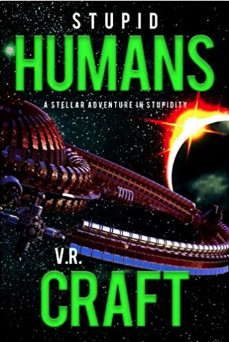 Stupid Humans is a comical science fiction novel that asks the question, "What if all the intelligent humans abandoned Earth—and we're what's left?"
What if all the intelligent humans abandoned Earth… and we're what's left? Samantha is a journalist who travels through the wormhole to New Atlantis and discovers that embarrassing reality when she meets the People, humanity's more intelligent—and smugly superior—distant relatives. Unfortunately, thanks to humanity's penchant for fighting, a Human/People conflict is brewing. She could almost forget she's not on Earth, except the People have tails and don't slap idiot warning labels on everything.
Plagued by anti-Human sentiment on New Atlantis and unwilling to return to Earth, Samantha moves to the Five Alpha, the space station closest to the wormhole, where Human—and People—stupidity lurks around every corner. Then the conflict worsens, causing concern for the security of the wormhole—and its closest neighbor. Naturally, politicians from both sides decide they can provide a diplomatic solution by holding peace talks on the station.
When sabotage puts both Five Alpha and her only route back to Earth in jeopardy, everyone blames Samantha—including a manipulative politician with her own agenda—forcing her to fight to uncover who is plotting to destroy the wormhole and cut off Human/People relations for good. Can she find a way to save the wormhole—and her sanity—before it's too late?
Dads would love receiving a copy of Stupid Humans this Father's Day—the best thing you can give dad is a good laugh and an exciting sci-fi adventure all rolled into one. Get your copy today!
V. R. Craft
WEBSITE:
https://vrcraftauthor.wordpress.com/
https://sharablesarcasm.wordpress.com/
FACEBOOK:
https://www.facebook.com/vrcraftauthor/
https://sharablesarcasm.wordpress.com/
TWITTER:
@vrcraftauthor
@wtfallonauthor
AMAZON AUTHOR PAGE:
https://www..amazon.com/V.R.-Craft/e/B01H7POQPU/ref=dp_byline_cont_ebooks_1
GOODREADS:
https://www.goodreads.com/author/show/15372130.V_R_Craft
https://www.goodreads.com/author/show/15929299.W_T_Fallon
YOUTUBE:
https://www.youtube.com/channel/UC8hJnQJb8pSfHq53X9w3phA
https://www.youtube.com/channel/UC38iNNXmeN2pRhRPB3xRQqA