Longhand Paperbackby Andy Hamilton
This novel by comedy legend Andy Hamilton (Outnumbered, Not the Nine O'Clock News) is a publishing first, reproducing 300 pages of handwritten manuscript.
See more and buy at :- www.amazon.co.uk/Longhand-Andy-Hamilton/dp/1783529415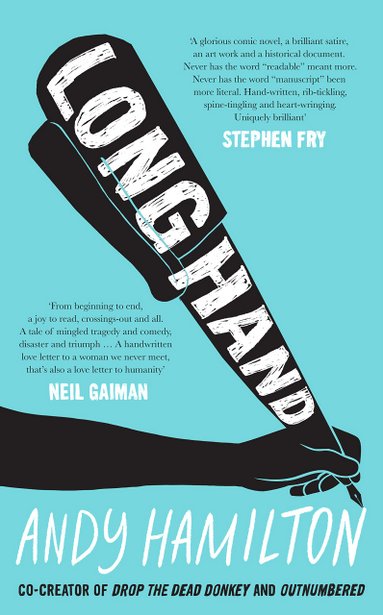 'Uniquely brilliant' STEPHEN FRY
'From beginning to end, a joy to read…'NEIL GAIMAN
Malcolm George Galbraith is a large, somewhat clumsy, Scotsman. He's being forced to leave the woman he loves behind and needs to explain why.
So he leaves her a handwritten note on the kitchen table (well, more a 300-page letter than a note). In it, Malcolm decides to start from the beginning and tell the whole story of his long life, something he's never dared do before.
Because Malcolm isn't what he seems: he's had other names and lived in other places. A lot of other places. He is, after all, a legendary hero of Greek mythology, who has been alive since time immemorial.
As it gathers pace, Malcolm's story combines tragedy, comedy, mystery, a touch of leprosy, several murders, a massacre, a ritual sacrifice, an insane tyrant, two great romances, a landslide, a fire, and a talking fish.