SUTRA is a superfoods blend that you add to a steaming hot cup of water or nut milk for the most delicious and healthy hot cocoa or chai that provides natural energy without the crash from coffee.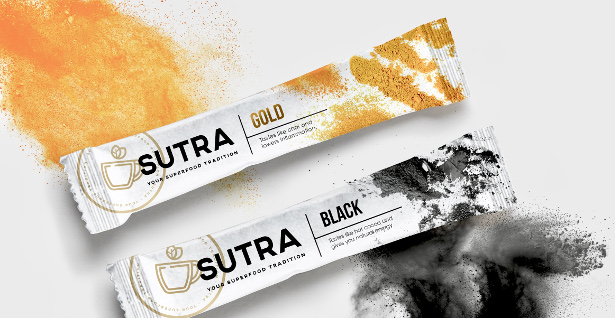 The negative health benefits that accompany almost all caffeinated beverages is something SUTRA's co-founders wanted to get away from. That is why we chose superfoods that are rich in antioxidants that provide natural energy boosting qualities. Each ingredient boasts a wide range of health benefits including improvement of memory, lessening of pain, supporting organ function, assistance in fighting disease, increasing metabolism and more. Our SUTRA's are also gluten/dairy/refined sugar free, plant-based, vegan, and devoid of stimulants/caffeine, and provide impactful vitamins and minerals.
We made it a point to not only make SUTRA taste delicious, but to create something visually stunning. Our SUTRA's are social media swoon-worthy and the bright gold and stark black make any photo pop. Our SUTRA's are a busy parent and frequent travelers best friend and come in small packs that can easily fit into your purse or pocket.
SUTRA Black – This pitch black blend is a healthy version of hot cocoa with activated charcoal, red reishi mushroom, raw cacao, coconut milk, sea salt, cinnamon, cayenne pepper, vanilla, and stevia. It detoxifies your body and gives you a natural energizing boost.
SUTRA Gold – Our bright gold version of a turmeric latte contains turmeric, maca root, coconut milk, ginger, vanilla, black pepper, salt, cayenne pepper, cinnamon, and stevia and works as an anti- inflammatory agent, boosting the immune system.
Do you hear your inner mermaid?
Handcrafted with love, one tiny stitch at a time…
All designs are handcrafted one-of-a-kind creations.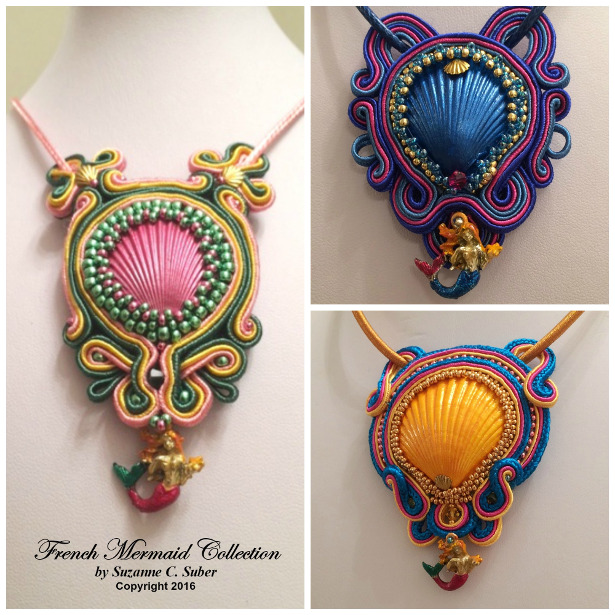 HANDMADE BUSINESS Entrepreneur of the Year 2017 Runner-up and award winner Suzanne C. Suber is a French-born American jewelry designer who specializes in classic Couture hand-embroidered Soutache Jewelry that is surprisingly lightweight and comfortable to wear. Her one-of-a-kind designs are works of wearable art. Shop now at https://frenchmermaidcollection.com/collections
Her tutoring in hand-stitching and fine embroidery began at the age of five under the watchful eye of her very skilled French grand-mere. Suzanne's background consists of fourteen years in the fine jewelry industry, a major in Commercial Art and Photography, experienced Couturiere of bridal and ladies formal wear (to include restoration of Vintage gowns and formal/bridal accessories such as veils, hats, gauntlets, etc.), French Heirloom Vintage reproduction dresses and smocking for children; and elaborate belly-dancing costumes.
She has lived in two of the great sea ports of Europe, close to where the Lost Continent of Atlantis is fabled to exist. Suzanne was born in Marseille, France and spent some time in Trieste, Italy. When not traveling she and her husband reside in Estero, on the Emerald Coast of SW Florida.
Be sure to check the items on sale for a great savings at https://frenchmermaidcollection.com/collections/on-sale-now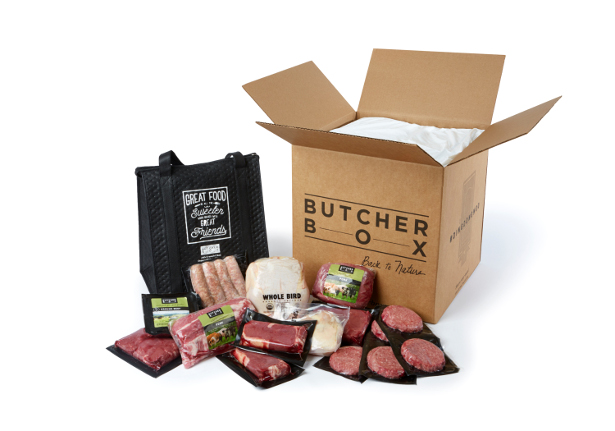 ButcherBox delivers healthy 100% grass-fed and finished beef, free-range organic chicken, and heritage breed pork directly to your door on a monthly basis. All their products are humanely raised and free from antibiotics and hormones. Shipping is free anywhere in the 48 States.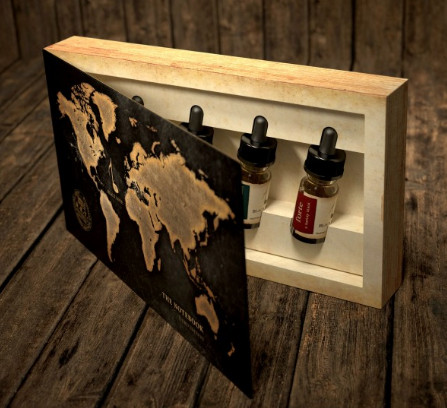 Black Note's best-selling sample box, the Classical Notebook, has four 10 mL bottles of Black Note e-liquid flavors: the bestselling Prelude, Legato, Sonata and Forte. It's perfect for taste testing, to discover which flavor — or combination of flavors — your gift recipient will love best. A "symphony for the senses" as Black Note says, the four flavors range from mild to robust, providing a variety of sensations. The Virginia tobacco leaves are grown in the sandy plains outside the Italian Alps and then flue-cured for the purest and most authentic flavor.
Prelude, the most popular Black Note flavor, is Virginia tobacco-flavored with a light, naturally sweet taste. It's perhaps the most mild or subtle of the Black Note flavors, almost creamy in texture as you inhale. The subtly sweet Forte, made from Burley tobacco, provides a rich, smooth experience. Sonata is the most robust and intense of the four. Dark ripe Virginia tobacco is treated to a centuries-old curing process, producing a rich blend. For an earthy, smooth flavor, Legato satiates the palate. Italian Kentucky tobacco, which has been fire-cured to release the plant's natural resins, provides a nutty flavor.
The coil-friendly e-liquids come in beautiful packaging — which is especially great if you don't have time to wrap the gift yourself. Plus, 1% of the proceeds goes to charitable causes.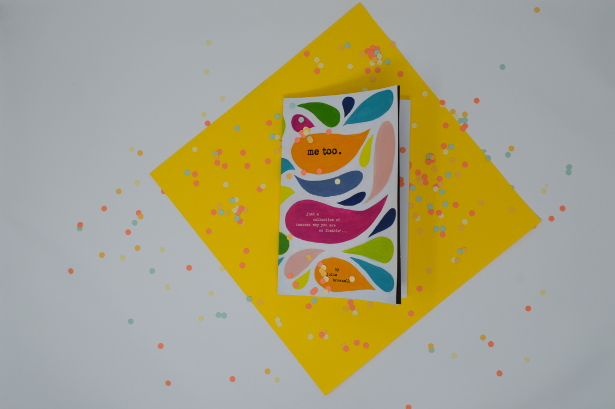 'Me Too' is a collection of reasons why you are so freakin' beautiful, powerful, unique, badass, and good enough – just for starters 😉 Written by a teen for teens – Jolie shares pieces of her journey towards self-love, coupled with uplifting messages on body acceptance, confidence, goal setting, and healthy relationships. While these messages and short stories are Jolie's way of saying "me too", she has also intentionally left white space for others to write in their personal stories and messages as their own gesture of saying "me too". Giving anyone the ability to gift this book to a girl in their life who needs to hear these inspiring messages.
Price: $16.99
Website: www.metoogirl.com
NOW THAT'S WHAT I CALL CHRISTMAS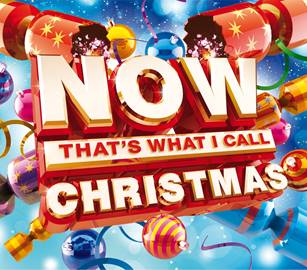 RRP Under: £15.00
Cat Number: CDNNNOW35
Barcode: 888751547223
Link: https://www.nowmusic.com/album/now-thats-what-i-call-christmas-3/
Image: https://www.dropbox.com/s/szc34mw6d4900b5/NOW%20Christmas.jpg?dl=0
What, is it that time of year already? You'd better believe it. Christmas is on the horizon, Father Christmas will soon be crashing into your fireplace to quaff your sherry, and this November, NOW are releasing the only album you'll need to get you all in the festive spirit: NOW That's What I Call Christmas.
Like an old man with a beard and a red coat, this is the daddy of Christmas compilations. NOW That's What I Call Christmas is the highest selling of all time, with over 1.8m copies sold. It is three discs of musical gold, frankincense and myrrh.
It promises to be the most complete collection of Christmas classics ever, with something exciting and warming at each track listing: a real advent calendar of a compilation. Everyone from Wham to Mariah Carey, Slade and the Pogues are here, so there's something for even the most disagreeable Scrooge to hum along to. Nowhere else will you hear In Dulci Jubilo followed by Kelly Clarkson!
Featuring 70 tracks across three CD's, every Christmas party and office drinks event is catered for. So don't be a Grinch, make sure you're set for the most wonderful time of the year, and grab yourself a copy of NOW That's What I Call Christmas or alternatively download it on the NOW That's What I Call Music App at only £4.99 a month.
Track list
CD 1
1. Mariah Carey – All I Want for Christmas Is You
2. Wham! – Last Christmas
3. The Pogues feat. Kirsty MacColl – Fairytale Of New York
4. Chris Rea – Driving Home For Christmas
5. Wizzard – I Wish It Could Be Christmas Everyday
6. Slade – Merry Xmas Everybody
7. Boney M. – Mary's Boy Child / Oh My Lord
8. Elton John – Step Into Christmas
9. Paul McCartney – Wonderful Christmastime
10. Coldplay – Christmas Lights
11. Pretenders – 2000 Miles
12. Jona Lewie – Stop The Cavalry
13. Kylie Minogue – Santa Baby
14. Mud – Lonely This Christmas
15. Shakin' Stevens – Merry Christmas Everyone
16. Kelly Clarkson – Underneath The Tree
17. The Waitresses – Christmas Wrapping
18. Leona Lewis – One More Sleep
19. George Michael – December Song (I Dreamed Of Christmas)
20. Whitney Houston – Do You Hear What I Hear?
21. Kristen Bell, Agatha Lee Monn & Katie Lopez – Do You Want To Build A Snowman? (from Disney's Frozen)
CD 2
1. Bing Crosby – White Christmas
2. Frank Sinatra – Have Yourself A Merry Little Christmas
3. Elvis Presley – Blue Christmas
4. Dean Martin – Let It Snow! Let It Snow! Let It Snow!
5. Brenda Lee – Rockin' Around The Christmas Tree
6. The Ronettes – Frosty The Snowman
7. Doris Day – Winter Wonderland
8. The Crystals – Santa Claus Is Coming To Town
9. The Ronettes – I Saw Mommy Kissing Santa Claus
10. Nat King Cole – The Little Boy That Santa Claus Forgot
11. Ella Fitzgerald – Sleigh Ride
12. James Brown – Merry Christmas Baby
13. Stevie Wonder – What Christmas Means To Me
14. The Jackson 5 – Someday At Christmas
15. Andy Williams – It's The Most Wonderful Time Of The Year
16. Jim Reeves – Senor Santa Claus
17. Darlene Love – Marshmallow World
18. Bob B. Soxx and The Blue Jeans – Here Comes Santa Claus
19. Alma Cogan – Never Do A Tango With An Eskimo
20. Adam Faith – Lonely Pup (In A Christmas Shop)
21. Eartha Kitt, Henri René & His Orchestra – Santa Baby
22. Ella Fitzgerald & Louis Jordan – Baby It's Cold Outside
23. Perry Como – I'll Be Home For Christmas
24. Burl Ives – Holly Jolly Christmas
25. The Crystals – Rudolph The Red-Nosed Reindeer
26. The Beach Boys – Little Saint Nick
27. Bob B. Soxx and The Blue Jeans – The Bells Of St. Mary
28. Ella Fitzgerald – The Christmas Song
CD 3
1. John & Yoko and The Plastic Ono Band with The Harlem Community Choir – Happy Xmas (War Is Over)
2. Band Aid – Do They Know It's Christmas?
3. Frankie Goes To Hollywood – The Power Of Love
4. Johnny Mathis – When A Child Is Born
5. Il Divo – O Holy Night
6. Aled Jones – Walking In The Air
7. Nat King Cole – Silent Night
8. Perry Como – O Come All Ye Faithful
9. Jim Reeves – Silver Bells
10. Burl Ives – O Little Town Of Bethlehem
11. Bing Crosby & David Bowie – Peace On Earth / Little Drummer Boy
12. David Essex – A Winter's Tale
13. Mike Oldfield – In Dulci Jubilo
14. Chris De Burgh – A Spaceman Came Travelling
15. Bert Jansch – In The Bleak Mid Winter
16. Jethro Tull – Ring Out Solstice Bells
17. Steeleye Span – Gaudete
18. The Weavers – We Wish You A Merry Christmas
19. Blue Blood – God Rest Ye Merry Gentlemen
20. The Spinners – The Twelve Days Of Christmas
21. Susan Boyle – Auld Lang Syne
Abba – Happy New Year

Give the gift of beautiful skin this Christmas
Combining luxury with effective cosmeceutical skin solutions that deliver real results,
Skin Doctors ™ has something for every healthy skin wish list this festive season.

TWITTER | FACEBOOK | INSTAGRAM
Skin Doctors™ Beelift (RRP £38.99/50ml)
Perfect for mums, aunties and beauty-conscious besties
This award-winning, paraben-free, luxurious treatment cream contains Bee Venom, along with natural Manuka Honey and the collagen treatments Trylagen® and Hyadisine® – a complex mix of peptides, amino acids, proteins and key enzymes. The ingredients work by tricking the skin into thinking it has been lightly stung and thereby instantly tightening facial muscles for cumulative tightening, lifting, plumping and firming of the skin. Collagen and elastin – two key components of youthful, healthy skin – are then stimulated to help reverse the signs of ageing.
Skin Doctors™ Instant Facelift (RRP. £30.99/30ml)
A quick fix for party animals
It's the essential go-to product whenever you need an instant pick-me-up ahead of the next Christmas party. Apply a thin layer and your skin should look and feel noticeably tighter, smother and lifted after just five minutes. Our top tip? Apply it as a fantastic face-lifting make-up primer before applying your face make-up for a wonderful smooth, matte finish.
Skin Doctors™ Instant Eyelift (RRP. £21.99/10ml)
A pick-me-up for Santa's helpers
A visit from Santa can result in a few sleepless nights for parents of excited little ones. To the rescue comes Skin Doctors' acclaimed cure for tired, puffy eyes. This miracle gel serum means easy application and within minutes your under-eyes will appear lifted, in perfect time for Christmas lunch! This award-winning formula also works wonders on fine lines and wrinkles, with noticeable results that last for hours.
Skin Doctors™ Gamma Hydroxy (RRP. £41.99/50ml)
Ideal for New Year, New You
If too much over indulging has taken its toll on your skin in the run up to Christmas, our unique skin resurfacing peel can dramatically smooth the appearance of acne breakouts over just a few weeks without the excessive irritation you can experience with a chemical peel. It's also perfect for older skin that's starting to show visible signs of skin ageing.
Skin Doctors products are available from, Very.co.uk, Littlewoods.co.uk,Lookfantstic.com, Freemans.co.uk , Amazon.co.uk, Feelunique.com, Ocad.co.uk, and selected stockists throughout the UK. Alternatively buy direct from: www.skindoctors.co.uk
Nightflight Duffle Bag with a fine nylon rib structure combined with soft leather inserts and embossed BMW 7 Series design elements on the exterior. The spacious main compartment has a zipped compartment and a document pouch. The jacquard lining on the inside has a Montblanc logo design. Includes leather luggage tags and embossed BMW 7 Series design elements. £ 395.00
Book-lovers will now be able to own their own copy of F. Scott Fitzgerald's handwritten The Great Gatsby.
Parisian publishers, SP Books are releasing 1,800 hand-numbered luxury editions of the original, autograph manuscript this November in time for Christmas.
​
Printed from the edition donated by his daughter 'Scottie' to Princeton Library in 1950, this beautiful, written manuscript includes revisions, crossed out passages and entire extended scenes. This gift provides a unique insight into Fitzgerald's thought process through his own handwriting and style.
The manuscript is presented in a deluxe iron gilded slipcase and is available for £199, making it the perfect Christmas gift for bibliophiles. An exclusive foreword from Baz Lurhmann will be printed alongside the manuscript.
The books are will be available to buy at https://www.spbooks.com

TRADING DOWN
Stephen Norman
Published by Endeavour Press
9th November 2017
Paperback £8.99 | eBook £2.99
www.endeavourpress.com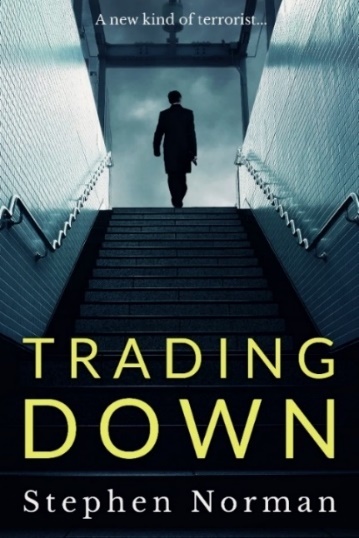 'If this program is run, it will destroy this bank as surely as a neutron bomb.'
A chilling financial thriller that brings home the true threat of cyber terrorism, perfect for fans of Stephen Frey and Robert Harris' The Fear Index
A terrifying look at what would happen to the world if the banking infrastructure was entirely destroyed, written by longest-standing ex-CIO of RBS Global Markets
Inspired by 20 years' experience, Norman reveals the real world behind the trading floors: the greed, the politics, and the relentless pressure to perform
London – Chris Peters loves his work: the excitement of the trading floor, the impossible deadlines and the constant challenge of the superfast computers in his care. But the dream turns sour as mysterious meltdowns begin to hit datacentres across the grid and a true banking collapse threatens. Desperately trying to hold his marriage together as systems crash and traders turn on him, Chris must uncover the sinister truth before chaos is unleashed…
Yemen – When Zahra's father fails to return from a work trip to Dubai, she is sure there is a simple explanation… until gruesome warnings arrive on the doorstep. As the threats become more violent Zahra's family are thrown into a desperate race to pay off their father's captors. But how far will her family go to meet the abductors' demands?
"The world has experienced cyber-warfare since the 1980s and built up elaborate defences against external attacks. The elephant in the room is treason – an attack from within. Every week we see the devastating effect of accidental IT errors on airlines and banks and phone companies. A determined insider could create mayhem on a different scale entirely. Without its hundreds of systems, a major bank would sink as swiftly as the Titanic, leaving its customers without cash, wages, cards, loans and repayments – and threatening the entire financial system.
"It is difficult to convey the terror and mind numbing panic that accompanies the simple words 'The trading floor is down.' During my 20 years in the financial markets, I experienced that fear many times. When you read Trading Down, I hope you will share it, and also glimpse the brutal, high pressure world behind the slick images of traders and trading floors that you see on the news." – Stephen Norman
Stephen Norman spent 20 years at the forefront of investment banking IT, facing industry turbulence, from the rise and fall of the dotcoms, the destruction of 911 and the banking collapse of 2008. He has worked in financial centres across the world – from London and New York, to Hong Kong and Tokyo – and has fulfilled a range of high powered roles including Chief Technology Officer at Merrill Lynch and an unusually long 7 year stint as CIO of RBS Global Markets. In 2012, he left the world of finance to focus on his writing. Trading Down is Stephen's first novel.
84% of business leaders say mental health has impacted their performance at work
Nearly half (49%) don't feel comfortable discussing their mental well-being with a colleague
New research comes from insurer Legal & General's 'Not a Red Card Offence' mental health forum
Legal & General is working with sports stars and leaders from the business world to address the stigma of discussing mental health in the workplace
Nearly half (48%) of business leaders don't feel their employees would confide in a colleague if they were struggling with their own mental well-being, research from insurer Legal & General shows – even though 84% said that mental health has personally impacted their performance at work.
Encouragingly, 85% of those surveyed said that they had seen improvements over the past five years with regards to discussing mental health in the workplace – with 97% saying the recent increase in coverage of mental health stories from the sporting world had helped to destigmatise the topic.
Attendees at Legal & General's mental health forum heard from speakers including former HBOS Chairman Lord Dennis Stevenson, Alistair Campbell and Legal & General CEO Nigel Wilson. Sport stars Baroness Tanni Grey-Thompson and Olympic gold medallist Helen Richardson-Walsh also attended to share their personal experiences of mental health.
Nigel Wilson, CEO, Legal & General, said: "The research from our inaugural event shows how much work still needs to be done. The fact that 84% of those who attended say their mental health has impacted their work demonstrates how prevalent this issue is. It is vital that businesses are able to spot the signs of mental ill-health early on and ensure they have the resources they need to look after any employees who might be suffering.
"Business can learn a lot from the world of sport about dealing with mental health issues, and it was great to hear first-hand from world renowned sport stars about the steps they took to look after their mental health. These accounts offered a strong reminder that mental health should be given exactly as much time and care as physical health.
"Talking about mental health with colleagues is one of the most difficult conversations to have in the workplace, but by working closely with UK businesses and continuing our 'Not a Red Card' campaign, we hope to change perceptions and encourage more open conversations between employers and employees."
Capezio
Capezio Camisole Glittery Tutu Dress £19.95
The beautiful dance dress features a soft Cotton/Lycra leotard with camisole straps, an attached glittering tutu skirt with a deep satin waistband, and back bow detail. Irresistibly cute, Capezio's camisole tutu dress is perfect for performances and makes a fantastic gift for the little ballerina in your life.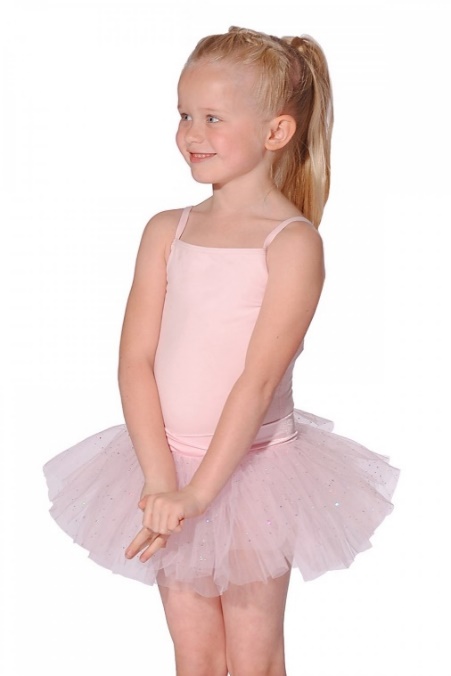 New WILD organic eau de vie releases 100 limited edition pre-launch bottles, just in time for the perfect gift this Christmas
As the 'ginaissance' takes a breath, an exciting new clear French spirit is getting set to take British millennials by storm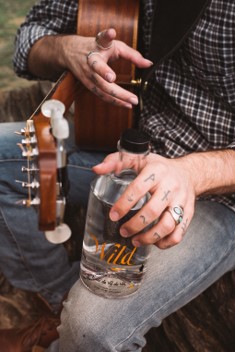 London: 27 October 2017: An exclusive batch of 100 bottles of brand new WILD, an organic eau de vie, will be made available for a very limited period and will be the perfect opportunity to give loved ones a truly original gift this Christmas. Available via Ulule (https://www.ulule.com/wild-eau-de-vie/) from Tuesday, 31 October 2017 and running for 30 days or for as long as the first 100 bottles last. WILD will officially launch the full range in the UK in 2018. But if you don't manage to order your pre-launch bottle now, you can still join the WILD family journey with other crowdfunding opportunities this side of Christmas, with many exciting, money-can't-buy rewards which are also fantastic gift ideas.
Watch the video: https://vimeo.com/239540743
WILD breaks the mould – changing how we think about brandy and Cognac
Two French cousins who share six generations of family heritage in Cognac production under the name 'House 1719', have joined forces to inject a very fresh and entrepreneurial slant into the historical family business. They aim to revolutionise the traditional perception of Cognac and brandy in general with the introduction of WILD, an organic eau de vie, which is a refreshingly unique, edgy and un-aged white spirit.
It is both 'off the beaten track' and terribly 'in'. Despite being firmly rooted in decades of Cognac craftsmanship, it enjoys the versatility, playfulness and lightness of touch of gin and vodka. And promises to attract a trendier, cooler, more adventurous consumer. WILD is born from the idea that Cognac is all too often associated with suited and booted cigar puffing men who sip elegantly on ornate crystal tumblers and debate the ins and outs of business and politics. Removing the age element from both the drinkers and the drink itself, WILD becomes something very different, untamed, elevated and fresh.
WILD will be the only organic grape-based eau de vie in the UK market. Clear in colour but bold in zesty flavour, it is an exciting alternative to gin and vodka, aimed at open-minded and free-spirited millennials.
Support the Ulule crowdfunding campaign
In much the same way that the spirit was created accidentally by explorers on board a sailboat in the 16th century, WILD is calling out to today's young adventurers to get on board the month-long Ulule campaign to help create something equally special. The target is to raise £4,500 (€5,000) which will go towards buying extra distillation tools for large scale production. Contributions will be well rewarded, with even the chance to make your own WILD eau de vie on the estate in France.
Recommended serves
Enjoyed neat, on the rocks, or mixed into cocktails, WILD's four recommended serves are:
Citrus Mountain: 40ml WILD, 20ml fresh lemon Juice, 10ml sugar syrup, and finish with 10ml sparkling water. Serve in a short glass with 3 blocks of ice and a slice of lemon
Free Spirit: 20ml WILD, 20ml XO Cognac, 20ml Triple Sec, 10ml fresh orange juice and an egg white froth. Serve in a tall Martini glass
Pink Rodeo: 40ml WILD, 10ml fresh lemon juice, 10ml fresh orange juice, 10ml sugar syrup, 45ml cranberry juice. Serve in a red wine goblet with a handful of ice and a thin short straw
WILD & Tonic: 40ml WILD, tonic water. Serve in a highball glass with a handful of ice and a slice of lemon
The brand and the bottle design add an extra bit of magic to the story, with every fine detail created bespoke by renowned 1924 American designer, Christian Watson.
The two cousins, Anael Boulay and Antoine Rivet, grew up with an innate love for Cognac. They can recall their earliest memories with their families hearing and talking about it. It is in their make-up and they are excited to bring their own modern breed of the famous drink to the UK.

House Of Marley Audio, Jamaica Smile & Positive Vibration 2  www.thehouseofmarley.co.uk
GOOGLE+ | FACEBOOK | TWITTER | INSTAGRAM | PINTEREST | YOUTUBE | VEET
Whether you're looking for stocking fillers, or a gift for the music lover in your life, audio brand House of Marley have your audio needs covered this Christmas, with a range of brand new wireless headphones.
House of Marley Smile Jamaica Wireless – RRP £49.99, promo £39.99
Stockist: thehouseofmarley.co.uk, Amazon and HMV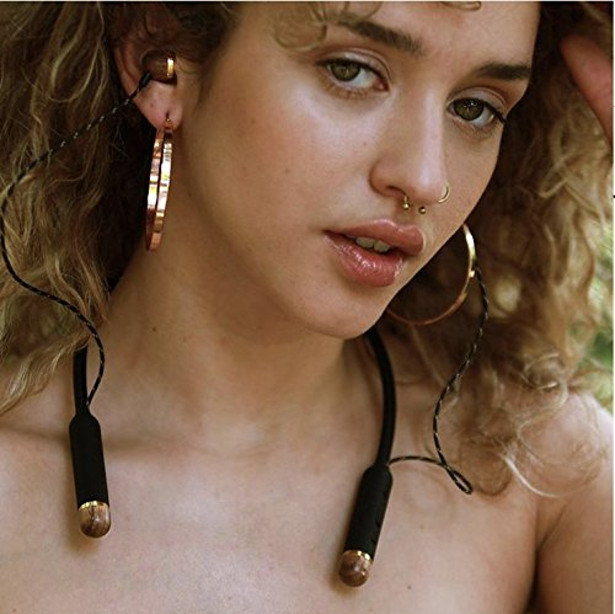 First in class and comfort, Smile Jamaica Wireless combines FSC™ Certified Wood and recyclable aluminium housings to create an iconic Marley in-ear headphone that is available in a bounty of colours. Boasting up to 8 hours of playtime, the in-ear headphones feature a lightweight and comfortable neckband with a noise isolating in-line microphone and 3-button wireless controls. With genuine sapele, maple, beech and walnut wood accents with anodized aluminium trims, the Smile Jamaica Wireless are a fashion forward alternative to the sea of plastic products on the market today.
· Bluetooth 4.1 with 10 meter range and 8 hour wireless play time
· Features recyclable aluminium trims, FSC™ certified wood and exclusive REGRIND™ silicone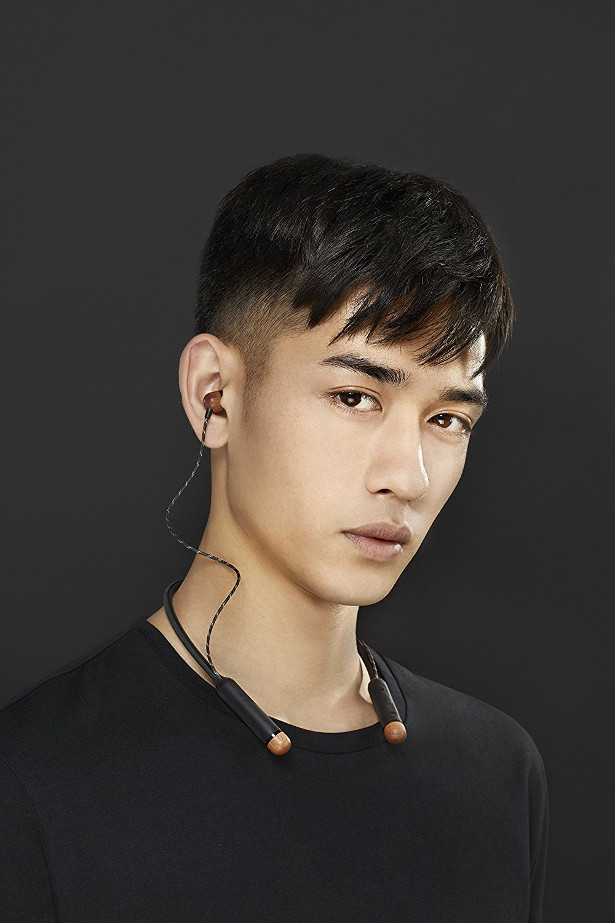 9mm dynamic driver, microphone and 3-button controls
· Slender and lightweight neckband design and durable tangle free braided cable
· Available in Black, Brass, Copper and Denim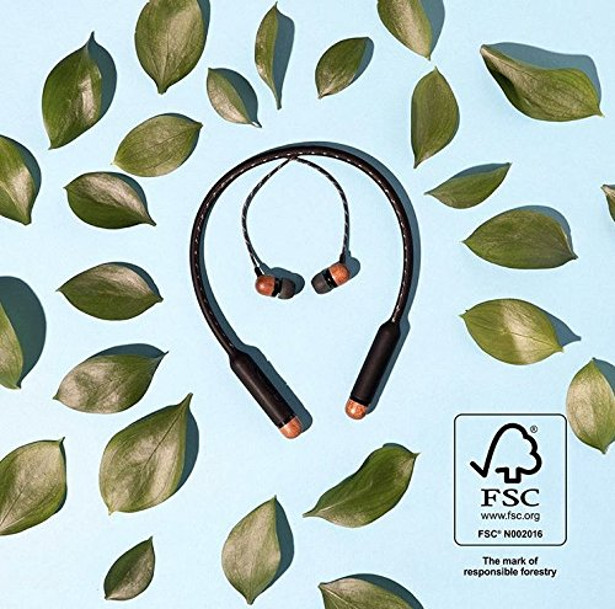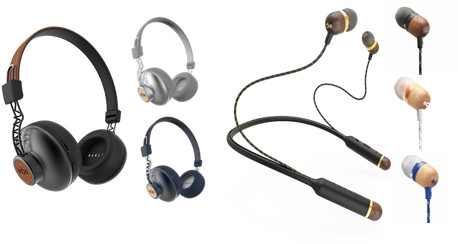 House of Marley Positive Vibration 2 Wireless – RRP £69.99, promo £49.99
Stockists: thehouseofmarley.co.uk, Amazon and HMV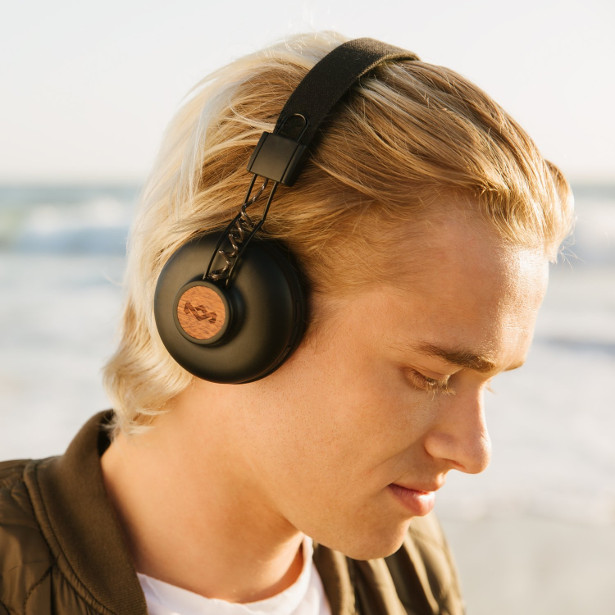 Big drivers, soft ear cushions, precision sound; Positive Vibration 2 Wireless is an instant classic and lifestyle essential. It's available in a range of vibrant colours and cool styles, and with a 10 hour battery, 40 mm dynamic driver and aluminium ear cups, the sleek design is the ideal companion for travelling. The headphones also include a removable cable with a mic and 1-button remote so you can continue to listen plugged in should you wish, and features on-board controls and microphone to control your music and take calls with convenience.
· Bluetooth 4.1 with 10 hour wireless play time
· Features recyclable aluminium trims, FSC™ certified wood and exclusive REWIND™ fabric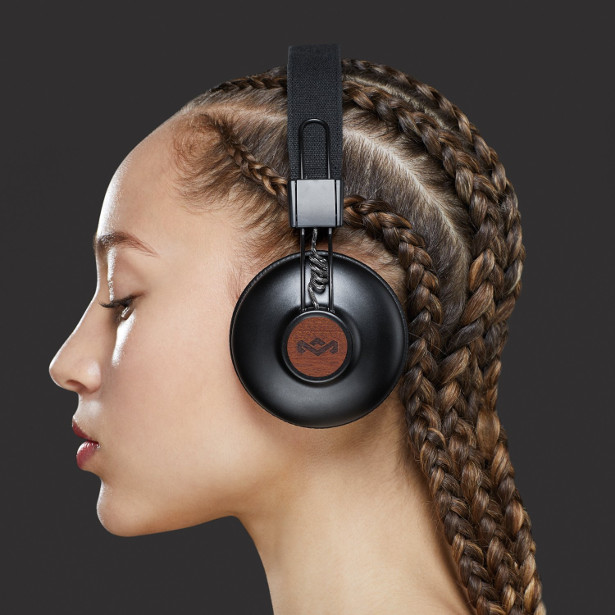 · 50mm dynamic driver provide the ultimate premium listening experience
· Removable, durable, and tangle resistant cable with integrated mic and 1-button remote and gold plated plugs for a wired override
· Foldable design, with plush ear cushions and comfortable on-ear design
· Available in Black, Silver and Denim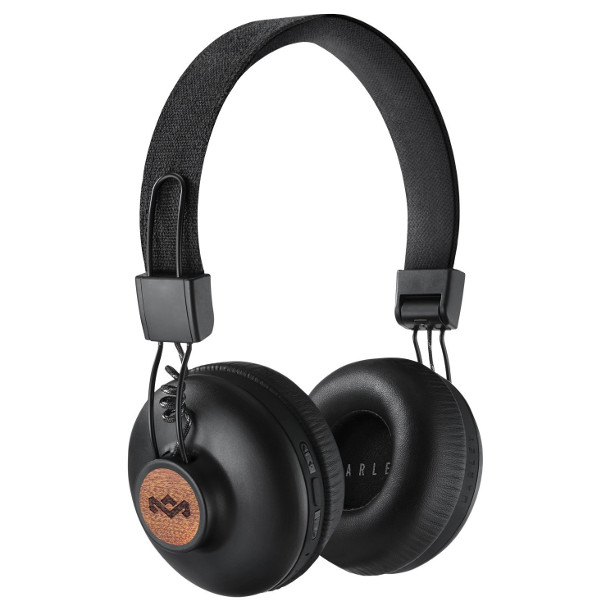 SAVERNAKE KNIVES
The first bespoke and custom chefS' knives made withouT compromise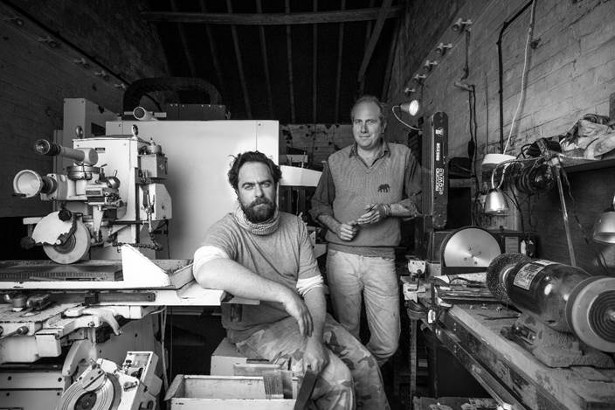 Sauce Communications is delighted to be representing Savernake Knives, bringing its revolutionary manufacturing design and technology to knife making. Using a combination of precision engineering and dextrous hand finishing, Savernake Knives can make both customised and entirely tailor-made knives in a matter of weeks and is the first company of its kind in the UK.
Directors Laurie Timpson and Philip Shaw conceived the idea and after 3 years of research and development are now using their processes to create truly bespoke knives. Each blade is hollow-ground, a unique profile which takes weight away from the blade and leaves an unparalleled cutting edge and follow through feel. Timpson explains: "Our technology allows for precision and daring design, we strive to combine the best technology with age-old techniques in our quest to make the very best chef knife possible, with no concessions or compromise."
They create precisely tailored sets of knives and one-offs for the home. In addition, they supply Michelin star chefs with bespoke and unique knives, which provide precision, sharpness and durability.
The company also keeps everything in house as Shaw says, "We carry out every step of the kitchen knife making process (short of smelting the steel) ourselves. We can maintain excellence and speed and customise knives at the individual level without compromising quality."
The British company is based on the edge of the Savernake Forest near Marlborough in Wiltshire. They use high-end Sandvik 14c28n stainless steel, design their knives in Autodesk Inventor and are able to create bespoke blades accurate to the last mm due to their Haas milling machine. The blades are heat treated by hand and the handles are crafted on site using a variety of both ultra-modern and timeless materials.
As true 21st century artisans, Timpson and Shaw's journey to knife-making has taken a circuitous route. Between them they have served in the Scots Guards, worked for the HALO Trust, learned to track wild animals with the Maasai, set up development teams in South Sudan and Pakistan and launched and managed pubs in London. They are now both settled in Wiltshire, Timpson living off-grid in the Savernake Forest with his wife and baby, and newly-wed Shaw living five minutes down the road.
The pair are excited to launch their company and their new website, which can take customised orders online.

Everyone is getting wrapped up in gifts in the lead-up to Christmas – why not add Speck to the list, the perfect present for him AND her? www.speckproducts.co.uk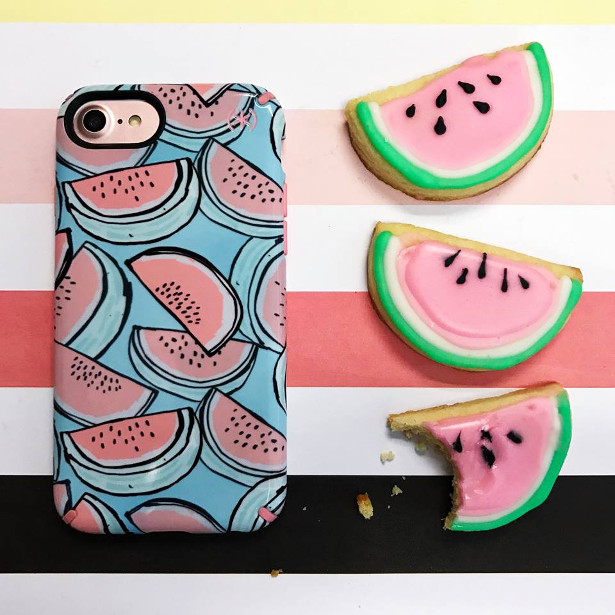 FACEBOOK | TWITTER | PINTEREST | YOUTUBE | INSTAGRAM
Mobile Accessories
The most wonderful time of the year is nearly here!
Everyone is getting wrapped up in gift guides and product tests in the lead-up to Christmas – why not add Speck to the list, the perfect present for him AND her?
Speck provides extremely protective (and stylish) cases for smartphones, tablets and MacBooks.
The case manufacturer offers up to 3 metre drop protection for their phone cases, and up to 1.2 metre drop protection for tablets and MacBook cases.
Their cases feature an IMPACTIUM™ Shock Barrier, Speck's innovative new shock-suppression technology that protects your device without adding unnecessary bulk: it absorbs and disperses shock from impact.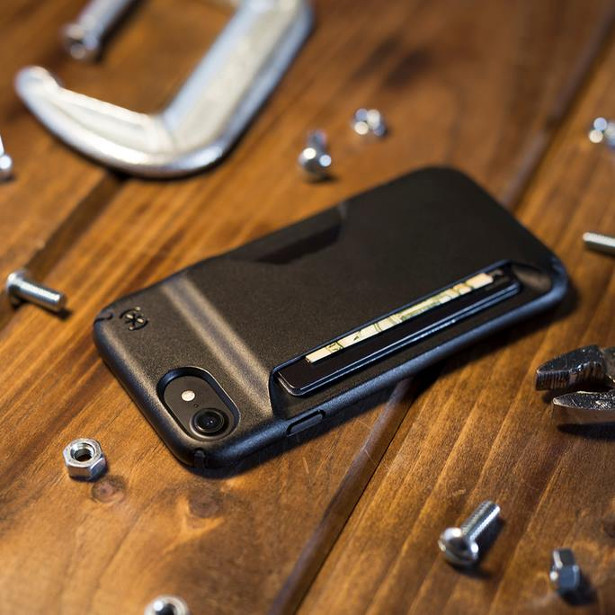 With Speck, you get optimum protection and everything else: beautiful design, sleek lines, and purposeful details.
Looking to get him or her the new iPhone 8/X for Christmas? Ensure peace of mind with a matching case courtesy of Speck!
Speck's new Presidio ULTRA cases, their toughest case yet, feature four layers of protection, 360-degree port coverage as well as dirt and dust resistance.
Presidio Ultra
Speck has also released some beautiful new golden Clear + PRINT cases, as well as their first line of metallic cases with chic jewel tones.
Everyone can find a case to their liking, so make sure to shop before you drop!
— Available for Apple, Samsung and Huawei devices —
To view the full range, or to find out more about cases for other devices, visit Speck on speckproducts.co.uk.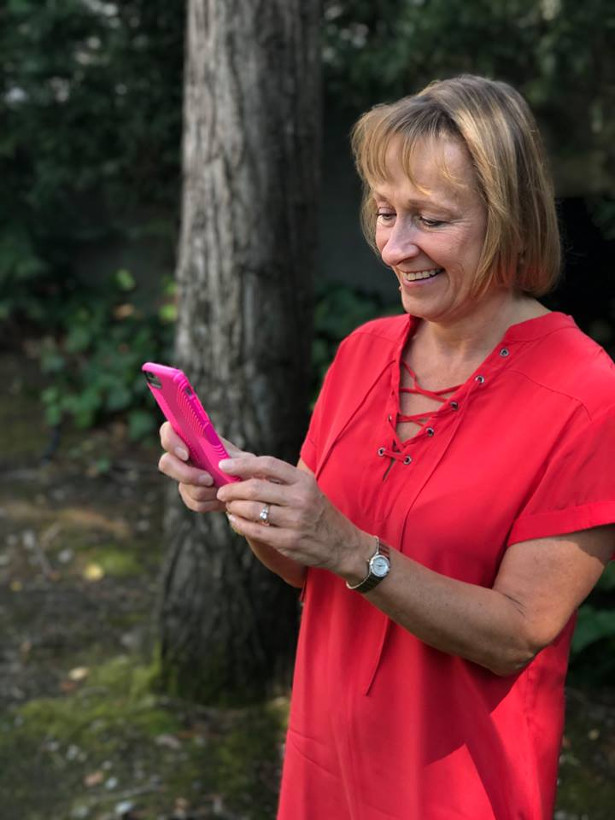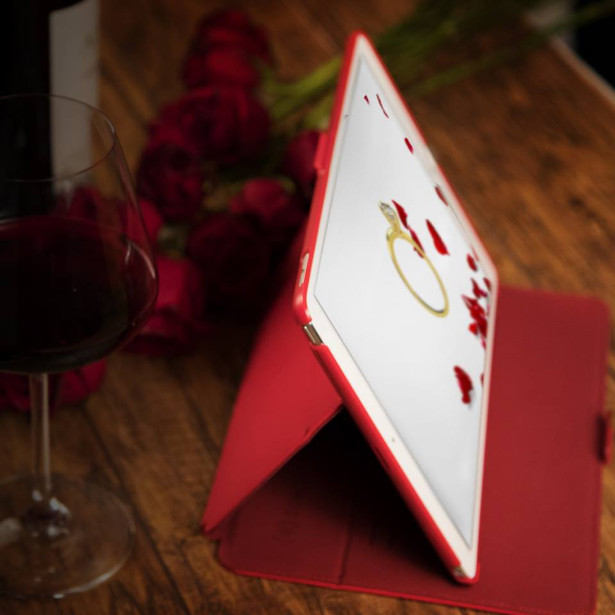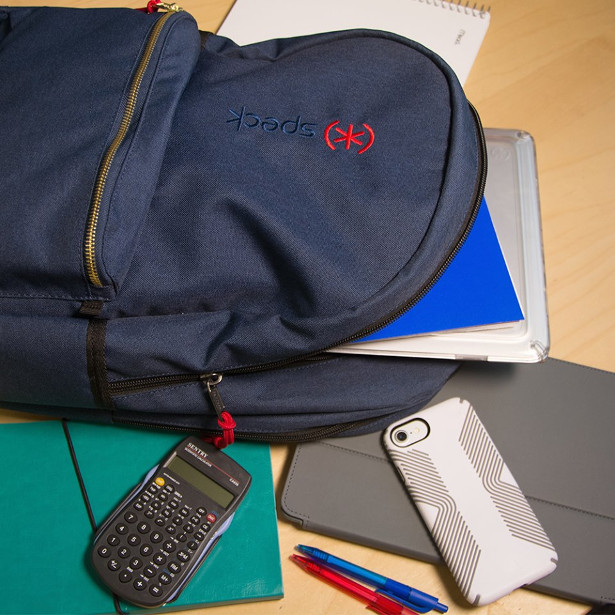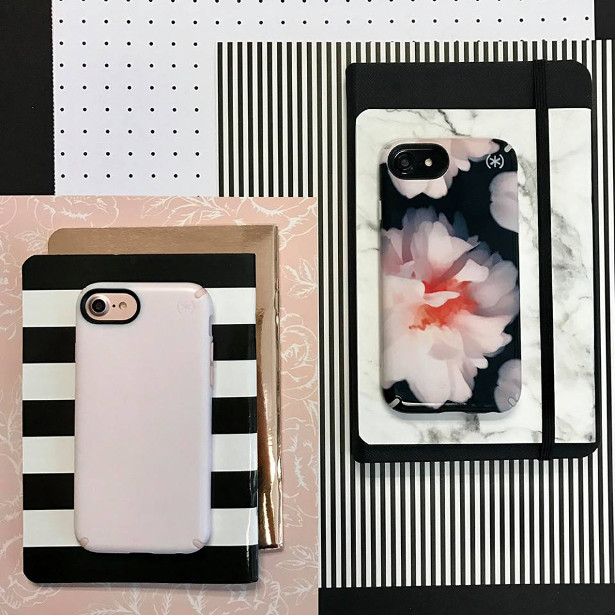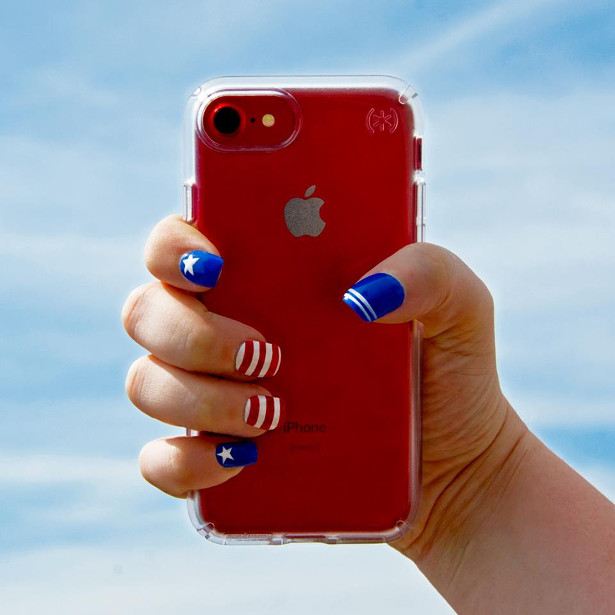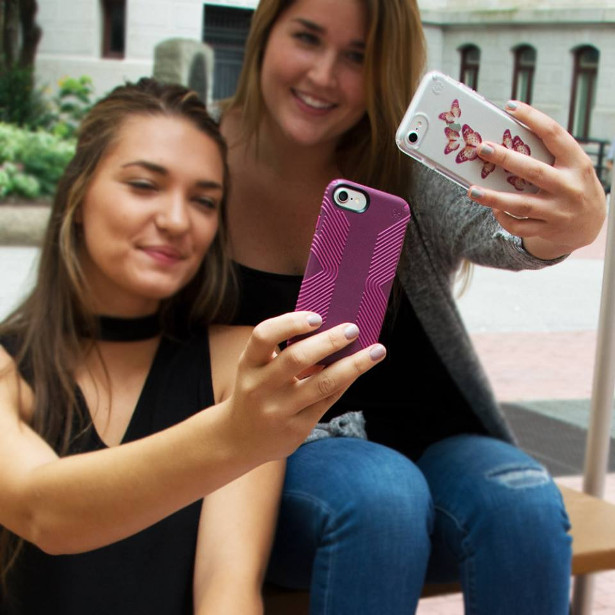 SNEAKERTUB – SNEAKERTUB is the world's first and only Sneaker subscription service delivering a monthly package of awesome sneakers from Saucony Originals, Puma, Palladium Boots, New Balance, Ransom Holding Company and many more. We also partner with clothing and accessories brands such as Stance Socks, Vitaly, Altamont, Alpha Industries, Jason Markk, Crep Protect, Publish, Staple and many others. SNEAKERTUB was born in Toronto, Canada and ships worldwide.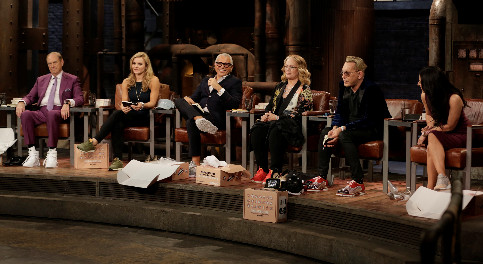 Dragons' Den – One of the most successful Canadian reality programs, DRAGONS' DEN reached nearly one-quarter of all Canadians through the course of the 2016/17 season. In addition to its success on-air, DRAGONS' DEN is also a hit online, boasting an active and engaged online community and averaging nearly 93,000 page views per week. Full episodes and exclusive behind-the-scenes content can be viewed at cbc.ca/dragonsden.
DRAGONS' DEN is filmed at the CBC Broadcasting Centre in Toronto and airs Thursdays at 8 p.m. (8:30 NT) on CBC Television. Tracie Tighe is executive producer and Christopher Nelson and Yette Vandendam are senior producers. Dianne Buckner hosts.
Classic Men's Black Velvet Slipper – $330 USD. This is the style that can be customized to include any Rubgy team emblem, color scheme, or add the number of a favorite player.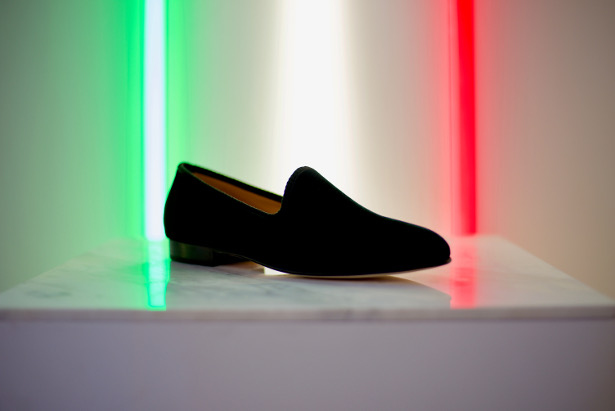 ABOUT DEL TORO:
Del Toro is a luxury lifestyle brand based out of Miami, Florida. Originally a men's brand, Del Toro now produces refined, contemporary shoes and accessories for both men and women. Matthew Chevallard, President and Creative Director of Del Toro, was born in Torino, Italy and founded Del Toro in 2005. All products are hand made in Naples, Italy, and are constructed of the finest Nappa leathers, suedes, and velvets. Inspiration for the brand is drawn from a combination of the brand's Italian heritage, a Palm Beach prep aesthetic, and edgy New York style.

GIVE THE GIFT OF FLIGHT THIS CHRISTMAS
London's hottest new attraction – Flight Experience London (FEL) – is offering a unique and memorable present this Christmas – the gift of flight.
If you're stuck for a Christmas gift idea this year – treat the special person in your life to an experience they truly won't forget. Let them become Captain of a Boeing 737 aircraft simulator and take to the skies. After carrying out real pre-flight aircraft checks and talking to Air Traffic Control, a fully qualified instructor will take them through the controls of the aircraft and then allow them to fully experience the exciting sensations of take-off, climbing, cruising and landing.
FEL is the UK's only Flight Simulator business of its kind to be classified as an 'Official Boeing Licensed Product'. The cockpit is actually built from a former aircraft so the controls are identical to those you would expect to find inside a real cockpit – every lever and button is operational and will have an effect on the flight if used. Featuring high-definition 180 degree screens with panoramic visuals – and immersive sound and vibration sensations – you experience flight like never before.
For most people, stepping into a cockpit and flying a commercial aircraft is only a dream but FEL is hoping to change that and provide an exciting, challenging and most importantly, fun experience that will change the way you fly as a passenger forever.
With options ranging from scenic flights around a city of your choice through to a 90 minute real-time city-to-city flight, the software at FEL allows you to fly from over 24,000 different airports, located across the globe.
To find out more, visit www.london.flightexperience.co.uk. Suitable for everyone aged 15 years and over (due to height restrictions). Guests are welcome to join the experience as spectators.
3Doodler Create Pen Set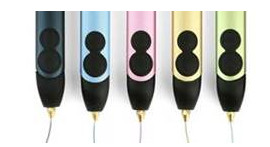 This highly versatile 3D printing pen will allow you to lift any idea off the page this Christmas – it can be used to create awesome decorations, unique gifts or is the perfect crafty present alone.
With the widest range of sustainable materials on the market and with over 76 plastic colours including gold or sparkly, the possibilities for what you can create are endless!
· Compact and easy to use, in six different colours
· 76 different plastics and a range of canvases and kits are available, including this Gnome Canvas that can be turned into your very own Santa Claus
· Available from: Maplin and Amazon, retailing at £99.99
BOSE
QC35 II – £329.95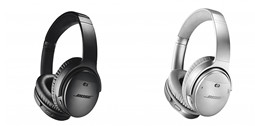 QuietComfort 35 wireless headphones II – Black QuietComfort 35 wireless headphones II – Silver
The revamped version of Bose' iconic QC35 model is complimented by the addition of acoustic noise cancelling settings, and Google Assistant – the first headphones to do so. By simply pressing the 'Action' button on the left earcup, you can connect to Google Assistant without the added fuss of having to locate, unlock and find the app on your phone. The set comes with an inbuilt proprietary Bose microphone system which allows added clarity to commands, ensuring they're understood, and the active noise cancellation reduces any unwanted background noise. Available in black and silver.
BRITS IN WINTER EXODUS AS PARENTS BLAME UNFAIR SUMMER HOLIDAY COSTS
· A winter of content – 13 million Brits will be swapping summer holidays for winter sun holidays
· Reasons include travel agents skyrocketing summer holiday prices (28%), a boring British Christmas (31%) and unwanted evenings with relatives and friends (9%).
· Brits save a staggering £500 by travelling abroad over Christmas compared to summer, a UK saving of £6.5 billion
· The most popular winter sun destinations are Tenerife, Lanzarote and Florida
· For exclusive deals on winter sun holidays, visit https://www.myvouchercodes.co.uk/travel
This winter will be one of content for Brits, with 13 million not coming home for Christmas and swapping summer holidays for winter tans according to research commissioned by leading discount websiteMyVoucherCodes.co.uk.A total of 22.3 million Brits will be looking to go on a winter sun holiday this year.
With average spending on summer holidays reaching £1,200, Brits are looking to put more money back in their pockets, following Brexit uncertainties and the consumer squeeze, by heading off for warmer climates over Christmas. The nation will save on average £500 by heading abroad over Christmas compared to summer, spending on average £694 on winter sun holidays per person.
Over half of Brits (57%) are more likely to book a winter holiday now than they were five years ago, with more than a quarter (28%) of parents stating being held captive by travel agents skyrocketing summer holiday prices as one of the main reasons for this switch. Two in five Brits (40%) also say that it's worth spending £700 on escaping a 'boring Christmas' at home and unwanted evenings with relatives and friends.
A quarter of Brits (24%) book a winter sun holiday out of boredom of the traditional routine and want a new Christmas and New Year experience. Almost half (45%) say that the cold weather forces them to leave, and one in ten (9%) say they are fed up of early dark nights, which put them in a bad mood. While concerns over the weather and the urge to try new experiences provide the main motivation for booking a winter sun holiday, the opportunity to try new destinations (18%), finish the year in style (16%) and have a winter tan (9%) have been marked as reasons to leave the traditional summer break behind.
When asked where Brits will be escaping the UK to, Tenerife (30%) is the UK's most popular winter sun destination. Lanzarote (21%) and Florida (17%) follow and 21% of Brits would choose long-haul getaways in Australia or New Zealand.
1. Tenerife – 30%
2. Lanzarote – 21%
3. Florida – 17%
4. Gran Canaria – 15%
5. Australia – 13%
6. Dubai – 11%
7. Barbados – 9%
8. New Zealand – 8%
9. Thailand – 7%
10. Morocco – 7%
Chris Reilly, Managing Director for MyVoucherCodes.co.uk, said: "More Brits are flying to warmer climates over Christmas than ever before and spending more than they did in the summer. With over 76% of people booking holidays online nowadays, there are plenty of deals and offers to help keep more money in your pockets for those piña coladas."
For the best deals on winter sun holidays, please visit https://www.myvouchercodes.co.uk/travel
London French Kitchen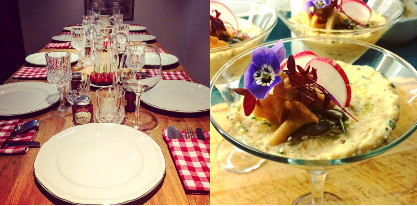 Join London French Kitchen (LFK) for an unforgettable experience. This female duo, made up of Emeline & Marie, offer guests a deep dive into the wonderful world of French cuisine in a relaxed and lively atmosphere. Your office will receive a bespoke service, with the charm of dining in an environment similar to your own home. When you're ready to leave, don't expect to go empty-handed, LFK gifts each guest a goodie bag full of homemade surprises.
Il Gusto – Personalised Presents for the Foodie in your Life

Il Gusto is an Aladdin's cave of personalised presents to delight and entice, from secret Santa tokens to more spectacular offerings for your nearest and dearest.
Il Gusto's superior personalised gifts are unique and very special. Stored in barrels, glass vessels and jars, each Il Gusto product can be sampled in their stores prior to purchase and bought in an array of quantities and prices, starting from 40ml/under £10 or can be purchased online for maximum convenience. They can be personalised in a number ways making them truly distinctive:
• From festive Christmas liqueurs and spirits to gourmet oils and vinegars, each gift can be decanted into a stylish glass bottle with the customer's choice of both shape and size; from traditional shapes, to unusual stars, gingerbread men, Christmas trees or elegant heeled shoes, making it easy to theme gifts to the recipients' interests and tastes.
• Il Gusto's practical stackable bottles can be filled with a rainbow selection of flavoured vodkas, gins and other classic spirits for a perfectly tailored gift.
• Finally, each bottle can be inscribed with the product's name and a complementary personal message.
Something for Everyone:
For the Foodie:
• Sweet Woodruff Vodka in a Christmas Tree, 200ml £16.50 This delicate liqueur is vodka-based, infused with the sweet scent of the white-blooming woodruff. Delicious mixed with Prosecco, cider or apple juice.
• IlGusto Pumpkin Seed Oil Guilia Decanter 100ml £10 A gourmet oil with a deep dark green colour with a nutty taste and aroma, perfect for bringing winter salads to life.
• Calvados in a Star 100ml £11 – A favourite foodie spirit, this VSOP apple brandy is matured for 5 years in oaken casks this calvados, giving it a rich amber color and classic aroma.
For the Fashionista:
• Gin Lime Basil Liqueur in a Star 200ml £14.90 – a gin based liqueur with the freshness of lime and the delicate spiciness of basil. Serve with tonic water or in gin-tini mojito with mint, cane sugar and fresh lime.
• Bloody Orange Vodka in Lady Shoe, 40ml £9.90 Pure vodka blended with refreshing blood orange juice to create a drink with a delicately bitter fruit aroma
• Dream Pink Vodka 200ml £12 – Peachy cosmopolitan style vodka cocktail, light on the palate and a fruity aroma on the nose.
For the Entertainer
• Dreamline Vulcano 750ml £18.00 – A sparkling white wine based drink with a glowing reddish orange colour with amber highlights which shimmer to create a warming festive hearth effect.
• Sparkling Gold Cuvee Magnum (1.5lt) £64 A luxurious sparkling wine, made from 100% Pinot Blanc and filled with flakes of pure 22 carat gold, which swirl in the bottle to create a festive snowstorm in a bottle. Magnums are a great choice for parties but this product is lso available in 75cl/£31 or 200cl/£13
• Tequlia Gold Skull 50ml £10. For a rip roaring New Year's Eve dinner, use a tequila filled skull bottle, personalised with each guest's name, as a place setting
For the Domestic Goddess:
• Gingerbread Liqueur in a Christmas Tree 200ml £17.50g– this creamy and subtle liqueur is delicious with ice or warmed and poured over ice cream.
• Salted Caramel Liqueur in Gingerbread Man 200ml £19.50. Made from the highest quality caramel and cream, with a touch of Fleur de Sel,
• Extra Virgin Cretan Olive Oil with Lemon, Basil and Rosemary – Linea 200ml £9.70. An elegantly presented extra virgin oil that combines the fresh aroma of lemon and with herbs, giving it great versatility during the Christmas entertaining season
For the Connoisseur:
• Bespoke selection of whiskies – Triple Carre 50ml x 3. Il Gusto offers a selection of premium single malts Scottish whisky and Irish whiskeys, aged from 3 – 21 years. Price will vary depending on product selection, with individual 50ml Carres priced from £6.75 – £10.
• Aceto Balsamico Modena Igp Vintage in Odysee 200ml £27.30. Superb Balsamic vinegar aged in barrels with a richly dark colour, pungent sweetness and an intense syrupy consistency.
• Armagnac VO in Diamond 500ml £45 – Armagnac X.O. A superior Armagnac aged for 10 years in wooden casks, giving it great character and a matchless aroma.
Il Gusto's products are available online and in Il Gusto stores and kiosks nationwide.