Celebrate Christmas in true Tennessee style with Jack Daniel's Tennessee Honey
Bring the taste of Tennessee to your dinner table this Christmas, with authentic American-style recipes from Jack Daniel's Tennessee Honey.
FACEBOOK | INSTAGRAM | TWITTER | YOUTUBE
Mr Jack used his whiskey to bring people together, and this long-standing tradition is still as true today as it was when he founded his distillery over 150 years ago. He was also known as a great host and an independent spirit, so what better way to celebrate Christmas than by kicking back with a glass of Jack Daniel's Tennessee Honey over ice and serving up a feast that Mr Jack himself would be proud of.
1108 – composit shotJack Daniel's Tennessee Honey is a finely crafted blend of Jack Daniel's Tennessee Whiskey and a unique honey liqueur of our own making, ideal to enjoy with family and friends. Its sweet taste and smooth finish is perfect for pairing with delicious Tennessee-style dishes fit for a festive feast.
From a succulent Jack Daniel's Tennessee Honey glazed turkey with a chunky bacon and sourdough stuffing, and spice rubbed pulled pork with a Jack Daniel's Tennessee Honey salsa to a Jack Daniel's Tennessee Honey pecan pie topped with whipped cream, these dishes are sure to delight your guests. So why not enjoy the Christmas the Jack way.
Recipes
Jack Daniel's Tennessee Honey glazed turkey with Jack Daniel's Tennessee Honey deglazed gravy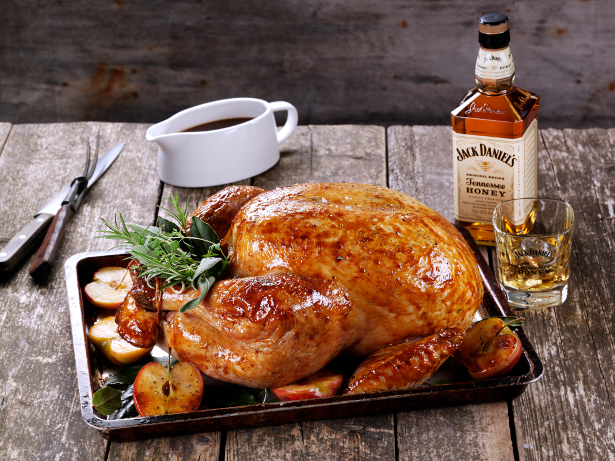 Prep time: 30 minutes
Cook time: 3 – 3 ½ hrs approximately, stuffed
Serves: 8
Ingredients:
Jack Daniel's Tennessee Honey glazed turkey
5-6 kilo fresh turkey, giblets and neck removed to make a stock (recipe to follow)
2 sprigs each of fresh thyme, rosemary and sage
Head of garlic, cut in half – if not using the stuffing
1 tbsp olive oil
Salt and pepper for skin and cavity (about 2 tbsp sea salt and 1 tbsp pepper)
Jack Daniel's Tennessee Honey glaze
100ml Jack Daniel's Tennessee Honey cooked down to 50ml
50g unsalted butter
20ml soy sauce
40ml runny honey
10-15ml hot sauce (Tabasco or Louisiana)
1 tbsp dark marmalade
1 tbsp cider vinegar
Jack Daniel's Tennessee Honey gravy
120ml Jack Daniel's Tennessee Honey
57g (4 tbsp) turkey drippings fat or butter
50g (4 tbsp) flour
600ml of stock for gravy
Method:
Preheat oven to 180C, 160 fan-assisted, with rack on lowest position.
Bring turkey out of fridge, one hour before roasting, to reach room temperature. Pat dry and stuff the cavity with garlic and herbs if not using stuffing. Stuff it loosely in cavity as well as neck cavity and fold skin down under bird. Bake any remaining stuffing in buttered dish.
Place turkey on rack in large roasting tin. Oil and season the turkey generously with salt and pepper.
Tie the legs together and tuck the wing tips under the body.
Add 500ml water to bottom of pan, if it dries out in beginning, you may need to add more water. Tent the turkey loosely with foil if it browns too quickly.
Baste with pan liquid every 30 minutes. You may need to top up with water. Towards the last 30 minutes of roasting brush the turkey every 10 minutes with glaze.
Remove turkey and tip the juices from cavity in pan. Pour the juices into a fat separator. Set turkey aside on a board to rest for 30 minutes loosely tented by foil.
Place the turkey roaster over two burners and add 150ml Jack Daniel's Tennessee Honey, scraping to get all the good brown bits, cook for about 1 minute and tip into your gravy fat separator along with the other pan liquid. You should have 100ml golden liquid. Strain to remove any bits. Reserve the fat from the stock. Add the pan juices to your 500ml giblet stock.
Add the fat (should have if not use butter) and flour in roasting tin and whisk cooking about 1 minute and gradually add your stock to pan, cook for about 5 minutes then adjust seasoning.
Yield is 1 pint of gravy roughly.
Remove stuffing and place turkey on platter, garnish as you like.
Turkey giblet stock for gravy
Prep time: 15 minutes
Cook time: 1 hour
Yields: 500ml roughly
Ingredients:
1 tbsp oil
Giblets and neck patted dry, discard liver
1 onion, quartered
1 carrot, roughly chopped
1 celery rib, roughly chopped
2 garlic clove smashed
1 ltr unsalted chicken stock
Method:
Place oil in a large and heavy gauge sauce pan, sauté the neck, giblets and vegetables and cook 5 minutes.
Add stock and simmer for one hour, skimming off fat as it simmers.
Strain the stock and hold in sauce pan until needed for gravy. Should have 500ml, if not add some water.
Sour dough bread stuffing with Jack Daniel's Tennessee Honey glazed bacon and apples
If not baking inside the bird
Prep time: 15 minutes
Cook time: 1 hour and 20 minutes, including drying bread
Serves: 8 -10
Equipment:
5 litre baking dish
32cm x 24cm x 6.5cm generously buttered check size
Ingredients:
75ml Jack Daniel's Tennessee Honey, 60ml to deglaze and 15ml to drizzle over stuffing
800g loaf of quality sourdough, remove the ends, cut into 2cm cubes
1-2 tbsp olive oil
1 sweet onion, diced 2cm in size
2 celery ribs, diced 2cm in size
1 tsp dried sage
1 tsp dried parsley
1 tsp dried thyme
1 tsp dried rosemary
2 sweet red apples peeled, cored and diced 2cm in size
Salt and pepper to taste
800ml unsalted chicken or turkey stock. Stock amount may vary depending on bread, sourdough is quite spongey and absorbs more than plain bread.
125g unsalted butter, diced (use 100g in stuffing and top with the remaining 25g)
200g lardons
* If baking inside the turkey decrease stock by 100ml, stuffing is done when instant read thermometer reaches 73C 165F
Method:
1. Preheat oven 220C or 200 fan-assisted.
2. Place bread cubes on two trays and bake for 20 minutes, rotating until just dried out. Let cool and transfer to a large mixing bowl.
3. Pour oil into a large skillet and cook onions and celery for 5 minutes over medium heat and add dried herbs and apples, stirring until golden for a further 5 minutes. Season with salt and pepper.
4. Add vegetables and apples to the bread cubes along with 800ml stock and 100g butter. Let the liquid absorb for 10 minutes add more if needs necessary. You want it moist but not sitting in excess stock.
5. Clean skillet and cook bacon for 3 minutes, strain and place back in skillet and pour 60ml Jack Daniel's Tennessee Honey into pan, cook 1 minute more. Add half to stuffing mix. Place stuffing in buttered dish and top with rest of bacon, butter and Jack Daniel's Tennessee Honey. Cover and can be chilled until needed. If you want to cook inside bird, stuff loosely into cavity and neck flap. Do not pack tightly. Any leftover, bake in dish with 50ml stock poured over the top until golden.
6. 1 hour before turkey is done cooking, remove from refrigerator and bring to room temperature before baking.
7. Bake 30 minutes with foil. After 30 minutes, remove foil and bake about 15-20 minutes longer, until golden.
Spice rubbed pulled pork with cranberry and Jack Daniel's Tennessee Honey salsa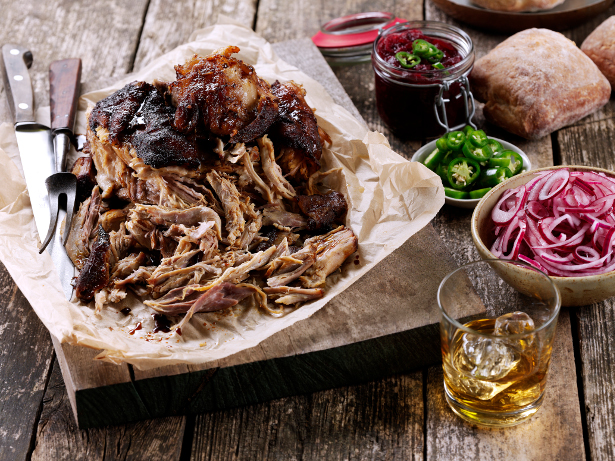 Prep time: 30 minutes
Cook time: 8-9 hours for pork plus 1 hour resting time, sauce 15-20 minutes
Serves: 8
Ingredients:
Rub
60ml Jack Daniel's Tennessee Honey
60ml Jack Daniel's Tennessee Honey to deglaze pan after cooking
1 tsp ancho powder
1 tsp guajillo powder
1 tbsp smoked paprika
2 tsp aleppo chili
1 tbsp garlic powder
1 tbsp onion powder
1 tsp cinnamon
1 tsp allspice powder
2 tbsp brown sugar
2 tbsp sea salt
2 tbsp cider vinegar
½ shoulder of pork with the bone in, should weigh about 6 kilo, skin removed and think layer of fat (your butcher can prepare this for you)
Jack Daniel's Tennessee Honey cranberry sauce
60ml Jack Daniel's Tennessee Honey
450g cranberries
100g caster sugar
50g brown sugar
½ red onion, diced
1 jalapeno, sliced
To serve
8-10 buns
Lettuce
Pickles (optional)
Pickled red onions (optional)
Method:
1. Preheat oven to 150C or 130 fan-assisted
2. Combine spices, and add vinegar and Jack Daniel's Tennessee Honey and rub all over the pork. Let marinate overnight.
3. Place on a roasting rack with 500ml water at bottom, cover with foil and roast for 8 hours covered. For the last hour, uncover and baste every 15 minutes with pan juices, may need to top up with more water if pan juices evaporate through the cooking. Check every hour to see level of water.
4. Remove when temperature registers 82C, cover with foil and it will continue to cook to 89 (when the pull happens).
5. Pour pan juices into degreaser cup and place pan over two burners. Add Jack Daniel's Tennessee Honey to pan and cook for 1 minute scraping all the good brown bits into the juice. Add to degreaser. Save the juice to mix with the pork when pulled.
6. To make cranberry sauce add all but Jack Daniel's Tennessee Honey and jalapeno to pan, bring to boil and reduce heat. Simmer for 15-20 minutes, add Jack Daniel's Tennessee Honey and jalapeno when you take off heat. Yields 650g
7. Remove pork and pull with two forks until it is all shredded. Add the juice to pork or serve on side.
8. Serve with buns, lettuce and cranberry sauce. Pickles and Onions great for crunch factor.
Sweet potato puree with Jack Daniel's Tennessee Honey candied pecans
· Prep time:15 minutes
Cook time: 25 minutes
Serves: 8
Ingredients:
Sweet potato puree
6 sweet potatoes, peeled and cut into even size chunks
1 tbsp salt for water
120 ml double cream
60g butter
Salt to season
Glazed Jack Daniel's Tennessee Honey pecans
60ml Jack Daniel's Tennessee Honey
40g butter
100g pecan halves, roughly chopped
1 tbsp fresh rosemary chopped
1 tbsp thyme leaves
Sea salt to sprinkle
Method:
Place sweet potato chunks into a pot of cold water with 1tbsp salt and bring to boil. Cook for 15-20 minutes until fork tender. Drain and blend in food processor until smooth. Add cream and butter. Adjust seasoning.
Place in serving dish and cover.
Place butter in skillet and add pecans, cook 2 minutes. Add Jack Daniel's Tennessee Honey and cook 1-2 minutes more. Strain butter and drizzle over potatoes and top with nuts, sprinkle with rosemary and sea salt.
Okra succotash with Jack Daniel's Tennessee Honey warm vinaigrette
Prep time: 15 minutes
Cook time: 15 minutes
Serves: 8
Ingredients:
Succotash
60ml Jack Daniel's Tennessee Honey
2 tbsp vegetable oil, divided
1 sweet onion, diced
2-3 garlic cloves, minced
5-6 ears of corn, taken off the cob
200g of cherry tomatoes red and yellow
350g of okra, washed and sliced in three pieces
Salt and pepper
2 tbsp fresh chopped parsley
1 tbsp fresh thyme leaves
Vinaigrette
1 tbsp cider vinegar
1 tsp Dijon mustard
3 tbsp vegetable oil
Method:
Pour 1 tbsp oil into large skillet and sauté onion for 4 minutes, add garlic cook 1 more minute add corn and cook for 2 minutes, add tomatoes and Jack Daniel's Tennessee Honey and cook 1 minute. Remove and pour into bowl, cover.
Add remaining oil and okra cook 5-7 minutes, add to bowl.
Make vinaigrette by adding Jack Daniel's Tennessee Honey to pan and cook 1 minute, whisk in vinegar, Dijon and oil. Toss over succotash. Season with salt and pepper. Garnish with parsley and thyme.
Jack Daniel's Tennessee Honey pecan pie with whipped cream
Prep time: 20 minutes plus 1 hour 15 minutes resting time for dough
Cook time: 45-50 minutes, (includes blind baking)
Serves: 8
Ingredients:
For the crust
185g plain flour
½ tsp salt
1 tsp sugar
113g ice cold, unsalted butter cubed
2 tbsp ice cold water
Pie Filling
45ml Jack Daniel's Tennessee Honey
100g Lyles' golden syrup
200g brown sugar
1 tsp mixed spice
60g unsalted butter, melted
4 large eggs
1 tsp vanilla paste
150 g, pecan halves – 100g chopped and 50g for top of pie
To serve
200ml double cream, whipped
Method:
1. Preheat oven to 220C or 200 fan-assisted for pie shell
2. To make the pastry- pour flour, sugar, salt and butter in a food processor and pulse until it resembles sand. Slowly pour the water in and pulse until it comes together in a ball. Form into a disc and wrap in cling film. Refrigerate for 1 hour to rest.
3. Roll the dough out into 28cm circle and place in 23cm pie tin. Fold the overhanging crust under and crimp the edges. Refrigerate for 30 minutes or freezer for 15 minutes-this will prevent shrinkage, well worth the time.
4. To prevent pastry from puffing up, prick the base of the pie with fork in several places. Place parchment or a large coffee filter inside tin and place dried beans to weight it down. Bake for 20 minutes, remove beans and bake 5 more. Cool completely before adding filling.
5. Whisk together all the filling ingredients together up to and including chopped pecans. Pour the filling into shell and arrange remaining whole pecan pieces on top, sinking them a bit.
6. Reduce oven to 180C or 160 fan-assisted. Bake for 25-30 minutes or until set along sides with a hint of jiggle in the middle.
7. Cool at least an hour and serve with whipped cream.
Your friends in Tennessee remind you to drink responsibly
MAKE IT SHAKE THIS CHRISTMAS WITH FUNKIN COCKTAIL MIXERS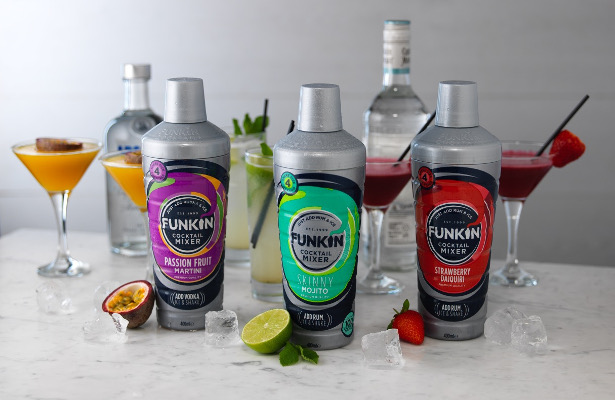 Funkin Cocktails' range of three cocktail shakers are the perfect pre-party tipple or Secret Santa gift this festive season.
The Cocktail Shaker range, which can be purchased nationwide from select Tesco, Scotmid, and Waitrose stores as well as online from Amazon and direct from funkincocktails.co.uk is available in three great-tasting flavours that take inspiration from popular cocktail recipes:
● Passion Fruit Martini (400ml, £4.00)
● Strawberry Daiquiri (400ml, £4.00)
● Skinny Mojito (400ml, £4.00)
Expertly blended using only the highest quality real fruit juices and purees, just add your spirit of choice, ice and shake it up for a quick yet premium cocktail experience. The products innovative packaging means no need for specialist cocktail making equipment or measuring, making it easier for you to play the mixologist at home and Make it Shake this Christmas.
Andrew King, Managing Director from Funkin said: "It's important that we produce products that not only taste great, but make it simple for customers to recreate their favourite drinks at home and with our Cocktail Mixers, it really couldn't be easier
"We only ever use the best quality fruit and select flavour combinations that we know will be a hit. In fact, the Passion Fruit Martini Mixer picked up the Gold Award in the Cocktails category at this year's Grocer Drinks Awards.
"We love seeing how our customers create their own Funkin signature serves, presenting the finished drink with an inventive garnish or with a twist using our flavoured syrups. A dash of our spicy Jalapeno syrup in the Passion Fruit mixer is a particular hit. That's why we're asking customers to show us how they #MakeItShake this Christmas".
Sparkling Fruit Sangria
Ingredients:
1 orange, thinly sliced
1/2 lemon, thinly sliced
1 cup blueberries
1 cup raspberries
10 large strawberries, sliced
1 cup orange juice
1 750ml bottle sweet white wine
1 750ml bottle your favourite bubbly
Directions:
Place all fruit and orange juice in a large pitcher or bowl, add wine and allow to sit in the refrigerator for 3 – 24 hours. Right before serving, add the sparkling wine. Taste; if you'd like it to be sweeter, add 1/4 cup granulated sugar, honey, or agave. Serve and enjoy!
Pomegranate Fizz
Place a teaspoon of pomegranate seeds in the bottom of a champagne glass. Fill halfway with pomegranate juice and top up with cold Edenvale Sparkling Cuvee. Garnish with a sprig of mint. Happiness in a glass!
Cranberry Crush
750ml bottle of Edenvale Alcohol Removed Sparkling Rosé
Juice of 2 limes
2 cups cranberry juice
Combine all ingredients together with ice in a pitcher or drink dispenser. Serve over ice with sliced fresh strawberries and mint to garnish.
Lemon & Lime mocktail
Ingredients:
1/2 Lemon, 1/2 Lime and Edenvale Sparkling Cuvee
Directions:
1. Cut lemon and lime into small rounds
2. Pour desired amount of Edenvale Sparkling Cuvee into glass
3. Add lemon and lime rounds
4. Stir and enjoy!
Peach Bellini
Combine 1 part peach puree with 2 parts Edenvale Alcohol Removed Sparkling Cuvee and stir gently. Delicious!
Nojito
If you want a taste of Cuba without the white rum (or the headache) then this is the mocktail for you…
Add 30 ml of lime juice, 6 mint leaves and 2 tsp of brown sugar to a tall glass, making sure you bruise a few of the mint leaves. Leave the mix to rest for a while and then fill the glass with ice and top with 120 ml of club soda, lemonade, or our Edenvale Sparkling Cuvee. Stir, then add a sprig of mint for decoration & enjoy!
Cucumber Cooler
1 cucumber
Mint leaves
Peel cucumber and blend in a blender to create a smooth consistency
Add mint leaves (muddle, bruise mint leaves with a wooden spoon)
Strain
Add 2 cups of Edenvale Sparkling Cuvee
Stir
Sangria
2 cups boiling water
1 black tea bag
½ cinnamon stick
2 tablespoons sugar (or stevia)
1 orange, sliced into thin rounds
1 lemon, sliced into thin rounds
1 lime, sliced into thin rounds
1 apple, slicked into thin rounds
2 cups Edenvale Shiraz
Mix together and leave overnight in the fridge or at least for a few hours
Cucumber Mint Fizz
In a cocktail shaker add a handful of mint leaves, 1 tsp of honey and the juice of 1 lime and give it a good shake. Pour the mixture into a glass over some ice, add a few slices of cucumber, and then top it up with some fresh and fruity Edenvale Alcohol Removed Sparkling Cuvee to add the fizz!
Rose Berry Bliss
Pour a bottle of Edenvale Rosé into a large jug
Add 250g frozen blueberries
Add 1 litre pink lemonade
Place in fridge for 1 hour
Pour into flutes and top up with lemon-lime soda and a few blueberries
Enjoy!
Mimosas
Mimosas are synonymous with Sunday brunch. So, if you're planning a festive season brunch at your place, why not try a DIY mimosa bar! Place a few bottles of Edenvale Alcohol Removed Sparkling Cuvee in an ice bucket, and arrange alongside different types of juice (orange, pomegranate, grape fruit, pear), bowls of chopped fruit for garnish (orange, lemon, lime, strawberry) and champagne flutes. Then let your guests create their own mimosas and experiment with unique flavour combinations.
Traditional Mulled Wine
Decant a bottle of Edenvale Shiraz into a large saucepan with 250ml water.
Add 3 tbsp honey, a clove, 1 sliced orange, 1 sliced lemon, 1 tsp ginger, 1 cinnamon stick.
Allow to simmer gently for 20 minutes.
Remove from heat.
Divide among heat-resistant serving glasses, garnish with orange slices and cinnamon sticks. and serve immediately.
Mulled Wine – the 'quickie' version
Decant a bottle of Edenvale Shiraz into a large saucepan. Add 200ml fresh orange juice, rind from the orange, 3 tbs honey and a mulled wine sachet. Simmer for ten minutes, stirring occasionally. Remove from heat, divide among heat-resistant glasses, garnish with orange slices and cinnamon sticks, and serve immediately.
The Perfect Wine to Fall In Love With This Winter
Image result for trivento reserve malbecUK's favourite Trivento Reserve Malbec is the ultimate partner for cosy nights in

As the days get colder and the dark evenings draw in we're approaching that time of year where we relish the cosy night in. We'll take refuge with a hearty stew, comforting bowl of soup or, even better, a warming, flavoursome red wine.
Trivento Reserve Malbec , the UK's favourite Malbec, is medium bodied, with jammy, fruity notes and oaked in French barrels for six months, offering a depth of flavour that'll provide the ultimate comfort factor. Its sweet tannins and velvety finish also make it the perfect partner for rich, winter dishes.
PIE FANS REJOICE AS MEALTIMES JUST GOT THAT LITTLE BIT MORE…. POSHER

Pukka Pies, the nation's number one hot pie brand[1], introduces the Posher Pukka premium pie range, a delicious new range developed by Pukka's master pie makers who've been making pies in Leicestershire since 1963.
Staying true to the pie perfection Pukka is famous for, Posher Pukka
pairs unique pastry recipes with carefully selected ingredients and only the best cuts of quality meat.
Chicken, Leek and Pancetta
The ultimate taste experience, this Posher Pukka pie combines delicious and tender chicken breast, sliced leek and pancetta with a rich, creamy mustard sauce in an all butter thyme shortcrust pastry case. This is a really special midweek treat when only good quality comfort food will do.
This premium pie has been recognised with a Silver Award at this year's British Pie Awards, an accolade to expert pie making at its best!
Steak & Porter Ale
The hearty Steak & Porter Ale pie is made with tender, diced beef brisket in a rich porter ale gravy with quarter moon carrots. Pukka's master bakers have developed a unique all butter mature cheddar pastry crust to complement this rich and delicious filling.
A pie suitable for any pie connoisseur, this treat deservedly received a Highly-Commended award at the 2017 British Pie Awards.
Of course, Posher pies deserve to be served with something a little extra special so pair with a sweet potato mash, a medley of roasted vegetables, or home-made chunky chips for a mouth-watering, savoury meal – the ideal accompaniment to a romantic night in for two.
The brand new Posher Pukka range will retail at £2.50 and are available now from stores nationwide, including ASDA, Morrisons, Sainsburys and Tesco.
………………………..………………………..………………………..………………………..………………………..………………………..………………………..………………………..
WINNER, WINNER VEGGIE DINNER – PUKKA GOES VEGETARIAN!
Pukka, the nation's favourite hot pie brand[2], is set to get pie lovers' taste buds tingling this autumn with the arrival of its delicious new meat free pie – Veggie Tikka Masala with Chickpea and Spinach.
This flavoursome pie combines both the nation's favourite dish, the Tikka Masala and the nation's favourite pie, a Pukka Pie. This new pie is set to be a winner with pie and curry lovers across the nation, who want to indulge in a meat free pie.
Encased in Pukka's signature light and flaky golden puff pastry case is chickpea and spinach and other tasty veg gently cooked in an aromatic Tikka Masala sauce. What's more this Veggie Pie is Vegetarian Society Approved.
Why not try it with a serving of creamy mashed potato and fresh runner beans or with fat chips straight from the oven – perfect for lovers of chips and curry sauce!
With an RRP of £1.69, Pukka's Veggie Tikka Masala pies are available now from stores nationwide, including ASDA, Morrisons, Sainsburys and Tesco
……………………..………………………..………………………..………………………..………………………..………………………..………………………..………………………..
WE ARE FAMILY! PUKKA LAUNCHES NEW RECIPE CHICKEN & MUSHROOM PIE AND NEW DEEP-FILL FAMILY PIES
Pukka Pies, the nation's favourite hot pie brand[3], is set to cure rumbling tummies this autumn. With two new enhancements to its delicious range of good mood food – Pukka Pies have the perfect solution to whatever ups and downs your day brings.
New Recipe Chicken & Mushroom Pie
Pukka's second biggest selling pie, just got even better with a delicious new recipe. This firm favourite now includes more chunkier pieces of tender chicken breast and the sauce is now made with added cream making it creamier and more flavoursome than ever before.
The new recipe Chicken & Mushroom pie is available now from stores nationwide, including ASDA, Morrisons and Tesco, and will retail at £1.69.
New Deep-Fill Family Pies
Hearty, full of flavour and perfect for the whole family, Pukka's new Family Pie range now features a delectable deep-fill centre.
Cooking time has also been reduced from 50 to 35 minutes, meaning mum can take it easy with good honest food that's even quicker to prepare and heart-warmingly tasty to share.
Chicken & Mushroom has also been added to Pukka's sumptuous family pie range, which also includes:
-All Steak – break through the crisp layers of golden, baked, flaky puff pastry to enjoy flavoursome, tender cuts of steak in a deliciously rich, oozy gravy
-Minced Beef & Onion – rich gravy features tasty chopped onions and finely minced beef for a perfect melt in your mouth experience
-Chicken & Gravy – delicious, tender chicken pieces star in this simple but appetizing pie
Deep-Fill Family Pies are available now from stores nationwide, including ASDA, Morrisons, Sainsburys and Tesco and will retail at £3.35.
Best Christmas leftover recipe ideas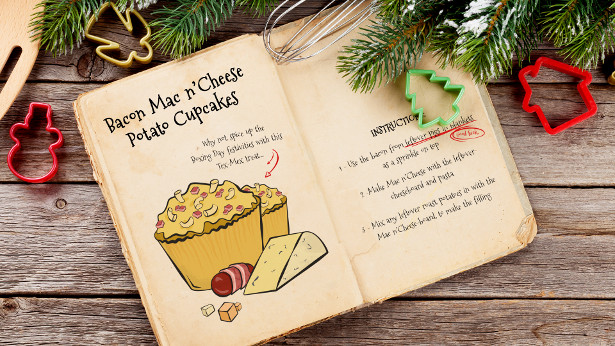 With Christmas over for another year we've all been left wondering what to do with the mountain of leftovers. Luckily the spare food lying around in the kitchen allows for a bit of creativity, here's some simple recipes to try with your leftover Christmas food.
Veggie Christmas Burger
Ingredients (for 4 people)
Any leftover vegetables (quantity depends on the size of your burger)
2 cups of cheese
1 bag of salad for garnish
4 bread buns
Cranberry/apple/mint sauce
Cooking Instructions
Cut all vegetables you intend to use into as small pieces as possible
Proceed by using a potato masher to break your ingredients into one mixture
Begin to manipulate the mix into burger patties
Add oil to a frying pan and cook the burgers for 3-4 minutes on either side
Toast or warm bread if appropriate and serve with a side salad
Bacon, Mac n' Cheese Potato Cupcakes
Ingredients
400g of tube shaped pasta
2 cups of cheese (or as much as you like)
1 egg
1 onion (optional)
As much leftover bacon as possible
Cooking spray
Cupcake case
Cooking Instructions (24 cupcakes)
Begin by boiling your pasta for around 12-15 minutes
Once heated add your cheese, egg and onion into a mixture and beat until as smooth as possible
Once beaten, begin pouring mixture into a cupcake tray which will help form the shape
Take any leftover bacon you have from pigs in blankets or Christmas breakfast and crumble on top of each individual cupcake
Apply a small amount of cooking spray to the cupcakes and place in an oven that has been pre-heated at 180°C
Cook for around 12-15 minutes and serve 5 minutes later once the cupcakes have cooled.
Visit Covent Garden this festive season, for the perfect place to wave goodbye to 2017.
Balthazar's New Year's Eve Party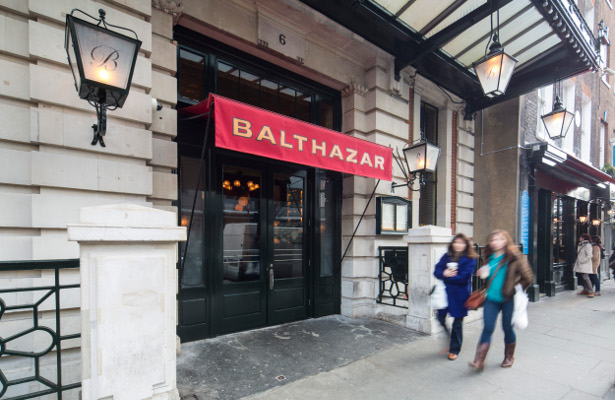 Celebrate the end of 2017 in true style at the London version of Balthazar's renowned New Year's Eve party. A champagne reception will be followed by a luxury four course menu including a wild seabass ceviche with native oysters, steamed turbot and roast langoustine, fillet of beef Rossini with Périgord truffle and a hazelnut praline tart with poached pear and bitter chocolate sorbet. For those wanting to stay a little later, a DJ will be playing party tunes and the bar team will be shaking up classic cocktails until 2am.
The New Year's Eve set menu is available on Sunday 31st December from 9pm and is priced at £140 per person. To make a reservation, call 020 3301 1155 or email reservations@balthazarlondon.com
​
Dirty Martini's 'Martinis at Midnight' Party
Get out your sparkliest attire for Dirty Martini's New Year's Eve bash 'Martinis at Midnight' where the dress code is 'glitter is the new black'! Guests will receive a complimentary glass of prosecco before 9pm and from 11pm until 1am martinis will be £5 each. Earlybird tickets are £10 per person and will be on sale until 17th December. After that tickets will cost £15 each, granting entry to the venue from 8pm where DJs will keep everyone dancing until 3am!
Several fantastic NYE packages will be available to suit all group sizes and range from £200 to £425 per person. To book your place call 0207 632 2088 or email coventgarden@dirtymartini.uk.com
Oystermen's New Year Tasting Menu
To celebrate the New Year, Oystermen will be offering a delicious New Year Tasting Menu on both Saturday 30th and Sunday 31st December.
Located at 32 Henrietta Street, The Oystermen Seafood Bar & Kitchen showcases the finest and freshest oysters and seafood from around the British Isles. The New Year Tasting Menu includes a glass of Coutier Champagne Grand Cru NV, Scottish langoustine bisque, diver-caught Orkney Isle scallops and plenty more to tickle your taste buds!
From £85 per person (deposit required with reservation). Drop in to the Henrietta Street restaurant to book or email Christmas@oystermen.co.uk.
New Year's Resolutions – the feel good way to shop in 2018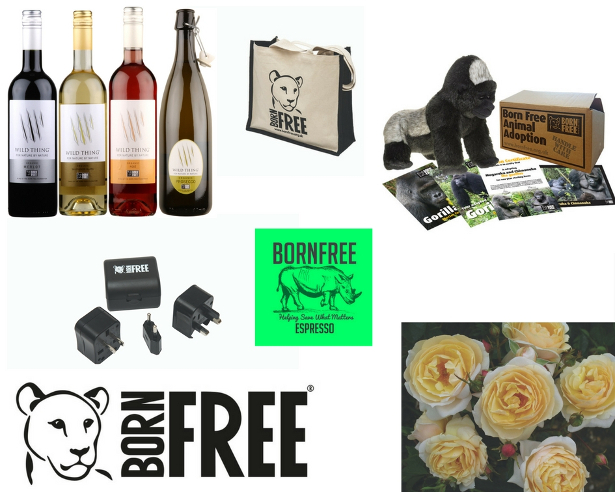 A popular new year's resolution is to be more charitable. Life pressures and unexpected costs, however, can mean that charity donations aren't always possible. Thankfully, there is a way to shop and donate at the same time.
For those wanting to take a more charitable stance in 2018, Born Free – the international wildlife charity – now has a range of 'feel good' purchases, which are not only desirable, but also make a positive impact on animals worldwide.
All available from https://give.bornfree.org.uk/shop
COFFEE – £6.16 per 250g pack
Britons spend over £2,000 per year on coffee. A simple resolution, which is also kinder on the purse strings, is to purchase a travel mug and make coffee at home.
Independent coffee roaster, Coffee Real, has joined forces with Born Free to create an exclusive Born Free coffee. This delicious espresso blend uses coffee sourced from countries in which Born Free is actively involved including India, Kenya, Ethiopia and Tanzania. 10% of the sales revenue from each 250g bag sold goes towards projects in Africa.
WINE & PROSECCO – £7.99 per bottle / £11.25 per bottle for prosecco
Do your part for charity and enjoy a tipple at the same time. Vintage Roots has a range of 'Wild Thing' wines and prosecco, from which a percentage of profits goes towards Born Free's work. Choose from their Sauvignon Blanc, Merlot or Rosé from La Mancha, Spain, or their Prosecco from Veneto, Italy.
TRAVEL ADAPTOR – £12
If travelling, weekend getaways, or dream holidays are on the cards for 2018, jet-setters can plug in their gadgets and support Born Free at the same time with the charity's new travel adaptor that works in over 150 countries.
CANVAS SHOPPER – £11
The Born Free canvas shopper is the perfect solution for eco-friendly and money-savvy shoppers to save paying the 5p plastic carrier charge. It's made from 10oz cotton printed with the Born Free logo on one side and 'Stay Wild' on the other. All profits go to helping the charity's conservation work.
SOFT SHELL OUTERWEAR JACKET – £43 (available in small to extra large sizes)
If getting outdoors more, or taking up a new sport that involves braving the British weather, is on the agenda for 2018, why not keep warm, dry and stylish with Born Free's Soft Shell Jacket for men and women. It's embroidered with the Born Free logo on the front and 'Stay Wild' on right sleeve and has a durable water repellent finish.
VIRGINIA MCKENNA ROSE – £13.95 per bear root plant (pot grown plant also available)
For those thinking of getting green-fingered in the new year Harkness Roses offers a stunning rose named after Virginia McKenna, profits from which go to Born Free.
Versatile and stunning it has a citronella element to its scent. It comes as the flower opens, not in a young bloom and is very good in wet weather. A rounded bush covered in flower and leaf that can be used in beds, borders, low hedges or a scented patio planter.
ANIMAL ADOPTION – £2.50PM / £30
Forget socks and smellies in 2018; mix up gift giving, and adopt an animal for a loved one instead.
With over 18 species to choose from, or the option to purchase a gift voucher so the recipient can choose the species they would like to support, all proceeds from the adoption packs help protect the animals.
Supporters receive a unique pack including a cuddly toy and glossy photo of their chosen animal, a personalised adoption certificate, a copy of the animal's story, a Born Free window sticker, a Born Free folder and two copies of Born Free's Adopt! Magazine throughout the year with updates on the adopted animal's progress.
Caviar & Dom Pérignon Champagne Christmas
at Royal Lancaster London
Snow is falling and the fire is roaring – it's official: Christmas is less than two weeks away! To celebrate the festivities, the brand new Hyde Lobby Bar at Royal Lancaster London is offering Dom Pérignon Champagne by the glass throughout December 2017.
Until Wednesday 3 January 2018, guests can enjoy a glass of Dom Pérignon with a 10g tin of premium Caviar in the elegant surroundings of Hyde Lobby Bar for only £45.
Hanging up the wreath for the first time as Royal Lancaster London, guests will be ensured a regal experience this festive season: from Champagne and caviar to the 25-foot Christmas tree standing in the lobby. The mid-century hotel on the boundary of Hyde Park recently completed its extensive £80 million renovations, which have transformed the hotel into a five-star icon of modern elegance in London.
Royal Lancaster London opened as one of the capital's most chic hotels in 1967. 50 years later, every aspect of the Hyde Lobby Bar has been tailored to reflect the hotel's rich and celebrated past. The venue has masterfully combined classic 1960's decor with contemporary style, with white marble enveloping the space and a centrepiece brass chandelier. Leather banquet-style seating, rich velvet sofas and mode armchairs clothed in soft hues are arranged around white marble and brass tables.
Hyde Lobby Bar is open from 12pm until 8pm, 7 days a week.
Twang Partners Ltd., the San Antonio family-owned and operated manufacturer of premium flavored salts, sugars, and seasonings, most recognized as the region's premier provider of beer salt, cocktail rimmings and more.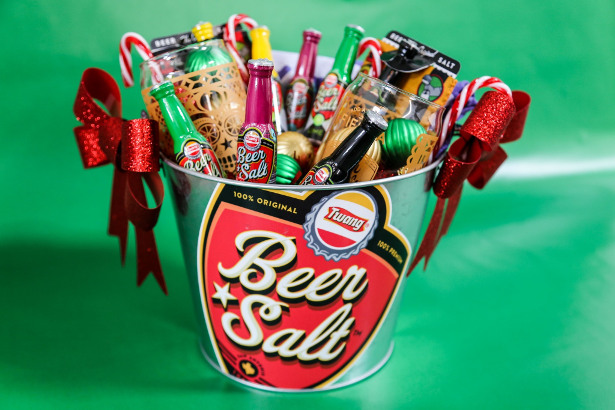 Twang has a ton of holiday recipes that go great with their many products meant for holiday libations. Tell your readers about the Spicy Santa Sangria to Merry Cranberry Margarita, both made with Twang-A-Rita hatch cocktail seasoning. Image
Spicy Santa Sangria
Prep time: 5 mins
1.5 L Ready to Pour Sangria
1/3 + 1 CUP Twang-A-Rita Tamarind Cocktail Seasoning
4 Slice Orange
4 slice Lemon
Ice
Instructions
1. Rim four 16 oz glasses with Twang-A-Rita Tamarind Cocktail Seasoning
2. Mix 1/3 cup Twang-A-RitaTM Hatch Cocktail Seasoning with Sangria in a 2 L pitcher over ice
3. Add fruit wedges, Pour and enjoy
4. Yields four 16 oz beverages
Merry Cranberry Margarita
Prep time 10 mins
Instructions
1. Rim four 16 oz glasses with Twang-A-RitaTM Tamarind Cocktail Seasoning
2. Mix 1/3 cup Twang-A-RitaTM Hatch Cocktail Seasoning with Sangria in a 2 L pitcher over ice
3. Add fruit wedges, Pour and enjoy
4. Yields four 16 oz beverages
Instructions
1.Pour ¼ cup cranberry juice into a shallow bowl
2.Pour 3 tbsp sugar and Twang-A-RitaTMHatch Cocktail Seasoning onto a plate
3.Dip rims of 4-6 margarita glasses into juice, then sugar hatch mix. Set aside glasses
4.Mix remaining ingredients in a blender, reserving half of the cranberries as garnish
5.Pour blended mixture into glasses and top with remaining cranberries6.Serves 4-6
Twang also launched The Beer Lover Party Bucket, a brew-centric tub complete with a number of fun, beer drinking essentials, ensuring an easy way for your readers to show up on the holidays with a fun drinking package on Christmas or New Year's. From items like Twang pocket-sized beer salts which add a burst of flavor to a cold mug to a steel bottle opener, everything is packaged together in one and available to ship throughout Texas and nationally for $39.
Delight The Gin Lover On Your List With KOVAL Dry and Barreled Gin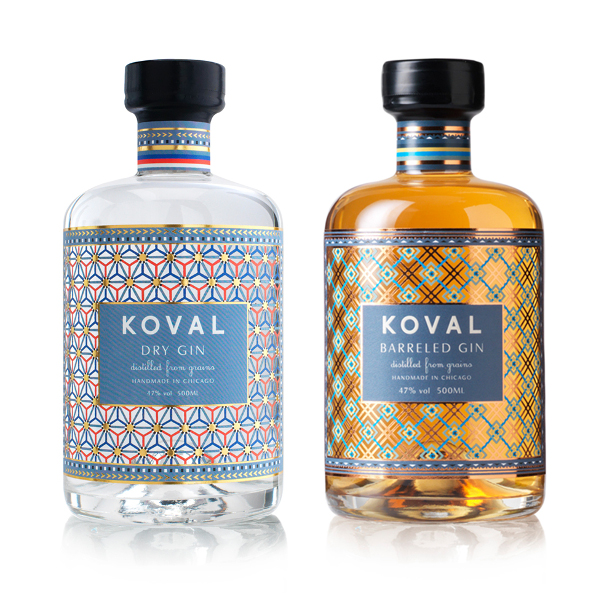 KOVAL, Chicago's first distillery since the mid-1800s, has earned international accolades for its two distinctive gins, both organic and kosher certified, and made grain-to-bottle in the heart of Chicago.
KOVAL launched in 2008 with a new style of American whiskey and unique liqueurs, made from only the heart cut of the distillate. KOVAL Dry Gin follows the same process, distilled from a unique botanical blend that includes grains of paradise, rose hip, juniper, angelica root and coriander. This recipe produces a gin that is crisp enough to be enjoyed straight and complex enough to be an ideal base for both classic and contemporary cocktails.
The attention to detail that KOVAL's grain-to-bottle process allows shines through in the final product. At 47% ABV, this gin offers a higher alcohol content than others found on the market. KOVAL Dry Gin was 2015's most awarded gin following its release, winning a Double Gold Medal at the 2015 San Francisco World Spirits Competition, Best in Show at the 2015 Los Angeles International Spirits Competition and a Gold Medal at the 2015 Spirits Prestige International (SIP) Awards.
KOVAL Barreled Gin follows the same prized recipe with the addition of spiced oak flavors that come from barrel aging. Fans of KOVAL Dry Gin will taste a similarly crisp spirit but will appreciate a new level of depth and oak from the spirit's time resting in a KOVAL whiskey barrel. The attention to detail that KOVAL's grain-to-bottle process allows shines through in the final product, offering a unique spirit that appeals to gin and whiskey drinkers alike. The Barreled Gin won a Silver Medal at the 2016 Spirits International Prestige (SIP) Awards and Best Standard; Best Duty Free; Gold at the 2017 World Drinks Awards.
KOVAL gins and other products are available online from Masters of Malt and The Whiskey Exchange.
CHRISTMAS
I Love Loosey
Recipe: http://bit.ly/LoveLoosey
Deep red with the cheer of cherries, I'll be serving this on Christmas Day before lunch. It is light enough in alcohol for keeping it nice early in the day.
Marionetto
Recipe: http://bit.ly/Marionetto
A nostalgic taste of Christmassy marzipan but not in a face distorting, senior aunty way, this is our extremely simplified, no raw egg version of the classic and wildly popular, amaretto sour. Shake these up in seconds and keep them flowing.
Hello Berry
Recipe: http://bit.ly/HelloBerry
Serve Hello Berry with dinner instead of the red wine that guest brought. Or better yet, make it with that wine. You need to add port, frozen berries from the supermarket, raspberry cordial and vodka.
Old Codger
Recipe: http://bit.ly/OldCodger
After everyone's gone, this is your feet up drink. A sip of bourbon, brown sugar, bitters and orange is all you need. Chuck it all in then sit down.
NEW YEAR'S EVE
A week later the exhaustion is forgotten. We're ready to do it again but with more alcohol!
Mo McGrath
Recipe: http://bit.ly/MoMcGrath
Welcome your lovelies with a sprinkle of bitters and a quick dash of lime cordial filled to a froth with bubbly wine.
Sublime
This recipe is so new it hasn't been published yet.
It's common to have a few beers on NYE. If you've hit your beer wall or you'd like to enjoy a beer with someone that doesn't normally drink beer try Sublime:
15ml lime cordial
30ml pineapple juice
Top with any light to golden beer
La Cucaracha
Recipe: http://bit.ly/CFMLaCucaracha
An ice breaking spectacle for when you need the party to heat up.
Lazy Margharita
Recipe: http://bit.ly/LazyMargarita
When I'm going to a party and I feel like drinking something decent, Lazy Margarita is fairly portable and worth the preparation. I premix equal quantities of tequila and triple sec and I take a bag of lemons. At the party I just need ice because I forgo the salt rim. I cut the lemons as I go then top with my spirit mix and ice. Voila!
– Lamese
www.cocktailsformums.com
Cocktails For Mums is a blog of cocktail recipes using easily found ingredients. Our recipes are written and tested by mums. We only publish drinks that test very well. And we test thoroughly. Hehe!
Just who is Chef Daniel?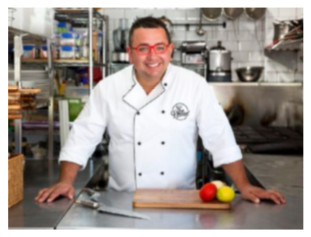 Whilst he may have seemingly burst onto the radio waves in 2016 through his role as co-host on the Food Hour for Talking Lifestyle, Daniel Abou-Chedid has been subtly making waves for well over a decade.
With a passionate chef as a dad, it was normal when Daniel started cooking at the age of 5 and when he started assisting his dad in his restaurant not long after, it was clear that this was his calling.
Other boys might have played with GI Joe, but Daniel just loved playing with the fresh ingredients that were so readily available in his life. From peeling prawns to crumbing schnitzel, he relished in the basics of food preparation and the added bonus was that people loved what he prepared for them.
Chef Daniel truly learnt his craft from the ground up, studying at TAFE and training on the job at the Stamford Sydney Airport after wowing them with his dedication as a work experience student putting in 90 hours in his first week. He just wanted to learn everything…and that hasn't changed.
In his early 20s he opened up his first cafe in Bexley North with the aptly named Coffee That – Food With Attitude, before he added to his experience at the Qantas First Class Lounge and Quadrant at the Quay Grand in Circular Quay.
Tropical north QLD was calling him though and it was there, whilst working at Dunk Island that Fork n' Knife was born.
The catering company that Chef Daniel still heads up was designed to run out of his client's home kitchens. It was catering with a difference at that stage of play…his clients would essentially have a private chef for their events whipping up treats for their guests live and wowing them at each turn.
Chef Daniel was a natural entertainer it turned out and the self-professed shy young man built his confidence even further through his work with Cheeky Food Group where he offered teambuilding cooking experiences for corporates.
Electrolux jumped on the bandwagon and utilised Chef Daniel to showcase the use of their appliances through culinary demonstrations. Unbeknownst to him, it was only the beginning of his ambassadorial roles with Chef Daniel now a proud national cooking ambassador for Domayne.
www.chefdaniel.com.au
Always one to balance multiple jobs and businesses, he decided to expand Fork n' Knife from just offering catering to open a cooking school in Erina at the same time as he accepted a role with P&O Cruises as one of the first guest chefs aboard their Food & Wine Cruises.
This is a role that he still proudly holds to this day and is the Aussie cruise line's longest serving guest chef. From culinary demonstrations to wine & food pairings, specially designed chef's tables to cooking classes, Chef Daniel has grown as the P&O Food & Wine Cruises have and attracts repeat guests who appreciate his talent just as much as his down-to-earth charm.
Keen to open another bricks and mortar business, Chef Daniel started My Little Deli on the Central Coast in 2014. In addition to offering a smorgasbord of fresh produce including freshly cut cured meats, cheese from around the world and home cooked take-home dinners, Chef Daniel brought the concept of "Pop Up Dinners" to the Central Coast. He would spin the globe and wherever his finger would land would form the basis of the meals prepared for the 35 lucky diners.
As Fork n' Knife expanded, so has the Chef Daniel brand and the man sometimes dubbed as "the people's chef", can now be seen at sea with P&O Cruises, on land offering culinary demonstrations across Australia for companies including Domayne and Westfield, sharing his love of food and cooking with children through educational programs including those run by the GWS Giants and heard on the air most weekdays with Talking Lifestyle.
For Chef Daniel though, it all just comes back to his love of fresh food and conveying that love to anyone who will listen.
Cutting shapes this Christmas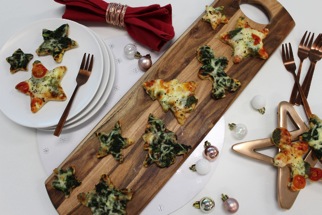 Christmas parties don't have to be stressful with these simple entertaining ideas
The silly season is here and Christmas is literally around the corner – but it doesn't have to be stressful in the kitchen.
Why not try these simple ideas as hor'dourves or something quick and quirky for the kids?
You can use different Christmas shape cookie cutters on Dr. Oetker's delicious Ristorante flavours like the Spinaci or Mozzarella – the perfect Christmas colours. Just cook your frozen pizzas on the oven rack for about 10 minutes until crispy, then simply cut out the shapes of your choice thanks to its unique thin base. And voila!
If you want to use the pizza as a bigger shape like a Christmas tree, from the entire pizza, just use a piece of paper as a guide and cut around it. Or just cut a hole in the middle with a smooth round cutter and fashion a bow with some red capsicum to make a wreath.
Also, for an easy dessert idea, try Dr. Oetker's latest flavour, Ristorante Dolce Al Cioccolato – the chocolate pizza. Simply cut out shapes or get creative and fashion some little Santas. Just use a cookie cutter for the main shape, then add some strawberries to be the Santa suit and hat, and add some whipped cream for the pom pom.
Recipe from "Small Bites: Skewers, Sliders, and Other Party Eats" (Gibbs Smith, 2017) by Eliza Cross and photographs by Jessica Nicosia-Nadler..
Crab and Avocado Nachos
Serves 6
Ingredients:
1 tablespoon butter
1 jalapeño pepper, ribs removed, seeded,and finely diced
1 cup cooked fresh, canned, or frozen(thawed) corn kernels, well drained
1/2 teaspoon cumin
1/2 teaspoon chili powder
1 pound jumbo lump crab meat
1/2 cup sour cream
Salt and freshly ground black pepper totaste
Blue and yellow corn tortilla chips
1/2 cup grated Monterey Jack cheese
1 avocado, peeled and cut into 1/4-inchcubes
2 green onions, finely chopped
Directions: Preheat an oven broiler on medium heat. Line a bakingsheet with aluminum foil and spray with nonstick cooking spray; reserve.
In a small skillet over medium heat, melt the butterand cook the jalapeño until it starts to soften, 2–3 minutes. Add the corn,cumin, and chili powder and cook, stirring occasionally, until mixture bubbles,about 4 minutes. Add the crab meat and sour cream and heat, gently stirring,until mixture is combined and just starts to bubble, 3–4 minutes. Season withsalt and pepper.
Arrange a generous layer of chips on the preparedbaking sheet and spoon the crab mixture evenly over the top. Sprinkle evenlywith the cheese. Broil, watching carefully, until cheese melts, about 2–4minutes. Remove from oven and transfer nachos to a serving platter. Sprinklewith the avocado and green onions.
Azahara derives from the Spanish for 'orange blossom'. Grown in our vineyards near Mildura, Victoria which are interspersed with citrus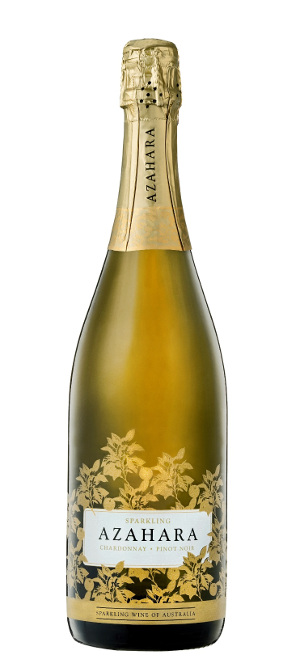 Grape Varieties:
Chardonnay (89%) & Pinot Noir (11%)
Region:
Estate Grown and harvested from our vineyards which rest alongside our orange, citrus and mango groves at Red Cliffs, North West Victoria.
Harvest Date:
Late January.
Wine Specifications:
Alc/Vol: 12.5% pH: 3.20
Acidity: 6.6g/L RS: 7.5g/L
Vinification:
Classic varieties, early picking, free run juice, fine attention to juice composition and clarity, cold and slow fermentation with classic sparkling wine yeast is followed by extended yeast lees aging. Each year, the best parcels are folded into a modified solera system which cross blends at least six past vintages, so fresh flavours are blended with older and more complex flavours. A final secondary fermentation (charmat process) is then initiated to produce the bubbles and to bring everything into harmony.
Vermentino joins the La La Land family

La La Land Wines proudly welcome Vermentino to its ever-expanding family. Along with new releases of La La Land Malbec 2016 and La La Land Pinot Gris 2017, this trio is all certified vegan friendly and a sample of each is enclosed for your consideration. These wines are available Australia-wide in restaurants and independent retail stores.
La La Land Vermentino 2017 (RRP $18) is Sardinian in style – aromatic and rich. Fermented warm at 18°C in stainless steel vats, oak staves were added to 70% of the wine to give texture and mouthfeel. Nothing else was added, so the fruit does the talking. Picture this wine enjoyed outside with seafood or a big bowl of pasta. Alcohol is 12.5%, pH 3.30 and acidity 4.8g/L.
La La Land Pinot Gris 2017 (RRP $18) began its cool fermentation spontaneously in vat before a selected yeast was introduced to draw out rich fruit and citrus notes. A bit of lees stirring added texture but very little intervention was necessary. Delicious now or over the coming year with shellfish and crunchy salads.
Alcohol is 13.0%, pH 3.35 and acidity: 5.6/L.
La La Land Malbec 2016 (RRP $18) is our fourth release of this classic variety, which is making its mark here in Australia as a straight varietal. Fermented on skins in sweeping-arm Potter fermenters, the wine was matured in a combination of French and American oak for 10 months. Made to savour now with BBQ beef ribs or massive mushrooms, we're confident that this wine will mature nicely for a couple of years.
Alcohol 13.5%, pH: 3.33 and acidity 5.8 g/L
Reinventing leftovers for a Boxing Day lunchtime hit
With all the preparations, hype and stress of Christmas over for another year, attentions quickly turn the cricket for the Boxing Day Test, the Sydney Harbour spectacle as yachts set sail for Hobart, and chilling by the pool.
It's well and truly time to relax, unwind and take it easy, so reinventing left-overs for Boxing Day is the easiest and tastiest way to entertain family and friends.
For a super simple and delicious option, try Jamaica Blue's Christmas Ham & Coffee Chutney Roll – combine delicious left-over leg ham with a fresh tomato and sage mixture on a crusty roll. Add a dollop of zesty Caribbean Coffee Chutney* to make it unlike anything from the menu the day before (and let's face it, that extra hit of caffeine is always welcome on Boxing Day!).
Of course, if you're ready to step out of the kitchen when Boxing Day rolls around, the Christmas Ham & Coffee Chutney Roll is also available at your local Jamaica Blue cafe.
*Make the chutney from scratch or purchase at your local Jamaica Blue café. Only while stocks last.
Christmas Ham & Coffee Chutney Roll
Makes: 6 Rolls
Ingredients
6 x Long crusty bread rolls
¾ cup Sour cream
1 tbsp. Dijon mustard
1 cup Mozzarella cheese – shredded
1 cup Parmesan cheese – shaved
3 x Tomatoes – sliced
¼ cup Sage – finely shredded
6 tbsp. Coffee chutney
600g x Leg ham of the bone
Method
Place sour cream and Dijon mustard into a small bowl and mix well.
Place sliced tomatoes and shredded sage into a small bowl and gently toss to combine.
Mix the two cheeses together.
Using a bread knife slice the 6 rolls in half. Place the bottoms onto a breadboard.
Spread each with the sour cream and mustard mixture.
Then add the cheese mixture. Followed by 4 – 5 slices of the tomato sage.
Dollop a tbsp. of the coffee chutney over the tomatoes.
Now add the ham and then place the tops onto the rolls.
Best served toasted.
Caribbean Coffee Chutney
Ingredients
500g x Brown onions – peeled and sliced
50g x Butter
1 tsp Salt
90ml x Espresso coffee – Jamaica Blue Signature blend preferred
200g x Brown sugar
1 tsp Ginger – crushed
300g Pineapple – crushed
150ml Orange juice
1 tbsp. Coriander – fresh and chopped
1 x Lime – zest and juice
½ tsp Chilli seeds
¼ tsp Allspice
Method
Peel & slice onions.
Add butter to a large pan then add onions and salt. Cook onions on a low heat for approx. 20 minutes until soft, sweet & dark in colour.
Add espresso and brown sugar to the onions and continue to cook on low.
Add ginger, crushed pineapple (including juice) and orange juice to the mixture and continue to cook on a low simmer.
Next add the chopped coriander, chilli seeds and all spice to the mixture then continue to cook down to a thick and syrupy texture. Add the lime juice and zest then remove from heat and allow to cool for 15 minutes.
Place into a blender and process to a fine puree.
This chutney will last in the fridge up to four weeks.
Spice up Christmas this year, with these delicious takes on festive traditions
We all know that the typical Aussie Christmas is a far-cry from the snow-capped version of the festive season we see in the movies and hear about in Christmas carols.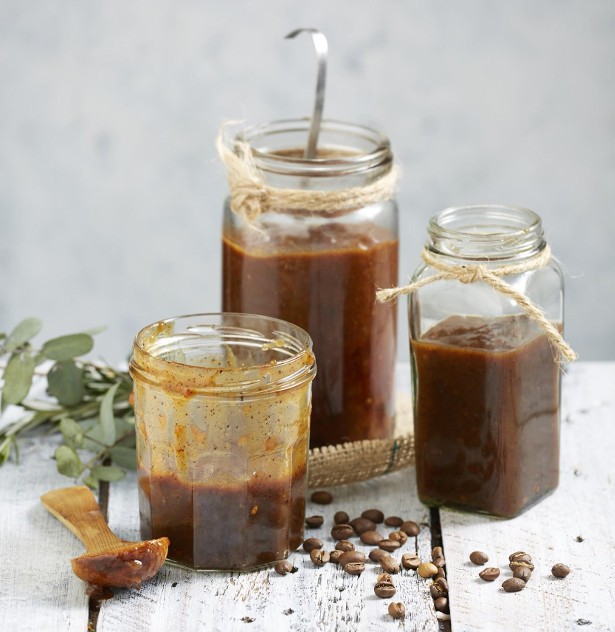 Down Under we're much more likely to fire up the BBQ than roast chestnuts over an open fire, and when it's 30+ degrees outside, it's safe to say Jack Frost is the last thing nipping at our nose.
But despite the differences, Australians have done a bang-up job of creating our own festive traditions, particularly when it comes to food.
We've made Christmas our own with the epic seafood platter, deliciously fresh salads and yummy pavlova. But now it's time to have some fun and spice up some traditional favourites, drawing on the inspiration from a fellow tropical island nation, Jamaica.
We've got two new recipes for you to try out on your guests this Christmas, courtesy of the Jamaica Blue Christmas menu.
Caribbean Coffee Chutney
When it comes to Christmas condiments, it doesn't get much better than chutney – it's the perfect accompaniment to cold meats, cheese platters and ham rolls.
While adding coffee might seem a quirky twist on a traditional recipe, the earthy undertones marry well with the sweetness of the fruit, and the kick of spices. This is one recipe you'll be cracking out again in years to come.
Ingredients
500g x Brown onions – peeled and sliced
50g x Butter
1 tsp Salt
90ml x Espresso coffee – Jamaica Blue Signature blend preferred
200g x Brown sugar
1 tsp Ginger – crushed
300g Pineapple – crushed
150ml Orange juice
1 tbsp. Coriander – fresh and chopped
1 x Lime – zest and juice
½ tsp Chilli seeds
¼ tsp Allspice
Method
● Peel & slice onions.
● Add butter to a large pan then add onions & salt. Cook onions on a low heat for approx. 20 minutes until soft, sweet & dark in colour.
● Add espresso & brown sugar to the onions and continue to cook on low.
● Add ginger, crushed pineapple (including juice) & orange juice to the mixture & continue to cook on a low simmer.
● Next add the chopped coriander, chilli seeds and allspice to the mixture then continue to cook down to a thick and syrupy texture. Add the lime juice & zest then remove from heat & allow to cool for 15 minutes.
● Place into a blender & process to a fine puree.
● This chutney will last in the fridge up to four weeks.
Dark Jamaican Christmas Cake
Sometimes traditions need a brandy-infused, island-style makeover. Cue the Dark Jamaican Christmas Cake, a festive treat with a history as rich and flavoursome as its rum.
Packed full of yummy fruit and zingy, flavoursome spices, you'll love Jamaica Blue's take on the humble dessert.
Ingredients (Makes: 9 Little Cakes)
For Pre-Soaking
150ml – Brandy
½ tsp – Cinnamon – ground
½ tsp – Nutmeg – ground
½ tsp – Cloves – ground
½ tsp – Salt
1 ½ tsp – Vanilla essence
1 tbsp. – Brown sugar
400g – Fruit mincemeat (good quality one from the supermarket)
110g – Prunes – pitted & roughly chopped
50g – Glace cherries – roughly chopped
175g – Dried mixed fruit
50g – Almonds – slivered
Zest of one lemon
Zest of one orange
For the Cake
250g – Self raising flour
2 tsp – Baking powder
250g – Brown sugar
250g – Butter
3 – Eggs
Garnish
36 – Glace cherries
¼ cup Dried cranberries
2 – Egg whites
420g – Icing sugar
20mls – Hot water
Method
● Pre – soak fruit and spices overnight or for a minimum of 4 hours.
● Heat oven to 170C.
● Grease well 9-holes of a 12 cup loose base round dessert pan – cup 7.5cm x 5cm – pan 39cm x 28cm) Or alternatively Texan muffin pans can be used.
● Sift the flour & baking powder into a large bowl.
● Then add the butter, sugar and eggs. Beat with an electric beater until everything is smooth and fluffy.
● Now gradually fold in the pre-soaked fruit mixture.
● Spoon into prepared holes.
● Bake on the centre shelf of the oven for 40 minutes.
Garnish
● Place the egg whites in a bowl.
● Use a whisk to lightly beat the egg whites until foamy.
● Sift icing sugar over the egg whites and stir with a wooden spoon until smooth. Add hot
● water for correct consistency.
● Place four glace cherries onto the cake tops. Then sprinkle each with the dried cranberries.
● Drizzle icing over all the little cakes allowing it to run slightly. Allow to set for 10 minutes.
● Store cake in an airtight container in the fridge.
Looking for a taste test before attempting these yourself? Be sure to drop by your local Jamaica Blue store today, or pick up your copy of Jamaica Blue's limited edition cookbook, Classics With A Twist, available in cafes now. RRP$19.95 or free when you spend $50 in store.
Candy Pie Supplies (per pie)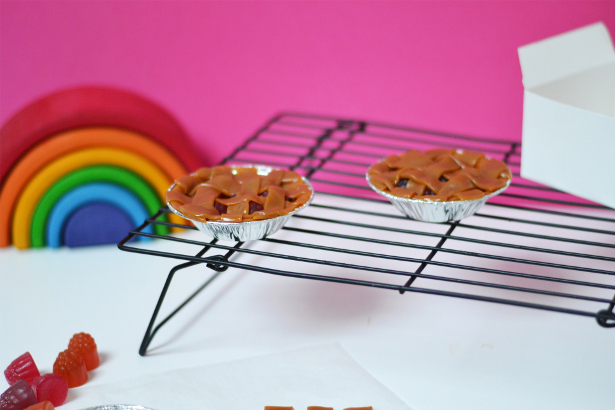 App. 5 chewable toffee candies (I used Werther's Toffee Chews)
6-8 pieces of jelly candy for the filling (I used The Natural Confectionery Company Berry Bliss jellies and Starburst Fruit Mix jellies)
Mini pie tin (about 8cm diameter)
Baking paper
Rolling pin (you can use a wine bottle if you don't have a rolling pin)
Clean food-safe scissors
Microwave
Small square cardboard gift box for presentation (totally optional)
Please note: Decide how many you're going to make in advance and just multiply the ingredients based on that. It's best to prepare the toffee all at once rather than one pie at a time!
Candy Pie Instructions
1. Unwrap chewable toffee candies and group together on a sheet of baking paper
2. Place baking paper with candies on it in the microwave and microwave for 20 seconds
3. Remove from microwave, place a second sheet of baking paper on top and use your rolling pin to roll the partially melted toffee into a thin sheet, approximately 3mm thick
4. Leave the toffee to harden up for about 5 minutes
5. After it's hardened up a bit, peel the top sheet of baking paper off and use your scissors to cut the toffee into strips 1-1.5cm wide and 10cm long
6. You will use 7 strips per pie
7. Take one strip and use your hands to gently stretch it out to 25cm (it will be thin but that's fine)
8. Carefully place the long strip around the rim of your mini pie tin
9. Arrange your jellies in the mini pie tin
10. Weave six of the 10cm strips alternating under and over
11. Place on top of the pie tin, over the jellies and press the edges down onto the toffee rim
12. Use your scissors to trim around the edge of the mini pie tin
Please note: If it's the middle of summer and your house is warm, the toffee does droop after a while; it doesn't fully melt, but it does spread a bit and doesn't look as amazing, so keep them in the fridge until the party. If your house is cooler, though, you'll be fine.
Get In The Holiday Spirit With Stirrings
Spice up any holiday party with signature mixers & bar ingredients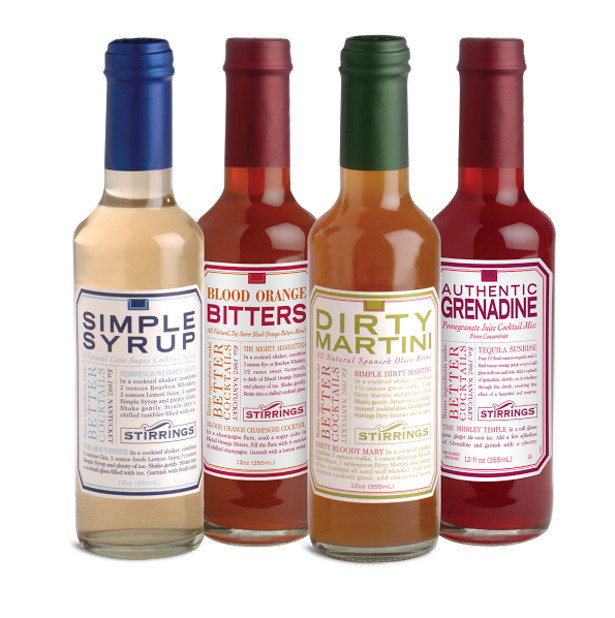 It's beginning to look a lot like Christmas, and that means sweets, parties, presents, and most importantly – holiday drinks. If you're starting to feel eggnog'd out, get into the swing of the season with Stirrings! Craft tasty beverages that are sure to put you on the naughty list, Stirrings has rimmer garnishes, cocktail mixers and bar ingredients made with real juice and NO artificial preservatives.
Whether you're toasting under the mistletoe or to the New Year, kick off the holidays with Stirrings:
Pomegranate: With the celebrated history of the delicious pomegranate in mind, Stirrings took serious care in developing an inspired, sweet-tart blend of pomegranate, lemon juice and cane sugar when crafting the signature Martini! Whether you try it Bellini style, with sparkling wine or as a pretty, red-hued holiday cocktail, this mixer is perfect for the season. A challenge to sift pomegranate seed shells from the fruit itself, the Pomegranate Rimmer includes crushed pomegranate and sugar for a sweet, tart taste in your drink.
Dirty Martini: So simple to make, no cocktail captures the imagination like the Martini. Larger than life characters such as FDR have claimed it as their drink of choice, with the famous figure even offering Stalin and Churchill a Dirty Martini – a classic gin martini with a touch of olive juice brine. The sensual side of cocktail poetry, stir up something a little dirtier this holiday with a Stirrings best seller!
Simple Syrup: The perfect starting point for several great cocktails, Simple Syrup is a must-have bottle in any well-stocked bar. Containing only pure cane sugar and triple-filtered water, this staple takes the guesswork out of creating cocktails that need a pinch of sweet.
Fuel the holidays with signature mixers that will make you think, maybe just a half a drink more. Try the whole collection and make spirits bright with Stirrings!
Stirrings can be found nationwide at major grocery stores and retailers, including Walmart, Publix, and Total Wines & More, as well as online at their website www.stirrings.com or at Amazon and Jet.com.
sweettoppershop.com

Holiday Party Essential – Party Skewers and Party Mix Stix to add to the holiday festivities. Sweet Toppers designs and manufactures Party Skewers and Party Mix Stix. Our Party Skewers are great for festive fruit kabobs. Party Mix Stix are idea for spearing olives for martinis, or paired with large fluffy marshmallows to cozy up with hot coco. Use for cheese and salami mini skewers, fruit kabobs, veggie appetizers, or add to finger sandwiches or sliders.
www.sweettoppershop.com
Tasting Escapes (www.tastingescapes.com)
Drink tasting experiences for the grown-ups in the family in lieu of physical gifts.

What about a tasting escape as a great gift this holiday season? Tasting Escapes is a curated website where people can book various beer, wine and spirit tasting tours and experiences worldwide. Tasting experiences on the website vary from $25 up.
These tasting experiences also vary from a great local date night activity to an amazing add-on while traveling on your next international vacation.
Tasting Escape experiences also vary from relaxing spa treatments + wine tasting, to adventurous ziplining activity followed by a private beer tasting.
Please let me know if you would like more in-depth information on tasting experiences Tasting Escapes is currently offering and photos.
Treaty Oak Whiskey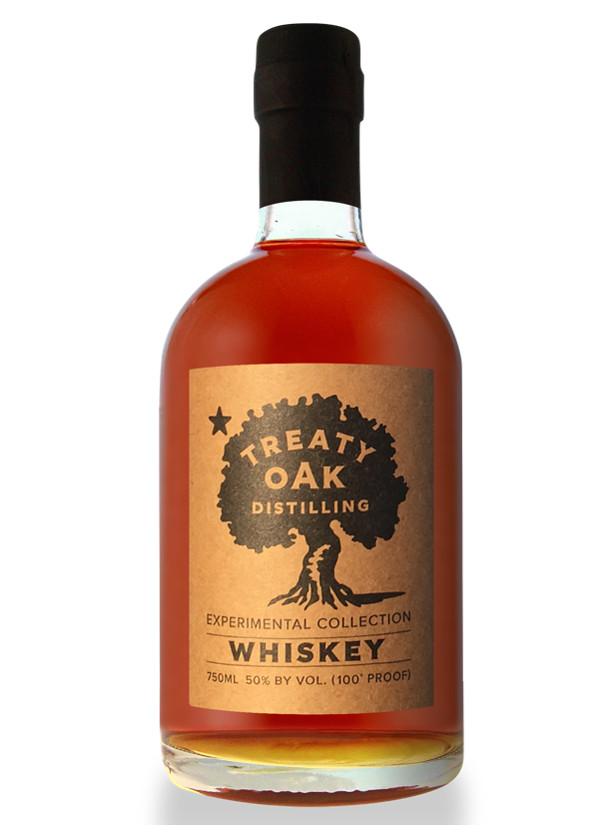 One of the experimental collection whiskeys includes the original Treaty Oak Whiskey. This was the first prohibition whiskey distilled in Austin, TX (Treaty Oak first started distilling Whiskey in North Austin in 2010). It's bottled at 100-proof and the flavor profile varies from one batch to another. Each batch may be 2-4 barrels, or sometimes a single barrel release. Prices range for our experimental whiskey collections. We sell the pictured experimental whiskey for $49. This special release was barreled in February 2014. Tasting Notes: Sweet corn with a balanced oak finish. Rich in flavor, green apple and cherry notes, with a clean spicy finish.
About Treaty Oak Brewing & Distilling
Based in Dripping Springs, Texas, Treaty Oak Brewing & Distilling produces small batch, distinctive craft spirits including Red Handed Bourbon, Treaty Oak Experimental Whiskey, Waterloo Gin, Waterloo Antique Gin, Treaty Oak Rum, and Treaty Oak Barrel Reserve Rum. In 2016 the company introduced craft beer with Fitzhugh Ale, a British mild ale, Lil' Hop, a session IPA, and Bright Side, a blonde ale. Founded in 2006 in Austin, TX by Daniel Barnes, Treaty Oak Brewing & Distilling Co. makes its craft beer and spirits with steadfast devotion to quality and innovation. The distillery is named for the majestic 500-year-old oak where Stephen F. Austin signed a border agreement with Native Americans in the 1830s, and it symbolizes the strength and longevity of our products. In September 2017, Treaty Oak opened the doors to its full-service restaurant, Ghost Hill. The spirit for exploring new recipes to create excellent spirits and a passion for creating experiences worth sharing continues to drive the Treaty Oak Brewing & Distilling team.
Connect with Treaty Oak Brewing & Distilling on:
Facebook: https://www.facebook.com/TreatyOak
Twitter: https://twitter.com/TreatyOakTX
Instagram: https://instagram.com/treatyoaktx
View available products online at:
https://www.treatyoakdistilling.com/
DISCO COCKTAIL SIPPERS
ASK Italian adds a sprinkling of glitter to its cocktails this festive season
ASK Italian, one of the UK's leading restaurant brands, announces the launch of its new Disco Cocktail Sippers – cocktails served in mini disco balls, available in all restaurants.
Set to be the most 'Instagramable' drinks this Christmas, Disco Sippers provide the perfect excuse to get together with friends and toast the festive season and adds a little extra sparkle for those looking to make their social media feeds gleam! Customers looking to get into the party spirit can upgrade any* standard cocktail for just £2.00 to have their drink served in a shiny disco ball, and best of all get to take it home.
Choices include two NEW cocktails from the Autumn menu; the Christmas Cranberry Mojito, rum with lemon, lime and cranberry juice, garnished with fresh mint or the Peach V&T, a crisp mix of craft vodka with peach schnapps and tonic. As well as ASK Italian's classic cocktails; the Tropical Mojito, Elderflower G&T, Aperol Spritz or Nojito, a non-alcoholic option.
Harry Heeley, ASK Italian's Managing Director, said "At ASK Italian our passion is to see people celebrating mealtimes as the Italians do – it's a brilliant opportunity to connect with those around you and enjoy great food and time together. Big or small, we love a good party and our Disco Sippers are the perfect way of bringing a little sparkle to any occasion this festive season!"
Disco Sippers will be available to buy in all ASK Italian restaurants for just an additional £2.00 on top of any cocktail RRP from the drinks menu, with the option to take them home afterwards. Guests can also purchase a Disco Sipper from ASK Italian's retail stand in stores for just £5.00.
It's time to deck the halls with snacks from Jacob's as the UK's favourite savoury snack maker unwraps a tasty seasonal offering to suit all your festive feasting. With some delicious new flavours it's going to be a Jolly Jacob's Christmas.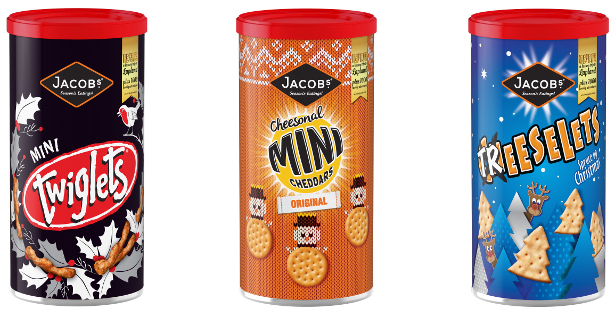 Jacob's Biscuits for Cheese Selection
Entertaining is made easy with Jacob's Biscuits for Cheese Selection, which has revamped its packaging to bring a little more Christmas magic to the table and spruce up your cheese course with biscuits to suit any topping! Available in three sizes – 300g, 450g and 900g – to suit all your festive dining occasions
Jacob's Caddies
Jacob's Christmas caddies signal the start of seasonal snacking and this year they return in four yummy flavours: NEW Festive Snack Bites Roast Turkey Flavour, Twiglets, Treeselets and Cheesonal Mini Cheddars. Also introducing the NEW Cracker Crisps Sour Cream & Chive as the latest addition to the range, following the successful launch of Cracker Crisps.
This year the caddies have been revamped with exciting new designs featuring a snowman, a Christmas tree and a fun festive cracker – making the caddies a perfect stocking filler, hosting gift and must-eat party snack for Christmas get-togethers and movie nights in.
Jacob's Biscuits for Cheese Selection 300g, £2.99 / 450g, £4.29 / 900g, £7.50
Jacob's Cracker Crisps Sour Cream & Chive Caddy, 230g, £3.49
Jacob's Caddies, 190g, £3.49
This year, Jacob's has launched an exclusive on-pack promotion as part of its Merry Biscuits Everyone campaign – giving you the chance to win a luxury trip to Lapland, or one of thousands of family days out! Look for the unique code on specially marked packs to enter into the prize draw online (closing date: 31.03.18). Good luck!
Rockin' Around the Christmas Tree with Rocking Rudolph
Make Christmas even merrier with Rudolph's festive tipple this winter

FACEBOOK | TWITTER | LINKEDIN | YOUTUBE
Get festive throughout the holiday season with the number one Christmas ale Rocking Rudolph.
The Number One Christmas ale, Rocking Rudolph is back this holiday season by popular demand and is available on tap across hundreds of pubs throughout the UK as well as exclusively in 500ml bottles Aldi stores. The favourite Christmas ale tipple for three years, Rocking Rudolph is the runaway favourite of discerning consumers over the festive period.
Whether you're looking for the perfect stocking gift, or a festive ale to go with your turkey dinner, Rocking Rudolph is the ideal Christmas companion.
This full bodied premium Christmas ale (4.2% abv) is packed with delicious redcurrants and blackcurrants, along with a malted toffee taste, to offer a crisp bitter finish to delight your palette.
The hoppy bitterness of Rocking Rudolph pairs well with winter dishes such as stews and mince pies to feast on during the festive season.