Corkers Hand Cooked Potato & Vegetable Crisps, as well as Popcorn!  www.corkerscrisps.co.uk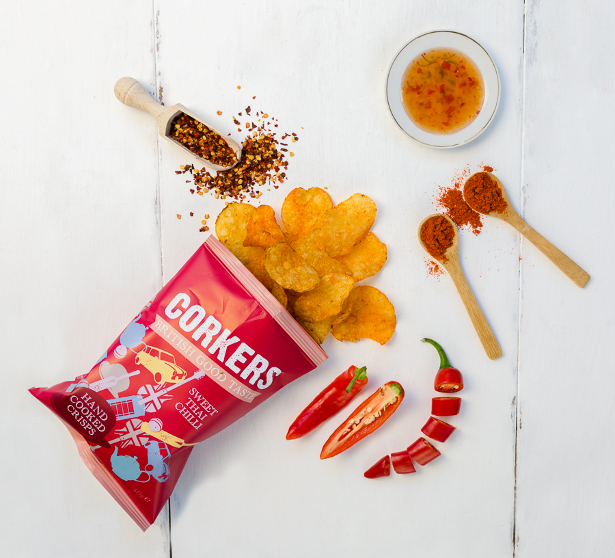 Corkers Hand Cooked Potato Crisps Simply Sea Salt; Cheddar Cheese and Chive; Sea Salt and Cider Vinegar; Sweet Thai Chilli; Pork Sausage and English Mustard; Duck & Hoisin Sauce; Sea Salt and Black Pepper Available in 40g and 150g bags Recommended retail price: £0.90 – £1.00 (40g) and £1.80 – £2.00 (150g)
Corkers Hand Cooked Vegetable Crisps Parsnip with Honey & Black Pepper; Sweet Potato & Chilli; Sweet Potato, Parsnip, Carrot & Beetroot Available in 40g and 125g bags Recommended retail price: £1.30 (40g) and £2.79 (125g)
Corkers Popcorn Sea Salt – available in 20g and 70g bags Recommended retail price: £0.90 (20g) and £1.50 (70g) Sweet and Salty – available in 30g and 90g bags Recommended retail price: £0.90 (30g) and £1.50 (90g)
THE CORKERS STORY SO FAR..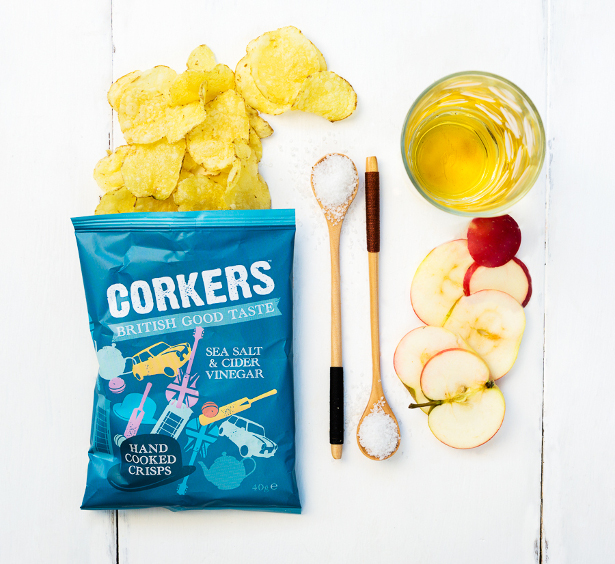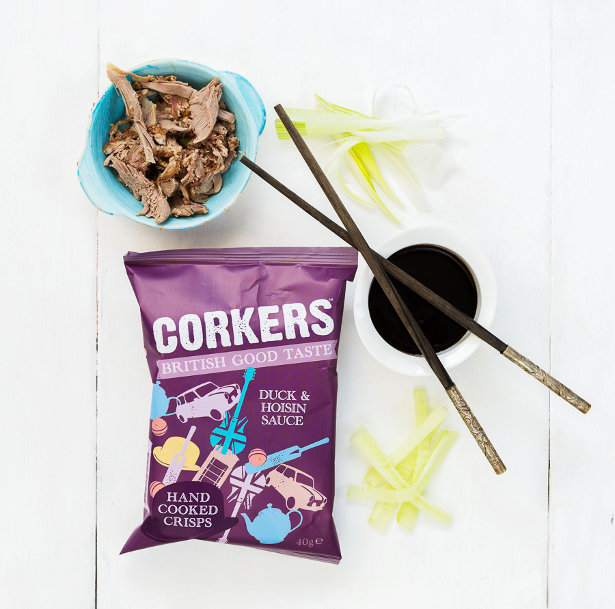 It's probably fair to say that not many ideas are hatched on a ski lift and few, if any, make it beyond passport control. But when best friends Ross Taylor and Rod Garnham came up with a Corker of an idea, it wasn't long before they were finetuning flavour combinations and developing the quirky packaging that keeps Corkers Crisps so fresh and delicious.
Growing their own vegetables means they are in complete control of the supply chain from seed to bag, meaning they know the provenance and origin of every single potato and packet.
Corkers can be found in quintessentially British stately homes, National Trust properties, the National Gallery, countryside farm shops, local deli's, railways and airlines.
Corkers is continually developing and evolving, with new products coming soon, but always connected with their roots.
SO WHAT MAKES CORKERS SO SPECIAL?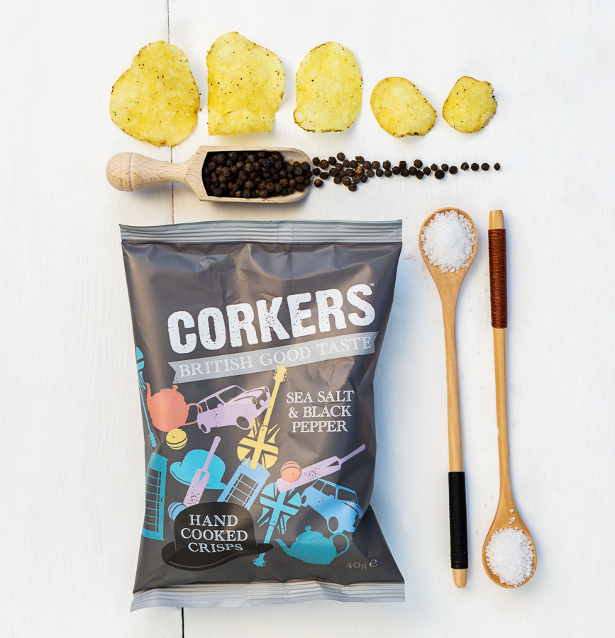 Britain loves a crisp. In a school lunchbox, sharing with friends, as a 'nibble' with drinks, elevenses at our desks – crisps are practically a British institution. But not all crisps are created equal. The vast majority of crisp brands in this country buy potatoes from farms across the UK, fry them up and call them their own. Corkers do it differently.
You see Rod and Ross created their very own Naturalo potato that is only grown on the Taylor family farm in the rich peaty Cambridgeshire fens. It is the perfect frying potato and helps give Corkers their unique crunch. The potato is white skinned which makes the crisp less greasy. Once harvested, they are driven just a few minutes down the road to be stored at the optimum temperature in order to prevent the starch turning to sugar. This means that when fried, Corkers Crisps maintain an authentic potato taste rather than undertones of burnt sugar, which can often be detected in other brands. Corkers also slice the potatoes thinner than other premium crisps before they are fried to ensure that they are less abrasive on the pallet.
Since they are grown, stored, prepared, cooked and packaged on the farm, a crisp with better provenance would be difficult to find. The result of this attention to detail is a light, delicious crisp that is full of flavour. There are no MSGs and the flavours are created using natural British ingredients. So visitors to Corkers HQ can dig up their own spud, fry it up, flavour it and enjoy the most authentic British crisp ever made in under an hour!