TESCO HELPS MAKE YOUR CHRISTMAS PARTY 'POP' WITH ITS RANGE OF FESTIVE FIZZ AND PARTY FOOD

From wines produced on family-run vineyards to desserts with hidden surprises and party food inspired by trends across the globe, Tesco has everything you need to celebrate this Christmas.
FACEBOOK | TWITTER | YOUUTBE | PINTEREST | INSTAGRAM
FESTIVE FIZZ
Tesco finest* Blanquette de Limoux – 75cl, £9 Blanquette de Limoux is the oldest sparkling wine in the world and was first created by Benedictine monks using the same techniques as Champagne, producing an elegant dry sparkling wine with flavours of citrus and brioche. Local Mauzac, Chardonnay and Chenin grapes are blended and aged in bottle for 18 months to produce complex flavours of peach, green apples and a toasted bri oche finish. Ideal as an aperitif or with seafood, it's a fresh alternative to Champagne this Christmas.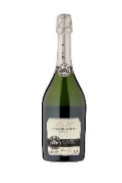 Tesco finest* Valdobbiadene Prosecco Superiore DOCG Magnum – 150cl, £19 This sparkling wine is fresh and elegantly complex, with classic aromas of white blossom and crisp peach and pear notes. It is made with premium handpicked grapes which are grown on the slopes of Valdobbiadene in Italy, one of the best areas for Prosecco. This is the perfect size for entertaining and can be enjoyed as an aperitif or to complement an antipasti or salmon starter.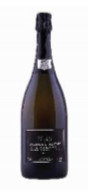 Tesco finest* English Sparkling – 75cl, £17.50 Produced on the award winning and family-run Hush Heath Estate in Kent, this British bubbly uses Chardonnay, Pinot Noir and Pinot Meunier grapes to create a unique sparkler to celebrate with.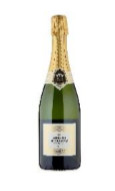 Tesco finest* Champagne Vintage Grand Cru Blanc de Blancs – 75cl, £25 No Christmas party would be complete without a classic bottle of Champagne. O ur vintage Champagne is only produced in the years when the harvest is at its best. We use only Chardonnay grapes from the Grand Cru vineyards which give our champagne rich flavours of ripe citrus and brioche with creamy bubbles. Serve this sophisticated Champagne as an aperitif or partner with smoked trout or salmon.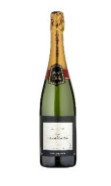 PARTY FOOD
Tesco finest* Sashimi Style Sliced Smoked Salmon – 130g, £4.50 With a Japanese style dressing for a fiery kick, these light oak smoked slices are ideal as a snack or as part of a sharing platter. The sashimi is cut at a 68 degree angle, giving a firmer texture which melts in the mouth and makes it great for dipping in the wasabi dip. Our Scottish smoked salmon is RSPCA assured.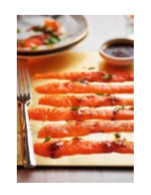 Tesco finest* 8 Mini Crayfish Cocktails, £5 Our twist on a retro-favourite is a fun addition to any Christmas celebration. Combining a layer of tomato and vodka salsa, topped with a creamy Marie Rose sauce and hand-finished with juicy crayfish, this is a perfect no-prep party food which comes in individual pots ready to serve, and with glitter spoons for extra Christmas sparkle.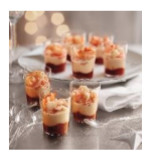 Tesco finest* 9 Goats Cheese & Red Onion Tartlets – 198g, £5 These filo pastry cases filled with melt in the mouth goat's cheese and sweet balsamic red onion chutney sprinkled with chives, will be a welcomed addition to any party platter.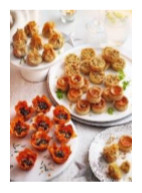 Tesco finest* 9 Brie & Cranberry Parcels – 198g, £5 This perfect pairing of two classic festive flavours will add a touch of elegance to your Christmas celebrations. A fantastic vegetarian option, each parcel is filled with a rich and creamy French brie accompanied by a tangy cranberry sauce, hand wrapped in deliciously light and crisp filo pastry and ready to be enjoyed in under
30 minutes.

Tesco finest* 12 Steamed Dim Sum Selection – 270g, £4 These Cantonese inspired steamed snacks are a lighter choice whilst still being a firm favourite for Christmas. Filled with delicious chicken and mushroom or flavoursome prawn and vegetables accompanied by a soy and sesame dipping sauce, they are perfect as a starter or to serve as part of a buffet over the festive season.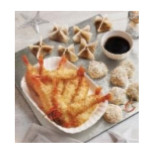 Tesco finest* 12 West Country Vintage Cheddar & Onion Mini Pies – 360g, £5 Made in Cornwall, these mini individual cheese and onion butter enriched suet pastry pies are a great addition to any festive party spread. A British classic made bite size.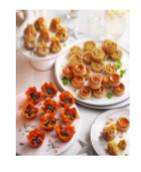 Tesco finest* 12 Vol-au-Vents – 186g, £5 No Christmas party would be complete without a vol-au-vent and this year we have given this classic a makeover. Our light, crisp, handfinished puff pastry cases are filled with creamy manchego cheese topped with chorizo or filled with light cream cheese topped with smoked salmon. A perfect savoury bite and a hassle free buffet option.
Tesco finest* 10 Tempura Prawns – 240g, £4 A Christmas party favourite, these succulent king prawn tails are expertly coated in a crispy Japanese inspired tempura batter. The new and improved batter recipe now offers extra crunch following customer feedback.