ROCK DOWN TO ELECTRIC AVENUE:
DEEZER SPARKS DEAL WITH CURRYS PC WORLD AND DIXONS TRAVEL
Three months free Deezer subscription for Currys PC World and Dixons Travel customers who buys an audio device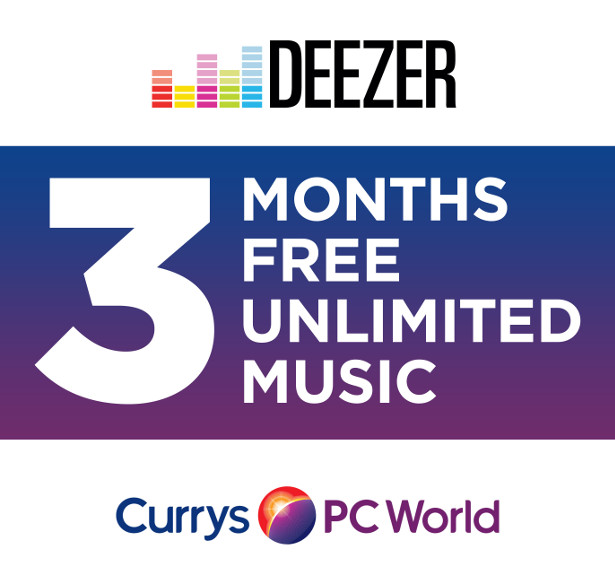 Available online and across 550 stores nationwide
Deezer, the world's most diverse, dynamic and personal music streaming service, is today bringing music streaming to the high street, offering Currys PC World and Dixons Travel customers a free three-month subscription to its Premium+ service when they purchase speakers, sound systems or headphones in-store or online.
Celebrating the start of a brand new partnership with Currys PC World and Dixons Travel – both part of the UK's largest consumer electronics retailer group Dixons Carphone – Deezer is plugging its high-quality audio playback into the most advanced range of audio devices in the market, offering customers a truly connected and personalised audio experience.
The Deezer Premium+ subscription, which is free for three months with the purchase of any audio device from 550 Currys PC World and Dixons Travel stores nationwide or online, will provide those searching for ultimate playback on newly-purchased audio devices with unlimited ad-free music, even when offline.
Phil Moore, VP of Northern and Southern Europe, commented, "We're delighted to be partnering with Dixons Carphone to offer customers a truly premium audio buying experience. We believe that high-quality music should be as accessible as possible and, through being instantly available through the purchase of any audio device, Deezer will now be extending the reach of music streaming to the high street."
Tom Cullimore, Audio Buyer at Currys PC World, added, "This is a truly exciting offer to be able to present to our customers. Deezer provide a fantastic music streaming service with some very unique features, allowing our customers to enjoy the full experience of their new audio tech."
Deezer, designed to bring users the best in audio, gives instant access to the largest and most diverse global music streaming catalogue on any device. With over 43 million tracks to choose from, Deezer is also the only streaming service with Flow – a personal soundtrack, combining a smart algorithm with human curation that knows just what you want to hear at any time of day, wherever you are.
Customers of Dixons Carphone retailers will be able to benefit from this offer from 2nd November.
25% off Eating Europe Food Tours
Use the promo code CYBERMONDAY2017 when booking any of Eating Europe's food tours in London, Rome, Prague, Florence, and Amsterdam. Valid for any tour booked on 27. or 28. November and taken until 31.12.2018, eatingeuropetours.com