DermaTx Advanced Skincare – Tailored For Your Skin. 25% off the entire DermaTx range for Black Friday on dermatx.co.uk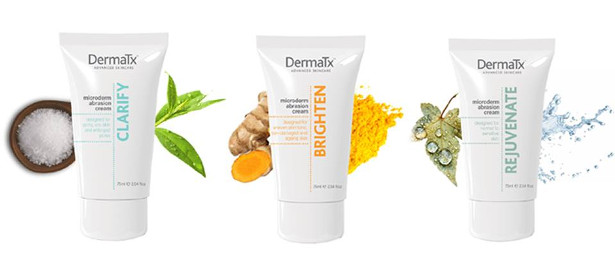 The DermaTx Microdermabrasion System is a highly effective 'at home' exfoliating treatment, for impressive salon-like results.
The system is quick and easy to use, comprising of one Microdermabrasion Cream and a DermaTx Facial Tool. The tool features a foam applicator head and uses micro-pulsed vibrations to gently massage the cream into the skin. With immediate visible results, the complexion instantly takes on a smoother, brighter and more youthful glow.
The DermaTx Microdermabrasion System is the irst 'at home' exfoliating treatment to target various skin types and concerns. When used in conjunction with the DermaTx Facial Tool, the DermaTx Microdermabrasion Cream's high performance formulas gently removes dead skin cells, allowing the powerful active ingredients to penetrate deeper into the skin, resulting in a fresher, even and healthy looking complexion.
DermaTx Microdermabrasion Cream: Targets different skin types 3 micro-crystal cosmeceutical creams; Brighten, Rejuvenate and Clarify, targets different skin types and concerns such as acne, blackheads, enlarged pores, uneven skin tone, sun damaged, sensitive and ageing skin. The Microdermabrasion Cream contains professional grade mineral crystals, the best material for effective exfoliation and stimulating cell renewal. Each cream is formulated with a powerful blend of proven ingredients including antioxidants and photo ilters to protect against free radical and UV damage.
Rejuvenate Cream: For normal and sensitive skin Professional grade mineral crystals, with Lactic Acid (an AHA) to soften skin and boost collagen production and antioxidants vitamins C and E to encourage skin rejuvenation. Hydrating ingredients help to calm sensitive skin leaving it supple and smooth.
Brighten Cream: For ageing, uneven tone and sun damaged skin Professional grade mineral crystals, with SabiWhite™, a natural brightening agent to improve pigmentation and skin tone, and Achromaxyl™ a skin brightening botanical extract, clinically proven to promote radiance and reduce age spots. The inclusion of Vitamin A and E helps to increase skin turnover to revitalise the skin and diminishes signs of ageing.
Microdermabrasion System
ageing/sun damaged skin
oily/acne skin
normal/ sensitive skin
Instant at-home treatment for a polished complexion
Clarify Cream: For oily, enlarged pores and acne skin Professional grade mineral crystals, with 2% Salicylic acid, Retinol and Tea Tree Oil to ight bacteria, and excess oil to reduce spots and breakouts. Vitamin C helps to minimise discolouration and improve skin tone for a clear and even complexion. Anti-inlammatory and soothing ingredients help reduce redness.
DermaTx Facial Tool The light-weight, portable tool provides superior microdermabrasion results using a special foam attachment to apply the cream; the tool's micro pulse vibrations enable the crystals in the cream to gently exfoliate and the active ingredients to be massaged into the skin. Complete with a choice of interchangeable heads, the foam applicator can be replaced with a brush applicator for deep cleansing.
How to use After cleansing, dot the Microdermabrasion Cream onto moist skin on all areas of the face – the forehead, cheeks, chin, nose. Use the tool to massage the cream into the skin with circular movements and rinse off.
DermaTx Microdermabrasion System Microdermabrasion System contains one DermaTx Microdermabrasion Cream (75ml) and 1 Facial Tool with foam head and an interchangeable brush head.
Stockists: www.dermatx.co.uk, www.dermacaredirect.co.uk, www.lookfantastic.com, www.beautyexpert.com www.mankind.co.uk, www.hqhair.com, www.beautyandtheboutique.com, www.instantbeautyix.com