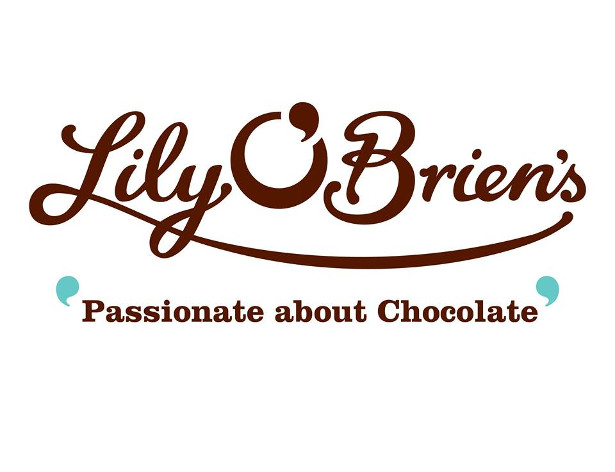 Deck the halls with boxes of chocolates!
Celebrate Christmas with Lily O'Brien's new festive and luxury range
FACEBOOK | TWITTER | INSTAGRAM | YOUTUBE | PINTEREST
As a time for sharing and indulgence, nothing says Christmas like receiving a beautiful assortment of premium chocolates. To celebrate the festive season, Lily O'Brien's, the luxury chocolatier, is creating a festive experience with its delectable range of quality chocolates.
Beautifully wrapped in cream and gold paper completed with a pink ribbon so you don't have to worry about the finer decorative details, the 24 chocolates Petit Desserts Collection are the perfect gift this Christmas, with a wide range of indulgent flavours including Crème Brûlée, Key Limey Pie, Raspberry Infusion, Passion Fruit Posset, Banoffee Pie and Hazelnut Torte.
Petit Desserts Collection – RRP £6 available at Tesco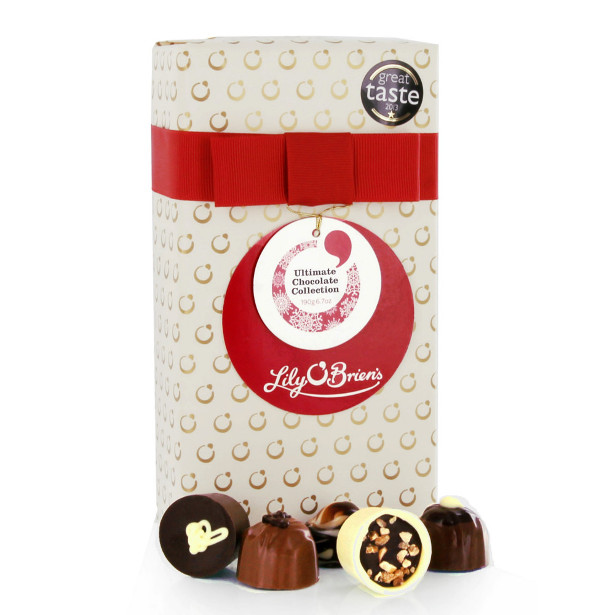 Alongside the already successful existing desserts range, Lily O'Brien's is launching an exciting new collection of limited edition products, exclusively for Christmas. The range, complete with a decadent white and red packaging design includes:
Chocolates for the connoisseurs
Containing 40 chocolates ranging from Sticky Toffee, Simple Chocolate, Raspberry Crème, Winter Orange, Le Crunch Chocolat to Praline Perfection, the Deliciously Decadent Collection is the perfect gift for family and friends to enjoy. RRP £16.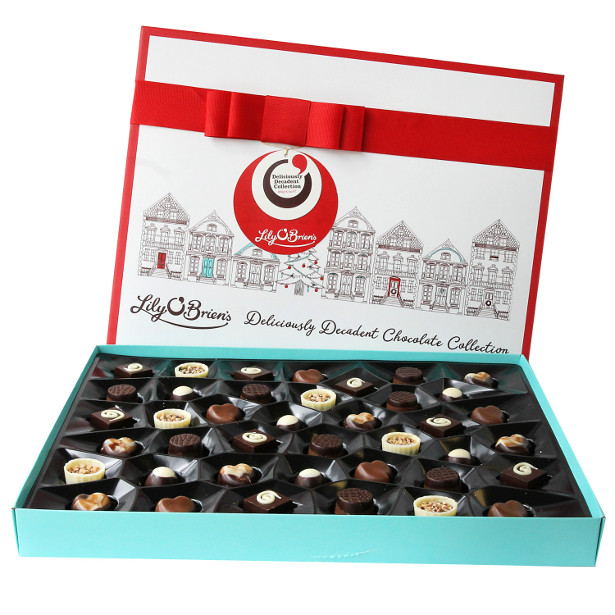 The melt in your mouth Chocolate Connoisseur's Christmas Collection is the ultimate festive inspired assortment. The collection includes 12 chocolates in five flavours, including Spiced Christmas Latte, Apple Cider Caramel, Hazelnut Cappuccino, Sea Salted Caramel and Festive Orange and Cinnamon. RRP, £9.
The Ultimate Chocolate Collection is a delectable range of Lily O'Brien's finest chocolates. With 60 pieces of chocolate in 10 flavours, this assortment is the perfect gift for a dinner party host or loved one. Recipes including Caramel Macchito, Simply Chocolate, Lemon Meringue Pie, Chocolate Orange, Death by Chocolate, Le Crunch Chocolate, Praline Perfection, Hazelnut O'Brien, Raspberry Infusion and Himalayan Salted Caramel, the Lily O'Brien's Ultimate Chocolate Collection is set to get you in the festive spirit this Christmas! RRP, £32.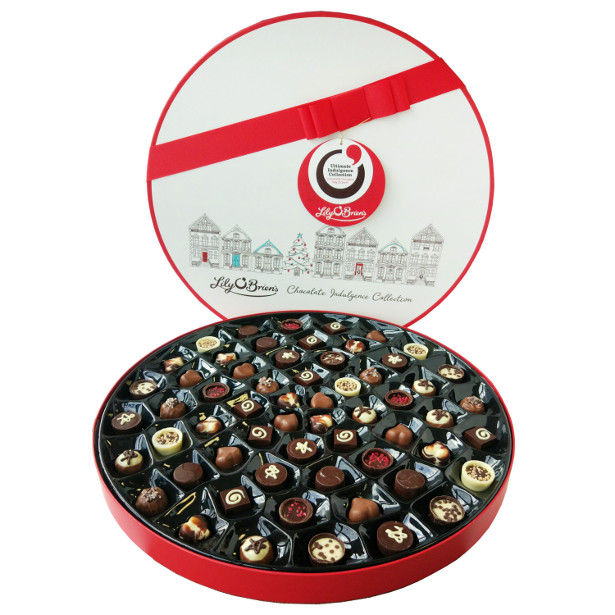 cid:image009.jpg@01D33145.A4BA3ED0Indulge the senses with Lily O'Briens Winter Wonderland Collection. A scrumptious assortment of 12 recipes including: Festive Crème Brulee, Sticky Toffee, Caramel Macchiato, Simply Chocolate, Lemon Meringue Pie, Winter Orange, Dark Chocolate Ganache, Le Crunch Chocolate, Praline Perfection Banoffee, Raspberry Infusion and Passion Fruit. The perfect gift for Christmas, this fabulous assortment of 20 chocolates is presented in Christmas Wonderland box and available for RRP £12.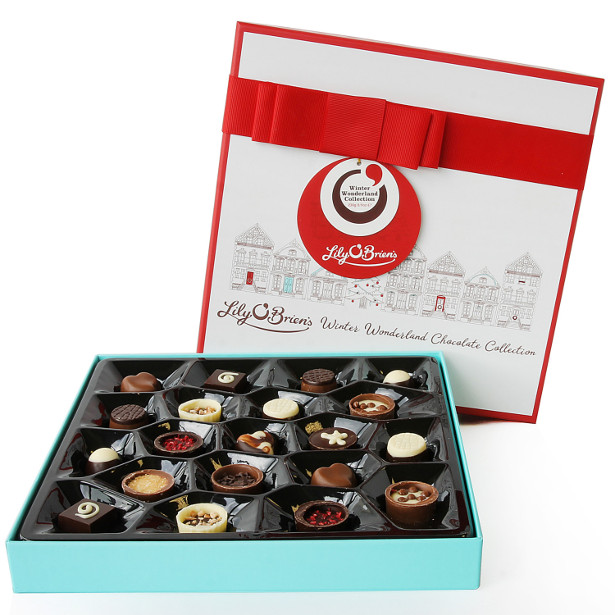 Indulgent stocking fillers
The Petit Indulgence Collection contains festive favourites such as Winter Orange, Sticky Toffee, Simply Chocolate, Le Crunch Chocolat and Praline Perfection – ideal for every Christmas occasion and it comes pre-gift wrapped! RRP£10.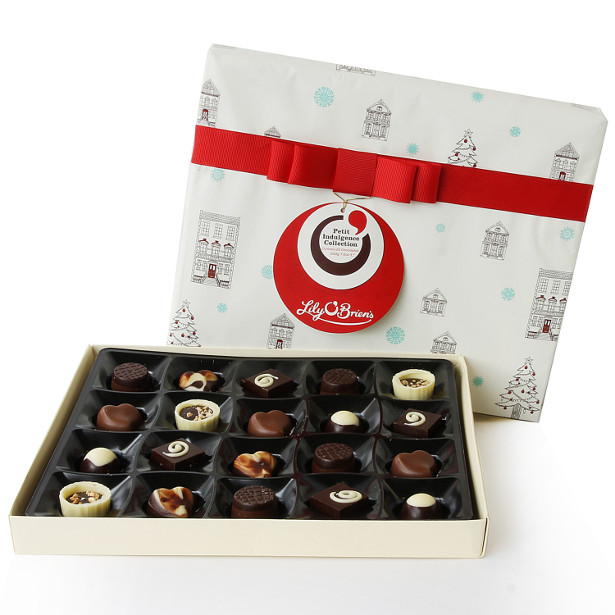 The Festive Treats Collection; a 16-piece divine selection of two chocolates; Zesty Orange and Salted Caramel. This is the perfect gift for the more adventurous chocolate lovers in your life and is sure to be a fabulous addition to any coffee table this Christmas. RRP £9.
The 10-piece Petit Chocolate Indulgence Star assortment is a delicious collection of recipes including Sticky Toffee, Simply Chocolate, Raspberry Crème, Winter Orange Chocolate, Le Crunch Chocolate and Perfect Praline. Packaged in a beautiful keepsake star. RRP £7.80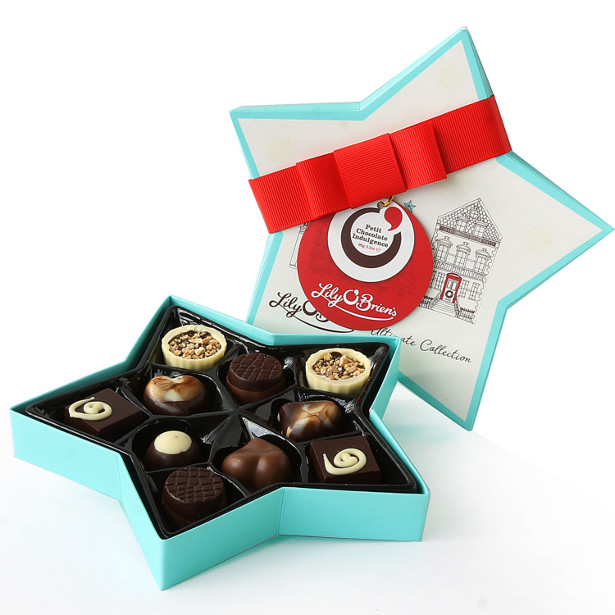 Looking for something a little different this Christmas? look no further than Lily O'Brien's Festive Crème Brulee tower. With a RRP of £5, the 10-piece tower is a rich marriage of cinnamon and Tahitian vanilla which makes a perfect ready-made gift.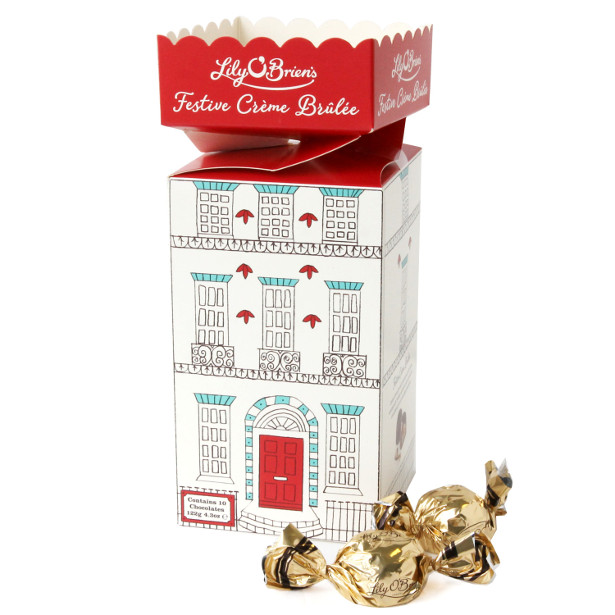 The miniature Salted Caramel Christmas Tree containing 8 individually wrapped Lily O'Brien's Sea Salted Caramel's and complete with a hanging ribbon, is the perfect stocking filler this festive season! RRP £5.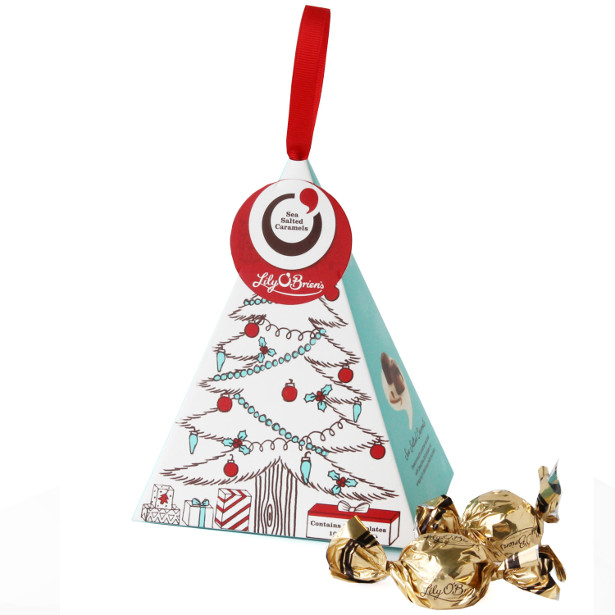 Packaged within a miniature house, fit for a winter wonderland, the Festive Treats House contains 8 individually wrapped Festive Spiced Latte Chocolates with a RRP of £5.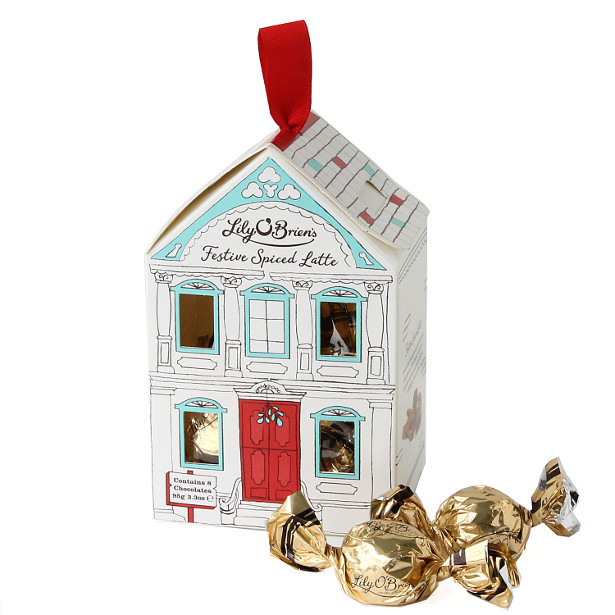 The new Christmas range will be available in selected Waitrose and Debenhams stores or online at www.lilyobriens.co.uk from 1st October 2017.