Evolve Organic Beauty Christmas Collection for 2023.
https://www.evolvebeauty.co.uk/
This year their festive collection embarks on a journey through nature, capturing the power of botanicals in each bottle and jar to create magical formulas that result in happy and healthy skin. We're bringing the stories behind these powerful ingredients to life in our Christmas gift sets which are beautifully designed with recyclable gold foil illustrating the key botanicals and sharing the story of the role they play in caring for your skin and the earth. Evolve Organic Beauty gift sets deliver high quality and effective products naturally and organically with a great selection of gifts at different prices, designed for a variety of skin types and ages, so there's a joyful skincare gift for everyone. With each set made by our talented team of artisans in our Hertfordshire eco studio, you can be sure that you are giving the gift of sustainable, vegan and cruelty free beauty this year.
CHRISTMAS COLLECTION 2023
THE ULTIMATE FACIAL RRP £99, WORTH £137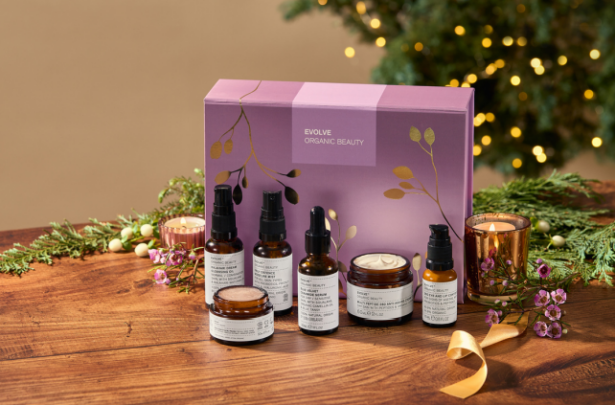 Introducing The Ultimate Facial, a complete skincare ritual for glowing and rejuvenated skin. Give your skin all it needs with a selection of our natural and organic heroes, perfect for pampering yourself or your loved ones. Suitable for every skin type, The Ultimate Facial can visibly rejuvenate theappearance of your skin and restore dry stressed skin in need of revitalising. Bring on the Christmas glow! Start by cleansing with our sustainable nourishing Kalahari Dream Cleansing Oil to remove all makeup and grime. Reveal the glow by exfoliating with Rose Quartz Facial Polish which gently yet effectively buffs away dead skin cells. Follow with Daily Defence Moisture Mist and Blue Velvet Ceramide Serum to balance and protect the skin barrier while boosting skin's glow. Finish the facial with our natural and organic skincare age-defying heroes, 360 Eye & Lip Contour and Multi-Peptide 360 Anti-Ageing Cream to moisturise while tackling the appearance of fine lines and wrinkles and boosting luminosity.
Includes: Kalahari Dream Cleansing Oil 30ml , Rose Quartz Facial Polish 30ml , Daily Defence Moisture Mist 30ml , Blue Velvet Ceramide Serum 30ml , 360 Eye & Lip Contour 15ml Multi Peptide 360 Anti-Ageing Cream 60ml
THE FEEL GOOD FACIAL RRP £68, WORTH £90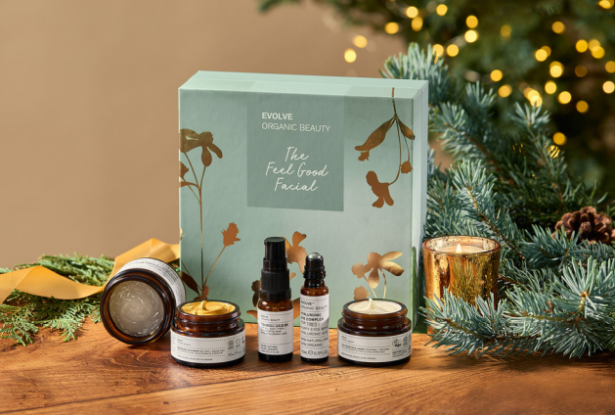 Enjoy a piece of peace with the ultimate feel good facial at home. This set includes everything you need to perform a full facial ritual, from deeply cleansing to a relaxing facial massage. Our feel-good facial leaves your skin feeling healthy and serene.
The star of the show in this festive set? The Bidens pilosa found in our Bio-Retinol Gold Mask.Bidens pilosais a herbaceous plant, predominantly native to tropical areas of South America. It is a sustainable plant-based alternative to retinol as it works to smooth, firm and plump up the skin given the appearance of youngerlooking complexion as well as stimulating collagen production. Giving skin a youthful glow, this plantextracted ingredient has a power to deliver similar cellular renewal results as retinol, but without any irritation.
Includes: Gentle Cleansing Melt 60ml, Bio-Retinol Gold Mask 30ml, Hyaluronic Serum 10ml, Hyaluronic Eye Complex 10ml, Daily Renew Facial Cream 30ml Website exclusive
Bidens pilosa
THE FIRM FAVOURITES RRP £54, WORTH £68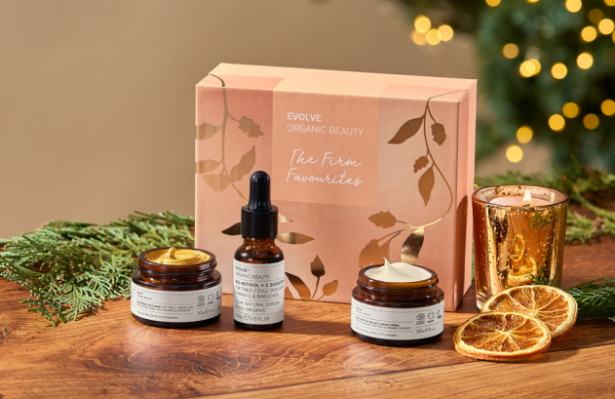 This age-defying skincare gift set contains everything you need to firm, soothe and hydrate the skin, reducing the appearance of wrinkles and increasing skin luminosity. It is the perfect gift for anyone looking to give their skin extra TLC! Containing Bio-Retinol + C Booster, a vitamin rich serum; Multi-Peptide 360 Anti-Ageing Cream, an agedefying daily moisturiser; and radiance-boosting BioRetinol Gold Mask, this skincare set provides an indulgent rejuvenating experience, leaving skin looking radiant this festive season.
Meet the magical ingredient Bakuchiol found in our BioRetinol + C Booster: improving skin firmness and elasticity without irritation, our Bakuchiol (Vitamin A) is a plantderived, natural alternative to Retinol. Extracted from Babchi seeds, it has been found to have both antiinflammatory and antioxidant properties. It can significantly improve wrinkle depth, fine lines and pigmentation, and has been shown to increase collagen synthesis as well as improving the appearance of blemishprone skin. Our Bakuchiol comes from a sustainable and socially-responsible source in India where the harvesting of Babchi seeds creates local job opportunities.
Includes: Bio-Retinol Gold Mask 30ml, Bio-Retinol + C Booster 15ml, Multi-Peptide
360 Anti-ageing Cream 30ml THE TOP-TO-TOE TREATS RRP £82, WORTH £112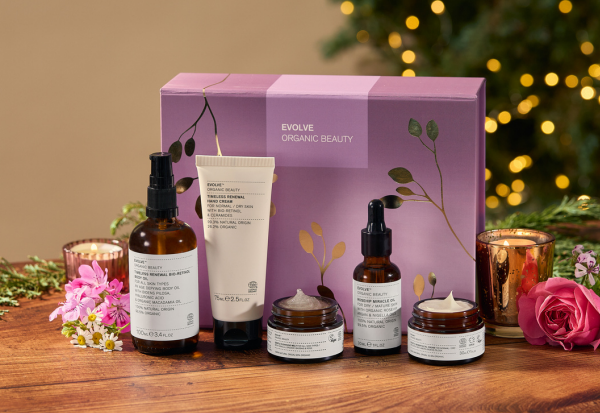 Get the holiday glow top to toe with our first ever face and body gift set! This luxurious gift provides a relaxing 5-step night time ritual to restore and nurture mind, body and skin. Start by cleansing with Gentle Cleansing Melt which contains nourishing organic Baobab oil leaving your skin cleansed, soothed and hydrated. Follow by using Rosehip Miracle Oil which will visibly rejuvenate your complexion as it contains natural retinol which comes from Organic Rosehip Oil. Seal in moisture by using rich and nourishing Nightly Renew Facial Cream designed to
smooth, detoxify and plump your skin while you're asleep. To nourish, firm and rejuvenate your body, use Timeless Renewal Bio-Retinol Body Oil which contains Retinol analogue Bidens pilosa to boost skin elasticity and improve skin firmness. Finally, for the ultimate TLC use Timeless Renewal Hand Cream, an age-defying winter staple that will retain moisture so that your hands feel nourished, soft and smooth.
Using nature's organic goodness, boost feelings of relaxation by using Top-To-Toe Treats which contain unique aromatherapy blends to ease your mind. Nightly Renew Facial Cream contains a unique fragrance blend that's been proven to enhance your sleep quality and help you fall asleep quicker. Timeless Renewal BioRetinol Body Oil and Timeless Renewal Hand Cream are beautifully fragranced with organic Rose Geranium, Ylang Ylang and Mandarin essential oils. Dreamy!
Includes: Timeless Renewal Hand Cream 75ml, Timeless Renewal Bio-Retinol Body Oil 100ml, Gentle Cleansing Melt 30ml, Rosehip Miracle Oil 30ml Nightly Renew Facial Cream 30ml
Bidens pilosa
THE SUPER TREATS RRP £35, WORTH £45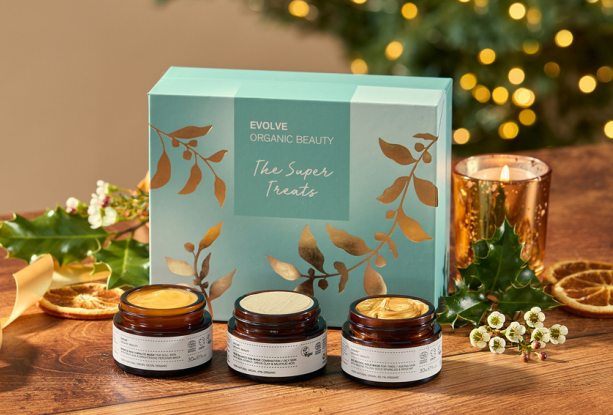 Indulge in some self-love with The Super Treats gift set containing three targeted face masks to clarify, exfoliate and nourish. Go for fruity exfoliation with our Miracle Mask, a golden glow with our Bio-Retinol Gold Mask or clarify skin with our True Balance SOS Mask. Discover Quora Noni used in our green clay True Balance SOS mask. It is a microbiome communication hacker which works to disarm bacteria and stop them replicating and upsetting the skin's surface. Bidens pilosa used in our Bio-Retinol Gold Mask which comes from a flowering plant found in Central America, acts like a naturaretinoid, rejuvenating the appearance of skin by smoothing and plumping out wrinkles and stimulating collagen. And Fruit AHA's, which star in our Miracle AHA 3 Minute Mask, gently shed dead skin from the surface and plump skin leaving it smooth and radiant. Our fruit complex contains Glycolic acid from Sugar cane together with Lactic, Citric, Malic and Tartaric acids from Bilberry, Orange, Lemon and Sugar Maple.
Includes: Bio Retinol Gold Mask 30ml, Miracle AHA 3 MInute Mask 30ml, True Balance SOS Mask 30ml
THE HYDRATION HEROES RRP £39, WORTH £51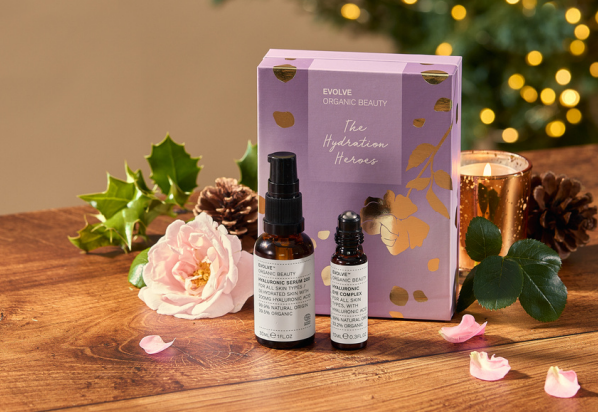 What better gift to give than a gift of hydration! This Super-hydrating duo of multi-award winning Hyaluronic Serum 200 and Hyaluronic Eye Complex will quench your skin's thirst in no time, while reducing the appearance of dark circles and puffiness around the delicate eye area. Our natural hyaluronic acid serum helps to hydrate your skin and plump fine lines and wrinkles. As well as infusing skin with hydration, our Hyaluronic Heroes are delicately scented with organic Rosewater. Sourced in Bulgaria, the rose harvest takes place over an intense three-week period to ensure each bloom is picked at its peak and is then steam distilled to retain its delicate fragrance.
Includes: Hyaluronic Serum 200 30ml, Hyaluronic Eye Complex 10ml
THE PINK DREAM DUO RRP £34, WORTH £40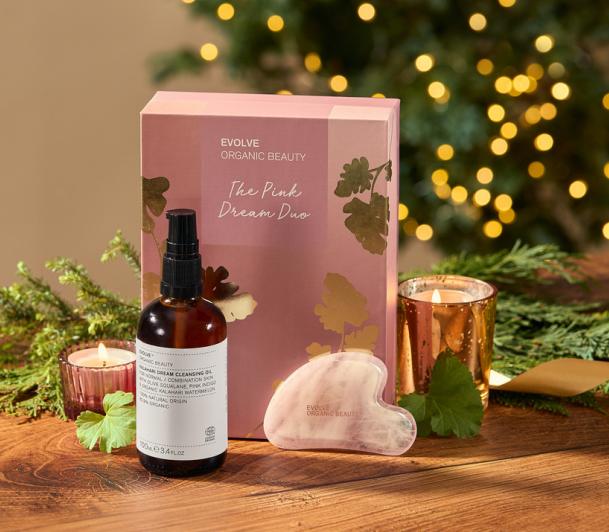 The pink skincare duo that dreams are made of! Contains our Kalahari Dream Cleansing Oil to remove all impurities and makeup, plus our Rose Quartz Gua Sha to massage your face, improve circulation, tone skin and improve lymphatic drainage.
At the heart of our Kalahari Dream Cleansing Oil lies Kalahari Melon Seed Oil, a powerful antioxidant essential fatty acids, it promotes cell regeneration and supports skin barrier function and repair. Sourced in Africa from an area hard hit by climate change, this droughtresistant plant now produces one of the most sustainable cosmetic oils. Includes: Kalahari Dream Cleansing Oil 100ml, Rose Quartz Gua Sha
Bidens pilosa
THE AROMATIC BODY DUO RRP £28, WORTH £32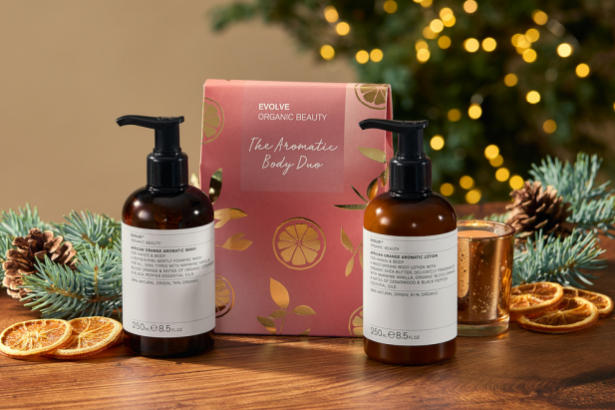 The Christmas scent of dreams!
Step up your shower routine with uplifting aromatic African Orange body wash and lotion to leave your skin feeling soft, smooth and hydrated. It's a perfect body duo. Includes: African Orange Aromatic Wash 250ml, African Orange Aromatic Lotion 250ml
THE RADIANT ROSE DUO RRP £20, WORTH £26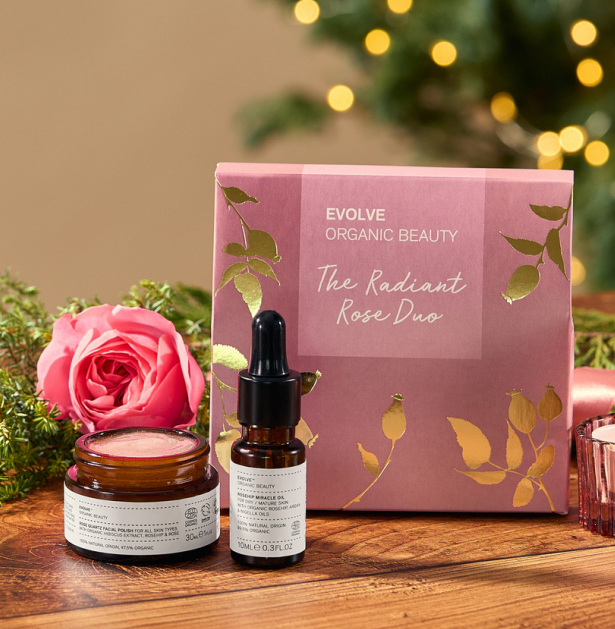 Introducing The Radiant Rose Duo, the perfect gift to treat yourself or someone special! Say goodbye to dull skin and unveil a radiant and rejuvenated complexion this festive season with this exfoliating and nourishing skincare gift set that contains two award winning products, our Rose Quartz Facial Polish and our Rosehip Miracle Oil. Gently exfoliate with our facial scrub crafted with a blend of natural ingredients, such as Organic Rosehip Oil and Organic Hibiscus Extract, perfect for buffing away dead skin cells, unclogging pores and improving the appearance of scarring. Follow with our Rosehip Miracle Oil made with
organic Rosehip, Argan and Black Seed oils to leave skin feeling visibly restored and revitalised.
Includes: Rose Quartz Facial Polish 30ml, Rosehip Miracle Oil 10ml
THE SMOOTH AND SOOTHE DUO RRP £27, WORTH £34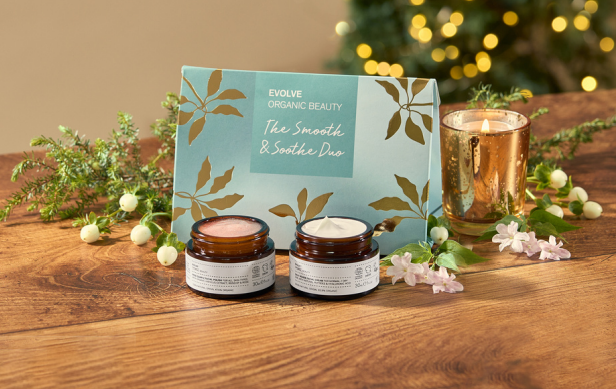 Give your skin exactly what it needs! This pretty pink exfoliating Rose Quartz Facial Polish blended with organic Rosehip Oil and organic Hibiscus Extract will smooth and buff away dead skin cells leaving your skin looking crystal clear. Follow up with Daily Renew Facial Cream to nourish, hydrate and soothe. What a treat!
Includes: Rose Quartz Facial Polish 30ml, Daily Renew Facial Cream 30ml
STOCKING FILLERS
GOLDEN GLOW BAUBLE RRP £16, WORTH £18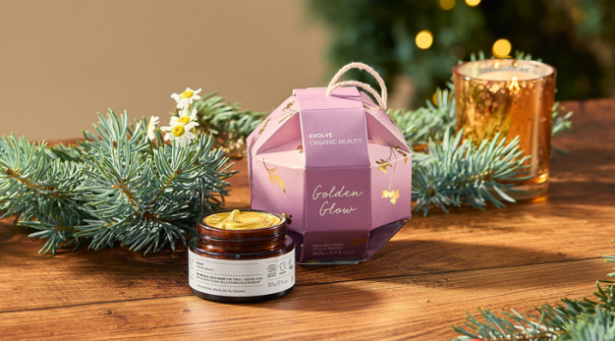 INSTANT RADIANCE BAUBLE RRP £14, WORTH £16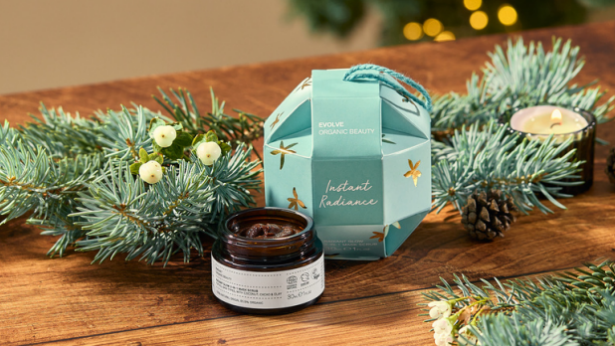 DAILY TREAT BAUBLE RRP £16, WORTH £20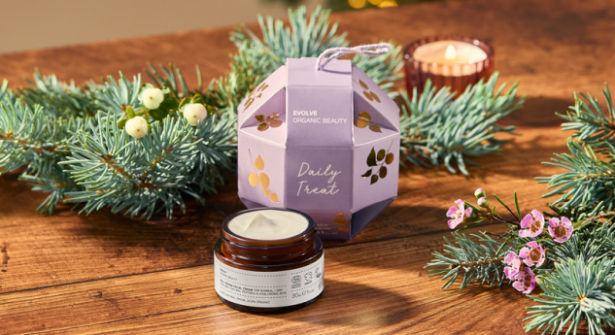 SMOOTH KISS BAUBLE RRP £10, WORTH £12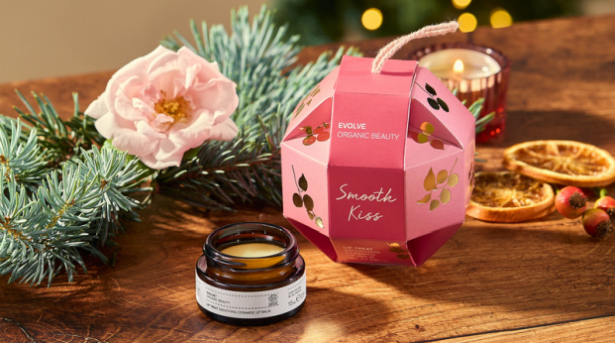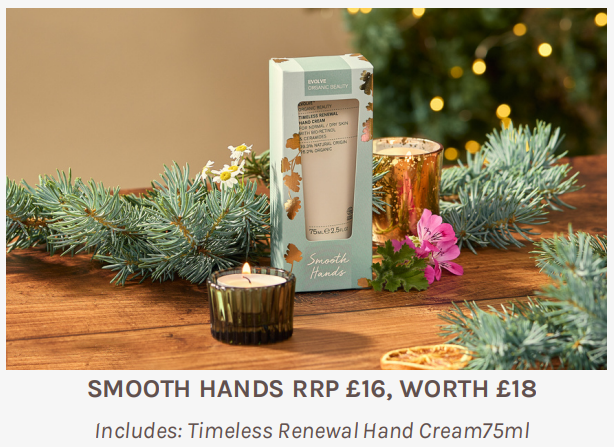 Evolve Organic Beauty is the UK's leading ethical, sustainable and certified organic beauty brand and one of the first 1000 certified B Corporations in the UK. Founded by Laura Rudoe in 2009, Evolve's mission is to make products that deliver effective results, yet are healthier, greener and kinder for customers and the planet, making it easier for everyone to live better. Each product is lovingly handmade in small batches with the finest clinically-proven natural and organic ingredients. This ensures the freshness of the natural oils, butters and extracts that are used, helping customers to have healthy, radiant-looking skin. Evolve Organic Beauty products are independently verified and certified Cosmos organic & natural, vegan, cruelty free, plastic negative and carbon neutral.