Vegan Raspberry Lemon Chia Parfait
www.yourveganfamily.com/blog/raspberry-lemon-chia-parfait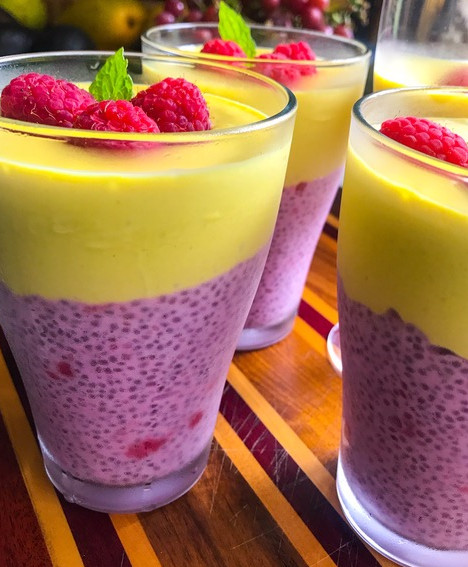 In the heat of summer, this rainbow of raspberry-lemon, high protein goodness satisfies on every level. It's a raw, vegan, refreshing, delicious plant-based dessert that's healthy enough to provide a solid breakfast for an athlete or replenishing snack. In fact, we think you'll be shocked to see the nutrition profile of this vegan snack. We were!
The bottom layer is a raspberry infused chia pudding that you top with creamy, vegan lemon pudding. It's tart, slightly sweet, and filling. You could garnish it with toasted coconut and lemon zest, or fresh berries.
Raspberry Lemon Chia Parfait Recipe
——————————————————————————–
Prep
Active prep time is 20 minutes, and the chia seeds are best if steeped for several hours or overnight.
Serves 4
Suggested equipment: Blender
——————————————————————————–
Ingredients
Raspberry Chia Layer
½ cup fresh or frozen raspberries
1 Tbsp Dragon Fruit (Pitaya) powder or Beetroot powder for pink color
½ cup Chia seeds
1 ¾ cup plant-based milk; we use EdenSoy Organic Unsweetened Soy Milk
2 Tbsp maple syrup
2 tsp vanilla
½ cup whole coconut milk
Lemon Custard layer
½ cup raw cashews soaked in water for at least 1 hour
6 Tbsp whole coconut milk
4 Tbsp maple syrup
6 Tbsp fresh lemon juice
Zest of 2 lemons
½ tsp ground turmeric
Garnish (optional)
2 Tbsp unsweetened shredded coconut
1 tsp dragon fruit powder
Instructions
Start by placing the cashews in a jar or bowl. Add water to generously cover and let them soak for at least 1 hour. Overnight is even better for a creamer topping if you don't have a high powered blender.
Raspberry Chia Layer
Mix the raspberries, dragon fruit powder, soy milk, maple syrup, vanilla, and coconut milk in a blender. Blend until uniformly colored.
Place the chia seeds in a quart-sized jar or bowl that you'll place in the refrigerator. Pour the raspberry mixture over the chia seeds and stir well with a spoon. Cover and place in the refrigerator for at least 30 minutes. Overnight is even better.
Lemon Pudding Layer
Zest 2 lemons. You can use a hand zester or Microplane zester. If you don't have either of those, you can peel your lime and chop the peels.
Juice enough lemons so you have 6 Tbsp of lemon juice.
Place soaked cashews, lemon juice and zest, coconut milk, maple syrup, and turmeric in a high-speed blender. Blend until light and creamy.
Your lemon will set up when you refrigerate it.
Garnish
Mix coconut and dragon fruit powder together to make pink coconut to sprinkle on top of your vegan parfait.
Putting it all together
When your raspberry chia pudding has steeped for at least 30 minutes, pour/spoon it into glasses or jars. You can add fresh whole raspberries to the pudding or along the sides and bottom of your serving glass for a beautiful touch.
Smooth the top of this layer and pour the lemon pudding over it.
Garnish as you like!
Refrigerate for at least an hour to allow the lemon pudding to set up. You could even lightly freeze it, leaving the center soft and the top frozen.
——————————————————————————–
Chef's Notes
One serving gives you 12 grams of protein and is off the charts for healthy brain omega 3 oils, energizing B-vitamins and iron, and the trifecta for building strong bones: magnesium, calcium, and phosphorus. You can find the full analysis at the bottom of this page. All this nourishment in one beautiful vegan parfait!
Recipes from


Dr Harriet Holme
MA MBBS MRCPCH PhD RNutr
Registered Nutrition Consultant (AfN)
Founder
I: @healthyeatingdr
E: info@healthyeatingdr.com
W: www.healthyeatingdr.com
Warm lentil salad:
100g of puy lentils
vegetable stock
handful of spinach
1/4 of a butternut squash roasted
red wine vinegar
juice of 1 lemon
extra virgin olive oil
2 bay leaves
handful of cherry tomatoes chopped
1/4 cucumber chopped
1/2 avocado chopped
6 fresh mint leaves very finely chopped
1tbsp mixed seeds
30g toasted hazelnuts
Cover the lentils with stock, add the bay leaves and cook for 20 minutes until tender. Meanwhile make the dressing by combining a 1:2 ratio of red wine vinegar (approximately 1tbsp) and extra virgin olive oil, with the lemon juice. Taste and adjust as needed. Drain the lentils, remove the bay leaves, and cover with the dressing. Season to taste. Add the vegetables and herbs. Sprinkle with seeds and toasted hazelnuts and serve.
Alternatives: add 1tsp of wholegrain mustard to the dressing. (Serve with 30g crumbled feta cheese). Add dry fried 100g tofu cubes (Taifun Organic smoked tofu with almonds and sesame seeds).
Healthy fact: The absorption of non-haem (plant based) iron is enhanced by vitamin C, so combining lemon juice with lentils and seeds helps iron absorption, especially in a plant based diet.
Beetroot dip
80g of cooked beetroot
1/2 tbsp plain kefir yogurt or The Coconut Collaborative yoghurt
1/2 tbsp lemon juice
1/2 tbsp extra virgin olive oil
1/4 garlic, crushed
pinch of chili flakes
1/8th tsp of hot paprika
seasoning
1 tbsp flat leaf parsley, finely chopped
1/2 tbsp toasted mixed seeds
Blend all the ingredients together until smooth. Taste and adjust the seasoning. Garnish with extra chilli flakes, toasted mixed seeds and serve with wholegrain toast, crostini, crackers or raw vegetables.
Healthy Fact: Your microbiota (the trillions of microorganisms that live in and on your body) play an important role in your health. Eating fermented products such as kefir can help support a healthy microbiota.
Raw coleslaw
1/4 large red cabbage, shredded
1/2 small fennel bulb with the fresh fronds
1 carrot, julienned
1/2 celery stick, finely sliced
1 spring onion, sliced
1 handful chopped flat leaf parsley
2 tbsp (peanuts), almonds and pumpkin seeds roughly chopped
dressing
grated zest and juice of 1 unwaxed lime
1 1/2 tbsp sesame oil
1/2 tsp of extra virgin olive oil
Combine the shredded cabbage and fennel with the carrot, celery, spring onion and parsley. Mix the dressing together, poor over the salad and mix well. In a dry frying pan, lightly toast the seeds and nuts, then scatter over the top.
Healthy fact: There is mixed evidence to support the idea that soluble vitamins A, D, E and K have a greater bioavailability when combined with fat. It is possible that a minimum quantity of fat is needed for absorption, but beyond that, increasing the quantity of fat does not alter absorption. However, unsaturated fats are well recognised to be an important part of a healthy diet.
In this example, the carrots are a good source of betacarotene (precursor of vitamin A) so combining with the oils may help support absorption.
Maple from Canada UK.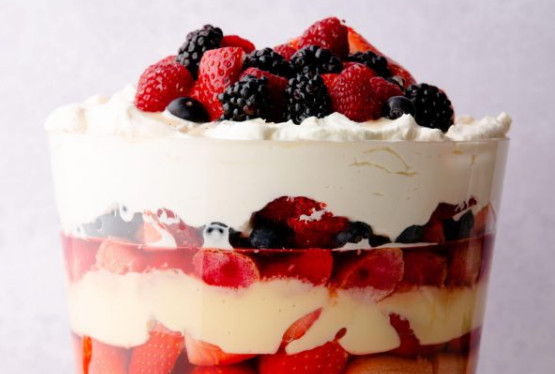 The recipes use pure Canadian maple syrup, far from just a pancake topping, pure Canadian maple syrup is useful as an ingredient in countless marinades, sauces and even baking and barbecuing.
British Summer Fruit Trifle with Maple
Fruit trifle is a British classic and you'll love this twist with added maple syrup. It makes a colourful table centrepiece for a summer celebration.
Tempura Fish Tacos with Maple and Sweetcorn Relish
Light tempura fish tacos with maple syrup make a great sharing dish.
Summer Vegetable Pilaf with Maple
Fluffy rice that's full of flavour – enjoy this pilaf with the rich sweetness of maple and fresh vegetables.
Maple on the Dock of the Rea
A light, refreshing cocktail perfect for enjoying on a hot summer's day!
Maple Spritz Cocktail
This summery cocktail is easy to make and perfect for sipping outdoors in the sun at a BBQ or garden party. The sweetness of pure Canadian maple syrup balances beautifully with dry gin and Amaro to create a refreshing blend.
Piccolo cherry tomatoes are a pocket-sized, perfectly-balanced, juicier and crunchier variety of tomato.

Grown from the highest quality seeds by talented and passionate growers consistently striving to offer the best quality in each bite. Piccolo cherry tomatoes are a premium choice, packed with healthy goodness, vitamins and minerals. Beautiful little rich red piccolos are a great for cooking, and make a delicious snack.
Aloha 65 is a low alcohol spirit, made from fruits, spices and with a super chilli kick!
Aloha Colada aloha65.com/recipe/aloha-colada-pina-colada-twist/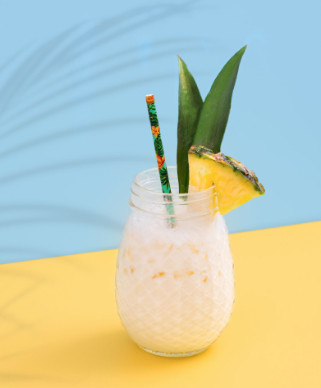 Aloha Colada:
Taking us back to the laid-back beach vibes where Aloha started. Our twist on a classic.
Ingredients (serves 1):
Ice
60ml Aloha 65
50ml coconut milk (full fat)
75ml fresh pineapple juice
1 tbsp sugar syrup (2 parts white sugar to 1 part water)
Juice of ½ lime
Slice of pineapple and cocktail umbrella to garnish
Load a blender with all the ingredients and blitz for a few seconds. Pour into a chilled glass. Sit back, relax and soak up the sun.
Or…an Aloha Mojito
Turn up the tropical beach vibes with the Aloha Mojito – the perfect party starter.
Ingredients (serves 1):
60ml Aloha 65
15ml Agave syrup
½ a lime, cut into 3-4 wedges
8 mint leaves
Soda water
Crushed ice
Lime and mint to garnish
Muddle lime, mint and agave in a tall glass. Add Aloha, stir. Fill almost to the top with crushed ice. Stir again and top with soda. Get set for a great night.
G&T BUT HOLD THE G!
KEEPR'S LAUNCHES ULTRA LOW ALCOHOL G&T RTD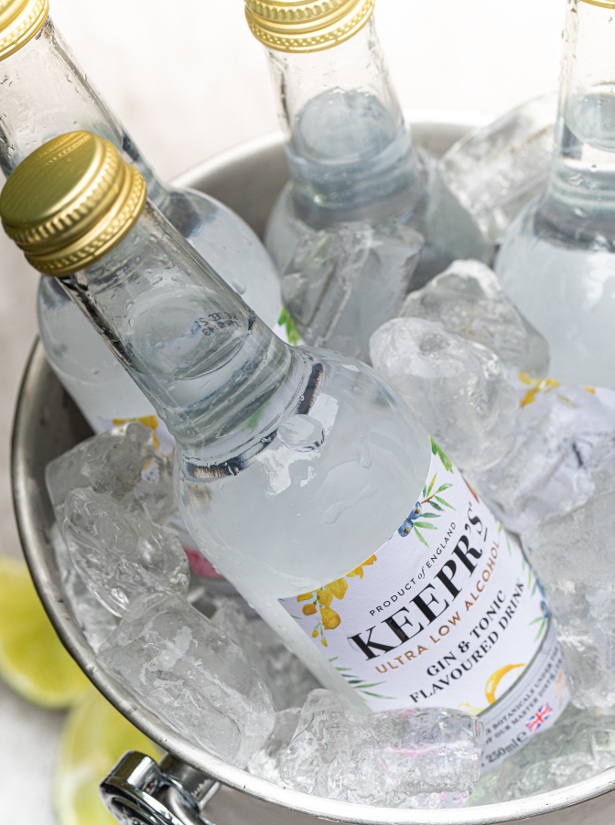 For those times when you want to go less heavy on the alcohol but without sacrificing on flavour, The British Honey Company, the producer of Premium British honey-infused spirits brand, Keepr's, has launched its first Ready-to-Drink (RTD) and ultra-low alcohol option.
Keepr's Ultra Low Alcohol Gin & Tonic flavoured drink tastes as good as the real thing but with only <0.5% ABV. Infused with 12 carefully balanced botanicals and an added splash of the company's signature 100% British honey from its own fully traceable hives, the company's Master Distiller, Jamie Baggott, has expertly created this truly satisfying low alcohol G&T RTD with all the refinement of Keepr's award winning spirits.
The hints of coriander and cardamom add herbaceous and spice notes while natural quinine delivers the distinct flavour of a classic gin and tonic. Plus, the complexity of juniper and citrus gives it a clean and crisp taste. It's the G&T hit you need without the booze and the effort of measuring and mixing. Convenient and deliciously refreshing, the new launch comes ready to drink in a 250ml glass bottle or can be poured over ice with a wedge of lime and sliced fresh ginger.
Whether you are a designated driver at a socially distanced BBQ or you are simply trying to cut back on alcohol and sugar this product allows you to explore your sober curiosity. It's perfect for all those on-the-go occasions (when social distancing eases) as well as picnics in the park or it can simply be poured over ice to enjoy at home or in the garden when you fancy a fuss free G&T.
Launching from mid-June the product is available via the Keepr's website and through Amazon. 250ml glass bottles. RRP £2.75. Cases of 12.
A Sip Of Summer Escapism
New Limited Edition NOCCO Limón del Sol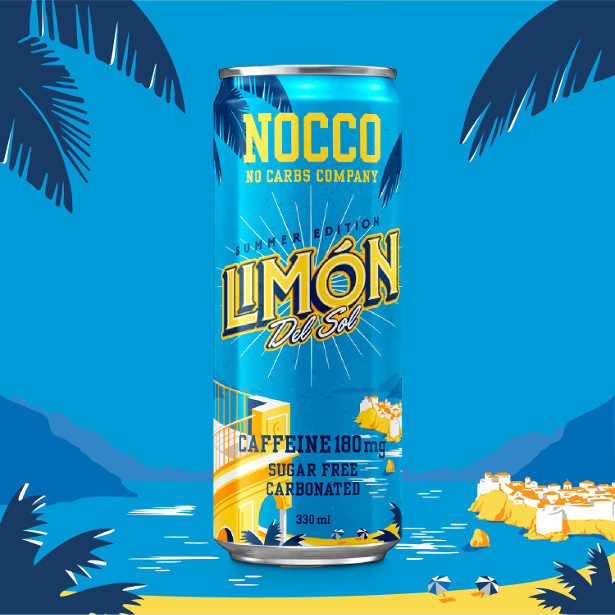 As the UK looks forward to some more glorious weather this week, it's the perfect time to get outdoors and enjoy a taste of the Mediterranean from your own doorstep.
For those craving a taste of that sun-drenched beach in their own garden this year, NOCCO's Limón Del Sol, is the perfect holiday-feel escape in a can.
Swedish health drink, NOCCO, has launched its new summer flavour, Limón Del Sol, a limited edition evoking memories of Spanish summers and riviera escapes.
Limón Del Sol follows Tropical, Caribbean and Carnival as the 4th in the Limited Edition summer series. This season's citrus flavour takes you on a journey to sun-drenched beaches and a relaxed 'mañana' mindset.
Bursting with zesty and citrus flavours, NOCCO's newest sugar-free beverage continues to help boost muscle growth, enhance exercise performance, and reduce post-workout fatigue with an array of enriched ingredients including; branched chain amino acids (BCAA,) green tea extract, multivitamins and caffeine.
Please click HERE for high-resolution images.
For all press inquiries, please contact NOCCO@Manifest.london
About NOCCO
NOCCO is a tasty functional beverage developed by the Swedish health and exercise oriented enterprise called No Carbs Company. No Carbs Company launched its first product in December 2014 and is today available in more than 30 markets. All NOCCO products are sugar-free, sweetened with sucralose and enriched with vitamins and BCAA (branched chain amino acids).
One can of NOCCO BCAA contains five different types of Vitamin B: folic acid, niacin, biotin, B6 and B12. Folic acid, niacin, B6 and B12 all help to reduce fatigue and exhaustion. Biotin, niacin, B6 and B12 contribute to maintaining normal energy metabolism. Additionally, NOCCO BCAA contains vitamin D, which contributes to maintaining normal muscle function.
Are you NOCCO enough?
www.nocco.co.uk / IG @noccoUK
LT Steak & Seafood at The Betsy South Beach – Casarecce Carbonara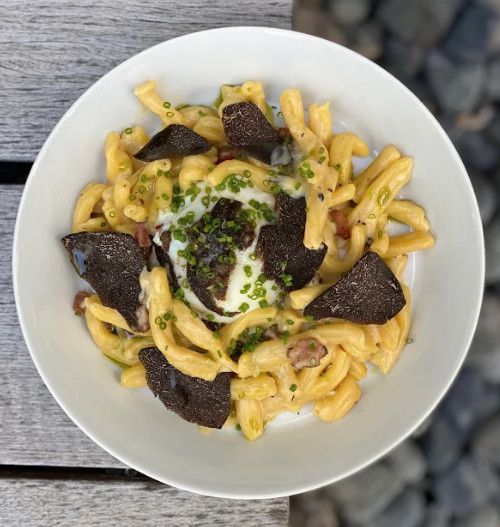 The Executive Chef of LT Steak & Seafood, Chef Andrew Zarzosa, shares his favorite recipe below and says: "This pasta is great to make at home because it's super easy but will make you look like a pro! Plus, it's my absolute childhood favorite foods, which in this case has a grown up spin with the addition of truffle and a poached egg."
Casarecce Carbonara, Farm Egg, Black Truffle
Serves 4
2 pounds – Fresh Casarecce Pasta (or any short pasta)
7 each – Lake Meadow Naturals Farm Eggs
1 pound – Lake Meadow Naturals Farm Bacon, sliced.
6 ounces – Grated Pecorino Cheese
4 ounces – Grated Parmigiano Reggiano
1 pint – Button Mushrooms, diced
1 ounce – Fresh Black Truffle (or substitute with Truffle Oil)
1 each – Shallot, minced
1 clove – Garlic, minced
1 cup – Kosher salt plus extra for seasoning
¼ cup – Extra Virgin Olive Oil
In a pot, bring water to a rolling boil and add 1 cup of salt.
While water is coming up to a boil, in a skillet over medium high heat, add oil. Once oil is hot add the shallots, garlic and mushrooms. Cook until softened and well cooked (about 8-12 minutes) finish with grated fresh truffle and salt. Reserve.
In a separate pot, bring about 6 quarts of water to a simmer. With a spoon, create a vortex by swirling the water and one by one crack four eggs into the water carefully- making sure not the break the yolks. Poach eggs for about 2 minutes. Remove from the water and reserve until needed.
Add the bacon to the pan and slowly crisp- lowering heat if necessary. In a mixing bowl, separate the remaining egg yolk into the bowl and reserve whites for another use (perhaps a nice frittata for later) add the grated cheese to the bowl. Once Pasta is ready, carefully take a ladle of the boiling pasta water and add it to the mixing bowl with eggs and cheese. Carefully mix the water, eggs and cheese until it all comes together. Strain the pasta and add it to the pan of bacon. Then turn the heat off and add the egg mixture to the pan. Quickly and carefully mix so that the pasta and sauce come together. If needed add more pasta water to thin out.
Plate the pasta, top with the poached egg and drizzle the truffle-mushroom condiment around the plate.
Hot and Spicy Cocktail recipe by Steve Haas, Executive Director of the Miami Beach Convention Center Centerplate
Infuse your vodka of choice with 3 large serrano and jalapeno peppers for 2 days.
Take a mixer and fill it with ice
Add 2 oz of the infused vodka to the mixer with ice
Add 2 oz of passion fruit juice
Add 1 oz of passion fruit puree
Add 2 oz of passion fruit nectar
Shake it up really well
Pour into a martini glass
Optional: add a pepper as garnish for the perfect refreshing hot and spicy cocktail.
Summer recipes from Lee Kum Kee, pioneer or authentic Asian sauces and condiments, and HERDEZ, the #1 selling salsa brand in Mexico and a growing staple in US kitchens.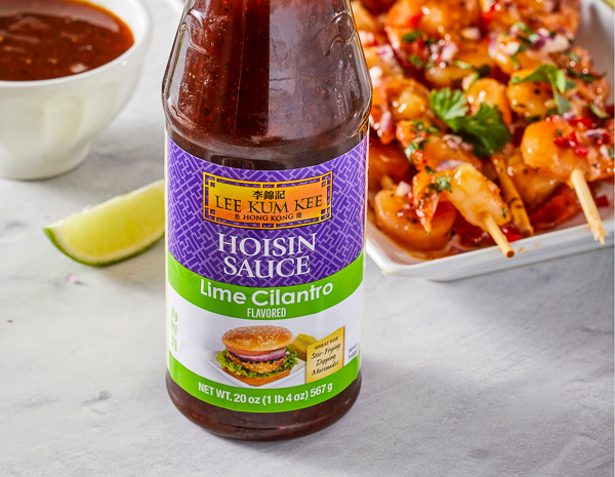 Peppered Kebabs—These easy-to-grill kebabs are layered with juicy steak, red onions and shishito peppers, which are perfect for summer dining!
· Serves: 6 / Perp time: 20 min / Cooking time: 13 min
· Ingredients
o 1 lb. flank steak, cut into chunks
o 16pcs. shishito peppers
o 1 red onion, cut into chunks
· Seasoning
o 2 tsp. salt
o 2 tsp. cracked black pepper
· Dressing
o ½ cup Lee Kum Kee Panda Brand Black Pepper Grilling Sauce + additional for dipping
· Directions
o Preheat the grill to medium-high heat. Clean and oil the grill grate.
o Thread the beef, shishito peppers and red onion chunks onto metal skewers from top to bottom. Season with salt and pepper.
o Using a grill brush, glaze each skewer with Lee Kum Kee Panda Brand Black Pepper Grilling Sauce.
o Grill the skewers until the steak is seared on all sides about 3-4 minutes per side. Remove from the grill and let it rest for 5 minutes.
o Transfer to a serving platter and serve with Lee Kum Kee Panda Brand Black Pepper Grilling Sauce for dipping.
Cilantro Lime Shrimp Skewers—Shrimp never tasted so good with the fresh taste of summer AKA cilantro and lime.
Serves: 8 / Perp time: 10 min / Cooking time: 15 min
Ingredients
2 lbs. peeled and deveined shrimp
3 Tbsp. vegetable oil
½ bunch cilantro, chopped
Marinade
½ cup Lee Kum Kee Lime Cilantro Flavored Hoisin Sauce
1 tsp. salt
1 tsp. black pepper
½ tsp. ground ginger
1 tsp. garlic powder
Directions
In a small bowl, mix the shrimp, Lee Kum Kee Lime Cilantro Flavored Hoisin Sauce, salt, pepper, ginger, and garlic powder. Mixing well to ensure the shrimp is evenly coated. Cover and let it marinate for 7-10 minutes.
In a large nonstick skillet over medium high heat, add in ½ the vegetable oil and wait until it is hot. Add in ½ the shrimp and cook for 3 minutes on each side, making sure to flip over and get a nice sear on each side. Repeat with the other half.
Transfer the shrimp to a serving platter and garnish with cilantro.
Battered Fish Tacos—These crispy fish tacos are a refreshing and light summer meal – a great option for an outdoor BBQ.
Serves: 4 / Perp time: 35 min / Cooking time: 15 min
Ingredients
Batter
1 ½ cups all-purpose flour
2 tablespoons cornstarch
2 teaspoons baking powder
1 teaspoon salt
1 teaspoon garlic powder
1 teaspoon onion powder
½ teaspoon black pepper
½ teaspoon cayenne pepper
1 large egg
2 tablespoons Dijon mustard
12 ounces Mexican lager beer
Tacos
1 pound cod fillets, sliced into 2 inch pieces
2 cups grapeseed or canola oil for frying
2 cups shredded red cabbage
1 cup shredded carrots
1/2 cup thinly sliced onion
1/2 cucumber slices
2 limes, sliced into wedges
8 corn tortillas
1/3 cup chopped cilantro
8 ounces HERDEZ® Cilantro Lime Salsa Cremosa
Hot sauce if desired
Directions
In large bowl, combine flour, cornstarch, baking powder, salt, garlic powder, onion powder, black pepper and cayenne. Whisk in egg, mustard and beer until smooth. Cover and chill.
In large skillet over medium heat, heat oil to 360°F. Pat fish slices dry with paper towels. Dip fish into chilled batter to coat, shaking off excess. Fry fish 6 to 7 minutes, or until crispy and golden brown. Drain on paper towel lined plate.
Warm corn tortillas on a preheated flat griddle. Keep tortillas warm in warmer or wrapped in a clean kitchen towel.
Build tacos by adding 2 pieces of fried fish to each tortilla. Top fish with prepared cabbage, carrots, onion, chopped cilantro, salsa cremosa and lime. Finish with a couple of dashes of a spicy hot sauce if desired.
Cilantro Lime Bowtie Pasta—Refreshing and light, this summertime pasta is great to enjoy by the lake, at a picnic or sitting on the patio.
Serves: 4 / Perp time: 35 min / Cooking time: 15 min
Ingredients
12oz Bowtie noodles, uncooked
1 Can roasted corn, drained
1 Can black beans, drained
1 Pint cherry tomatoes
2 Avocados, diced
1 Cup HERDEZ® Cilantro Lime Salsa Cremosa
3 1⁄2 oz Queso Fresco, crumbled
1⁄4 Cup cilantro, chopped for garnish
Directions
Boil and drain the noodles, according to package instructions
In serving dish, add noodles, corn, black beans, cherry tomatoes and avocado dices
Pour HERDEZ® Cilantro Lime Salsa Cremosa over the noodles, and toss together
Garnish with cheese and fresh cilantro
Molly "Meatball" McCann Preps for a UFC Fight Island Face Off and Launch of New CBD Coffee Brand, GWOAT Fuel
The multi-talented, fan favorite, Molly "Meatball" McCann prepares for another win on Fight Island on Wednesday, July 15th, and the successful launch of her new coffee brand, GWOAT Fuel.
gwoatfuel.com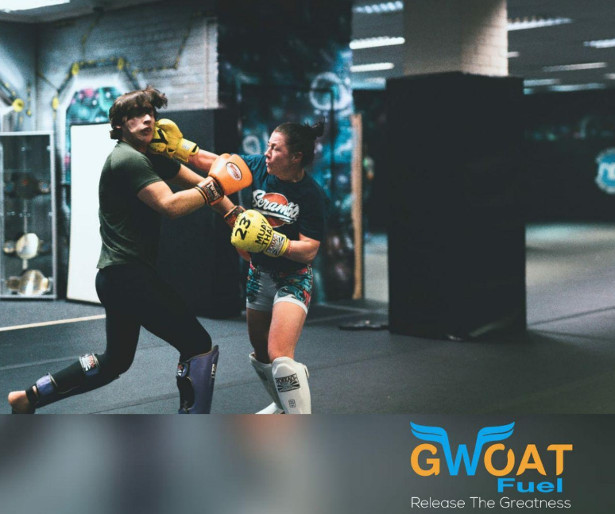 Abu Dhabi, Yas Island-Coming in at just 5' 4" and dominating the UFC women's flyweight division at a 3-1 record, Molly McCann has a reputation to uphold. The fiercely competitive and aggressively early striker has really proven herself in her last few events, winning three fights in a row. This week she has something else to dominate—the coffee business.
Today, Molly is proud to launch her newest venture, GWOAT Fuel, a high-quality, fair trade CBD coffee brand. Born from a love of coffee and an intense desire to crush her competition, Molly "Meatball" McCann got to work with her partners to bring you something that she promises will be like no other CBD coffee you have ever tried before.
When asked about the beginnings of GWOAT Fuel and what incited her decision to craft her own line of coffee, Molly said, "I love coffee, it gets me through the day, so when I started seeing the benefits of CBD, it was an easy decision to make. We started testing CBD coffee's and found our favourite one. We started to work on GWOAT Fuel, and we haven't looked back since."
On the heels of her successful CBD coffee launch comes another event she's hoping to successfully knock out as well, UFC Fight Night 172 on Fight Island on July 15th. This event will see her face off against Taila Santos, a Dana White's Contender Series signee.
When asked about the upcoming fight, Molly responded with, "It's an honour and a privilege to be fighting on Fight Island. What the UFC has done is amazing under the current circumstances and I'm so excited to get going and put on a show! It's gonna be special."
Molly comes into this fight averaging 6.49 significant strikes per minute while absorbing 4.95 strikes per minute. She's also averaging 2.59 successful takedowns every 15 minutes. This event, like the last few, will be held with no fans in attendance in accordance with current global events.
Brand new drinks brand VIN CROWD has launched a trio of summery low-calorie spritz drinks in can.
The three can range contains; a crisp strawberry and raspberry based pink spritz, a zesty peaches and pears white spritz and a fruity botanical spritz made from raspberries, juniper and gin.
All three spritz are vegan, are available in a 250ml can, and are the perfect go-to for picnics or hazy summer evenings in the garden.
The drinks are best served chilled, with fruit over ice, but can be enjoyed straight from the can.
Vin Crowd is perfect for those looking for that sweet spot between a glass of wine and a heavier gin and tonic.
Vin Crowd is currently stocked in selected Co-op, Costcutter and Nisa stores and is also available on skinnybooze.co.uk, RRP £2.25. It is are currently on offer in Co-op £2 for four cans.
Pink Spritz (5% ABV, 91kcal, VEGAN, 250ml can) RRP: £2.25
White Spritz (5% ABV, 94kcal, VEGAN, 250ml can) RRP £2.25
Botanical Spritz (5.5% ABV, 139kcal, VEGAN, 250ml can) RRP £2.25
ODYSEA LAUNCHES NEW RANGE OF KALAMATA PDO EXTRA VIRGIN OLIVE OILS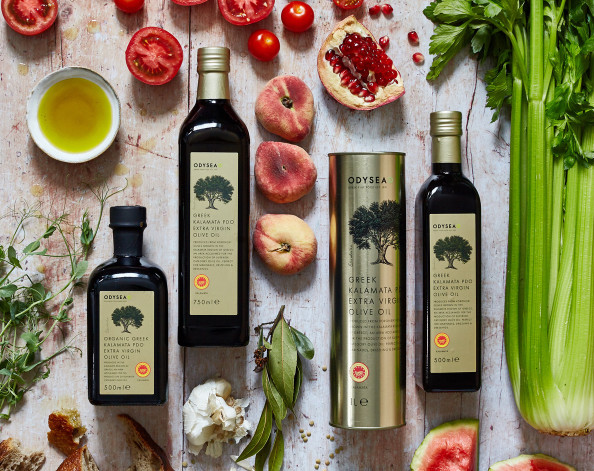 Greek and Mediterranean fine food producer, Odysea, is to launch a new range of premium extra virgin olive oils to its ever-growing family of products
Odysea Greek Kalamata PDO Extra Virgin Olive Oil is produced from polyphenol rich olives from groves in Messinia, located at the foothills of Mount Taygetus in the Kalamata region. This area is acclaimed for the production of superior quality olive oil and is awarded PDO status.
The olives are harvested with care by hand, using traditional methods and the oil is extracted within hours of the olives being picked. The oil is cold extracted without the use of heat or chemicals to ensure the flavour and health benefits remain.
This is a pleasant, undemanding oil with good green and spicy aromas accompanied by light citrus tones. Its gentle taste builds on nuts and meadowsweet herbs, followed by a growing pepperiness and the slightest almond skin bitterness. This all fades to leave a pleasant after taste of light flowers and nuts. Overall this is a gentle style oil with a balance of fruitiness, bitterness and pepper.
Greece is known to produce some of the finest oils in the world and the regions of Chania in Crete and Kalamata in the southernmost point of mainland Greece produce the best that Greece has to offer. Both regions provide ideal micro-climates and perfect terrains for the production of premium olive oils. We are proud to offer excellent oils from each region under the Odysea label.
Panos Manuelides, MD and founder of Odysea comments "We worked closely with Yannis Sellas to source our new oil from Kalamata. Yannis is an authority on olive oil and has built strong relationships with olive growers in the region since he began sourcing oil back in 1992. We are proud to add this oil to our existing offering of premium quality, honestly priced oils, all of which are easily available, for our customers to enjoy."
The new Kalamata PDO Extra Virgin Olive Oil is available in 7 different sizes: 5L, 3L and 1l tins and 1L, 750ml and 500ml bottles, plus an organic version in 500ml.
The range of new oil is available in Wholefoods UK, Booths, the Odysea website, Amazon and major delicatessens, and will be available in Sainsbury's nationwide from the end of July.
Tease Hibiscus Blast – Iced Tea Recipe
by Tease, modern teabar in Kensington.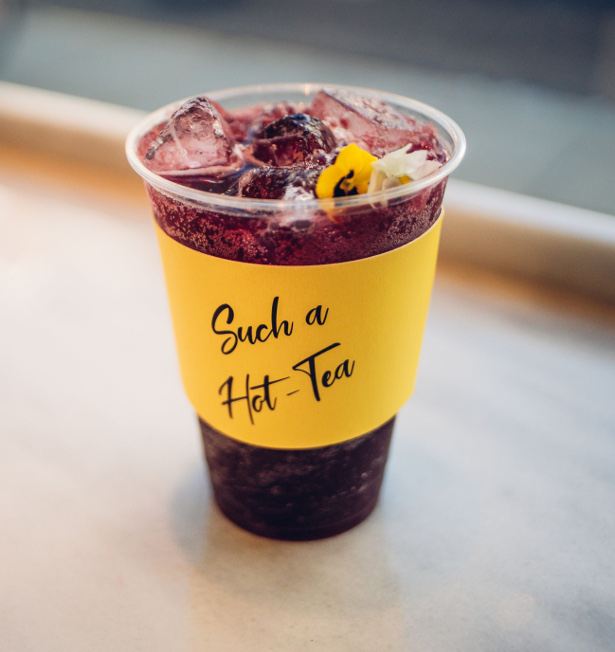 This drink is a great summer refreshment, as well as being packed with lots of nutrients.
Hibiscus is high in anti-oxidants
Blueberries can help maintain brain function
Strawberries for bone strength
Ingredients:
5 grams Hibiscus Flowers – place these into 2 biodegradable tea bags.
4 large strawberries – cut into 1-2cm slices
1 handful blueberries (approx 14 pieces) cut into half
3 Zests of lemon – Cut into small pieces and place the lemon zest into the teabag with the hibiscus
A pinch of salt
A cafetiere
Filtered Water
Method:
– Place all the ingredients into the cafetière
– Fill the remaining space with filtered water (approx 900 ml)
– Press the filter to the half way point (stopping all the fruit from rising to the top)
– Refrigerate overnight (approx 12 hours)
– Filter in the morning – discard the tea bag, but save the left over berries to use in the following: either a blended smoothie or as a topping on your granola.
It's BBQ season – but that doesn't HAVE to mean ditching your diet. Here are six healthy recipes that'll keep you on track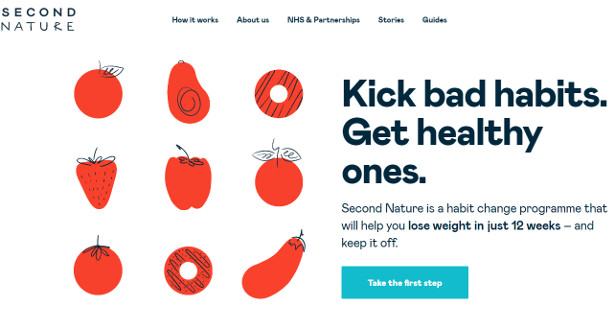 With the sun shining, it's officially BBQ season. For those who are trying to eat healthily, these social gatherings (distanced, of course) don't have to mean a huge blow out or straying away from your goals.
Traditional BBQ foods, such as meat and vegetable-based salads, can be enjoyed as part of a lower-carb lower-carb eating plan without many adjustments.
Usually, it's the extras that we add which are foods we should enjoy occasionally.
Evidence suggests that a lower-carb diet is the most effective and sustainable diet for weight loss in the long term, according to NHS-backed healthy eating plan Second Nature's [www.secondnature.io] nutritionist Tamara Willner.
This doesn't mean eliminating carbohydrates from your diet, but rather reducing our intake of them in place of protein and healthy fat sources.
Consider having a burger or sausage without the bun, or bringing some wholemeal buns with you if you'd really like one. These contain more fibre and will leave you feeling fuller for longer.
Try to avoid ultra-processed sauces, such as ketchup or pre-made salad dressings, as these usually contain lots of hidden sugars.
Aim to get the flavour from whole food sources instead, such as red onion, mature cheddar, or pepper and mixed herbs. If you're providing some of the meat for the BBQ, consider an unsweetened marinade for extra flavour – soy, lime, garlic, and ginger works great with chicken or fish.
There are also many easy alternatives you could make ahead of the BBQ, such as homemade guacamole or a lemon and olive oil dressing.
If you're vegetarian, consider bringing your own homemade falafels, bean patties, or grilled vegetable skewers.
At the end of the day, BBQs are meant to be enjoyed and if you really want a bun or some potato salad you should have it, enjoy it mindfully, and then try not to harbour any guilt.
One day of over-indulgence doesn't mean the rest of your week is a 'write-off'!
Here, Second Nature – a 12-week healthy eating plan backed by the NHS – reveals six healthily BBQ recipes that mean you can enjoy the summer, without feeling guilty.
Eloments Egyptian MInt Vitamin Tea.
Eloments is the world's first 100% natural vitamin tea range.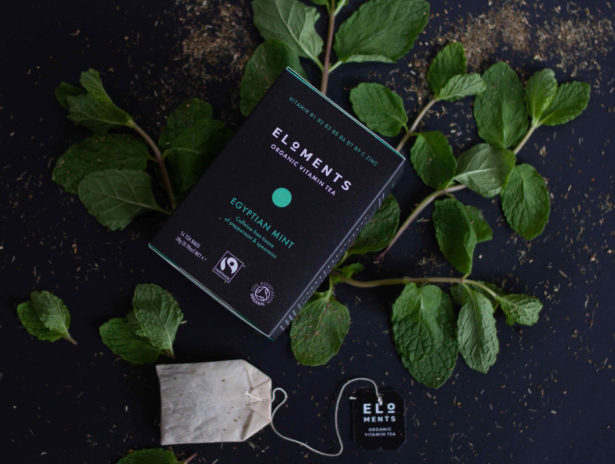 Eloments Egyptian Mint is a caffeine-free tisane of Egyptian peppermint and spearmint grown in the bright desert sun. A beautiful palette cleanser that can aid digestion and is enriched with organic nutrients.
Each tea bag contains 8 essential vitamins including B1, B2, B3, B5, B6, B7, B9 and vitamin C., all derived from nutrient rich herbs, fruits and botanicals. Eloments is 100% natural, certified organic and Fairtrade.
Eloments is brought to you by Universal Village, a women-led fair trade company that sources the finest Fairtrade ingredients in the world – from Egyptian mint, hand-picked vanilla pods and boutique Ceylon, Assam and China teas.
Queensland Strawberries Mocktail Recipes

Via: Fork Knife Swoon
Prep Time: 15 mins | Cook Time: 15 mins | Total Time: 30 mins | Yield: 10-12 sodas 1x
Ingredients
2 cups QLD strawberries, hulled and quartered
1/3 cup organic cane sugar
juice of half a lemon
1/2 tsp pure vanilla extract
handful of fresh basil, roughly chopped or torn
sparking water (I like Le Croix)
fresh strawberries, for serving
Method:
In a large mixing bowl combine the chopped strawberries, sugar, lemon juice, and vanilla. Cover with plastic wrap and refrigerate for at least 4 hours or even better, overnight.
To serve, add a heaping spoonful of the strawberries and syrup to a glass. Add a few torn basil leaves and muddle to combine. Add ice, and a shot of gin or vodka, as desired. Top with 8 oz of sparkling water and garnish with fresh strawberries. Stir and enjoy!
3-ingredient Strawberry Marg
Via Fa's Kitchen
Prep Time 5 min | Cook Time 5 min | Serves 2-4
Ingredients:
2 cups QLD strawberries, sliced
juice of 1 lemon
2 cups soda, plain or strawberry flavoured
Method:
Blend the strawberries well.
Add the lemon juice and mix well.
Pour the soda and serve chilled over ice.
Virgin Strawberry Daiquiris
Via Make me a mocktail
Prep Time 5 minutes | Cook Time 0 minutes | Servings 4
Ingredients:
4 cups QLD strawberries (frozen overnight)
1 cup fresh hulled QLD strawberries
3/4 cup simple syrup
1/4 cup lime juice
1 cup pineapple juice
Method:
Place frozen and fresh strawberries in your blender pitcher. Pour in simple syrup, lime juice and pineapple juice.
Cover and blend until smooth. Pour into glasses and enjoy!
Notes:
Apple juice or white grape juice can be substituted for pineapple juice.
Customize to your preference by adjusting the amounts of simple syrup, lime juice and pineapple juice.
Live Life On The Veg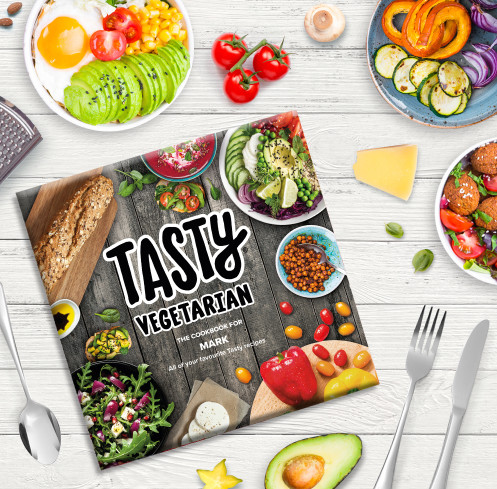 With Tasty every recipe is one you will love. The My Tasty Cookbook from Hacche is the World's only fully customisable cookbook, with catalogue over 300 recipes to choose from. Simply pick your favourite foods and recipes. With 18 chapters available just select 6 of your favourites from; Quick Eats, 5 Items or Less, Meal Pastas and Bakes, Chocolate, One Pot Wonders, Recipes for Kids, Dinner Party, Cheese, Desserts and many more. Every recipe, every chapter and every ingredient are utilised, removing any components you dislike in the process. Meaning the cookbook only has foods and recipes you like. Options include the Chocolate Ripple Cheesecake, Cookies & Cream Puffs or Berry-Stuffed French Toast to mention. This unique gift is certain to be used and loved.
With Tasty you can select a personalised cover. Simply add the recipient's name to the front cover of your choice. Once you have made all your choices My Tasty will do the hard work for you, delivering to your door, they can even put it in a gift box and personalised gift wrap for that finishing touch.
As a global sensation, BuzzFeed's culinary brand Tasty reaches over 325 million people, with over 5 billion videos viewed every month. The My Tasty Cookbook is designed and developed with the Tasty fan in mind, recognising recipes from the World's largest social food network. Whether it is breakfast, lunch, or dinner Tasty has you covered and it's now easily accessible in your own home.
The Vegetarian Special My Tasty Cookbook is available to buy online for £18.99 (Paperback) or £19.99 (Hardback) at MyTastyCookbook.com.
The STARLINO Arancione Spritz, mixed with sparkling wine and soda, is the new Aperol Spritz of the summer and makes for an exciting twist on a much loved drink, transporting you to Italy and the Dolce Vita in just one sip.
STARLINO Arancione – the new summer spritz to sip whilst temperatures sizzle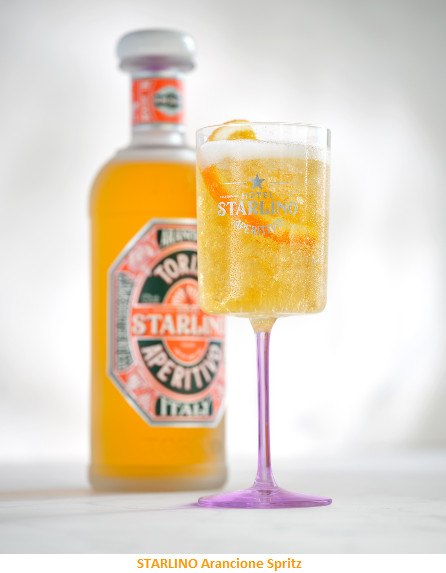 Serves with Italian oranges have always been popular when the weather heats up and STARLINO Arancione is no exception. Launched last month, this refreshing Italian Apertivio is produced in North-Eastern Italy at Torino Distillati in Piedmont. The all natural STARLINO Arancione is made by blending white wine, orange distillate – distilled from IGP certified Sicilian Blood Oranges, Lemon Peel plus seven other herbs and botanicals. Low in ABV (17%) it offers consumers a healthier drinks alternative and not only tastes good but looks beautiful.
STARLINO Arancione makes for the perfect summer spritz and is delicious on the rocks or topped up with tonic. For a healthier option why not try mixing it with an alcohol free sparkling wine such as Scavi and Ray or Thomson & Scott
STARLINO Arancione Spritz
1 part STARLINO Arancione
1 part Sparkling Wine
1 part Soda
Garnish: Orange Slice
Add ice to a long stem glass followed by 1 part STARLINO Arancione. Top up with 1 part Sparkling Wine and 1 part Soda. Garnish with a slice of orange
STARLINO and Tonic
1 part STARLINO Arancione
2 parts Tonic Water
Garnish with a slice of orange
Fill a tumbler glass with ice and add 1 part STARLINO Arancione followed by 2 parts tonic. Garnish with a slice of orange
STARLINO Arancione on the Rocks
STARLINO Arancione
Ice
Garnish: Orange Slice
Fill a rocks glass with ice and add STARLINO Arancione. Garnish with a slice of orange.
STARLINO Arancione is available from Amazon and Master of Malt
RRP: from £23 for 70 cl ABV: 17%
About Hotel STARLINO
STARLINO Rosé is part of the Hotel STARLINO range, which includes STARLINO Rosso Vermouth and STARLINO Maraschino Cherries. The Hotel STARLINO Aperitivos and Vermouth are packaged in beautiful, heavy apothecary-style bottles. They are finished with ceramic and wooden stoppers, reminiscent of an antique door knob. The front label resembles a vintage luggage label and the back label an elegant old-fashioned "Do Not Disturb" door hanger. The markings on the side of the bottles represent the elevator floor indicator from Hotel STARLINO. Hotel STARLINO refers to Torino Distillati, where the STARLINO range are produced. The distillery is the inspiration behind Hotel STARLINO as everything from its dramatic staircase, to its beautiful view of the Monsivo mountain forms a piece of Italian history. The distillery also receives many visitors, which is why it is referred to as a Hotel! The design is inspired by and celebrate Italy's incredible turn of the twentieth century design and architecture. This design style, known in Italy as Stile Liberty, is famous in Torino.
STOP AND SMELL THE ROSÉ: ALDI LAUNCHES 10 NEW BOTTLES OF PINK PLONK!

Shoppers have shown that it's not just 'rosé, all day' but indeed all year, as the popularity of everyone's favourite summer tipple has soared over the past year, making 1 in every 8 bottles consumed, of the pink persuasion.[1] With not one but TEN new rosés landing on Aldi's shelves from 13th July, in a variety of pale blush tones to bold pinks, the supermarket's latest seasonal wines make the perfect companion from the garden to the 'gram. Be sure to make yours' stand out amongst the half a million #roséwine posts from those who've already raised a glass this summer. [2]
Aldi wine expert, Sam Caporn MW, says: "Rosé comes in a wide range of different colours and styles – from delicate, pale pinks to bright, almost neon hues that can be refreshingly dry to delectably sweet and from all over the world. The thing that unites them all is their compatibility with the summer months, al fresco eating and their versatility; there is a rosé out there for everyone! From light seafood and fish, grilled chicken and prawns, picnics or just as an aperitif, you can pick a pink from Aldi that is perfect for the occasion, your palate and your purse."
From the picturesque South of France, to those rosé regions further afield, such as Argentina and Greece, the new range will bring a taste of summer right to your wine glass. All coming in at under £10, what other reason is there to put on those rosé coloured glasses!
French Beziers Rosé (£7.49, 75cl) – available online and in store
This beautiful pale pink wine is a delicious 'Provence' style rosé that has notes of berry fruit, honeysuckle and citrus. Beziers Rosé has a full and round flavour, adding to its light and fresh finish. And its attractive bottle makes it the picture-perfect tipple!
South African Rosé (£6.99, 75cl) – available online and in store
A true South African original, this rich and colourful rosé is fresh and crisp with bursts of strawberry and raspberry notes subtly infused with rose, white peach and hints of spice. Its fruity and refreshing finish makes it the perfect tipple to enjoy on its own.
French Ventoux Rosé (£6.99, 75cl) – available online and in store
A flesh-pink wine with a pale and brilliant structure. The fragrant tipple has notes of berries, red fruit and cherries with a hint of rose. Well balanced between sweetness and acidity, it shows great liveliness and freshness along with a very aromatic character and enticing spicy notes.
Greek Rosé (£6.99, 75cl) – available online and in store
This Greek Rosé from Achinos, which is north of Athens, has flavours of red berries and grapefruit with a crisp acidity and lingering salinity.
Argentinian Malbec Rosé (£6.49, 75cl) – available online and in store
This beautifully bright and intense rosé reflects the purity of the Andes Mountains. Made from 100% Malbec grapes, this tipple has notes of strawberries, red cherry and white fruit, creating a premium food friendly rosé. Its well-balanced acidity adds to its complexity and length, making it the perfect refreshment on a hot day – ideal for al fresco dining.
French Sud de France Rosé (£5.99, 75cl) – available online and in store
Made by one of the most highly regarded winemakers in the Languedoc region, this rosé has beautiful cherry and strawberry aromas that complement its elegant red fruit and citrus notes. This tipple has fruity, rich punches that make it the perfect dinner wine!
French Cotes du Luberon Rosé (£5.99, 75cl) – available online and in store
From the sunny hillside of France, this elegant rosé has notes of strawberries and raspberries whilst also releasing light flavours of exotic fruits. This tipple which comes in a voluptuous bottle is light and fresh, creating a pleasing finish that can be appreciated on its own or with light foods.
French Cap d'Agde Rosé (£5.49, 75cl) – available online and in store
Pale pink in colour, this perfectly balanced rosé comes from vineyards in the South of France. Notes of grapefruit, candy, peach and citrus create its intense yet elegant finish, making it the perfect appetizer This wine also works with an array of food dishes making it an ideal dinner wine.
Spanish Bobal Rosé (£4.99, 75cl) – available online and in store
This pretty in pink rosé comes from the beautiful Spanish vineyards. Made from Bobal, this grape variety is grown in sandy soils to create a unique and crisp taste. With rich flavours of red berry that are delicately balanced with floral notes of rose, Spanish Bobal Rosé is perfect for those looking for something different.
Spanish La Mancha Rosé (£3.99, 75cl) – available in store
This fruity rosé is delightfully refreshing and light, creating a well-balanced taste and long-lasting finish. With notes of strawberry and red fruits, the summer flavours are an ideal match to barbeques.
Demijohn, the liquid deli
The Demijohn News – A new Summer cocktail
Cheers! Find out how to make our new Elderflower Vodka Cooler Cocktail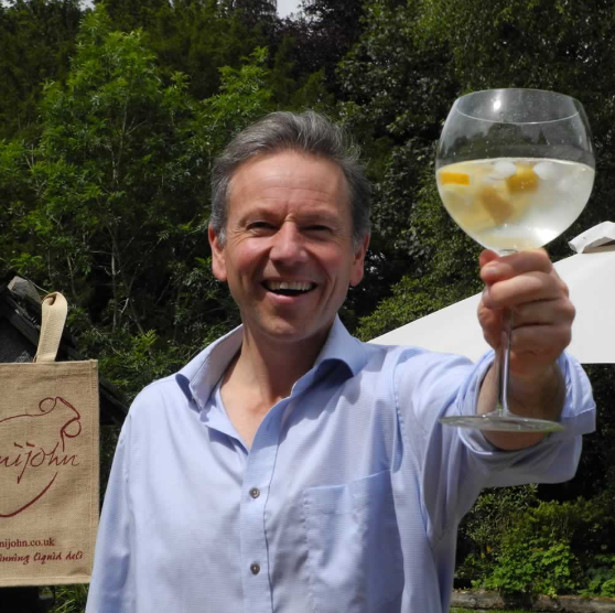 ~ How to make an Elderflower Vodka Cooler ~
The Elderflower Vodka Cooler
The sun came back out this week, so we invented a new Summer cocktail for you to try, The Elderflower Vodka Cooler. I even made another film in our garden for you, just to show how brilliantly easy it is to make.
Using our smooth Elderflower Vodka Liqueur 28% and our zesty Lime Vodka Liqueur 24%, this deliciously refreshing long drink is perfect for a BBQ on a hot Summers day.
The ingredients can be purchased easily as our new Elderflower Vodka Cooler Cocktail Gift Set, one of our many Cocktail Gift Sets.
>>>>>>>>>>> www.demijohn.co.uk/elderflower-vodka-cooler-cocktail-gift-set?ct=t(summer-8)
BARBEQ-SHOO THOSE STICKY STAINS AWAY
DR BECKMANN'S TOP TIPS ON HOW TO BANISH BBQ SPILLS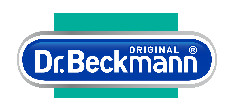 With BBQ season upon us, Brits will be dusting off their tongs and selecting the best cuts of meat. However, BBQ's can be a messy and sticky affair and result in unfortunate spills and stains.
Time is of the essence – all stains will become harder to remove as they dry, and some of them will undergo chemical reactions which make them all but impossible to shift, so you will need to act fast!
Cleaning and laundry experts Dr. Beckmann have identified the stains you're most likely to encounter during the hot weather and shared their top 10 tips on how to tackle them.
Top 10 BBQ stains:
Ketchup
The most common BBQ stain, ketchup needs to be treated as soon as possible. Carefully clear any excess from the area, being sure not to spread the mark. Gently rub some washing-up liquid into the area, before rinsing with cold water.
Wine
A cold glass of white wine is a required beverage at a BBQ. If you have an unfortunate spillage, make sure you blot the alcohol with a cloth until the liquid is absorbed, then sponge with cold water. Treat the stain with a stain remover – Dr. Beckmann's Stain Devils Fruit & Drink will do the trick!
Fruit Juice
As long as you keep it moist, you should be able to shift most fruit juice stains. Simply pop on a hot wash or soak in vinegar if the stain is a dark fruit.
Grass
Always clear any excess grass or dirt away from the area – taking care to avoid worsening any marks. Grass stains can be particularly hard, so you'll definitely benefit from pre-soaking the area with a mixture of one-part spirit vinegar to two parts warm water for around 30 minutes.
Chocolate
After the BBQ comes dessert and chocolate is bound to be the token ingredient – who doesn't love chocolate?! However, combined with the hot weather this may get trodden into the carpet or spilt onto the sofa, but don't panic this can be scrubbed right out. Scrape any excess chocolate off the stain, then blot the mark with a damp cloth. Finally apply a stain remover to the stain and scrub repeatedly! It's always handy to have Dr. Beckmann's Carpet Stain Remover in the cupboard to tackle those tricky stains.
Flowers
Summer means the flowers are blooming, but these beautiful plants can leave a permanent stain on your clothes if not treated quickly. Blot the stained fabric with a damp cloth then prepare to wash the garment. Use a stain remover to help break apart the stain.
Mud
When the sun is out, the garden is calling. Playing sports can lead to slide-tackles, diving and falling over, which creates an opportunity for mud to get on your clothes. Remember, resist the temptation to wipe at the stain. Let it dry and then scrape off the dried dirt, before washing the clothes as normal!
Meat
There isn't a BBQ without some meat, however red meat stains such as burgers, steaks and lamb kebabs can be a nightmare to remove. Cooked meat produces an oily stain, so make sure to blot repeatedly to absorb as much oil as possible. Once you've finished soaking up the oil with a cloth, treat the stain with a stain remover and let it work its magic for 10-15 minutes and then wash.
Ice Lolly/Cream
An ice lolly mixed with sweltering heat is an episode for disaster. Wash the spilled area with a laundry detergent and water, then use a cloth to help tackle the stain. To finish off, rinse the surface thoroughly with water and allow to dry.
Sun Cream
This oily substance can be a real pain to remove from clothes. Your best bet is to use a stain remover such as Dr Beckmann's Stain Devils Fat & Sauces, which cuts through and lifts the oils in sun creams with ease, making the stain a distant memory.
Dr. Beckmann spokesperson, Susan Fermor said: "Everyone loves the hot weather and a BBQ, but with excitement in the air things can turn messy very quickly! Follow our top tips to ensure your sticky, muddy barbeque stains are quickly forgotten about, so you can make the most of having fun in the sun!"
OFF THE CHAIN: WORLD'S MOST EXPENSIVE 18CT GOLD PEPERAMI UNVEILED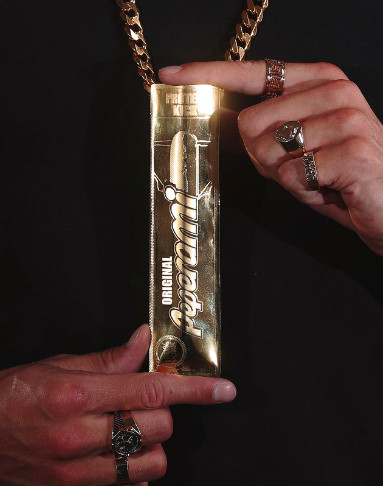 The meat masterminds behind Britain's favourite pork snack, have created the world's most expensive Peperami valued at a whopping £1500
One-of-a-kind, the extravagant item replicates the iconic Original wrapper – but in 18ct yellow gold
Dangling from a heavy chain, the blingy pendant has an opening at the back that allows the wearer to refill it time and time again with their favourite salami snack
Developed with Engravers Guild of London, the necklace and miniature version will go on sale today for super fans
Don't have the cash to splash? The luxury piece will be up for grabs for one lucky person​
Forget diamonds – the world's most expensive Peperami has been unveiled, worth an eye-watering £1,500.
The luxury item takes inspiration from the snack's Original wrapper, replicating the same shape and design the nation know and love – but in 18ct yellow gold.
Appraised by an independent valuator, the one-of-a-kind piece sees the Peperami detachable wrapper dangle from a 34inch heavy chain.
Weighing in at a whopping 295g, the custom necklace has been specifically designed so fans can refill the gold-plated pendant with their beloved Peperami stick, allowing them to hang the snack-storing chain around their neck until hunger strikes.
Hoping to spark a gold rush, the sparkler is perfect for those who aren't afraid to make a fashion statement. The gold bling has been created to honor superfans of the salami stick.
Developed with Engravers Guild of London, the necklace took a staggering 56 hours to make, using traditional methods.
The first stage of the process sees jewellery experts mold the wrapper out of sterling silver, then use a diamond cutter to replicate the iconic logo. The pendant is then coated with 18ct gold using an electroplating process.
The novelty necklace has already gained celebrity fans – including Dancing on Ice judge and Diversity dancer, Ashley Banjo.
Extreme Peperami lovers that have a stack of cash lying around will be able to purchase the made-to-order gift for a short period of time on the Engravers Guild of London website from today (Friday 17th July).
For those that understandably don't have thousands to spare, Peperami will be giving the coveted item away to one lucky person.
Those who are keen to get their hands on the prize will need to simply participate in one of brands #MeatTheBeat challenges running across social media until the end of September.
The three challenges will see four celebrities; queen of the jungle, Jacqueline Jossa, Britain's Got Talent superstars, Ashely Banjo and Perri Kiely, and football freestyler, Liv Cooke, show the nation what is means to have 'flava'.
Going head to head with each other and the rest of the nation, the star-studded group hope to start a chain reaction with others participating and joining in on the fun, tagging the brand using the hashtag.
For those that have simpler tastes, Peperami and Engravers Guild of London have also created a limited-edition run of mini versions of the necklace, available to buy on the jewelers website at £75.00.
Celebrate National Daiquiri Day with MOOSE – The Mountain Spirit on 19th July 2020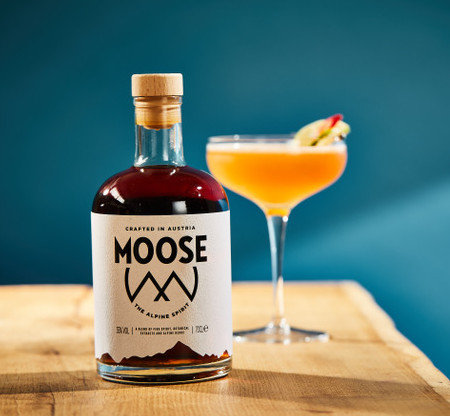 If you're looking to spice up your Daiquiri this weekend, why not try a MOOSE Chilli & Maple Daiquiri. MOOSE – The Mountain Spirit blends the botanicals mint, mountain pine and gentian with chilli and maple syrup, creating a spirit that is as complex as it is original. You won't find any processed sugars in MOOSE – just good old maple syrup, tapped from maple trees in Quebec, giving it a mellow sweetness that is natural.
The distinct flavours of MOOSE make it the best for mixing in cocktails, especially a Daiquiri where the subtle chilli heats adds a refreshing and exciting twist to a classic.
MOOSE has teamed up with mixologists Tammy Jackson (@forcocktailsake) and Paul Kieley (@mixandmatchlimited) who will be explaining how to make the perfect MOOSE Chilli & Maple Daiquiri in an Instagram live on National Daiquiri Day, Sunday 19 July at 1pm.
MOOSE Chilli & Maple Daiquiri
50ml MOOSE
25ml Fresh Lime Juice or squeeze 1 Whole Lime
15ml Maple Syrup
Add all ingredients to a shaker and shake it like you mean it. Strain into a martini glass.
MOOSE has created a Cocktail Set containing all the fresh ingredients and equipment needed to make 2 x MOOSE Chilli & Maple Daiquiris and 2 x MOOSE Mountain Mojitos at home, including a personalised, engraved cocktail shaker. The full set includes:
1 x Cocktail Shaker, with FREE personalised engraving
1 x Bar Spoon
Jigger
1 x 20cl bottle of MOOSE – The Mountain Spirit
2 x 20cl bottles of Fever-Tree Soda Water
4 x Fresh Limes
1 x Bunch of Mint
Maple Syrup
1 x MOOSE Story and Cocktails Recipe Book
MOOSE Cocktail Set + Engraved Shaker RRP: £35
Available from: themoosedrink.com and Yumbles
Cotswolds Distillery has an inspiring collection
With the days warming up and light, long evenings to enjoy, The Cotswolds Distillery has a great collection of easy to make, summer serves to inspire you:
Cotswolds Dry Gin
On a hot summer's day the Cotswolds Caipirotswold is a wonderful and very refreshing drink, bursting with grapefruit zest, it is the perfect way to cool down: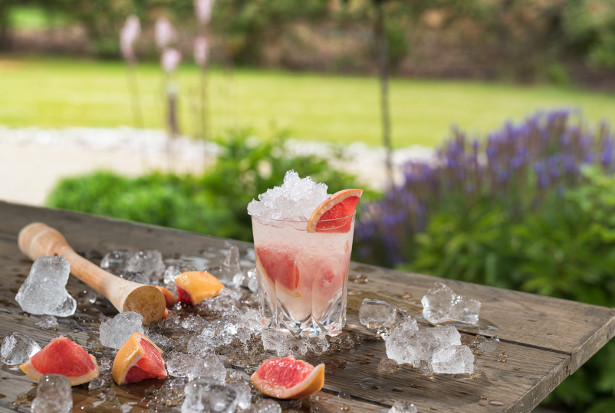 Ingredients: 60ml Cotswolds Dry Gin, 10ml sugar syrup and 4 wedges of grapefruit.
Method: Muddle wedges of grapefruit in a shaker. Transfer to a rocks glass, add Cotswolds Dry Gin and sugar syrup. Stir, add crushed ice and garnish with a wedge of grapefruit.
Cotswolds Single Malt Whisky
The Cotswolds Morris dance originated from Gloucestershire, Oxfordshire, Northamptonshire and Warwickshire and is traditionally danced with handkerchiefs and sticks which accompany the dancer's hand movements. The Cotswolds Distillery has celebrated this iconic celebration of English Folk Dance with the Cotswolds Morris Dance Cocktail, which is a combination of sweet fruity citrus with crisp bitter herbal notes and a long malty finish: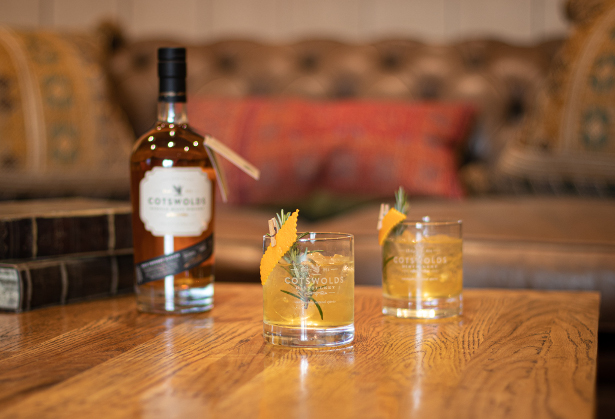 Ingredients: 30ml Cotswolds Single Malt Whisky, 25ml Gentian Liqueur, 25ml Orange Liqueur, 3 dashes of Grapefruit bitters and garnish with a sprig of rosemary and zest of grapefruit.
Method: Pour all the ingredients into an ice filled cocktail shaker. Stir and strain into an ice filled rocks glass and garnish with a sprig of rosemary and zest of grapefruit.
Cotswolds No. 1 Wildflower Gin
Launched this Spring, Cotswolds No 1 Wildflower Gin is a blend of cornflowers, lavender and orange layered over a classic London Dry Gin. Inspired by the wildflowers growing in the 'glorious grasslands' of the Cotswolds, what better serve for a summer's day than the Cotswolds No.1 Wildflower Signature Serve: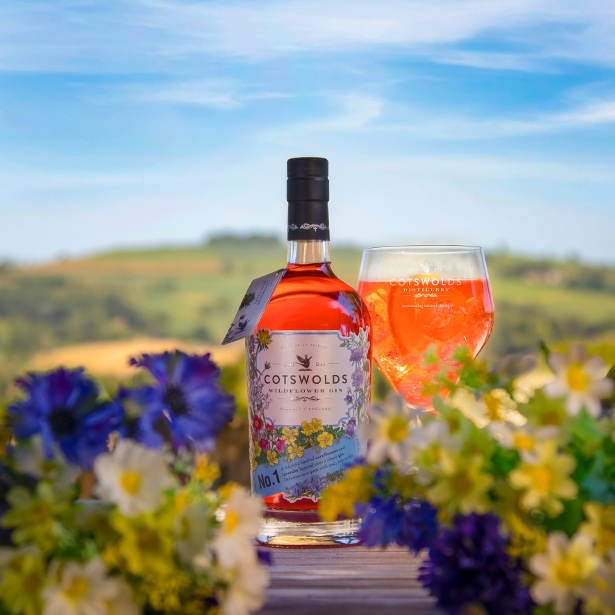 Ingredients: 50ml Cotswolds No1 Wildflower Gin, premium tonic water and garnished with a slice of orange.
Method: add ice to a copa glass and pour in Cotswolds No 1 Wildflower Gin. Top up with premium tonic water and garnish with a slice of orange.
Cotswolds Summer Cup
The Cotswolds Distillery has recently launched its seasonal edition, Cotswolds Summer Cup which uses the award-winning Cotswolds Dry Gin as a base. This is blended with a splash of handcrafted triple sec and the distillery's own vermouth. This bold and robust fruit cup has a brilliant balance of bitterness and sweetness and is the perfect serve when entertaining: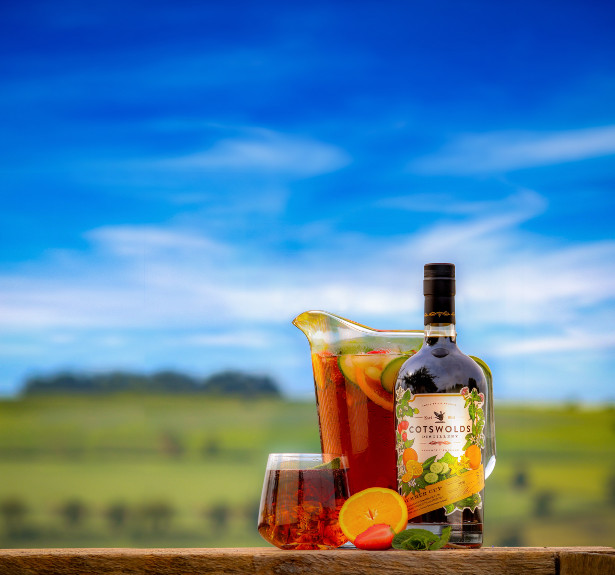 Method: Fill a large balloon glass with 1 part Cotswolds Summer Cup over lots of ice. Top with two parts lemonade or ginger ale and garnish with fresh fruit. This recipe can be increased and served in a jug.
Stockist Details:
Cotswolds Dry Gin: cotswoldsdistillery.com, Waitrose, Majestic, Oddbins, Laithwaites, Harvey Nichols, Selfridges and Fortnum and Mason
RRP: £34.95 for a 700ml bottle. ABV 46%
Cotswolds Single Malt Whisky available from: waitrose.com, majestic.co.uk, thewhiskyexchange.com, Harrods, Laithwaites and cotswoldsdistillery.com
RRP: £44.95 for a 700ml bottle. ABV 46%.
Cotswolds No1 Wildflower: available exclusively from cotswoldsdistillery.com
RRP: £34.95 for a 700ml bottle. ABV: 41.7%
Cotswolds Summer Cup: purchase exclusively from cotswoldsdistillery.com
RRP: £29.95 for a 700ml bottle. ABV: 30 %
Escape to Mexico with New Cazcabel Coconut Tequila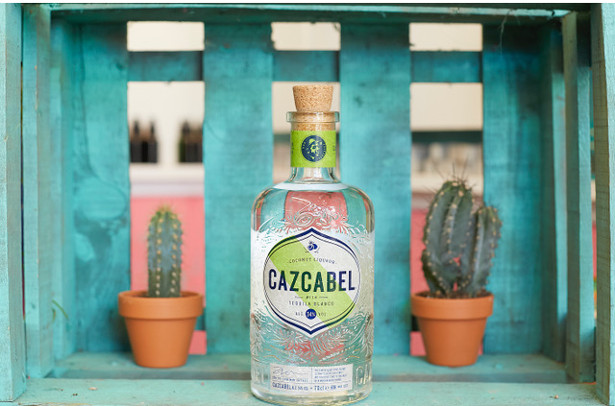 Building on the huge success of its Blanco, Reposado, Coffee & Honey expressions, premium tequila Cazcabel has added a new Coconut tequila to its award-winning range. The 34% ABV tequila continues the ideology of the other Cazcabel expressions which follow the teachings of mythical Mexican Curador, Don Cazcabel, taking only the finest natural ingredients from the land and giving them new life. Unknown to most, coconuts are one of Jalisco's biggest exports and are prized around the world for their sweetness, making it the perfect ingredient for this tropical spirit.
Cazcabel Coconut is a rich tequila with warm hits of coconut. It has a sweet aroma, balanced by earthy agave, with a smooth finish – perfect for sipping or as a base for twists on classic long drinks and cocktails.
Cazcabel Coconut is available to purchase in the UK from Amazon, Master of Malt and Proof Drinks online from £24.99.
"Jalisco's coconuts are prized all over the world, but none are added to our coconut tequila until I have had my pick of the crop. We blend the finest succulent coconuts with our earthy, crisp Cazcabel Blanco to make Cazcabel Coconut. Just one sip, and you can feel the tropical water slapping at your feet" – Don Cazcabel
Transport yourself to tropical Mexican beaches with a refreshing Cazcabel Coconut and Tonic:
Ingredients
50ml Cazcabel Coconut
20ml Lime Juice
Premium Tonic Water
Method
Pour Cazcabel Coconut and the lime juice into a highball glass filled with ice
Top up with Premium Tonic Water
Garnish with a lime wedge
Or for a classic Summer serve, try a Cazcabel Piña colada:
Ingredients
Cazcabel Blanco 25ml
Cazcabel Coconut 25ml
Pineapple Juice 60ml
Lime Juice 10ml
3 dashes aromatic bitters
A pinch of salt
Method
Add all ingredients to a cocktail shaker filled with ice. Strain into a glass over ice.
With soaring temperatures set to hit 29 degrees next week[1], let Aldi help you supersize your celebrations with the biggest bottle of their latest rosé range!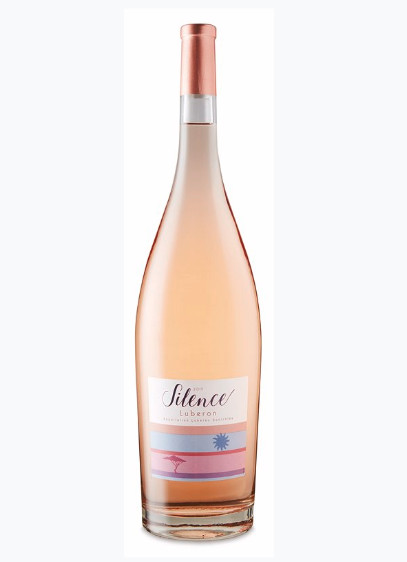 Widely regarded as the ultimate summer tipple with its refreshing and fruity quality, Aldi has shoppers covered with the launch of Luberon Rosé Magnum (£11.99, 150cl).
For just £11.99, it's as easy on the eye as it is on the purse strings! With just one sip, shoppers can close their eyes and escape to the calming Luberon mountain and enjoy a slice of the Provencal life!
Luberon Rosé Magnum (£11.99, 150cl)
Available in store and online
This bright rosé has delicate aromas of rose and morello cherries, which complement its fruity notes of grapefruit, red berry and melon. Its mineral finish adds an elegant and refreshing finish, ideal for keeping temperatures low!
Bird & Blend Tea Co.
Bird & Blend Tea Co. is an independent, award-winning tea company on a mission to reimagine the Great British brew. After years working in the tea industry, Krisi Smith and her partner Mike decided to use their passion for tea to create their own innovative, top-quality blends. Leading the way in British tea innovation, the brand now offers the country's largest range of creative blends, using a wide range of ingredients including herbs, flowers, fruits, caramels, and chocolate.
Strawberry Lemonade Iced Tea
A must-have for summer, Bird & Blend's Strawberry Lemonade Iced Tea is made from loose Strawberry Lemonade tea and makes for a delicious and refreshing sparkling drink, perfect for the whole family. For an extra special touch, serve in champagne flutes or make a pitcher for your summer party.
What you will need:
8 tps Strawberry Lemonade tea
900ml boiling water
Sparkling water
2 lemons
Strawberries
Ice
What to do:
· Brew your Strawberry Lemonade tea for at least four minutes. Sweeten with sugar or honey if desired.
· Strain and place in the fridge to cool. Alternatively, you can put the steeping tea in the fridge overnight for an extra strong taste.
· When ready to serve, pour 1/2 tea, 1/2 sparkling water over a glass full of ice and garnish with slices of lemon and strawberries.
· You can also make this a tipsy cocktail by adding 50ml of vodka or gin.
· Stir well and enjoy!
Peach Soda Margarita
This summer, customers have been loving Bird & Blend's Peach Soda tea. With sweet peach and delicate rose, this really is the ultimate iced tea – so why not turn it into a mouth-watering cocktail, fit for any occasion?
What you will need:
3 Tsp Peach Soda tea
A sprinkle of sugar
A sprinkle of salt
1/4 of a lime
A dash of rose water
25ml tequila
25ml peach gin (or any peach liquor)
Optional: If you'd rather make this a mocktail, replace the alcohol with 50ml of peach juice
What to do:
· Brew your Peach Soda tea in 200ml of boiling water and steep for 4 mins.
· Freeze 150ml of your concentrated tea in an ice cube tray and reserve the remaining 50ml.
· Once your ice is set, sprinkle a little bit of sugar and a little bit of salt onto a shallow dish. Run a little piece of lime around the edge of a rocks glass and dip the rim in the sugar and salt mixture.
· Into a cocktail shaker, add about 6 of your tea infused ice cubes, your remaining 50ml of tea concentrate, a dash of rose water, a big squeeze of fresh lime juice and your tequila. Shake it all up!
· Pour your shot of gin (or peach liquor) into your rimmed glass and top with the full contents of your cocktail shaker.
· Stir the cocktail together, garnish with a slice of lime and enjoy in the sunshine!
Iced Key Lime Pie
Bird & Blend's Key Lime Pie Iced Tea went down a treat in its Borough Store during the Tea Election! This tea is so refreshing and zesty, it's perfect for anyone. It's also naturally caffeine-free, so can be enjoyed by all!
What you will need:
3 tsp Key Lime Pie tea
150ml boiling water
100ml apple juice
Fresh lime
Ice
Lemonade
Cocktail shaker (optional)
What to do:
· Start by brewing your Key Lime Pie tea in 150ml of boiling water for 4 minutes.
· Leave to cool in the fridge or steep overnight for a stronger flavour.
· Pour your brewed tea into your cocktail shaker and add a cup of ice with 100ml of apple juice and 2 wedges of lime. Squeeze the juice into the tea before putting the wedges in, then shake!
· If you don't have a shaker, don't worry you can simply add the tea to a glass of ice.
· Pour into your glass, top up with lemonade and give it a good stir!
ChicP
Nutritious, sustainable, and delicious, ChicP is the UK's leading low-waste dip brand created to counteract the colossal amount of food waste we produce every year in the UK. The brainchild of former chef and female entrepreneur, Hannah McCollum, every ChicP product is made using imperfect and surplus fruits and vegetables.
NETTLE, LEMON & RHUBARB CAKE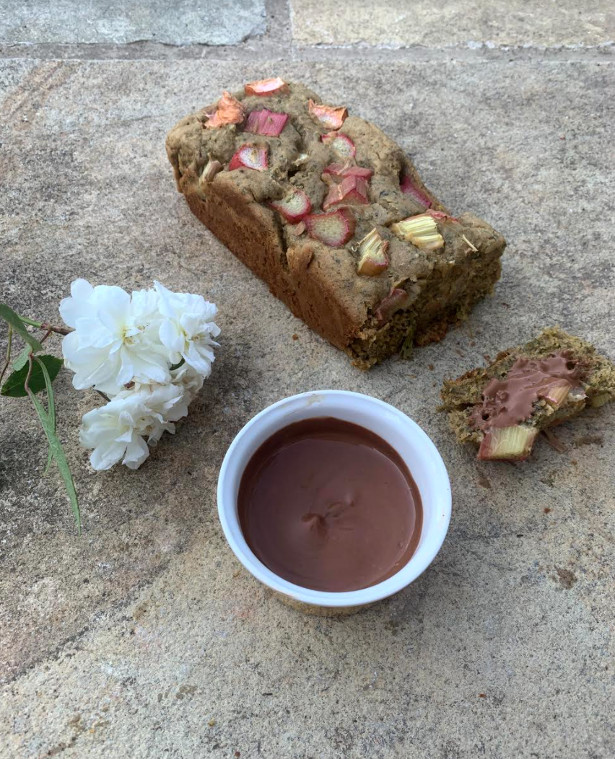 100g self raising flour (I used GF)
100g ground almonds
150g nettles, with stem (boiled)
150g dark muscovado sugar or 2 tbs date syrup
100ml olive oil (0r 200g butter)
2 eggs (or 2 large tbs apple sauce)
1 lemon – juice and zest
100g rhubarb
1 tsp baking powder
This cake can also be made savoury if you want to have it with cheese or any dip (nettle hummus is delicious with this). Just leave out the sugar or add a small dsp to still give it some sweetness, especially for cheese.
Pick the nettles with gloves, keep the top 10cm of the stem (they are just as nutritional), wash them and add them to a saucepan. Boil for 2-5 minutes. Keep the nettle juice for a stock for another recipe and leave the nettles to cool separately.
Mix the flour, almonds, baking powder, sugar, olive oil in a blender. Follow with the nettles, then the eggs and lemon zest. When thoroughly mixed and a nice green colour, pour into the prepared tin. Chop the rhubarb into chunks and place on top of the mixture. Bake for 35 minutes at 180c or until the cake is cooked through.
Take out the tin and make some pricks with a fork. Pour the lemon juice over the cake and leave to cool.
ROAST CURRIED BEETROOT LEAF TOPPED WITH BEETROOT LEAF HUMMUS
Serves 4 as a side
Ingredients:
2 large handfuls beetroot leaf, washed
1 tbsp olive oil
1 dsp chilli flakes
1 dsp curry powder
1 tsp sea salt
HUMMUS
2 large handfuls beetroot leaf, washed
1 tbsp olive oil
1 tsp chilli flakes
1 clove garlic
1 tbs tahini
50g chickpeas
1 tsp sea salt
1 tbsp cold water or chickpea water
Blend all the ingredients together until smooth
Spread the beetroot leaf on a baking tray and top with all the other ingredients. Roast at 180c for 10 minutes until nice and crispy.
While the beetroots are cooking
Eat straight away with the beetroot leaf quiche and hummus.
SEASONAL SWEETCORN AND RICOTTA FRITTERS WITH RED THAI PASTE
250g sweetcorn or one large can
200g ricotta
1 tsp red thai paste (make it if you can or I use @mypopupkitchen)
100g flour
2 eggs
1 large handful parsley
S&P
1 tbsp oil for frying
Start by putting all the ingredients in a blender and blend well. You can also do this in a bowl.
Heat the oil in a pan and when nice and hot, add a spoonful of the mix to the pan, followed by enough to fill the pan. Cook on either side until nice and brown (usually 3-5 minutes).
Delicious served straight away with a homemade parsley dip and a big green salad.
Chinola
chinola.com
Chinola Sangria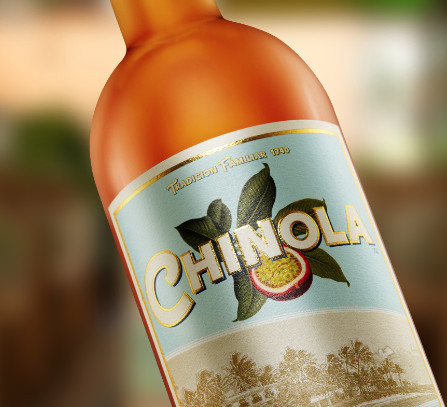 – 1.5 oz Chinola Passion Fruit Liqueur
– 3 oz White Wine (lighter varietal: sauvignon blanc, pinot grigio, etc.)
– 1.5 oz Tonic Water (drier & brighter like fever tree or Q Indian tonic)
– Slices of tropical fruit for garnish (lime wheels, star fruit, guava, passion fruit seeds/pulp)
Combine ingredients in wine glass over ice & stir to combine.
Carbonate Group
carbonategroup.com
Here is a recipe for the Night of a Living Dead from Sean Enright, at Spork in Pittsburgh, PA, It is a frozen take on the Zombie.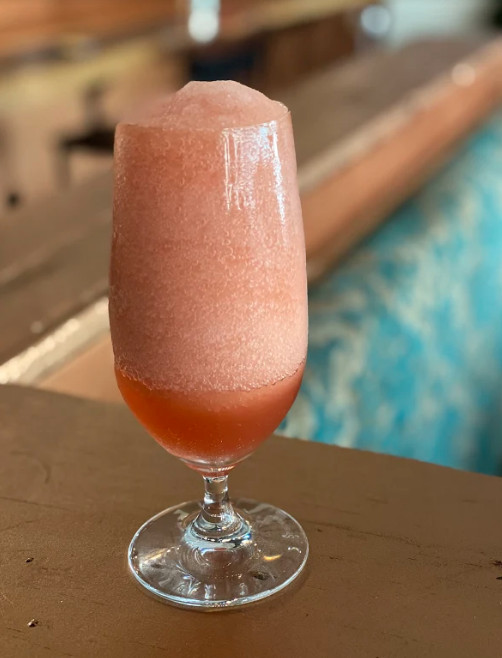 Photo Credit Sean Enright
NIGHT OF THE LIVING DEAD
2 oz. Rum & Falernum Blend*
2 oz. Zombie Syrup Blend**
.5 oz. Lime Juice
.25 oz. Pernod & Angostura Blend (1:1 Pernod:Angostura Bitters)
10 oz. Ice (approx. 10 ice cubes)
Add all ingredients to a blender until smooth.
*Rum & Falernum Blend: 1.5 Appleton Estate Aged Jamaican Rum : 1.5 Cruzan White Rum : 1 Plantation O.F.T.D Rum : .5 Falernum. **Syrup Blend: 2 Grapefruit Juice : 1 Cinnamon Syrup (boil three sticks of cinnamon in simple syrup for a few minutes until you see a noticeable color change) : 1 Grenadine.
BetterBody Foods summer recipes!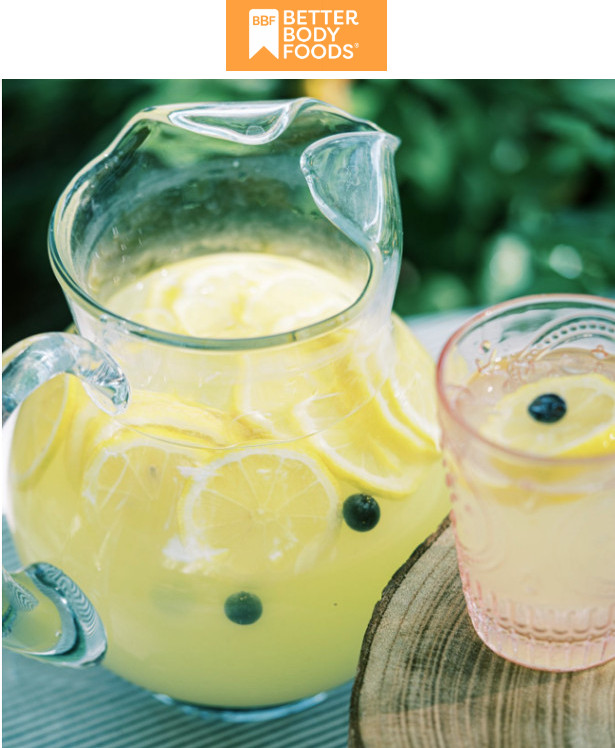 Drinks
Lemonade made with Monkfruit Sweetener
betterbodyfoods.com/recipes/classic-lemonade-with-monk-fruit-blend/
Watermelon Energy Blend
betterbodyfoods.com/recipes/watermelon-energy-blend-fruit-slushie/
Food
Grilled Cauliflower Steaks
betterbodyfoods.com/recipes/grilled-cauliflower-steaks-and-plant-junkie-thai-peanut-glaze/
Vegan Coleslaw
betterbodyfoods.com/recipes/classic-coleslaw/
Visit Temecula Valley
visittemeculavalley.com
Summer Drink Recipes

Temecula Valley Southern California Wine Country shares how to make some of its top selling summer cocktails. Though its swim up bars, poolside cabanas, and hopping night life is closed right now, you can still enjoy their popular drinks from the comfort and safety of your home. From Old Town Temecula to Temecula Valley Wine Country, "cheers" until everyone can meet again.
Mac's Mule, 1909
1.5 oz vodka
0.5 oz agave syrup
0.5 oz lime juice
Approximately 4 or 5 muddles (smashed up) raspberries
Top the drink with ginger beer.
Barrel Aged Boulevardier, Cork|Fire Kitchen at Temecula Creek Inn
This is a nouveau take on the Old Fashioned, smooth, slightly sweet and hits all the right notes.
1 oz whiskey
1 oz Campari
1 oz Sweet Vermouth
Build in mixing glass 3 oz pour over large cube in rocks glass. Expressed orange peel garnish.
Lemon Aventini, Avensole Winery Restaurant
1.5 oz vodka (we use grape based)
Half lemon, juiced
.25 oz dry vermouth
Sugar for rim of cocktail glass
Lemon slice garnish
Place vodka, lemon juice and dry vermouth in cocktail shaker with ice and shake until cold. Moisten rim of glass with a small amount of water. Turn glass upside down and dip into sugar on a small plate to line the rim of the glass.. Carefully pour the cocktail from the shaker into the glass, add lemon slice garnish.
Photo credit: Avensole Winery Restaurant, Temecula Valley Wine Country
Completely Essential Nutrition
For summer drinks and recipes
Dawn Younts, NIC, FNTP, CNC
www.completelyessentialnutrition.com
A's Adventure Avenue
Summer Drinks
Color Changing Lemonade:
asadventureavenues.com/color-changing-lemonade/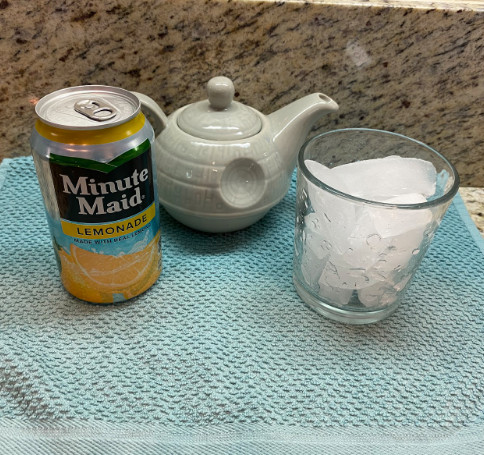 Tropical beverage (inspired by Independence Day!):
asadventureavenues.com/fourth-of-july-tropical-drink/
Coconut Mint Mojito:
asadventureavenues.com/best-coconut-mint-mojito-non-alcoholic/
Mint Mojito:
asadventureavenues.com/best-mint-mojitos-non-alcoholic/
A's Adventure Avenue
AsAdventureAvenues.com
California Wine Cocktails for Summer
Free e-Book Showcases Seasonal Recipes for Sipping-in-Place
www.discovercaliforniawines.com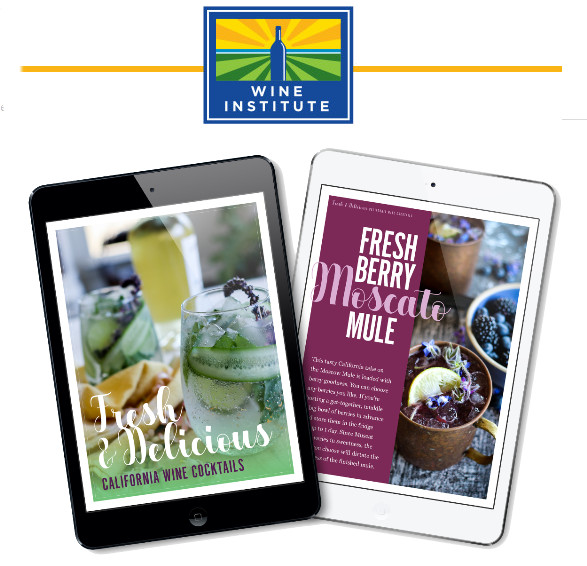 SAN FRANCISCO — As spring gives way to warmer temperatures, wine lovers naturally gravitate toward crisp, refreshing wines that match the summer season. Not only are wines such as California Sauvignon Blanc, Pinot Grigio and rosé delicious on their own, they are also wonderful in wine-based cocktails. Light and fresh but big on flavor, wine cocktails are easy to make at home for sipping on the patio or toasting friends during virtual happy hours.
"Wine is a great base for cocktails because it has a balance of acidity and fruit," says Northern California radio show host, wine educator and cocktail maven Ziggy Eschliman, also known as Ziggy the Wine Gal. "It also has structure, which provides an easy framework on which to build."
For vibrant summer wine cocktails, Eschliman recommends wines with light and refreshing profiles such as California sparkling wines, crisp whites and rosés, pairing them with garden-inspired simple syrups, artisan bitters, edible flowers and fresh herbs. "Think about the qualities of each wine variety," she says, "then match them with similar flavors to complement the wine's natural aromas and flavor profile."
To provide more inspiration for signature wine-based cocktails for summer, California Wines has released a new free e-book, "Fresh + Delicious California Wine Cocktails." It features recipes for fabulous seasonal drinks that celebrate the state's bounty of sustainably grown wines, produce and fresh herbs.
Recipes include:
Fresh Berry Moscato Mule: A bubbly blend of muddled berries, ginger beer and California Moscato wine
Cucumber Herb Spritzer: California white wine, cucumber and lime meet mint and basil for a fresh herbal twist
Strawberry Lemon Smash: Fresh strawberries, California sparkling wine and lemon create a summertime sensation
Raspberry Frosé: California rosé, fresh raspberries and peaches whirl together for a slushy, grown-up treat
SoCal Citrus Sangria: A citrus-kissed combination of California Zinfandel, fresh citrus and a touch of honey
To download a free copy of "Fresh + Delicious California Wine Cocktails" and sign up for the Discover California Wines monthly newsletter, visit their website.
Need More Summer Recipes to Try at Home?
For seasonal dishes to prepare and enjoy with California wines and wine-based cocktails, pick up a copy of "Wine Country Table," featuring recipes inspired by the Golden State's sustainable winegrowers and farmers. The book is available at major bookstores and through Amazon. You can also find great seasonal recipes at Discover California Wines.
Wine Institute is the public policy association of California wineries producing 80 percent of U.S. wine. California is the nation's number one state for wine and food tourism with 3,900 wineries.
Iron Smoke Distillery
Summer Drinks & Recipes!
Iron Smoke Distillery produce a line of world class bourbons that you may have seen in Forbes, Chilled Magazine and The Spirits Business.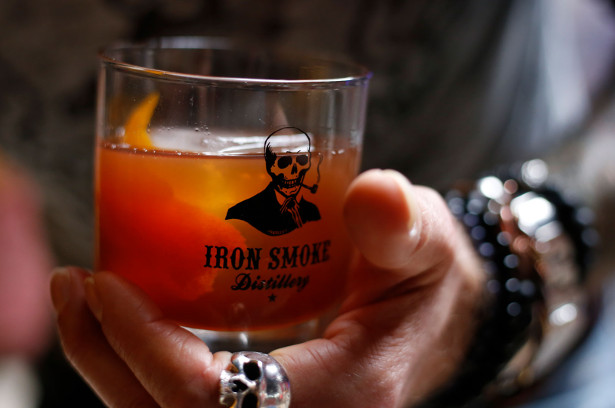 Their signature drink, the Peacemaker, is lights out! www.ironsmokedistillery.com.
Name: Peacemaker
Ingredients: Iron Smoke Straight Bourbon Whiskey, Rattlesnake Rosie's Apple Pie Whiskey, Dash of Bitters and Orange Peel Garnish.
365 Days of Baking and More
Summer Recipes
1) Strawberry Spinach Salad –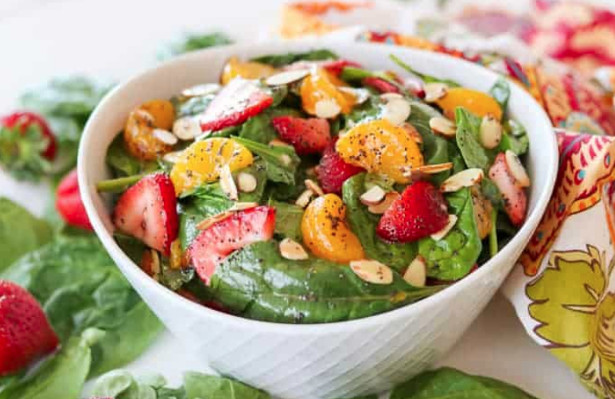 THe perfect salad for summer, this Strawberry Spinach Salad is full of flavor and color with the use of fresh strawberries, spinach and Mandarin oranges. Serve it as a side at your next cookout or add some chicken to it and call it dinner!
www.365daysofbakingandmore.com/strawberry-spinach-salad/
2) Easy No Bake Turtle Dream Bars –
These No Bake Turtle Dream Bars will excite your taste buds with an Oreo cookie crust, cheesecake layer, chocolate pudding, caramel, pecans and whipped topping! It's one of the easiest and most delicious dessert recipes, and summer wouldn't be summer without it!
www.365daysofbakingandmore.com/no-bake-turtle-dream-bars/
Food and Hearth
Recipes from
Nicole Bianchi, NC
Nutritionist, Certified by the National Association of Nutrition Professionals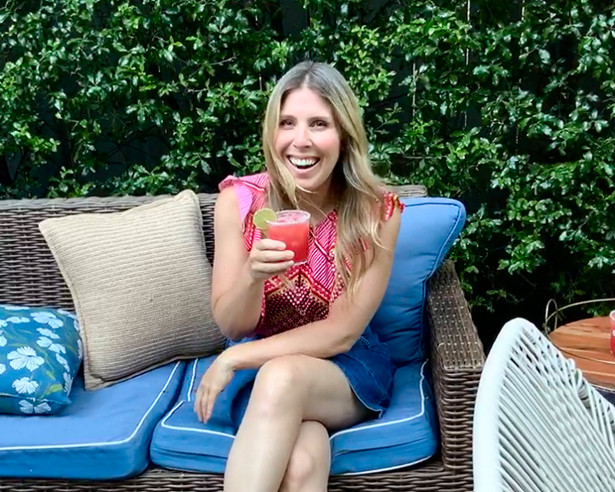 nicolebianchinutrition.com
sfadvancedhealth.com/provider/nicole-bianchi-nc
hello@nicolebianchinutrition.com
(415) 570-9038
Watermelon Mocktail
nicolebianchinutrition.com/2020/07/a-watermelon-mocktail-youll-enjoy-all-summer/
For the 4th of July, I made Danielle Walker's watermelon margaritas which were so fantastic I was immediately inspired to create something similar without the alcohol.
We enjoy watermelon all summer long and this is such an easy way to get this fantastic summertime flavor into a refreshing glass.
Watermelon is a unique fruit. It has gotten a bad rap for being sugary but it actually carries a low glycemic load! It's more than 90% water which makes it super hydrating, and it's loaded with lycopene and vitamin C, both powerful antioxidants.
Studies show that the antioxidant lycopene may help curb your risk of cancer, and watermelon has more of it than any other fruit or vegetable — even tomatoes.
And at time when we all need more immune-boosting vitamin C, it's good to know that one slice has about 23 mg of vitamin C, which is about 30 percent of your recommended daily intake.
Enjoy your watermelon this summer!
Salmon with Lemon and Cherry Tomatoes
nicolebianchinutrition.com/2020/07/salmon-with-lemon-and-cherry-tomatoes/
Calling all friends who want to enjoy salmon season while it's here.
Although wild, fresh King salmon has a well-deserved reputation for being pricey, it is worth it to splurge during its limited summer season because of its rich, buttery flavor.
Wild, fresh King salmon is only available in California during the summer months, during certain weeks.
Dates and regulations on when King salmon can be caught vary across the state, and you can check your local area by doing a simple Google search of "salmon season 2020" or check out this local catch guidefor the Bay Area.
I highly recommend choosing wild salmon. It is far more nutritious and flavorful than farmed salmon. If you can't find wild, fresh King, you can make this recipe with Sockeye or Coho, but you might find those species to be a bit more fishy in taste.
Recipes from Sharon McCaskill
Founder of The Helpful GF
www.thehelpfulgf.com
Fresh Grilled Steak Salad: thehelpfulgf.com/gluten-free-steak-salad-avocado-dressing/
Blueberry Orange Smoothie: thehelpfulgf.com/easy-blueberry-orange-smoothie/
Grain Free Lemon Mug Cake for one: thehelpfulgf.com/grain-free-lemon-mug-cake-for-one/
Fluxing Well
check Out These Recipes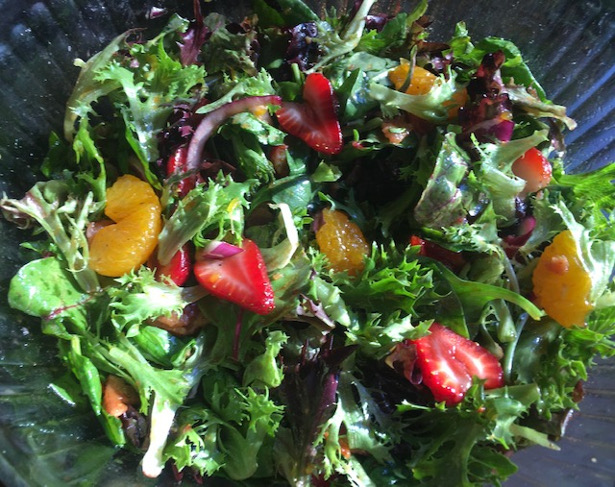 fluxingwell.com/taco-salad/
fluxingwell.com/berry-mandarin-tossed-salad/
fluxingwell.com/blueberry-cobbler/
Summer recipe: quinoa vegetable salad (tastes amazing)
By Elliot Reimers

"I like to experiment and try different recipes becauseas a NASM Certified Nutrition Coach, I need to have all types in my repertoire.Here's my favorite summer recipe that is always a hit wherever I share it(pre-COVID-19, of course).
Double protein-packed and nutrient-dense, the quinoavegetable salad with lemon-basil dressing is not only healthy, but ittastes like heaven. Ingredients include quinoa, orange bell peppers,tomatoes, green onions, chickpeas, corn, and lemon-basil dressing. It's bestchilled before serving, which makes it great for summer.
Here's the recipe:
INGREDIENTS
1 cup white quinoa (uncooked)
15 oz. can garbanzo beans
3 roma tomatoes (or grape/cherry)
1 orange bell pepper
1 1/2 cups corn (I used frozen, thawed)
4 green onions
Optional for topping: fresh basil or parsley
FOR THE LEMON-BASIL DRESSING
2 Tbsp. fresh lemon juice ( to taste)
1 1/2 tsp. basil (fresh or paste)
1 Tbsp. olive oil
INSTRUCTIONS
1. Rinse quinoa, and cook according to packagedirections.
2. Whisk together dressingingredients and set aside.
3. Slice green onions, dice roma tomatoes and bellpepper. Rinse and drain garbanzo beans.
4. When quinoa is done cooking, let cool for a fewminutes. Then place all salad ingredients in a large bowl.
5. Pour dressing over top and mix well.
6. Chill before serving to letflavors develop.
Regards,Elliott Reimers, Certified Nutrition Coach at Rave Reviews – www.ravereviews.org/
Connect with us on Twitter. Here is my LinkedIn & headshot.
Bio – Elliot Reimers is a NASM Certified NutritionCoach (CNC) and M.S. candidate at Michigan State University, where he isstudying Molecular Pharmacology and Toxicology. He has been a freelance sciencewriter since 2013, centering on the topics of nutritional science, dietarysupplementation, fitness, and exercise physiology. He received his B.S. inBiochemistry from the University of Minnesota and is an inveterate "sciencenerd" who loves fitness. He is passionate about coaching and educating peopleabout how to live healthier, be smarter about what they put in their bodies,and perform better. In his spare time, you're most likely to find Elliothoisting barbells, hiking the mountains of beautiful Colorado, or working oncontent for www.simplyshredded.com