Nim's Infusions: garnishes fit for a Royal Garden Party!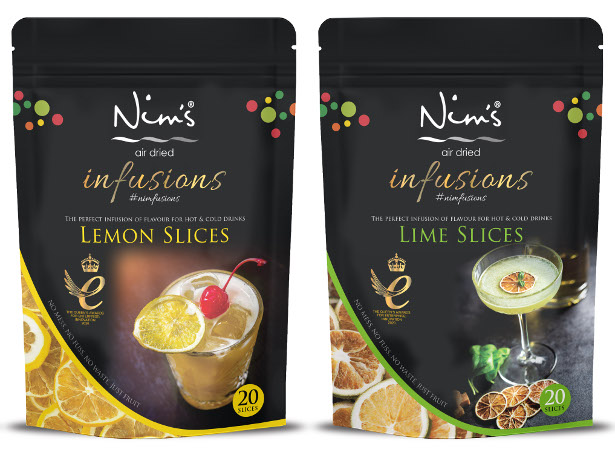 FACEBOOK | INSTAGRAM | PINTEREST | TWITTER
Nim's, the air-dried fruit crisp producer that was recently awarded a Queen's Award for Innovation, has launched Nim's Infusions, its range of air-dried citrus slices, in smart resealable pouches fit for any Royal Garden Party.
Says Nim's founder, Nimisha Raja: "The new Infusions range conveys the premium quality of this sustainable convenience product, which enables everyone to easily create fabulous cocktails from their home bar that look and taste amazing. We'd like to think that Her Majesty would give them a thumbs up!"
For summer garden party hosts looking to put the zing in their cocktails, mocktails and teas, there's a variety of garnishes including lemon, lime, orange, ruby grapefruit and cucumber.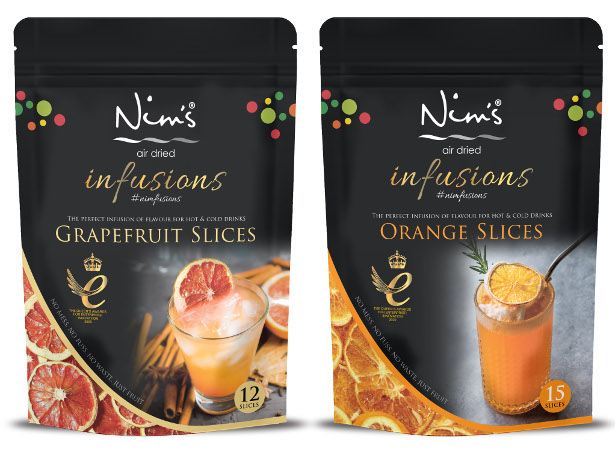 Nim's Infusions rehydrate in liquid and as they are air dried, a process which intensifies the taste of the fruits, they add bold natural flavour and aroma to any drink.
Switching to dried fruits rather than buying in and preparing fresh garnish, will save time and money and help reduce the amount of food waste created. Nim's infusions have a shelf life of up to 9 months. The recommended serving is 1 or 2 slices per drink.
The Infusions range comprises:
· Lemon Infusions Slices – perfect in a G&T or vodka cocktail
· Lime Infusions Slices – adds some zing in Margaritas or with rum
· Orange Infusions Slices – perfect with bourbon, Pimms or Cointreau
· Ruby Grapefruit Infusions Slices – try these in a grapefruit Negroni or G&T
· Cucumber Infusions Slices – brilliant with G&T and Pimms
· Kumquat Infusions – the taste of summer, great with G&T
Individual packs of 12 to 20 slices are available at www.nimsfruitcrisps.com priced from £3.95 per pack.
Coming soon….Nim's also has a range of botanicals to enhance your drinks offering. From rose buds to juniper, pink peppercorns to cardamom. Whatever your garnish needs, Nim's has got you covered. Innovation is a big part of its business too, so if you want to challenge them to create a garnish for you, get in touch.
Pitcher perfect – Aldi launches new beer ranges following an 81% surge in sales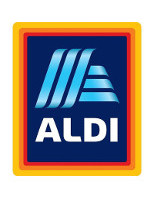 13 new British craft beers and ciders launching this weekend as part of the supermarket's Summer Beer Festival
Range includes a lager where 100% of profits go to clean water charities
With the rise in at-home boozers and our favourite sports only being screened at home, Aldi has reported an unbeerlievable 81% increase on beer sales[1]. Now Aldi is launching a fantastic new range of brew-tiful British craft beers and ciders, which satisfy on both taste and price, available in stores nationwide from this Sunday (12th July).
Whether you want to crack open a cold lager to enjoy the final matches of the Premier League or enjoy a refreshing IPA over a BBQ in the sun, Aldi's new beer range includes a variety of hops, so there's something for everyone.
Brewgooder Clean Water Lager (£5.00, 4 x330ml)
This award-winning crisp, zesty craft lager is made with crystal malts and a completely unique blend of Sorachi Ace hops that knocks traditional lager style out of the park. As the name suggests, this Clean Water Lager is a product with a purpose, with 100% of profits donated to bring clean water to those in need. Thousands of people across the world have already benefitted from the community run projects it funds. To top it all off, it's also suitable for vegans, so you can really brewgooder!
Williams Bros. Joker IPA (£5.00, 4x 500ml)
Created from a complex layer of malts and blended hops, this well-balanced Scottish IPA delivers satisfaction every time. Golden in the glass, fruity on the nose with hints of cedar and caramel, this pale ale is full of flavour with a touch of sweetness – guaranteed to cure any ale-ments.
Stateside Session IPA (£4.50, 4 x 330ml)
Inspired by the 'land of the free', but brewed in the West Country, this is a punchy session IPA from Butcombe Brewing Co. and is made from a combination of the best of American and English hops and malts. A refreshing transatlantic marriage of citrus, resinous aromatics and a malty bite, this is sure to keep your guests hoppy.
Meantime London Pale Ale (£7.00, 6 x 330ml)
British and American hops unite to make this sessionable pale ale that's packed with citrus flavour and already a firm favourite amongst beer lovers. Now that's a special relationship we can get behind.
Golden Goose Lager (£6.00, 4 x440ml)
Goose Island's house lager takes advantage of the best quality continental malts and hops. This deep golden lager is clean and complex with strong notes of bread and malt combined with a spicy hop finish.
Rosie's Pig Rhubarb Cloudy Cider (£5.00, 4 x330ml)
Shoppers with a sweet tooth will love this cloudy cider, made with fresh pressed Herefordshire apples and slowly matured to create a balanced fruity taste, which is refreshingly moreish – perfect for those lazy hazy summer evenings.
Aldi's full Beer Festival range is available to purchase from 12th July, while stocks last.
Product Code
Product Description
Proposed Retail
707387
Brewgooder Clean Water Lager 4 x 330ml
£5.00
707373
Golden Goose Lager 4 x 440ml
£6.00
707367
Hoegaarden 4 x 330ml
£4.50
707035
Innis and Gunn Lager 4 x 440ml
£4.50
706659
Joker IPA 4 x 500ml
£5.00
706712
Love Over Gold Blonde Ale 4 x 330ml
£4.50
706825
Meantime Pale Ale 6 x 330ml
£7.00
706654
My Genertion Session Pale Ale 6 x 500ml
£8.00
706726
Pistonhead Kustom Lager 6 x 330ml
£6.00
706685
Rosie's Pig Rhubarb Cloudy Cider 4 x 330ml
£5.00
707101
Shelby IPA 4 x 330ml
£4.50
707177
Stateside Session IPA 4 x 330ml
£4.50
707111
Stormtrooper Pale Ale 4 x 330ml
£4.50
A CLASS IN COLLAGEN FROM IDEALFIT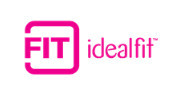 IdealFit Covers the Importance of Collagen, From Hair Growth to Heart Health
Collagen is known to provide structural support for connective tissues and bone, with implications for both beauty and fitness1.
Research now indicates individuals produce approximately 1% less collagen each year from the age of 202.
Reduced collagen production is known to result in the loss of skin elasticity and volume, leading to the formation of wrinkles3.
Studies suggest women may lose up to 30% of the skins collagen in the first five years of menopause4.
With supplementation growing in popularity, the collagen market is estimated to be worth $7.5 billion by 20275.
Supplementation may support joint health by maintaining connective tissue and preventing cartilage deterioration3.
IdealFit offers a range of hydrolyzed collagen products developed specifically for women, with hydrolysis key for ensuring easier absorption6, including Hydrolyzed Collagen Tablets, Collagen Protein, and a vitality-boosting, collagen-infused drink, Collagen Boost.
Available online now at Idealfit.com
For more information or images please contact alicia.backhouse@thehutgroup.com
1 www.healthline.com/nutrition/collagen#What-is-collagen?
2 www.scientificamerican.com/article/why-does-skin-wrinkle-wit/
3 www.medicalnewstoday.com/articles/325344#skin-health
4 www.bloodandmilk.com/menopause-skin-changes-and-solutions/#:~:text=The%20decline%20of%20estrogen%20compromises,first%20five%20years%20of%20menopause.
5 www.grandviewresearch.com/press-release/global-collagen-market
6 www.healthline.com/nutrition/collagen-benefits#3.-Could-prevent-bone-loss
SMOKED COCKTAIL ICE

Have a damn good drink on the rocks with a smoky twist. Smoke water on the Traeger then freeze into ice cubes. Your whiskey glass will thank you.
See the recipe at :- www.traegergrills.com/recipes/smoked-cocktail-ice
Zen Basil
zenbasil.com
Basil seed drinks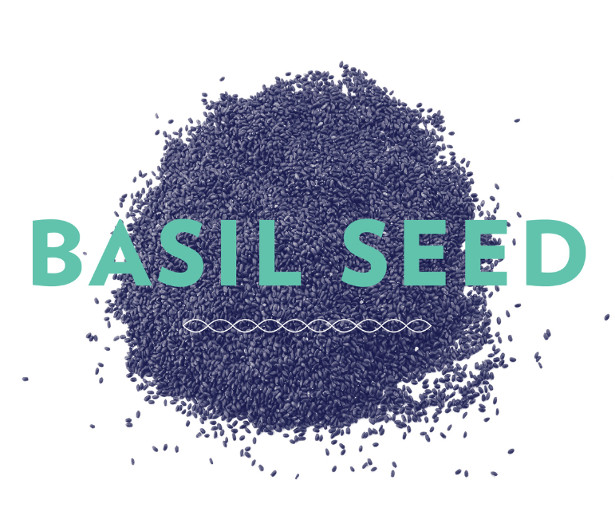 Pitch Contents: Zen Basil is the first to U.S. and Canada market with the most nutritious, edible, organic basil seeds. We are introducing to the health and wellness industry, a superfood treasured for thousands of years by natural healers. They look like chia, but in a g/g comparison with chia, Zen Basil seeds have nearly two times more fiber and a lot more health benefits, including collagen. You may have heard that nearly 80% of your immune system is in your gut health. But, did you know that fiber is at the heart of it! Yet only 5% of Americans actually get their daily fiber needs. Researchers have continuously recommended that adequate fiber is associated with digestive health, reduce risk for: heart disease, stroke, hypertension, obesity, type 2 diabetes, and certain cancers. The founder of Zen Basil, Shakira Niazi, a refugee from Afghanistan, started the company with her son. To bring their beloved superfood from far east to the west, because she believes "when we share our healthy options, we are connecting our worlds through health." Shakira recently graduated from the prestige Nasdaq Entrepreneur program; her goal was to develop a Sales & Marketing Strategy. She took her message to IG and grew very quickly with impressive results. Zen Basil is still a start-up but has become an Amazon Choice and number one seller in the U.S. There is a Zen Basil Instagram frenzy daily. Countless fans post their Zen Basil seed recipes, sharing their stories on how Zen Basil has helped them from weight management to Chronic diseases. Influencers love Zen Basil so much that they continuously promote the brand without marketing support. The company believes in doing things differently, by partnering up with their loyal fans to grow their business to create a force for good. Instead of hiring a traditional sales and marketing firm, they are inviting you to be a part of their business. They will reward you directly for each referral. Your efforts can be minimal, all you must do is sign up to be part of the movement. Open to everyone. Zen Basil believes the secret ingredient in our business model is our passion of giving back. We believe access to safe water is one of the most basic human rights. 3% of net sales goes to support the lack of clean water projects. So, far we have built 5 safe water projects in Afghanistan. Shakira is grateful to be fortunate enough to have escape the cold war and now she wants to help those who were left behind. The lack of clean water crisis impacts nearly half of billion people and according to UN, 80% of this burden is on women and children. At Zen Basil we believe giving is receiving. When Covid hit, Zen Basil did a matching donation campaign. For each bag sold, a bag was gifted to Lincoln Hospital in Bronx NY, to the health professionals. During our current BLM movement, the company donated 3% of their June sales to BLK Women Health Initiative, a none profit dedicated solely to the health and wellness of Black women and girls. What is so special about Zen Basil seeds? ZEN BASIL SEEDS LOOK LIKE CHIA, BUT IN A GRAM TO GRAM COMPARISON ZEN BASIL SEEDS HAVE NEARLY: Natural Healers believed basil seeds may encourage: Stress relief: • As an adaptogen, it enhances the body's natural responses to stress • Decreased corticosterone levels improve mental clarity and memory • Balanced blood sugar levels regulate mood and stress Heart strength: • Encourages circulation and regulates clotting • Potassium helps control heart rate and blood pressure • Iron increases oxygen-carrying capacity of the blood Digestive health • Fiber eases digestion and flushes toxins • Decreased acidity calms the stomach • Swelling seeds increases satiety and encourages weight loss Cooling effect: Emily Borth(MS, RDN) confirms basil seeds have a cooling effect on the body. In many Asian countries, basil seeds are famed for their cooling effects on the body, as they can help retain the cold temperatures of beverages and essentially soothe the stomach Researchers have confirmed unique facts about Basil Seeds when hydrated: • They activate an enormous amount of soluble fiber, one study showed 21% of soluble fiber in comparison to just 2% in Chia. • Soluble fiber: they have the magical power to bind like a robe to substances like cholesterol and sugar, preventing or slowing their absorption into the blood. • What is more special about soluble fiber is that – it boosts the good bacteria in our gut. Which helps strengthened our immune system fight inflammation, enhanced mood and– it even makes you feel full. • Finally, test results have also confirmed just 1 gram of basil seed has enough antioxidants to absorb 15% of the free radicals (DPPH). Free radicals can damage your cells and your DNA through a process called oxidation. Antioxidants helps prevent free radical damage. According to Dr. Oz "Antioxidants not only help fight disease, but they can help turn back the clock." Dr. Steven Gundry said, "basil seed, now that is a true super food" Committed to doing good. By building awareness of edible organic basil seeds in the U.S., Zen Basil hopes to improve nutrition and bridge our world through health.
First Sip Brew Box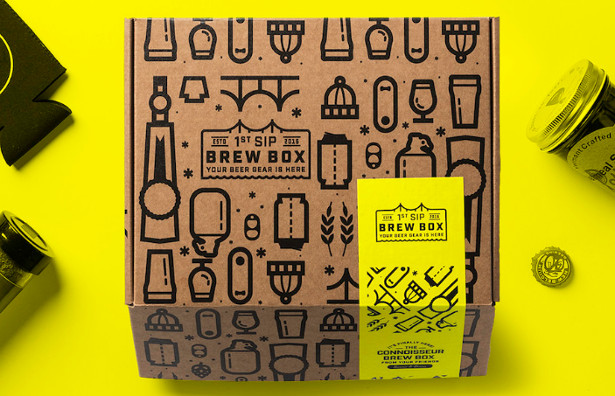 First Sip Brew Box is a Pittsburgh based craft beer subscription box company that doesn't ship beer. We are Black Owned, Woman Owned, and Veteran Owned. We aim to expand your horizons by bringing top breweries and small businesses that know their hops to your door. Every month we feature a different brewery and fill your box with beer gear, branded glasses, stickers, and other amazing swag to build your collection. You will also receive items made from malts and hops. Every month is a different surprise!
firstsipbrewbox.com
firstsipbrewbox.com/the-shop
Herbalist/Nutritionist idea for Summer Drinks & Recipes Feature
By Rachael Miller a herbalist, nutritionist, and owner of Zhi Herbals.
Rachael contributes regular posts to the Zhi Herbals recipe index and instagram page, where we post simple recipes for our customers to enjoy.
Recipe for orange soda syrup with calendula and cardamom.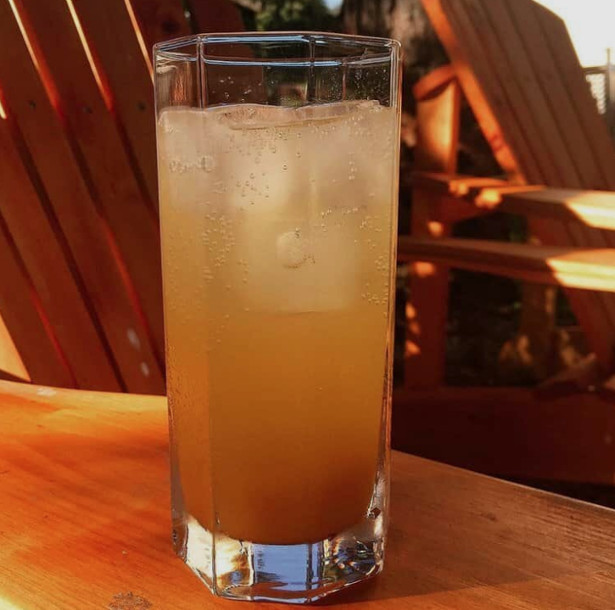 Her soda syrup recipe is refreshing and tastes great added to soda water or mixed into a cocktail. With a bit of creativity, it could even be adapted into homemade popsicles.
This recipe is super easy to make and will stay fresh in the fridge for about a week.
Ingredients needed:
1 2/3 cups orange juice
1/2 cup water
1/4 cup dried calendula petals
1/2 cup sugar
1 tsp inner cardamom seeds
1 pinch salt
To make your syrup, combine the ingredients in a saucepan and keep on low heat on the stove for 20 to 30 minutes.
Once syrup has achieved the desired flavour, strain and allow to cool.
The longer the syrup stays on the stove, the stronger it will taste.
www.zhiherbals.com
YOU ARE WHAT YOU DRINK: NATURAL BEVERAGES THAT WILL KEEP YOU HEALTHY, HYDRATED, AND HAPPY THIS SUMMER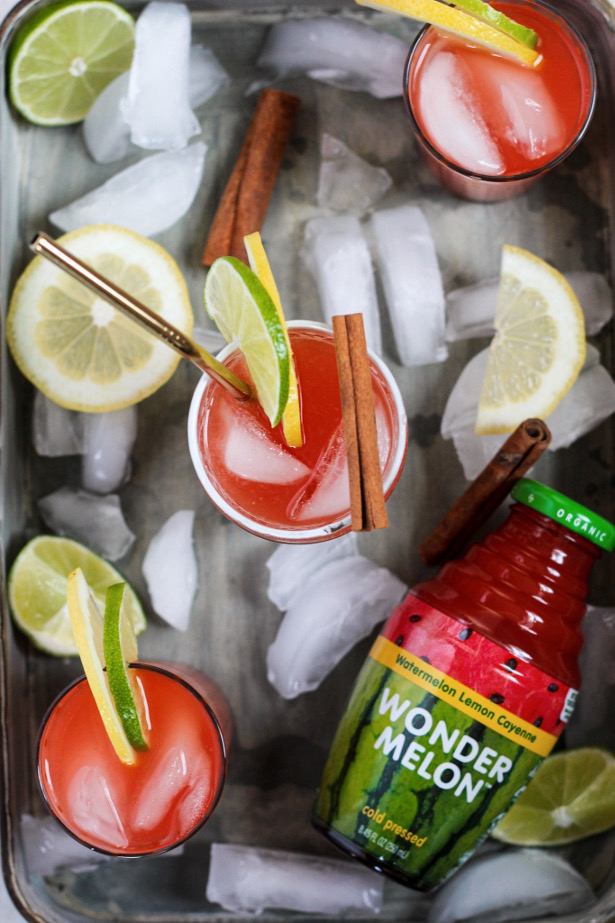 Turn to Thirst-Quenching WONDER MELON and Immunity-Boosting BEETOLOGY for Trendy Cocktails, Delicious Mocktails, and Straight-From-the-Bottle Refreshment
Staying healthy is on everyone's mind these days. And now that summer is here, keeping hydrated is also a must. Fortunately, two of today's trendiest superfoods – beets and watermelon – make it easy to check all the boxes.
These nutritious "it" foods are available in the form of refreshing, all-natural craft drinks. BEETOLOGY offers five tantalizing blends powered by beet juice, which is known to support the body's detoxification process, fight inflammation, help lower blood pressure, and boost stamina, among many other health benefits. WONDER MELON delivers the all hydrating properties of everybody's favorite summertime treat, watermelon, along with its natural bounty of antioxidants, minerals, and vitamins.
Devotees of these fashionable cold-pressed beverages swear by their delicious hydrating goodness. They love discovering new ways to enjoy beet juice and watermelon juice as mixers in cocktails, mocktails, even smoothies. (Some popular recipes follow.)
Fans also extol the virtues of serving these drinks solo, either over ice or straight from the grab-and-go bottle. WONDER MELON offers two delightful varieties: Cool Watermelon Cucumber Basil and Watermelon Lemon Cayenne. BEETOLOGY's crazy combo lineup includes Beet + Lemon + Ginger, Beet + Veggie, Beet + Berry, Beet + Cherry, and Beet + Tropical fruit.
BEETOLOGY and WONDER MELON are as "clean" as you can get. Made from 100% organic fruit and veggie juices, they are non-GMO, Fair Trade, certified OU Kosher, and free of sugar, artificial ingredients, soy, dairy, and gluten.
3 Things You Should Know About Beet Juice
· New evidence links antioxidant-rich beets to strengthened immunity, better skeletal muscle function, and greater stamina.
· The International Olympic Committee has declared beet juice a sports food.
· Beet juice is being used by researchers for its potential benefits to people with diabetes, obesity, hypertension, and the elderly.
3 Reasons to Drink Your Watermelon
· The amino acids in watermelon may lower blood pressure and reduce risk of heart attack.
· Watermelon is 92% water – a sweet way to keep every cell in your body hydrated.
· Watermelon has more of the antioxidant lycopene than any other fruit or veggie. Studies show that lycopene may be associated with reduced risk of cancer and diabetes.
Find all five varieties of BEETOLOGY and two types of WONDER MELON in the refrigerator section at health food, kosher, and grocery stores. They are distributed by KAYCO, a leader in convenient products for healthy lifestyles.
Wonder Melon Immune-Boosting Smoothie
1 frozen banana
1 cup frozen strawberries
½ cup Greek yogurt
½ cup Wonder Melon Watermelon Lemon Cayenne
¼ cup orange juice
Honey to taste
Buzz all ingredients in a blender and enjoy.
Tropical Beet-a-Colada
1½ cups ice
3 oz. Beetology Beet + Tropical Fruit
2 oz. coconut cream
2 oz. dark rum
2 oz. coconut rum
Blend all ingredients in a blender until frothy. Garnish with a pineapple slice.
Beetology Beet Berry Lemonade Mocktail/Cocktail
The prettier your drink is, the better it tastes This frozen beet berry lemonade comes together with a few simple ingredients including Beetology beet + berry, ice, and fresh lemon juice. (Add vodka or gin if you dare!)
Wonder Melon is available at Central Market, Stew Leonard's, Best Market, Whole Foods North West, and AMAZON.
Amazon
Beetology is available at Price Chopper, Tops, Shop Rite, Whole Foods Northwest, Albertsons and AMAZON.
La Adelita Tequila: a portfolio of five truly exquisite expressions of tequilas, made by a collaboration of generational distillers and cult wine & spirit artisans – is now available in the United States, nationwide.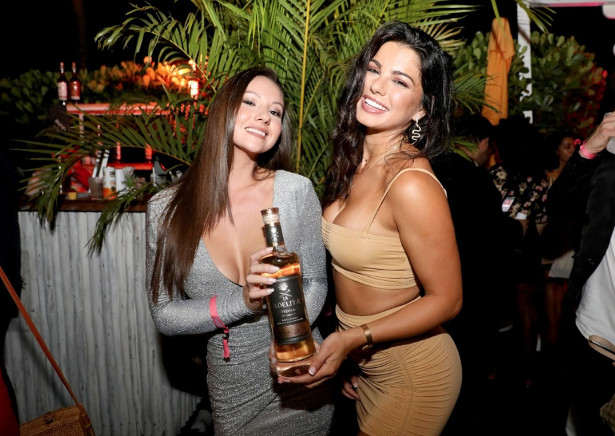 Named in honor of Adelita, the fearless women who led the female fighters in the Mexican Revolution, La Adelita is harvested and distilled from single estates located in the heart of the highlands of Jalisco and includes five expressions: Blanco, Reposado, Añejo, Cristalino, and Extra Añejo.
Distilled at the Hacienda la Capilla circa 1885 – La Adelita is made from agave hand selected Pina by Pina from their single estates in the highlands of Los Altos, Jalisco. La Adelita's coveted Los Altos agave is 100% estate grown and carefully hand-harvested by their jimadors (farmers), who possess an unparalleled knowledge of the agave plant that's been passed down from generation to generation. La Adelita is double-distilled in 100-year-old Cuban copper pot stills, then aged in used American whiskey casks.
With its nationwide debut, La Adelita (80 proof / 40% ABV), is available at wine & spirit stores, restaurants, and online at https://laadelitatequila.passionspirits.com. The suggested retail prices for the 750 ml bottle are: La Adelita Blanco – $41.9; La Adelita Reposado – $47.99; La Adelita Añejo – $52.99; La Adelita Black Añejo Cristalino – $74.99; and La Adelita Extra Añejo – $99.99. For more information, please visit LaAdelitaTequila.com.
La Adelita Martini de naranja Sanguina
La Adelita reposado, solerno liqueur, lima, poco arandano.
2 Oz tequila, 2 Oz lime, 1oz liqueur, 1 Oz atandano
Ron Barceló
Celebrating 90 years since its conceptualization, Ron Barceló Rum was founded by Julian Barceló in 1930 in Santo Domingo, Dominican Republic. The brand quickly gained popularity throughout the Dominican Republic, and was soon exported internationally throughout the Caribbean, Europe and the Americas. Today, the brand's world-class portfolio of award-winning rums includes Barceló Imperial Premium Blend 30 Aniversario, Barceló Imperial Onyx, Barceló Imperial, Barceló Gran Añejo and Barceló Añejo. Today, Ron Barceló is the #1 exported dark rum in the world, available in more than 70 countries worldwide, is a leading brand in Spain and Chile, and continues to expand its superior quality product around the globe.
Learn more about the brand by visiting www..ronbarcelousa.com
Fun Wine
With a 5.5% ABV, available in 750ml bottles and 250ml cans, Fun Wine® is creating a new category that defies conventions. Now available in select areas of North America, Europe and Asia, with new markets being added to the FUN every day. Fun Wine is the perfect beverage for all seasons, best enjoyed chilled or over ice, indoor and out, with old friends and new friends alike. Fun Wine® is imported by The Fun Wine® Company in Miami, FL.
About Miguel Paredes, Chief Global Designer & Art Director:
Miguel Paredes is an artist and urban realist who combines the exhilarating sense of New York graffiti art with the skill and perceptiveness of a truly exceptional visionary. Paredes drew his inspiration from renowned pop artist s such as Andy Warhol and Keith Haring and plunged headlong into the world of graffiti and pop art taking the name "Mist" as his moniker. Paredes ultimately opened his own gallery, Miguel Paredes Fine Art Gallery, in the Wynwood Arts District in Miami.
A few cocktail ideas to make you fall in love with Fun Wine®:
Sun*FUN*Rita
Pour on ice or chilled, add your favorite fruits
Chocolate Strawberry Negroni
1 oz Aperol Spritz or Campari
Dash Chocolate Bitters
4 oz Fun Wine's Strawberry Rose Moscato
Serve on rocks
Miguel's Colada
2 oz Barcelo rum
Frozen pineapple or coconut
Fun Wine's Coconut Chardonnay
Blend all ingredients until frosty and serve on a chilled glass
Celebrate National Mojito Day with a MOOSE Mountain Mojito on 11th July 2020
If you love a Mojito but are looking for a new, refreshing twist on your favourite drink, why not try a MOOSE Mountain Mojito?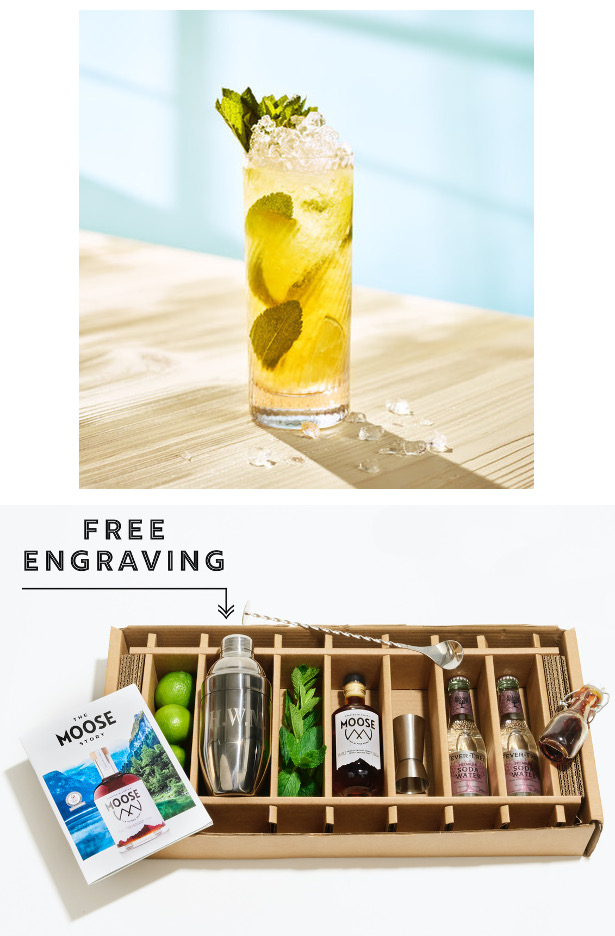 Moose never follow the pack, they follow their instincts, which is why MOOSE – The Mountain Spirit has created a unique spirit that was born out of instinct. MOOSE blends the botanicals mint, mountain pine and gentian with chilli and maple syrup, creating a spirit that is as complex as it is original. The distinct flavours of MOOSE make it the best for mixing in cocktails and the perfect way to spice up your Mojito.
MOOSE Mountain Mojito
50ml MOOSE
10ml Maple Syrup
Lime
Mint
Soda Water
Unlike a normal Mojito, this Mountain Mojito needs to be shaken. Add all ingredients except soda water to shaker. Pour all ingredients directly from the shaker into a highball glass and top with soda water.
MOOSE has created a cocktail box, providing you with all the fresh ingredients and equipment needed to make 2 x MOOSE Mountain Mojitos and 2 x Chilli & Maple Daiquiris, including a personalised cocktail shaker.
MOOSE Cocktail Box + Engraved Shaker RRP: £35.
Available from: themoosedrink.com and Yumbles
MOOSE is also available to buy in individual bottles. RRP: £15 for 20cl and £36.99 for 70cl. ABV: 35%
Available from: themoosedrink.com, Not On The High Street and Yumbles
Reuse with Anysharp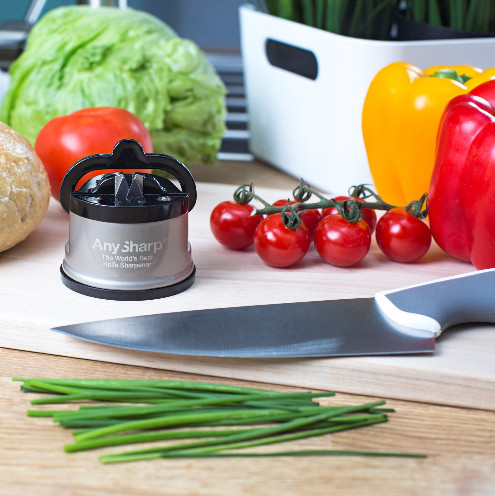 The Anysharp Pro is the world's best knife sharpener. It turns blunt knives to like new, super sharp, slicing machines. Simply put the device onto any solid work top and pull the level so it's suction sticks it firm. Grab a knife and gently pull it through the blades 2-3 times and within seconds and you'll have sharp knives once again.
The Anysharp Pro is used by many celebrity and professional chefs and is a staple in many homes. Save knives and reuse – Whether you're slicing meat, dicing vegetables, or carving the sunday roast, a sharp blade makes cutting effortless. AnySharp Pro restores a super sharp cutting edge to blunt knife blades that have dulled with use.
The Anysharp Pro has a ten year warranty and available in a range of stunning colours so suit every style. The Anysharp Pro costs from £9.99 from Amazon
Grifco & Ophir Gourmet Recipes for Globetrotting at your Dining Table
From the aromatic scent of lemongrass to the sizzling heat of scotch bonnet, the heady rush of raz al hanout fresh from the souk to the cooling sensation of fresh island coconut, the evocative sights, smells and flavours of global cuisine can be one of the most satisfying ways to curb your wanderlust in these trying times.
For those in need of a little inspiration – with a side of escapism – please find a selection of delicious recipes from head chefs across the world.
Note: We of course appreciate that not all ingredients will be available (particularly more exotic ones), so have included substitutes where appropriate.
__________________________________________________________________
Something savoury…
Jade Mountain St. Lucia's Green Fig* (Banana) and Saltfish, by Executive Chef Allen Susser
There is still a rich French-based Creole culture on the island of St. Lucia, and there is no dish more traditional than Green Fig & Salt Fish (or as it is known in Creole, fig vét é lanmowi), the country's national dish. Every family on the island has its own variation, served on weekends, special occasions and of course during the Jounen Kweyo (Creole Day) festival on 28th October. Here at Jade Mountain St. Lucia, we use our own freshly salted Lionfish instead of dried cod, known for centuries in the Caribbean as saltfish, but any white fish will do.
*If you're panicking about finding figs out of season, you can relax… 'Green fig' is the name used by St. Lucians and other Caribbean islanders for unripened green bananas!
Ingredients
Serves 4
3 small cod (or any white fish) fillets prepared in sea salt
1 tablespoon coconut oil
1 small onion diced
1 tablespoon diced seasoning peppers
1 clove garlic crushed
2 spring onions sliced
2 small tomatoes, seeded and diced
2-3 drops hot pepper sauce
2 green bananas, boiled until tender and skins have split, peeled and diced
1½ tablespoons mayonnaise
1 tablespoon torn coriander
3 -4 sprigs fresh celery leaf
Method
To Prepare the fish as Salt Fish: Liberally season the fish fillets with plenty of sea salt to cover completely and allow to cure a minimum of 1 hour and up 24 hours. Rinse the salt off under running cold water before cooking and dry the flesh well.
To cook the Saltfish: Warm the coconut oil in a heavy pan over medium high heat. Cook the fish on each side for about 2-3 minutes. Remove the fillets and set aside to cool.
To prepare the Green fig & saltfish: In the same pan add the onion, seasoning peppers, garlic, spring onion, cooking slowly for about 3-4 minutes until aromatic. Flake in the cooked fish in thumb sized pieces and continue to stir in the tomatoes, hot sauce and diced banana. Remove from heat and fold in the mayonnaise and cilantro.
To serve: Spoon the mixture on to a large colourful platter and garnish with sprigs of celery leaves.
__________________________________________________________________
Lepogo Lodges' Grilled Limpopo Rainbow Trout with Sauteed Vegetables, Charred Pickled Onions and a Garlic and Lemon Butter Sauce
Fly-fishing for rainbow trout has been somewhat of a national sport in South Africa since the 1960s, and Limpopo province is home to a great number of crystal clear mountain streams, rivers and dams that the fish call home.
The South African trout season runs from September to May, with April and May two of the best months for fly-fishing (which Lepogo Lodges' Noka Camp, located deep within the Lapalala Wilderness Reserve in Limpopo province, offers as an activity for all guests). While you wait for the opportunity to travel again, see below for a recommendation from the camp's Head Chef Thapelo Letsogo, for how to prepare delicious trout (or salmon, if that's all you can find!), within the comfort of your own home.
Ingredients
For the trout
Fresh trout fillets (salmon will also work nicely!)
1 Lime Juice and Zest
2 Garlic Cloves
2Tablespoons olive oil
4 Tablespoons good quality soy sauce
Grated Ginger
Pinch black pepper
For the vegetables
4 broccoli florets (blanched)
2 baby beetroots (blanched)
6 carrots
1 Celery stick
2 Pickled Onions (charred)
100g butternut squash (roasted)
1teaspoon salted butter
Pinch sea salt
Pinch black pepper
For the sauce
110 ml dry white wine
55 ml double cream
2 Tablespoons butter, chilled
1 lemon, juice only
1 teaspoon minced garlic
1 Tablespoon chopped fresh dill
Salt and white pepper to taste
Method
Mix the marinade ingredients in a bowl. Place fish in a shallow container and add the marinade.
Wrap with cling film and place in the fridge for 2h 30minutes. Prepare vegetables and sauce while fish is resting.
After fish marinade time is complete, heat pan and fry the fish in olive oil for 4minutes each side.
Heat a frying pan slightly and add butter. Place the vegetables in the pan for 2 minutes and add seasoning.
Serve and present as desired.
__________________________________________________________________
Kagi Maldives Spa Island's Tuna Curry Don Riha Recipe
Ingredients (serves 4)
600g Tuna loin cut into 3 cm Chunks
1 teaspoon turmeric
1½ tablespoon olive oil
10 curry leaves
1 medium onion, chopped finely
1 or 2 fresh chili, sliced
2 cloves garlic, sliced finely
1 teaspoon finely chopped fresh ginger
2 tomatoes, sliced in cubes
2 cups coconut milk
1/4 cup fresh tamarind liquid (80g)
50 g fresh coriander chopped
Salt
Curry blend
60g fresh coconut ground
2 tablespoons basmati rice
1 small stick cinnamon
3 cardamom seeds
4 dried chilies
1 teaspoon ground turmeric
1 teaspoon fennel seeds
2 teaspoon coriander seeds
2 teaspoon cumin seeds
2 teaspoon black pepper corn
200 ml Water
Method
Marinade the tuna with 1 teaspoon turmeric and a little bit of salt for half an hour.
For the curry blend, roast the rice in a pan until lightly golden, add the cinnamon, cardamom, dry chilies, pepper, fennel, cumin and coriander seeds and roast until you start to smell the delicious aromas, then add the ground coconut and turmeric and roast it, while stirring continuously until everything is nice and golden. Add the water and place the mixture into a blender to create a curry paste.
Heat a frying pan with cooking oil at a medium heat and fry the curry leaves, onion, garlic, chili and ginger until golden.
Add the tuna with the curry paste and braise it until the meat pores are closed, then add the tomatoes and cover the pan. Cook on a low heat for about 8 minutes.
Once the tuna is tender, add the coconut milk, add the tamarind liquid, season with salt to your liking and bring it to boil again.
Sprinkle the Curry with fresh coriander. Serve the curry hot with boiled rice and other vegetable curries for a sumptuous meal.
​Discover The Perfect Pizza from Wilderness Safaris Mombo Camp
Wilderness Safaris Executive Chef Tonderai Chipfupi has shared the famous pizza recipe live from Mombo camp in Botswana. Watch the video tutorial and be transported back to your time in Africa through the comforting taste of pizza.
#IDreamOfAfrica
Watch the video tutorial here.
See images of Mombo Camp here.
Have the ingredients below ready, so you can make the pizza alongside Chef Tonderai.
Dough Ingredients:
3/4 cup warm water (105°F to 115°F)
1 envelope active dry yeast
2 cups (or more) all-purpose flour
1 teaspoon sugar
3/4 teaspoon salt
3 tablespoons olive oil
Napolitano Sauce Ingredients:
1kg whole peeled tomatoes
25ml oil
100g onion
25g garlic
5g basil
5g thyme
5g oregano
5g parsley
Toppings:
3 smoked or grilled chicken breasts, diced
250 g bacon – small pieces, fried
1 punnet of sliced mushrooms
750 g grated mozzarella
___________________________________________________________
Transport Yourself to the shores of the Indian Ocean with JW Marriott Maldives Resort & Spa's Smoked Tuna Mas huni and Roshi Flatbread
Mas huni is a typical Maldivian breakfast, composed of tuna, onion, coconut, and chili. All ingredients are finely chopped and mixed with the grated coconut. This dish is usually eaten with freshly baked Roshi flatbread. Roshis are like Indian rotis, except they're made with all purpose flour instead of wholewheat flour.
Ingredients
For the Mas huni
1 cup smoked tuna – diced or sliced (substitute 1 can of tuna chunks)
1 cup coconut – scraped or grated
1 scotch bonnet finely chopped
½ cup finely sliced onion
½ cup lemon juice
Salt to taste
For the Roshi flatbread
3 cups all-purpose flour
½ cup vegetable oil
1 tsp salt
1 cups hot (just boiled water)
Method
For the Mas huni
Dice the onions, and scotch bonnet with the lemon juice and salt.
Add the tuna and mix well.
Mix in the coconut.
Serve with roshi.
For the Roshi
Mix all the ingredients then add warm water gradually, kneading until you have a dry, smooth dough. OR put all ingredients in a food processor and knead with the dough hook for about 2 minutes. Take out the dough and knead it a little by hand, mixing in little pieces of dough that did not combine.
Break the finished dough into golf ball sized pieces.
Smooth the balls using your hands.
Dust each ball with flour and using a rolling pin spread evenly into circles that are about 6 -7 inches in diameter.
Heat a shallow frying pan, place each roshi on the pan and flip using a flat ladle until both sides are cooked to your preference.
NINE ELMS No.18. The first ever non-alcoholic drink designed to complement good food, NINE ELMS No.18 provides an intriguingly complex taste profile which both drinkers and non-drinkers alike can enjoy. Its versatility makes it perfect for concocting a range of delicious and sophisticated non-alcoholic cocktails.
The NINE ELMS Sangria recipe involves all the classic favoured elements of the original along with lighter, summer fruits including watermelon and peaches. Ginger ale, as well as a hint of cinnamon and star anise, add flavour and warmth for the perfect balance of sweetness and spice.
Alternatively, quench your thirst and keep yourself cool in the heat with the NINE ELMS Non-Alcoholic Frosé recipe. Quick and easy, the flavour of NINE ELMS No.18 takes centre stage here, with a little enhanced sweetness and fruity flavour from fresh strawberries to embody the flavour of a classic British summertime –an inclusive spin on one of this Summer's hottest drinks trends.
Sangria
Ingredients
A bottle of NINE ELMS No.18
Ripe strawberries sliced into thin rounds across the core (at least 12, but use as many as you like)
Watermelon (seedless or seeds removed) sliced into small wedges about 5mm thick
A juicy peach or nectarine – stone removed and thinly sliced
A cinnamon quill
2 Star Anise
An Orange, for twisting
Dry Ginger Ale – Fevertree Light is perfect
Method
Place the strawberries, watermelon and peach in a large bowl.
Add the cinnamon and star anise.
Pour in the whole bottle of NINE ELMS No.18.
Twist a strip of orange peel over the bowl and drop its fragrant loveliness into the concoction.
Pop the bowl in the fridge to steep for at least an hour, but better left for up to 4 hours.
Decant the liquid and fruit into a large jug, filling to just over half-way.
Top with dry ginger ale.
Stir gently, then serve in punch or wine glasses, making sure to include a good amount of the steeped fruit.
Garnish with another orange twist.
Non-Alcoholic Frosé
Ingredients
1 bottle of NINE ELMS No.18
I punnet of strawberries
2 teaspoons of sugar or sugar syrup
Method
Add the strawberries, NINE ELMS No.18, (and sugar or syrup if using) to a blender, and blend until smooth.
Fill a shallow and wide pan with the drink and place in the freezer for 1 hour, break up the ice with a fork and refreeze for another 20 minutes – 1 hour if necessary.
Break up the ice crystals again with a fork until it has a slushy/granita consistency, and spoon into a glass.
Garnish with a fresh strawberry.
Summer Recipes from ChicP Founder Hannah McCollum
NETTLE, LEMON & RHUBARB CAKE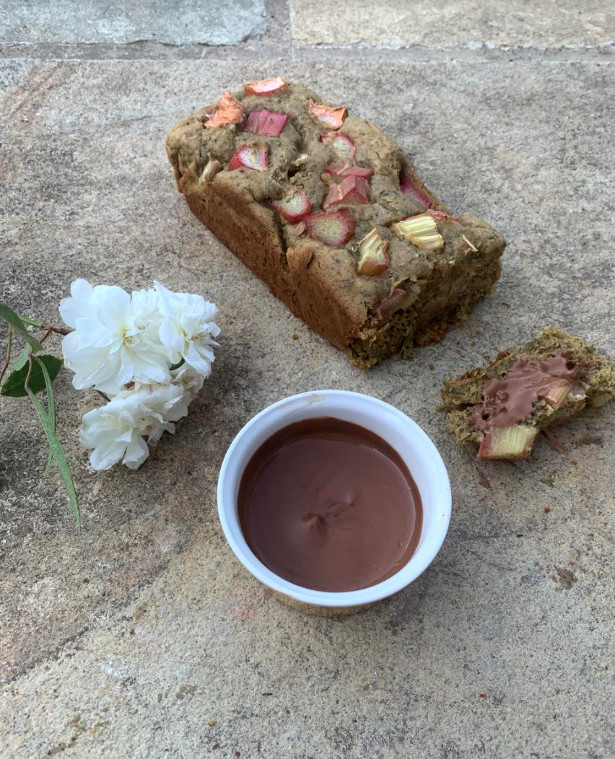 100g self raising flour (I used GF)
100g ground almonds
150g nettles, with stem (boiled)
150g dark muscovado sugar or 2 tbs date syrup
100ml olive oil (0r 200g butter)
2 eggs (or 2 large tbs apple sauce)
1 lemon – juice and zest
100g rhubarb
1 tsp baking powder
This cake can also be made savoury if you want to have it with cheese or any dip (nettle hummus is delicious with this). Just leave out the sugar or add a small dsp to still give it some sweetness, especially for cheese.
Pick the nettles with gloves, keep the top 10cm of the stem (they are just as nutritional), wash them and add them to a saucepan. Boil for 2-5 minutes. Keep the nettle juice for a stock for another recipe and leave the nettles to cool separately.
Mix the flour, almonds, baking powder, sugar, olive oil in a blender. Follow with the nettles, then the eggs and lemon zest. When thoroughly mixed and a nice green colour, pour into the prepared tin. Chop the rhubarb into chunks and place on top of the mixture. Bake for 35 minutes at 180c or until the cake is cooked through.
Take out the tin and make some pricks with a fork. Pour the lemon juice over the cake and leave to cool.
ROAST CURRIED BEETROOT LEAF TOPPED WITH BEETROOT LEAF HUMMUS
Serves 4 as a side
Ingredients:
2 large handfuls beetroot leaf, washed
1 tbsp olive oil
1 dsp chilli flakes
1 dsp curry powder
1 tsp sea salt
HUMMUS
2 large handfuls beetroot leaf, washed
1 tbsp olive oil
1 tsp chilli flakes
1 clove garlic
1 tbs tahini
50g chickpeas
1 tsp sea salt
1 tbsp cold water or chickpea water
Blend all the ingredients together until smooth
Spread the beetroot leaf on a baking tray and top with all the other ingredients. Roast at 180c for 10 minutes until nice and crispy.
While the beetroots are cooking
Eat straight away with the beetroot leaf quiche and hummus.
SEASONAL SWEETCORN AND RICOTTA FRITTERS WITH RED THAI PASTE
250g sweetcorn or one large can
200g ricotta
1 tsp red thai paste (make it if you can or I use @mypopupkitchen)
100g flour
2 eggs
1 large handful parsley
S&P
1 tbsp oil for frying
Start by putting all the ingredients in a blender and blend well. You can also do this in a bowl.
Heat the oil in a pan and when nice and hot, add a spoonful of the mix to the pan, followed by enough to fill the pan. Cook on either side until nice and brown (usually 3-5 minutes).
Delicious served straight away with a homemade parsley dip and a big green salad.
With ice cream month taking over the UK and home baking becoming increasingly popular here are someideas from AO Life!
Cuisinart ICE100BCU Ice Cream Maker – Silver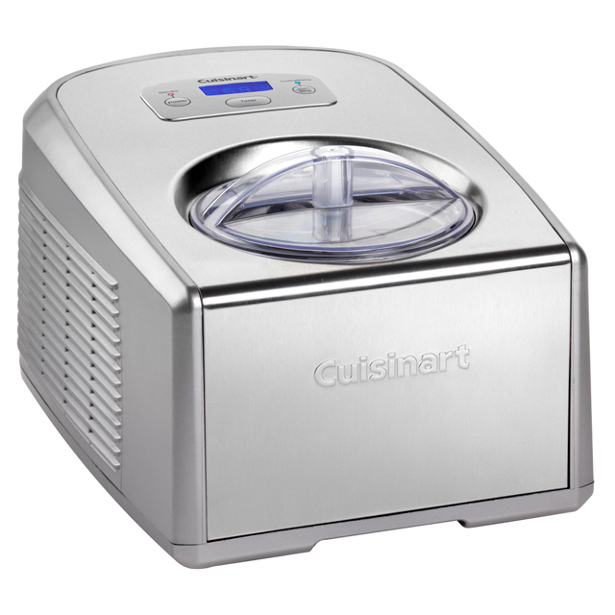 Current price £250
Key Features
Has a 1.5 litre capacity
Window lets you check on your ice cream as it churns
Special designed paddle gives the perfect consistency
Handy timer lets you know when your ice cream is ready
Clever tech keeps the bowl cool – no need to pre-freeze
Cuisinart ICE31U Style Collection Dessert maker – Pistachio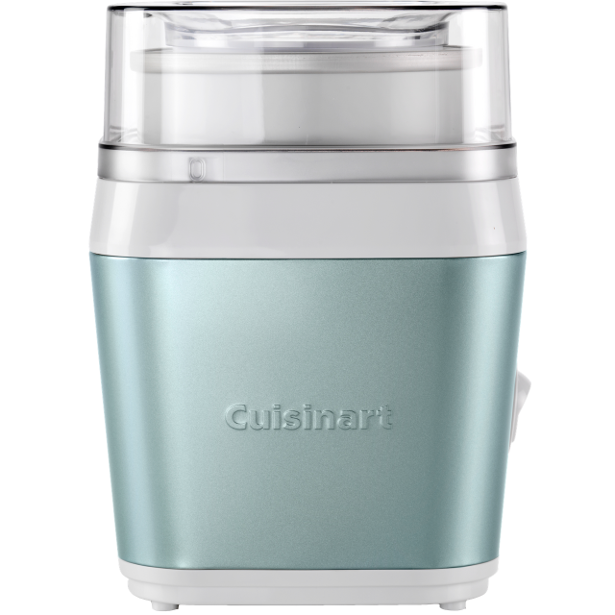 Current price £120
Key Features
Has a 1.4 litre capacity
Window lets you check on your ice cream as it churns
Special designed paddle gives the perfect consistency
Sorbet paddle turns fresh fruit into a frozen dessert
Components are dishwasher safe for easy cleaning
INTRODUCING HUN: THE CELEBRITY FAVOURITE WINE IN A CAN
Having launched in May 2020, the 'great wine in a can' HUN has already won a legion of celebrity fans including Amanda Holden, Natalie Pinkham, Zoe Hardman, Holly and Phil, and Love Island favourites, Wes Nelson and Josh Denzel.
A HUN that everyone can love. It is the first canned wine to be both vegan and fairtrade and it has partnered with renowned South African vineyards to produce a wine that's as easy to drink as its packaging is as easy to recycle.
It's convenient packaging makes it the ideal wine to enjoy when meeting your favourite hun from another household in the park.
This summer there's a new ultimate HUN on the scene and this one is here to fulfill all your summer sipping needs.
'Great Wine In A Can' HUN the first canned wine to be both fairtrade and vegan. And don't be fooled by its cheeky moniker. This wine means serious business when it comes to the taste department, with three premium products that include a pale Rosé, Sauvignon Blanc and a low calorie sparkling Rosé with just 69 calories per can. Only the best for our HUNs!
Having just launched in May, HUN's great taste, eco-credentials and cheeky branding have already won over celebrity fans including Amanda Holden, Natalie Pinkham, Holly and Phil, presenter Zoe Hardman, pro-golfer Annabel Dimmock and Love Island's Josh Denzel and Wes Nelson.
Amanda Holden took to Instagram Stories to sing her praises for HUN "I have got a vegan wine on the go which is brand new called Hun. It tastes delicious and it's only 69 calories. This is not an ad!". Natalie Pinkham described HUN as her #lockdown revelation, whilst Wes and Josh sung their praises for HUN from the rooftops – literally!
On This Morning HUN even managed to win over Holly who usually isn't a rosé fan, whilst Phil exclaimed HUN to be his favourite of the canned wine selection, while pulling an excellent HUN face
Designed to be enjoyed on the go, it's convenient packaging makes it the perfect drink to enjoy in the park or during picnics under the new lightened lockdown rules this summer.
HUN is available from Tesco stores nationwide and Tesco.com and can be ordered online from www.drinkhun.com
Here come the HUNs! Meet the new trio of canned wines on everyone's lips
HUNWines SA Pale Rosé 2019 12.5% ABV (250ml) RRP: £3
ROSÉ HUN? Yassss HUN. The wine gods have delivered a sexy, cheeky, all inclusive brand that gives all of the luxurious liquid rosé gold your heart desires. What else would you expect? Live your best life this summer with the HUN Rosé.
Tasting Notes: A premium province-style Rosé from the heart of South Africa. With a pale orange-tinted pink colour, it is assertive yet complex on the palate with fragrant flavours of grapefruit & strawberries. It has a touch of acidity to finish.
HUNWines SA Sparkling Rose 2019 5.5% ABV (250ml) RRP: £2.5
Sparkling Rosé? 69 calories per serve? 5.5% alcohol? U ok HUN? Yassssss. You can live your best life sipping on our sparkling HUN Rosé totally guilt free. Sitting in the garden in the sun at midday sipping on a HUN because you left WFH early and don't plan on logging on again? We'd expect nothing less HUN.
Tasting Notes: It has beautifully fresh, red grape aromas with sweet and breezy orchard fruit flavours. A delicious 'frizzante' in style Moscato Rosé with none of the guilt.
HUNWines SA Sauvignon Blanc 2019 12.5% ABV (250ml) RRP: £3
Ok HUN, let's talk Savvy B with a seriously sexy white and gold can. Live your best life, make no excuses (until you miss that Friday morning Zoom meeting and the boss asks if you were up late?) No, HUN. I was in bed by 9pm, but my sister's housemate's dog chewed through the WIFI router and forgot to pay my phone bill so couldn't hotspot. My bad! It will NEVER happen again…until next week HUN.
Tasting Notes: A vibrant, crisp and fresh New Zealand style Sauvignon Blanc, which presents a brilliant green tint in colour. Green pepper and grassy aromas support a wonderfully balanced palette, coupled with a crisp acidity on the finish.
For more information visit www.drinkhun.co.uk or follow @drinkhunofficial
SHAKE UP THE PIÑA COLADA WITH ALUNA COCONUT
From poolside to Quarantini – Aluna Coconut has shaken up the iconic holiday cocktail, the Piña Colada, so it can easily be enjoyed at home this summer
Out with the heavy creams, sticky liqueurs and excess sugar, the 'Aluna Colada' is a lighter take on the indulgent rum cocktail
If you like Piña Coladas you will have no doubt been looking forward to enjoying the iconic and indulgent cocktail on your summer holiday, but fear not, because the team at Aluna Coconut have shaken up the tropical tipple so it can easily be recreated at home or for a beach trip or picnic in the park.
The Aluna Colada is a lighter take on the classic summer cocktail, ensuring coconut rum fans can still enjoy their favourite guilty pleasure – without the guilt. By switching out the coconut cream for refreshing Vita Coco coconut water, the Aluna Colada serves up a fraction of the sugar and calories without any compromise on flavour.
With just four ingredients that can easily be bought at your local supermarket, the Aluna Colada is easy to make at home and can be shaken up in less than X minutes – making it the perfect choice for garden sipping or your next virtual Zoom party.
The Aluna Colada
The classic Piña Colada reimagined for the more mindful drinker. Lower in sugar, higher in flavour and perfect in the sunshine or beneath a beautiful coconut moon.
50ml Aluna Coconut
50ml Vita Coco Coconut Water
100ml Pineapple Juice
Juice of half a lime
Add all the ingredients to your shaker, add a handful of ice and shake, shake, shake it baby! Strain into a glass filled with fresh ice (made with coconut water if you really want to show off). Garnish with a slice of lime and a planet friendly straw
Pro tip: If you fancy some bubbles, try floating some ginger ale on the top.
Aluna Coconut is a sublime blend of rums from Guatemala and the Caribbean with natural toasted coconut and pure coconut water. Lower in sugar, higher in natural coconut flavour, it is a delicious, more contemporary coconut rum.
Enjoy Aluna Coconut sipped neat over ice, in cocktails or with a good mixer.
The multi-award winning Aluna Coconut is also suitable for vegan and gluten free diets.
Available from Waitrose and Ocado RRP £24.95 (70cl).
For more information visit www.alunacoconut.com or follow on Instagram @alunacoconut
Maple from Canada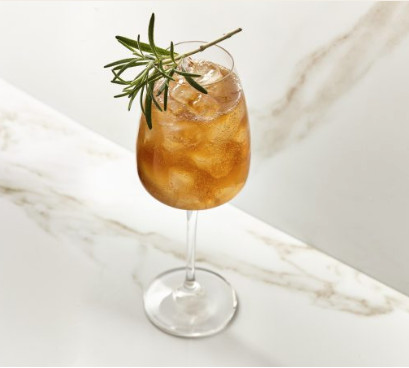 Maple Spritz Cocktail: Easy to make and perfect for sipping outdoors, the sweet maple syrup goes brilliantly with with dry gin and Amaro. See the full recipe at >> www.maplefromcanada.co.uk/recipes/maple-spritz-cocktail/
Nim's Infusions: garnishes fit for a Royal Garden Party!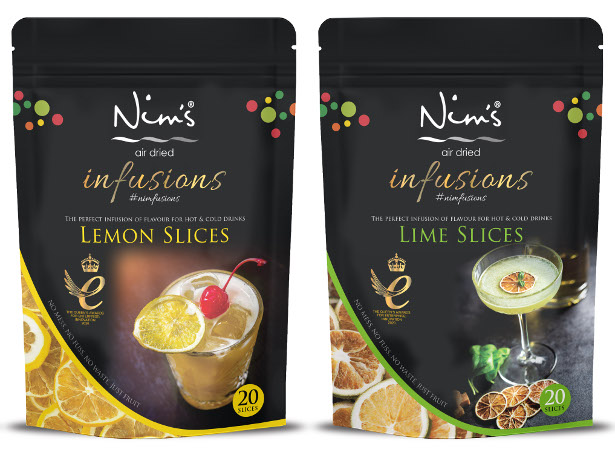 FACEBOOK | INSTAGRAM | PINTEREST | TWITTER
Nim's, the air-dried fruit crisp producer that was recently awarded a Queen's Award for Innovation, has launched Nim's Infusions, its range of air-dried citrus slices, in smart resealable pouches fit for any Royal Garden Party.
Says Nim's founder, Nimisha Raja: "The new Infusions range conveys the premium quality of this sustainable convenience product, which enables everyone to easily create fabulous cocktails from their home bar that look and taste amazing. We'd like to think that Her Majesty would give them a thumbs up!"
For summer garden party hosts looking to put the zing in their cocktails, mocktails and teas, there's a variety of garnishes including lemon, lime, orange, ruby grapefruit and cucumber.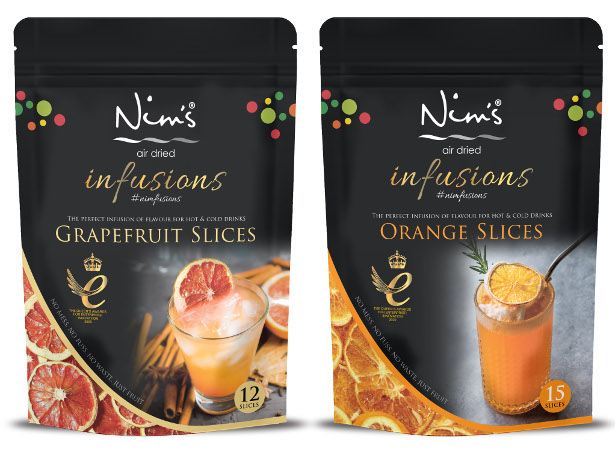 Nim's Infusions rehydrate in liquid and as they are air dried, a process which intensifies the taste of the fruits, they add bold natural flavour and aroma to any drink.
Switching to dried fruits rather than buying in and preparing fresh garnish, will save time and money and help reduce the amount of food waste created. Nim's infusions have a shelf life of up to 9 months. The recommended serving is 1 or 2 slices per drink.
The Infusions range comprises:
· Lemon Infusions Slices – perfect in a G&T or vodka cocktail
· Lime Infusions Slices – adds some zing in Margaritas or with rum
· Orange Infusions Slices – perfect with bourbon, Pimms or Cointreau
· Ruby Grapefruit Infusions Slices – try these in a grapefruit Negroni or G&T
· Cucumber Infusions Slices – brilliant with G&T and Pimms
· Kumquat Infusions – the taste of summer, great with G&T
Individual packs of 12 to 20 slices are available at www.nimsfruitcrisps.com priced from £3.95 per pack.
Coming soon….Nim's also has a range of botanicals to enhance your drinks offering. From rose buds to juniper, pink peppercorns to cardamom. Whatever your garnish needs, Nim's has got you covered. Innovation is a big part of its business too, so if you want to challenge them to create a garnish for you, get in touch.