Introducing Kodak Pixpro's 4KVR360 – 4K, VR and 360 degree shots >> www.pixpro.world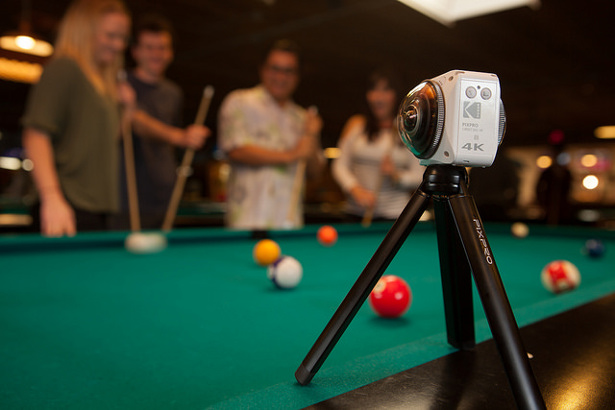 TWITTER | INSTAGRAM | FACEBOOK | YOUTUBE 
The Kodak Pixpro 4KVR360 adopts a minimalist approach and is compact and ultra-portable, with two fixed focus lenses housed by a futuristic camera body.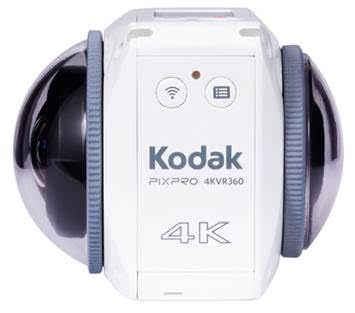 ​
Designed to capture every detail in interactive images and videos, taken from every angle, the compact and ultra-portable 4KVR360 camera from Kodak Pixpro has not one but two powerful 20 megapixel CMOS sensors, making it even easier to capture more detail within a full 360 degree shot.
The 4KVR360 also has three unique multi-view angles to give users the flexibility to frame, capture and shoot their adventures any way they choose. Each curved lens is designed to work in tandem to capture a full 360 degree 8 million plus pixel resolution video or image at [1:1] aspect ratio, with crystal clear quality.
Using Kodak Pixpro's complimentary Remote View App for iOS™ and ANDROID™ you can also see exactly what you're recording via your smart device and are able to upload your 360° photos and videos to your social media accounts while on the go – ideal for capturing all of your outdoor adventures at any time of the year.
There is even the option to trim and edit your shots – photos and videos – using the complimentary Pixpro Desktop Editing and Stitching software, which can be easily installed on Mac or PC.
Wireless is also an option as the 4KVR360 has Wi-Fi®, Bluetooth® and NFC® connection capabilities.
​
It shoots for up to 2 hours on a single charge so is ideal for the capturing all the fun and festivities of Christmas and New Year in crystal clear quality from every angle, for sharing easily via social media.
Available from Currys for £399.99.
|