COPPER RIVET DISTILLERY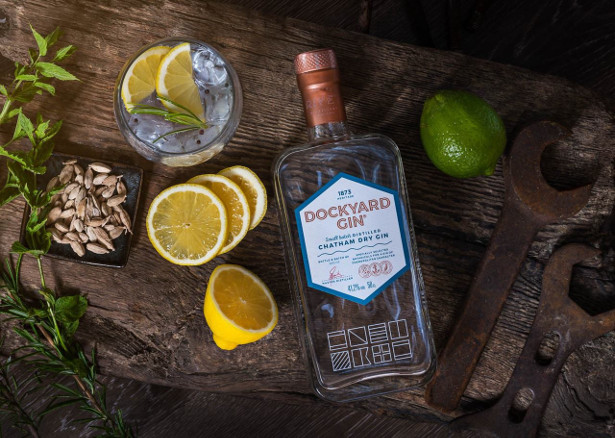 INSTAGRAM | TWITTER | FACEBOOK
Copper Rivet Distillery has been set up by the Russell family, Bob and his sons Matthew and Stephen. Their dream was to establish their own distillery in the Chatham area, and this they have done, renovating Pumphouse no.5 to make it into the stunning distillery it is today.
The Copper Rivet Distillery sits proudly on the banks of the River Medway in Chatham's Historic Dockyard in Kent. Inland lies the yachting marina, which was once the Dockyard's Basin Number 1.
Their first gin was distilled in October 2016, and the range now includes Dockyard Gin, Vela Vodka and a cask finished grain spirit called Son of a Gun. In addition, Masthouse Whiskies will be available from 2020, once they have matured in barrel.
Vela Vodka has already received the top 'double gold' award at the San Francisco World Spirits Awards 2017. Vela vodka is lightly charcoal filtered to give a creamy mouthfeel, a delicate palate with a balance of cereal and fruit flavours, and a hint of pink peppercorn.
Chatham was home to Britain's first royal dockyard, building ships ranging from Nelson's Victory to the submarines of the 1960s. The distillery lies across the river from Upnor Castle, built by Queen Elizabeth 1st in 1559-1567 to protect her navy. It was later the largest gunpowder store in the country.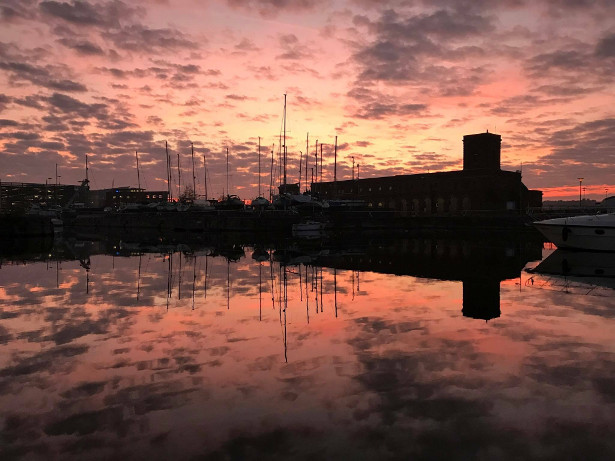 The Distillery is housed in a Victorian Pumphouse, which previously controlled the water flows into, and out of, the dry docks. Now, the elegant pink brick structure is home to three stills, all designed in-house and made by local, skilled craftsmen. The area has long been renowned for using its metal skills to craft world-class ships. The Gin still is called Janet; the Column still is called Joyce; and the Whisky still is called Sandy, all named after Matthew and Stephen Russell's grandparents.
Copper Rivet distillery is one of only six UK distilleries to control the whole distillation process from grain to glass. Its water is filtered through chalk beds to let Copper Rivet's yeast deliver its signature fruity esters during fermentation. Local farmers, the Burdens, have been contracted to grow and harvest the holy trinity of cereals which the distillery uses for its spirits – wheat, barley and rye. These are grown on the nearby Isle of Sheppey and by Canterbury. All three spirits are crafted in small batches of 900 bottles.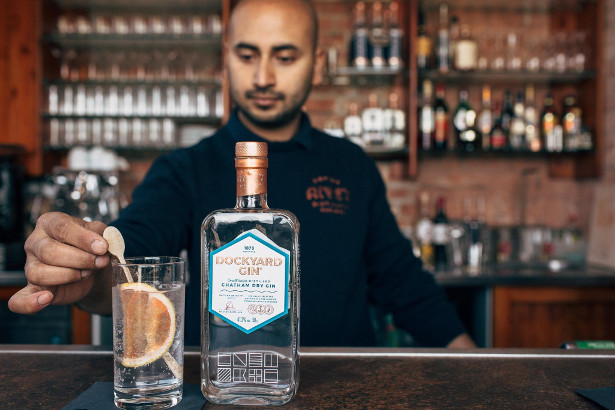 Head distiller, Abhi Banik, was trained at Heriot Watt University in Edinburgh. With the Russells, he is laying the foundations of a distilling centre of excellence in Chatham and already has two assistant distillers – both local Engineering graduates. Abhi has designed for the family a unique gin still, which allows them to conduct two infusion techniques simultaneously … uniquely one rectification, but two infusions. A patent has been applied for. The family has also designed stills, again made locally, for their vodka and whisky.
Stephen Russell comments: "We named the distillery after the copper rivet found at the building before it became a distillery. We felt that it had a resonance to the industrial history of the Dockyard and the ingenuity and historic bravery of the area. The new distillery aims to revive this local spirit with our collection of 'firsts' and 'onlys'. Think about what an incredible piece of engineering a rivet is and the craft it took to produce them with consistency. This is an inspiration to us. And of course there's a great connection to the Copper stills we use in distillation."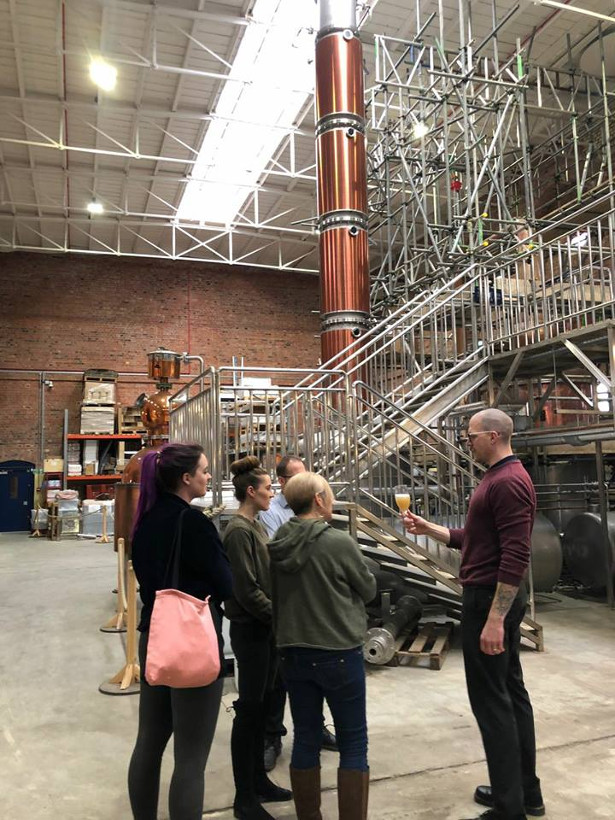 Copper Rivet distillery from its outset has conducted one hour tours of the distillery, taking place on Wednesdays to Sundays. Since October, over 3000 guests have already toured the distillery.
The southern half of the Pumphouse contains the distillery; and the northern half houses the historic pump, and McGuire's Fine Foods delicatessen and cafe. In future years, there are plans for a fine dining restaurant as well.
Times may change, but the Dockyard Spirit endures. There is much more to come …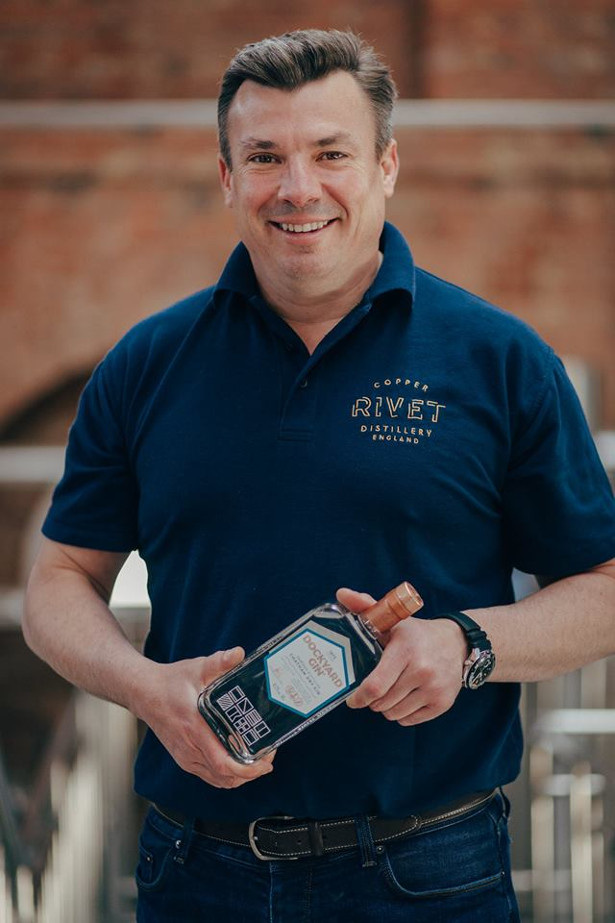 Stockist Information:
Dockyard Gin (50cl) – Whisky Exchange £28.45; Master of Malt £28.45; www.copperrivetdistillery.com £28.50
Vela Vodka (50cl) – Whisky Exchange £27.45; Master of Malt £27.45; www.copperrivetdistillery.com £27.50
Son of a Gun (50cl) – Whisky Exchange £31.25; Master of Malt £31.25; www.copperrivetdistillery.com £38.95
Chatham Timelines:
1606 The first Union Flag (as seen on the distillery's bottle necks) is sewn at Chatham.
1667 Gin's precursor, Genever, probably arrives on UK shores. That's what started gin.
1667 The Dutch Navy successfully ransacks Chatham Dockyard after breaching British lines outside the Pumphouse in the second Anglo-Dutch War.
1765 HMS Victory launched from Chatham Dockyard into Gillingham Waters. HMS Victory is a 104-gun first-rate ship of the line launched in 1765 from the Chatham Dockyard, best known as Lord Nelson's flagship at the Battle of Trafalgar in 1805.
1873 Pumphouse No. 5 is completed as a military building, draining four dry docks.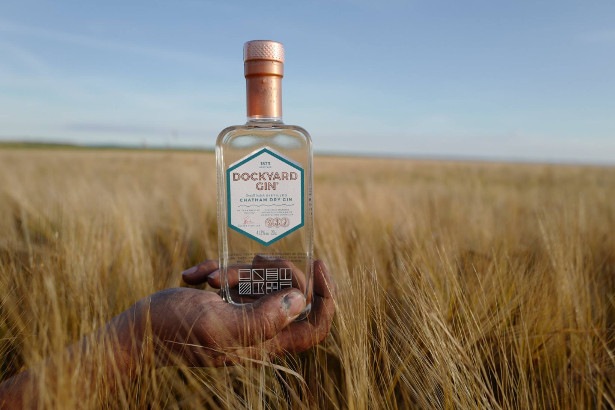 1880 Queen Victoria gifts the Resolute Desk, fashioned in Chatham Dockyard, to President Rutherford B Hayes. The desk is a large, nineteenth-century partners' desk mostly chosen by presidents of the United States for use in the White House Oval Office. It was built from the timbers of the British Arctic exploration ship Resolute.
1908 C17, the first submarine to be built at Chatham, was launched. HMS C17 was one of 38 C-class submarines. The boat survived World War One, but was sold for scrap in 1919.
1979 Bob Russell opens Topper's, Medway's first wine bar, in Rainham. Shortly afterwards, he began importing, supplying and selling wines, beers and spirits .
1984 Pumphouse no. 5 closes – on 31st March 1984, Chatham Dockyard closed.
80 acres, comprising the 18th century Georgian core of the site was transferred to the Chatham Historic Dockyard Trust and is now a living museum.
2005 The Russell family begin planning to build a distillery to craft spirits from scratch and owning the entire process from end to end.
2011 The family began drawing together all of their research and experience and started to have serious discussions about establishing a distillery
2012 Stephen Russell meets Head Distiller, Abhi, at the International Centre for Brewing and Distilling in Edinburgh where he was teaching brewing and distilling post graduates, and our journey to create distinctive spirits really began.
2015 Matthew Russell spots Pumphouse no.5 when visiting Upnor Castle directly across the river. Over the years, several different locations were considered to set up the distillery, but the family's heart was set on establishing a distillery in Kent, in Medway. Copper Rivet Distillery found its home.
2016 The doors open.
2017 Copper Rivet's Vela Vodka wins top award at the San Francisco World Spirits competition.
2017 onwards The future beckons…