John Adams GLOWPAD light-up drawing pad: Bring your pictures to life! Ages 4+
See more & buy @ :- https://www.amazon.co.uk/John-Adams-10447-GLOWPAD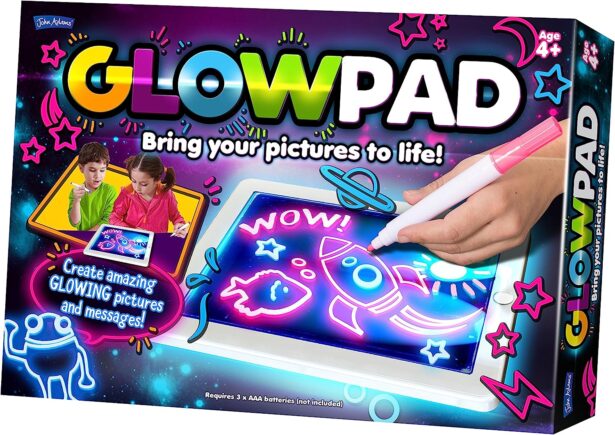 Draw on the pad with the special chalk pens.
Press the button to light-up your creation!
With 8 LED settings, including colour-changing lightshow
GLOWPAD from John Adams
Bring your pictures to life!
GLOWPAD is a great way to bring your pictures to life!
Create amazing glowing pictures and messages that light up, to show off to your friends and family. Draw using the neon marker pens, then switch on and watch LED lights make the ink glow.
Choose from 8 light-up modes, including changing lightshow to give your pictures a different look and feel.
Want to create a new design? Simply wipe the GLOWPAD clean and start again!
Bring your pictures to life!
Draw on the pad with the special neon pens
Press the button to light-up your creation!
With 8 LED settings, including colour-changing lightshow
For ages 4+
Requires 3 x AAA batteries (not included)