LinxApp officially launches – helping you stay connected to your friends and family no matter where you are.
The new cool messaging app that allows you to chat to family and friends in instant real time and expand your friendship group
Meet LinxApp the new messaging platform set to change the way we all communicate, from how we send messages, to how we can meet and talk to new people.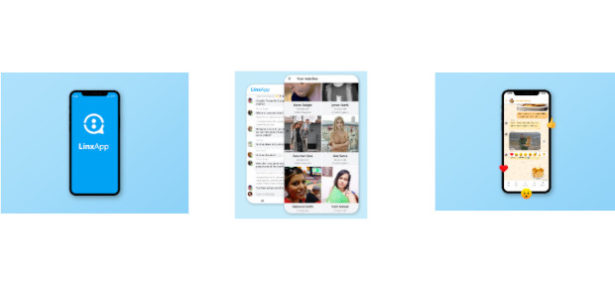 Let's face it, we all are feeling a little lonely of late and even if we want to chat to our friends or family it can only be via virtual means. Often, we are then worried about data sharing, especially with the latest news about WhatsApp's controversial changes to its privacy policy. We worry about privacy and sharing too much information online or getting bombarded with ads. We have all been there, the feeling that big brother is watching.
LinxApp, which puts privacy at its heart, is the new fun and engaging way to communicate, with friends and family and even meet new people, anywhere in the world. This free instant messaging app, with a built-in chatroom, promises to be ad free and will not share your data with any third parties. What's more, LinxApp doesn't read or scan conversations, meaning your private conversations and messages will stay private!
With a whole host of cool functions, that make the conversation as realistic as possible, LinxApp takes communicating with your friends, family and beyond to a whole new level. Upgrade your conversations with GIFS, stickers and emojis, or if you're short on time, react to messages with a choice of 8 reaction emojis or send a quick voice note making conversations quick, easy and realistic. So if your friend sends you something hilarious but you are busy on yet another zoom call or dealing with the kids, then you can reply letting them know with one button.
Not only can you instantly message people in real time, leave voice messages and host and join group chats but with LinxApp you can also meet people all over the world. The free chatroom feature in LinxApp, is just one of the amazing ways you can expand your social circle even in lockdown. You can either enter with your real name and photo or with a nickname and fun picture, to meet and communicate with anyone from anywhere at any time. Simply filter by age, location, and gender to find new friends across the pond or who might be local to you. And being a platform that puts privacy at the forefront, LinxApp will protect your personal information, even in one-on-one conversations until you wish to add them as a connection to your private network. The chatroom feature can also be disabled or enabled at any time.
Recent research shows that throughout the pandemic, 18–30-year-olds are the loneliest demographic. Used to being out and about and social butterflies, the pandemic has resulted in young people being affected most by the isolation. Therefore, LinxApp could not come at a better time. Allowing us all to connect with each other and make new friends, anywhere and everywhere.
The app is completely tailored to you, you can personalize every single aspect within a conversation, from background, text, replies, read receipts and more, making it completely personal.
If that is not enough to make you join the LinxApp revolution, LinxApp also separates saved messages into four separate tabs, in each conversation for easy viewing, from messages, photos, voice notes and web links. So, you will never have to hunt around to find that message, picture or link again!
For more information visit www.linxapp.com or download the app on the Google Play Store or Apple's App Store.