NEW LIMITED-EDITION PATTERNS AND COLOURS FOR THE ICONIC MICROPLANE® PREMIUM CLASSIC ZESTER
Microplane® is the pioneer of photo-etched graters, none more famous than the iconic, long-lasting,
rasp-like Premium Classic Zester used, and loved, by professional chefs, TV cookery show
presenters and passionate home cooks around the world.
In 1994, a Canadian housewife made an orange cake. Out of frustration with her old grater, she
commandeered one of her husband's favourite woodworking tools from his workshop. The blade slid
effortlessly across the orange and the zest fell like snowflakes and didn't remove the bitter pith. This
discovery laid the foundation for the creation of Microplane® kitchen graters.
The high-performance Premium Classic Zester featuring 400 micro-teeth is perfect for all citrus fruits,
parmesan and other hard cheese, chocolate, ginger, garlic and nutmeg. With no pressure, the food
slides quickly and easily from the blade without tearing, shredding or blocking to produce perfect results
every time. The protective case enables safe storage in a drawer. Anti-Scratch end caps protect the
worktop, plate or board when grating horizontally and provide better stability when grating vertically
over pans or bowls. The Zester is dishwasher safe, although rinsing under water is usually enough
and recommended.Adding yet more style to the legendary zester, Microplane® have introduced a
limited-edition range of handles to add style and excitement to every kitchen décor and design.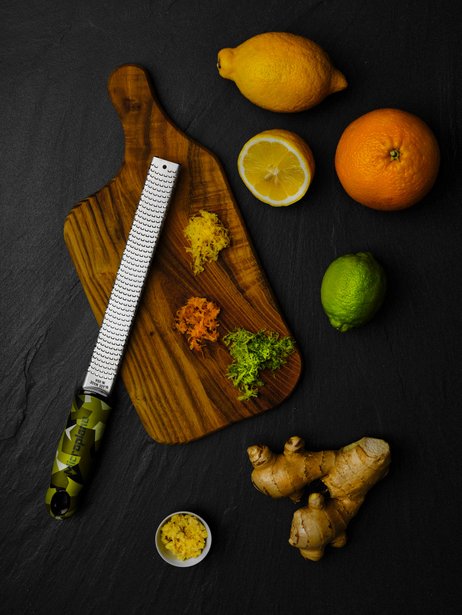 NEW Liberty, Leopard and Camouflage bring individuality and fun. NEW neon Blue, Yellow and
Pink delight those nostalgic for the 80s and lovers of bright, punchy colours.
Globally recognized as the grater/blade specialist, Microplane® is the original manufacturer to apply
photo-etching technology to graters, an innovative process specifically designed to create ultra-sharp
cutting edges. Made in the USA, the tiny teeth behave like extremely sharp knives to cut ingredients
with precision rather than tearing or shredding like most stamped graters. The blade ensures that food
does not stick or block, but instead gently slides along the cutting surface to produce perfect results
every time, with no effort.
NEW Limited-Edition Patterns and Colours for the Microplane® Premium Classic Zester,
RRP £19.95, are available from hartsofstur.com
www.microplaneintl.com @microplaneintl #microplaneint