The 'Make Your Own Body Butter & Lip Balm kit' by Me-Time Therapies Geraldine McCullagh, really makes a wonderful Mother's day gift! >> www.me-time-therapy.co.uk
(10% of profits go to a medical centre in Ghana & Free delivery with amazon & amazon Prime.)
'Make Your Own Body Butter & Lip Balm kit'
Here are benefits of the kit –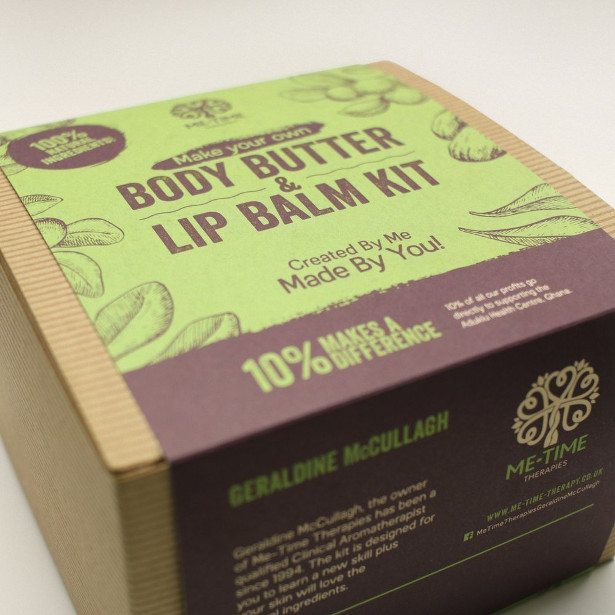 Learn how to make your own Lip Balms and also Body Butters with 100% natural ingredients – nut allergy free /chemical free/no mineral or palm oils
Suitable for Vegan gifts/ vegan skincare as no beeswax is used to make your Lip Balms or Body Butters
If you have sensitive skin or skin allergies, by making your own Body Butter, you can see that you are only using natural ingredients and the Body Butter is also fragrance-free.
Ethical – You can reuse/recycle the box, bottle and tins so you are cutting down on plastic wastage
Creative gift – a fun activity for mother and daughter to do together. They can both enjoy using the natural Lip Balms & Body Butters
Easy to make – Step by step instructions- inc. recipe cards and video tutorials for you
Fragrance-free. Options are provided to add Aromatherapy oils to personalise the Lip Balms and Body Butters.
10% of the profits of the 'Make Your Own Body Butter & Lip Balm Kit' will go towards buying more medical equipment and beds in a Medical Centre in Ghana.
Can be purchased on Amazon Prime – www.amazon.co.uk/Make-your-Body-Butter-Balm
Special offer for Mother's Day £20 instead of £22.50
Free delivery on Amazon and Amazon Prime