Market leader in food storage and hydration, Sistema®, introduces its first Ocean Bound Plastic range made from post-consumer recycled plastic.
Comprising two bottles and three snack and lunch storage solutions, the Ocean Bound Plastic range is made using 35% ocean bound plastic, 50% for the Revive bottle. Featuring two new designs to the Sistema® offering, the ReviveTM bottle and the Slide 'n' SnackTM , and a selection of some of Sistema's best-selling snack, lunch and drink bottle designs, including the SwiftTM bottle, RibbonTM Lunch with Mini BiteTM and Bento Cube with Yoghurt Pot.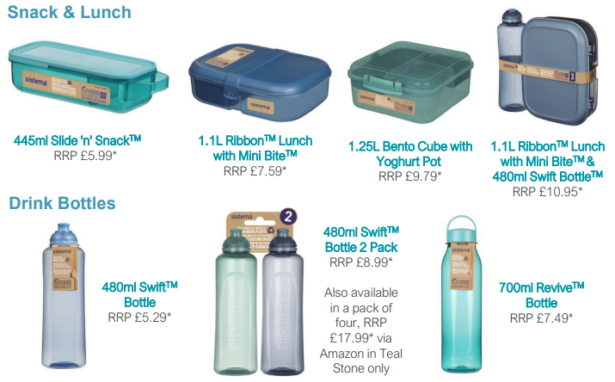 Generated within a 50km radius of coast lines, ocean bound plastic refers to plastic waste that has been improperly disposed of on land, shores, waterways and river areas, which poses a risk of polluting the
ocean. Plastic waste that is disposed of properly in landfills or organised dump sites is not categorised as ocean bound. It is currently estimated that ocean bound plastic generates 80% of plastic marine litter.
The new Ocean Bound Plastic range has been designed to help decrease plastic waste that presents this risk, as well as reduce the number of single-use bottles dumped into landfill. Like all Sistema® products, the new range is durable, reusable and is compliant with all food safety requirements and is BPA-free.
At the end of life, the Ocean Bound Plastic products can be recycled via Sistema's partnership with TerraCycle, global leader in recycling hard-to-recycle products.
Inspired by oceanic and natural hues, the Ocean Bound Plastic range is available in two tonal colours, Teal Stone and Mountain Blue. The full Ocean Bound Plastic range can be purchased instore and online at select
Sainsbury's and the SwiftTM Bottle and Bento Cube with Yoghurt Pot are available via Amazon.
For more information about the Sistema® Ocean Bound Plastic range, visit the Sistema® website, www.sistemaplastics.com/uk/sustainability, or Instagram, @sistema_uk.