"I just wanted some lovely slippers. Slippers that I could look and feel good in. That's it: the simple inspiration behind Shaffay Slippers.
To my mind, the perfect slippers are luxuriously soft but strong and lasting; beautifully made with high-quality materials.
Understated house shoes, with clean lines and in lovely colours, that effortlessly complement daywear, leisurewear, loungewear and sleepwear. They should add a bit of style to the everyday and offer an elegant solution to the old problem of what to wear on your feet when guests come for dinner.
I love slippers. I wear them all the time at home. As far as footwear-related qualifications go, that is my lot. While the idea might be simple, actually making real footwear, of course, turned out to be a lot more complicated. Nevertheless, creating my own slipper brand of elegant, timeless, warm women's slippers felt distinctly possible. I have spent much of my adult life in China and, in China, whatever it is you need, someone will be able to make it for you.
To learn more about Shaffay and follow our Slipper story, find us on Instagram @shaffay_co"
See more & buy @ :- https://shaffay.com/story/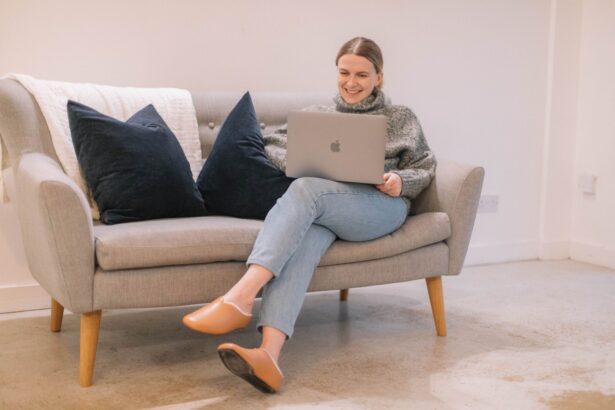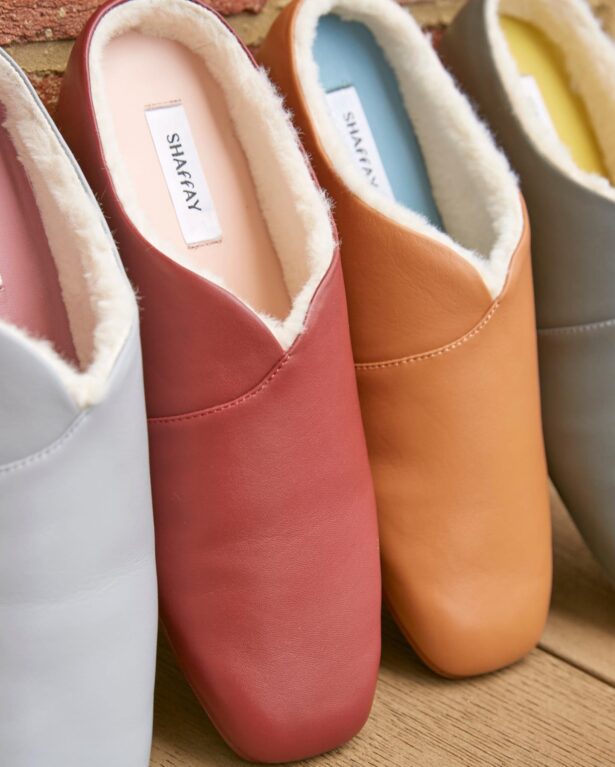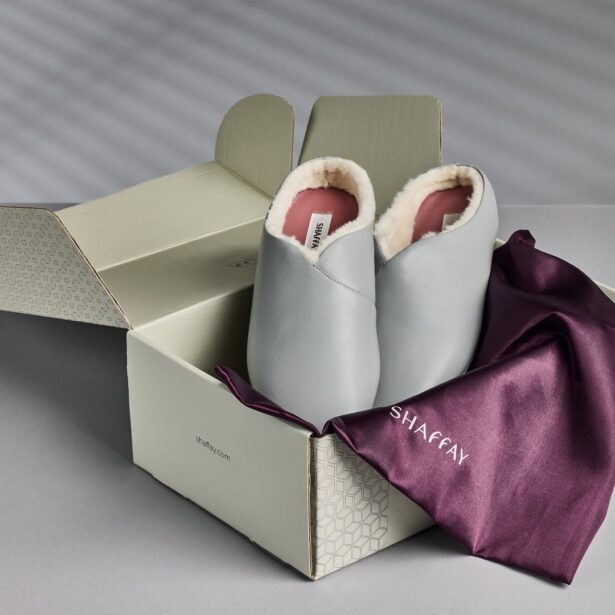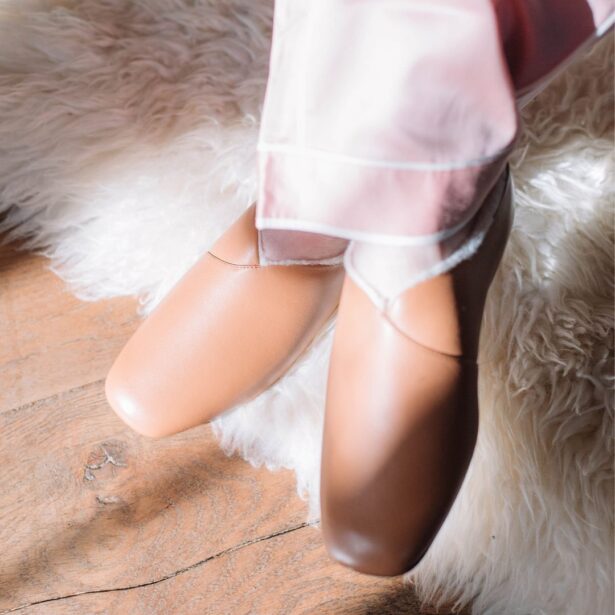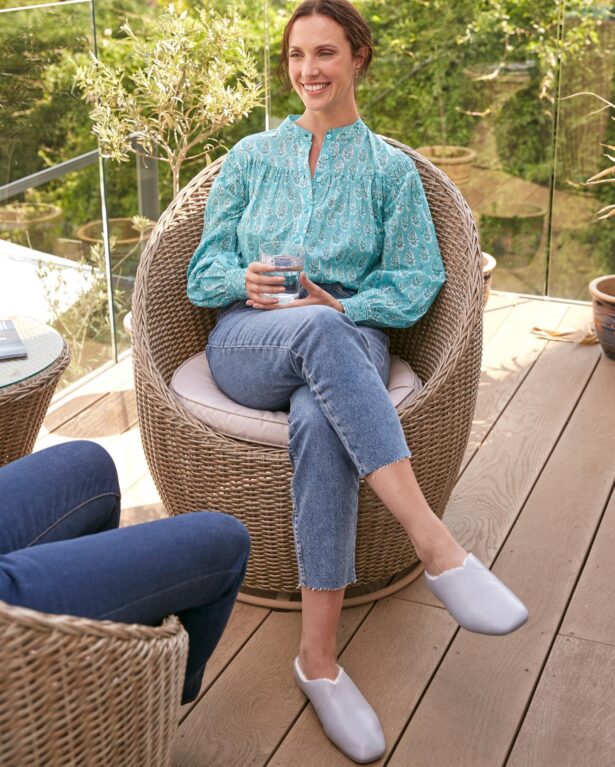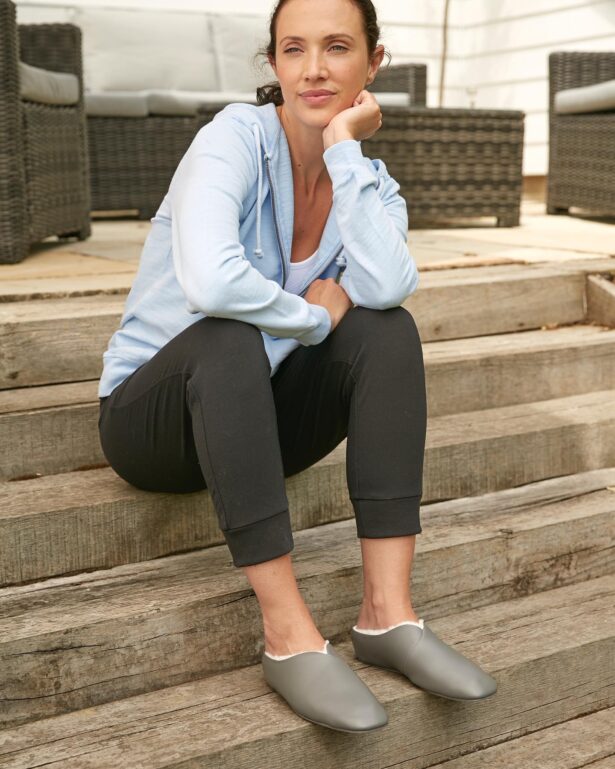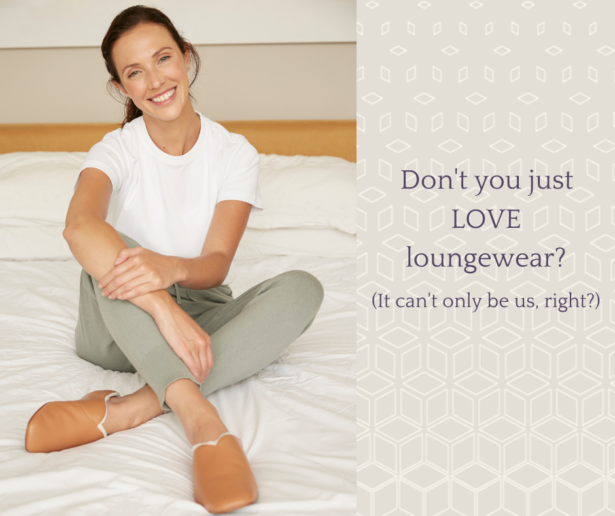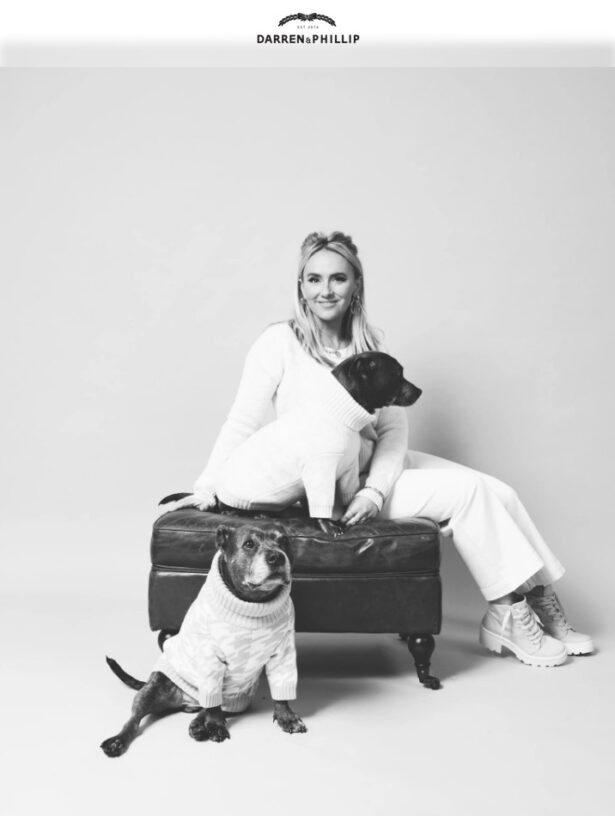 "I am Jenny Hall, and I founded Darren and Phillip in 2016.
From the very start my emphasis has been to create quality designs with attention to detail, made to last.
At Darren and Phillip, I know your dog is very much a part of your family and is included in all your major celebrations and events.
Our brand is a fun concept of matching human and dog apparel, with our aim being to dress your dog as well as you dress yourself.
We strongly value the community we have created and as our platform continues to grow, we view it as our responsibility to shed light on the importance of dog rescue.
We donate 20% of our profits each year to various charity organisations around the world who work tirelessly to provide hope and a better future for the dogs in their care.
Since Darren and Phillip began, we have donated more than $1m."!
See the full story @ :- https://darrenandphillip.com/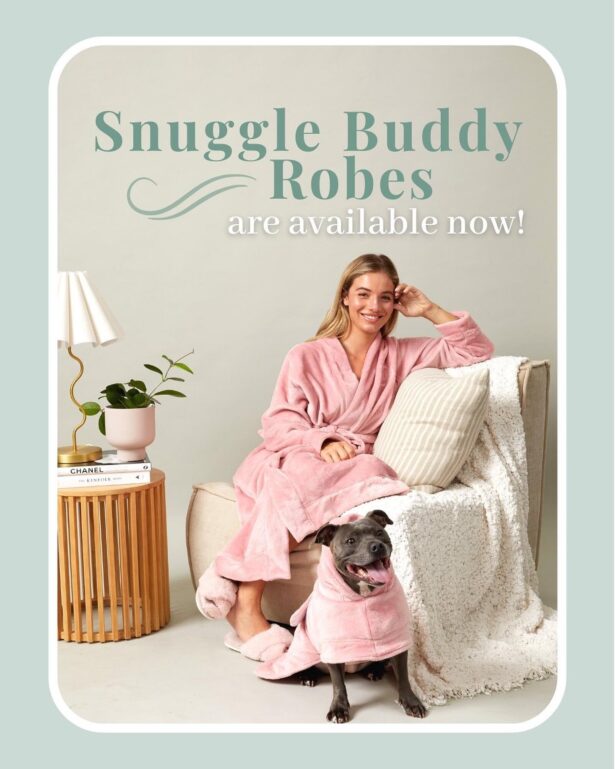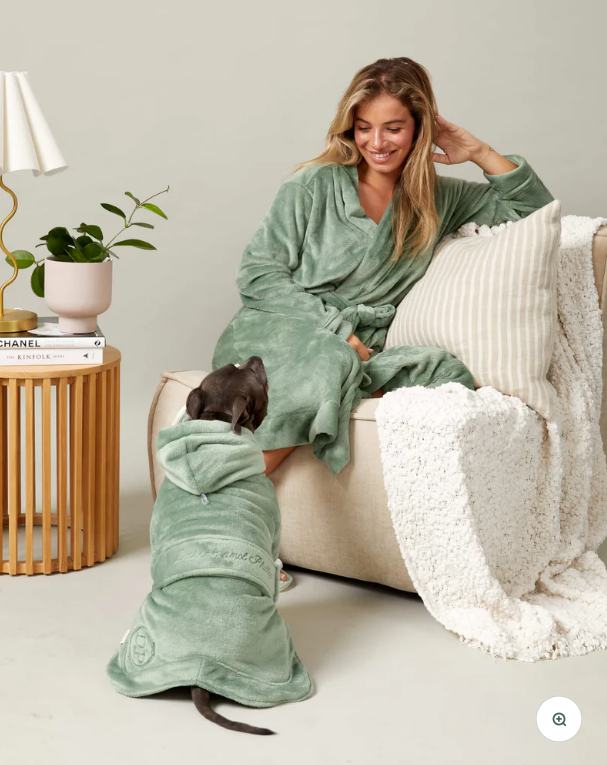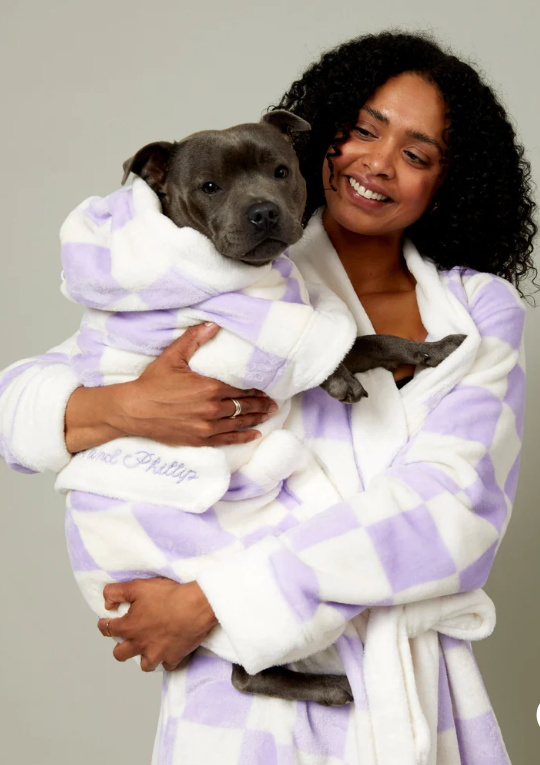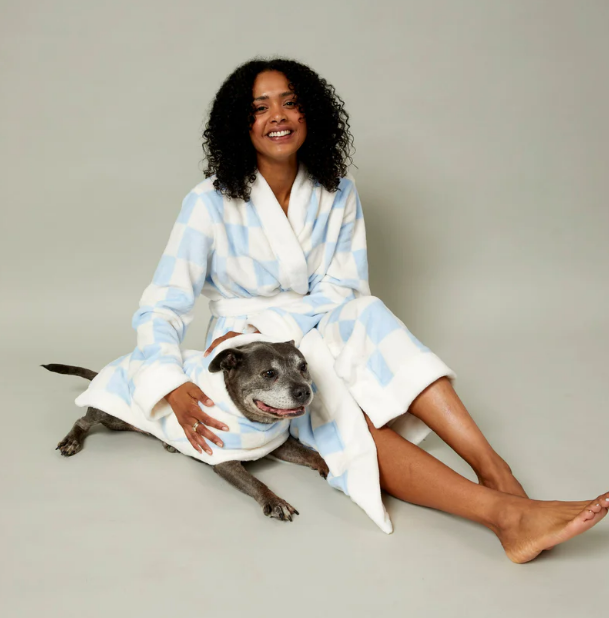 Help Mum look amazing this Mother's Day with the advance gift basket idea from wonderful retailer HOMEDICS … homedics.co.uk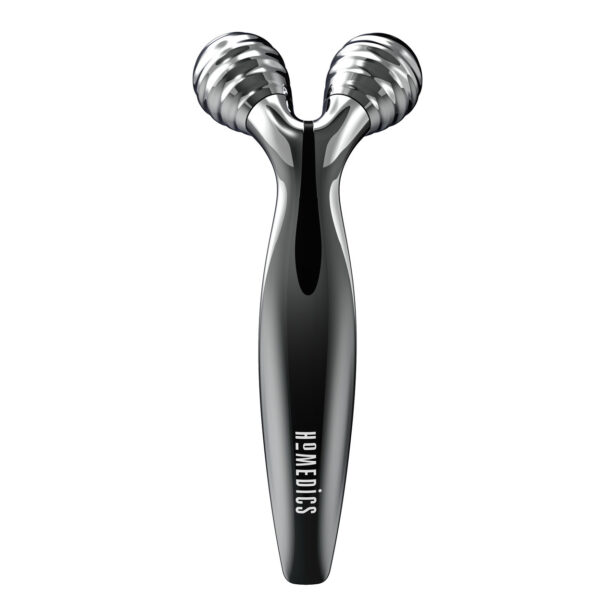 Facial Beauty Roller – RRP £39.99
Available from: homedics.co.uk, Look Fantastic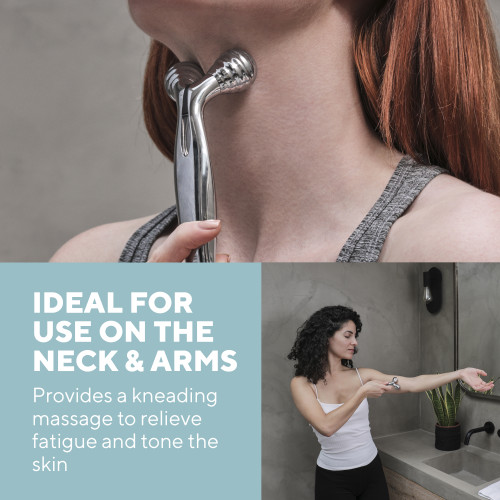 The Homedics Facial Beauty Roller delivers gentle Microcurrent technology to tighten and brighten your complexion. 360-degree spinning rollers deeply massage and lift the skin to visibly tone facial muscles with a 70-degree angle designed to combat both small and large contours of the face. This helps to stimulate the skin to ensure better product absorption.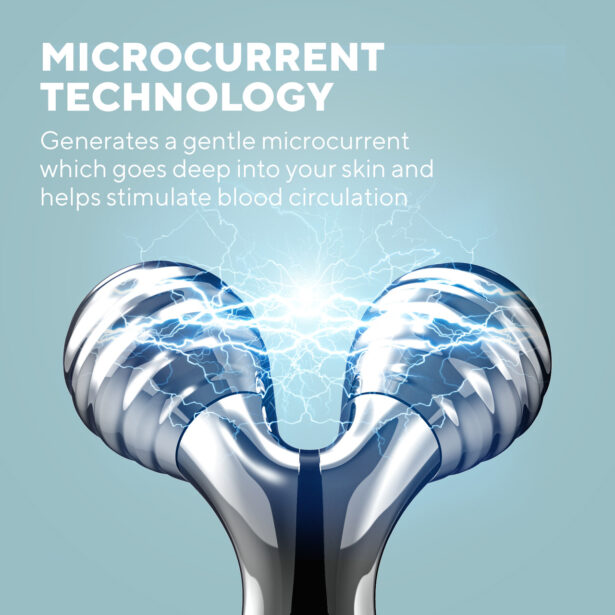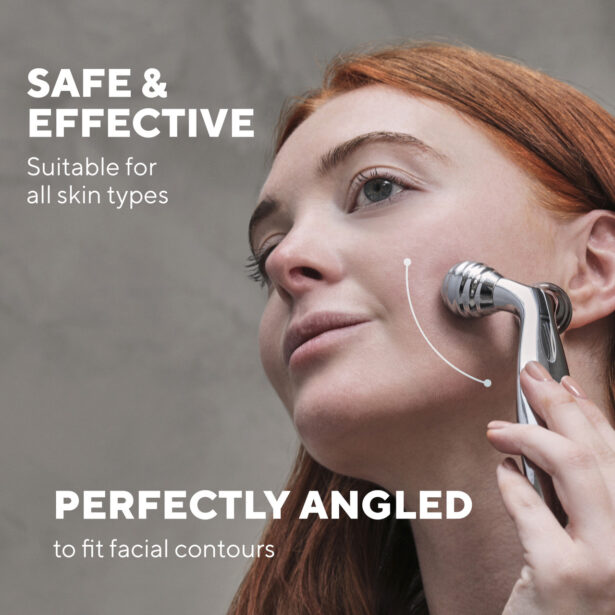 Mother's Day gifts made with love… Canal Toys So Bomb DIY Aroma is the ideal gift
2023: Children love making homemade gifts for Mother's Day – now there's a great way they can be thoughtful, creative and reward you with a relaxing gift! Canal Toys So Bomb DIY kits come with everything
you need inside the box, each one takes just 30 minutes to set, allowing children to great creative and make a beautiful home-made gift that their mums will adore! The instructions are simple to follow
and is a lovely way to show mum how much you care.
So Bomb DIY Aroma – £9.99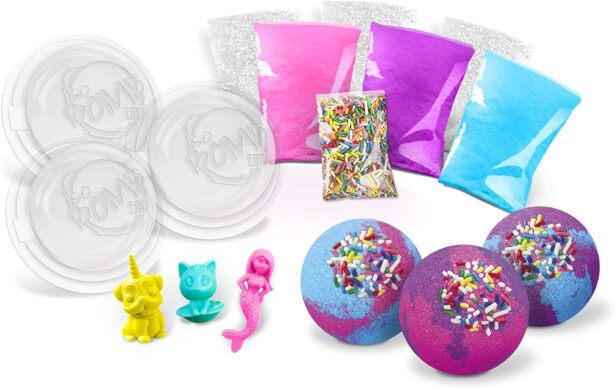 CREATE YOUR OWN COLOURFUL AROMA BATH BOMBS! FUN AND EASY TO MAKE, JUST ADD WATER AND FRAGRANCE THEM TO CREATE RELAXING MOODS! THE PERFECT GIFT FOR MUM, EACH PACK COMES WITH AN AMAZING SMELLING AROMA TO CREATE
THE BEST BATH BOMBS THAT YOUR MUM WILL LOVE! FOLLOW THE STEP-BY-STEP GUIDE & CREATE 3 BATH BOMBS THAT ARE READY TO USE IN LESS THAN 2 HOURS!
Contents
* 3 Bags of sodium bicarbonate
* 3 Bags of citric acid
* 3 Bags of crystal salts
* 1 Aroma scent
* 3 Moulds
* 1 Aroma guide
* 1 Instruction sheet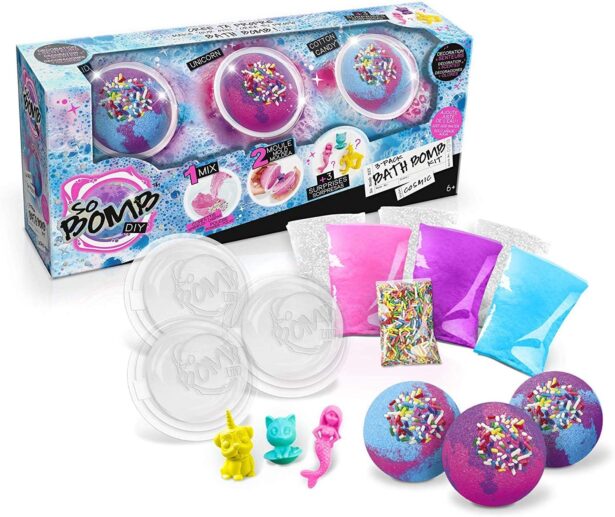 Check out this exciting award-winning aromatherapy brand, Aroma Energy. aromaenergy.co.uk
They're a great affordable brand that are 100% vegan and ethical. Check out these products which if you think about it are ideal as mother's day personal treats!
Mother's Day Gifts: Great Smelling, Ethical Aromatherapy Products
With many feeling the pinch this Mother's Day, it might feel impossible to find a gift within budget that shows just how much you care. Treat mum to some affordable yet delightfully smelling aromatherapy
products from Aroma Energy, with essential oils starting at £2.20.
What's more, the brand was voted best vegan aromatherapy company of 2022. So not only do their products smell wonderful, but you can also enjoy them knowing that they are ethically sourced and made to the highest quality.
Aroma Energy sell a range of ethical aromatherapy products, including scented candles (£9.99), wax melts (£2.49), room sprays (£3.49), essential oils and fragrance oils (starting at £2.20).
Products that Mums loves:
Relax and Calm Scented Candle, RRP £9.99 Relax & Calm Scented Candle | Best home fragrance | Essential oil blen – Aroma Energy > https://aromaenergy.co.uk/products/relax-calm-scented-candle-best-home-fragrance-essential-oil-blend-coconut-wax?_pos=16&_sid=07ed43504&_ss=r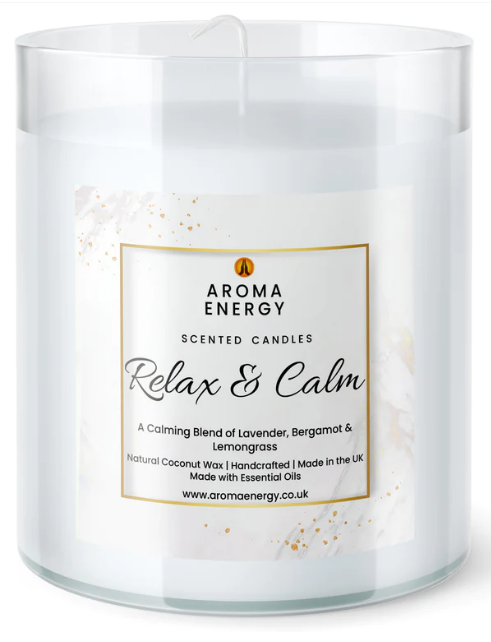 Help mum slow down and unwind after a busy day with the Aroma Energy Relax and Calm scented candle, made from a soothing blend of lavender, bergamot and lemongrass essential oils. This delicately scented
candle is the perfect accompaniment to an evening on the sofa or a dinner with loved ones.
'Anxiety' Essential Oil Gift Set with Travel Case, RRP £19.99 Essential Oil Gift Set Travel Case with pack of 4 x 10ml oils for Anxi – Aroma Energy > https://aromaenergy.co.uk/products/essential-oil-gift-set-travel-case-with-pack-of-4-x-10ml-oils-anxiety-lavender-bergamot-patchouli?_pos=4&_sid=1eaa43096&_ss=r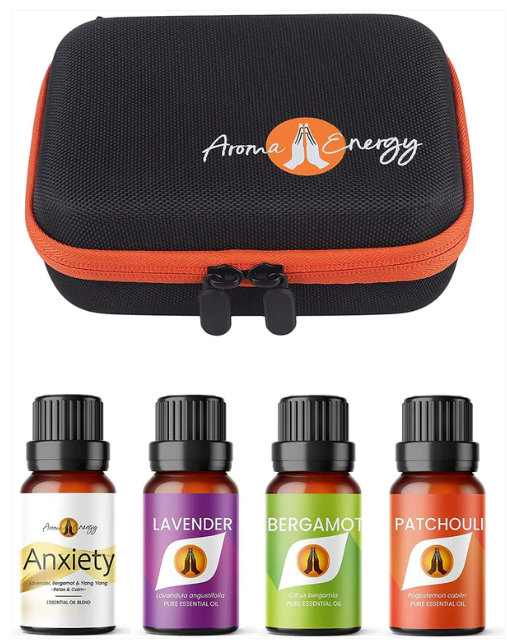 Treat the on-the-go Mum wherever she may be with an Aroma Energy travel case complete with four 10ml essential oils from the
best-selling Anxiety range. The hardy case is the perfect companion for traveling and comes with eight empty slots to fill with essential
oils she loves. These oils can be added to showers and baths, enjoyed diluted for massages, or simply inhaled. _
Life Wax Melt Set (set of four), RRP £6.99, Life Wax Melt Set – Aroma Energy > https://aromaenergy.co.uk/products/life-wax-melt-set?_pos=4&_sid=2ed4e53a4&_ss=r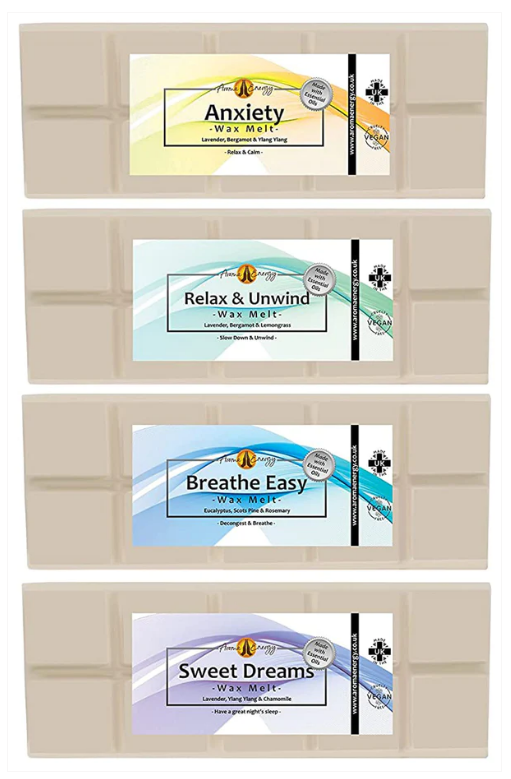 Wax melts have taken the world by storm! This bespoke set of Life Wax Melts from Aroma Energy is the perfect way to show mum you care. Made
from hand crafted delicate blends of essential oils, these long-lasting wax melts make the perfect gift. Simply place in your wax burner and feel the stresses of the day melt away.
Sweet Dreams Roller Ball Set, RRP £7.99 (set of three), Sweet Dreams Roller Ball Set | Essential Oil Roller Ball – Aroma Energy https://aromaenergy.co.uk/products/sweet-dreams-roller-ball-set-essential-oil-roller-ball?_pos=12&_sid=79adc6301&_ss=r
Help mum drift away into a blissful night's sleep with this set of roller ball essential oils. Apply to pulse points across the body and
feel waves of gentle scent that will soothe and relax. Want to take that sense of zen on the go? Slip a rollerball into your bag and use
whenever you need a pick me up during the day. This set features three of Aroma Energy's most popular scents: Lavender, Sweet Dreams, and Relax & Unwind.
Stockists:
Aroma Energy | Essential & Fragrance Oil, Wax Melt & Diffusers  https://aromaenergy.co.uk/
Amazon.co.uk: Aroma Energy https://www.amazon.co.uk/stores/AromaEnergy/page/270D781C-AACD-4B4C-AB47-DBEA488DA24B?ref_=ast_bln
Aroma Energy | eBay Stores https://www.ebay.co.uk/str/aromaenergy
About Aroma Energy:
Aroma Energy, recently voted the best vegan aromatherapy company of 2022, aims to bring tranquillity to every aspect of their customer's lives through scent. They specialise in expertly crafted affordable
essential oils that have been carefully selected and tested for quality by founder Dean Shaw. All their oils are bottled in the UK and sent out from their factory in Watford. Whether infused within a
scented candle to inspire calmness around the home or in separate fragrance oils in a travel case for easy accessibility wherever life takes you, Aroma Energy is always on hand.
An alternative, budget-friendly Mother's Day Gift which is so loving and wonderful! meandmyglass.co.uk
This thoughtful spotify-inspired gifts allow you to personalise your photo with a memorable song –
https://www.meandmyglass.co.uk/product/personalised-spotify-glass-plaque/
A medium version usually comes in at under £20.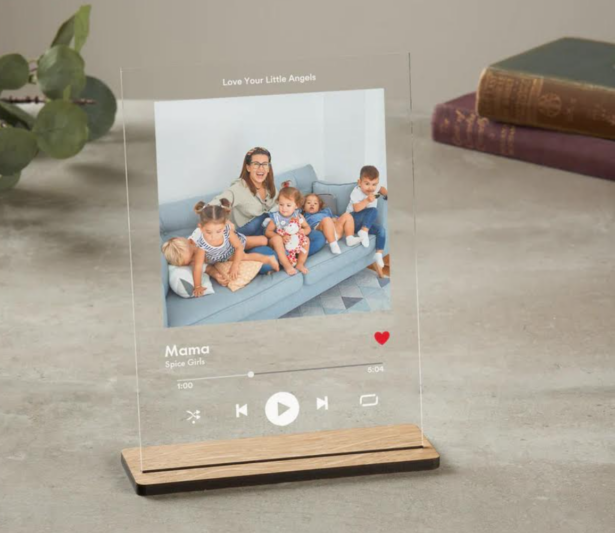 The Perfect Outdoorsy Gifts for Every Active Mum This Mother's Day
• February 16, 2023
We all know that mums are the most complicated people to buy gifts for. But if your mum is outdoorsy, then you're in luck. Show her how much you appreciate her enthusiasm for being active this Mother's Day with one of these perfect outdoorsy gifts.
From stylish and supportive sneakers to intelligent tech for tracking her runs, hiking trips, and bike rides—we've got you covered when it comes to finding the perfect Mother's Day present. Whether she loves running, yoga, hiking, cycling, or any other outdoor activity, something here will make her smile on the big day. So look through our picks and find the perfect gift your active mum will love.
The Best Outdoor Active Gifts for Mums
Are you looking for the perfect Mother's Day gift for the fitness mum in your life? We've got you covered! Whether your mum is an avid runner, a committed yogi, or an outdoor enthusiast, here are some gifts that will make her smile this Mother's Day:
• For the runner: A GPS watch. This is a great way to track every step and keep track of her progress. Plus, it looks great when she's out on her runs!
• For the yogi: A yoga mat. Soft and supportive, help your mum take her practice to the next level by upgrading her old beat-up mat with a new cushioned one.
• For the adventurer: A water bottle and hydration pack. These are perfect for those who love to explore — keep your mum well-hydrated (and stylish!) when she's out in nature.
Whatever activity your mum loves best, you can't go wrong with these active outdoor gifts as beautiful tokens of appreciation this Mother's Day!
Running Shoes and Workout Gear for the Active Mum
You know she's active—she never stops! Show her how much you care by investing in some proper workout gear to help keep her comfortable and protected while she's being active outdoors.
If running is her passion, pick up a breathable pair of running shoes with good stability. She'll need something that protects against the elements while standing up to the miles and miles of physical activity she enjoys.
To go hand-in-hand with the shoes, find her some weather-resistant leggings and a comfy top. A lightweight windbreaker or reflective vest will also provide comfort and protection for those long runs on rainy days when the forecast doesn't align with her training plans.
Finally, don't forget about a few accessories that will make all the difference for the active mom in your life. A sweatproof headband, sunglasses, and lightweight gloves are great additions that will make her Mother's Day even more special!
Skincare Gifts for the Fitness Mum
If you want to pamper your active mum, why not give her a skincare gift? After all, she is out there in the elements, braving whatever the weather throws her, so the least she deserves is some hydration and protection! Here are some of our favourite picks:
Anti-Chafe Cream
A good anti-chafe cream is a must-have for all mums actively exercising. They can be beneficial for mums who are involved in outdoor running, biking, and hiking. Good anti-chafe cream can help protect their skin from developing dryness, irritation, and blisters. It can also help provide a protective barrier against the elements.
Balmy Fox's Anti-Chafe Cream is formulated using only natural ingredients, including beeswax, arnica, comfrey, and tea tree – to soothe, heal and protect.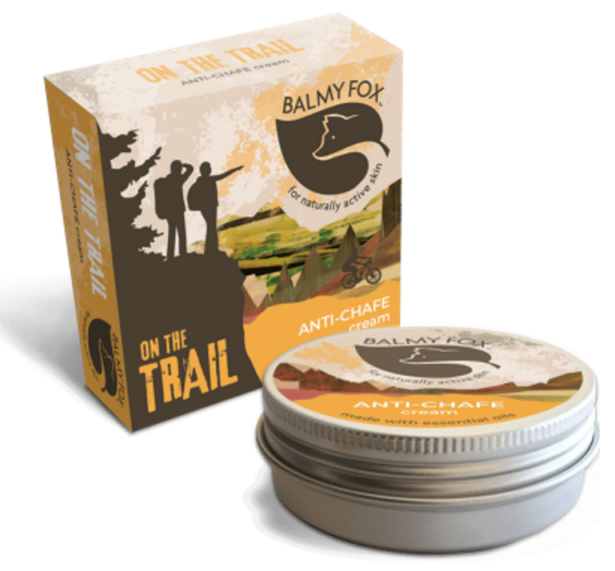 Sunscreen
Sunscreen is a must for outdoor activities, no matter your skin type. Look for one that is natural, light, and fast-absorbing, as anything too heavy can impede your sweat's natural cooling process.
Ideally, choosing a water-resistant sun cream that's broad spectrum and contains antioxidants and hydrating ingredients like berry wax and mango butter would be best.
Balmy Fox's Sun Cream is a water-resistant, no-sting formula using only natural ingredients, including berry wax, mango butter, coconut oil, arnica, and borage oil – to soothe, heal and protect.
Lip Balm
Whether your mum is a runner or cyclist, swimmer or surfer, skier or climber, chances are she will need lip protection from all the wind and sun exposure on the go. Our all-natural vegan lip balm – delivers serious hydration without any petroleum oils or parabens. Plus, it has SPF 25 to protect against UVA/UVB rays, so her lips stay soft and smooth whenever she heads outdoors!
Balmy Fox's SPF Lip Balm is a water-resistant, no-sting formula using only natural ingredients, including berry wax, mango butter, coconut oil, arnica, and borage oil – to soothe, heal and protect.
Gear and Gadgets for the Outdoorsy Mum
For the tech-savvy mum who's always on the go, consider gadgets such as fitness trackers for tracking her steps and calories burned throughout her exercises, weatherproof Bluetooth speakers to take on all her outdoor adventures, or even a power bank, so she never has to worry about running out of juice while she's out in nature!
Unique Gift Ideas for Every Type of Fitness Mum
Every active mum is different, so finding the perfect Mother's Day gift for them can be challenging. But you don't have to settle for something generic—there are unique gifts out there that will make every active mum smile this Mother's Day. Here are a few ideas to get you started:
Hiking Essentials
If your mum loves exploring nature, why not treat her to hiking essentials? She'll have everything she needs from insulated water bottles and compasses to walking sticks, headlamps, and insect repellent for those outdoorsy trips.
High-Tech Wearable Tech
Look no further than a fitness tracker or smartwatch for mums wanting to stay motivated and track activity. State-of-the-art devices can track heart rate, sleep patterns, and calories burned—everything a fitness mum needs to reach their goals!
Athletic Apparel
Help your mum stay comfortable while keeping up with her workout routine by gifting her some stylish athletic apparel. It could be anything from compression tights to running shorts or even a fitness bandana for that extra special!
Whatever you decide, we're sure your active mum will love it. With these unique gifts, she'll be ready for any adventure she has in mind this Mother's Day!
Love Your Sporty Mum
With Mother's Day approaching, why not give your active mum something special to show appreciation? Whether it's a new set of running shoes, a new skincare gift set, a fitness tracker, or even a subscription to an outdoor magazine, there's something for every active mum.
Show your active mum how much you care this Mother's Day with the perfect gifts that cater to her active lifestyle. Not only will she be thankful for the thoughtfulness, but you'll also give your mum something she will love and use.
SWIZZELS Mother's Day treats… NEW Chocolate Coin & Sweet Shop Favourites Box !
The nation's favourite sweet manufacturer, Swizzels, has launched its first ever Chocolate Coin as part of its iconic Love Hearts range.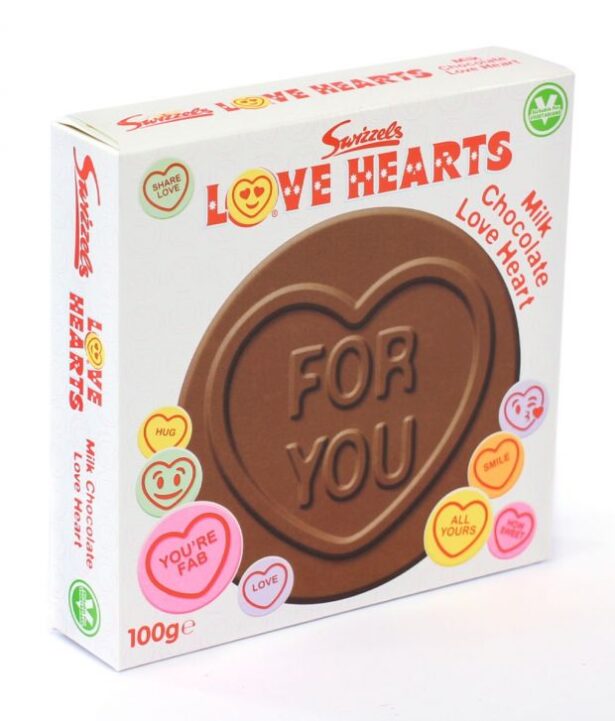 Available in Home Bargains and online, the Chocolate Coin features a 'FOR YOU' message, making it suitable for sharing with anyone.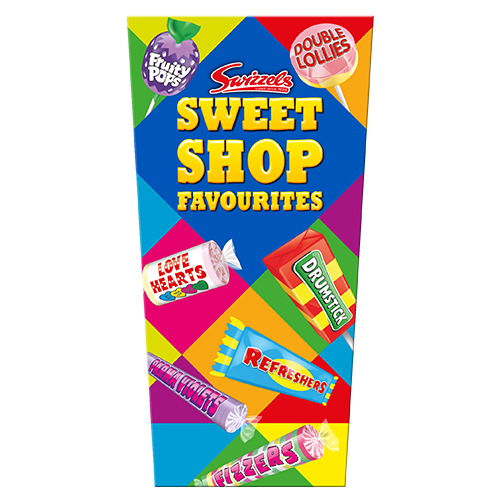 It's perfect for Mother's Day or any other occasion to make a loved one smile.
For sweet lovers who are after some non-chocolate sweets this Mother's Day, Swizzels offers their iconic Sweet Shop Favourites Gift Box, including some of the UK's most well-loved sweets: Love Hearts,
Refreshers, Parma Violets, Drumstick, Double Lollies and more.
Make Mother's Day special this year with STABILO's amazing range of pens, pencils and highlighters. With so many incredible penms to choose from, allow your catregiver to unlock this at www.stabilo.co.uk
STABILO BOSS MINI Pastellove 2.0
• 6 pretty soft pastel shades each with their own unique saying.
• STABILO anti-dry-out Technology:4 hours drying protection for the flow while being creative and working.
• 2 lines width:2+5mm for underlining and highlighting.
• STABILO BOSS MINI Pastellove 2.0 wallet of 6/RRP £10.51- stabilo.co.uk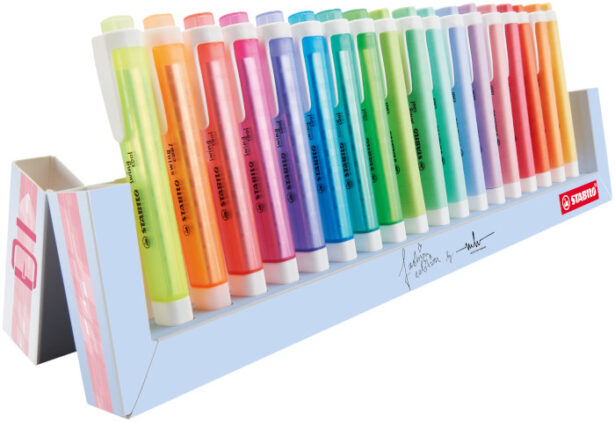 STABILO swing cool
• These pocket-sized highlighter pens offer 4-hour dry-out protection
• Chisel tip with two-lines widths- 1mm and 4mm.
• Ideal for highlighting texts of various sizes as well as drawing lines of different thicknesses.
• STABILO swing cool pastel wallet of 8 / RRP £17.57 – stabilo.co.uk
• Deskset of 18 / RRP £34.34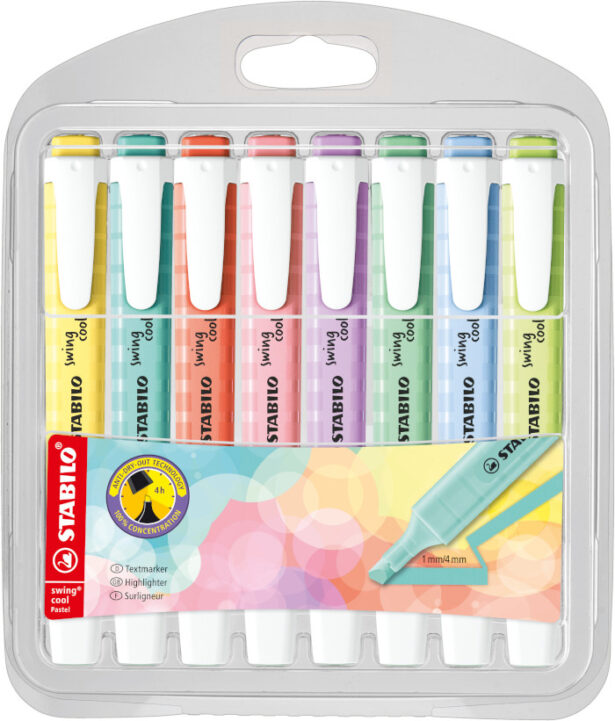 STABILO BOSS ORIGINAL
• The STABILO Anti-Dry Out Technology allows for an incredible 4-hour cap off time.
• The highlighter is easy to refill anytime and anywhere
• The wedged tip draws broad lines, highlights, and underlines important parts of your documents.
• STABILO BOSS ORGINAL /RRP from £2.98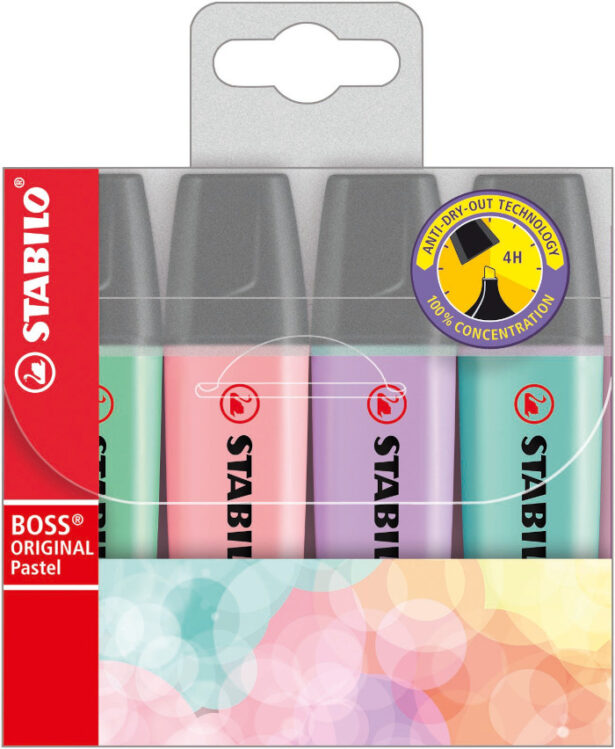 STABILO point 88
• Most Popular fineliner in Europe.
• Perfect for journalling, writing and outlining sketches.
• The famous hexagonal body shape makes it very comfortable to grip.
• Available in 65 colours
• STABILO point88 colorparade of 20/ RRP £33.84 – stabilo.co.uk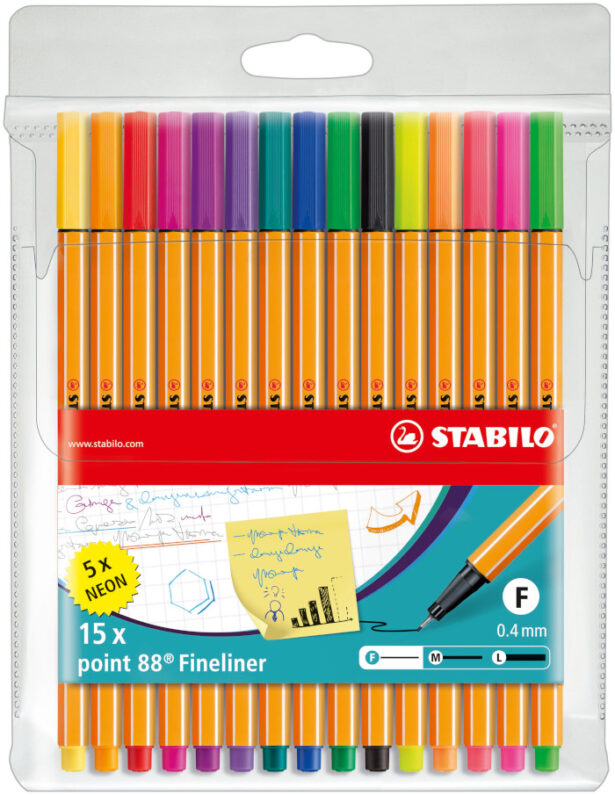 STABILO pointMax
• Nylon tipped pen available in 42colours
• Inspires creativity or users
• Ideal for mind maps and adding colour to notes
• Quick dry ensures they do not bleed through the paper
• STABILO pointMax wallet of 42 / RRP £68.04- stabilo.co.uk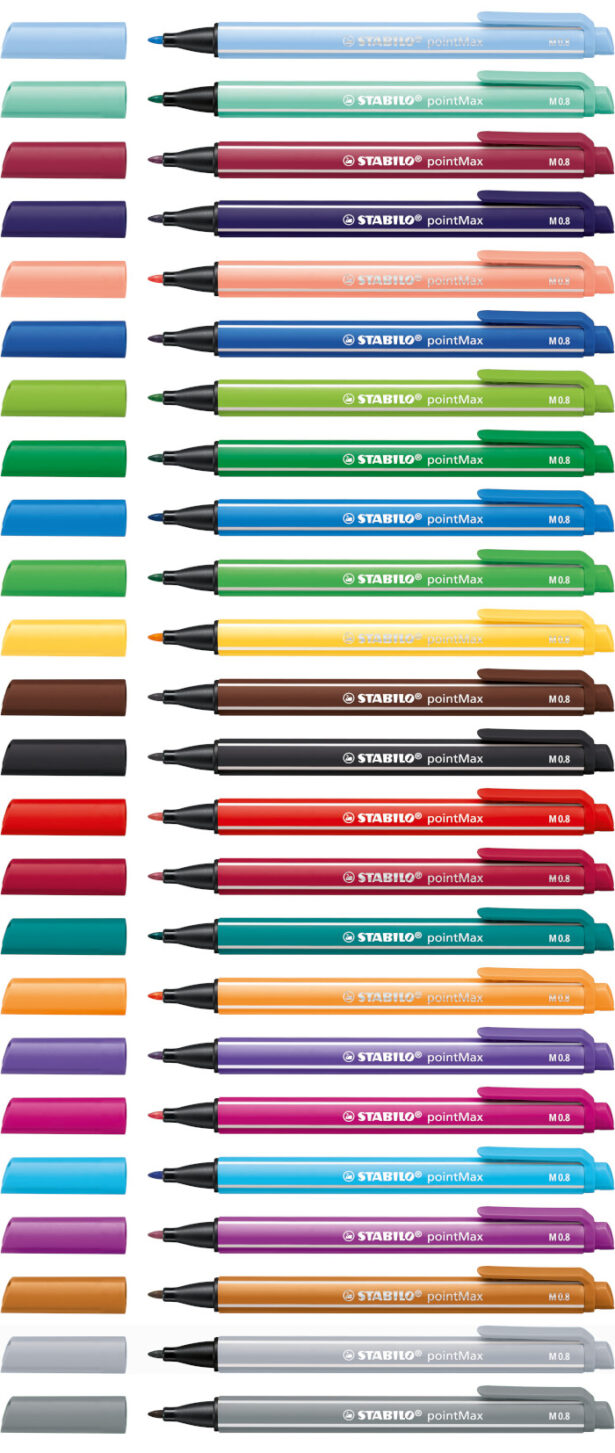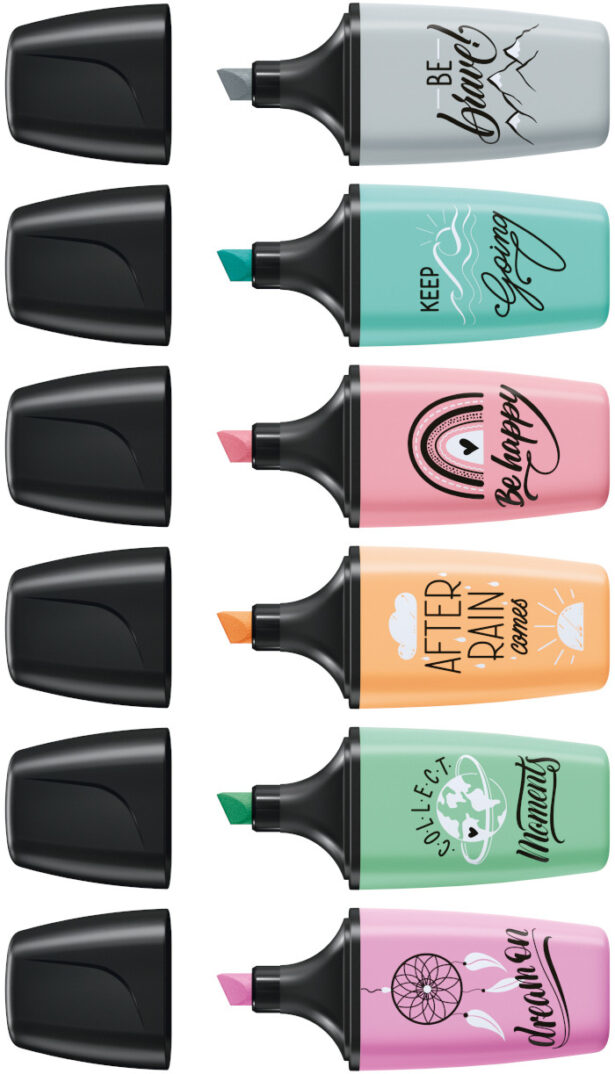 Wonderful gift idea for Mother's Day … a day when we get to show our mummies just how much we love them xx wine tasting packs
We all love a glass of wine, but who needs it more than a hard working mum!
This mothers day why not treat your mum or your wife to a wine tasting pack from The Online Wine Tasting Club?
Each pack comes with an educational and entertaining online wine tasting which can be watched live or on demand.
The tastings are hosted by award winning Sommelier Jamie Smith (and avid rugby fan) and winemaker Alex Taylor.
These packs are perfect for mum, and because all the packs come with 6 different wines, you might even be able to nab one for yourself.
Get your pack now at https://onlinewinetasting.club/
See the full story @ :- https://www.intouchrugby.com/magazine/wonderful-gift-idea-for-mothers-day/
What Mums really want for Mother's Day – a "Me" day
Chocolates and flowers are the go-to pressies for Mother's Day but according to a recent survey of mums, there are cheaper options that would mean so much more.
Of 1,000 mums surveyed by British skincare brand, Sudocrem, nearly every one of them asked for 8 hours sleep – a huge 94%! British mums get on average only 6 hours of sleep a night so one of the most treasured gifts to receive on Mother's Day is a much-deserved lie-in. And all those ready-made Mother's Day cards at the supermarket? A further 66% said they would like a personalised homemade card or gift – something made just for her.
It's the little things that count if you're thinking about spoiling Mum. 80% said they would love a long bath with 51% also asking for a lock on the bathroom door. Showing you care can be as simple as letting her sleep a little longer, a well-thought-out gift or running her a blissful bath to enjoy – alone! 77% would also appreciate some adult conversation. In short, letting Mum be herself for a bit.
What do these figures reveal about 21st century motherhood? Being a mum is tough some days and having children or a baby can mean waving goodbye to luxuries like personal space, privacy and a good night's sleep. It's easy to get caught up with all the cards and teddies on display but what Mum really wants is some time off-duty.
Alice Bamford, Senior OTC Marketing Manager at Sudocrem commented, "When you're a parent, the "little" things like personal space and quality time either alone or with family suddenly become luxuries. Sudocrem have supported families for generations and we love to celebrate the modern-day superhero – Mum!"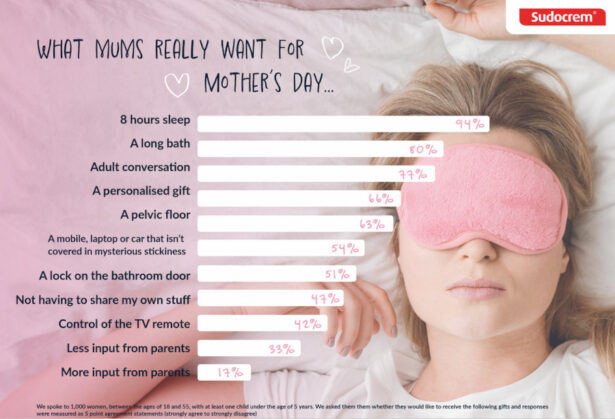 My Little Sudocrem has been specifically formulated by Sudocrem to soothe and protect delicate skin, forming a barrier against irritants and allowing the skin to maintain its natural and healthy condition. It's ready to help relieve red or irritated areas of skin – to soothe on-the-go – and of course, it has that iconic Sudocrem scent of calming lavender…aaahhh!
So, show your appreciation for Mum by putting yourself in her shoes – it's an easy gift that doesn't cost a penny but to her it will be priceless!
Welsh MAM candles
MAM scented soy wax copper tin candle PERFECT FOR MOTHERS DAY!
Regular price£15.00 GBP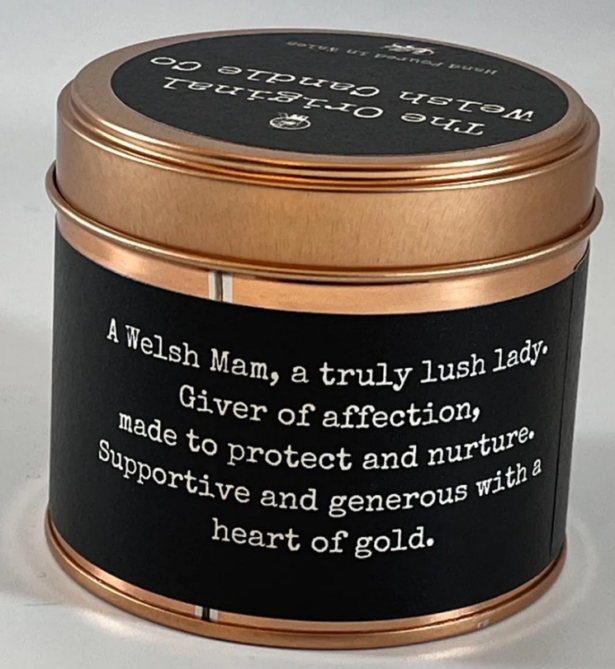 Our Mam candle is fragranced with Earl Grey Tea
This scent is fresh and uplifting, and perfect for your MAM.
Sat in a copper tin which burns for 40 hours our scented soy candle is the perfect gift for your mam, or someone that reminds you of your mam.
A welsh MAM, a truly lush lady. Giver of affection, made to protect and nurture.
Supportive and generous with a heart of gold!
About the Welsh Candle Co
"Hello, We are just two girls who are passionate about good quality goods. Being candle addicts, it was quite easy to come up with our range and why we should name our candles after places or memories rather than scent. How many times do you sniff a candle and it transports you back to a memory? well that is exactly what our candles are made to do, evoke your memories. All our candles are hand poured in Wales, employing local people, supporting local businesses.
We just want to change the world….. one candle at a time
Get in touch… we love to chat x"
See more and contact and buy @ :- https://theoriginalwelshcandleco.com/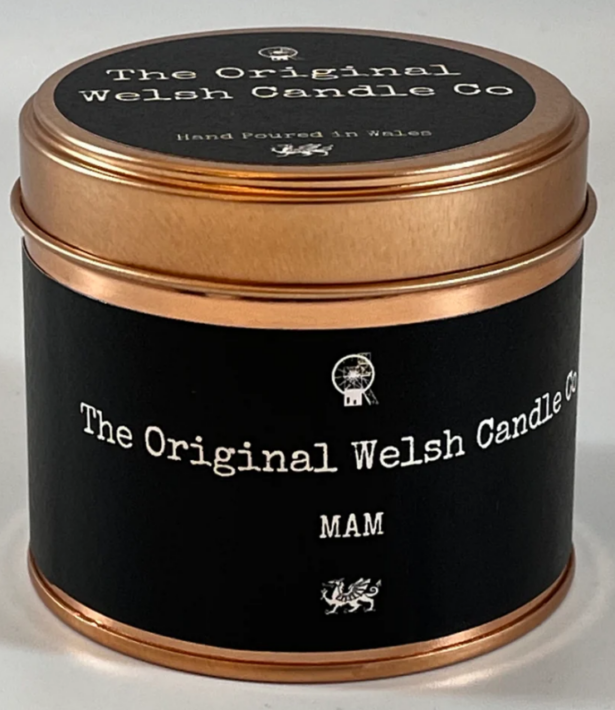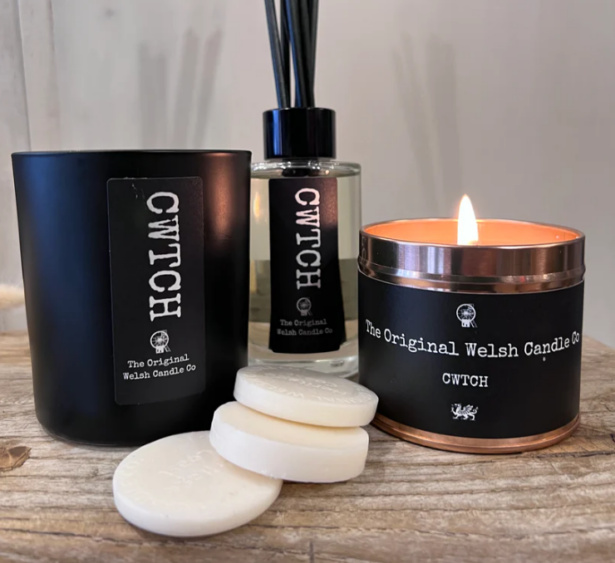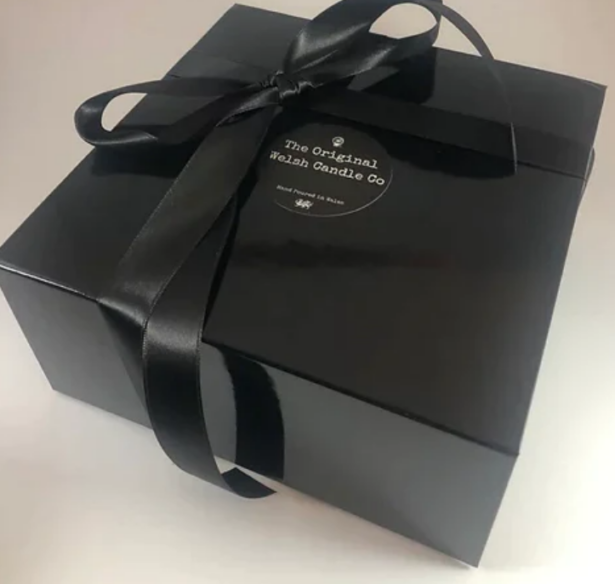 lavera Gift Set Good Night … giving the gift of amazing skin this Mother's Day !
lavera Gift Set Good Night – Body Lotion & 2in1 Hand Cream & Mask – Natural Cosmetics – vegan – Organic Grape & Organic Shea Butter – certified – 275ml.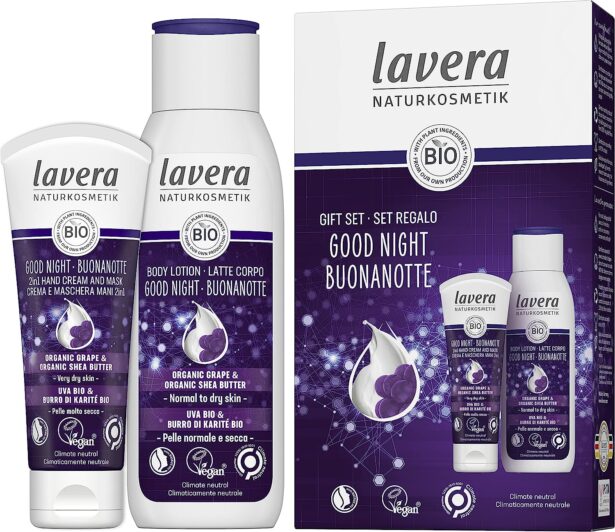 Regenerates skin overnight. Intensive moisture. Long-lasting, regenerating care.
Regenerating formulas with organic grape and organic shea butter.
Certification according to the rigorous independent NATRUE natural cosmetics standard, dermatologically tested, vegan and certified according to PETA criteria
Cardboard material in the folding box is made from 100% recycled fibres
biodegradable formulation
Gift Set Good Night: Body Lotion Good Night & Good Night 2in1 Hand Cream & Hand Mask. Regenerative overnight care and intensive moisturising care. Our regenerating formulas with organic grape and organic shea butter provide particularly intensive care for your skin while you sleep – for a beautiful, silky feeling by morning.
See more & buy @ :- https://www.lavera.co.uk/shop/p/good-night-set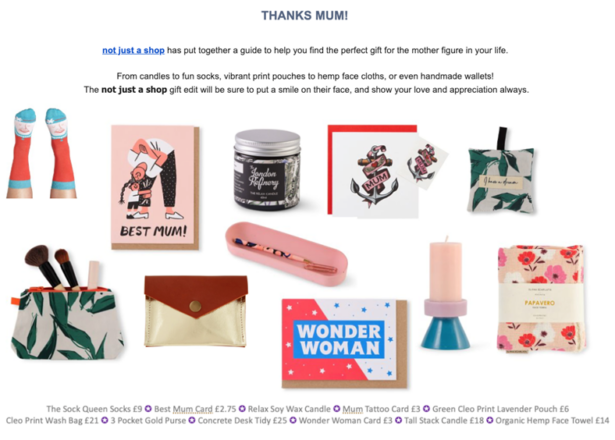 Personalized jewelry, such as a necklace or bracelet with her name or initials.
A spa or massage gift certificate to help her relax and unwind.
A heartfelt, handwritten card expressing your love and appreciation.
A bouquet of her favorite flowers.
A cookbook from her favorite chef or cuisine.
A stylish and comfortable pair of slippers or loungewear.
A subscription to a magazine or book club based on her interests.
A high-quality skincare or beauty product set.
A photo album or digital picture frame filled with cherished family photos.
A thoughtful and unique piece of home decor or artwork.
ensure to tag my website buggingquestions.com
Apple Watch SE, 40mm, GPS [2022] – Starlight Aluminium Case with Starlight Sport Band – Regular
Current Price: £259
• Take calls and reply to texts, straight from your wrist
• Up to 20% faster than the previous Apple Watch SE2
• Advanced safety features, including Fall Detection, Emergency SOS3 and Crash Detection
• Track your daily activity on Apple Watch, and see your trends in the Fitness app on iPhone
• Enhanced Workout app with more advanced ways to train
Amazon Kindle With Ads 6″ 16GB eReader – Black
Current Price: £64
• 16GB storage – holds up to 12000 books
• Up to 6 weeks of battery life from a single charge
• 6 inch E Ink Carta screen – for clear and easy reading
• Adjust the screen light from white to warm amber
• Small and light enough to take with you anywhere
Magnitone Beat It Handheld Massage Device – Black / Rose Gold
Current Price: £90
• Percussive therapy soothes muscles & boosts recovery
• Cordless and can run for 2 hours
• Adjustable intensity – gentle, intense and in between
• 6 settings let you find the right speed for you
• Compact design – perfect for taking on-the-go
Tresemme Salon Professional Smooth Volume Hot Air Styler – Black / Gold
Current Price: £29
• Comes with 2 heat settings for different hair types
• 50mm barrel creates big waves easily
• 700 Watts of power
• Ionic frizz-control tames unruly hair
This intricate print flamboyant architectural swirls in a classic in easy-to-wear blue and white, making for an all year round sophisticated classic!
Our bestselling kimono jackets have loose ¾ length sleeves, an open front and a lightly embroidered lapel. Pair with a matching camisole and your favourite jeans in summer or layer over a polo neck during the cooler months.
Price: £48
One Hundred Stars Trading Ltd
Stockist information: www.onehundredstars.co.uk
EGO Power Plus is a specialist of cordless outdoor power equipment and its revolutionised 56V ARC lithium battery technology has taken the market by storm for its amazing performance, power and run times. With zero emissions, reduced noise and low vibrations, the entire battery range (from 2.5Ah to 12.0Ah) is interchangeable with all of the EGO products.
We are Saltist – 100% Pink Himalayan Salt Tequila Shot Glasses, ethically sourced from the Himalayan Mountains, to enhance any tequila experience – in the way it looks, the way it tastes, and the way it feels. Our beautiful pink salt range, adds a nuanced salty note to every sip of tequila. We are naturally anti-bacterial, reusable and environmentally friendly.
Please visit our website for more information; www.saltist.com.au
Oakdene Designs
Personalised Self Care For Mum Tokens
Show your appreciation and love for mum with these thoughtful self care token cards. Choose 10 tokens from 20 that you think mum would appreciate, these cards come in a solid recycled craft box which is foiled in gold with your mums name. Please see the drop-down menu to choose these tokens. Made From Each mini print is printed onto 350gsm FSC® certified satin card and comes in a recycled craft box. Dimensions Each print measures – W9cm x H9cm Box measures – W10cm x H10cm
www.oakdenedesigns.com/products/copy-of-personalised-couple-love-tokens
Price: £13
Stockist information: www.oakdenedesigns.com
Gifts for foodies
An e-giftcard from Dovebrook – the NEW plant-based frozen meal delivery company
*click on the images below for imagery*
www.dovebrook.com
An e-giftcard from Dovebrook Kitchen – a NEW, award-winning plant-based premium frozen meal delivery company – is the perfect gift for festive foodies and anyone planning to give Veganuary a go!
The Cotswolds-based family business with a mission to transform perceptions of vegan cuisine is causing a stir by pushing the boundaries of vegan cooking and winning over the most ardent sceptics. Choose between 20 restaurant-quality, main course dishes – from 'veganised' familiar favourites such as the best-selling Butternut Mac and Cheese with Crispy Mushroom 'Bacon' or the Casarecce Carbonara, to unusual combinations bursting with flavour such as the Great Taste 2* Award Winning Persian Dried Lime and Herb Stew, which is the highest rated vegan ready meal in the UK this year.
On a mission to reduce food waste in their kitchen, Dovebrook produces its Surplus Vegetable Tagine each week which is made from leftover vegetables from other meals. The hearty vegetable dish was awarded a Great Taste 1* accolade this year.
Bundles are also available – customers can choose from 'Seasonal Picks', to 'New Parents' or hearty 'Sunday Roast' bundles as well as the best-selling 'Decadence' bundle. For those who like a sweet treat there are Salted Caramel Cheesecakes, Chocolate Fondants and Ginger & Miso Sticky Toffee Puddings too.
Dovebrook Kitchen offers a 100% home compostable packaging system, and every customer receives a free bespoke re-usable glass casserole dish with their first order. Dovebrook meals are frozen to fit the dishes perfectly, so the food looks and feels handmade. Cooked from scratch in the Cotswolds, using the finest ingredients, these ready-to-heat healthy dishes are a culinary delight and can be delivered within 24 hours*. Full delivery details here. Prices start from £6.75 per serving for a main meal for one – shop here.
*next day delivery available for orders placed before 11am
"We want to show people how delicious and innovative plant-based food can be. Most of our customers are not vegan, but simply want quality, convenience, and flexibility in their diet." – Dovebrook Co-founder Eleanor Weil
de-liver-ance – A powerful Nutraceutical Liver Elixir to transform the performance of our all-important Master Organ
2023 is the year of the liver. de-liver-ance is here to kick start the conversation
London 2023 – welcomes de-liver-ance, a forward-thinking Nutraceutical Elixir that will transform your health as it detoxes, optimises and future proofs the liver, your all-important master organ. How? de-liver-ance has a dual effect working to naturally detoxify and rejuvenate the liver, allowing it to perform its myriad functions at its best.
Result? An optimised, healthy liver. You will feel the multiple benefits including improved immunity, sleep, mood, mental clarity, glowing skin and of course it is able to help reverse and reduce the risk of fatty liver which today around 1 in 3 suffer with. This clever formulation with cutting edge molecular biology has led to one of the most relevant supplements of today being born.
Most of us don't realise the importance of liver health. The liver is responsible for over 500 vital functions as all blood leaving the stomach must pass through it. If this master organ is not healthy and in balance it impacts your entire system.
de-liver-ance is here to restore balance and keep your liver in peak condition with scientifically designed ingredients and a proprietary blend of herbs, roots and extracts that support, strengthen and rejuvenate this master organ. We commonly associate the liver with drinking, but in reality that's only one of its vital functions. Holding over 13% of your total blood at any given time, the liver is the protector of your body, responsible for detoxifying and removing harmful substances.
This antioxidant rich, plant-based elixir has been meticulously developed over two decades, using innovative molecular biology. Rizasalutem™ is the tried and tested formula in de-liver-ance that includes natural herbs such as the potent antioxidant and anti-inflammatory Seanol and Ginseng, the anti-aging Astragalus and the cholesterol lowering turmeric, all used in traditional herbal medicine for over 5,000 years.
Backed by rigorous scientific research, the ingredients in de-liver-ance are proven to promote mental alertness, reduce the negative effects of toxins on the body, including alcohol, help maintain optimum liver health and keep you glowing, inside and out. de-liver-ance starts working within minutes to improve total balance and achieve optimum mental and physical health.
Ingredients:
Seanol (Ecklonia cava), Solomon's Seal (Polygonatum), Astragalus (Astragalus membranaceus), Artemisia (Artemisia capillaris Thunb), Red Sage (Salvia miltiorrhiza), Poria (Wolfiporia cocos), White Atractylodes (Atractylodes macrocephala), Rehmannia (Rehmannia glutinosa), Peppermint (Mentha piperita), Turmeric (Curcuma longa) Kudzu (Pueraria lobata) Mesquite Honey and Water.
How to use:
Shake well before use. Drink 1 bottle (22ml) followed by a large glass of water. Daily dose 1-3 bottles as needed.
Product/Brand Info:
Price – From £23.99
Website Link – loveyourliver.com/
Social Link – @deliverance_elixir
Shall we? Raise a toast this Mother's Day with Gordon's Premium Pink Distilled Gin
Clear your diary and plan an extra special cocktail making catch-up with the mother figure in your life with Gordon's Premium Pink Distilled Gin
March 2023:
Mother's Day is the day to show them just how much you care, and what better way to celebrate with those closest to your heart than by mixing up an ice cold G&T or shaking up a deliciously sweet cocktail using Gordon's Premium Pink Distilled Gin to share while enjoying some quality time together?
Bursting with the sweet, crisp flavours of raspberries, strawberries, and the tang of redcurrant, Gordon's Premium Pink Distilled Gin is distilled with the finest botanicals and goes perfectly with tonic or lemonade over ice, or shaken up into a delicious pink cocktail. Gordon's Premium Pink Distilled Gin is the ideal gift for those gin lovers looking for something a little sweeter.
If you're looking to celebrate with an alcohol-free alternative this Mother's Day, Gordon's Premium Pink 0.0% Alcohol Free Spirit ticks all the boxes, full of those signature berry flavours, with no compromise on flavour. There's something for all of those special mother figures in our lives this Mother's Day.
Take time to celebrate with your loved ones and enjoy Gordon's Premium Pink Distilled Gin together.
Gordon's Premium Pink 0.0% Alcohol Free Spirit:
Brimming with the sweet flavours of raspberry and strawberry, and blended with tangy redcurrant notes and the finest distilled botanicals, Gordon's Premium Pink 0.0% is delicious mixed with lemonade or tonic. Perfect for making the most of every moment, it's ideal in any number of lip-smacking alcohol free cocktails for a great night-in, celebrating that special someone, making the most of every moment.
Available: thebar.com ,Amazon and most major supermarkets
RRP*: £16
ABV: 0.0%
Gordon's Premium Pink Distilled Gin:
Inspired by an original Gordon's recipe from the 1880s, Gordon's Premium Distilled Pink Gin is expertly crafted to balance the refreshing taste of Gordon's with the natural sweetness of raspberries and strawberries, with the tang of redcurrant served up in a unique blushing tone. Made using only natural fruit flavours to guarantee the highest quality real berry taste.
For even more creative inspiration, head to thebar.com to check out their selection of cocktail recipes, perfect for any occasion – and theany special someone in your life, whoever that may be!
Available: thebar.com ,
RRP*: £17.50
ABV: 37.5%
*Pricing is at the discretion of the retailers.
So… Shall we…This Mothers day?
@gordonsginuk #ShallWe?
Sponge Product Copy – Mother's Day
Mother's Day Hamper / from £24.95 from
Treat your mum like royalty this Mother's Day with a hamper from Sponge.co.uk! Filled with an abundance of goodies, she'll be able to sample aromatic teas, delicious sponge cakes and a selection of pamper-night treats.
Full list of contents includes; Baby Sponges, a special cocktail & prosecco or loose-leaf tea & infuser, personalised concertina card, a glass candle, face mud mask, and six chocolate hearts (or vegan fudge alternative).
Priced at £24.95, hampers are available in traditional, quirky, gluten free or vegan options. The perfect way to show how much you care this Mother's Day!
Spring Pinata Cake / from £26.50 from
Who wouldn't want to shower their mum with a giant Pinata cake this Mother's Day? Consisting of four layers of delicious and rich chocolate sponge, sandwiched together with a velvety smooth chocolate buttercream, it's sure to be a show stopper.
The Spring Pinata is beautifully presented – with white chocolate buttercream and white chocolate flakes smothered all over the outside, as well as edible pink flowers on top. To top it off, the centre is filled with gold chocolate beans and pink and red sugar hearts, which are revealed as you cut into it.
Mother's Day Photo Cake / from £22.50 from www.sponge.co.uk/cakes/personalised-cakes/victoria-photo-cake
Sometimes presentation alone is enough to impress! This personalised Photo Cake from Sponge.co.uk is the perfect sentimental token to gift this Mother's Day. Customise this delicious cake by uploading a photo and adding some text, or you can choose one of our pre-designed toppers.
Made from either chocolate cake or traditional Victoria sponge, whichever you choose, it's sure to put a smile on your Mum's face.
Mother's Day Gift Box / from £13.95 from
Who wouldn't want to shower their mum with a delicious gift box consisting of four baby sponges? Simply heaven! The Sponge Mother's Day Gift Box can be tailored for traditional, quirky, gluten free or vegan flavours and comes with a personalised concertina card that you can add your own photos and message to. This mouth-watering box of treats ticks all the boxes and is bound to be a crowd pleaser for mums with a sweet tooth!
Mother's Day Cake Cards from £10.50 / available from www.sponge.co.uk/cake-card
Make it a Mother's Day to remember by sending one of Sponge's personalised Cake Cards – giving your mum a personalised message and tasty treat all in one! With a host of different flavours to choose from (including traditional, vegan and gluten free), there's something for everyone to enjoy this Mother's Day. Priced from £10.50, there are a range of designs to choose from including sentimental, creative and funny cards.
Mother's Day Colouring Cakes from £24.50 / available from www.sponge.co.uk/cakes/personalised-cakes/victoria-colouring-cake
Sponge's Colouring Cakes are the perfect way to get the whole family together for some fun this Mother's Day! You can use our pre-designed topper which can be coloured in using our unique edible cake pens. This Mother's Day, spend time with the family getting crafty, followed by tucking into the delicious sponge cake underneath – what more could you want?!
Perfect Mother's Day Gifts for the Green-Thumbed Mum
Small gifts for a small budget
STIHL MOTHER'S GARDENING GLOVES
The PES knit covering the back of the hand and fingers is highly breathable and the latex palm makes the gloves ideal for use in wet conditions, helping protect mum's hands
RRP: £7.44 available at www.stihl.co.uk/FUNCTION-DuroGrip
HOZELOCK HANGER STARTER SET
A fantastic space saver, the Hozelock Hanger Starter set helps keep the garden clutter free, whilst protecting the hose and accessories from damage.
RRP: £49.99 available at www.hozelock.com/watering-online-stockists/
HOZELOCK TRIGGER SPRAYER
The Hozelock Pulsar1L trigger sprayer is perfect for small jobs around the house or garden, ensuring mum's fantastic plants are fresh and well watered.
RRP: £13.99 available at www.hozelock.com/watering-online-stockists/
HOZELOCK SELF WATERING SYSTEM
Perfect for house plant lovers, the Hozelock Aquasolo is a simple watering system that can be used for pots and plants around your home and offers an innovative way of caring for plants both in the home & garden when you are away. It is a simple self-watering system, made up of a ceramic cone and a plastic screw adaptor. RRP from £7.59 available at www.hozelock.com/watering-online-stockists/
HOZELOCK GROWBAG WATERER.
The Hozelock Growbag Waterer makes growing plants in a growbag easier and helps keep plants watered for up to 14 days, featuring a 15-litre water reservoir.
Water is delivered directly to the plants roots through unique capillary watering spikes, and is easy to set-up and re-useable year after year.
RRP from £41.49 available at www.hozelock.com/watering-online-stockists/
STIHL SECATEURS
The ideal choice for mums who like to do some light trimming jobs around the garden.
RRP: £13.16 available at shop.stihl.co.uk/bypass-secateurs
Lavish luxury for your loved one
STIHL SHRUB SHEARS
The HSA 26 handheld shrub shears are brilliant for use in small and large gardens alike, as they make pruning small-leaved trees and shrubs so easy, making mum's life simpler and easier.
RRP £119 available at shop.stihl.co.uk/HSA26
STIHL BATTERY POWERED GARDEN PRUNER
The GTA 26 is the first battery-powered garden pruner by STIHL, and is the ideal tool for mum's who have a lot of small pruning tasks, cutting up garden waste and small DIY jobs.
RRP: £169 available at shop.stihl.co.uk/gta-26
STIHL GORGEOUS GRASS TRIMMER
The FSA 57 battery-powered grass trimmer is the ideal tool for keeping your lawn edges in check, and is lightweight, quiet and easy to manoeuvre.
RRP: £255 available at shop.stihl.co.uk/products/fsa-57-cordless-grass-trimmer?variant=44032669909225
• The Elvie Catch (RRP: £19.99) is a pair of silicone milk collection cups.
• The Elvie Curve (RRP: £34.99) is a pump that uses natural suction.
• The Elvie Stride (Single, RRP: £169/Double, RRP: £299) is a powerful, ultra-quiet, lightweight in-bra device that sits comfortably under clothing and moves with you. With no restrictive charging wires, mothers can discreetly express milk without compromising on pumping performance.
• The Award-winning Elvie Pump (Single Pump, RRP: £269 / Double Pump, RRP: £449) is the world's first ultra-quiet breast pump which is designed to let you pump discreetly.
Treat your mum this Mother's Day with brand new and award-winning Amarula African Gin – the ONLY gin in the world made from South African marula fruit.
From the makers of popular Amarula Cream Liqueur comes this premium, complex and utterly unique gin which celebrates the flavours of South Africa. Refreshingly light, Amarula African Gin won a Gold Award from the Spirits Business Gin Masters just before its launch in the UK last September, making it the perfect new gin to delight mum's taste buds this Mother's Day.
The marula fruit is coming into harvest right now in South Africa – a moment signalled by the elephants who, drawn by the scent of ripe fruit, gather beneath their trees …
Once collected, the marula fruit is then distilled with premium botanicals (juniper berries, orange peel and blossom, and grains of paradise), giving us a gin with an orange flourish and spicy backbone.
An extra special gift for mum, this gin also recognises the vital role elephants play in the marula fruit ecosystem – £1 per litre of every Amarula African Gin sold goes to the Amarula Trust to support elephant conservation and the local communities.
Amarula African Gin is available to purchase for £25 from Amazon or Master of Malt.
Forest Essentials brand-new Transformative Soundarya Night Cream. Promising to be the ultimate product in skin and cell renewal, this age-defying cream will be launching in the UK on the 8th March, just in time to make the ultimate luxurious gift for Mother's Day.
Crafted with the purest and most effective nourishers, natural antioxidants and high-performance rejuvenators, the transformative cream is immersed in an exceptionally rich Ayurvedic serum, made with 24 Karat Gold. Hand-poured into each jar, the serum helps create a restorative hydration surge to moisturise skin, improving elasticity and firmness. With such a rich blend of superior, naturally sourced herbs and activators, the Soundarya Night Cream works to target the seven signs of ageing.
Available to purchase in Forest Essentials' Covent Garden store from the 8th March 2023
www.forestessentials.co.uk
MOTHER'S DAY GIFT: SHARE THE GIFT OF RACEHORSE SHARED OWNERSHIP
• Share prices start from as little as £30. Find more information at www.inthepaddock.co.uk
Why Shared Ownership
If you are looking for something a little bit different and unique, Shared Racehorse Ownership is the perfect Mother's Day gift. It is a great choice for those looking to try something new, those who love the outdoors and animals, and it is easily available to purchase online.
The thrill of Shared Ownership is an experience like no other, from meeting your racehorse and seeing it compete at the races, to being part of the behind-the-scenes action via trainer updates, there is something for everyone. Gifting a share in a racehorse is a fantastic option for those who want to think outside the box this year and give a gift that's truly memorable.
How it works
It's easy to find the perfect syndicate or racing club for your loved one as www.inthepaddock.co.uk has over 160 to explore and compare. Share costs start from as little as £30, so they can share the fun while splitting the cost. The website provides comparisons of syndicates by location as well as price so you can be sure you're finding the best option.
What you get
A unique and special present, owning a share in a racehorse goes beyond the share, it also provides the opportunity to meet new people, enjoy days out, and get involved in horseracing in a way that can bring you closer to the action.
Owners can feel part of the team as they receive regular updates from the trainer on their horse, have opportunities to visit the racing yard and get behind-the-scenes access to Britain's second biggest spectator sport.
Please find here a video with "In The Paddock" ambassador Frankie Foster (former Love Islander), where he explains and shows the benefits of Shared Ownership through his own experience.
To find the perfect racehorse share for your loved one visit www.inthepaddock.co.uk.
Thinking about what to get your mum for Mother's Day?
Time together could be all she's after!
London, UK (March 2023): According to research from Railcard.co.uk, the main thing surveyed mothers want for Mother's Day is to see their children* (21%), so this year, it might be as simple as being there in person.
Despite this, more traditional gifts like flowers, chocolates and perfume remain the staple when it comes to showing mums our appreciation, with over half of us opting for these old reliables every year (56%).
With mums also revealing that the worst thing about Mother's Day is not seeing their children (19%), followed closely by the idea of their kids' spending money on them (17%), Railcard.co.uk has the perfect gift idea that would mean more quality time with your mum and less time filling a basket with items that don't mean as much.
Making memories
With more than one in ten (12%) mums hoping to be taken on a day trip or a weekend away, if you live nearby to each other, why not surprise yours with a Two Together railcard and make a commitment to take more adventures together throughout the year. A Two Together railcard offers 1/3 off train fares allowing you to spend more time and less money visiting places old and new.
Alternatively, at 60 years old a Senior Railcard enables mum to travel solo with the same 1/3 fare discount, with access to First Class bookings meaning you can arrange trips for mum to exciting new locations across Britain or simply visit you more often.
All railcards cost £30 and can save you an average of £152 per year. What's more, when buying through Railcard.co.uk you can benefit from a range of great deals that can be enjoyed with your mum, here are some of the best:
• Virgin Wines – £50 to spend at Virgin Wines plus FREE delivery & FREE Glasses worth £18!
• Cottages.com – Save 5% on a cottages.com booking with a Senior Railcard
• Theatre tickets – Save up to 50% on theatre tickets and gain access to our exclusive offers!
• Virgin Experience Days – Save 20% with a Senior Railcard on Virgin Experience Days
A day out with mum
For those looking to take their mum out for the day by rail, you can benefit from National Rail's 2FOR1 tickets to various attractions across Britain when booking tickets via DaysOutGuide.co.uk. There, you'll find something for every kind of mum, including the singer, the period drama fan, the gardener, the chocaholic and everything in between:
• Kew Gardens, London – London's largest UNESCO World Heritage Site with 300 acres of natural wonders, including Kew Palace, an indoor rainforest in the tropical Palm House, to the floral beauty of the Great Broad Walk Borders
o Nearest station: Kew Bridge
• Chocolate VIP Tour, London – London's finest Artisan Chocolatiers in Mayfair area samples Truffles and Ganaches which includea Marmite truffle and Champagne truffles and 10% off any purchases made during the tour
o Nearest station: London Victoria
• Bridgerton Tour, Bath – a tour which will promenade through Baths beautiful and historic streets, showcasing Bridgerton's filming locations while enjoying the music and sounds of Bridgerton through headphones
o Nearest station: Bath Spa
• British Music Experience, Liverpool – tells the story of British Music through costumes, instruments, performance, and memorabilia, where visitors can learn a musical instrument, from drum kits to keyboards, record in a vocal booth or practice dance routines in their dance the decades experience
o Nearest station: Liverpool Lime Street
• City Cruises, York – escape the city and enjoy York from a different perspective with an entertaining and informative tour of the River Ouse
o Nearest station: York
• Lucky Voice, Brighton – enjoy 2 hours singing for the price of one in your very own private karaoke room where you can sing your heart out with a microphone in one hand and an artisan cocktail concoction in the other!
o Nearest station: Brighton
For more information and to buy a Railcard today, visit Railcard.co.uk
Rooibos Red – the gift that tell your mother 'I love you'
It's time to give back and show our mothers we love and appreciate them – and nothing sums that up better than the gift of this gin.
If you're still looking for a gift for your mom, then the Cape Town Rooibos Red Gin varietal is the perfect choice. It is the wise old woman who always gives the best advice, but she will not hesitate to put you in your place if you deserve it!
Cape Town Rooibos Red Gin is infused with organic, handpicked rooibos indigenous to the Cederberg. Allowing the botanical to really shine with its vibrant red colour and distinctive taste, this gin has a beautiful rich earthy spiced flavour best sipped as a G&T paired with a twist of orange or a hint of ginger, or in a cocktail like the Cape Negroni:
INGREDIENTS
 25ml Cape Town Rooibos Red Gin
 25ml sweet vermouth
 25ml Campari
 Orange slice (fresh or dried)
 Ice
METHOD
Pour the gin, vermouth and Campari into a stirring beaker with ice and stir for 20 seconds. Strain into a tumbler, add ice and garnish with an orange slice.
Get your tickets for the iKapa2theWORLD festival taking place on 17 December at www.webtickets.co.za/v2/Event.aspx?itemid=1521226210.
For more recipes follow Cape Town Gin on our social media platforms, Facebook, and Instagram @CapeTownGin; and for more information about Cape Town Gin visit our website www.capetowngincompany.co.za
Love Your-Self meditation series – A thoughtful, perfect last-minute Mother's Day gift! – www.vanessaloves.life
Encourage mum to make some time for herself for once.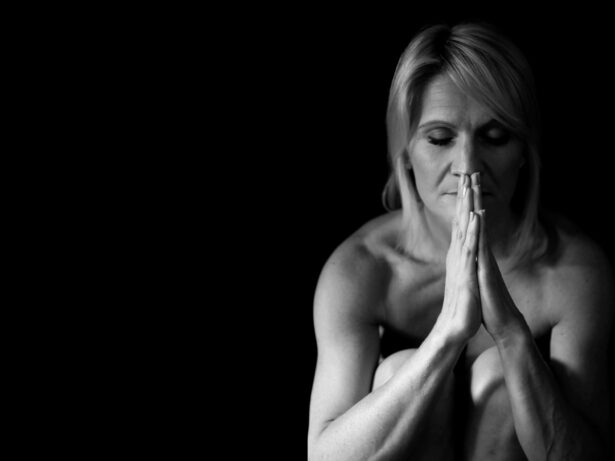 The perfect gift for busy mums that may want to try meditation but don't know how or where to start.
Emotional health coach Vanessa Louise Moore understands that people may find the term 'meditation' intimidating or unattainable. Meditation is for everyone and achievable by all – through this series she helps guide you and makes it simple and effective. Perfect for beginners through to the more experienced.
She says: 'Learning to Love Your-Self is a process and takes compassion, kindness and a willingness to see and feel yourself differently.'
In this Love Your-Self meditation series you'll receive 7 x 20 minute guided meditations for only £18 – with no worries about delivery in time for the day!
Just visit: vanessaloves.life/meditations
Bold Made
www.boldmade.com
Bold Made was awarded the Best Children's Product Award by Tillywig. Bold Made flips the script on traditional Old Maid by including Bold Women who made huge impacts on our world such as Malala Yousafzai, Temple Grandin, Ellen Ochoa, Roberta Bondar, Billie Jean King, Georgia O'Keeffe, Sally Ride, Maya Angelou, Amelia Earhart and many more. Bold Made also has a more aspirational goal of ending the game with the Bold Made card. The perfect way to have fun and learn about inspiring women at the same time. #educationisfun
Celebrate Mother's Day with the Ultimate Breakfast in Bed
• Pancake aficionados can treat Mum and whip up a stack of deliciously fluffy, plastic-free pancakes by ordering essential ingredients directly to the doorstep.
• There's no egg shortage here! Whether Mum likes them scrambled or sunny-side up, order farm-fresh eggs up to 8pm the night before a scheduled delivery.
• Modern Milkman's eco-loving delivery service provides products in return-and-reuse or single-use plastic free packaging, for a guilt-free Mother's Day.
Looking for a deliciously indulgent breakfast to serve Mum this Mother's Day? Whether you're a seasoned pancake pro or simply looking to satisfy a sweet tooth, make it stress-free by ordering special breakfast bundles to be delivered conveniently right to the doorstep.
Helping Mum's to celebrate in style, the 21st Century's answer to the traditional milkround Modern Milkman, has a variety of options certain to tantilise the tastebuds from its essential breakfast (from £5.50), luxury yoghurt (£3.15) and pastry selection (£7.95) bundles, to everyday essentials including semi-skimmed milk (from 88p/pint) and salted butter (£2.30/pack) to craft the perfect pancakes.
There's also no egg shortage here! The sustainable grocery delivery service has an abundance of farm-fresh, free-range and organic eggs which can be added to orders up to 8pm the night before a scheduled delivery – guaranteeing you have everything you need this Mother's Day.
Get your frying pans ready and treat mum with our recipe for Perfectly Different Blueberry Pancakes, here's what you'll need:
Ingredients:
140g Plain flour
1 ½ tsp Baking powder
2 Medium Free Range Eggs
30g Melted Salted Butter
140g Semi-Skimmed Milk
1 tsp Lemon Juice
¼ tsp Salt
200g Fresh or frozen blueberries
30g Golden caster sugar
1 tsp Water
Instructions:
1. Add the blueberries, sugar and water to a small saucepan and heat while stirring until the blueberries start to break down. Bring to a simmer and continue to cook for 5 minutes, until the blueberries look like a jam. Remove from the heat and set aside and allow to cool.
2. In a bowl, add the flour, baking powder and salt, and mix together.
3. Make a well in the centre of the flour mixture, and add eggs and 2/3rds of the milk. Gently whisk together until combined (don't over mix!).
4. Add the melted butter, lemon juice, and remaining milk and continue to gently mix.
5. Fold in your blueberry mixture.
6. Heat the frying pan on a medium/low heat for a few minutes until it's up to a constant temperature. Add a bit of butter to the pan so the pancake doesn't stick.
7. Once your pan is at a nice temperature, you can either make a tiny test pancake to see if the temperature is just right, or you can go ahead and start spooning the batter into the pan (these are homemade after all, so they're allowed to be perfectly different!).
8. When spooning in the batter, you can use about ¼ cup of batter per pancake.
9. Cook for 1 to 1 ½ minutes on each side until it turns a nice golden brown on the edges and middle. A good tip is to watch for bubbles – the more bubbles, the more cooked it is.
10. While you cook the rest of the pancakes, keep the already made ones in a low pre-heated oven so they stay warm.
11. Top your pancakes with whatever you want! We opted for blueberries, honey, and powdered sugar.
12. Enjoy!
For more tips and tricks to living a greener, more sustainable lifestyle, you can visit the Modern Milkman blog and to join the milkround, visit www.themodernmilkman.co.uk.
AHCC® is a proprietary cultured shiitake mushroom extract that originated in Japan and China for its immune modulating benefits. AHCC® is one of the world's most researched immune supporting supplements, with over 30 human clinical studies to back it up.
We would like to offer you up this supplement to be included in this wellness gift guide as it can help your immune system get back to where it should be – helping you fight off all of these lurking viruses in the winter months.
Treat Mum this Mother's Day
'All because Mum loves….. Chococo!'
Treat Mum this Mother's Day with some delicious, handcrafted chocolate delights from Chococo, the
multi-award-winning chocolate company based in Dorset. Chococo celebrated its 20th birthday
recently and today it cares as much about great taste, sustainability, provenance and its
environmental impact, as it did twenty years ago. All the range is presented in plastic-free, recyclable
packaging.
The NEW range includes a large Mother's Day selection box full of 25 delicious, handcrafted
chocolates, chocolate hearts hand decorated with pink and yellow flowers, a chocolate box and
chocolate heart gift set, a gift bag and a gift hamper bag, packed with chocolate gifts for Mum to
enjoy. There's something in this handcrafted collection to suit all tastes and budgets.
NEW for this Mother's Day is Chococo's exciting direct trade partnership with Luker Chocolate in
Colombia. Chococo is now sourcing two new sustainable chocolates made with fino de aroma
cocoa beans and shipped direct to the UK. First is their new signature 47% milk chocolate made
exclusively for Chococo which has a wonderfully deep yet creamy chocolate taste but contains just
30% added sugar. Second is their delicious plant-based, naturally vegan-friendly 43% oat m!lk
chocolate made with gluten-free oat powder for a clean, creamy chocolate taste without the dairy.
Chococo also continues its direct trade partnership with Martinetti Cocoa in Ecuador to source its
signature 72% single estate dark chocolate couverture. This chocolate is crafted at origin exclusively
for Chococo by Martinetti, from fine heritage arriba cocoa beans grown on Hacienda Zoilita in the
Los Rios region. This chocolate has moreish, purple fruit notes and a smooth, soft finish.
Chococo's passion for flavour over the past 20 years has resulted in them winning 123 fine food
awards to date including Great Taste Awards, International Chocolate Awards and Academy of
Chocolate Awards.
So do the right thing and treat your Mum on Sunday 19th March because as we all know, '…Mum
loves…. Chococo!'
2023 VAL ENT INE P R ICE L I S T
Ex vat prices as of December 2022
Makers of multi award-winning creations since 2002, we are proud to be
Dorset-based fine chocolate experts who care about great taste,
sustainability, provenance, our environmental impact and delighting our
customers. We look foward to working with you to do the same for your
customers this Valentine's!
Claire & Andy Founders
Our chocolate (see page 4 for more info):
New 47% Colombia origin milk chocolate – our signature recipe with less sugar than most milks
72% Ecuador single estate dark chocolate – our signature recipe made for us in Ecuador (vf)
43% Colombia origin oat m!lk chocolate – also made in Colombia (vf & gluten-free)
We also only use natural colours which are all titanium dioxide-free
@Chococotweet / Chococo Chocolates/ chococochocolates/ www.chococo.co.uk
2023 VAL ENT INE P R ICE L I S T
Ex vat prices as of December 2022
Makers of multi award-winning creations since 2002, we are proud to be
Dorset-based fine chocolate experts who care about great taste,
sustainability, provenance, our environmental impact and delighting our
customers. We look foward to working with you to do the same for your
customers this Valentine's!
Claire & Andy
Founders
Our chocolate (see page 4 for more info):
New 47% Colombia origin milk chocolate – our signature recipe with less sugar than most milks
72% Ecuador single estate dark chocolate – our signature recipe made for us in Ecuador (vf)
43% Colombia origin oat m!lk chocolate – also made in Colombia (vf & gluten-free)
We also only use natural colours which are all titanium dioxide-free
All the items listed below are available online on its website www.chococo.co.uk
Mother's Day Selection Box (£26.00/large box of 25 chocolates) This box of award-winning, delightful
chocolates is bound to make Mum happy! It contains the following chocolates: Blackcurrant Beauty
(3 Star Gold Great Tase Awards 2018 & 2009; Cherry Bakewell (1 Star Gold Great Taste Award 2022);
Cashew Nut Butter (vf); Cherry Bakewell (1 Star Gold Great Taste Award 2022); Glorious Ginger (vf);
Golden Crunch Gem ; Heavenly Honeycombe; Lemon Zing (Bronze Academy of Chocolate Award
2017); Melting Milk Truffle (1 Star Gold Great Taste Award 2010); Molasses & Brown Butter Caramel
(2Star Gold Great Taste Award 2022, Gold International Chocolate Award (British) 2022); Peach Bellini
(another Great Taste Gold winner in 2021); Perfect Passion (1 Star Gold Great Taste Award 2015); Port
Barrel Gin & Juniper (vf); Raspberry Riot Truffle ; Rhubarb & Vanilla (1 Star Gold Great Taste Award
2012); Salcombe Sundowner (2 Star Gold Great Taste Award 2018); Strawberry & Balsamic Vinegar
Caramel; Tate Heart; and Timmy's Chocolate Orange.
Large Chocolate Hearts (£15.00/ 200g) Gift Mum a large, handcrafted chocolate heart handdecorated with naturally coloured pink and yellow flowers. You can choose from a 47% Colombian
origin milk heart or a 43% Colombian oat m!lk heart (vf – vegan friendly). Each heart is hand-wrapped
in compostable packaging with a ribbon.
@Chococotweet / Chococo Chocolates/ chococochocolates/ www.chococo.co.uk
2023 VAL ENT INE P R ICE L I S T
Ex vat prices as of December 2022
Makers of multi award-winning creations since 2002, we are proud to be
Dorset-based fine chocolate experts who care about great taste,
sustainability, provenance, our environmental impact and delighting our
customers. We look foward to working with you to do the same for your
customers this Valentine's!
Claire & Andy
Founders
Our chocolate ):
New 47% Colombia origin milk chocolate – our signature recipe with less sugar than most milks
72% Ecuador single estate dark chocolate – our signature recipe made for us in Ecuador (vf)
43% Colombia origin oat m!lk chocolate – also made in Colombia (vf & gluten-free)
We also only use natural colours which are all titanium dioxide-free
Personalised Chocolate Hearts (£17.50/ 200g) Let Mum know you love her with these tempting hearts
with a personal message. Each heard is hand-decorated with pink and yellow flowers. You can
choose from a 47% Colombian origin milk heart or a 43% Colombian oat m!lk heart (vf). You can then
choose a personal message for Mum (up to 25 characters) to be hand-piped for her by the Chococo
chocolatiers in chocolate. And what's more, each heart is hand-wrapped in compostable packaging
with a ribbon.
A Mother's Day Gift Set (£23.40) Spoil Mum with this lovely gift set of a medium Mother's Day Selection
box of 16 handcrafted award-winning chocolates and a small milk chocolate heart (75g) made from
47% Colombia origin milk chocolate. The milk chocolate heart is hand-decorated with pink and yellow
flowers. A real treat for Mum.
@Chococotweet / Chococo Chocolates/ chococochocolates/ www.chococo.co.uk
Say "I love you, Mum" with a luxury Afternoon Tea at the newly reopened Roseate Hotel Edinburgh
Enjoy it with a selection of fine teas, a glass of champagne or choose from the artisan gin selection and make it a Hendrick's G&Tea
This Mother's Day (March 19th) why not treat the mother-figure in your life to a traditional Afternoon Tea experience at the newly reopened Roseate Hotel Edinburgh.
Served in The Dunstane Restaurant & Bar or The Roseate Garden, the luxury afternoon tea offers a delicious spread of freshly prepared sandwiches, home baked cakes and fluffy scones slathered with locally made jam and Scottish cream from as little as £30pp.
The seasonal menu features an array of modern takes on traditional classics, including starter dishes of mackerel pate on oatcakes and vegetarian haggis spring rolls, alongside a selection of much loved sandwich combinations like smoked salmon and cream cheese and egg mayo and chive. With all dietary requirements catered for, all guests are welcome to enjoy the luxury afternoon tea experience featuring seasonal, locally sourced ingredients without worry.
Guests can also choose to complement their freshly baked dishes with a selection of fine teas, a glass of champagne or choose from a variety of artisan gins and make it a Hendrick's G&Tea. The Roseate Edinburgh is delighted to bring diners a choice of teas selected by the Tea Lovers' Company. Founded in St Andrews in 2012, the company produces fine whole-leaf teas in eco-friendly pyramid bags.
To book your afternoon tea experience, visit: www.roseatehotels.com/edinburgh/theroseate/dine/afternoon-tea/
About the Roseate Hotel Edinburgh
The new boutique hotel has opened in the heart of Edinburgh, offering 35 lavish rooms, luxury afternoon tea, and views of the Pentland Hills set within two newly refurbished Victorian townhouses dating back to the 1860s. After mindful restoration of the heritage buildings, the five-star Roseate Edinburgh comprises a range of luxurious rooms and suites, each uniquely styled to balance timeless Scottish tradition and modern comfort.
Located in Edinburgh's West End, a 25 minute walk from princess street's incredible views of Edinburgh castle and less than a 20 minute walk to iconic Dean Village, the hotel is perfect for those looking to enjoy a weekend away in Scotland's capital.
As well as a complimentary welcome refreshment and local Scottish delicacies (both shortbread and 'tablet', a home-made local fudge) on arrival, guests at The Roseate Edinburgh can enjoy well-appointed en-suite shower rooms, handcrafted beds with Egyptian cotton sheets, fluffy bathrobes, Scottish woollen throws, a luxurious range of Noble Isle amenities and a flurry of other features to ensure an idyllic stay.
Suites at the hotel provide guests with a range of unique amenities such as four-poster beds, freestanding copper roll-top baths in the room, and of course, sweeping views of the Edinburgh cityscape and its surrounds.
The Roseate Edinburgh also promises an outstanding culinary experience, leveraging Scotland's finest seasonal produce and spirits sourced from Highland breweries and distilleries. Head chef Edward Fortune is a three rosette, two red star chef who has joined the team from the Royal Crescent hotel in Bath. His menu will focus on local suppliers with some of the best seasonal food Scotland has to offer with an ever-evolving menu to reflect this.
The on-site Dunstane Restaurant & Bar – so named in homage to the hotel's erstwhile name and legacy as the Dunstane Houses – offers over 80 fine Scottish single malts in addition to a fine selection of wines, craft and artisanal gins from distilleries in Scotland and beyond, providing plenty of options for a nightcap after a busy day exploring the city.
The experience would be incomplete without a traditional Afternoon Tea, and the Roseate Edinburgh has sought to curate an Afternoon Tea experience in all its glory. With all dietary requirements catered for, all guests can enjoy dainty sandwiches, home baked cakes and fluffy scones complete with jam and Scottish cream, and paired with a fresh brew.
"The Roseate Edinburgh is a wonderful new gem in our flourishing portfolio of luxury boutique hotels in the United Kingdom. We are excited to bring the magic of Scotland, the land of moors, hills and highlands, its amazing hospitality, exemplary cuisine and a very bespoke experience to our guests." said Mrs Radha Bhatia, Chairperson, Bird Group India.
Roseate Hotels & Resorts known for their classic charm, immaculate hospitality, elegant interiors and a mindful restoration of heritage properties, promises its distinguished guests – both human and canine – a fascinating experience at The Roseate Edinburgh. Dog friendly packages are available upon request.
For more information, please visit: www.roseatehotels.com/edinburgh/theroseate/
BOOK
MOM'S THE WORD: The Wit, Wisdom, and Wonder of Motherhood
by Allen Klein
Heartwarming and humorous, this tribute to moms of the world gathers the best things anyone ever said about motherhood. From beloved role models to movers and shakers, women (and a few men) crack wise on the subject at the center of everyone's life, mommy dearest!
Mother, Mom, Mommy, Ma, Mama, Mum—there are many ways to call the person who brought you into this world. If you want to thank and delight the woman who has meant so much to you, look no further than this heartfelt collection of inspirational mom-related quotations.
SAMPLES
My mother loved children—she would have given anything if I had been one.
-Groucho Marx
Isn't that a wonderful title for a new mother?
Chief cook and bottom washer.
-Robert Orben
A mother is a person who, seeing there are only four pieces of pie for five people, promptly announces she never did care for pie.
-Tenneva Jordan
HOP TO THE MOLE RESORT DEVON FOR A COUNTRYSIDE
EASTER RETREAT LIKE NO OTHER
This Easter, burrow down for fun and frolics at The Mole Resort in North Devon for a one-of-a-kind springtime break experience.
With a promise of fabulous stays and active days, the new resort destination is offering the ultimate Easter escape to the Devonshire countryside, with stunning eco-conscious lodges available from £273 per night.
The Mole Resort offers all you need for an unforgettable Easter break – including great food and active fun; delicious seasonally-inspired dishes with locally-sourced ingredients, and a myriad of activities to keep mini moles engaged and entertained throughout the retreat.
What's more, from Monday 3rd to Sunday 9th April, an onsite petting zoo and an Easter trail (with its own fun and educational activity pack) will be running at the resort*. These Easter experiences are in addition to the 125-acre countryside 'playground' which offers everything from swimming (indoor), croquet and foot golf, to woodland walking trails and a kids' play area.
Federico Aresti, General Manager said: "With so much on offer for both the young and the young at heart, families and friends can do as much or as little as they like during their stay with us. You'll be in for an Easter treat like no other from the moment you arrive – and the best part is that you'll be amongst the first to experience what our whole new resort is all about."
Guests can choose a hotel room from £110 per night, or one of the self-catering lodges, which sleep up to eight people, from £273 per night.
All lodges, many of which are dog friendly, boast exquisite views, a large deck with outdoor dining, hot tubs and fully-equipped kitchens. During a stay at The Mole Resort, guests have the flexibility of self-catering or eating in the resort's fabulous restaurants.
The Mole Resort expansion will see a total of 58 lodges by June 2023, alongside a fully-refurbished hotel.
For more information and to book visit: www.themoleresort.co.uk/easter
For the latest updates, offers and inspiration follow The Mole Resort on Instagram and Facebook.
*The Easter Egg Trail and Activity pack will be running from 3rd – 9th April and the Petting Zoo will be available on Sunday 9th April only (times TBC). Please note: no hooved animals will be there, to avoid any risk of foot and mouth.
Rugby Threads is a new rugby apparel brand, boasting a wide selection of unisex and inclusive designs helping to promote the diversity of our great game. They currently have a fantastic selection of 'Rugby Mums' products in stock, giving a shout out to all the incredible work and dedication that mothers put in to keep players and teams growing across the world.
FFØR are a vegan, UK made sustainable haircare brand. Multi-award winning, their products are sulphate, mineral oil and paraben free.
They have a lovely gift set, perfect for Mother's Day pampering!
Nourish Gift Set – www.fforhair.com/product/re-nourish-gift-set
Boost hydration and seal in split ends with this ultra-hydrating bundle. Luxurious, enriching and hydrating, hair will be left restored, reinvigorated, sumptuous and soft. Indulge them this Mother's Day with the gift of premium haircare, with a conscience.
£39, includes:
• 1 x 300ml Re:Nourish Shampoo
• 1 x 300ml Re:Nourish Conditioner
• 1 x 200ml Re:Plenish Conditioning Mask
Boho Beth
Key Hooks Brass Wire Word
At last, a place to keep your keys and remember where you put them. Life's essential not to mention life changing!
View product on company website: www.bohobeth.com/products/keys-brass-word-hooks
Price: £12
Stockist information: https://www.bohobeth.com
Made By Coopers Mother's Day gift guide
Celebrate the most important person in your life this Mother's Day with gifts crafted with wellbeing in mind from Made By Coopers. From gifting a good night's sleep to the perfect bath buddy to making your world much calmer.
The Made By Cooper's brand was formed after the founder, and now apothecary, well-being and anxiety expert Clare White found solace from her all-consuming anxiety disorders in essential oils and powerful plants.
Made By Coopers only use natural, organic and plant-derived ingredients to create its ever-growing artisan line of wellbeing, bath, beauty, skin, candles and luxurious gift set products. There's a gift to spoil the mother figure in your life this Mother's Day
Vanilla Rose Bath Salts: £22.50
madebycoopers.com/products/vanilla-rose-bath-salt-blend?_pos=1&_sid=e20f35c4b&_ss=r
Treat your mum this Mother's Day and run her a lovely hot bath with some of Made By Coopers Vanilla Rose Bath Salts. It's her turn to be pampered and spoilt for the day, so this product created with self-care in mind is a perfect choice.
Its nourishing bath salt blend with Vanilla and Ylang Ylang essential oils help to rejuvenate the skin and will help relax and unwind.
The bath will turn into a full-body healing experience with a splash of rose petals and sweet vanilla aromas. These Bath Salts also come in the Sleepyhead collection, the perfect way to unwind before bed and they will have you drifting off in seconds.
For just £22.50 you can treat mums to the spa experience from the comfort of you're their home.
Calm Room Spray: £13.20
madebycoopers.com/products/calm-room-spray?_pos=1&_sid=c0137cc90&_ss=r
Does the mother figure in your life have a very hectic, busy schedule? A mum who never knows when to stop. Well, it's time to treat them to some of Made By Coopers Calm Room Spray which can be used at night to spray on a pillow or simply put it in your bag until needed.
A relaxing blend of five essential oils designed to calm the mind and body.
This room spray is perfect for, helping aid sleep and relaxation, reducing anxiety and stress, used for yoga or meditation or even as a natural air freshener.
Ylang Ylang and organic lavender are great stress and anxiety relievers, and Frankincense will help to calm and relax the mind and body.
If you're struggling with what to get for your mum, this is a great present as they can learn the power of essential oils and allow themselves to be calmer.
The Calm Candle: £28
madebycoopers.com/products/calm-scented-candle?_pos=1&_sid=9c5f0fd54&_ss=r
If your mum is a lover of candles and can at times feel stressed and anxious? You need to treat her to one of Made By Coopers Calm Candles.
It's a calming blend of five essential oils designed to relax the mind and body, in the morning, during the day, or at night.
The soothing Organic Lavender has been blended with clean crisp Bergamot and Ylang Ylang, with base notes of Frankincense and light Rosemary undertones. Combined with its new, more sustainable, coconut and rapeseed wax.
Everything your mum will need to aid relaxation and reduce stress and anxiety.
Nothing says "I love you" quite like something shiny, sparkly, or sentimental, making jewelry the perfect present for the amazing women in our lives.
Linneys Jewellery's Mother's Day gift guide encompasses what giving is all about, whether it is a coloured gemstone, Australian south sea pearl, or a life changing diamond Linneys Jewellery will have a piece that works for everyone, no matter their taste, vibe, or lifestyle. Give back this Mother's Day with something unique, radiant and beautifully hand-crafted.
Everyone sends flowers, but have you ever considered quality faux flowers that last? Contempee's number 1 top pick for Mother's Day 2023 is the Kiku Flower available from our shop. Quality faux flowers in general make a great gift as they are both beautiful and long-lasting, but the Kiku in particular stands out to us. Kiku's are modelled on the Japanese chrysanthemum, which is not just a beautiful flower, but also the symbol of the sun, perfection, long life, power and nobility. The Kiku is so special in fact, that it is the official flower of Japan, the seal of the Imperial family of Japan, as well as the insignia on every Japanese passport. These stunning flowers make a perfect Mother's Day gift. Not only do they look beautiful in any home, as the symbol of power and nobility they have a special meaning behind them. And after all, what is more powerful and noble than the Mother?
10 stems of our faux Kiku Flowers are available for just £26.99 in a variety of colours, and make the perfect statement paired with our Aria vase. www.contempee.com/collections/faux-kiku-flower / www.contempee.com/.
Give the Gift of a Good Night's Sleep This Mother's Day
London, 3rd March 2023: Koala & Joe, a new platform connecting parents with trusted parent & child experts, have launched e-Gift vouchers in time for Mother's Day. From infant massage to sleep coaches, maternity nurses to night nannies, you can treat your loved one to expert help at the click of a button. After all, what better gift for a new mum is there than a good night's sleep?
Koala & Joe enables parents to find and book online or in-person sessions with pre-vetted experts across a variety of specialisms. From doulas to dietitians, sleep coaches to speech therapists. Sessions start from just £30 and gift vouchers can be set for any amount. A unique code is emailed to the buyer or recipient and entered at checkout upon booking. Remaining credit can be spent on future appointments.
Dedicated to connecting parents and carers with the best, most trusted experts in all areas of their children's care, Koala & Joe has strict vetting criteria developed in consultation with professional associations, ensuring only the most qualified experts can join the site. Koala & Joe enables parents and carers to:
 Search pre-vetted experts
 Read reviews from other parents
 Book appointments directly at a convenient time (online or in person)
Founded by three mothers, Koala & Joe's mission is to help families live happy, healthy stress-free lives. To extend its positive impact, the company has committed to giving back 1% of its revenues to support the most vulnerable families in the UK.
To find out more about Koala & Joe or to book an appointment with a vetted, user-rated expert, please visit www.koalaandjoe.com.
Taking your mother to a local ASK Italian to try out their Mother's Day special would be so lovely
We want everyone to shower their mother with love this Mother's Day and discover ASK Italian's delicious three-course Mother's Day menu, which is available from the 17th – 19th March. It's one not to miss!
Enjoy a range of tasty treats at your local ASK Italian, including creamy Burrata Caprese or Butterfly King Prawns to start. Feast on a Purple Pesto Genovese Frilly Tagliatelle or a Luganica Sausage & N'Duja Frilly Tagliatelle for your main and finish this off with a Sicilian lemon tart topped with rich vanilla gelato.
The delicious menu is available for only £25.95, and guests can enjoy a Strawberry Daiquiri or Passion Fruit Martini cocktail which can be added for just £5 when ordered with the set menu – the perfect accompaniment to your meal.
PlantBox is an eco-friendly, stackable living wall designed to best fit your space, no matter the size. It can be installed in the home or garden and offers a space to plant pollinator-friendly plants or create your own vertical allotment, teaming with fruits, vegetables, and herbs. PlantBox is made in the UK using 100% recycled materials and 1% of sales are pledged to environmental causes, so you are helping to transform more than one space.
The spring sale is now on, so until 20th March, Growing Revolution is offering 20% off online!
Please let me know if this would be of interest, we can share high-res images on request!
From £68.00, available from www.growingrevolution.com
Crown Prince Alexander & Crown Princess Katherine Of Serbia Host the LIFELINE New York Benefit Dinner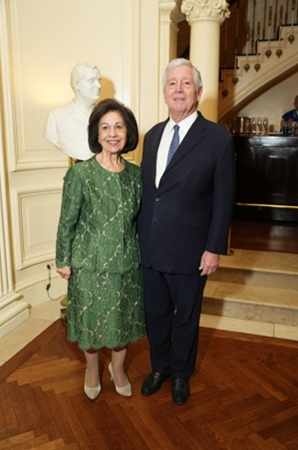 HRH Crown Princess Katherine of Serbia, HRH Crown Prince Alexander of Serbia
(Photo Credit: Patrick McMullan/PMC / Getty Images)
HRH Crown Prince Alexander and HRH Crown Princess Katherine of Serbia hosted the Annual Lifeline New York Benefit Dinner at The Lotos Club in New York City In aid of children's hospitals in Serbia.
Lifeline Humanitarian Organization is an international effort founded 30 years ago in 1993 as an urgent response to the tragic humanitarian situation in the former Yugoslavia, which was afflicted by conflict and sanctions. The goal of Lifeline is to reduce and relieve the suffering of physically and mentally disabled children, orphans, the elderly as well as to improve medical facilities in the country.
HRH Crown Prince Alexander addressed the guests at the Dinner and then HRH Crown Princess Katherine thanked her husband, and everyone involved with the Lifeline Foundation, "My humanitarian efforts for Serbia started 3 decades ago by providing medical equipment for the University Children Hospital in Belgrade. Children, their health and their well-being are in the very core of all my humanitarian activities, as well as the activities of my foundation in Belgrade and all Lifeline humanitarian organizations whose patron I am. There is a very difficult situation with children's hospitals in Serbia and they need to be equipped properly, much better than now, in order for our doctors and nurses to provide appropriate care for our sick children."
HRH Crown Princess Katherine then spoke regarding the importance of helping children in Serbia. Humanitarian items were donated such as clothing, paintings and portraits which were auctioned.
The attendees also enjoyed the musical performance by singer Gwyneth Giangrande alongside pianist Nick Guerrero.
Notable attendees included: Patron HRH Crown Princess Katherine of Serbia and HRH Crown Prince Alexander, HE Ms. Olgica Vlacic, Bishop Irinej, fashion editor Rushka Bergman, Catherine Broadbent, Jack Hartnett, TV personality Tijana Ibrahimovic, entrepreneur Cheri Kaufman, fashion designer Nicole Miller, Peter Pizzino, Kyle Wool President of Wealth Managemen at Revere Securities, Soo Wool, EF Hutton CEO Joseph T. Rallo, Ashley Rallo, Greg Roumeliotis, Gillian Tullman Whealen, Ryan Whealen, David Boral, Lisa Boral, Maryanne Grisz FGI president, Ana Martins, Ted Kim, Sun Song, Ivan Martinovic, Kristina Martinovic, Ella Legresley, Nicole Legresley, Bill Schlight, Nadia Martincic, Jay Yu, Seo Pak, Mara Radulovic, Nanad Grmusa, Kristina Bundra, Greg and Sheila Giangrande, Dr. Benjamin Sadock, Dr Virginia Sadock.
Lifeline's Board of Directors includes David Hryck (President), Susan Gutfreund (Vice President and SKG Decor), Cheri Kaufman (Vice President), Slobodan Bekvalac, David W. Boral, Dragana Djuknic, Anthony Hayes, Peter Pizzino, Joseph T. Rallo, Kyle Wool and Bojana Jankovic Weatherly M.D.
Photo Credit: Jared Siskin for PMC/Getty Images
Mum-approved: Find the perfect gift this Mother's Day
When it comes to finding the perfect gift for Mum this Mother's Day, it can be a daunting task. Fortunately, you don't have to worry anymore as we have gathered a list of ideas that mums will surely love! With our top 10 list of mum-approved gifts, you'll be sure to find the right one to show her how much she means to you.
Kikkerland Crafters Macrame Keychain Kit £10 Kikkerlandeu.com
The Crafters Macrame Keychain Kit is the perfect gift for mums. This kit not only comes with the basic materials to make three beautiful handmade keychains but also an instruction book with step-by-step instructions to ensure a successful crafting experience. Allowing mothers to craft their own keepsakes
Kikkerland Decorate Your Own Mug £19.99 from Waterstones
Make mum her very own one-of-a-kind cup design with this kit. With all the necessary tools, instructions, and materials to create an amazing cup, perfect for Mother's Day
Kikkerland 12 Piece Charcuterie Set £35 from Kikkerlandeu.com
For cheese lovers looking for the perfect charcuterie set, look no further. This 12 Piece Set is crafted from wood and a slate plate top, giving it style and elegance for any cheese board. This set includes 3 cheese knives with 5 cheese markers, 1 chalk, and an olive dish to complete the selection.
Mnched Reusable Cutlery Set £27 from Mnched.com
Upgrade meal time "on-the-go" with the reusable and sleek stainless steel travel cutlery & straw sets. With single-use cutlery sets being banned there is never a better time to buy mum her very own portable set. The set includes a knife, fork, spoon, and straw, all conveniently packaged together in a carrier for easy transport.
Ivy Leaf String Lights £15 from UrbanOutfitters.com
Give mum a touch of sophistication with Kikkerland's set of ivy-inspired string lights. These 10 feet of remote-controlled lighting comes with a USB plug that turns any space into an illuminated paradise.
Goat Yoga Magnets £9 from Cultpens.com
Gifts don't have to be expensive to make a great impression. Perfect for yoga and goat lovers, these cheeky five hand-painted goats from Kikkerland are the perfect present for mums who need that moment of zen and like to keep notes organised on the fridge.
ZeroWater Reusable 500ml Water Bottle with UV-C Cap £44.99 from ZeroWater.co.uk
The Stainless Steel 500ml bottle with a UV-C cap is ideal for keeping hydrated during those hectic days. This bottle has a very special extra, its UV-C cap is the latest solution that will keep your bottle clean and fresh while ensuring that your water is safe, it kills 99.9% of all pathogens and viruses. It uses the power of ultraviolet rays to eradicate nasties throughout the day.
Mini Celebration Tin £7 from Kikkerland
Celebrate this special day with the Mini Celebration Kit, which contains all the essential items to help show how much you love mum.
Kikkerland Camera Pencil Sharpener £15 from Norstorelondon.com
Dump the boring pencil sharpener and replace it with the artistic Kikkerland Camera Pencil Sharpener has a sleek and stylish design, meaning mums can create beautiful drawings with attention to detail with a sharp pencil.
ZeroWater 1.7l Filter Jug £29.99 from ZeroWater.co.uk
ZeroWater understands the importance of convenience when it comes to water filtration. That's why their revolutionary 7-cup water filtration jug is designed specifically to fit in standard UK fridge doors. It removed 99.6% of all contaminants allowing healthy and delicious filtered water.
For all those wonderful mothers out there who are always ready to help and to care for their loved ones…
Why not give them some special care and time off in return this Mother's day.
Treat your Mum to a voucher for a one off, or a series of, hypnotherapy session(s) for her relaxation, wellbeing and self confidence boosting. She will benefit hugely from finding it easier to switch off mentally, sleep better and grow her positivity mindset.
Let me know if this is something that you would like to gift to your lovely Mum?
helendoyletherapy.com
MAKE MOTHER'S DAY EXTRA SPECIAL WITH COOKWARE AND KITCHEN GADGETS FROM ZWILLING AND STAUB
Whether it's making breakfast in bed or a Sunday roast or giving the perfect gift to a keen cook, this year make Mother's Day one to remember with cookware and kitchen gadgets from ZWILLING and STAUB. Here are a few ideas to make Mother's Day really memorable for anyone who deserves a special thank you.
For keen cooks
A great gift for mums who enjoy cooking as well as those who have limited storage or a small kitchen, STAUB's Stackable Cocottes are the perfect space-saver. Available in a two or three-piece set in Black, Cherry or White Truffle, the cocottes can be used for all kinds of dishes and simply slot into one another after use. Made from enamelled cast iron, the inside has thousands of little micro grill points that collect cooking juices in the gaps for deliciously moist and flavoursome results. The tight-fitting lid meanwhile allows moisture to drip back onto the food for tender meat and juicy vegetables. The set is suitable for all hobs including induction and can be used for roasting, braising, frying, searing, caramelising, steaming, boiling, blanching, slow cooking and baking.
For hosting and entertaining
STAUB is renowned for its Cocottes. This cast iron cookware comes in a selection of different sizes and can be used for all types of dishes, in the oven and on the hob, and is perfect for all kinds of cooking methods too, from roasting and baking to frying and slow cooking. The latest colours include the new Cherry Blossom and Sage, ideal for complementing both classic and contemporary kitchens, while classics such as Cherry Red and White Truffle will never go out of style.
For coffee lovers
Mums who enjoy a strong cup of coffee first thing will love to receive ZWILLING's ENFINIGY Drip Coffee Maker. In a sleek Silver finish, it has a large 1.5 litre water tank to make 12 cups before refilling, handy timer and keep warm functions and it blooms coffee grinds before brewing for a more robust and smoother flavour. No more guesswork when it comes to the optimum time and temperature either, as this coffee maker does it all. It also has a corrosion-resistant stainless steel boiler for a better taste.
For fitness gurus
Mums who are into their health and fitness will appreciate ZWILLING's ENFINIGY Personal or Power Blender to whip up deliciously fresh homemade smoothies. The Personal Blender in Silver or Black can be used to blend fruits, vegetables, nuts and ice thanks to its stainless steel blade with special serration and piranha teeth. It also includes a handy drinking bottle that can be taken out when exercising or running. The Power Blender meanwhile, also in Silver or Black, has a winglet blade and six automatic programmes for pulse, smoothie, cocktail, ice cream, ice crushing and cleaning.
For home bakers
Any keen baker knows that a precise digital scale is essential for perfect results so give them the gift that keeps on giving with ZWILLING's ENFINIGY Digital Kitchen Scale in Black or Silver glass. It features touch control and a handy tare function that resets the scale to zero and automatically subtracts the weight of a bowl or plate from the measurement. It's accurate to 1g while its built-in long-lasting battery is rechargeable and can be powered up with the micro USB cord that comes with it.
For breakfast in bed
Serve hot buttered toast and a cup of tea or coffee in bed with ZWILLING's ENFINIGY Silver or Black kettle and toaster set. These stylish designs will complement any kitchen and feature double-walled insulation in the kettle to keep water hot for longer, saving energy, and seven browning control settings for the toaster along with an extra-lift function and three pre-sets – reheat, defrost and bagel.
For a restaurant-quality meal
Treat mum to a restaurant-style dinner at home using the ZWILLING FRESH & SAVE Vacuum Starter Set, Sous-Vide. It has everything needed to cook sous-vide as it includes a powerful sous-vide stick, six heat resistant vacuum bags and a battery-operated vacuum pump, which can also be used with ZWILLING's FRESH & SAVE boxes and bags to keep contents fresh for up to five times longer.
For delicious desserts
To finish off the day beautifully, whip up a mouth-watering dessert in a STAUB Ceramic oven dish or Mini Ceramic Cocotte. There are plenty of sizes, shapes and colours to choose from, all of which can be used for baking, roasting and making gratins as well as serving sides and salads in the months to come. Easy to clean and dishwasher-safe, these versatile pieces are great for everyday dishes, too.
FOR EASY CLOTHES DRYING (PERFECT FOR TRAVELLING WITH KIDS! AERATIVE
Aerative Heated Clothes Airer Hanger – £75 from Amazon
The Aerative portable dryer is lightweight, portable, and powerful, allowing users up to 8-hours of automatic drying. Safe for cabin or checked luggage, the Aerative is an ideal option for those who wish to dry clothes on the go.
Thanks to its in-built technology designed to dry any spills, rain, or sweat, the Aerative dryer allows users to truly look after their garments on the go. Perfect for travelling or commuting to deal with any unexpected downpours, accidents or to hand wash and dry clothes without needing to go to the launderette, Aerative features a UV lamp that eliminates 99.9% of potentially harmful bacteria and mites to eliminate any unwanted germs on clothes whilst simultaneously drying them.
With fully extendable and rotatable arms, the Aerative is fully adaptable to work in all spaces and thanks to its patented air duct design, it is powerful enough to dry clothes and shoes. The dryer, working through ejecting hot air through its air ducts features an alloy wire heating mechanism, which ensures an efficient, safe, and stable operation of the device. The kit comes complete with 1x Aerative device, 1x drawstring protective pouch, 4x clothes pegs, and 1x instruction manual.
FOR THE MUMS WHO LOVE THEIR VINYL
The Lenco LS-440 stylish turntables with four built in speakers – finished with beautiful fabric and available in blue/beige or grey. Available for £259.99 LENCO UK WEBSITE, and GEAR4MUSIC (Blue) HMV (Grey for £249.99)
The Lenco LS-440 BUBG Turntable with Speakers is a modern turntable with contemporary features to enjoy your favourite music in more ways than ever. With four integrated speakers (two 15-watt and two 10-watt), you can listen to your favourite music and hear it the exact way the artist intended. Delivering a balanced and powerful sound, you can fill your home or room. Ensuring you can play virtually any vinyl type whether that's singles or LP's, the LS-440 features a wide aluminium platter with two-speed settings of 33 1/3 and 45RPM.
A belt-driven turntable, the LS-440 comes equipped with a high-quality Audio Technica moving magnetic cartridge to ensure extremely high-fidelity audio quality. Using an MMC-style cartridge also helps to preserve the life of your vinyl. Controls such as the 'pitch' control allow you to manually adjust the playback speed to perfectly match your records and the 'tone' controls help you to dial in the highs and lows of your vinyl for that perfect listening experience.
A wide range of connectivity ensures no matter how you choose to listen to music, the LS-440 will be able to accommodate. A 3.5mm AUX input allows you to connect your smartphone, laptop or tablet directly for playback or alternatively, the Bluetooth 5.0 wireless connectivity allows you to stream hands-free! A headphones output lets you sit back and relax with your favourite albums without any disturbance and stereo RCA outputs mean you can connect to an existing Hi-Fi system for seamless integration.
Lenco LS-50PK pink turntable – £149 from Gear4Music
The Lenco LS-50 is a modern record player with two built-in speakers. Enjoy your favorite vinyl at the touch of a button. Forget complicated music installations, because with the Lenco LS-50 you can effortlessly bring your records back to life.
Whatever music you listen to, you can easily change the speed from 33 to 45 or 78 RPM. For more volume, use external speakers and the RCA coupling on the back of the record player and fill every room with music! Would you also like to listen to your favorite record via your laptop or phone? You can transfer your actual record to digital files in no time via the USB port.
The Lenco LS-50 comes with a detachable dust cover that protects the record player from dirt. You can easily adjust the needle pressure with the adjustable counterweight. With the Lenco LS-50, you will enjoy years of music from the past, played on today's equipment.
FOR THE KARAOKE LOVING MUM
Lenco BMC-090 pink karaoke microphone – Available Now from Urban Outfitters for £48
'The Lenco BMC-090 pink karaoke microphone with its fun light and sound effects and easy Bluetooth® connectivity is a great gift for Mother's Day, providing hours of sing-a-long fun for mums and their friends to belt out their favourite hits. The rechargeable battery means it's portable and can be taken to all kinds of parties, making it the perfect gift for music-loving mums who love to sing along. '
FOR THE MUSIC OR PODCAST LOVING MUM THAT WANTS SOME PEACE
OneOdio A10 2-in-1 hybrid active noise cancelling headphones with ambient listening mode and talk-in technology are ideal for travel, home or office use – Available on Amazon for £69.99
Hybrid Active Noise Cancellation – OneOdio A10, wireless Bluetooth over ear headphones, with advanced Hybrid Active Noise Cancelling (ANC) technology counters external sound with equal anti noise, allowing you to immerse yourself in what you're listening to. Dual noise-detecting microphones pick up and filter out up to 95% of low-frequency ambient sound to ensure nothing distracts you from your music
Hi-Res Audio, Hear Every Detail – A10's 40mm dynamic drivers produce precise sound with a wide frequency range. Compared with CD quality, Hi-Res audio can bring punchier bass, richer details, wider dynamics, and sound closer to the original information, which can bring you an immersive experience and a fantastic musical journey
45-Hour Battery that Keeps Stayin' Alive – Premium Li-ion battery powers 45 hours of listening, movie watching, or talk time in Bluetooth mode (at 80% volume); 35 hours in Bluetooth Active Noise Cancellation mode; or 50 hours in only noise-canceling mode. A quick 5 minute charge delivers 2 hours of listening. Ideal for travel, indoor, outdoor daily use
Friendly Design, Superior Comfort – A custom-designed over-the-ear super soft protein cushions to provide pillow-like softness while listening, and an adjustable headband suitable for all-day wear
Transparency (Ambient Sound) Mode – For hearing and interacting with the world around you. Music is lowered and speech is amplified through mics in these soundproof headphones, so you can easily communicate with flight attendants, clearly obtain flight broadcast information while boarding, and chat with a workout partner before yoga class without removing headphones
JLAB
JLab JBuds Air Pro True Wireless Earbuds – £69.99 at Argos, Currys, John Lewis, Amazon and Very.
The JBuds Air Pro true wireless earbuds feature 9 hours of playtime in each earbud with an extra 27 hours from the charging case (36 hours in total). With wear detect sensors, the music will automatically pause when removed from ears. Featuring Bluetooth Multipoint, users can enjoy the versatility of transitioning seamlessly from device to device and have multiple connected. Whether switching from a podcast on a laptop to a call on mobile, it is easy and quick with two devices simultaneously connected. The earbuds provide a safe listening experience with the Be Aware mode that lets outside noises in. Designed to be safe for a run, walk or conversation whilst listening to music, it allows users to hear the world around them.
Sweatproof and dustproof, the earbuds have an IP55 rating so can be used on the go or in the gym with no worries. In addition, the earbuds can be used independently or together and both include a built-in MEMS microphone so calls will be clear every time. With just a few taps, it is easy to personalise the sound with the touch sensors. Users can choose their sound preference from the EQ3 settings: JLab Signature, Balance and Bass Boost with no need for an app.
JLab GO Air TONES true wireless earbuds designed to complement the user's skin-tone – £24.99 from JD Williams.
The JLab GO Air TONES build off the GO Air POP framework and feature the brand's most unobtrusive fit to date. Designed to change how people look at true wireless earbuds, the product features a series of neutral colours created to complement the user.
The GO Air TONES earbuds are 15% smaller and 40% lighter than the JLab GO Air, which set a new benchmark for the category when announced at CES 2020. Each GO Air Tones product comes equipped with three sizes of gel tips so users can customise the fit for each ear and JLab's patented built-in EQ3 sound profiles for audio customisation.
Featuring a case with a charge time of 2 hours, these earbuds are perfect for use whist on the move. Additionally, JLab's GO Air TONES earbuds provide a class-leading 32+ hours of playtime, dual connect technology so each earbud can be used independently for calls or audio, as well as touch controls compatible with both Android and Apple devices.
They also have an IPX4 rating for sweat and water resistance, making it appropriate for life on the go. The discrete charging case is smaller than a credit card and weighs just 35.4 grams with the earbuds enclosed and features JLab's integrated and patented USB cable for added convenience.
MAJORITY
Majority Tru Bio True Wireless Earbuds – Available in three funky pastel colours, the Majority Tru Bio Earbuds are available for £34.95 at Amazon.
The Majority Tru Bio true wireless earbuds are designed with both the environment and audio quality in mind. Delivering exceptional sound with a sustainable design, the earbuds and charging case are eco-biodegradable and the 13mm bio-cellulose speaker drivers are made from certified compostable plastic so that it is a product to enjoy, be used and eventually recycled without impacting the environment.
Great for music lovers, the dynamic drivers pack a punch and deliver a balanced sound signature with deep bass and clear highs, whilst the Bluetooth 5.0 technology ensures a stable and fast connection. For those who want to use them for gaming, the ultra-low game latency of 55-70m/s allows for minimal delay. The built-in microphone ensures clear and concise phone calls with a simple press of the handy button and users can have 30 hours of playtime from a single charge. When low, a short 30 minutes of charge provides up to 2 hours of listening time.
1MORE
1MORE Aero Earbuds with Dynamic Head-Tracking – £99.99 from Amazon
Along with the ability to detect the listener's head movements in real time, the Aero comes complete with 1MORE's wide frequency QuietMax active noise cancelling technology that provides up to 42dB of noise cancelling depth at a wider than normal range of frequencies from 40Hz up to 4000Hz, meaning the 1MORE Aero can block out more of the ambient noise whether it be the roar from the in-flight engines to the hustle & bustle of traditional city life.
Featuring 10mm drivers alongside diamond-like-carbon diaphragm for both an impactful bass and scintillating acoustic highs, the 1MORE Aero caters for all music genres thanks to including no less than 12 studio-grade EQ presets via the 1MORE MUSIC App to allow the Aero to easily handle anything from rock to pop.
The Aero still includes 1MORE's touted Wind Noise Resistant mode to help filter out microphone interference on winder days and an Adapter ANC mode if the user would prefer a more convenient solution to automatically detect in real time the right level of noise cancelling depth based on the ambient sounds around them.
1MORE SonoFlow Active Noise Cancelling Headphones, Bluetooth Headphones with LDAC for Hi-Res Wireless Audio, 70H Playtime, Clear Calls, Preset EQ Via App – £89.99 from Amazon.
Wireless Audiophile Sound: certified by Hi-Res Audio and Hi-Res Audio Wireless, 1MORE SonoFlow features 40mm DLC dynamic driver to produce stunning sound and its frequency response can reach up to 40kHz.
Lossless LDAC Audio Coding Technology: LDAC allows you to enjoy a high-resolution audio experience by transmitting at a transfer rate of 990kbps. Every subtle detail will come to life.
Adjustable EQ Settings: Choose from 12 studio-grade EQ presets in the 1MORE MUSIC App to make your playlist even more enjoyable. Simply tap the calibrated Electronic, Pop, Classical, or Lounge equalizer setting!
Powerful Noise Cancellation: With QuietMax noise cancellation technology, whether working in the office, walking outdoors, or on the subway, you can get a restful private space for a truly focused, immersive listening experience.
Nonstop Music Enjoyment: Just immerse yourselves in your favorite music without the anxiety of running out of power, even on a long trip. A single charge with ANC off can sustain up to 70 hours of battery life.
FOR THE EXPECTING MUM
Simshine Baby Monitor Camera, HD Baby Monitor with Crying Detection, Sleep Analytics and AI Snapshot and Playback, 2-Way Audio, Night Vision, Yellow – £158.99 on Amazon UK
INFRARED NIGHT VISION AND 2-WAY AUDIO VIDEO BABY MONITOR: Crisp night vision gives you a clear view of your little one as they snooze. Crisp 2K video allows you to see your baby from anywhere. Hear and speak to baby from anywhere with two-way audio.
PERSONALIZED SLEEP TRACKING AND SOOTHING LULLABIES: The Baby monitoring application that provides an analysis report of their sleep at night. Data plan includes 24 hours' worth of Sleep History, Activity Clips, and up to five user accounts. Get real-time sound and motion alerts and sleep tracking. Compatible with iOS and Android. The baby monitor can gently lull your baby to sleep with 8 Lullabies.
CRY DETECTION AND DANGER ZONE ALERTS: The baby monitor with camera and audio can accurately identify your baby's cries with 99% accuracy. It will automatically play music to soothe your baby while sending notifications to your smartphone. You can also define a motion detection zone on the APP that will alert you when your little one enters a place they shouldn't, and you can immediately talk to your baby to ensure your baby's safety.
REMOTE 355° PAN AND TILT BABY MONITOR: Remote control camera rotate 355° in horizontal and 120° vertical gives you a larger view of your baby's room. Also with 2X zoom function, you can see your baby more clearly. The charging cable of the baby monitor camera can be hidden in the stand, so you don't have to worry about your baby touching it by mistake!
PRIVACY GUARANTEED: Simply connect to the "SimHome" app, each smart baby monitor is transmitted via secured internal 2.4GHz channel with FHSS technology, so you can rest assured that you're the only one who can hear and see your baby. The video baby monitor surveillance recordings are stored by a memory card (up to 128G), which works even when the network goes off-line.
FOR THE BUDDING NIGELLA
Proscenic T31 Air Fryer Oven, 15L Digital Air Fryer Oven with Rapid Air Circulation, LED Touchscreen & APP/ ALEXA Control, 12 Preset Programs – RRP £199 on Amazon
The Proscenic T31 air fryer oven has a large 15L capacity meaning that it can cook from a single serving to a 5-person family meal and even roast a whole chicken. With TurboAir technology, which is 7 times more effective than normal air circulation technology, Proscenic T31 reduces 85% of fat contained in food. The air fryer also offers 360° air circulation that heats food evenly, makes food tender on the inside and crisp on the outside, increasing cooking efficiency by 30% while keeping nutrients well.
With the 12 preset programs, you can easily cook Chips, chicken, vegetables, etc. In addition, the combined functions allow you to use: Preheat + Pre-select + Keep warm. You can choose one, two or three; It all depends on your needs, you can also finely adjust the timer and temperature setting using the rotary knob.
Using the Proscenic APP, you can easily control the air fryer. Any cooking including preheating and heat insulation in up to 3 steps; At the same time, it offers 100+ recipes online, as well as being able to upload your own recipes and consult the original recipes provided by other Proscenic users.
The oven basket is made of food-safe materials, free of BPA and PFOA. As it is covered with non-stick Teflon, it is also very easy to clean and can even be put in the dishwasher.
FOR THE FITNESS LOVING MUM
BOB & BRAD MASSAGE GUNS
BOB AND BRAD Q2 Mini Massage Gun, Pocket-Sized Deep Tissue Massager Gun, Portable Percussion Muscle Massager Gun, Ultra Small & Quiet Muscle Massage Gun with Carry Case for On The Go Usage – RRP $129.99, NPW $69.99 on Amazon and RRP £79.99 – NOW £59.99 on Amazon UK
Developed by Physical Therapists Bob and Brad: Explore warmup, pain relief, and recovery routines from the most famous physical therapists, Bob and Brad! After an injury or workout, your body repairs itself – but slowly. The Q2 Mini Massage Gun's intense vibrations provide immediate pain relief, and wake up muscles throughout your body, triggering a myofascial release and enhancing your body's ability to regenerate cells and repair itself.
The Q2 MINI is your pocket-sized partner, giving you the highest quality muscle treatment with unparalleled portability. Compact but powerful, Q2 MINI is the most agile massage device that goes wherever you do. Q2 MINI is recommended and developed by the Famous Physical Therapists Bob Schrupp and Brad Heineck. Designed for maximum ergonomic comfort and unparalleled portability; quick relief and relaxation that fits conveniently in your carry-on or backpack.
A NEW PROPRIETARY BRUSHLESS MOTOR THAT'S THE MOST COMPACT DESIGN EVER- Q2 MINI strikes a never-before-seen balance between power and size, making it a convenient option for getting the quality relief on the go. Maximum speeds up to 3000rpm, and a vibration amplitude of 7mm. Q2 MINI breaks up knots and relaxes tight muscles, digging deep and relieve hard-to-reach muscle groups.
USB-C CHARGING – This deep tissue percussion muscle massage gun can be charged by USB-C with the regular phone adapter or 5V/2A adapter (not included). Use it in the home, gym, or office.
DEEP TISSUE MASSAGE AND POWERFUL PAIN RELIEF ON THE GO – 5 adjustable speeds (1800, 2100, 2400, 2700, 3000) percussions per minute, each speed delivers greater therapeutic benefits for the body. Q2 MINI is the perfect massage gun for athletes and it's the size of a bottled water (5.7"L x 3.4"W x 1.8"H). Weighing in 0.95lb, tuck this tiny, tote-able workout partner into your carry-on, purse, or backpack.
TARGETS EVERY MUSCLE GROUP – 5 massage head target different muscle groups. After an injury or workout, your body repairs itself – but slowly. Q2 MINI intense vibrations provide immediate pain relief, and wake up muscles throughout your body, triggering a myofascial release and enhancing your body's ability to regenerate cells and repair itself.
Bob and Brad C2 Massage Gun Deep Tissue Powerful up to 3200rpm Handheld Percussion Muscle Massager with 2500mAh Battery and Type-C Charging for Muscle Pain Relief Recovery – RRP $169.99 – NOW $79.99 (Using additional $20 coupon) on Amazon and RRP £89.99 NO £69.99 on Amazon UK
Developed by Physiotherapists Bob and Brad: Explore warmup, pain relief, and recovery routines from the most famous physical therapists, Bob and Brad! 5 massage heads and 5 speeds are suitable for different parts of the body and can meet different needs. Massage heads in different shapes can be used for different muscle groups and provide targeted treatment for quick recovery.
High-Calibre Massage Gun: Brushless motor, super blocking torque energy output without interruption and dual shaft drive structure offers stable operation. The max speed up to 3200rpm can help muscle recover faster, reduce muscle pain, muscle fatigue and lactic acid build-up, encourage blood flow, improve range of motion and flexibility, help with muscle stiffness and more.
Lightweight & Portable Design, Great Gifts for Mothers Day Women Men: Bob and Brad C2 massage gun is only 1.5lbs/0.68KG, easy to carry anywhere and easy to pack into any gym bag in the home gym office. Bring your own case to increase the portability of the massager. It's easy to hold with its ergonomic silicone handle design. Carry the muscle massage gun with you and use it anytime.
Large Capacity Battery and USB Type-C Quick Charge: 2500m-A-h large capacity original battery cells supplied to Car for longer life and security. USB Type-C fast-charging port can be charged to 5V/2A adapter or power bank, providing greater portability. Any regular phone adapters will be able to charge the massage gun without a problem.
Super Quiet and 10-Minute Timer Auto-Off Protection: Built-in intelligent chip, working for 10 minutes automatic shutdown, to avoid overuse to harm for the human body. Ultra-quiet muscle massage gun. It uses the latest noise reduction technology to reduce the noise of the massage gun during use, the sounds are less than 60dB even at max 3200RPM.
JLab Epic Air Sport ANC True Wireless Earbuds – £99.99 at Argos, Currys, John Lewis, Amazon and Very.
The first true wireless earbuds to utilise JLab's new Smart ANC technology and the JLab Air ANC app, with three noise control modes and the ability to fine tune the sound by adjusting the equalizer settings. Users can customise the active noise control level, pass-through audio, equaliser settings, and touch controls for each earbud. This means users can truly adjust and design the earphones to suit their exact tastes and preferences with both ease and convenience of the controls and the sound. Once the perfect sound is set, it will be saved on the app and remain on the earbuds, every time they are used from then onwards.
In addition users can utilize the Be Aware audio mode, which allows ambient noise in through the earbuds when turned on making the earbuds ideal for situations such as running or cycling outdoors to hear cars and other safety noises, or talking to friends or colleagues without having to pause the music and take the earbuds out.
The Jlab Epic Air ANC True Wireless Earbuds offer 48+ Hours of Playtime (12+ hours of Bluetooth playtime in each earbud and 36+ additional hours from the charging case). Touch controls for easy operation. Six interchangeable eartips and it has a IP55 water resistance rating.
FOR THE ALWAYS ON THE GO MUM
JLab Go Wireless Keyboard – Slim and portable Bluetooth Keyboard with USB Dongle and Multi Device Connectivity, Compatible with Apple/Windows/Tablet/iPad/PC/Laptop/Android/Mac – £29.99 on Amazon UK
High resolution imagery here
The GO Wireless Keyboard can be used with three simultaneous devices when connected via Bluetooth 5.0 or the USB Wireless Dongle (2.4 GHz). It can be easily switched between saved devices such as a computer, tablet, phone, using the switch on the keyboard.
Designed to be ultra-compact and lightweight, the GO Wireless keyboard feels just as comfortable as a laptop in a work-from-home setup as it is travelling to the office, coffee shops or coworking spaces. With its low profile and soft touch keys, it is quiet and provides a laptop-like feel.
Additionally, the Go Wireless Keyboard includes a media knob for volume control and the play/ pause functions of whichever device it is connected to. This includes your laptop, iPhone, Android, and even your tablet, meaning everything can be changed on just one keyboard.
EXCITRUS
EXCITRUS super-fast charging 100W 20800mAh Power bank with magnetic wireless charging function for MagSafe – £84 on The EXCITRUS website
With a stylish fabric finish, the latest EXCITRUS power bank is the only 100W Power bank in the market with a magnetic wireless charging function for MagSafe and boasts a large 20800mAh heavy duty Li-ion battery which delivers super-fast 100W Power Delivery (PD) via the two USB-C ports to charge MacBooks, laptops and Samsung phones in the shortest time possible (Laptop 60% charge in 1hr, Smartphone 85% charge in 1hr).
Additionally, the 100W power bank also features a 10W MagSafe compatible wireless charging option for Smartphones, iPods and other wireless devices – something not found on other power banks with this power delivery range.
For those who wish to charge their apple watch or earbuds, the 100w power bank also features a special low power device charging mode and features eight levels of safety protection to ensure all devices will not overheat or overcharge.
The digital display on the power bank shows the power remaining in the and also the charging mode status information by indicating fast charging mode (over 18W), low-power Bluetooth device charging mode and wireless charging mode activation with a set of icons. Thanks to its 65W PD fast charging USB-C input, the power bank can be recharged 0%-70% in just 60 minutes, making it ideal for those on the go to ensure they are never without charge on all of their electronic devices.
EXCITRUS NitroCharge 30 Pro 30W magnetic wireless portable charger with 10,000mAh Li-Polymer battery to charge 3 devices simultaneously for ultimate convenience – Now $69.99 on Amazon
The NitroCharge 30 Pro is a powerful charger that is capable of charging 3 devices simultaneously. Compatible with USB-C laptops, phones, earbuds and other wireless devices, it is ideal for those travelling or commuting as it can keep all devices powered up. Using the super-fast charging, it can charge up to 30W and means that a smartphone can be charged up to 80% in just one hour or a USB-C laptop or MacBook up to 50% in the same timeframe.
Portable and convenient, the NitroCharge 30 Pro is slim but still holds a lot of power. Smaller than a typical mobile phone, it is extremely easy and comfortable to travel with whilst still being able to hold a lot of charge. The premium fabric doesn't only look good and provide both style and comfort but it also is water repellent and soil resistant so it remains clean, safe and comfortable to use. Featuring an elegant brightening and LED display screen, it is user-friendly and also simple to see how much charge is left on the device.
With a premium 10,000mAh Li-Polymer battery, the wireless charger has been built with 8 Level Safety Protection and will maintain capacity and output levels for years whilst remaining safe to use. With its 30W USB-C Power Delivery 3.0 input, users are able to recharge the power bank to 70% in just 1 hour meaning that they never need to be out of charge for long.
EXCITRUS 105W Power Bank Ultimate – RRP $89.99/£77.98 – PRIME DEAL 22 PERCENT DISCOUNT – $69.99/£60.65 on the EXCITRUS website
The 105W Power Bank Ultimate is specially designed for laptop users. The Power Delivery USB-C output delivers the fastest charging to MacBooks and laptops. It can charge your MacBook Pro 15" up to 39% in 30 minutes.
It also can quick-charge your iPad, iPhone, Nintendo Switch and every device which can support PD protocol with full speed. USB-C and USB-A ports can charge 2 devices simultaneously. 18,000mAh high-quality Li-ion battery delivers an additional 64 hours for your iPhone XR to do more.
Key Features Include:
Fast Charging For MacBook, Laptops, Surface, Phones
Portable & Lightest 105W Power Bank
Extends Working Time 7.5-11.5 Hours On MacBook
Fast Charge 2 Devices Simultaneously
8 Level Safety Protection & Support For Apple Watch
ESR GEAR
HaloLock™ 3-in-1 Wireless Charger with CryoBoost™: The fastest MagSafe charging while watching videos with MagSafe charging for AirPod. £70.99 Amazon.
The 3-in-1 wireless charge features CryoBoost fast charging that is a combination of a phone-cooling fan and heat-dissipating tech combine to keep your phone cool and charging speeds at their maximum. It provides the fastest magnetic charging and charges a phone faster whilst watching videos than any other MagSafe charger.
Using 3-in-1 MagSafe compatible charging, it charges an iPhone 14/13/12 series phone and AirPods 3/Pro/2 simultaneously for a more convenient, space-saving charging experience; only compatible with iPhone 14/13/12 series.
Secure Adjustable View: powerful magnets provide 1,000 g holding force for your phone, while the 360° magnetic ring lets you easily switch between portrait and landscape modes and the adjustable ball joint ensures the perfect viewing angle; combine with a HaloLock case for an even stronger magnetic hold
Sleep-Friendly: enable dark charging mode with the press of a button to turn off the status light for uninterrupted sleep while you charge; CryoBoost fast charging not supported in dark charging mode
ESR HaloLock Mini–Kickstand Wireless Power Bank.
5,000mAh – £42.99 from Amazon in Black and White.
10,000mAh – £47.59 from Amazon in Black and White.
ESR's HaloLock Kickstand Wireless Power Bank allows users to charge their phones whilst using the stand feature to prop them up. The stand can be used to hold phones in either landscape or portrait which makes it ideal for use for calling friends or watching videos whilst simultaneously charging the device. Magnets with 1000g of holding force align phones with the charger to ensure that MagSafe-style wireless charging automatically begins as soon the power bank is attached, meaning reliable charging is maintained throughout use.
The Kickstand is also designed to be portable, so users can charge their phones through the stand on the go! In addition to this, it is possible to choose to turn off the charging feature of the stand to save the power of the portable charger and use solely as a stand if power isn't required.
The conveniently located USB-C port and pass-through charging let users simultaneously charge their phones and the power bank at the same time, allowing for the bank to remain charged up for future use. Offering two ways of charging: wired (12W) and wireless (7.5W), the kickstand caters to users charging preferences.
ESR HaloLock MagSafe Battery Pack with USB-C Cable.
5,000mAh – £31.99 from Amazon in Black and White.
10,000mAh – £39.49 –from Amazon in Black and White.
ESR's HaloLock MagSafe Battery Pack is an ideal gadget for iPhone users and is compatible with iPhone 14/14 Plus/14 Pro/14 Pro Max and the iPhone 13/12 series. Coming with a USB-C cable and available in both 5,000mAh and 10,000mAh, the built-in magnets align the phone to the power bank and automatically enables MagSafe-style charging as soon as the power bank is attached. Super convenient and fast, users can choose from 7.5W or 20W wired charging and the powerful magnets have 1000g of holding force keeping the phone securely locked to the power bank and safe.
The battery pack charges two phones at the same time via 5W MagSafe-style wireless charging and the 10W USB-C wired charging. This combined with the pass-through charging makes it ideal for those on the go.
ESR HaloLock mini Wireless Charger, MagSafe-Compatible Charger for iPhone 14/14 Plus/14 Pro/14 Pro Max/13/12 Series, Strong Magnetic Lock, Reinforced Braided Nylon Cable, Black. Available from Amazon for £19.99.
Power in a Snap: fast and easy tap-and-go MagSafe-compatible wireless charging compatible with iPhone 14/13/12 series phones.
Strong Magnetic Lock: powerful magnets with a holding strength of 1,200g keep the charger securely attached to your phone.
Built to Last: Ultra-durable cable with reinforced base and braided nylon outer casing is tested to stay looking and working like new after more than 6,000 bends
Extra-Long Cable: stay comfortable while you charge with 5-ft cable that gives you the freedom to move.
Faster Charging: fully charge your phone 30 minutes faster than other MagSafe chargers with advanced heat-dissipating design that ensures charging speeds stay at their highest.
FOR SOME QUIET HER TIME
ONYX
ONYX BOOX Note Air2 Series New Note Air2 Plus ePaper and New Note Air2 Plus ePaper tablets – The Note Air2 is available on Amazon UK for £449.99 whilst the Note Air2 Plus is available on Amazon UK for £469.99.
ONYX's BOOX Note Air2 Series and New Note Air2 Plus ePaper tablets allow users to write and draw more flexibly, enjoy a custom reading experience and open two apps, side by side with the flexible split screen. To create a strong Note Air2 Plus and Note Air2, several layers and screens are pressed vertically into an Aluminium case. Even with an asymmetric design, the force is evenly distributed among the parts because the body is structured as a whole. As a result, when both devices are held, it is easy to notice the smooth Aluminium finish as well as the solid quality provided by the material and structure.
One of the largest enhancements to the Note Air2 Plus is the support for a magnetic protective case. To emphasize the Note Air2 Plus's modern style, the case is made of two parts: fine PU leather in vibrant orange and a fabric spine in Denim blue. The Note Air2 Plus is still 5.8mm thick. But it has a larger battery than other thin ePaper tablets, thanks to a premium construction technique and all-new compatibility. In standby mode, the 3700mAh battery can last for weeks.
The Note Air2 Plus and Note Air2 are the most advanced products in the BOOX 10.3-inch Note Air tablet line, with Android 11 and the most recent Boox firmware. Compatible with 17 digital file formats, the Note Air2 series tablets can display work and study files in any form. Whether users need to read PDF, MOBI, EPUB, FB2, or other digital documents, they can open them instantly without any conversion hassle.
FOR THE COMMUTING MUM
Trust Eco Friendly Bologna Laptop Bag 16" – Made from up to 11 recycled PET bottles – currently on offer on Amazon for just £18.99
SUSTAINABLE DESIGN – Bologna laptop bag is made from 11 recycled PET bottles and certified according to the Global Recycled Standard– meaning no emotional baggage!
SPACIOUS –With a padded, top-loading laptop sleeve suited for 16″ laptops and a zippered front pocket for extra storage
SECURE – Padded compartments and metal zippers of this briefcase keep your belongings and accessories safe and secure
TRAVEL BUDDY – A trolley strap and accessories pouch let you carry your gear comfortably, safely, and in style
ADJUSTABLE – A removable and adjustable shoulder strap ensures better comfort, while a handle allows you to carry the bag in one hand
LET HER PUT HER FEET UP
Vactidy Nimble T6 Robot Vacuum Cleaner, 2000Pa Strong Suction, Automatic Self-Charging Robotic Vacuums – Available for £169.99/$149.99 from Amazon UK and Amazon US. A further £30 discount is available on Amazon UK using the code, "NimbleT6".
Powerful Suction with Ease – With up to 2000Pa strong suction in max mode, Vactidy T6 robot vacuum can pick up dust, debris and pet hairs from hard floor and low-piled carpet with ease, bringing you a high-efficiency clean. 3 levels of suction power adaptable for all cleaning demands.
Slim Body & Quiet Clean – Nimble T6 robot vacuum has a compact design with a height of only 2.89″, plus 360 degree universal wheel, making it possible to effectively clean those hard-to-reach corners, like under the bed, sofa and cabinet. 60dB low noise in quiet mode will not disturb you or others.
3-Point Thoroughly Cleaning – The robot vacuum has 2 spinning auto side sweeper brushes that extend the reach of the vacuum and rotate to catch dirt and debris in carpets and on hard wood floors. Compared with brushless suction port, the roller brush can deep clean fine dust in all types of floors.
TO HELP THEM KEEP AN EYE ON THE PETS
ENABOT
Enabot EBO AIR – Next generation social companion robot, providing comfort, protection, and companionship for everyone in the family – available now in the USA and UK on the Enabot website, Amazon.com, Amazon UK, Currys, Robert Dyas and SND Electrical for £179.
Meet the all-new Enabot EBO AIR Robot from Enabot. This updated version of the whole home IP camera is the perfect companion for your pets and family members if you're required to leave home for extended periods of time. Schedule a time and using auto-cruise & motion detection the Enabot EBO AIR Pet Robot will set off with its 1080P HD night-vision enabled camera and 2-way audio, automatically alerting you to anything suspicious in it's FOV directly through the free Ebo App.
Enabot EBO AIR Pet Robot supports Multiple-users, through the Ebo Air Pet Camera, your family members will be able to play with your kids & pets, long-distance & uninterrupted interaction is now possible. Ebo's eyes, movements, and sounds mimic real-life play, constantly keeping your kids & pets engaged. Ebo Air can recognise the faces of people, cats, dogs and intelligently follow the selected subjects for simple interaction and will also take pictures/video automatically in autor cruise mode.
Ebo Air is able to adapt and change its voice and behaviour according to its environment and also have a built in laser teaser to be used at a click of the button. Ebo even automatically returns to its dock when it needs to be charged. Using advanced ToF technology, Ebo can detect all sorts of obstacles ahead & it comes to a full stop, avoiding accidents. Patrolling through the house anytime, anywhere.
Stuck for a last minute Mother's Day gift? Reward the special woman on Mother's Day (19th March) with artwork that will simply never go out style. Scandinavian wall art brand, Desenio offers a range of on-trend prints which will add sophistication to any home. From contemporary shapes to vintage vibes, each print has something to offer on this special day\.
Café del Mar Spirits.
These are perfect for gin / vodka-lovers looking to try a luxury new brand from an award-winning producer. And any mums who love Ibiza and have fond memories of Café del Mar and the island!
The bottles retail at £39.95 for the gin and £36.95 for the vodka.
Café del Mar Vodka is incredibly smooth in taste, with subtle undertones of cream and citrus. A clean, refreshing and balanced premium spirit at 37.5% ALC./VOL., it is perfect for cocktails or served on ice.
Café del Mar Gin is a delicate blend of juniper, with fresh citrus and a hint of sweet spice. It is a smooth, sumptuous and subtly balanced premium spirit at 40% ALC./VOL.
Every 700ML bottle sold gives back to Ibiza, raising awareness and protecting the island's special Posidonia. Furthermore, the techniques and ingredients used have earned its BCORP distillery, GIN DISTILLER OF THE YEAR, 2020.
Inspiration for the stunningly designed bottles was taken from Luis Guell's unique interior, combined with the most famous sunset views in the world. The bottles epitomise the iconic Café del Mar, the nostalgia of Ibiza and 43 years of chill-out Balearic beats. Available via distribution channels and online now, additionally from March 2023, the spirits will also be served at various Café del Mar venues worldwide.
Café del Mar Spirits is passionate about giving back to Ibiza and every bottle sold gives funds directly to Ibiza Preservation in support of its Posidonia preservation work. This partnership will raise awareness and fund conservation of the spectacular Posidonia – the Seagrass Meadows of Ibiza, to help ensure crystal-clear waters and beautiful sunsets for generations to come. Café del Mar spirits is also plastic free – using recycled glass, biodegradable seals and sustainably sourced natural cork stoppers to help preserve the environment.
spirits.cafedelmar.com/
The BABE Shop design original graphic leggings of all types, yoga, basic capri….
Their clothing is top quality, never see-through, always squat proof, UPF 50 and custom made when they order. We have something for every one to enjoy.
These are perfect for a work out, going to a rugby match 😉 or even just an afternoon of shopping.
www.thebabeshop.com
The Mash Direct Brunch Hamper is available to purchase from www.booths.co.uk for £20 and contains the below:
• Carrot & Parsnip Fries 2 x 300g – gently seasonsed, ready for you to crisp up and enjoy
• Chilli Baby Bakes 2 x 370g – skin on baby potatoes seasoned with a chilli marinade and topped with a cripsy crumb
• Crispy Vegetable Bakes (1 x 2 pack) – chunks of potato, broccoli, carrot, cauliflower, cabbage and parsnip coated in a crispy golden crumb
• Potato Cakes 250g (2 x 2 pack) – freshly baked cakes of diced potatoes, scallions and cheese with a hint of ground black pepper
• Potato Rosti 180g (2 x 2 pack) – potatoes gently shredded with onion lightly fried, ready for you to crisp up and enjoy
• Sweet Potato Fries 2 x 250g – chunky cut fries
Treedom, the sustainable tree planting platform that allows you to give a unique gift with meaning this year.
As March approaches, many minds turn to our mother's and how to show we love them this Mother's Day. Gifting a remote tree through Treedom, where you can follow the positive impact of the tree planting on the local community and track the growth of your tree, is the perfect eco-friendly personalised gift.
GoBoat, who have just launched their bookings for the 2023 season, with boats available as early as March 4th, providing a unique experience for the whole family (the dog included)!
Maggie Mather Shoulder Tennis Bag
Price: $120.00
courtsidetennis.com/products/maggie-mather-shoulder-bag-spectator-black-white
Women's Lucky in Love Novelty Love in Action Jacket
Price: $136.00
/courtsidetennis.com/products/womens-lucky-in-love-novelty-love-in-action-jacket
PB&J Tennis Visors/Hats
Price: $29.95
courtsidetennis.com/products/pb-j-tennis-visors-hats
Matthew's Foods Online Oriental Supermarket. One of the largest Oriental Supermarket chain in UK. Their online platform carries a variety of Asian foods & drinks that makes the perfect Mother's day gift.
www.matthewsfoodsonline.co.uk/collections/alcohol – Japanese sake or Korean fruit flavour Jinro soju are really popular items for female customers.
www.matthewsfoodsonline.co.uk/collections/healthcare-supplements – Our healthcare collection also has a variety choices for supplements & weight control herbal drinks.
Sakuraco, curates Japanese snack boxes. Inspired by the Japanese tea ceremony tradition, each box contains 20 items including sweet treats, savoury snacks, quality teas and elegant dinnerware. It is unique, delicious and a perfect gift for any food lover. Boxes can be ordered as a one-off gift or as a part of their subscription service.
GUITTARD CHOCOLATE'S GREEN MINT CHOCOLATE CHIPS ARE NOW AVAILABLE IN WAITROSE
Mint choc chip fans will be delighted to learn that San Franciscan chocolate maker, Guittard Chocolate Company, is launching its celebrated Green Mint Chocolate Chips into Waitrose stores across the UK.
The ultimate ingredient to have up your sleeve, the Green Mint Chips offer a cool mint flavour that's fantastic for adding to your bakes. The possibilities are endless – fold them into your fudgy brownie batter for mint choc chip brownies, turn them into a ganache and sandwich between chocolate shortbreads for mint chocolate sandwich cookies, or reverse the classic ice cream flavour and stir them into your chocolate ice cream before its final freeze.
Founded in San Francisco in 1868, Guittard Chocolate Company remains the oldest continuously family-owned and operated chocolate making business in the United States. At the heart of the Guittard ethic is a belief in combining tradition and adventurous innovation, in a way that not only cares for the environment but also looks after constructive relationships with their extended family of customers, co-workers, farmers and suppliers.
With a passion for promoting the sustainability of the cocoa growing regions and the wellbeing of cocoa workers, Guittard's uncompromising attitude towards sourcing and dedication to building and nurturing relationships with their growers are hallmarks of Guittard's "quality from the ground up" approach.
MOTHER'S DAY MISSES
ALARMING INTERNET SEARCH DATA SUGGESTS FEW BRITS HAVE PREPPED ANYTHING FOR MOTHER'S DAY – AND THAT MANY DON'T EVEN KNOW WHEN IT IS!
UK Google searches predict that many mums may awake to a less than plentiful Mother's Day, as so many shoppers don't know when the occasion takes place.
Data shows internet searches for 'when is Mother's Day?' are up 500 per cent in the last week, suggesting that comparatively few Brits have started browsing for a gift or made plans for the occasion.
La Redoute identified the searches and is keen to remind shoppers that this year the celebration of mums, stepmums and mother figures falls on Sunday 19th March.
The fashion and home retailer also found that those who have considered their gift are particularly looking at homemade ideas and Sunday brunch suggestions, with searches for 'Mother's Day hampers' up 650% in the last five days alongside a tenfold increase in searches for 'Mother's Day crafts' and 'Mother's Day brunch locations'.
Sarah Link, Head of Marketing at La Redoute, said: "Mums nationwide may be slightly alarmed to hear that planning for their special celebration has only just begun, but thankfully, it does look as though many are planning something especially thoughtful, with personalised hampers and crafting appearing as top Google searches.
"It's interesting to see that ideas for brunch are so high and could mean that the traditional Sunday lunch on Mother's Day is a thing of the past for a high proportion of British families.
"Mothers and mother figures do so much for all of us, and we hope that special women across the country enjoy their day, be it at home with crafts or at brunch with a mimosa in hand."
La Redoute has a wide range of Mother's Day ideas, including classic and trend-led fashion pieces, homeware and accessories, luxury faux bouquets and even stylish hamper fillers and wicker baskets, all available online.
Shoppers can also get up to 40 per cent off on selected items, making Mother's Day gifting even easier this year. To shop La Redoute's Mother's Day ideas, visit: www.laredoute.co.uk/alt/mothersday.aspx
Here are some Mother's Day gift ideas that can make her feel special and loved:
Fitness Tracker: A fitness tracker is an excellent gift for the active mom who wants to track her daily activities, such as steps taken, distance covered, and calories burned.
Spa Gift Basket: Treat your mom to a spa day at home by giving her a spa gift basket filled with bath salts, lotions, candles, and other items that promote relaxation and self-care.
Personalized Jewelry: Personalized jewelry, such as a necklace or bracelet with her name or initials, is a great way to show your mom how much you care and appreciate her.
Kitchen Gadgets: If your mom enjoys cooking or baking, consider gifting her some kitchen gadgets, such as a new blender, a set of high-quality knives, or a kitchen stand mixer.
Subscription Box: A subscription box, such as a monthly beauty or book subscription, is a thoughtful and unique gift that your mom can enjoy throughout the year.
Personalized Photo Book: Create a personalized photo book filled with your family's memories and special moments. This is a thoughtful and sentimental gift that your mom will cherish for years to come.
Remember, the most important thing is to show your mom how much you love and appreciate her on this special day. Whatever gift you choose, make sure it's heartfelt and reflects her personality and interests.
Isaac Robertson
Co-Founder & Chief Editor of Total Shape
CISSN & ISSA Certified
totalshape.com
Targus.
15" Newport Backpack – Black
With its sleek black design and functional features, the Targus 15" Newport Backpack is a great gift for sporty moms who need a functional and stylish bag. It has several pockets for organizing accessories and personal items, including a large laptop sleeve that can fit up to a 15" laptop and two convenient front pockets for quick access. The backpack is made of high-quality materials and is water-repellant, ensuring your mom's belongings stay dry on rainy days.
Universal Isa Crossbody Leather Hand Bag (Isa Red)
The Sena Cases Isa Crossbody Leather Handbag is the perfect Mother's Day gift for fashion-conscious moms who love to stay active. Its high-quality leather and sleek design make it fit in both professional settings and evening events. The bag doesn't just look great — it's functional too. It features a convenient crossbody strap for hands-free carrying and has plenty of space to store a wallet, phone, and other essentials.
Magnetic Wallet Stand for iPhone 14 Series (Black)
The Sena Cases Magnetic Wallet Stand for iPhone is a great Mother's Day gift for moms wanting to bring more functionality to their phones. This wallet and stand combo is designed to hold an iPhone up while she's on FaceTime, scrolling through social media, and watching videos. It also features a mini-wallet for cash, cards, and IDs, with a magnetic snap closure to keep it secure. Plus, it can be personalized with embroidered initials or SENA-exclusive artwork to make it an extraordinary gift!
is Targus. They are actively looking for product reviewers, especially in the UK. Here is the list of items that will fit perfectly with your article:
MOTHER'S DAY MISSES
ALARMING INTERNET SEARCH DATA SUGGESTS FEW BRITS HAVE PREPPED ANYTHING FOR MOTHER'S DAY – AND THAT MANY DON'T EVEN KNOW WHEN IT IS!
UK Google searches predict that many mums may awake to a less than plentiful Mother's Day, as so many shoppers don't know when the occasion takes place.
Data shows internet searches for 'when is Mother's Day?' are up 500 per cent in the last week, suggesting that comparatively few Brits have started browsing for a gift or made plans for the occasion.
La Redoute identified the searches and is keen to remind shoppers that this year the celebration of mums, stepmums and mother figures falls on Sunday 19th March.
The fashion and home retailer also found that those who have considered their gift are particularly looking at homemade ideas and Sunday brunch suggestions, with searches for 'Mother's Day hampers' up 650% in the last five days alongside a tenfold increase in searches for 'Mother's Day crafts' and 'Mother's Day brunch locations'.
Sarah Link, Head of Marketing at La Redoute, said: "Mums nationwide may be slightly alarmed to hear that planning for their special celebration has only just begun, but thankfully, it does look as though many are planning something especially thoughtful, with personalised hampers and crafting appearing as top Google searches.
"It's interesting to see that ideas for brunch are so high and could mean that the traditional Sunday lunch on Mother's Day is a thing of the past for a high proportion of British families.
"Mothers and mother figures do so much for all of us, and we hope that special women across the country enjoy their day, be it at home with crafts or at brunch with a mimosa in hand."
La Redoute has a wide range of Mother's Day ideas, including classic and trend-led fashion pieces, homeware and accessories, luxury faux bouquets and even stylish hamper fillers and wicker baskets, all available online.
Shoppers can also get up to 40 per cent off on selected items, making Mother's Day gifting even easier this year. To shop La Redoute's Mother's Day ideas, visit: www.laredoute.co.uk/alt/mothersday.aspx
Give Fragrance Not Flowers This Mother's Day (Sunday 19th March)
"Memory and emotion is inextricably linked to our sense of smell which is why gifting Mums with their favourite fragrance, or surprising her with a new scent, is a great idea!" says Jonny Webber from PerfumeDirect.com
"For Mother's Day 2023 why not create new memories by switching up Mum's scent. To choose a perfume your Mum hasn't worn before but you know she'll love try using a fragrance finder This will suggest perfumes based on your Mum's current signature scents and fragrance preferences."
BEST SELLERS
MARC JACOBS PERFECT, £64.99
The perfect floral fragrance featuring crisp floral and calming scents. If your mum is a Marc Jacobs lover, she will be sure to love this perfume.
TOM FORD ROSE PRICK, £161.99
Tom Ford Rose Prick is a chypre-floral fragrance that takes inspiration from Tom Ford's own rose garden. Rose Prick is a wild and wonderful bouquet of beautiful roses including Rose de Mai, Turkish and Bulgarian.
HUGO BOSS THE SCENT EAU DE PARFUM, £44.99
The Scent by Hugo Boss is a luminous, floral-fruity fragrance that's sophisticated, captivating and feminine. Opening with notes of peach and freesia, with a voluptuous heart of osmanthus flower. Excitement grows as the scent's lightness and delicacy encounter the contrasting base accord of dark, addictive Cocoa.
PACO RABANNE LADY MILLION EAU DE PARFUM, £54.99
Lady Million by Paco Rabanne is a vivacious, feminine fragrance. The opulent diamond-shaped bottle reflects the multi-faceted personality of the scent. A trail of white flowers awakens the skin with fresh notes, spilling over into patchouli.
YSL BLACK OPIUM EAU DE PARFUM, £60.99
The glam rock Black Opium fragrance is full of energy, a gourmand floral scent with a unique combination of orange blossom, pear, coffee, jasmine, liquorice, cedar, patchouli and cashmere wood.
GIFT SETS
CAROLINA HERRERA GOOD GIRL MINIATURES GIFT SET, £52.99
Carolina Herrera Good Girl Miniatures Gift Set comes with 3 x 7ml Eau De Parfum Splashes – Good Girl, Very Good Girl and Very Good Girl Glam.
DOLCE & GABBANA LIGHT BLUE EAU DE TOILETTE WOMEN'S PERFUME GIFT SET SPRAY WITH SHOWER GEL & BODY CREAM, £65.99
Fresh, floral-fruit Dolce & Gabbana is a classic fragrance for Mums of all ages. Plunge into the sparkling depths of the turquoise sea, stare at the clear blue skies, feel the warm of the sun, and linger in the memory, with this stunning fragrance.
HERMES UN JARDIN SUR LE NIL EAU DE TOILETTE WOMEN'S PERFUME GIFT SET SPRAY WITH SHOWER GEL & EDT, £79.99
The unisex fragrance is described by French parfumer Jean-Claude Ellena as "A new and rather unusual concept of freshness; green and vegetal scents; the smell of water and sand."
ARMANI MY WAY EAU DE PARFUM GIFT SET SPRAY WITH BODY LOTION & EDP, £117.99
My Way by Armani is a contemporary floral fragrance for women.
A fragrance for a new generation; encapsulating curiosity and connections with others. Truly learning from others, reinventing herself; one finds the path to the truest version of oneself.
DOLCE & GABBANA THE ONE EAU DE PARFUM WOMEN'S PERFUME GIFT SET SPRAY (75ML) WITH BODY LOTION & 10ML EDP, £89.99
The One by Dolce & Gabbana is an amber floral fragrance for women. An oriental floral-fruity fragrance that is warm and sensual with an added dose of femininity and freshness. The fragrance opens with fresh mandarin, bergamot, litchi and peach. The heart is thin and balmy, with the notes of jasmine, lily of the valley and white lily which graciously intertwines with the fruity touch of plum. The woodsy-powdery base is created of vetiver root, amber, musk and vanilla.
BUDGET BUYS – UNDER £30
PHILOSOPHY FIELD OF FLOWERS PEONY BLOSSOM EAU DE TOILETTE (60ML), £22.99
Field of Flowers Peony Blossom by Philosophy is a Floral fragrance for women. A sunny summery fragrance for the girl-next-door. She is kooky, fun, weird and eccentric. This fragrance celebrates all that it means to be female and the pretty florals and beautiful blossoms inspire contentment and leave women feeling cherished and happy. Why not layer your fragrance with another Field of Flowers scent to experiment and build your style?
CALVIN KLEIN EUPHORIA EAU DE PARFUM, £28.99
Euphoria by Calvin Klein is a classic oriental-floral perfume. Its long-lasting, alluring scent is the perfect choice for both everyday wear and special occasions. The heart of Calvin Klein Euphoria is the result of an intoxicating blend of orchid and lotus blossom, before giving way to amber and mahogany wood paired with aromatic musk.
SARAH JESSICA PARKER LOVELY YOU EAU DE PARFUM WOMEN'S PERFUME SPRAY, £14.99
Lovely You by Sarah Jessica Parker is a Floral fragrance for women. A feminine and flowery fragrance made by Sarah Jessica Parker. Lovely invites you to embrace your truest self with the soft, delicate floral scent.
ELIZABETH ARDEN RED DOOR EAU DE TOILETTE, £19.99
Elizabeth Arden Red Door is a signature fragrance from the beauty brand, housed in a stunning bottle inspired by the red doors of the salons. Red Door has a romantic sophistication about it, created with a beautiful combination of rich and rare floral scents.
UK Google searches predict that many mums may awake to a less than plentiful Mother's Day this Sunday, as many shoppers don't know when the occasion takes place. Data shows that internet searches for 'when is Mother's Day?' are up by 500 per cent in the last week, suggesting that comparatively few Brits have started browsing for a gift or made plans for the big day.
La Redoute is keen to remind shoppers that this year's celebration of mums, step mums and mother figures falls on Sunday 19th March.
Mother's Day gift from Bedsure, a supplier of bedding and home comforts.
One gift regularly cited by mothers to be top of their list is a good night's sleep, though this is not always achieved in their own beds. Often neglected, bedding can make a real impact on sleep quality as it affects the temperature and comfort of the sleeper during the night. This means that a new, cosy bed set makes for a unique and thoughtful gift for Mother's Day.
Bedsure's range of duvet covers will bring a feeling of luxury to your sleep with materials varying from the soft and breathable microfiber to the warm and comfy fleece set. Available in a range of colours and aesthetic designs, please see Bedsure's products below and do let me know if you would like to hear more:
• Jacquard Duvet Cover Sets – £16.13
• Brushed Microfiber Duvet Cover – £10.56
• Satin Pillow Cases – £6.95
• Double Fitted Sheet – £11.99
This week's standout dupe product is the wilko Round Velvet Damson Cushion – a glamourous and cosy living accessory which is £5 cheaper than a similar product at Dunelm.
Wilko's pink cushion will easily add a touch of Parisian design to any interior. Haven't found your gift for Mother's Day yet? This velvet cushion makes for a great present for mum too! Completely versatile, it will add sumptuous style to either your mum's bedrooms or living room.
wilko Round Velvet Damson Cushion
£15.00
Dunelm Clara Circular Cushion
£20.00