Mr Trotter's 'Alcohol-Inspired' Candles
The GREAT BRITISH SMELL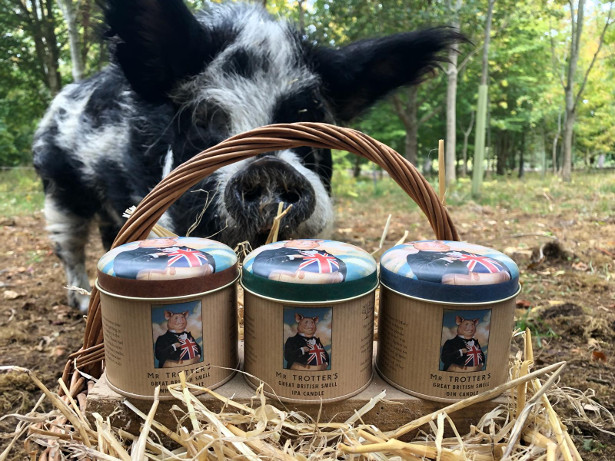 British snack pioneer Mr Trotter's, winner of this year's Quality 'Savoury Snack of the Year' Award, has created a trio of alcohol-inspired candles to celebrate his favourite British drinks.
Designed to aromatise even the most stylish dwelling, the three characteristically British smells will include candles redolent of:
India Pale Ale (IPA), with aromas of sweet malted barley and hop notes of lemon, mandarin and lime;
Gin, with notes of juniper, lavender, rosemary and lemon;
Whisky, modelled on an Islay malt with sensuously earthy notes of drying peat.
All three are dressed both in glass and in smartly branded tins.
The inside of each tin contains the globally important words of Winston Spencer Churchill: "a cat looks down on man, a dog looks up to man, but a pig will look man right in the eye and see his equal".
Rupert Ponsonby, a co-founder of Mr Trotter's, snorts:
"They are aimed at boars every bit as much as sows. For too long, candles have been the preserve entirely of women. Mr Trotter's aims to bring a more masculine offering to the market"
"Pigs are known to have the sharpest noses, seeking out the finest things in life. We aim to mirror their prowess with our candles".
Mr Trotter's Home Fragrance products are available from www.fragrance-republic.com, delicatessens, gift shops, farm shops and on-line retailers.