NEW! Limited Edition 'Chéri' Conserve With Love this Valentine's Month From Bonne Maman…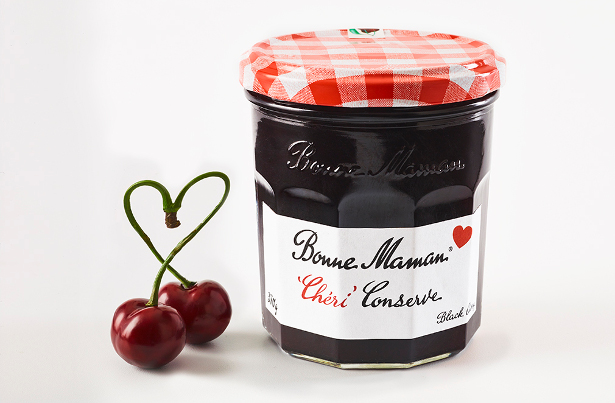 Make this Valentine's Day extra special with Bonne Maman's precious Chéri Conserve, made with love for your special someone. Arriving in stores nationally just in time for the big day, the limited edition jars contain sumptuously fruity Black Cherry Conserve – a timeless Bonne Maman favourite – and a thoughtful foodie gift for sweethearts this Valentine's Day.
Made using ripe, juicy Black Cherries, gently simmered with natural sugars to a traditional French recipe, Bonne Maman Chéri Conserve is wonderfully fragrant with luscious pieces of real fruit – it is perfect spread on warm croissants, toast or French crêpes for a chic and romantic breakfast in bed.
Bonne Maman's 'Cheri' conserve is the gift that keeps on giving…… once the last of the delectable conserve is gone, the iconic jar can be reused as a vase for beautiful seasonal blooms, as a tea light holder or to store sweet treats for loved ones big and small.
Bonne Maman 'Chéri' Conserve is available nationally for just four weeks from end of January through February 2018 in Sainsbury's, Waitrose, Tesco, Morrisons, Asda and Ocado as well as independent food stores. RRP £2.89 per 370gm jar.
For information on products, recipes and inspiration on what to do with your classic empty Bonne Maman jars visit www.bonnemaman.co.uk