NEW MICROPLANE® BOWL GRATER – FINE BLADE – FOR EFFICIENT, EFFORTLESS, TIDY GRATING RESULTS –
The latest addition to the Microplane® range of exceptionally sharp and effective culinary tools is the NEW ultra-sharp Microplane® Bowl Grater Fine Blade which easily and
efficiently grates hard cheese, citrus fruits, nuts, coconut, chocolate, and spices comfortably and neatly directly into the bowl without ripping or tearing ingredients so that
natural aromas are released to enhance flavour.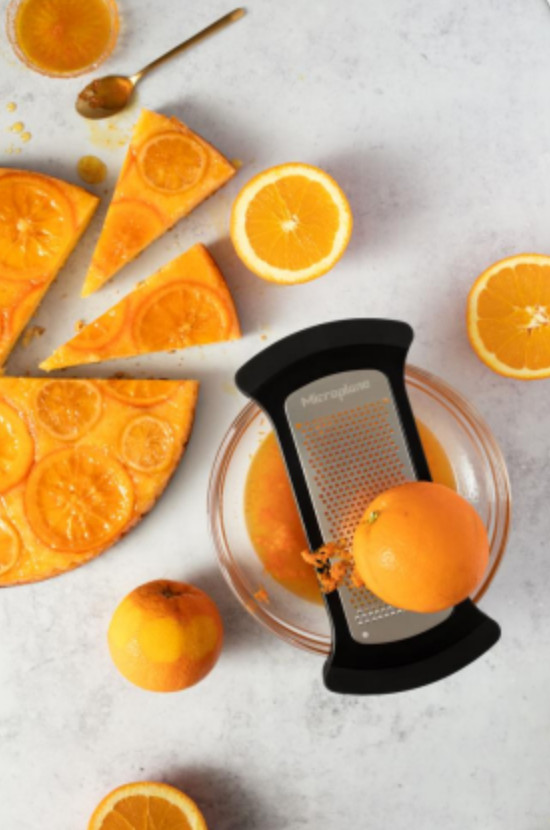 The Bowl Grater Fine Blade sits comfortably horizontally across the top of a round bowl up to 16cm in diameter or can be placed horizontally inside the bowl. You can also
hold the grater at an angle inside the bowl, for safe, comfortable, and quick grating thanks to the two rounded non-slip ends which are perfectly moulded to fit inside the bowl and prevent slippage.
Made in the USA, the sharpness of Microplane's signature blades is achieved by photo-etched technology which was pioneered by Microplane over 50 years ago. The ultra- sharp, long-lasting stainless-steel blade effortlessly grates the toughest ingredients with precision. Foods are cut without ripping or tearing, releasing the natural aroma. Hard Parmesan is reduced to soft, airy drifts; garlic, ginger and
onion are quickly grated to a smooth pulp and chocolate is shaved into incredibly fine clouds, perfect for decorating deserts, cakes and summer ice cream.
This practical and versatile grater is the perfect tool for preparing larger quantities of ingredients for a variety of dishes including citrus zest for an Orange & Chocolate Cake or Lemon Meringue Pie; coconut for a Blueberry & Coconut Pudding; nutmeg and cinnamon for a traditional Baked Rice Pudding and hard cheese for a wide range of pasta recipes. The Microplane Bowl Grater is already available with an extra coarse blade for larger textures, ideal for raw vegetable salads, coleslaws and vegetable gratins. The Bowl Grater Fine Blade and Bowl Grater Extra Coarse Blade are the perfect duo for the kitchen.
While dishwasher safe, the long-lasting Microplane® Bowl Grater Fine Blade can be cleaned quickly and easily by simply rinsing under the tap.

The NEW Microplane® Bowl Grater Fine Blade, RRP £19.95, is available from John Lewis
Globally recognized as the original manufacturer to apply photo-etching technology to graters and blades, Microplane® is used, and loved, by professional chefs, TV presenters and passionate home cooks around the world for their incomparable sharpness. The Microplane® range includes everything you need to guarantee an excellent, and effortless, experience in the kitchen.
www.microplaneintl.com @microplaneintl #micoplaneintl