Clipper introduces colourful and delicious
Organic and Fairtrade Green Tea Range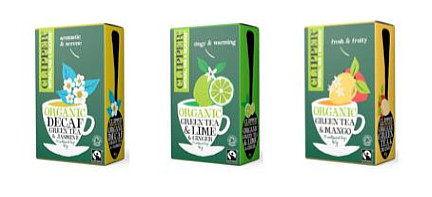 Clipper launches its capsule collection of certified Organic and Fairtrade Green Tea range. With 14 delectable green tea blends to choose from, you'll be spoilt for choice.
Clipper's masters of tea, Dan and James, work hard to create perfectly balanced green teas that are light, clear and have a delicately subtle taste characteristic of the leaves they source. They pour everything into picking the best quality leaves from trusted estates and use their expertise in the production process to deliver the uniquely fresh taste in every cup. All the teas used in the Clipper Organic Green Tea range are sourced from high elevation tea estates in Sri Lanka, South India and China. Tea plants grown at a higher altitude have to work harder to produce tea leaves and therefore the leaves they do produce have more character and better flavour. Since the tea is grown in remote mountainous areas the environment is not affected by pollution from traffic or heavy industry. What's more, Clipper only use natural flavourings in their flavoured green teas.
Clipper have been ahead of the green tea curve for almost 20 years, being the first green tea brand to launch into UK supermarkets in 1996. Since then the brand has led the way in the production of natural, fair and delicious green teas. Clipper has championed non-chemical decaffeination, introduced the distinctive unbleached tea bag and become the UK's first Fairtrade tea brand, all whilst prioritising a clean, fresh flavour.
In recent years there has been a marked move towards the purchase of organic food and drink. The 2017 Organic Market Report reveals a 7.1% growth of organic food and drink in the UK. In addition, the organic tea market is growing at 10% year on year (Source: 20th May IRI Value sales), well above the market rate.
Establishing and maintaining Fairtrade agreements with its partners is very important to Clipper. Priority is given to quality and care over yield to make sure all Clipper teas are natural, fair and delicious. Dan and James work very closely with the plantation teams to ensure the teas produced and the processes used exceed the Fairtrade standard required and that workers and their communities benefit from Clipper's investments whilst building lasting relationships with suppliers – they have been working with current estates for between 10 and 20 years.
The flavoursome blends in Clipper's Organic green tea line up vary from fruity and floral, to bright and warming – a tempting invitation to all tea lovers to try something different and incorporate more green tea into their day, because not only does Clipper Organic Green Tea taste delicious, it is good for you too! Clipper Organic Green Tea is known for being rich in natural antioxidants and has many health benefits including lowering cholesterol and blood pressure and promoting gut health, to name but a few.
14 delicious Organic Green Teas to choose from
Organic Pure Green Tea – light & delicate A clear, light and delicate green tea, ideal for pure green tea fans.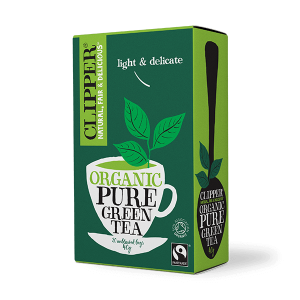 Organic Green Tea & Lemon – bright and zippy Great for those who like a little lemon lift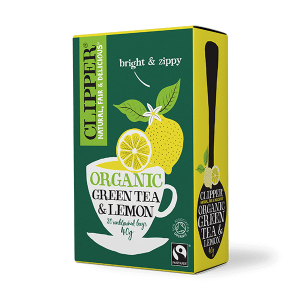 Organic Green Tea & Lime & Ginger – zingy & warming A citrus blend with a little more bite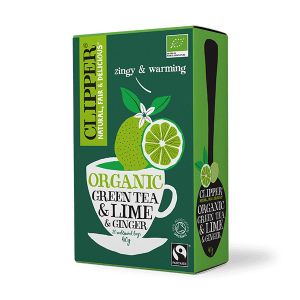 Organic Energise Green Tea – with ginger, mint and turmeric A bright and breezy alternative to a traditional morning cup of tea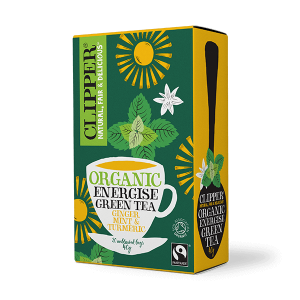 Organic Green Tea & Mango – fresh & fruity Perfect for those who like a fruity flavour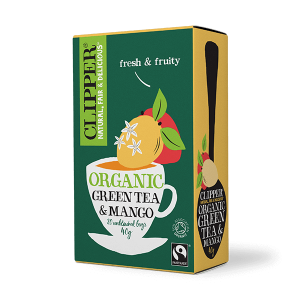 Organic Green Tea & Mint – crisp & quenching A refreshing minty blend, a perfect end to a meal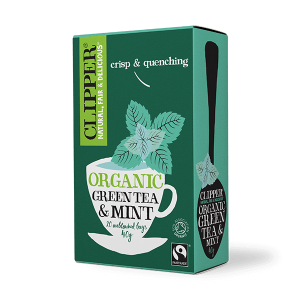 Organic Decaf Green Tea – gently decaffeinated Ideal for those who are looking to lower their caffeine intake. Clipper use the Co2 method of decaffeination which gently bubbles the caffeine out. It's the only decaffeination method certified by the Soil Association.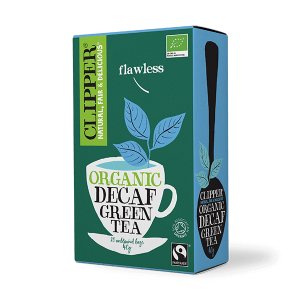 Organic Decaf Green Tea & Jasmine – aromactic & serene A delicate floral addition to the decaf green tea.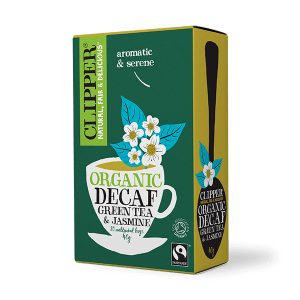 Organic Green Loose Leaf Tea –purity For those who prefer to prepare loose leaf green tea.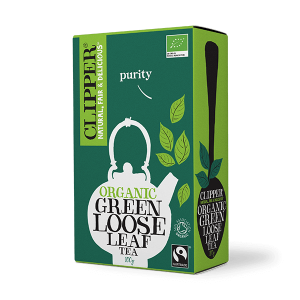 Organic Sleepy Decaf Green Tea – soothing A caffeine-free tea containing a soothing blend of Chamomile, Lavender and Lemon Balm.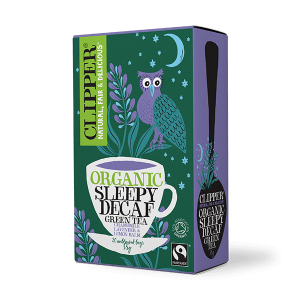 Organic Chai Green Tea – spice it up Made with traditional Indian Chai ingredients, warming cinnamon, cardamom & cloves.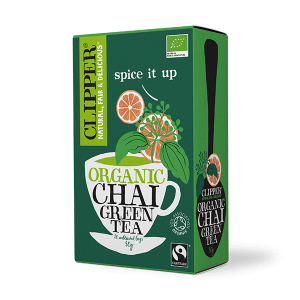 Organic Aloe Vera Green Tea – tranquil A clean tasting green tea, subtly infused with aloe vera and enhanced with a zesty lemon flavour.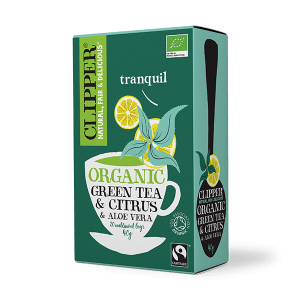 Organic Detox Green Tea – cleansing Made with Elderflower, Nettel, Fennel & Citrus to detox from within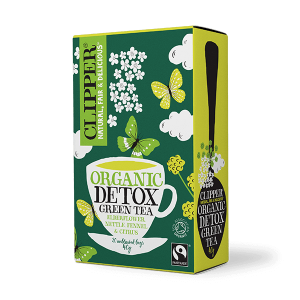 Organic Green Tea & Strawberry – sweet treat Made with natual strawberry flavouring for a fruity pick me up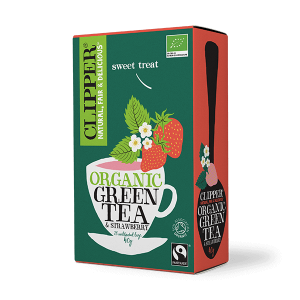 Clipper's Organic Green Tea range is available from Clipper Online, Waitrose, Tesco and health food shops, RRP: £2.19.
HIIT your way through those post-Christmas party pounds!
After weeks Christmas parties throughout December, the start of a new year calls for a new year's resolution, and for many, switching up our health regime becomes a top priority.
In 2017, exercising more was the most popular resolution amongst Brits* (40%), with losing weight (33%) the second most popular resolution. So, whether it was the extra nights out, or the endless sweet treats on offer, our blood sugar levels spike to extreme measures and convert this excess sugar into fat – meaning many of us pile on the pounds over Christmas and New Year.
According to personal trainer Andy Ward, there is a solution to getting back on track in 2018 – high intensity interval training, more commonly known as HIIT.
Combining short bursts of intense aerobic exercises such as sprinting, followed by longer recovery rest periods. HIIT training has become one of the UK's most popular workouts with proven results from users that help reduce body fat mass and increase fitness levels.
Here personal trainer and Cellucor athlete Andy Ward shares his fat-busting HIIT workout that you can do easily from either the comfort of your own home or with that new year gym membership.
Andy's top tips for an impactful HIIT workout:
Build yourself up gradually.
Before introducing intervals into your regime, you do need some sort of baseline aerobic fitness, therefore if you haven't been doing any exercise at all, start with 3 x 20-minute steady state cardio (jogging or cycling for example). When you begin to find this easy you're ready to hit the HIIT! Try introducing 2-3 intervals at a time during your normal 20-minute routine, and as you become more fit you can add more intervals into your workout.
Choose exercises that you enjoy.
If you're not a fan of cycling, don't cycle. If you're a keen runner, sprints are your best bet. Choosing an activity that you particularly like gives you a higher chance of sticking with it, and consequently will give you a better chance of seeing the results you want to achieve.
Fuel your workouts.
If you're feeling sluggish and cold in the winter months, choosing a pre-workout such as Cellucor's C4 will help give you an instant and explosive burst of energy. C4 will also help to increase your focus and will be your best friend in times of need when you're feeling unmotivated to workout.
Note to self: If you do overindulge, don't worry too much, HIIT workouts burn more glycogen (which is what carbohydrates are converted to) which means all those extra chocolates will be put to good use!
Be careful not to overdo it.
HIIT can be very taxing on the central nervous system, and with a drop in temperature the cold weather may make you more susceptible to picking up one or two colds. So if you've overeaten, don't over train to compensate for this as you could do more harm than good by running your immune system down. Instead, try to stick to a normal and regular routine where you can.
Andy's HIIT workout guide:
For optimal results outdoor sprints are the best form of exercise for a HIIT workout. However, there are other indoor options such as:
Spin Bike
Skipping
Battle Ropes
Boxing Pads
Rowing
All you need to do is start with a 5 Minute warm-up, whether it's a light jog, cycle or row, just make sure your heart rate is elevated and you're ready to increase the intensity.
Using your exercise of choice, follow the regime below where you must exert the maximum amount of effort at each 20 second interval, for example sprinting as fast as you can.
Round 1 – 20 Seconds at 100% Maximum Effort. 40 Seconds – 1 Minute rest.
Round 2 – 20 Seconds at 100% Maximum Effort. 40 Seconds – 1 Minute rest.
Round 3 – 20 Seconds at 100% Maximum Effort. 40 Seconds – 1 Minute rest.
Round 4 – 20 Seconds at 100% Maximum Effort. 40 Seconds – 1 Minute rest.
Round 5 – 20 Seconds at 100% Maximum Effort. 40 Seconds – 1 Minute rest.
Round 6 – 20 Seconds at 100% Maximum Effort. 40 Seconds – 1 Minute rest.
The rest period (40 seconds – 1minute) aims to bring the heart rate back down before the next working period. This can either be slow movement or complete stop to help recovery.
As you get better aim to either increase the intensity or work rate during your working interval or add additional intervals with each workout.
Always finish with a 5-minute cool down, allow the heart rate to drop back down.
ALCOHOL PRECOVERY DRINK MAKER UNVEILS NEW FLAVORS
B4 continues to grow anti-hangover supplement nationally, releasing berry and grape flavors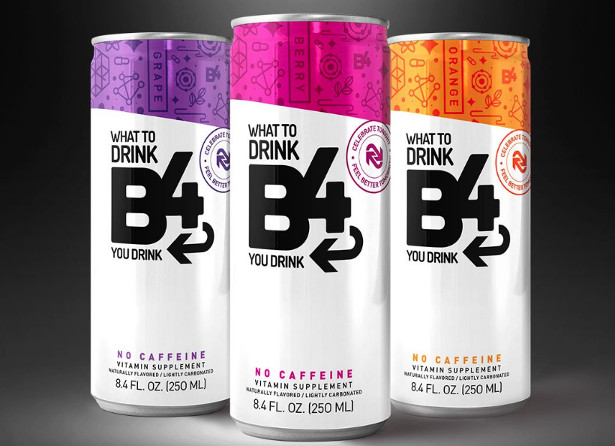 B4, a non-caffeinated liquid supplement that helps shield the body from the aftereffects of consuming alcohol, celebrates one-year anniversary by releasing two new flavors and redesigned packaging. Berry and grape will be available, along with B4's original orange flavor, starting next month. The product is now for sale at more than 500 retail locations in six states and at DrinkB4.com. This includes Florida, Texas, New Jersey, Kansas, Louisiana and Georgia. Plans are underway to launch with a major retailer in California and Arizona early in 2018.
B4 has not only evolved its packaging and expanded the product line, the company continues to increase its market reach which is helping to shape the alcohol precovery category.
Drinking a can of B4 before consuming alcohol fortifies the body with electrolytes, amino acids, vitamins, plant extracts, antioxidants and minerals to protect against alcohol's crash course through the system. Filled with B vitamins, glutathione and milk thistle, and without any caffeine, the supplement provides metabolic energy to enjoy the night just as much as the morning after. These ingredients offer protection from the toll alcohol takes on the body, like sunscreen for the liver.
Today's consumers demand quality, paying closer attention to ingredients and what they are putting into their bodies. This includes choices they make about what to drink and how much. After listening to feedback from B4 drinkers during year one, the company has met the demand for new flavors, offering consumers a choice of berry, grape or orange.
The drink was created by licensed pharmacist, John Mansour, and his business partner, beverage industry veteran Dave Larue. The pair created B4 to help grow a new category of precovery products that aim to prevent post-drinking symptoms before they happen. Since the product launch in December 2016, the company has earned more than $500,000 in sales revenue.
"B4 is our first product in this new category and it sells like crazy. After only two months, it became the number two non-alcoholic item throughout our entire chain of stores, behind only Coca-Cola® two-liter bottles," explains Kris Becker, Director of Purchasing at ABC Fine Wine & Spirits in Florida.
Mansour explains, "We are committed to science-based product development and education, honesty and transparency, and becoming the largest brand worldwide in the precovery category we are helping to build. B4 gives people the ability and peace-of-mind to celebrate the night and function at a high level the next morning."
ABOUT B4: B4 is a non-caffeinated, lightly carbonated beverage that helps shield your body against the aftereffects of drinking alcohol. B4 is loaded with nutrients, vitamins, minerals and plant extracts to provide your body with the resources it needs to break down the toxins created from alcohol consumption. Created by John Mansour, a licensed pharmacist, and Dave Larue, a wine and spirits expert, B4 is the perfect tool to help you celebrate tonight and feel better tomorrow. For more information visit DrinkB4.com.
www.justmoveforlife.com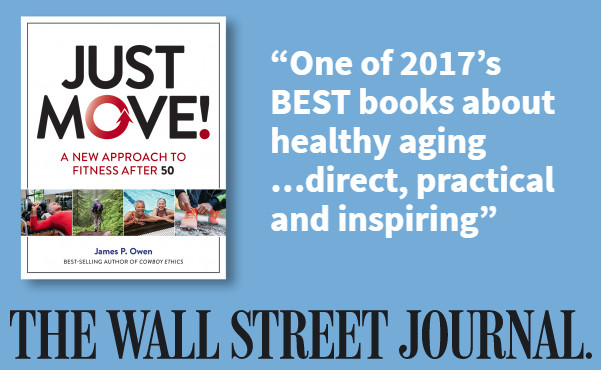 77 year old James P Owen. After a successful 40 years on Wall Street, Jim transitioned to best-selling author with his infamous Cowboy Ethics and his newest book, Just Move!: A New Approach to Fitness After 50 was released by National Geographic September.
At 70, Jim realized his years in a chair-bound lifestyle had been taking their toll on his body. Determined to get fit, he recognized the standard "body building" approach was not the way to address the physical realities that come with age and set out on his own journey of discovery and transformation. Now at 77 and in the best shape of his life, Jim shares this life-altering experience and program in the book along with the tools, inspiration and more to empower readers to get started on their own transformational journey.
Just Move was named one of the 6 best books about healthy aging for 2017 by The Wall Street Journal. I'd love for him to do a feature on getting in shape in the new year no matter what your age. He can offer tips from his book on how best to make fitness a part of your 2018.
5 Tips to Make the Ultimate Hot Chocolate
Hot chocolate season is approaching! It's time to wrap up and get cosy, and what better than with a steaming mug of creamy hot chocolate on a chilly January evening.
Hunter 486 restaurant, located within five-star boutique hotel The Arch London, makes a mean hot chocolate. So Gary Durrant, Head Chef at Hunter 486, has shared his top tips on how you can instantly upgrade your hot chocolate game this winter.
Ditch the kettle
Replacing boiling water with hot whole milk is a better alternative. A splash of single cream at the end can give it an even creamier and smoother finish.
Use good quality chocolate
Use grated real chocolate (I recommend 70% cocoa solids) instead of powder to give it a more intense flavour. You will need to add sugar to taste to balance out the bitterness of the chocolate.
Don't add it all at once
Mix the grated chocolate with a small amount of milk to create a paste. If you gradually add the rest of the milk to the paste while simultaneously stirring you will find the hot chocolate is a lot smoother.
Spice things up
When it comes to spices, a winter favourite is cinnamon. However you can always mix things up by adding cardamom and orange instead.
Add a tipple
The addition of spirits and liquors can turn it into an adult guilty pleasure. Baileys, Disaronno and Cointreau all work well in a hot chocolate.
The Arch London, 50 Great Cumberland Place, Marble Arch, London W1H 7FD
For reservations, please call: 020 7724 4700 or www.thearchlondon.com
Squat jump on the bandwagon!
Kick-start an active new year with help from Flying Tiger
Whether squeezing in a quick workout at home or maintaining a healthy lifestyle on the go, bulk up without breaking the budget.
Hand Weight from £4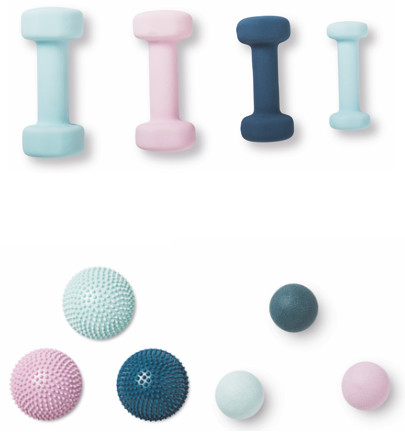 Massage step on ball – £5 / Massage Ball – £3
Gym Ball – £10
Massage Roller – £7
Wheel For Abs – £8
Water Bottle Hand Weight – £2
Shaker With Container – £3
Salad Bowl – £3
Chip is an AI-powered automated savings app that can help people keep their New Year's resolution to save more money – without ANY extra effort from them!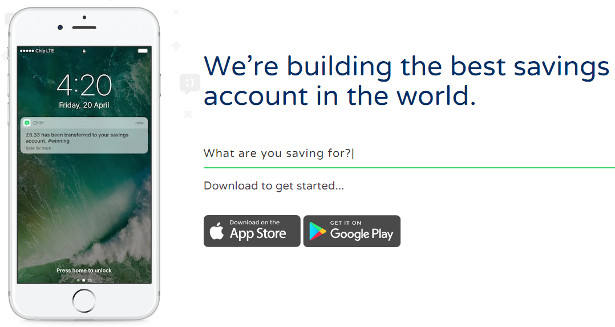 As I'm sure you know, the average UK adult saves 1.7% of their income, whilst spending 3.7% on debt interest payments. Chip is a free (intelligent) app that helps you save more of your money and spend less of it on overdraft and credit card fees – without you needing to do anything at all.
The Chip app uses your spending habits to work out what you can afford to save without affecting your normal spending habits, siphoning off the money to a separate Chip account.
(I use it personally and it is brilliant – I save around £15 a week without even noticing, sometimes more!) Over the last year I've built up over £1000 and paid off a credit card with that money – great way to get out of debt J.
Let me know if you'd like any more info at all and if it might work for anything you have coming up. We also have comment on open banking we can get to you if you want to hear the perspective of someone in the Fintech space.
What is Chip?
Launched in 2017, Chip is an AI-powered automated savings app. You link Chip to your current account and then, every few days, Chip's algorithm calculates what you can afford to save based on your spending habits. It then transfers that money from your current account to your Chip savings account – automatically. 20,000 UK users. www.getchip.uk
Bare Biology Launches Better in 30 2018
'A FREE 30 day self-help guide to help you feel better'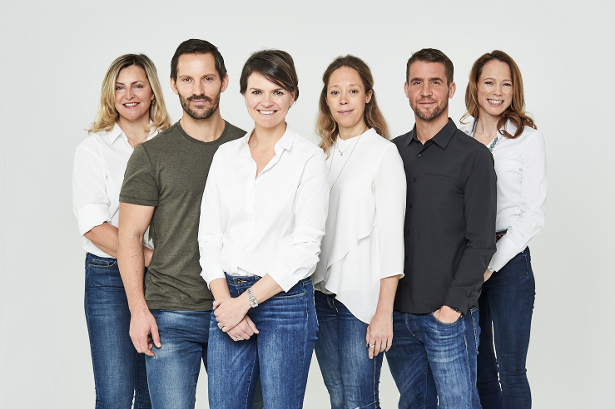 With the help of 6 leading experts, Bare Biology will be creating an easy-to-follow, 30 day lifestyle plan in January to help you feel better physically and mentally. After a period of over-eating, drinking and living in jumpers and checked plaid pyjama pants during the festive season, we all feel the need for self-improvement.
Featuring workouts and nutrition plans, recipes, life coaching, performance coaching and mindfulness, Better in 30 will be a plan for overall wellbeing; and with a daily post directly to your inbox, it's bound to keep you motivated and engaged throughout. The great thing is, if you want to stay in your plaid PJ's until mid-January you can(!), and you can still sign up to receive all 30 self-help posts.
The leading experts, who've helped people including Hollywood A-listers, TV greats and Olympic athletes, from Gwyneth Paltrow, Victoria Beckham and Suki Waterhouse to Jonathan Ross, Tom Daley and Robbie Williams, are:
• Leon Taylor – Former Olympian – Performance Coach
• Palma Michel – Author, Happiness & Mindfulness Coach
• Lizzie King – Author, Health Coach and Mother of 3
• Mary van der Westhuizen – Registered Nutritional Therapist
• Tim Blakey – Personal Trainer & Physiotherapist
• Melanie Lawson – Bare Biology Founder and CEO
All you need to do is head to www.barebiology.com/pages/better-in-30 and sign up for free!
Melanie Lawson, Founder of Bare Biology says
"We're very excited to be running Better in 30 2018 this January. It's a positive self-help guide that aims to support people take a determined, yet achievable step towards a healthier lifestyle. We'll challenge people to address key areas of their life they want to improve and, with an exceptional network of experts on board, we'll offer professional support to help them along the way. People would normally have to pay a fortune to get these experts' advice but we've brought them together to benefit everyone".
About Bare Biology
Founded in 2013 by Melanie Lawson, Bare Biology is the leading premium Omega 3 brand in the UK. It's the first UK Omega 3 brand to be independently certified for strength, purity & freshness and has products for every life stage – Lion Heart capsules, Lion Heart liquid, Bump & Glory (for pregnancy) and Super Hero (for children). Stockists include Liberty, Whole Foods and Planet Organic. For more information head to www.barebiology.com
About Melanie Lawson
Mum of three Melanie Lawson started her love affair with Omega 3 in 2008 when she suffered from postnatal depression. A passionate believer in health through nutrition, she intensively researched ways to improve her mental health through diet and lifestyle. Her research found that Omega 3 is one of the most critical nutrients for mental health, as well as general health. Melanie was struggling to find an Omega 3 in the UK that ticked all the boxes of purity, strength and freshness. Like many entrepreneurs, she saw a gap in the market and decided to create her own brand and launched Bare Biology in 2013. Melanie knew she had done something right when her first stockist was Liberty after taking part in their Best of British Open Call. In 2016 she won the NatWest Entrepreneurial Spark 'Entrepreneur of the Moment' and 'Most Accelerated Business Award'.
Skiing counters health-risks from commuting and office life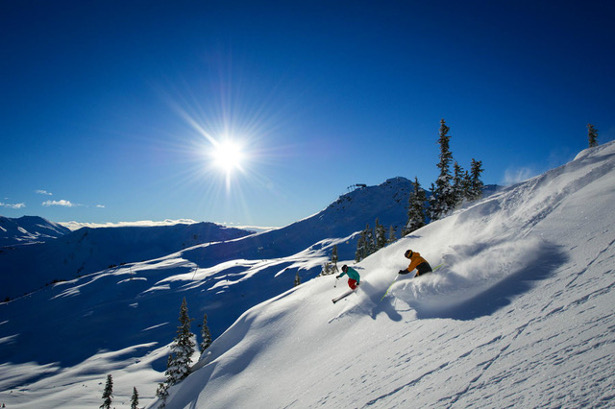 According to national census statistics* long commutes negatively impact well-being to the point that having a higher income or better house does not compensate for long hours packed in germ-filled trains, buses, or nose to tail on congested roads. In a second study, commissioned by Public Health England, excessive time spent sitting is linked to increased risk of morbidity or premature death. The study recommends office workers should spend at least two to four hours on their feet, compared with most spending up to 75% of their time seated.
But, according to Guy Hetherington, London based director of ski tuition specialist AllTracks Academy not every office worker is prepared to accept the health risks from an unhealthy, sedentary office lifestyle. He said "During the past five years we has seen a steep growth in the number of office workers and those in routine employment leaving their conventional lives behind, and seeking employment in the mountains. We have trained lawyers, doctors, bankers, engineers and other professionals to become ski instructors, in our world class Academy in Whistler Blackcomb. Our vocational ski instructor courses give them an accreditation to work as instructors, recognised by ski resorts worldwide."
He continued "For both holidaymakers, and those seeking employment in the mountains, skiing has become a metaphor for life, because it epitomizes the strength, courage, and endurance that life requires. But life also requires flexibility, which is lacking in commuting and office routines. The statistics for improved health and life expectancy from pursuing outdoor activities, most particularly in less-polluted mountain atmospheres, are undeniable. To ignore them, puts office workers and those making long daily commutes at risk.
Life is to precious to spend sitting on buses, trains and office chairs. While we can't all be ski instructors, some of us can, and those who can only spare a week or two away from the unhealthy office life can greatly improve their health with a more active, outdoor life."
AllTracks Academy's ski and snowboard courses range from 2 weeks through to 11 weeks, taught in groups no larger than 6 people. The ski courses are run by a team of CSIA (Canadian Ski Instructors' Alliance) & CASI (Canadian Association of Snowboard Instructors) instructors and take place in Whistler Blackcomb, Canada. The 11 week Instructor course includes mountain skiing. The time is split by 50% on-piste and 50% off-piste. Instructors will receive AST 1 Avalanche Skills and CSIA L1 qualifications.
The Help for Heroes wheelchair rugby team faces the mighty Barbarians at Twickenham in historic match
The two teams came together yesterday as part of the Paysafe Payback initiative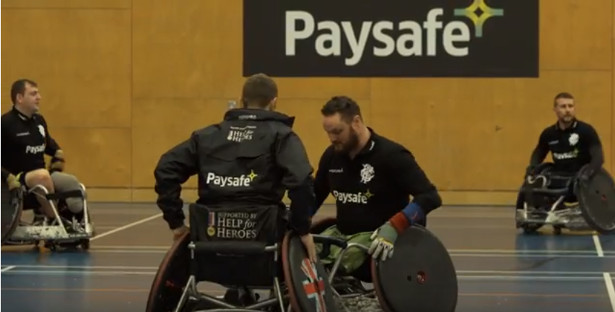 WATCH: Coverage of the Paysafe Payback Wheelchair Rugby match as a Help for Heroes team takes on a Barbarians team made up of current and former Baa-Baas.
LONDON, 3 November 2017 – The Help for Heroes side faced ex-Barbarians Will Greenwood, Rory Lawson, Kenny Logan, Simon Halliday and Jim Hamilton. The retired stars were boosted by the addition of Nic Stirzaker and Simone Favaro, both members of the squad that will take on New Zealand at Twickenham tomorrow.
Members of the Help for Heroes team were invited to watch the Barbarians prepare for the clash with the double World Champions and enjoyed a unique opportunity to meet the squad.
The event was held by Paysafe, a leading global provider of end-to-end payment solutions, who announced its partnership with the Barbarians last month. As part of the partnership, Paysafe is also celebrating its relationship with Help for Heroes under the banner of "Paysafe Payback". Already enjoying close affiliations with rugby, leading charity Help for Heroes empowers Service Personnel and Military Veterans with life-changing injuries and illnesses to reach their full potential.
The Help for Heroes team included members of the national wheelchair rugby squad who represented the United Kingdom at this year's Invictus Games, where they earned a silver medal.
Rory Lawson, Barbarians Board Member and Three-Time Barbarian said: "It is incredibly humbling to see these great people who have taken knocks along the way and have become experts in something entirely new to them."
Jeff Robinson, RAF Veteran and H4H Wheelchair Rugby Player added: "It's been great! These are world-class players and to have the opportunity to play against them has been immense."
Welshman Flex Lewis, the UK's most successful bodybuilder and one of our greatest athletes, with over 1m followers on Instagram, had a historical win this September in Las Vegas at the Olympia competition (Bodybuilding's biggest annual event) – making history by matching Arnold Schwarzenegger's record of 6 consecutive wins, originates from Lllanelli, Wales.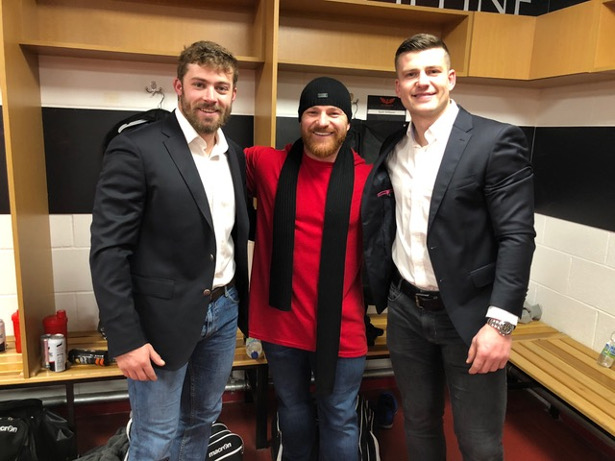 Flex was back in his home town for Christmas and attended the 'Walrus Dip' on Boxing Day for charity. Flex and his brother, Luke Lewis, a professional rugby player https://twitter.com/LukeyLew/with_replies and his sister Fiona, https://twitter.com/ffionalicelewis, who plays for the Women's Welsh squad, all dressed up as part of a rugby Santa team to brave the cold Welsh sea! I thought the below could work for a fun story/pics? Have attached some pics of the day.
Flex and his family were also asked to attend the local rugby team Llanelli Scarlets's ground for the derby against Swansea on Boxing Day and I've attached some further images below. Let me know if you need any further images Flex was invited on to the red carpet and was interviewed on the pitch during half time and then again after the game in the changing room where he met the players (many of whom as I'm sure you're aware play for Wales and the British Lions).

London's newest private members' wellness club opens in January
located in one of the city's most iconic locations, 3 St. James's Square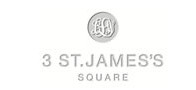 Positioned as the concierge to your wellbeing, 3 St. James's Square will offer:
Sublime Service: A 21st century approach to technology and wellbeing
Cutting Edge Tech: UK's first ever 3D bodyscanner and DNA swab testing to help create bespoke and personalized training and nutritional packages
A Decadent Space: Luxuriously equipped changing rooms, a cozy library and private meeting areas in an exclusive space in London
Personal Training: World-class trainers
Gymnasium Suite: State-of-the-art facility where ultimate luxury meets leading-edge technology
Golf Academy: London's newest exclusive private golf training facility for private, semi-private or small group lessons with leading PSI golf pro's
Sanctuary: UK's only Somadome meditation experience, treatment rooms and spa lounge
Tasting: Champagne, food and juice bar
Luxury is key at 3 St. James's Square. Concierge, scent bar, butler service, champagne bar, relaxation zones, state-of-the-art and modern tech across the spa and gymnasium and studio sessions to suit members individual needs – an unrivaled member experience.

NEW Rosa Kids Caged Lighting
Now even the littlest members of the family can get in on the 'industrial-chic' action with the first ever children's collection from the British lighting company, Urban Cottage Industries.

The new Rosa Kids range offers a modern twist on their ever popular Balloon Cage Pendant lights, with four new stunning colour combinations to choose from: Petrol Blue with Fuschia Pink Fabric Lighting Cable, Mustard with Black and White Fabric Lighting Cable, Pink with Sage Green Fabric Lighting Cable or Grey with Cream Fabric Lighting Cable.
These versatile lights are ideal for creating an eye-catching focus point to any nursery or bedroom. Hang straight from the ceiling, or pair with a ceiling hook to really showcase the coloured cable to full effect.
A health and wellness toolkit
Available in paperback and eBooks from all the online retailers. $4.99 for eBook version and $11.65 for paperback version.
Health and wellness: Happy Healthy You is a multidisciplinary approach to reclaiming ultimate wellness. We are all so busy nowadays, and tackling all those to-do lists can leave us drained, worn down, and lacking energy. When you take a deeper look inside, you will also discover patterns, old habits, and past events blocking self-growth. Life coach extraordinaire KJ Landis helps identify how, why, and where we got stuck in the first place, and how we can utilize past trauma and drama as a springboard to becoming our most authentic, vibrant selves. As one of KJ's students enthuses, "She has taught me several tangible strategies to cope with stress…I am using KJ's simple techniques to achieve my lifelong health goals.'"
Stress relievers: Learn to lose the baggage and blame once and for all and step into your better self. KJ Landis herself is an exemplar of the practices she espouses. In her early career as a model, she masked years of abuse behind her beauty. Her journey to health and happiness is remarkable and truly inspiring. So many of us bury pieces of ourselves, never daring to become whole. Landis' work offers a path to wholeness for all. The variety of healing therapies and practices makes this book unique in its contribution to the self-help and wellness world. Each day, we are faced with an immense amount of daily stress. Over time, those stressors may build up to a really big deal in our lives, causing us to go into survival mode. When you are only surviving, you are not thriving. In addition to the day-to-day sources of stress, many of us are exposed to major issues such as neglect, loneliness, abandonment issues, sexual abuse, grieving after loss, breakups, workplace challenges, environmental disasters, hormonal imbalances, and nutritional deficiencies. KJ Landis tackles all the blocks to wellness with excellent practical tools for overcoming and recovering.
Inside this book you will learn:
• the origin of how we remain "stuck" in our lives
• how to use The Negative Thought Pot to rid ourselves of self-deprecating beliefs
• how hormones and epigenetics affect mental and physical wellness
• the role of nutrition in every aspect of our health
• therapeutic movement as a modality in healing
• the power of self-care through restorative practices
• and much, much more!
Review
"For readers seeking to retool their life, KJ Landis offers soulful direction and encouragement. Whether you are under normal stress or suffering from tragedy, there is healing within yourselves. As a hospice and bereavement professional, I see tremendous value in utilizing these stories and techniques for personal thriving after loss."
~Tracie Pyers, MSW, Medical Social Worker, Mission Hospice and Home Care
"KJ Landis' new book is compelling, with varied exercises in each chapter to help the reader work through their problems and reach positive solutions to life's challenges (workplace issues, sexual trauma, loss of loved ones, etc.). I found many of the exercises thought-provoking and so varied in style that anyone should be able to find at least one to match his or her comfort level.
She concludes her book by saying it is a testimony to Positive Psychology, and challenges us to use the information she provides to help us get unstuck, and then a natural flow will be available when new challenges arise. Indeed, this book serves as a bridge between real people with real problems, and real hope."
~Pat Madden, MPH, Social Scientist Research Coordinator, Stanford University School of Medicine
"If you ever wanted a wise coach to whisper in your ear, to cheer you up when things went wrong, here's the book for you! Happy, Healthy You! engages the reader with a personal touch, well researched strategies, and stories that inspire―a true companion book on the road of your life―that you'll return to again and again."
~Kate Farrell, Librarian, Author, Storyteller, President, Women's National Book Association, San Francisco Chapter
"Inspirational, entertaining, and heartfelt are three great ways to describe KJ Landis' latest book. In the beginning, KJ states, I do not have a perfect life, but I do have a beautiful life. You do too. This really gets the reader thinking about the positive aspects we all can choose to focus on. With each chapter, you feel as if KJ is cheering you on to greater things. She is motivating you to become yoursuperior self through realistic situations and real world exercises that can be implemented at your leisure.
KJ truly does want each of us to reach for our superior selves, and it is evident through her inspirational, fun, and heartfelt tone. Do yourself a favor, reach for your superior self, and have author and life coach KJ Landis help you along your journey. You will not regret it."
~Suzie Roth, MLS, Research Librarian/Instructional Services Coordinator, Embry-Riddle Aeronautical University
"KJ Landis shows exhilarating enthusiasm for sharing how to drop destructive choices and habits, and then fully prepares the reader with healthier replacements.
Her stories, exercises, and suggestions combine good sense, warmth, wisdom, and up-to-date approaches to optimum living."
~Melissa Riley, Self-Healing Program Coordinator, Reference Librarian, Public Library
"Having as many tools as possible in our toolbox is essential for good mental health. KJ's book is one of those tools. She provides healthy mental exercises anyone can utilize when dealing with stressful issues and challenges that life can throw at us."
~Kendra Coyle, LSW, Former Social Worker at Western Psychiatric Institute and Clinic, Pittsburgh, PA
Review
"KJ Landis' newest book, Happy Healthy You is a true gift. In a world which constantly focuses us on the lack, the scarcity, and the negative, she offers a physical, mental, and spiritual guide to living a healthy life from the inside out. This is a must read for anyone who is seeking a path to spiritual renewal, healthy living, and a better life. Truly, an inspirational must-read!"
~Sydney Mintz, Rabbi, Congregation Emanu-El, San Francisco
About the Author
KJ Landis is an author, educator, health and life coach. She holds a Bachelor of Science in Education, and has certificates in Personal Training, Fitness Class Instructing, as well as certificates in continuing education in Psychology, Global Health, Childhood Development and Nutrition at Stanford School of Medicine, Johns Hopkins University, and other prestigious universities. Her focus is on teaching a grain free and sugar free lifestyle, deciphering food labels, and how to build a tribe of support when making any lifestyle change for the better. Landis consults clients locally in San Francisco and remotely via internet and phone, as far as Dubai. She created and facilitates wellness workshops in libraries, senior centers, for corporations, and in private homes. KJ Landis has been a featured guest on HCG Body for Life podcast, Newbie Writers podcast, and more. She has written numerous books on wellness. Her weekly videos and blogs share holistic health topics as well as providing motivational and inspirational support. You may read more about KJ Landis and her personal journey to wellness at www.superiorselfwithkjlandis.com http://www.superiorselfwithkjlandis.com
Visit me at www.superiorselfwithkjlandis.com http://www.superiorselfwithkjlandis.com
Five post- Christmas cleaning hacks for a squeaky clean 2018!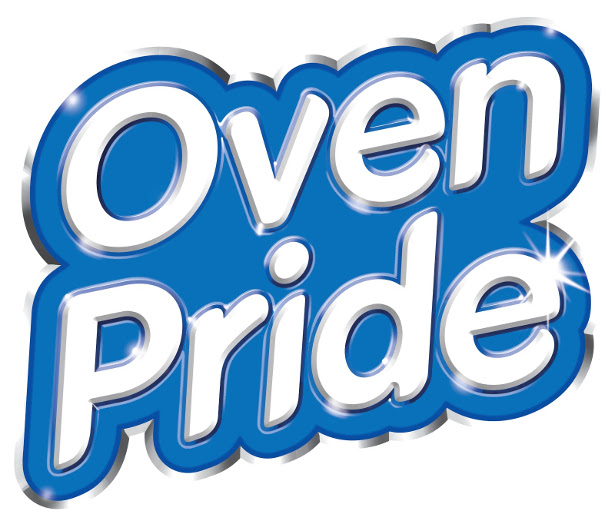 To make the post- Christmas clean-up operation less stressful, Oven Pride has teamed up with blogger Domestic Gothess, to create some time-saving hacks for an easy, fuss-free clean up that will allow you to enjoy a squeaky clean start to the new year, all in time for Epiphany!
If your wine glasses are looking a little cloudy, get them sparkling again by giving them a wipe with a cloth dipped in white vinegar, give them a good rinse then dry with a lint-free cloth.
If you end up burning any pans while you are cooking the big feast (there is a lot going on and it can be hard to keep an eye on everything!), you can easily clean a burnt pan with vinegar and bicarbonate of soda – fill the pan with water and then add a cup of white vinegar. Bring it to a boil, take it off the stove and then add 2 tablespoons of bicarbonate of soda. Let it sit for a while until it has cooled down and then wipe the mixture out of the pan!
Prepare your fridge beforehand. Empty all the food you won't be using, make space for the turkey and deep clean it using a baking soda and water mix. 2 tablespoons of baking soda and 100 ml of water
Before putting away, clean dusty tinsel or artificial trees by securing an old pair of tights over the nozzle attachment of your hoover and using a very low setting to gently suck away the mess.
A dirty oven with old burnt on grease could ruin your chances of cooking the perfect dinner. To help save time cleaning your oven, try using an oven cleaner such as Oven Pride to stop you from scrubbing for hours on end. All you have to do is place the racks in the plastic bag provided and add the 2 in 1 cleaning solution, pouring the remaining solution inside the oven. Leave this to get to work for 24 hours and rinse down with gloves and hot soapy water – then you're good to get cooking again!
A spokesperson for Oven Pride said: "Whether you're entertaining family and friends or simply cooking your evening meal, make sure that a dirty oven doesn't get in the way of dinner plans in 2018. Oven Pride can take the headache out of cleaning your oven as it's not only easy to use, but can also be left to get to work whilst you concentrate on more important things."
Digital Theatre has officially announced the launch of an online subscription platform that brings the best of live theatre, ballet, opera and classical concerts, to your own screen. Performances can be streamed anytime, anywhere, and to any device.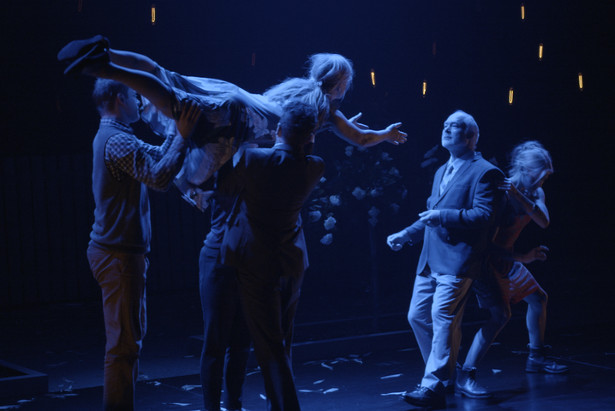 Subscribers will have access to over 65 productions, including: Simon Russell Beale in The Tempest, Antony Sher in King Lear, Zoë Wanamaker and David Suchet in All My Sons; Richard Armitage in The Crucible and David Tennant & Catherine Tate in Much Ado About Nothing, with a further 50 curated productions from some of the world's leading producers, all scheduled for release over the next six months.


DT's founder and acclaimed Director and Producer, Robert Delamere, commented: "Britain's performing arts are world-renowned for their outstanding breadth, quality and diversity. This was the inspiration behind the launch of the world's first, online, performing arts platform. Digital Theatre collaborates with world-class producing houses to capture and curate their shows and stream them to the consumer in broadcast quality. Up close and personal, for a best-seat-in-the-house viewing experience."
For £9.99 per month, subscribers get unlimited access to all Digital Theatre's current and future productions. For non-subscribers, each production is available to rent online for 48 hours, at a price of £7.99.
Justin Cooke, Chairman of Digital Theatre, said: "Our mission is to make the performing arts accessible to all, irrespective of social, economic or geographic circumstances. The power of digital is providing people, who might not otherwise have the opportunity, with access to fantastic performances, at a fraction of the cost of a typical ticket. We're broadening access to these phenomenal productions, and preserving their impact for years to come. We aim to bring the drama and emotion of each live performance to the comfort of your home, and for me, this isn't a replacement for live theatre – it's a new art form altogether."
To find out more about Digital Theatre, go to www.digitaltheatre.com
Introducing the Brand New Lovely Sofas
What's your Life of Lovely?
Lovely Sofas are excited to share their brand-new look for 2018. The new branding is as lovely as their name, focusing on unique products that reflect their owners' personality and style. The new look is supported by a fantastic new collection of sofa designs and fabric ranges, all aimed at helping customers create their very own 'Life of Lovely'.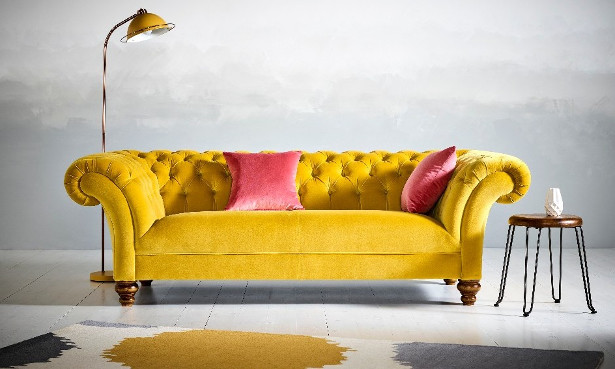 BOOST YOUR IMMUNITY AND BEAT THE COMMON COLD THE NATURAL WAY, WITH NEW ERA Q AND J MINERAL TISSUE SALTS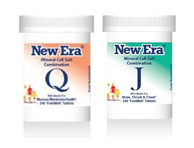 As colder temperatures drive us indoors, and stuffy offices and public transport increase the spread of germs, catching a cold or the flu is almost inevitable at this time of year.
Try to minimise your chances of being struck down and alleviate symptoms once they have taken hold with New Era Q and J Tissue salts, natural, fuss-free alternatives which will help to boost your immunity and ensure you return to optimum health in no time.
New Era mineral tissue salts are an original form of nutritional supplementation, designed to deliver targeted combinations of essential micro nutrients and minerals that the body needs to maintain optimum health and wellbeing. These tissue salts are created by using a traditional production method developed over the past 90 years, which finely grinds minerals into tiny particles to create the unique 'FastMelt' mineral cell salt tablets. Once placed on or under the tongue, these dissolve rapidly, enabling their active ingredients to enter the blood stream and tissues more quickly than any ordinary tablets, helping to enhance results.
Thanks to their unique ingredients, New Era Q has been formulated to relieve the symptoms of catarrh and blocked nasal passages, whilst New Era J, helps to ease and combat colds, coughs and associated chestiness. When taken together, the unique and potent combination of minerals used in both New Era Q and J tissue salts work synergistically and effectively to enhance results and combat common side effects associated with colds and flu.
Both products feature the complex B vitamin Biotin, which is essential for maintaining the healthy function of our mucus membranes, including those in the nose, throat, sinuses, bronchial passages and eyes, helping to alleviate and prevent stuffiness and congestion. Another key ingredient is Iron phosphate which can help red blood cells work more effectively in combating illnesses, such as the common cold, as well as reducing redness, irritated tissues and a sore throat, even at the early stages. Both Combination Q and J Tissue Salt products also contain potassium and sodium chloride which help to keep you hydrated, which is essential when suffering from a cold or flu.
So, if you're feeling a cold coming on, or want to build up your defences, just four to eight of these tiny, melt in the mouth, tissue salts, taken three times daily will help you to ward off even the slightest sniffle and ensure you stay in optimum health this winter. With this unbeatable combination from New Era, pesky germs won't stand a chance.
New Era Q and J are part of a range of new and improved mineral tissue salts, available from independent health food stores and brought back to the UK, by Power Health Products Ltd.
GET DOWN AND DIRTY THIS WINTER AND GIVE RUGBY A TRY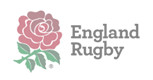 Are you the type of person who's up for a challenge and down with getting dirty? If the answer is yes, then rugby is the sport for you this winter.
It's that time of year again where setting new goals for the year ahead is the name of the game, and playing rugby is the perfect 2018 challenge, providing an awesome workout and a great laugh – exactly what is needed in the cold weather.
You might not know this, but winter is often the best time of year for playing sport outside. From thawing those winter blues to a handy and timely boost to the immune system, outdoor sport has many benefits.
If you're interest is piqued then England Rugby has you sorted, with 'Warrior Camps' running between 12-28 January 2018, encouraging women to kick start their fitness routine for the New Year and challenge themselves to take up a new sport.
Women's attitudes towards sport, and rugby in particular, have evolved over the past few years. Research shows* that they want physical activity to satisfy a number of needs: from contributing to a healthier lifestyle, to learning new skills and becoming the very best version of themselves.
Women's rugby is entering a really exciting and progressive period, and is now one of the fastest growing team sports for women in England. There are a whole host of benefits from playing rugby, particularly during the winter. Here's four reasons why:
Thaw the winter blues
As the dark nights and cold weather creep in, the levels of feel-good chemicals in your brain will fall. For anyone suffering from the symptoms of seasonal affective disorder (SAD), you know that you could be in for a few gloomy months when the cold sets in.
The good news is that exercising outside can naturally boost your emotional health, and you'll feel the benefits almost right away. Your workout will release endorphins, which boosts mood, and you'll continue to feel perked up the rest of the day.
Stress buster
Playing rugby can be a great way to release stress and tension, offering a massive hit of feel good hormones.
Winter training in the great outdoors is one of the quickest and most effective jolts to your system and will refresh your mind, body and spirit. Enjoy the crisp air, nature and sunshine for a natural pick-me-up.
Increased toughness
It might seem surprising that extra strain on the body would be a good thing, but the healthy challenge that is cold weather training will keep your body strong.
Use the winter months to increase your strength and endurance levels and sculpt a strong, warrior-like body.
Boost your metabolism
Being exposed to the cold weather during your training session means you expend extra energy trying to stay warm. As the body works hard to regulate your core temperature, your metabolism is kicked into overdrive, and your body burns through more calories.
So not only can you pat yourself on the back for getting through a winter workout, but you'll know your return on the investment will be greater than it would be under warmer conditions.
The RFU wants to empower women to find, connect with and free their inner warrior spirit by giving rugby a try and experiencing the dynamic sport of rugby for the first time within a fun-packed, commitment-free environment.
The Warrior Camps aim to encourage more women and girls to play contact rugby, teaching participants key introductory skills and drills within a non-committal, social and fun environment. Participants will be introduced to the basics of rugby, including passing, kicking and tackling, along with enjoyable fitness routines.
If you're looking for your 2018 challenge, check the Warrior Camps across England from 12 – 28 January 2018.
thegoloveyourselfbox.com
TEN Spring Water (www.tenspringwater.com) is a premium electrolyte-rich alkaline spring water brand, bottled at a 10 pH.

Source is everything. Many bottled waters, including alkaline waters, come from a tap and go through a purification process. TEN spring water is sourced from underwater caves deep below the earth's surface. These caves, located at the foothills of the Appalachian Mountains, are natural quartzite and granite aquifers with rock so dense that they naturally filter the water to an incredibly pure state. The TEN team believes that the best drinking water comes from the Earth, not from a tap.
TEN Spring Water is available in half-liter bottles, one-liter bottles, one-gallon jugs and half-liter six packs at supermarkets throughout the United States, specialty markets and online at Amazon.com and Walmart.com.
Sony unveils new products and paves way for future with AI x Robotics, Automotive Image Sensors and more at CES 2018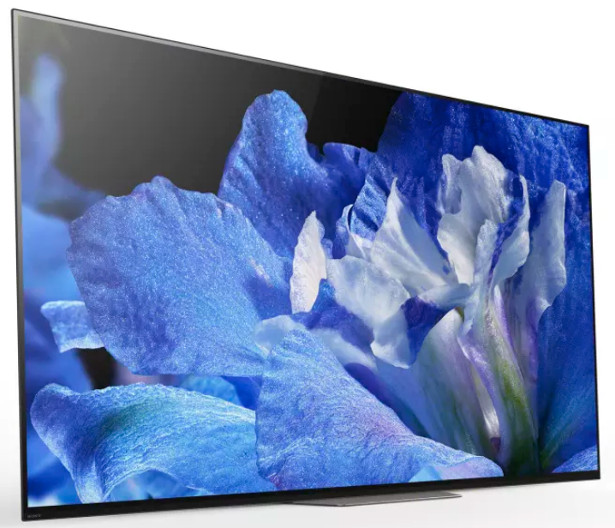 Sony Announces New OLED and LCD 4K HDR TV Series with Refined Picture Quality and Enhanced User Experience – Sony Europe announced new and expanded 4K HDR television series designed to deliver enhanced contrast, colour and clarity. The AF8 and XF90 series are the newest options to enjoy refined 4K HDR picture quality thanks to Sony's proprietary innovations
World's first Dolby Atmos® Soundbar that produces Virtual three-dimensional Surround Sound – The premium HT-ZF9 soundbar with Dolby Atmos through Sony's Virtual technology brings a new level of inspirational, cinematic audio to your home
Big screen picture and sound with Sony's new 4K Ultra HD Blu-ray™ Player and AV Receiver in the comfort of your living room – This ultimate 4K HDR set-up by Sony will make you feel like you are at the cinema in your own home.
Serious sound but stylish and slim design, the new Compact Single soundbar from Sony – Sony's new 2.1ch Compact soundbar HT-SF200 gives you that cinematic sound feeling from the comfort of your own sofa, and will look good too – as it's designed to complement any piece of furniture it's placed on
Wireless Noise Cancelling sports headphones to wear anytime, anywhere – Sony launches three new sports wireless headphones for the active, stylish music lover who's always on the go
Experience uncompromised Hi-Res sound with Sony's latest development in headphones – Following on from the acclaimed MDR-1A headphones that launched in 2014, the MDR-1AM2 brings a host of new and improved features to take the premium headphones industry by storm
Throw the party of the year with one of Sony's new High-Power Audio systems – Sony has released three fantastic new High-Power home audio systems to power a proper party in 2018. With two options of the "all-in-one box" style; MHC-V71D and MHC-V41D and a "3-box" model MHC-M20D, they will fill any room with booming sounds
Get the party started with Sony's new EXTRA BASS™ wireless speakers – With portability, durability, EXTRA BASS™ power and LIVE SOUND mode at the forefront, Sony assures you these speakers will provide the ultimate party wherever you go
Sony Announces New Expanded Multi-View Shooting Capabilities for the Compact RX0 Camera – Sony, a worldwide leader in digital imaging and the world's largest image sensor manufacturer, today announced new wired and wireless multi-camera solutions for the versatile RX0 that enable more flexibility, creativity and operability for today's creators
INTRODUCING: INNOVATIVE ISA COMPARISON SITE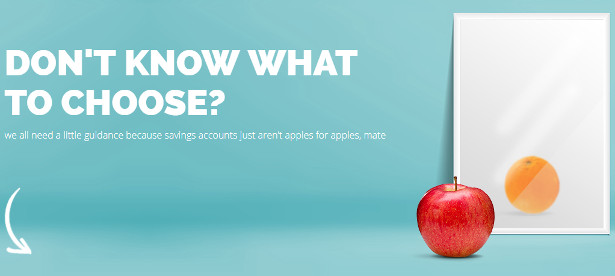 Apples for Oranges meets consumer demand for a comparison service focussing on tax-free ISAs, without all the jargon
A NEW consumer friendly, jargon free comparison website connecting potential investors to tax-free ISA products has launched.
ApplesforOranges.co.uk enables consumers looking to invest up to £20,000 in a tax-free ISA, to compare and contrast the best products available on the market.
As well as providing consumers with a selection of the most hard working innovative finance ISAs, cash ISAs and stocks and shares ISAs, Apples for Oranges will also host a knowledge bank of information to help consumers understand the opportunities available to them.
The website will enable consumers to shop around for an ISA which is best suited to them based on the terms of the investment and the returns available to them in one place.
In addition, the comparison site will aim to educate consumers on a new wave of secured and asset-backed innovative finance ISA products, which fund everything from Hollywood blockbusters to British heritage sites.
Innovative finance ISAs allow savers to use their annual ISA investment allowance (£20,000 in the first year), to receive tax-free interest and capital gains on funds lent through FCA-regulated peer-to-peer or peer-to-business lending platforms.
Compared to cash ISAs which attract much lower returns but carry no risk, investing in an innovative finance ISAs attract higher interest rates but naturally, the investment is not protected.
With investments starting at £500 and annual returns of up to 7.5% available, innovative finance ISAs will be attractive to the everyday saver who can be left overwhelmed by the investment market.
James Dean, spokesperson at ApplesforOranges.co.uk said: "If you take the definition of Apples for Oranges and apply it to the Individual Savings Account (ISA) space, our mission becomes clear.
"Individual Savings Accounts have become an increasingly popular way of saving money because the tax-free savings on them offered by the Government really are a fantastic way of maximising your money, but we have found that people do not understand the full extent of the options available in the market.
"All types of ISAs will still fall under the tax-free wrapper set out by the government, but when comparing a Cash ISA to an Innovative Finance ISA, you are really comparing apples to oranges, because they are so different."
Apples for Oranges will provide consumers with the vital information they need when considering an investment, including details of the investment term, the interest rates and of course, the risks.
For more information on Apples for Oranges or innovative finance ISA products, visit www.applesfororanges.co.uk

12 Wellness Holidays to Make You Healthier in 2018

The New Year has just begun which brings more focus on health, fitness and well-being as you look ahead to a year of possibilities. Welcome the new year and make one of your resolutions to make time for a health or fitness holiday. Whatever your goals in 2018, Health and Fitness Travel, the wellness holiday specialists will find a break to meet your wellness needs; be it detox, meditation, yoga, sports or sleep, you can be as sociable or as solitary as you wish. With the support and assistance of experts available in some of the world's most beautiful locations, choose a wellness holiday to make you healthier this year.
The Sports Performance Break – Palacio Estoril Sports & Performance, Portugal
Hitting an athletic plateau is demotivating, but unbelievably common. On the sunny coast of Cascais, luxury 5-star resort, Palacio Estoril, offers sports enthusiasts an opportunity to overcome physical and mental barricades, enhancing performance and refining skill. Utilising treatments such as physiotherapy and Chinese medicine, guests benefit from improved posture and well-being. In addition to an array of fitness classes, the programme focusses on nutritional performance enhancement, providing all the tools necessary to achieve athletic goals.
Health and Fitness Travel (0203 397 8891 healthandfitnesstravel.com) offers 5 nights at Palacio Estoril from £1,495pp and £2,100 for single occupancy. Price includes breakfast, programme, return flights and transfers.
The Luxury Beach Spa Break – Amanpuri Awareness Immersion, Thailand
Amidst palm-fringed, white sand beaches, and architecture inspired by ancient Ayutthayan culture, Amanpuri exudes timeless luxury. The awareness immersion programme, guided by a former Buddhist monk, is a meditative experience encouraging the renewal of internal focus, synchronising the mind, body and soul. Indulgent spa treatments such as cranial sacral therapy compliment the programme, along with unrivalled nutritional support. With spiritual guidance, a 5-star spa, and a private beach on your doorstep, Amanpuri is perfect for those looking for a luxury, yet authentic, beach and spa getaway.
Health and Fitness Travel (0203 397 8891 healthandfitnesstravel.com) offers 7 nights at Amanpuri from £6,210pp or £7,815 for single occupancy. Price includes full board with a choice of wellness programmes, return flights and transfers.
The Yoga Trip – The Retreat Costa Rica Yoga, Costa Rica
The Retreat is a Costa Rican haven set amid Quartz mountains and lush vegetation. Master the asana's and find inner peace with daily private and group yoga practices. For beginners and advanced yogi's alike, a week of seclusion and serenity will be beneficial both physically and mentally, improving flexibility, strength, and balance, as well as emotional clarity and stress. This healthy yoga escape also includes a hike, wellness workshops, a healing massage and a trip to a local farmers market.
Health and Fitness Travel (0203 397 8891 healthandfitnesstravel.com) offers 7 nights at The Retreat Costa Rica from £2,960pp or £4,100 for single occupancy. Price includes full board with a yoga programme, return flights and transfers.
The Mediterranean Healthy Escape – Ayii Anargyri Healing, Cyprus
A boutique hotel amid a valley of mature trees in the village of Miliou, Cyprus, Ayii Anargyri promotes an idyllic location for a healthy healing escape. Restore well-being as you harness the time-tested, natural healing powers of the areas mineral-rich waters. Find profound calmness and tranquillity through hydrotherapy treatments such as underwater massage, and treat ailments in the phlebology, kinesiotherapy, and rheumatology pools. The healing waters are also utilised in spa therapies such as the indulgent mud therapy cocoons and massages.
Health and Fitness Travel (0203 397 8891 healthandfitnesstravel.com) offers 7 nights at Ayii Anargyri from £1,860pp or £1,580 for single occupancy. Price includes full board, a choice of healing programme, return flights and transfers.
The Family Sports Holiday – Forte Village, Sardinia
A Sardinian paradise for sports loving families, Forte Village will leave guests spoilt for choice. In addition to a plethora of activities such as cycling, football academy, basketball, tennis and boxing academy, fitness lovers can get involved in various activities from Zumba to yoga. Located next to the beach, water babies can also enjoy a range of water sports including paddle boarding, windsurfing, and diving. The kids club can also keep the young ones (and teenagers) occupied whilst you indulge in some 'me time' at the spa.
Health and Fitness Travel (0203 397 8891 healthandfitnesstravel.com) offers 7 nights at Forte Village Resort from £1,090pp. Price includes half board, return flights and transfers.
The Detox and Pilates Break – Amatara Detox, Thailand
With stunning views out over Cape Panwa, Phuket, Amatara is an idyllic destination for a relaxing detox and Pilates retreat. Following a juice cleanse and healthy eating regime, achieve optimal well-being with treatments such as colonic hydrotherapy, coffee cleansing, manual lymphatic drainage, and detoxifying ayurvedic massages. Gain strength and flexibility with mat Pilates and private reformer Pilates in stunning surroundings. This healthy holiday will give you the chance to experience your most energised and most radiant self.
Health and Fitness Travel (0203 397 8891 healthandfitnesstravel.com) offers 7 nights with Amatara Detox from £2,845pp or £3,485 for single occupancy. Price includes full board, a detox programme, return flights and transfers.
The Trip of a Lifetime – Ultimate Around the World 1 Year Wellness Trip
The Ultimate Around the World Wellness Trip is an unbeatable opportunity, both in terms of experience and luxury. Enjoy yoga on private island 'parrot cay' one week, then scuba diving in The Great Barrier Reef the next. Other highlights include ayurvedic therapy in India, hiking in Utah and a guided tour of Istanbul's architecture. With over 20 stops on this year-long voyage you will become both vastly cultured and a master of your own health and fitness.
Pricing starts from £156,000pp with Business class flights for 12 months around the world wellness trip. Health and Fitness Travel (0203 397 8891 healthandfitnesstravel.com)
The Tennis Holiday – Pine Cliffs Annabel Croft Tennis Academy, Portugal
Whether your dreaming of Wimbledon, or simply getting the ball over the net, the Tennis Academy at Pine Cliffs in Portugal is guaranteed to improve your game leaps and bounds. With five group tennis lessons throughout the week, all of which utilise the professionally developed 'movement and repetition method' expect to see advances in skill, stamina, and style. Guests also receive an invigorating sports massage, the perfect way to unwind after a morning on the court.
Health and Fitness Travel (0203 397 8891 healthandfitnesstravel.com) offers 7 nights at Pine Cliffs from £1,325pp or £1,055 for single occupancy. Price includes breakfast, a tennis training programme, return flights and transfers.
The Safari and Yoga Break – Karkloof Safari & Yoga, South Africa
Combining passions for yoga and nature, this wellness holiday takes you to one of the most exceptional and unspoilt areas of South Africa. During the Safari & Yoga programme at Karkloof Safari Spa, guests experience two game drives, observing wildlife such as giraffes, rhinoceros, and a plethora of bird species. With daily yoga classes, mountain biking, fishing, and guided hikes, finding your connection with nature and developing inner peace has never come more naturally.
Health and Fitness Travel (0203 397 8891 healthandfitnesstravel.com) offers 7 nights at Karkloof Safari Spa from £4,650pp or £4,770 for single occupancy. Price is all-inclusive, with a programme, return flights and transfers.
The Sleep Retreat – Lefay Sleep Well, Italy
Regain control over your sleeping pattern on an invigorating sleep wellness retreat overlooking beautiful Lake Garda. Find relaxation and pure bliss with a selection of indulgent, pampering, and holistic spa treatments. Improve your sleeping patterns as you are guided by the energy flow of Chinese medicine combined with locally grown healthy cuisine as you are taken through a journey to better health and peaceful state of mind, ensuring you get a good night's rest.
Health and Fitness Travel (0203 397 8891 healthandfitnesstravel.com) offers 7 nights at Lefay Resort & Spa from £2,155pp or £2,640 for single occupancy. Price includes full board, with a sleep programme, return flights and transfers.
The Winter Sun Fitness Holiday – BodyHoliday Fusion Fitness, St Lucia
If you're looking for winter sun, it's a struggle to comprehend a destination more perfect than St Lucia with an activity for every type of active traveller. From 7am beach workouts to 8am yoga along with daily spa treatments, enjoy a personalised Fusion Fitness programme designed for you. Achieve optimal well-being with a choice of private activities from tennis lessons, bike rides and sports weight training to ocean sports, Tai Chi, Pilates and meditation.
Health and Fitness Travel (0203 397 8891 healthandfitnesstravel.com) offers 7 nights at BodyHoliday from £2,790pp or £2,810 for single occupancy. Price is all-inclusive, with a Fusion Fitness programme, return flights and transfers.
The Short-haul Health Booster – Six Senses Kaplankaya De-stress & Reconnect, Turkey
Give your health a well-deserved boost this year as you enjoy a selection of indulgent spa treatments including massages and body wraps at Six Senses, Kaplankaya. Disengage from the stresses of daily life as you find your calm with sunrise yoga or a morning coastal walk, then work out your tensions in an invigorating personal training session. Whether it's a quick break or an extended getaway, this Turkish stay is guaranteed to help you take a step back, finding clarity in the process.
Health and Fitness Travel (0203 397 8891 healthandfitnesstravel.com) offers 7 nights at Six Senses Kaplankaya from £1,380pp or £2,300 for single occupancy. Price includes full board, with a wellness programme, return flights and transfers.
For advice, guidance and booking visit www.healthandfitnesstravel.com or call 0203 397 8891
Sleepace's smart sleep gadgets for anyone who want to stay fresh every single day?
www.sleepace.com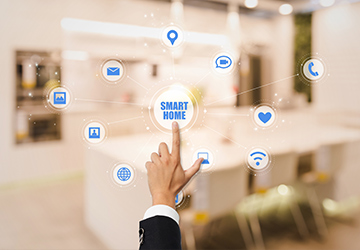 Nox Aroma emits natural lights, sounds and fragrances proven to relax a restless mind and send someone to sleep easily.The Nox Aroma is compatible with Alexa voice services. There will be three types of Nox Aroma with different connection mechanisms – one that connects through Wi-Fi, one through Bluetooth and another through BT. They are now available on Amazon.com RRP $129 or £119. There are three scents to choose from, Orange blossom, Lavender and Jasmine.
The Nox Sleep light is compatible with Alexa Home and the smart alarm which simulates the colour of sunrise to ease the sleeper awake and hues of sunset to send them to sleep. The Nox smart light is available to buy on Amazon.co.uk for an RRP of £99.99 or on Amazon.com for an RRP of $149.
The Nox Music is ideal for those who travel a lot or fall into irregular sleep cycles due to work or family life, the three smart lights emit red wavelengths that increase the hormone, melatonin in the body whilst the user sleeps and helps to regulate their sleeping patterns. Available from Amazon.com with an RRP of $149.99 and from Amazon.co.uk for £114.95.
The RestOn is available at the Sleepace online store and Amazon.com for an RRP of $149.99 and £120 in the UK.
Sleepdot is easy to use, simply attach to the corner of the pillowcases for an uninterrupted and good night's rest. The impressive battery life of 3 months is a great product extra. The Sleep Dot is available on the Sleepace online store and on Amazon.com for $49.99 and on Amazon.co.uk for £34.99.
The Sleepace Smart Headphones are both lightweight, portable and the integrated eye mask has been purposely designed to block out all light and play music through the ears for an immersive and calming listening experience. The Headphones are available on Amazon.com with an RRP of $13.99 and £11.
THE PERFECT RECIPE BOOK TO RULE THEM ALL…
365 of the best loved chefs from the UK's leading restaurants, private members clubs and 5* hotels have collaborated with CHARITABLE BOOKINGS by sharing their secret main course Signature Dish recipe to help raise money and awareness for 1,000's of UK registered charities.
www.charitablebookings.com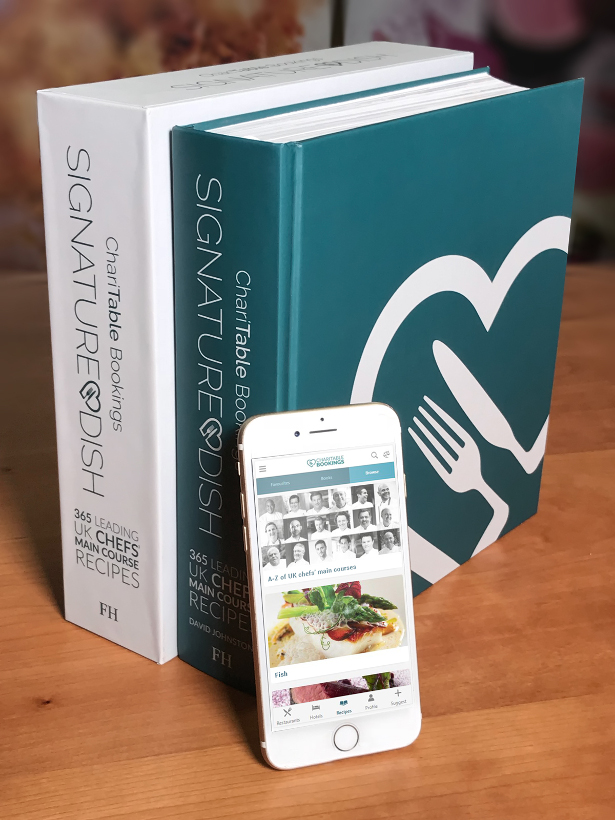 These 365 mouthwatering recipes can be found in the both the 754 page, 3.2kg hard back co ee table CHARITABLE BOOKINGS Signature Dish cook book with a limited edition slip case, making the perfect gift for all foodies this Christmas, priced at £40 with £5 going to a charity of to the buyers choice from a growing list of over 8,500 UK registered charities or EVERYONE can enjoy 100 of these stunning recipes for FREE by simply downloading the CHARITABLE BOOKINGS app with the remaining 265 recipes accessible with a token in-app purchase of £3.99 with £1 going again to a cause close to the customers heart.
These recipes are all exceptional and are from 365 our best loved chefs including Jason Atherton, Rick Stein, Paul Ainsworth, Tom Aikens, Marcus Wareing, Tom Kerridge, Raymond Blanc, Claude Bosi, Angela Hartnett, Atul Kochhar, Anton Mosimann and Albert Roux and feature dishes from UK leading restaurants including Le Pont De La Tour, Dinner by Heston, Sushi Samba, Pollen Street Social, L'Enclume, Le Caprice, Bibendum, Nobu, Daphne's, Sexy Fish, Colbert and The Ivy. Alongside some of the UK's nest restaurants we are also delighted to have main course Signature Dish secret recipes from some of the nest private members clubs and 5* hotels head chefs including; The Ritz, The Lanesborough, The Berkeley, Claridge's, The Groucho Club, The Goring Hotel, The Garrick Club, The Four Seasons Hotel Park Lane, The Dorchester, White's Club, Jumeirah Carlton Tower, and Annabel's.
Every recipe is special from the simple favourites like The Ivy's classic Shepard's Pie to dinner party show stoppers like the Famous Grouse from John William's at The Ritz as well as mouth-watering winter warmers such as Tom Aikens' 7 hour-braised shoulder of lamb. Every dish is accompanied by clear and easy to follow step by step instructions allowing you to create restaurant quality dishes in your own home.
Giving back never tasted so good!
Resilient Mindset Model Course
Take away the mystery of your brain for under $20!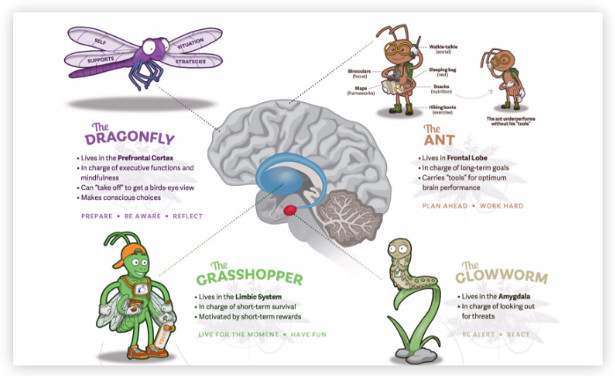 In this course, you will learn about the Resilient Mindset Model. Whether you are a parent, educator, mental health professional or corporate leader, this model will give you a simple framework for understanding your brain to help you build more resilient brain pathways.
This is the most convenient learning platform ever! This 10-day course will be sent via text or email through daily, 3-minute video lessons, to be watched whenever and wherever you want. It just could not be more simple (and brain-friendly!).
Here is the link to register: https://cfrl.conveyour.com/c/9l8xyr5tlz/resilient-mindset-model-course