OppoSuits and Nintendo level up the Christmas outfit game with a new Super Mario™ suit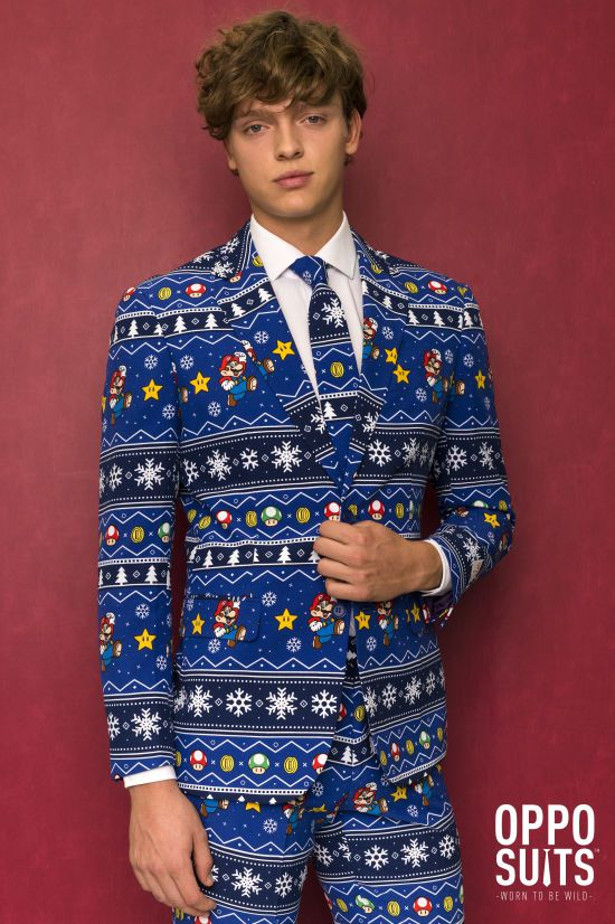 It's that time of the year again, where all of us are on the hunt for the perfect Christmas present and outfit. Novelty clothing brand OppoSuits & video game giant Nintendo have come to the rescue, with a stylish cult classic's ode sure to make any man stand out at this year's holiday celebrations. The suit is now exclusively available at www.opposuits.co.uk for £74,95
Ho, ho, ho – Merry Mario
The legendary video game that got most of us hooked once upon a time, is creatively translated into a wintry, dark blue 'Merry Mario' suit with an all over print featuring Mario himself, golden coins, mushrooms, snowflakes and Christmas trees. The outfit, consisting of pants, a blazer and a tie, is a unique reply to traditional formal wear and will most likely find its way into the hearts and wish lists of many fans this holiday season.
Geek Couture
The Mario suit is the newest addition to OppoSuits' best-selling, 'geeky' comic and video games collection, which already consists of official PAC-MAN™ and Tetris™ suits, as well as Star Wars™ and Marvel™ themed suits. The collection will continue to expand; new styles, including a second Nintendo collaboration, are already on the agenda for 2019.
Licensing partnerships as competitive strategy
Partnerships with iconic licensors play a key role in the competitive strategy of OppoSuits, pioneer and market leader in the fun formal wear industry, explains Guus, CEO and co-founder: "The landscape has changed a lot in the last years, with copycats popping up left and right. Being able to work with huge iconic brands like Disney, Warner Brothers and now also Nintendo, is something that really sets us apart from other players and enables us to offer truly unique products to fans all over the worlds."
About OppoSuits
OppoSuits started out as an idea while traveling through Southeast Asia. Since that moment, the concept 'formal wear with a fun twist' was born and grew into a successful adventure. The Dutch clothing company offers attire for men, women and boys, which is being sold around the world via OppoSuits' own online channels and local costume stores and famous international retailers like Macy's, Selfridges and Kohl's. Besides their own designs, the company collaborates with big brands like Marvel, Star Wars and Nintendo to create exclusive products. In just six years, OppoSuits has set up a range of over 100 styles. The multinational now has over 50 employees, working from offices in The Netherlands and New York City.
This compliments the OppoSuits Christmas selection, examples below!