Oral-B offers this Black Friday now on >> www.oralb.co.uk

Oral-B GENIUS 9000 in Orchid Purple – the latest addition to the GENIUS range!
£99.99*
Experience Oral wellness and discover the at-home spa treatment for your teeth everyday rejuvenating your smile. Bring the pampering home with the BRAND-NEW GENIUS 9000 in Orchid Purple, providing the perfect balance between gentle brushing and superior cleaning through Oral-B's sensitivity mode and the NEW Oral-B Sensi Ultrathin brush head. This brush is all about being tough on plaque yet gentle on the gums, and therefore it has been beautifully designed in orchid purple to have a positive effect on the mind and body. It features Oral-B's most advanced brushing technology, including 'Position-Detection Technology' which actively monitors your brushing movements so you never miss a zone, as well as personalised pressure-altering capabilities so you don't brush your teeth too hard. This blend of caring for the gums, the right clean, and a design to create relaxation turns oral care into a spa experience at home. The perfect partner to the Oral-B GENIUS 9000 in ORCHID PURPLE is the NEW Oral-B Gum & Enamel Repair Gentle Clean toothpaste, suitable for sensitive teeth, which helps rejuvenate gums and repair enamel in 2 weeks. Together, these two products deliver a winning combination for oral wellness.
Available at Boots: www.boots.com/oral-b-genius-orchid-purple-9000-10238637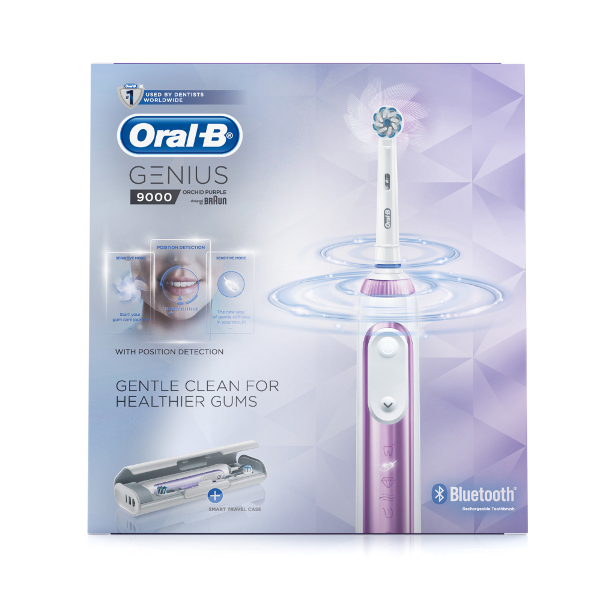 Oral-B GENIUS 9000 in Rose Gold
£99.99
The Oral-B Genius 9000 in Rose Gold, the most glamorous addition to the GENIUS smart toothbrush range. This brush provides a rare moment when style and beauty combine to promote a healthier, whiter smile*. This beautifully designed electric toothbrush is the perfect combination of beauty and brains. The unique 3D White whitening brush head imitates the shape of professional dental tools to gently polish away surface stains revealing a gleaming white smile from day one. Additionally, the triple pressure sensor technology alerts you if you are over brushing and 'Position Detection' guides you to that perfect, clean white smile with no zone of your mouth missed.
*whitens by removing surface stains
Available at Boots: www.boots.com/oral-b-genius-9000-rose-gold-electric-toothbrush-exclusive-to-boots-10220221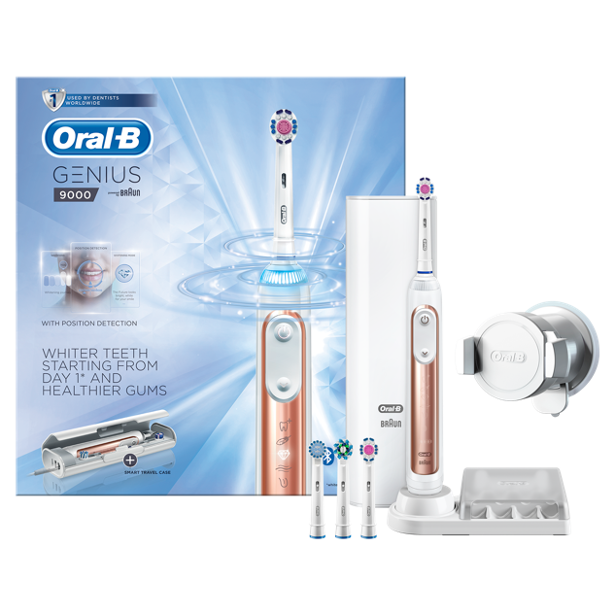 Oral-B GENIUS 9000 in Black and White
£99.99
The boredom of regular brushing has just been swept aside by the clever, engaging design features of the GENIUS 9000, the world's first electric toothbrush with 'Position Detection' technology, guiding to a perfect clean throughout the mouth. The triple pressure sensor technology alerts you if you are over brushing and automatically slows down to a sensitive mode to reduce pressure and the built-in Professional Timer ensures that each quadrant of the mouth is brushed for 30 seconds to meet the dental expert recommended two minutes. The Oral-B GENIUS 9000 in black and white is the ultimate gadget which can sync to your smartphone via the Oral-B App which delivers news and weather updates along with helpful brushing tips! It also comes with a smart travel case which charges the brush and your phone! It's the perfect brush for all those tech lovers!
Available on Amazon: www.amazon.co.uk/gp/product/B01DY36X6Y/ref=abs_brd_tag_dp?smid=A3P5ROKL5A1OLE