FROM SUCCULENT STARTERS, MOREISH MAINS AND DELICIOUS DESSERTS, TESCO HAS EVERYTHING A HOST COULD NEED TO HELP MAKE CHRISTMAS SPECIAL

Christmas has arrived early for the host looking to make an impression on guests this year. From traditional treats and twists on classics, to dinner party delights and alternative centrepieces, Tesco has a hassle free range of festive food and drink to whet your guests' appetites this Christmas.
FACEBOOK | TWITTER | YOUUTBE | PINTEREST | INSTAGRAM
STARTERS
Tesco finest* Langoustine & Salmon with Crème Fraiche Mousse – 90g, £3 Add charm to the Christmas dinner table this year with our finest* Langoustine & Salmon with Crème Fraiche Mousse. Poached Scottish Salmon blended with sweet langoustine and full fat crème fraiche makes an indulgent fish starter.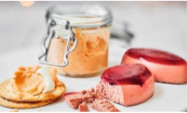 Tesco finest* Quenelle Chicken Liver Parfait with Sloe Gin & Cranberry Jelly – 30g, £2 Our finest* Quenelle Chicken Liver Parfait with Sloe Gin and Cranberry Jelly makes for an attractive addition to any dinner table. It features a rich and indulgent parfait with British chicken livers, double cream and cognac, topped with a sweet sloe gin and cranberry jelly.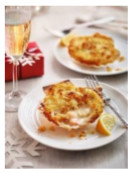 Tesco King Prawns & Scallops with Prosecco Sauce – 220g, £3.50 A hassle free starter that's cooked from frozen in just 25 minutes. Plump prawns and scallops are combined in a shell with a Prosecco sauce, all topped with crispy golden breadcrumbs.
MAINS
Tesco finest* Free Range Heritage Narragansett Turkey, £9/kg Working with our farmer for the last five years to bring back this elegant bird from the brink of extinction, our show-stopping Narrangansett turkey has wonderfully tender meat with a delicious, succulent taste. Slow grown for a fuller flavour and free to roam in open fields foraging on autumnal berries, this rare breed is raised in East Anglia to welfare standards approved by the RSPCA. Also available through 'Festive Food to Order'.

Tesco finest* British Three Bird Roast – 1.75kg, £30 Our impressive part-boned three bird roast is made up of duck, free-range turkey and free-range goose all reared on farms in the UK. This roast is expertly hand-cut and prepared by a small team of skilled butchers in their family-run business, which was established in 1971. Each rich gamey slice contains a stuffing made with outdoor-bred pork, Bramley apple, blossom honey and sage. It's easy to carve and topped with bay leaves for extra flavour. Also available through Festive Food to Order.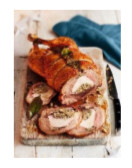 Tesco finest* Crackling Three Pork Roast – 1.5 – 1.8kg, £8/kg An alternative to turkey, this joint combines three flavoursome pork cuts which are hand rolled around each other – succulent pork belly, pork shoulder and a sweet pork, apple, cranberry and honey stuffing. The inner cuts cook more slowly due to how heat penetrates the joint, which maintains the moisture of the meat and results in a more tender eat.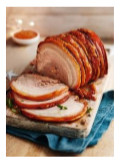 Tesco Crackling Gammon Joint with Maple & Bourbon Glaze – 2.8kg, £5.50/kg Make your guests' mouths water this Christmas with this impressive and flavoursome centrepiece. Simple to cook and partially de-boned to make it extra easy to carve, its sweet and sticky maple and bourbon glaze caramelises in the oven for an extra crispy crackling. During cooking, the meat w ill pull away from the bone, resulting in a French-trimmed effect.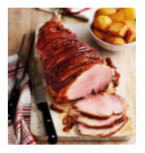 Tesco finest* Bucks Fizz Sweet Cured Ham Joint – 900g, £12 A fusion of two Christmas classics and exclusive to Tesco, this ham joint features sweet cured British pork marinated with tangy orange juice and sweet Prosecco and is finished with a Bucks Fizz gold shimmer and candied orange glaze. Great to enjoy throughout the festivities.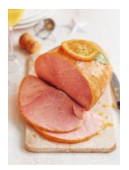 Tesco finest* Scottish Salmon Side with a Mulled Cranberry Glaze – 580g, £10 Perfect to add a visual splash of colour to any festive feast, our finest* Salmon Side is topped with caramelised oranges which deliver just the right level of sweetness to the succulent salmon. A tart, mulled cranberry glaze, made with ruby port and red wine, cuts nicely through the rest of the flavours. Also available through Festive Food to Order.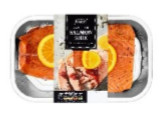 Tesco Portobello Mushroom Wellington – 500g, £3 A vegetarian alternative to the classic Beef Wellington, our Portobello Mushroom Wellington cooks from frozen in just 40 minutes. It is filled with a perfect mix of creamy mushroom and spinach with bursts of sweet cranberry, encased in a rich puff pastry with a cranberry and parsley crumb.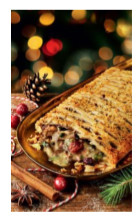 DESSERTS
Tesco finest* 4 Belgian White Chocolate, Heritage Raspberry & Prosecco Baubles, £10 These Belgian chocolate delights, fashioned to look like antique Victorian baubles, make a beautiful addition to any buffet or after dinner spread. A rich white Belgian chocolate decorated shell is dusted with a lustre and hidden inside is a light Prosecco mousse, encasing a smooth heritage raspberry sauce.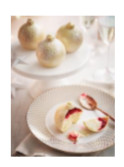 Tesco finest* Belgian Chocolate and Caramel Filled Trees 4pk, £10 Get everyone around the dinner table involved with our festive desserts. Shaped like Christmas trees and finished with an elegant green lustre, simply tap to reveal a secret filling of smooth, silky caramel and a light Belgian chocolate mousse with vanilla fudge pieces and honeycomb, on top of a brownie base. An easy yet elegant way to add some theatre to any Christmas table.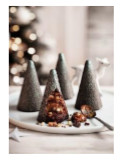 Tesco finest* Sicilian Lemon, Belgian White Chocolate & Heritage Raspberry Bouche, £12 A light way to finish any Christmas dinner, this dessert perfectly pairs a fruity Sicilian lemon mousse with a thick tart heritage raspberry centre. It's topped with a creamy white chocolate ganache and decorated with chocolate snowflakes and whole sweet raspberries. Also available is our Tesco finest* Belgium Chocolate, Honeycomb and Caramel Bouche which is a great alternative for chocolate lovers.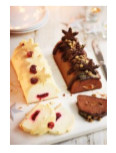 Tesco finest* Special Delivery Cake – 1.5kg, £15 Packed full of juicy plump vine fruits, glacé cherries and festive spices steeped in oak-aged Cognac and cherry brandy, this Christmas cake is iced to create a gift-bag effect. It features intricate snowflake detailing and is topped with glazed fruit and nuts. Perfect with a cup of tea once the Christmas lunch has gone down!

CHEESE
Tesco finest* Truffle Brie – 135g, £2.50 A creamy French Brie layered with luxurious Italian black truffle. The delicate flavour of the brie is balanced with a natural earthy taste from the truffle and is set to be the star of your Christmas cheese board this year.

FESTIVE DRINKS
Tesco finest* Bottle Aged Negroni and Tesco finest* Bottle Aged Espresso Martini Cocktail – 70cl, £15 each
Developed by Tesco Mixologists, our finest* bottle aged cocktails are mixed from top quality ingredients and are ready to shake or pour straight from the bottle. Serve over ice and garnish to impress your guests with all the finesse of the best bartender in town, no mess or stress. Our Negroni, characterised by gin aromatics, is a bitter-sweet Italian classic and the perfect aperitif. Partner with our Tesco finest* Espresso Martini for a sophisticated after dinner drink and complete your dinner occasion.
In response to the growing trend for low and no alcohol products, Tesco has developed three lowalcohol wines, each containing less than 0.5% alcohol and are produced by a gentle process which extracts alcohol but not flavour.
Tesco Low Alcohol Sauvignon Blanc – 75cl, £3 The grapes for our low alcohol Sauvignon Blanc are carefully selected from sunny Spanish vineyards and picked at night to retain freshness, resulting in this light and citrusy Sauvignon Blanc which pairs perfectly with turkey.

Tesco Low Alcohol Cabernet Tempranillo – 75cl, £3 Our low alcohol Cabernet Tempranillo is made by an independent family owned company in Spain. High quality Cabernet and Tempranillo grapes are used to make this spicy and smooth medium red, which is delicious with cold meats and cheeses.

Tesco Low Alcohol Garnacha-Rosé – 75cl, £3 Grown under the intense Spanish sun which helps develop the ripe flavours of fragrant raspberry and strawberry, this Garnarcha-rosé can be enjoyed chilled on its own, or with seafood.