Tau in full safari stride for Valentines and Easter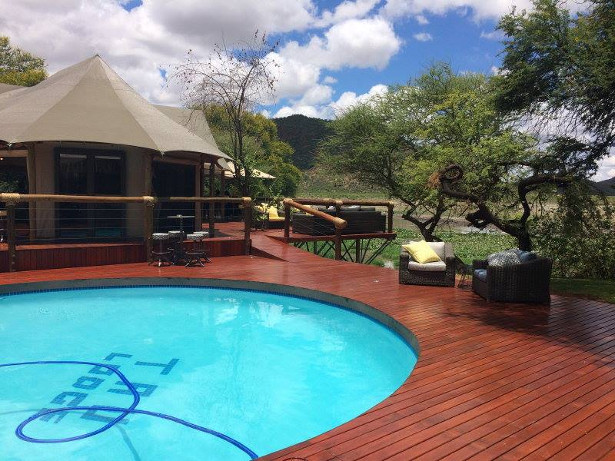 FACEBOOK | TWITTER | BLOG | APP
Tau Game Lodge is operating on its full capacity of 30 rooms per night again, much to the delight of visitors from all corners of the globe.
The new Main Lodge overlooks the iconic waterhole, and is surrounded by beautiful, lush gardens. It comprises the convivial reception area, with a courtyard that links up with the Restaurant, Lounge and Bar, which services the poolside, designed with tranquil seating decks.
In addition, the lodge now offers a second infinity pool, located next to the recently erected Safari Viewing Lounge, which overlooks the waterhole too, where game in their natural habitat entertain guests in the most spectacular way.
The Cubz Club for younger children is also operational, affording parents quality safari time while the little cubs are entertained and educated about the bush and its many indigenous creatures.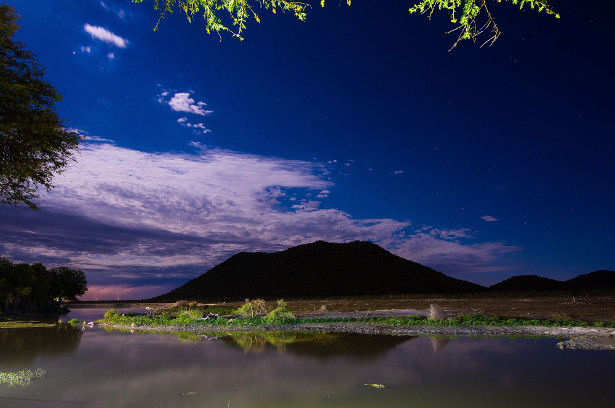 The Conference Centre is open for smaller groups of up to 30 people until Easter 2018, after which further news will be released on full conference and events developments.
Tau is recognised for its contribution to developing eco-friendly safaris whilst also focused on family travel and community oriented projects.
Known for its hearty cuisine, and don't think of dieting as the dessert choices will not disappoint either, dietaries are superbly catered for by arrangement.
Book a de-stressing treatment at the Tau Spa Oasis, where remarkable vistas of the bush through large picture windows in the treatment rooms will not disappoint.
Tau Game Lodge opened its 5-star safari doors in 1995 and has been recognized by South African and international tourism decision makers, including TripAdvisor, the Automobile Association and World Luxury Hotel Awards for its authentic hospitality, with the ability to constantly update and improve service and eco-friendly initiatives.
Malaria-free Madikwe Game Reserve boasts year-round game viewing, including the Big Five and a bird population of over 250 different species.
Tau summer 2018 packages start at R4 795 per person sharing per night, including:
3 meals, 2 game drives, refreshments on game drives and teas/coffees at meals daily;
Excluded from rate are the park entrance fees (currently R180.00 per person per night), tourism levies (currently R10.00 per person per night), airstrip fee (currently R60 per person on landing), all beverages ordered from the bar, telephone and internet usage, laundry, spa facilities, curios and any other extras. A compulsory Rhino conservation Fee of R 150.00 per adult per night and R 75 per child per night (2-12 years old) is applicable to assist the Madikwe Reserve in its anti-poaching efforts.
Please quote: TAUSUMMER18 for reservations.
Valentines 2018:
Celebrate your Valentine's weekend at the luxurious Tau Game Lodge for only R19 000.00 per couple sharing for 2 nights: (Valid 16 – 18 February 2018)
This package is inclusive of the following: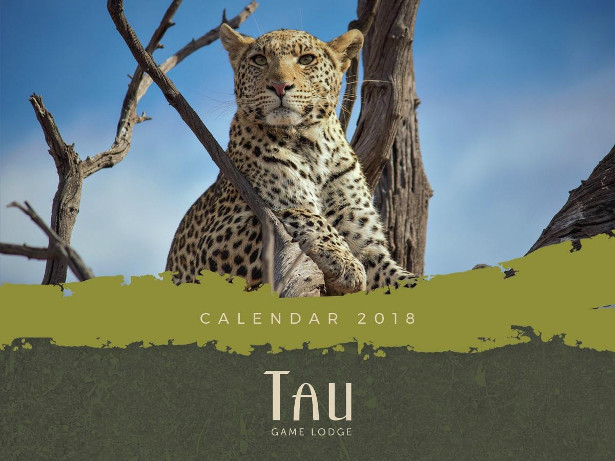 Accommodation
3 meals per day
2 game drives per day
Drinks and snacks on drives
Back & Neck Massage: this deep tissue treatment will assist in relaxing taught, sore muscles. 30 mins – 1 treatment per person.
This rate is exclusive of the following:
Park Entrance fees of R180.00 per person (Subject to change)
Tourism Levy of R10.00 per person per night (Subject to change)
Bar, Mini Bar, Laundry and all other extras
A compulsory Rhino conservation Fee of R 150.00 per Adult per night and R 75 – per child per night (2-12) is applicable to assist the Reserve in its anti-poaching efforts
To reserve this special Valentines package, please quote: TAU VALENTINE 2018
Contact Tau Game Lodge at: Phone +27-(0)11-466 8715/17 – www.taugamelodge.co.za or .com