The perfect item to add to your basket of gifts for Mum this Mother's Day! Jeffrey's Tonic Syrups. They're new to the scene and seriously scrumptious.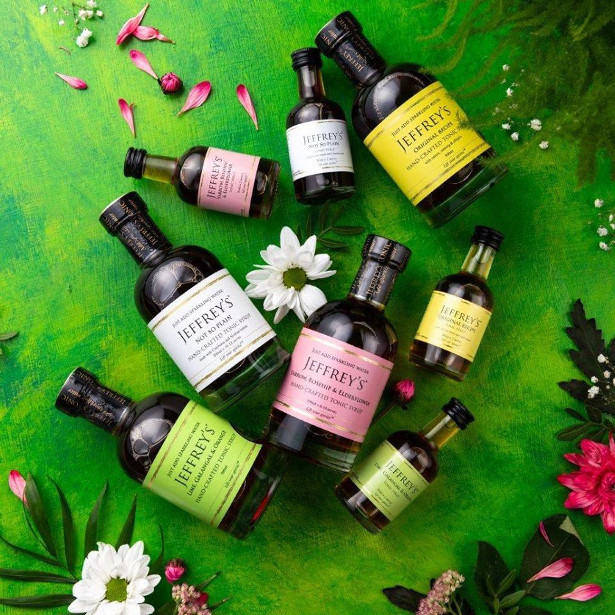 INSTAGRAM | FACEBOOK | TWITTER | LINKEDIN
Mother's Day Drinks Special
If you're stuck for a gift idea for your Mum, we may just have the answer. If your Mum is a fan of gin or indeed any spirit, she might well be interested in Jeffrey's Tonic Syrups. They're new to the scene and seriously scrumptious. Add a few drops of the syrups to your favourite spirit and top up with soda water or sparkling water for a palate pleasing drink. And if your Mum is not fond of spirits then these syrups are just great as a long, cool, refreshing and brilliantly uplifting soft drink.
Made with natural herbs and spices and amazingly tantalising flavours, Jeffrey's uses cinchona bark, instead of the standard quinine extract and a host of exotic ingredients. As well as evocative tastes the beauty of these tonic syrups is in their versatility, allowing you to make great tasting drinks to your own spec. There are four great flavours to choose from:
The Original Recipe combines warm spices of Cassia bark, nutmeg, clove and allspice with cinchona bark and Sicilian Lemon. It has a wonderful warming taste to it and can be mixed with a wealth of spirits, especially spicy gins Try just a drop to neat whisky & ginger to truly transform the taste.
'Not so Plain' Tonic is a truly unique marriage of flavours bringing together cinchona bark and organic Sicilian lemon juice. This comes into its own as a mixer with herbaceous gins.
Another favourite is Lime, Galangal & Orange. It's a complex and unusual blend with delicious hints of the Far East and perfect with citrus based gins and rum.
And last but definitely not least is the Yarrow, Rosehip & Elderflower syrup with cinchona bark, yarrow flowers, rosehips and elderflower juice which has lovely delicate, warm and sweet notes and terrific by itself or with floral or fruity gins, vodka or even prosecco.
For a great hot gin combination try the following, best served in a pre-warmed mug:
Classic Hot Gin
2 measures Jeffrey's Original Recipe, 1 measure Tanqueray Sevilla, with an orange slice, or
1 measure Jeffrey's Lime, Galangal & Orange, 1 measure Tanqueray Rangpur, with a ginger slice, or
1 measure Jeffrey's Not So Plain, 1 measure British Polo Gin, with a lemon slice
and
4-5 measures of boiling water
A slice of Orange, or Orange peel
They say if you have to have one cocktail, make it a Bourbon Old-fashioned. This will not disappoint over ice, but it's great also warmed briefly in a microwave!
Jeffrey's Bourbon Old Fashioned
2 measures of Bourbon (Gin, if you want a Gin Old-Fashioned)
1/2 a measure of Maple Syrup or runny honey
1 measure of Jeffrey's Not So Plain Tonic Syrup
1 measure of water
A little lemon juice (optional)
Ice
Tumbler
​
The bitterness of quinine in a tonic syrup works brilliantly in a Negroni, but Jeffrey's Not So Plain tonic syrup makes this extra special
Jeffrey's Negroni​
​2 measures gin – Gordon's works well
2 measures Jeffrey's Not So Plain Tonic Syrup
2 measures Aperol (widely available from the supermarket)
A squeeze of lemon
A slice of lemon
You can buy Jeffrey's Tonics Syrups direct from www.jeffreystonic.com – £6.99 for a 200ml bottle containing 8-10 serves, also available from Ocado. Or you can get a gift pack containing 50ml of each variant for £14, available from the website.