The time for poetry is now! #1 Bestselling Poetic Forecast: Reflections on Life's Promises, Storms, and Triumphs is the perfect gift for mothers, fathers, graduates, and anyone who could use inspiration. Indulge in poignant and compassionate poems such as "What Matters," "Spiritual Reset," "Missing You," and "Aloha." Book clubs, take note: Poetic Forecast concludes with a Book Club Dialogue Prompt page.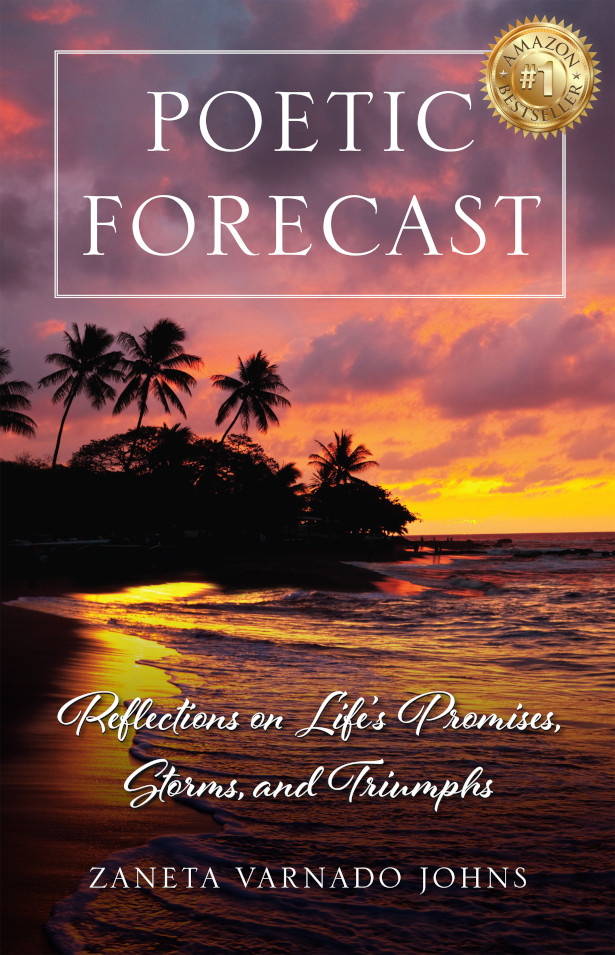 ORDER NOW: https://www.amazon.com/Poetic-Forecast-Reflections-Promises-Triumphs/dp/1951943333
Poetic Forecast is a collection of select poems written from 1976 to 2020. Poems are grouped by chapters analogous to weather forecasts that match the author's experiences and feelings of hope, love, pain, grief, uncertainty, and resilience. Not only will this beautiful book challenge our thinking, but it will also demonstrate the joy of celebrating life and one's family and friends. It is a spiritual journey that shines light on God's generous favor and grace in the author's life.
Believing that every word shared is an opportunity to love, Zaneta (Zan) Varnado Johns' writing inspires, comforts and prompts readers to celebrate and connect through compassion. Her recent publications and bestseller rankings have ignited her passion for making a difference in the world. For Zan, silence is no longer an option! This former human resource leader spent twenty-nine rewarding years at the University of Colorado where she was recognized as one of the 2007 Women Who Make a Difference.
Johns is a 2-time bestselling author. In addition to Poetic Forecast, Johns is a contributing author in the #1 International Bestseller Voices of the 21st Century: Resilient Women Who Rise and Make a Difference. Her poignant poem, "What Matters," is featured as the Dedication page in Voices of the 21st Century. Learn more at www.zanexpressions.com
Contact: zanjohns@comcast.net
What Others Say:
Zan Johns has created a masterpiece dedicated to the importance of cherished lives. In Poetic Forecast, Johns genuinely appreciates the value of others. Reading this book has put me in a forecast of sunshine and cloudy times, tissues sometimes needed and other time, a pair of flip-flops as I enjoy the warmth of this beautiful ink. Love, life, happiness, sadness and a healthy mix as memoir poetry, touches my heart. And I put this in the present tense as this book is one I will keep in my collection as one to cherish and read over and again… ~Lisa Tomey
Zan's poems are timeless and relatable, depicting heartfelt family ties and tributes to those who have gone before us. They take us to a place of beauty and serenity engaging all our senses, we are transported, we are there. In times of reflection, we can reach for these stories and find peace. ~Jacci McKenna
The forecast is bright: Her tempo, conversational and melodic, weaves a gentle tapestry, drawing us into her understanding of the universe and her place in it . . . In Zaneta Varnado Johns' Poetic Forecast, she sings because she is happy. She sings because she is free. ~James Michael Brodie
The trajectory of Zaneta Johns' PoeticForecast: Reflections on Life's Promises, Storms, and Triumphs takes us from sunrise to sunset, and through all manner of the turbulence and calm that we all experience in our lives. What is a constant in this touching and moving collection of poems is the author's faith in both God and humanity, and her heartfelt tribute to those in her orbit. Ms. Johns' voice is so authentic that you feel like you are her best friend, sitting across from her at the kitchen table as she speaks her heart to you… ~ K. Gonithellis
Zaneta Varnado Johns
Author of Poetic Forecast: Reflections on Life's Promises, Storms, and Triumphs
Co-Author in Voices of the 21st Century: Resilient Women Who Rise and Make a Difference
Website: www.zanexpressions.com