This flu season, boost your immunity, the natural way with Boosh Bone Broth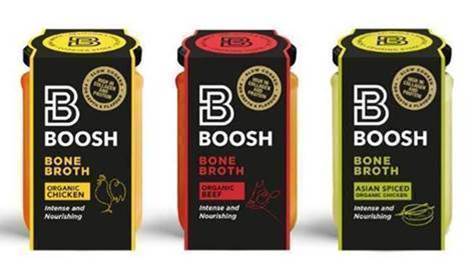 FACEBOOK | TWITTER | INSTAGRAM
Hollywood superstars Gwyneth Paltrow, Alicia Keys, Salma Hayek and Halle Berry all know the secret to staying healthy this flu season – proper nutrition, including adding some delicious bone broth into their winter diets and now anyone can get their hands on this brew, thanks to the launch of Boosh Bone Broths in Ocado, Planet Organic and Amazon.
With high levels of collagen and protein, Boosh Bone Broths are packed with nutritional goodness and most importantly – they taste great. With higher levels of collagen and protein than other bone broths on the market and with a flavour that really packs a punch, these bone broths will leave you wanting more.
Many nutritionists believe bone broth can boost your immunity, which makes it an excellent alternative to coffee during the cold, dark months ahead. Other beliefs include the fact that it can help alleviate joint pain, aid gut health, reduce signs of aging and maintain bone density.
Bone Broth has been described by Gwyneth Paltrow as the 'winter's miracle detox drink', Halle Berry believes it helps her skin look younger because of its collagen-boosting properties and Salma Hayek has extolled its anti-ageing qualities.
Luckily, they come in three different flavours, are low in calories with almost zero carbs and are incredibly versatile:
Organic Beef – A satisfying, deeply flavoursome bone broth with notes of thyme and lovage. Perfect to enrich a multitude of recipes from beef stews to hearty soups. Makes a wonderfully warming drink – a great, healthier alternative to traditional tea and coffee.
Organic Chicken – A tasty, clear broth with warming herb overtones. Perfect to liven up your favourite recipes from chicken casseroles, stews and soups to risottos and more.
Asian Spiced Organic Chicken – A gently spiced chicken broth with zesty lemongrass and exotic Asian flavours. Perfect to add a more adventurous taste profile to traditional dishes or create new world recipes at home. Makes a great 'pick-me-up' hot drink.
BOOSH Beef Bone Broth contains over 14g protein and 7.7g collagen in just one 350ml Jar.
Available from Ocado.com, Amazon.com or Planet Organic from £4.99/350ml
Visit www.booshfoods.com for more information.