Roses are red, fancy a drink?
Say 'I Love You' with a Cheeky Pink
The spirit of Valentine's Day this year is distinctly pink as Gordon's invites loved-ones to say 'I love you' with a Gordon's Premium Pink Distilled Gin.
Tantalising taste-buds across the nation, Gordon's Pink is perfectly crafted to balance the refreshing taste of Gordon's with the delicate, natural fruit flavours of raspberries and strawberries rounded off with a playful tang of redcurrant. Delectable in its fruity sweetness and with a gentle touch of juniper for that irresistible aroma, Pink is also certain to impress with its blushing tones.
For a truly ginspired gesture of love this Valentine's Day, treat your date to a cheeky Pink!
Gordon's Pink Gin is available to buy from all major supermarkets for RRSP £16.50 per
70cl bottle (37.5% ABV).
For further information, high-res visuals or product samples please contact Poppy or Sophie at gordons@taste-pr.com or call on 0207 242 2844.
@GordonsGinUK #GordonsPinkGin
Served best in a large Copa glass with ice, tonic water and a wedge of fresh strawberry, Gordon's Pink & Tonic is perfect for a romantic evening aperitivo. For a more celebratory proposal, why not try our Gordon's Pink Spritz – in a large wine glass filled with ice add 50ml Gordon's Pink, 50ml lemonade and 25ml prosecco (2.2 units).
The Tree of Life Intention Stick Necklace ($59.99 – $3,199.99) is the perfect token of love and thoughtfulness to gift your sweetheart or BFF this Valentine's Day.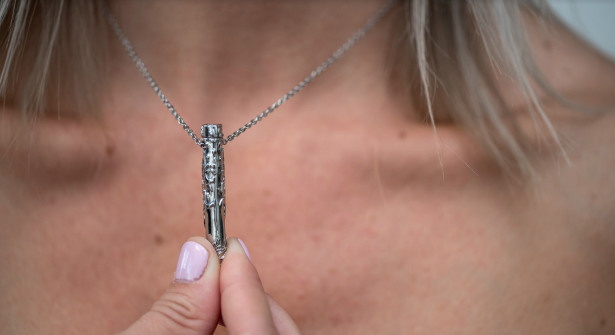 With each Intention Stick comes a list of twenty-two intentions such as love, happiness, health, and success. Of those intentions, one may be placed in the stick to connect the wearer's intention with the power of his/her heart and mind as he/she wears the necklace. The synergy that transpires between the Intention Stick and the body sends the chosen intention into the universe to be brought to life. From relationships and friendships, to health, career endeavors and the everyday hardships of life, there is nothing that cannot be addressed and improved with the power of positivity and the law of attraction, which are embodied by the Intention Stick. The Intention Stick is available in four colors: pewter, stainless steel, silver and rose gold.
Share the love at this Valentine's Day with sweet offerings for your family or that special someone!
OnFebruary 10th and 11th, treat your sweetheart to FREE admission with the purchase of a full-priced ticket. Then, enjoy a lovely day at the Aquarium where you can get crafty, write love notes, sing karaoke and do so much more – all in the name of love!
Even better yet, treat that special someone to an ocean of memories and fun through Mystic Aquarium's Valentine's Day Ultimate Date Night VIP Sweepstakes. From February 1st through the 13th, enter for your chance to win an intimate and exciting date at Mystic Aquarium. This special VIP Date Night includes a private Penguin Encounter for two; an after-hours VIP tour of Mystic Aquarium including a private 4D Theater showing, behind the scenes look at our Coral Reef exhibit, an exclusive meet and greet with a juvenile alligator and a sweet surprise in Exploration: Wild!; a sweetheart table for two at Ocean Blue Catering's South African Wine Dinner and a complimentary champagne toast AND a romantic overnight stay in the heart of Mystic at the Hilton Mystic. Learn more at MysticAquarium.org.
Ellebox: the gift that all women need!
Ellebox, is a subscription service catered to periods. We send customers a customized care package each month, with their choice of organic feminine hygiene products along with curated tea, chocolate and self – care items.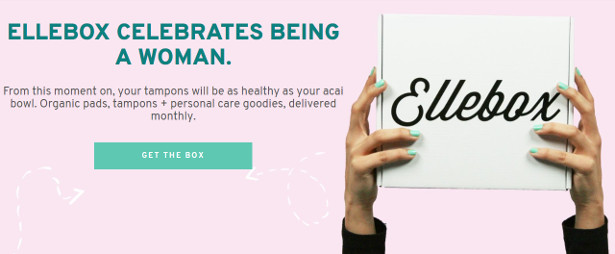 We choose new brands of self-care gifts every month so the surprise never ends. Ellebox is the perfect gift to get your girlfriend, BFF, or family member! Best part of all, at Ellebox our tampons and pads are 100% organic, and 100% good for you. Why organic tampons? Unlike mainstream tampon brands, there's no chlorine, no bleach, no pesticides, no synthetic fibers and no crude oil in organic tampons. We offer cardboard and bio-plastic tampon applicators, regular and super tampons and regular and overnight pads.
This Valentine's day put a twist on tradition, and get your special someone something that they will love and actually use!
Feeney's Irish Cream is a great Valentine's Gift
Feeney's Irish Cream Liqueur isn't just for Christmas, it can be used to create a very romantic cocktail for this Valentine's Day. Try making this tempting Feeney's G&Tea cocktail: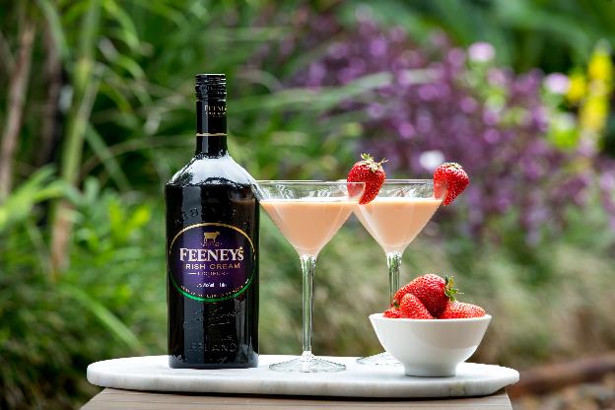 Using a cocktail shaker add ice and 40ml Feeney's Irish Cream Liqueur, 10ml BLOOM Gin, 2 dashes of orange bitters, 5ml caramel syrup and 50ml cooled chamomile tea. Shake well and strain into a martini glass. Garnish with ½ a strawberry and a mint sprig – deliciously easy!
1 litre bottles of Feeney's are available from: Tesco, Asda and 31dover.com from £12.00 per bottle. ABV: 17% https://www.tesco.com/groceries/en-GB/products/290315622
70cl bottles are available from: 31dover.com, masterofmalt.com and Amazon. RRP: £12.50 ABV 17%
BLOOM London Dry Gin is available from: Sainsbury's, Waitrose, Harvey Nichols, Tesco, Asda, Ocado, 31dover.com and masterofmalt.com. RRP: £24 for 70cl. ABV: 40% https://www.sainsburys.co.uk/shop/gb/groceries/gin-340887-44/bloom-gin-70cl
Jim Jams chocolate spreads contain 83% less sugar than any other Chocolate Spread on the market. They use a naturally sourced sweetener, which means they are kinder on teeth, have less effect on blood glucose levels, contain fewer calories than sugar and are also Gluten Free.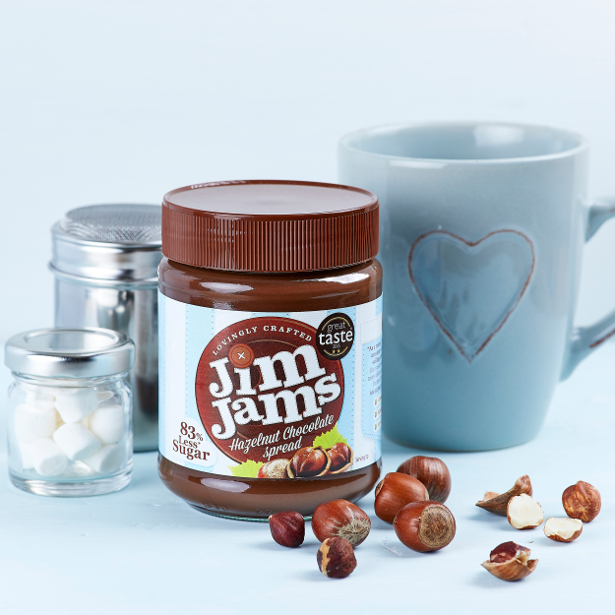 Their products are on sale in Sainsbury's, Morrisons, Ocado, Holland & Barrett, Wholefoods Market and they are now outselling Cadburys Chocolate Spread in Ocado.
Please see the link below, for their Hot Chocolate Gift Set for a quirky Valentines Gift.
https://www.jimjams-spreads.co.uk/shop/valentinesgiftset
Foolproof Valentine's Day Gifts for Men
Eight thoughtful, practical and experiential gifts to show your love this Valentine's Day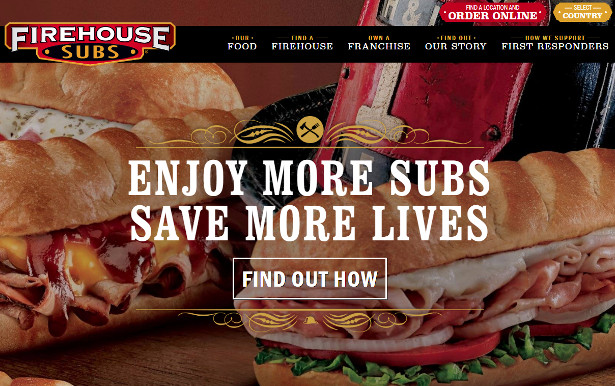 For the Eater: Firehouse Subs®
Satisfy your man's hunger this Valentine's Day – whether it be a quick lunch break or after a hard day's work. A hot sub, steamed and piled high with the highest quality meats and cheeses served "Fully Involved®" with fresh produce and condiments will fulfill any craving. A Firehouse Subs gift card is a quick and easy way to treat the guy who loves to chow down on a hearty meal. You can conveniently buy and send Firehouse Subs gift cards online and users can earn rewards for frequent visits. You can feel good about this gift too as a portion of every purchase benefits the Firehouse Subs Public Safety Foundation®. Visit FirehouseSubs.com for more.
For the Creative: Pilot Pen's Precise Rolling Ball pens
Whether your Valentine is a recreational doodler or professional artist, encourage their creative passions with a pen designed for delighting in the details. Perfect paired with a sketch pad and wild imagination, premier writing instrument company Pilot Pen's Precise Rolling Ball pens feature a precision tip, modern design and incredibly smooth ink for drawing the fine line between good and great – and in this case, maybe even between like and love. Pilot's Precise pens are available in capped and retractable varieties, as well as two point sizes (much like your Valentine — fine and extra fine) via target.com.
For the Adventurer: Cooper Tires
If your valentine likes to get out and explore, the Discoverer STT Pro™ is the perfect unexpected gift. For serious outdoor adventurers who encounter a lot of off-road driving and need to rely on their tires to get them through thick mud, gravel and even over rocks, the Discoverer STT Pro™ is the toughest, most capable off-road tire Cooper® offers to date. Designed for extra toughness, and able to resist damage from hazards on or off the trail, you can count on the rugged durability of the tire in almost any terrain. Visit coopertire.com for more information.
For the Athlete: TPC Sawgrass
Score a hole-in-one by gifting the golfer in your life a TPC Sawgrass ultimate golf getaway — home of THE PLAYERS Championship, one of golf's most famous courses. With accommodations available at the adjoining Sawgrass Marriott Golf Resort & Spa, the package allows guests to walk the same fairways as golfing legends — the ultimate PGA TOUR experience.
Package includes:
One round of golf on the PLAYERS Stadium Course.
$100 merchandise gift card.
One-hour lesson at the new PGA TOUR's Performance Center at TPC Sawgrass.
Opportunity to book guest fees on golf course at discounted rates.
Additional information, including blackout dates, is available at tpc.com/sawgrass/special-offers/.
For the Fashion Forward Gentleman: Gold Toe
If your man has a penchant for classic style or is a sucker for a great sneaker, show your valentine he's your 'sole' mate with the gift of Gold Toe socks. Combining unmistakable style with trademarked cutting-edge technology, Gold Toe's Fresh 24/7 technology will help your bae put his best foot forward with the ultimate comfort and confidence – no cold feet here! With soft rayon, nylon, or cotton yarns to compliment a perfectly tailored slack, fun novelty socks to match his sense of humor that won you over, staple white crews found gracing the runways at Paris Fashion Week, and so much more, Gold Toe will help ensure your man's style is as golden as his heart. Available at GoldToe.com.
For the Smart-Home Enthusiast: Hunter Fan Company
Put a unique spin on this year's gift with Hunter Fan Company's "sweet" of SIMPLEconnect™ smart fans. Starting at $299, give your favorite voice assistants a home on your ceiling, compatible with Apple HomeKit, Amazon Alexa and Google Assistant. Available in more than 13 different finish and style combinations, these smart-home ceiling centerpieces are easy to install and provide a stylish and effortless way to control your home environment and comfort, sure to blow your loved one away. To learn more or purchase a Hunter SIMPLEconnect™ smart fan, please visit Hunterfan.com.
For the Sweetheart: Tastykake
The best way to a man's heart is through his stomach, right? This year, squash the shopping struggle and treat your beau to some special sweet treats from Tastykake. For a limited time only, Tastykake is offering Tender Loving Cakes, sweet coconut cakes coated in a layer of smooth dark chocolate, and Sweetie Cakes, cream-filled chocolate cakes topped with sweet red icing and festive heart-shaped sprinkles. Delicious and perfectly shareable, Tastykake's Valentine's Day treats are the perfect sweets for your sweetie. To learn more and find where Tastykake is sold, visit Tastykake.com.
For the Wellness Warrior: Youfit Health Clubs
For the Valentine that prefers crunches to chocolates and treadmills to teddy bears, or for the man looking to kick his New Year's resolution into action or work off that Valentine's Day dessert, give the gift of wellness with an all-access gym membership. National fitness center chain Youfit Health Clubs' inclusive Lime Card membership provides all the resources needed to maintain a healthy body and healthy heart (in addition to your love, of course), including access to Youfit Health Clubs nationwide, tanning and massage facilities and unlimited guest privileges – after all, couples who workout together, work better together! Even better for both your budget and your babe, all new members are eligible to get started for $0 down for a limited time. To learn more about Youfit Health Clubs and find the nearest Youfit location, please visit youfit.com.
Keep your loved one's hands warm with a pair of knit heart wristwarmers! You can find the free knitting pattern on Craftic.
It's the perfect project for a beginner knitter so you can try out intersia in an easy pattern. It's also great for stash busting! If you'd like more ideas on handmade gifts for the upcoming holiday, you can check out the Valentine's Day tag on Craftic. You will find tutorials for crochet hearts, handmade Valentine's cards, and more!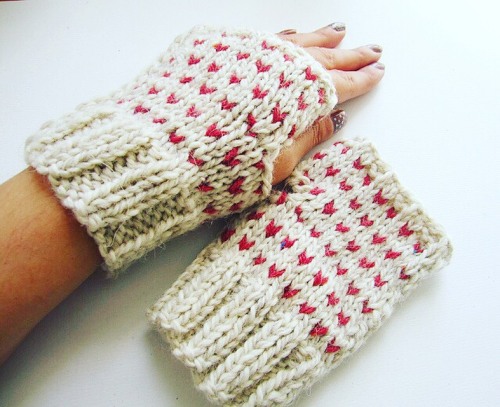 What exactly is Craftic? Craftic is a website where you can find DIY projects inspired by your craft closet. In addition to craft tutorials, you will also find stash inspiration, creative book reviews, doodles, and lots of color. Be sure to follow Craftic on Instagram @crafticland for regular updates!
Do you have a craft closet/box/bucket/whatever full of leftover craft supplies from previous projects? Do you feel guilty throwing them out so you save them hoping to use them someday? Or, really, you want to use up the things you paid for with money you worked hard for? (yes!)
That's where Craftic comes in. Craftic is a craft tutorial site but it's not yet another craft tutorial site. The big difference? All projects you'll find here revolve around the materials needed to make them. Think of it as a reverse recipe maker… but with craft supplies like paper, yarn, buttons, etc.
When you've made your project, please share with the community using the tag #crafticProjects so future makers will be inspired by your awesome work. 🙂
Thanks and hope you'll make something awesome today!

Waves of Pleasure: Book One of Melusine's Daughters © 2017 by Rachel Kenley
All Rights Reserved. No part of this book may be reproduced or transmitted in any form or by any means, electronic or mechanical, including photocopying, without permission in writing from the publisher.
This is a work of fiction. Names, characters, places and incidents are the product of the author's imagination or are used fictitiously. Any resemblance to actual events, locales or persons, living or dead, is coincidental.
For more information contact: Riverdale Avenue Books 5676 Riverdale Avenue Riverdale, NY 10471 www.riverdaleavebooks.com
Design by www.formatting4U.com Cover by Scott Carpenter Digital ISBN: 978-1-62601-384-1 Print ISBN: 978-1-62601-385-8
A slightly different first edition was published by Ravenous Romance, 9/2011 Second Edition June 2017
How many times have you been distracted from what you're doing because your feet won't stay warm? We say NO MORE!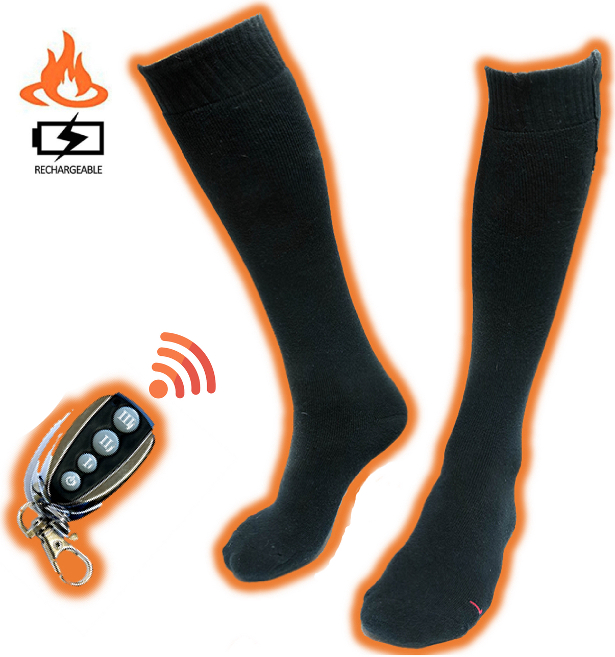 Introducing the Pristall remote operated heat socks utilize ergonomically positioned elements that deliver heat to your toes and the balls of your feet. The set comes with rechargeable Lithium-Ion battery packs that provide three base level heat settings for comfort and warmth.
These warm socks have quality stitching and reinforced high-density fibers which collide to create a flexible and breathable sock that fits comfortably in nearly every boot and shoe.
Turn the socks on and off or control the temperature easily with the included remote. Our easy-sync feature allows you to reliably control the temperature, while the battery pack can simply be charged or changed out!
Our strategically placed recessed heated element underneath means you'll notice the warmth, not the cords.
Whether you're looking for the perfect gift for the adventure-seeking outdoorsman, or the friend who can never seem to warm up, our remote control heated socks are sure to keep them happy. Plus, the gift-ready packaging and flexible sizing design make for a perfect fit!
So, don't get cold feet! Grab a pair today!
www.historicroyalpalaces.com
Yellow gold Dwynwen heart pendant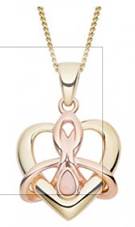 Dwynwen is the Welsh patron saint of Friendship and Love. Three wishes, granted to Dwynwen by an angel who visited her
in a dream, are represented by the three points in this beautiful collection. Contained within the pendant is rare Welsh gold,
the very same gold as used by British royalty since 1911. Price: £550. Matching earrings £170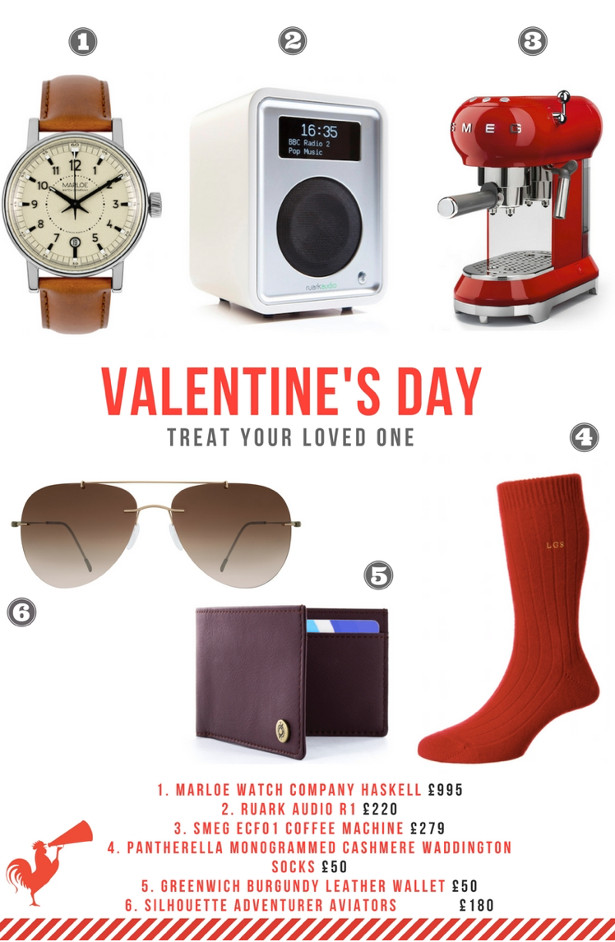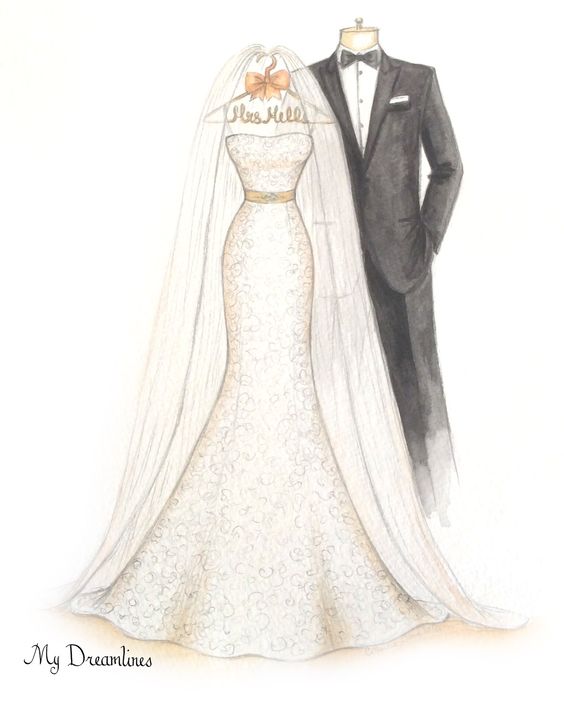 A sketch of her wedding dress is a perfect Valentine's Day gift. Just a few photos and Dreamlines can create the most spectacular gift for her. Where is her dress now? In storage, hanging in the closet or donated? Why not have a sketch created of the most important dress she will ever wear.
http://www.mydreamlines.com/valentines-day-gift/
The UP Company Presents:
The Love That Lasts Valentine's Gala, fundraiser event for a local at-risk school.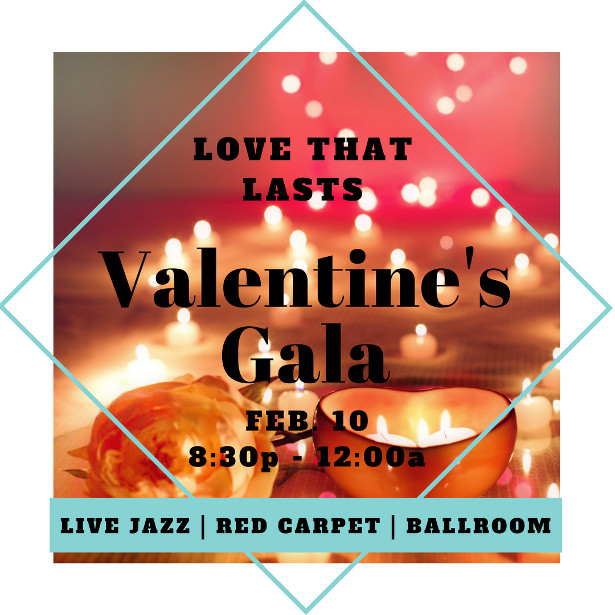 The UP Company presents The Love That Lasts Valentine's Gala. Every power couple needs to make time for fun and romance. Get all dressed up, learn a romantic dance and support a great cause all in one date night!
The Love That Lasts Valentine's Gala is a sophisticated evening and includes live jazz, urban ballroom dance, a red carpet and an award ceremony. The Love That Lasts Valentine's Gala is based upon the theme of Building Legacies through strong families, wealth and influence. Who doesn't love a party with a purpose?
The gala's silent auction will raise funds for a local at-risk school through to incentivize drop-out prevention and academic growth. This is in response to the generational poverty problem that exists in Charlotte, NC. One local business owner will win the 2018 Best New Small Business award. This award will go to a philanthropic and quality minority or woman-owned business.
The visionary of this event Natasha Oates, is a local business owner, relationship coach, therapist and speaker. She will share secret tips to a love that lasts to the attendees.
Tickets: Eventbrite or http://upretreats.com/index.php/shop/
Fredrick Jackson is a progressive contemporary British lifestyle brand, inspirited by 1910 living by the ethos that it is the 'timeless design that enriches life' – a belief that echoes throughout the brand.

Fredrick Jackson launched in 2017 with their first timepiece, The Tailor, inspired by the family history of the founders. Their story begins over a hundred years ago in 1910, where in a small bedroom at the heart of Oxfordshire, a self-employed tailor called Fredrick meticulously handcrafted men's fashion for his loyal clientele. He hand stitched and finished suits & jackets, and completed alterations for clothing stores in the area. His attention to detail and love of flawless style became renowned
Fredrick Jackson was founded to lean on this rich heritage for design inspiration and direction. The brand embraces the classic British style of their grandfathers, yet also remain forward thinking and relevant. Fredrick Jackson believe the modern lady and gentleman take on many different guises and aims to combine modern fashion trends with high quality tailored product. Design and craftsmanship are at the heart of every idea at Fredrick Jackson, and they acquired the finest materials and used leading craftsmen to produce what they firmly believe to be a timeless modern classic.

Buckle and Seam offer a variety of great leather bags from laptop sleeves, messenger bags, satchels, briefcases and duffel and weekender bags.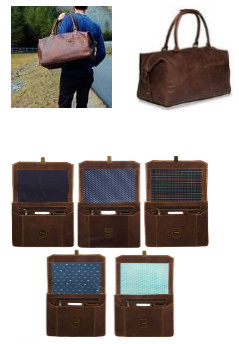 There is an option for everything. We have picked just two options below but the full range can be viewed here with prices starting at just £75
The new Buckle & Seam Linwood Weekender Bag is manufactured by skilled craftsmen using carefully selected premium quality vegetable tanned leather and is designed to meet today's modern man's needs and preferences. With raw yet classy designs, the bags are perfect for both work and everyday life. The Linwood Weekender bag is handmade with credit card, pen and phone leather compartments. It also has a removable shoulder strap made of canvas to make travelling even easier.
The new Buckle & Seam Sierra Messenger Bag is manufactured by skilled craftsmen using carefully selected premium quality vegetable tanned leather and is designed to meet today's modern man's needs and preferences. With raw yet classy designs, the bags are perfect for both work and everyday life. The Sierra business bag fits a 15" laptop and is padded for extra protection with built-in smart features such as a hidden trolley solution as well as adjusted pockets for phones, business cards and pens.
By dealing with manufacturers directly and selling online, Buckle and Seam is able to shorten its supply chain and cut out players that would otherwise raise the price unnecessarily, passing on the cost savings to the end customer whilst being able to focus on the real important factors: leather and craftsmanship. Quality and value for money guaranteed!
Unlike other brands, Buckle and Seam wanted more than just a great looking leather bag. Knowing that all men are different, Buckle and Seam designed an array of different prints for the bags inner lining to choose from when purchasing. Plain navy blue, blue with white dots or red and green checks are available for the classic look but also so are paper planes or boats for something a little more unique. Furthermore, each bag can be further personalised by adding initials if desired.
Customers who purchase a Buckle and Seam bag can also help change a girl's life in the region by sending her to school and empowering her through direct access to literacy and education as Buckle and Seam will donate a part of each bag sold to a school they partnered with in Karachi.
Available from Buckle and Seam
MIMI BALDWIN
Valentines's Day
Diamond Encrusted Gifts of Love from
Mimi Baldwin Fine Jewellery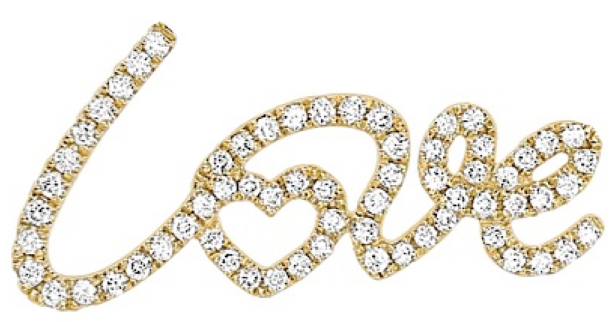 Mimi's, who was mentored by Rosa Monckton a close friend of Princess Diana, has launched a new diamond studded LOVE necklace and signature With All My Heart earrings make exceptional, indulgent gifts for Valentine's Day. The stunning heart-shaped earrings are available with diamonds and turquoise, green amethysts, coral, blue topaz, lemon quartz and mother of pearl and as Mimi says "Hearts are such a perfect shape to wear on the ear."
Mimi also recommends her sparking Constellation Collection which features fabulous Star & Moon earrings, pendants and necklaces in white and yellow gold.
Mimi's latest designs include dramatic pink sapphire and amethyst drop earrings; diamond inlaid gold Arrow earrings; subtle diamond & gold necklaces and the Flamenco Collection which includes rare, natural beautifully coloured sapphires.
www.mimibaldwin.com
Valentine's Day Experiences at The Arch London

Struggling to think of a New Year's resolution? Turn into Cupid and plan ahead for the celebration of love as Valentine's Day is fast approaching. If a standard dinner date is slightly overdone in your relationship, The Arch London has the perfect answer.
The 5-star Marylebone hotel is offering an exclusive, romantic adventure to help sweep your sweetheart off their feet. The Arch London has created a secret gastronomic experience that is sure to set hearts fluttering, whilst challenging couples senses and their taste buds.
 The Sensory Dining Experience at Hunter 486
Shh! The menu details are being kept tightly under wraps to heighten the wow factor and surprise couples…but one thing we can reveal is that it is certainly an extravagant and immersive experience with starters for desserts, desserts for starters and a love potion to top it all. Priced at £75 per person, this ultimate 3-course dining experience is available at 6pm on Friday 9, Saturday 10, Wednesday 14, Friday 16 and Saturday 17 February 2018.
 Valentine's Day Themed Cocktails in Le Salon de Champagne
The Arch London's delicious cocktails will be undergoing a Valentine's Day makeover. Lovers can sip on an array of Valentine themed cocktails in the Salon de Champagne which oozes timeless London glamour and laid back luxury at its best. With its romantic ambience and intimate secluded leather booths veiled with floor-to-ceiling silk voile drapes, couples can relax in the luxurious atmosphere.
 Valentine's Afternoon Tea
Alternatively, guests can add a touch of romance to the special occasion with The Arch London's Valentine's Afternoon Tea. The Afternoon Tea will be served from 7 – 21 February and will include favourite sandwich classics and quintessentially British desserts with a Valentine's Day twist. It is priced at £28 per person or £39 with a glass of Champagne and can be enjoyed in the hotel's stunning Martini Library, stylish Hunter 486 restaurant or chic Salon de Champagne lounge.
Located in a peaceful street in Marylebone, The Arch London is the perfect chic retreat for couples looking for a romantic escape. The hotel is a stone's throw from Oxford Street and Hyde Park, making it the perfect venue for shopping, or a romantic walk in the best-known of the Royal Parks.
The Arch London, 50 Great Cumberland Place, Marble Arch, London W1H 7FD
For reservations, please call: 020 7724 4700 or www.thearchlondon.com

Love, life and death at Nature Morte Guildhall Art Gallery's alternative celebration of Valentine's Day

Guildhall Art Gallery, Guildhall Yard, London EC2V 5AR Date: Friday 16th February 2018, 7pm – 10pm Exhibition dates: Thursday 7th September 2017 – Monday 2nd April 2018
As romantic clichés take over, Guildhall Art Gallery is offering an alternative Valentine's Day experience, inviting you to celebrate something that we all have in common: life and death. Inspired by the core themes in Nature Morte, this Late event promises an enjoyable night of music, art, drawing, and cocktails.
Watch a top-notch Victorian entertainment show, enjoy a variety of activities (including still life drawing, flower pressing or tote bag making) and hear a talk about 'ethical' taxidermy with Jazmine Miles-Long. DJ Museum of Vinyl's life and death-inspired playlist will provide the soundtrack to the evening.
Nature Morte, one of the largest exhibitions ever presented by the City of London Corporation at Guildhall Art Gallery, illustrates how leading artists of the 21st century have reinvigorated still life. With over 100 pieces from different disciplines going beyond the two-dimensional, including sculpture, digital, and sound, Nature Morte displays works by artists including Mat Collishaw, Michael Craig-Martin, Gabriel Orozco and Marc Quinn.
Elizabeth Scott, Head of Guildhall Art Gallery & London's Roman Amphitheatre, said, Nature Morte celebrates the age-old themes of life and death and yet, when you reflect on these themes, love isn't very far away. Life, death and love go hand in hand, and what better way to explore these themes than an alternative Valentine's Day Late that celebrates the romantic, morbid and life-affirming?
The exciting events programme is as follows:
Talk on 'ethical' taxidermy with Jazmine Miles-Long (7pm and 8.15pm, Basinghall Suite) Described as an 'ethical' taxidermist, Jazmine Miles-Long produces work using only animals that have died from natural causes. This is an exciting opportunity to discover and understand the
Page | 2
techniques used to create her work. The audience will be able to handle objects and tools that show the process of taxidermy in different stages, while Jazmine also reveals some of the romantic stories in taxidermy historically. [please note: no dead animals will be used during the talk.]
Memento Mori Still Life: Death Drawing workshop with Art Macabre (7 – 10pm, Undercroft) Join London's purveyors of death-positive creativity, Art Macabre, to create your own unique memento mori collage. Be inspired by a contemporary twist on a traditional still life set up in the space, with objects from fruit and bones to symbols of modern life. Cut and paste a DIY design that will remind you of your own mortality. A reflective, creative activity to help you explore and draw inspiration upon looking death in the face.
Don't go into the Cellar present 'Tea with Oscar Wilde' (split into three acts, taking place at intervals throughout the evening, Amphitheatre) A chat show with a difference brought to you by Don't Go Into The Cellar! Theatre Company – the British Empire's finest practitioners of top-notch Victorian entertainment. Join Oscar Wilde as he interviews a leading celebrity of the Victorian era, recounts a story or two and invites his audience to get 'Caught in the Act'! Jonathan Goodwin plays the famed Victorian wit, in a show packed with comedy, music and audience participation.
15-minute tours of Nature Morte with Curators (Michael Petry, Roberto Eckholm (Museum of Contemporary Art)) (7.30pm, 8.30pm, 9.30pm) Join the curators of Nature Morte for a brief introduction to the exhibition, as they will highlight particular works and discuss what inspired them to create the show. This major exhibition is one of the largest shows ever presented at Guildhall Art Gallery – with works displayed by artists including Mat Collishaw, Michael Craig-Martin, Gabriel Orozco and Marc Quinn.
DJ Museum of Vinyl (7-10pm, Victorian Gallery) Museum of Vinyl will be spinning an eclectic mix of sounds inspired by, and exploring the themes of, life and death.
Flower pressing 'make and take' activity (7-10pm, Victorian Gallery) Flora has traditionally held a special place in the still life tradition. Explore the relationship between this symbolic motif and the passing of time, whilst pressing flowers and using your artistic skills to create your own keepsake to take away.
Tote bag decorating 'make and take' activity (7-10pm, Victorian Gallery) Using stamps and stencils displaying the common themes of still life – flora, fauna, food, domestic objects and vanitas – you can decorate a tote bag and express your own thoughts on life, death and the transience of time to make your own still life creation in the form of a tote bag!
Page | 3
Nature Morte has been assembled by MOCA London.
The City of London Corporation, which owns and manages Guildhall Art Gallery, invests over £100m every year in heritage and cultural activities of all kinds. It is the UK's largest funder of cultural activities after the government, the BBC, and Heritage Lottery Fund. It is also developing Culture Mile between Farringdon and Moorgate – a multi-million-pound investment which will create a new cultural and creative destination for London over the next ten to fifteen years. This includes £110m funding to support the Museum of London's move to West Smithfield and £2.5m to support the detailed business case for the proposed Centre for Music.
LOVE IS IN THE AIR ROMANTIC MOMENTS AT THE WALDORF HILTON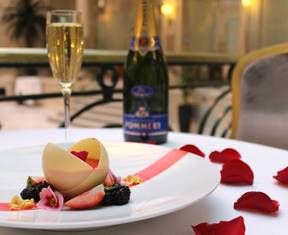 Looking for a first date venue or that special place to celebrate another year of love? Yes, it's time to think about Valentine's Day.
IMG_3664Offering several exciting and elegant experiences, The Waldorf Hilton is pulling out all the stops.
Opening the doors to its beautiful Palm Court, the hotel will be hosting a romantic five-course dinner in style.
Beautifully designed, the Valentine's Day menu includes foie gras mousse with confit duck, a trio of salmon, Sipsmith and pink champagne sorbet, lamb rump and lamb shoulder croquettes and a glazed white chocolate dome.
Protected by The English Heritage, you won't find many locations as striking as the hotel's beautiful Palm Court; framed by Edwardian grandeur, it has been described as the heart of the hotel and has provided the backdrop to countless marriage proposals, weddings and anniversary celebrations in its 110 years.
On top of its Valentine's Day dinner, the hotel will also be providing a romantic twist on its afternoon tea, with Valentine's themed cakes and sweet treats also the focus of the Waldorf Tea Room.
Good Godfrey's, the hotel's bar, will be serving Romeo and Juliet cocktails. The Romeo is made up of Auchentoshan Oak Whisky, caramel syrup, honey, lemon, smoked cinnamon and Brewdog IPA, while the Juliet includes vodka, Antica Formula Vermouth, homemade orange syrup, orange bitters and caramel.
For those seeking to extend the romance, escape with that special someone to the serenity of your own suite – complete with a 'press for champagne' button. Playing cupid, the hotel's guest relations team can, of course, arrange gorgeous florals, sweet chocolates, rose petals and more. The Waldorf Hilton's Astor Suite is available from £525.
The Valentine's five-course dinner is £69 per person and available on Wednesday 14th February, between 5.30pm and 9pm. The afternoon tea is £39.50 per person or £49.50 per person with a glass of champagne and available from 1.30pm to 3pm from Saturday 10th February to Wednesday 14th February.
For reservations or more information, please contact The Waldorf Hilton team on homage.waldorflondon@hilton.com or 0207 759 4091 (or 4285).
THE PERFECT RECIPE BOOK TO RULE THEM ALL…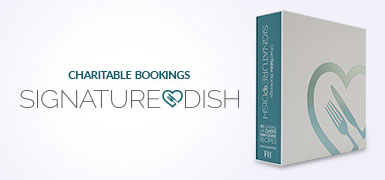 365 of the best loved chefs from the UK's leading restaurants, private members clubs and 5* hotels have collaborated with CHARITABLE BOOKINGS by sharing their secret main course Signature Dish recipe to help raise money and awareness for 1,000's of UK registered charities.
www.charitablebookings.com
These 365 mouthwatering recipes can be found in the both the 754 page, 3.2kg hard back co ee table CHARITABLE BOOKINGS Signature Dish cook book with a limited edition slip case, making the perfect gift for all foodies this Christmas, priced at £40 with £5 going to a charity of to the buyers choice from a growing list of over 8,500 UK registered charities or EVERYONE can enjoy 100 of these stunning recipes for FREE by simply downloading the CHARITABLE BOOKINGS app with the remaining 265 recipes accessible with a token in-app purchase of £3.99 with £1 going again to a cause close to the customers heart.
These recipes are all exceptional and are from 365 our best loved chefs including Jason Atherton, Rick Stein, Paul Ainsworth, Tom Aikens, Marcus Wareing, Tom Kerridge, Raymond Blanc, Claude Bosi, Angela Hartnett, Atul Kochhar, Anton Mosimann and Albert Roux and feature dishes from UK leading restaurants including Le Pont De La Tour, Dinner by Heston, Sushi Samba, Pollen Street Social, L'Enclume, Le Caprice, Bibendum, Nobu, Daphne's, Sexy Fish, Colbert and The Ivy. Alongside some of the UK's nest restaurants we are also delighted to have main course Signature Dish secret recipes from some of the nest private members clubs and 5* hotels head chefs including; The Ritz, The Lanesborough, The Berkeley, Claridge's, The Groucho Club, The Goring Hotel, The Garrick Club, The Four Seasons Hotel Park Lane, The Dorchester, White's Club, Jumeirah Carlton Tower, and Annabel's.
Every recipe is special from the simple favourites like The Ivy's classic Shepard's Pie to dinner party show stoppers like the Famous Grouse from John William's at The Ritz as well as mouth-watering winter warmers such as Tom Aikens' 7 hour-braised shoulder of lamb. Every dish is accompanied by clear and easy to follow step by step instructions allowing you to create restaurant quality dishes in your own home.
Giving back never tasted so good!
They say money can't buy happiness…but it can buy your man Comfyballs.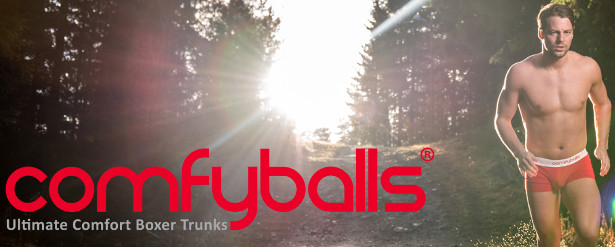 Fun and fashionable, the Norwegian underwear brand has come to the UK, promising British men 'the most comfortable boxers ever'.
Is your other half always complaining about the lack of support offered by traditional boxer shorts? Comfyballs' unique PackageFront™ technology provides the ultimate user experience reducing the risk of discomfort by lifting the equipment to minimise risk of rubbing. We ensure your precious goods are a cool temperature all year round, even during exercise.
Indulge your loved one this Valentine's Day with Champneys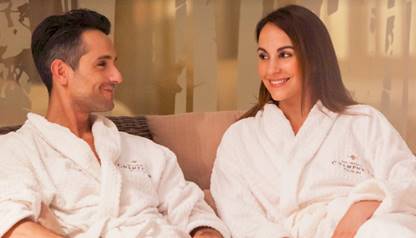 Indulge your loved one this Valentine's Day with a relaxing and unforgettable stay at one of Champneys four luxurious spa resorts – Tring, Forest Mere, Springs or Henlow – the perfect way for you to escape the routine of everyday life and enjoy quality time together.
With three different Valentine's Day packages available, you can pamper yourselves with a one or two night stay or romantic Valentine's Spa Day from just £99. Champneys' Valentine's Day packages are available to book from between 1st – 28th February 2018.
What's included:
1 Night Valentine's Spa Break
Arrive at 2pm
Complimentary treatment for two
Three course buffet lunch
Three course dinner
Breakfast
Full access to Champneys range of fitness classes
Full use of spa facilities and relaxation experiences
Depart at 4pm
Priced from £329 for two people (per room)
Two Night Valentine's Spa Break
Arrive at 2pm
Complimentary treatment for two
Two nights' accommodation
Breakfast
Three course buffet lunches
Three course dinners
Full access to Champneys range of fitness classes
Full use of spa and relaxation experiences
Free bottle of bubbly
Depart at 4pm
Priced from £545 per room
Valentine's Spa Day
Arrive at 9am
Healthy arrival drink
Champneys Head in the Clouds scalp massage each
Thalassotherapy
Three course buffet lunch
Full access to Champneys range of fitness classes
Full use of spa and relaxation experiences
Depart at 6pm
Prices from £99 per person (the offer only applies for bookings for 2 people)
For all information and prices on all spa days and stays visit www.champneys.com
CASIO PRO-TREK
NEW FOR 2018: Pro Trek WSD-F20 – £450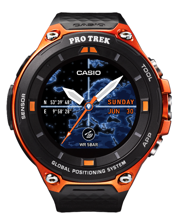 The WSD-F20 Smart watch is the latest addition to the PRO TREK brand of outdoor watches by Casio that are designed for total appeal to outdoor enthusiasts. Equipped with built in low-power GPS and colour map functionality, it supports a wide range of outdoor and water activities and can be used in areas without cellular service. Richly-designed and easy-to-read map data can be downloaded in advance and used with GPS data to track the user's location and add markers, even when offline. Button guards, a protective bezel, and ergonomic side buttons enhance operability and toughness, solidifying the WSD-F20's status as the ultimate companion for the great outdoors.
Product Specifications:
Activity app is a CASIO Android Wear app. It measures the time you spend engaged in different activities. (trekking, fishing, cycling, paddle and snow)
Altitude Measurement to 10,000m: A built-in pressure sensor measures barometric pressure, which is converted to relative altitude up to a maximum 10,000m.
Automatic Time Adjustment
Bluetooth Connectivity
Built in GPS
Digital Compass
Built in Sensors
Location Memory Map
OS Android Wear 2.0
Water resistant
Wi-Fi Connectivity

Eight must-have Valentine's Day gifts with a twist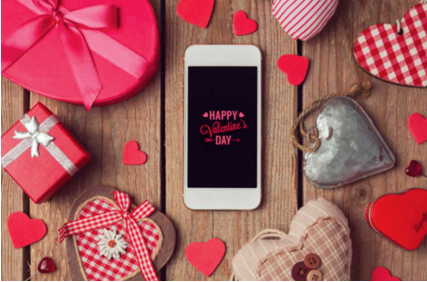 16th January 2018 – Look no further for a selection of quirky gifts that will help your readers do everything from bag a partner, set the mood or capture their magical moments this Valentine's Day.
Lifeprint 3×4 Hyperphoto Printer
£159.99 / Available from Apple UK and Amazon.co.uk
With over 1 billion #love posts shared on Instagram, couples love nothing more than sharing a romantic selfie. Spread the love this Valentine's Day with Lifeprint's portable Bluetooth and Wi-Fi enabled printer that prints Augmented Reality Hyperphotos™ within seconds. Compatible with iOS and Android phones, the 3×4 Lifeprint allows lovebirds to print Instagram and Facebook videos, Snapchats, GoPro clips, photos and even animated GIFs straight from their mobiles, making it easy to keep in touch with loved ones and savour special moments. With Wi-Fi capability keeping the device connected at all times, it's never been easier to share snaps from anywhere in the world. To watch the magic unfold, click here.
FLAVR Real Flower Collection iPhone cases
£19.99 / Available from shopflavr.com
This Valentine's Day, why not choose a bouquet that your loved one can keep close all year round? Designed to protect the iPhone 6, 6S, 7 and 8, FLAVR's stylish, unique and transparent cases are decorated with real flowers including the Blue Violet which symbolizes love and affection. Signifying an ever-blooming love, the Real Flower collection cases are available in four beautiful designs (Amelia, Grace, Daisy and Ella) and make the perfect accompaniment to a box of chocs.
Pawbo+
£149 / Available from www.pawbo.com
Last year it was expected that Brits would spend around £27 million on gifts for their pets on Valentine's Day*, as they share the love with their furry best friends. This year, why not treat your pet, and yourself, with a Pawbo+ interactive pet camera. The Pawbo+ allows pet owners to interact with their pet whilst they are away from home. Controlled via the free Pawbo Life App, pet parents can not only hear and see their 'fur babies' but they can also play games, talk to them or even dispense a tasty treat meaning they always feel loved even when you aren't in the room.
Awair
£159 / Available from getawair.co.uk
With research identifying that air pollutants destroy pheromones**, there's never been a better time for Casanovas' across the country to get air aware. The beautifully designed Awair tracker works by monitoring toxins and chemicals in the air while providing personalised recommendations to help couples stay safe and healthy whilst enjoying a romantic night in. Ideal for use in all rooms within the home, Awair's intelligent sensors help individuals to manage allergies and boost wellness, productivity and sleep…which is great news for those that might need to catch up on their shut eye after the 14th.
Libratone Zipp & Zipp Mini Copenhagen editions
£279 & £249 (respectively) / Available from Libratone.com and Amazon.co.uk
Staying in this Valentine's Day? What better way to get in the mood than with your favourite list of love songs? Woo your partner with the exclusive ZIPP and ZIPP MINI Copenhagen Edition speakers, designed for stylish lovers. Featuring an aluminium base, leather handle and soft Italian wool cover, the luxurious speakers are available in 12 colour options, including the stunning Raspberry Red which is perfect for a romantic setting. Use the dedicated Soundspaces app to connect up to 6 speakers at a time for multi-room or surround sound, and control them as a group or individually to customise your sound. Each 360-degree speaker can also be used individually through the touchscreen user interface on the top, and connected to almost any audio source.
AfterShokz Trekz Air
£149.99 / Available from aftershokz.co.uk
Singletons take note, you're 15 percent more likely to find love at the gym***. So this Valentine's Day pull on your most flattering pair of LYCRA's and grab AfterShokz's bone conduction headphones to ensure that you stay sociable and stylish whilst working out. Boasting an OpenFitTM design that leaves the ears totally unobstructed, the Trekz Air headphones offer uncompromised situational awareness which is great for chatting to hotties and listening to music at the same time. Twenty percent lighter than previous models, this fitness headset has a full titanium wraparound that provides infinite flexibility, a secure fit and the ultimate level of comfort.
JBL Pulse 3
£199.99 / Available from uk.jbl.com
Set the mood and personalise your soundtrack and lighting for the perfect Valentine's night in with the JBL Pulse 3. Whether you choose a romantic sunset, a roaring fire or passionate red hues, the combination of a customisable light show and outstanding 360° sound is sure to set pulses racing.
The portable, waterproof speaker is equipped with three drivers and dual passive radiators and flawlessly streams songs from smartphones or tablets, and with a 12-hour battery life, it will keep the tunes and lights going well into the night. It also provides the ability to access Siri and Google Now, via JBL's Voice Assistant Integration feature to control music with voice command.
FLAVR 'LIPS' smartphone case
£19.99 / Available from shopflavr.com
Let this case do the talking as a statement gift for Valentine's Day. A great prezzie for fashionistas that are keen to add a quirky accessory onto their beloved iPhone 7 or iPhone 8, this protective case has been lovingly crafted and then kissed all over.
The Greek Larder

Set in bustling King's Cross, overlooking the canal and offering traditional Greek food and wine, reimagined for London diners. Theodore, who previously set up the phenomenally successful The Real Greek and Livebait, continues his winning streak of charming and modern restaurants.
The restaurant boasts a gorgeous open kitchen and an on-site deli, stocking Greek pantry essentials and wines. Diners feast on delicious Greek small plates & platters, over candle light, with a tailored Greek wine list and matches on offer – Theodore set up The London Greek Wine Festival, so he knows a thing or two about great Greek wine and food.
As romantic clichés take over, Guildhall Art Gallery offers an alternative Valentine's Day experience, inspired by the core themes in Nature Morte. This Late event promises an enjoyable night of music, art, drawing, and cocktails.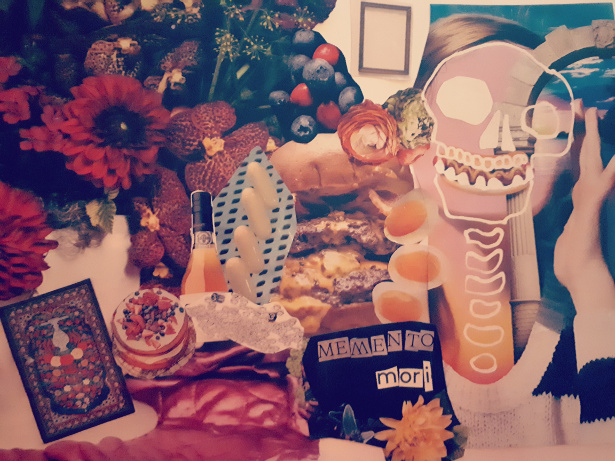 The exciting events programme is as follows:
Talk on 'ethical' taxidermy with Jazmine Miles-Long
This is an exciting opportunity to discover and understand the techniques used to create her work.
Memento Mori Still Life
Join London's purveyors of death-positive creativity, Art Macabre, to create your own unique memento mori collage.
Don't go into the Cellar present 'Tea with Oscar Wilde'
A chat show with a difference brought to you by Don't Go Into The Cellar! Theatre Company – the British Empire's finest practitioners of top-notch Victorian entertainment.
15-minute tours of Nature Morte with Curators
Join the curators of Nature Morte for a brief introduction to the exhibition, as they will highlight particular works and discuss what inspired them to create the show.
DJ Museum of Vinyl
Museum of Vinyl will be spinning an eclectic mix of sounds inspired by, and exploring the themes of, life and death.
Flower pressing 'make and take' activity
Explore the relationship between this symbolic motif and the passing of time, whilst pressing flowers and using your artistic skills to create your own keepsake to take away.
Tote bag decorating 'make and take' activity
Decorate a tote bag and express your own thoughts on life, death and the transience of time to make your own still life creation in the form of a tote bag!