Whistler Water, an eco-conscious purified water taken right from their source at the base of a glacial outflow, north of Whistler, BC, Canada. Mom's are always on the go and more than anyone, they need to stay hydrated! www.whistlerwater.com
TWITTER | FACEBOOK | PINTEREST | INSTAGRAM
You may already know that the colder the climate, the fresher the water!
Whistler is Canada's only premium glacial water that is locally Canadian-owned and sourced.
Whistler Water is a Bisphenol-A (BPA) free company, with a commitment to supply the purest water product on the market. The bottle is FDA, CFIA and EU approved. They will soon be available all over the US, but they have launched in Southern California in Gelsons Markets. They are also at Asher Caffe in Downtown LA and at Equinox Sports Club LA.
About Whistler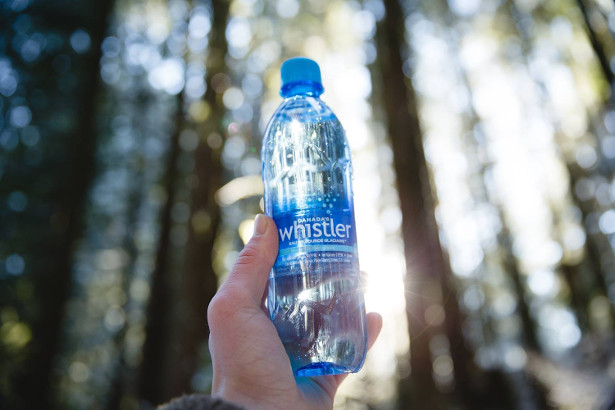 Whistler, BC, Canada; April 23, 2018 — For 25 years, Whistler Glacial Spring Water has refreshed Canadians with its clean, eco-conscious pure bottled water sourced from ancient glaciers. Now in 2018, the company has debuted its brand to American consumers at Gelsons Markets, the upscale haven for specialty foods across Southern California so that Angelenos can quench their thirst for water. Visit whistlerwater.com
Whistler Water's privately-owned source, Place Glacier, just north of Whistler, BC, Canada is a high alpine area, surrounded by beautiful, dynamic, and vivid forest foliage far from any hint of industrial harm, where nature is at its finest. The high altitude also has the bonus of adding additional oxygen to the water.
Only 5% of the water on earth is drinkable, and of that only 1% is glacial. Protected from external variables, Whistler Glacial Spring Water takes on carbonates before being extracted. It's described as having "silkiness, lightness and crispness." The unique and desirable softness comes from the exceptionally low mineral count – in fact Whistler boasts the lowest parts per million of minerals currently on the market. It's easy to see why Whistler stands apart.
Whistler consistently works to protect its environment through several green initiatives. As Canada's ONLY premium glacial water, it is 100% pure and nothing is ever added or removed. The product line has always used PET (recycle symbol 1 plastic, the world's most viable plastic for recycling) and it is BPA free.
California consumers prefer transparent businesses. They will be motivated to buy Whistler Water for its taste while appreciating how it is responsibly sourced. Whistler is best enjoyed at room temperature and it travels well from the yoga studio and gym, to the office and in LA traffic.
It is a premium brand offering premium form and function. Whistler Glacial Spring Water should be the water bottle that you drink daily. With seven different bottle sizes, there's a perfect Whistler Bottle just for you!