At this busy time of the year… Christmas. Retaining Super High Mental Processing & Physical Capabilities Is Essential, try www.formnutrition.com for Boost Nootropics Compounds & Performance Protein!

INSTAGRAM | TWITTER | FACEBOOK
Please see press release attached with information on Performance Protein and Boost.
If you need any further details please check the links below:
Perfomance Protein:
See more at :-
formnutrition.com/plant-based-nutrition/form-performance-plant-based-vegan-protein/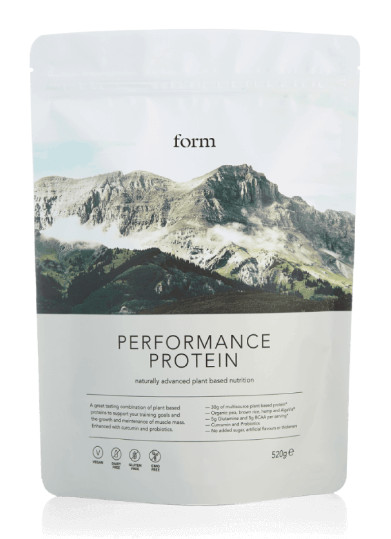 Boost:
See more at :-
formnutrition.com/plant-based-nutrition/form-boost-nootropic/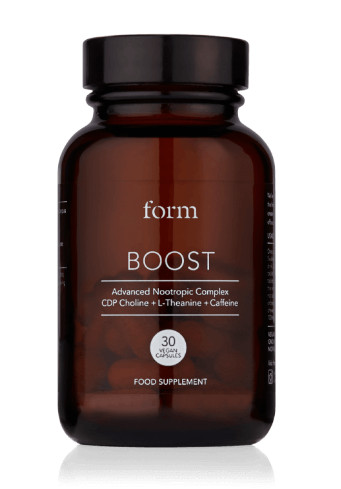 "We started with a simple belief that we can realise the greatest version of ourselves while being mindful of others. This permeates through everything we do, from careful selection of plant based ingredients through to our commitment that with every order placed Form gives a meal to someone in need via the Family Feeding Fund at Bansang Hospital in The Gambia."
FORM's range of protein blends have been formulated under the watchful eye of Head of Nutrition, Dr. Adam Collins. A highly qualified nutritionist with over 20 years of experience, Dr. Collins is also Director of the MSc and BSc Nutrition courses at the University of Surrey and holds an MSc in Nutrition & Metabolism and a PhD focusing on energy expenditure and body composition. His current areas of research include Intermittent Fasting and nutrient timing. Our innovative protein blend comprises organic pea protein with brown rice, hemp and AlgaVia® whole algae protein to deliver a complete amino acid profile protein without the need for animal products. By providing sufficient amounts of all amino acids, and especially the key 9 'essential' amino acids which cannot be synthesised by the body, our protein blend ensures optimal muscle growth and repair plus sustained energy throughout the day. Our products are free from thickeners, artificial flavours, soya, gluten and sugar. They are vegan, Halal and Kosher. Combining the latest scientific research with carefully crafted flavours our innovative range supports your peak performance and a great cause. Whether you are looking for a performance boost, muscle growth or cognitive support, Form has a solution for you.
www.formnutrition.com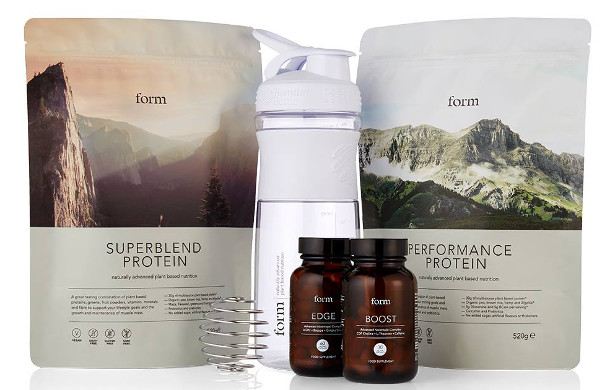 SUPERBLEND PROTEIN
Superblend redefines the protein shake. Combining 20g of plant based protein with greens and superfoods, it helps you meet your daily nutrient needs in one easy shake that tastes amazing, even with just water. Available in Chocolate Salted Caramel and Vanilla flavours — £24 for 520g
PERFORMANCE PROTEIN
Performance is the perfect post workout shake. Formulated with 30g of plant based protein and Curcumin C3, it helps you build muscle, recover and meet your training goals quicker in one easy shake that tastes amazing, even with just water. Available in Chocolate Peanut and Vanilla flavours — £24 for 520g
PUREBLEND PROTEIN
Performance is the perfect post workout shake. Formulated with 30g of plant based protein and Curcumin C3, it helps you build muscle, recover and meet your training goals quicker in one easy shake that tastes amazing, even with just water. Unflavoured — £24 for 520g
BOOST NOOTROPIC Whether it's a presentation at work, a big workout or a long day with the children, Boost provides that extra nudge to get in the zone just when you need it. It's you, improved. £19 for 30 capsules
EDGE NOOTROPIC
Your cognitive enhancer for daily use, combines high strength herbal extracts with potent nootropics and B Vitamins to help make every day your best. It's you, improved. £19 for 60 capsules
ZZZZs NOOTROPIC
ZZZZs naturally supports a regenerative sleep. Combining 5HTP with calming amino acids and the dietary minerals Magnesium and Zinc, ZZZZs supports a good nights sleep, naturally. £19 for 30 capsules"