Asda's Fantastic Festive Food Range will help you have a magical Christmas!
Asda's Fantastic Festive Food Range includes (there is much more than this!)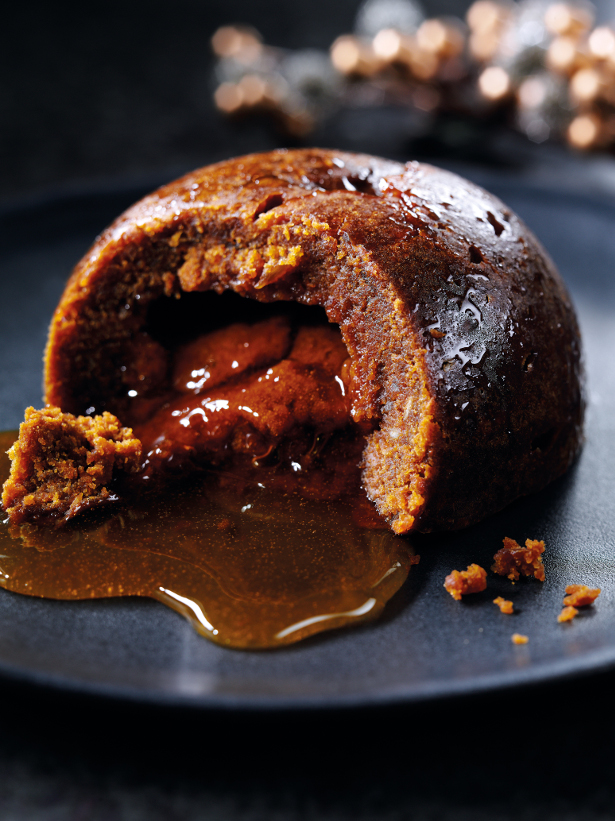 FACEBOOK | TWITTER | PINTEREST | YOUTUBE | INSTAGRAM
Festive drinks:
Mulled Gin Spiced Cocktail Kit
Asda Extra Special Louis Bernard Champagne Brut
Cheese:
Extra Special Cheese Board
Party Food: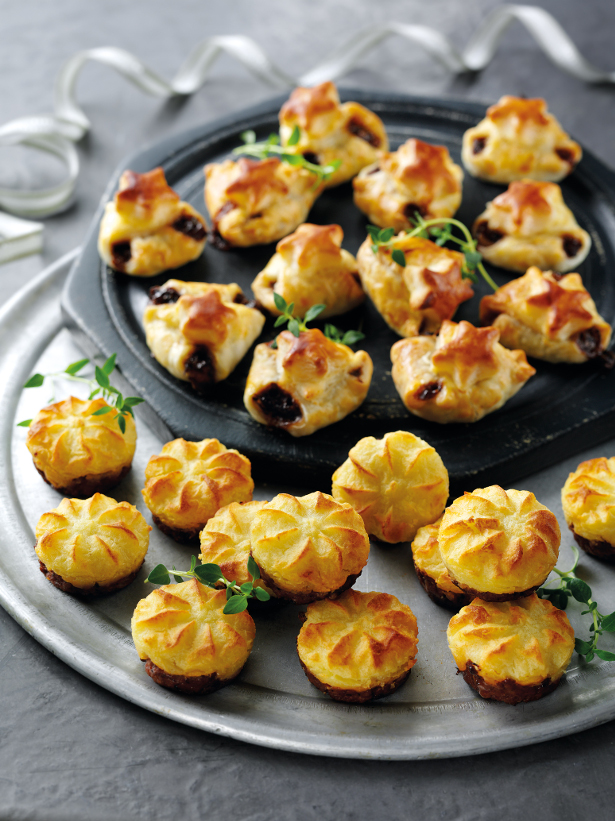 Extra Special Mexican Selection
Extra Special Mini Beef Wellingtons
Mini Beef Filled Yorkshire Puddings
Extra Special Pork and Cranberry Sausage Roll
Extra Special Pulled Pork Waffles
Confectionary:
Mulled Wine Flavoured Jelly Sweets
Extra Special Gin & Sloe Gin Belgian Chocolate Truffles
Extra Special Belgian Dark Chocolate Coated Honeycomb
Snowman Centrepiece Cake
Free From Roddy The Reindeer
Smash Igloo
Christmas Classics:
Extra Special Chunky Christmas Pudding Inspired Stuffing
Free From Mince Pies
Extra Special Prosecco Panettone
Christmas Tree Shaped Crumpets
Extra Special 6 All Butter Mince pies
Extra Special Christmas Pudding
Desserts & sweet treats:
Extra Special Melt in the Middle Clementine and Ginger Pudding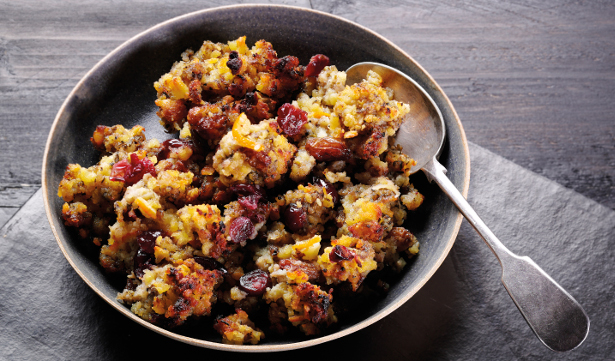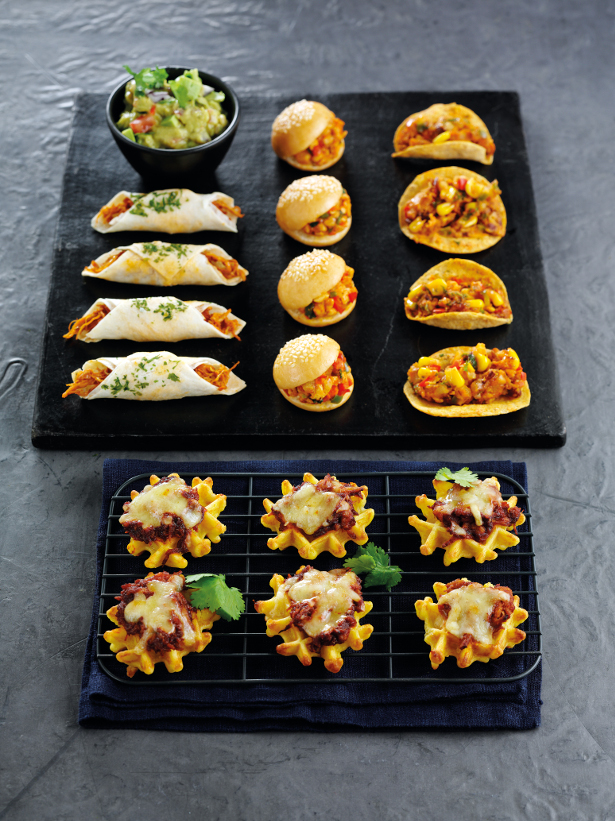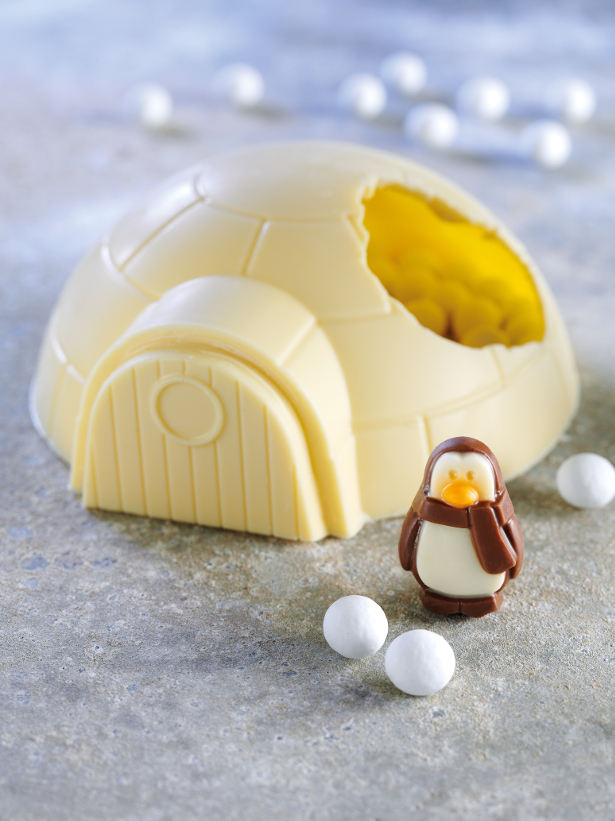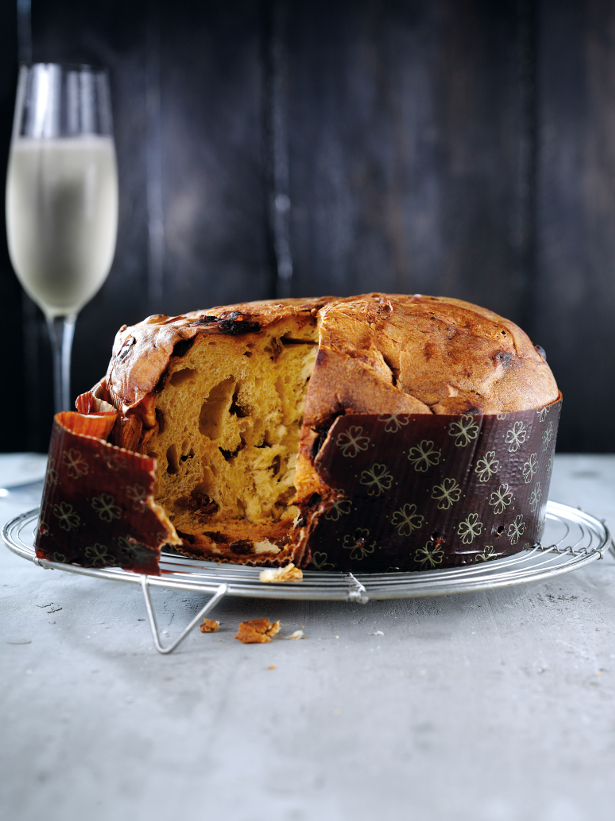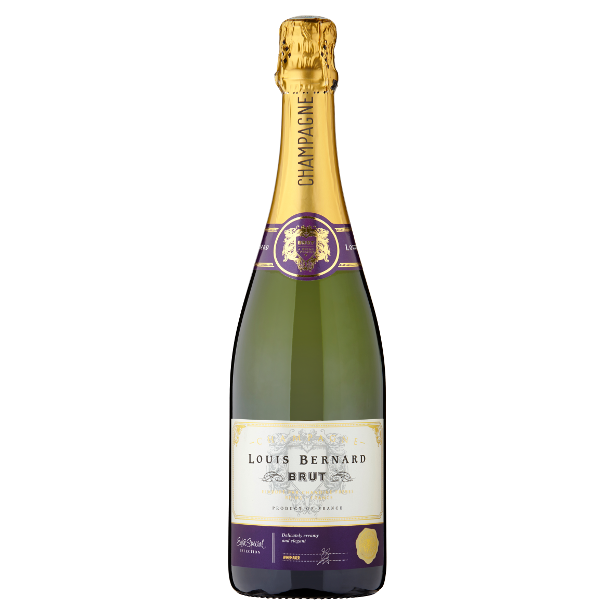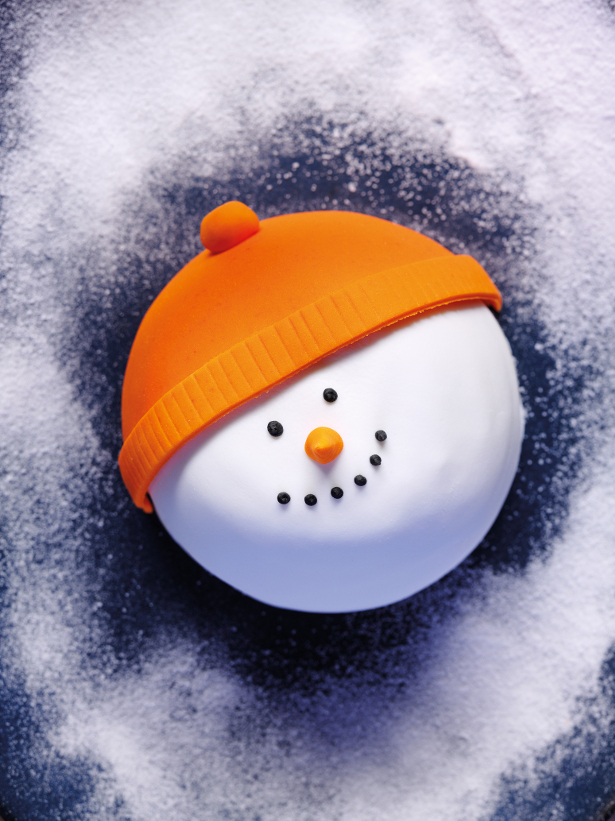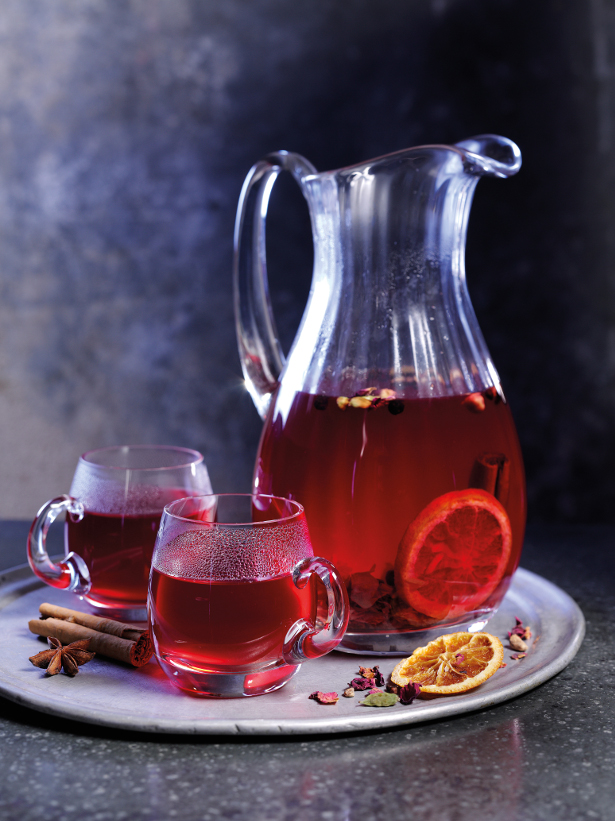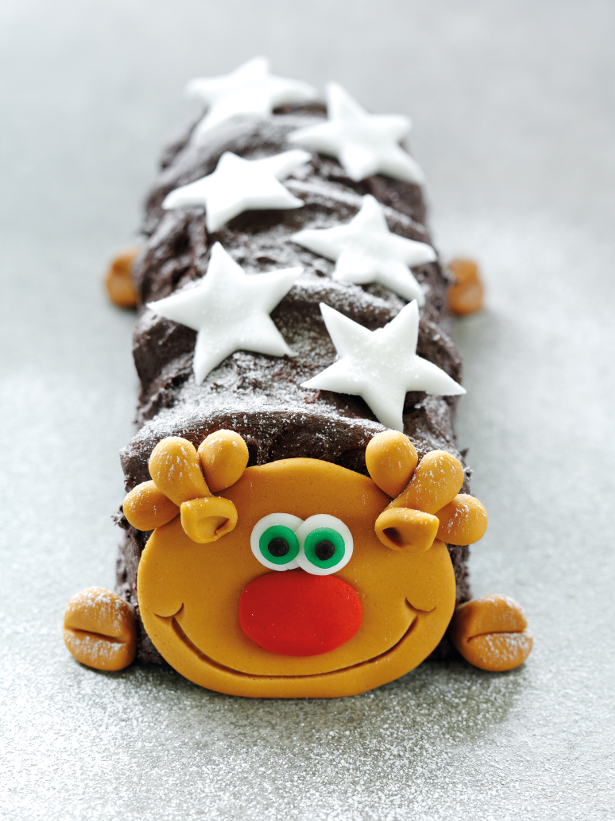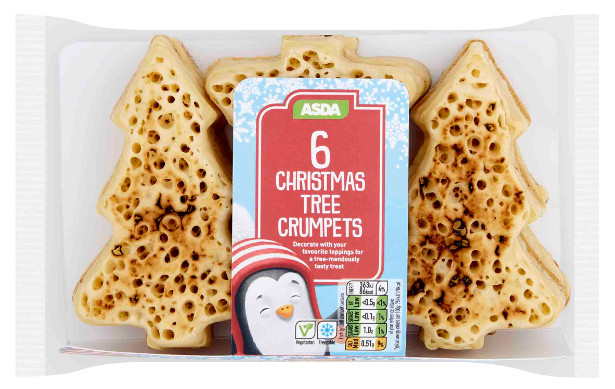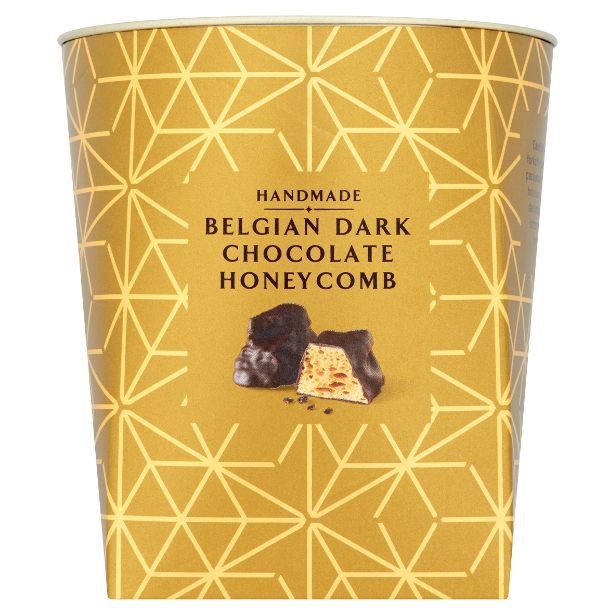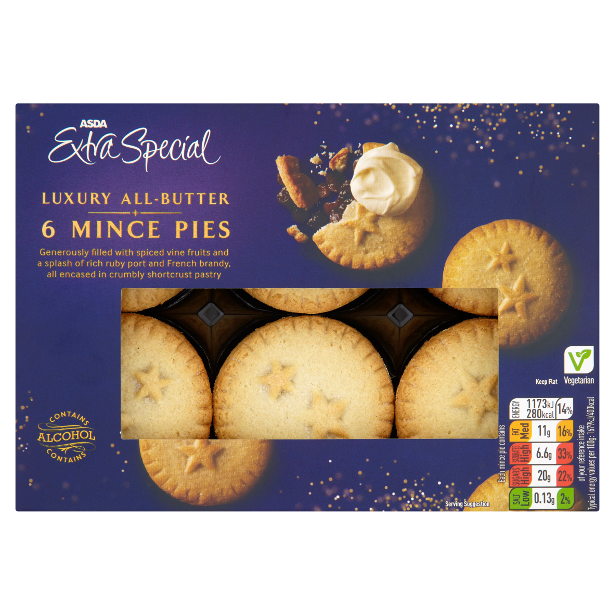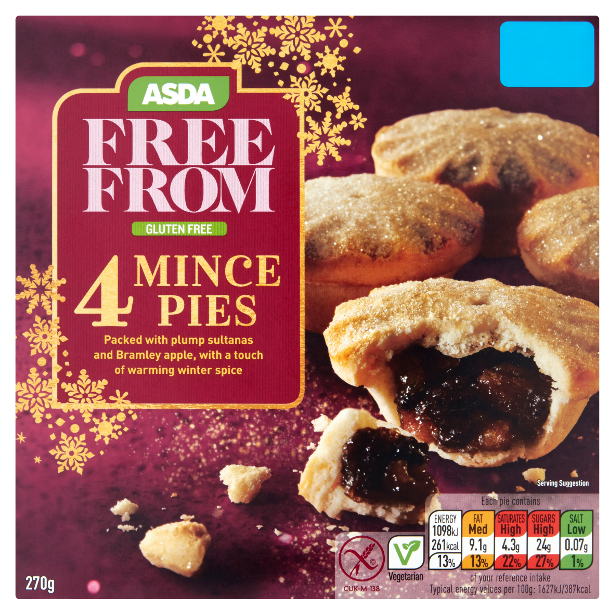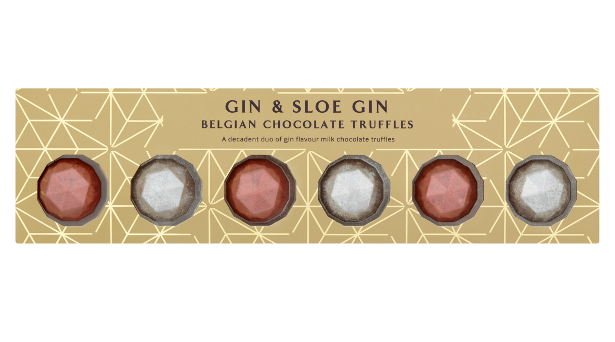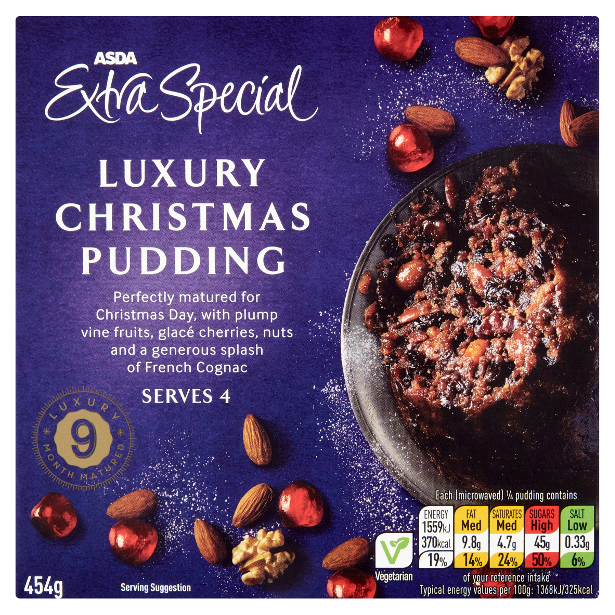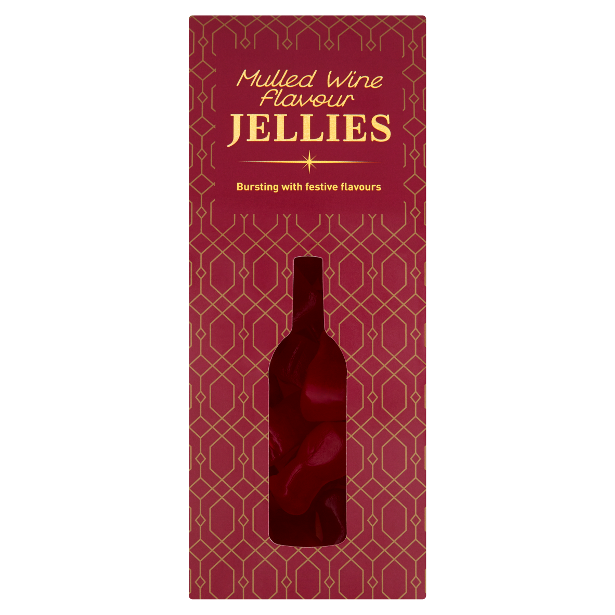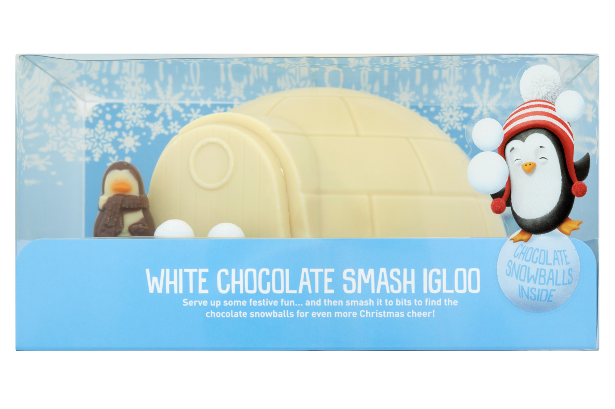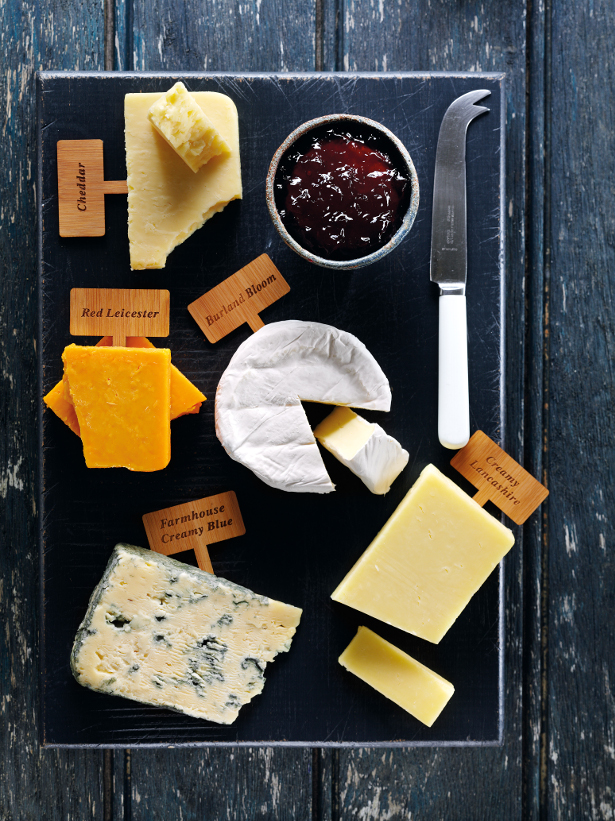 Splendoorz Reusable Fabric Christmas Door Covers are ready for shipping! buy Direct From Amazon.

Made to last year after year! Check out all the great Christmas designs at www.Splendoorz.com
available direct from Amazon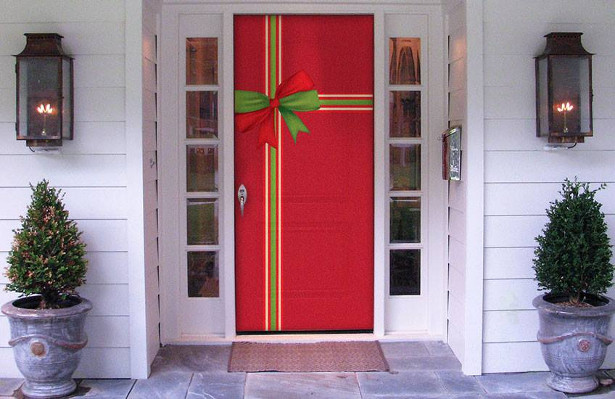 FACEBOOK | TWITTER | INSTAGRAM
About Splendoorz.
Splendoorz is a durable, decorative door cover that easily slips onto your door providing a fresh new way to decorate for the holidays, add some fun to a room or simply show your support.
No more cheap, plastic covers that barely cover the door, have to be hung with pins or tape or doesn't last more than a few days.
Splendoorz covers the entire front side of the door, can be hung in just seconds, and is made to last so you can enjoy it from season to season!
It comes in two sizes (31″ x 80″ or 36″ x 80″) and is flexible allowing it to fit any standard interior or exterior door. In addition, they can accommodate doors with knobs on the right or left side.
Splendoorz is made of 100% polyester and is machine washable and dryer safe, so no need to worry if it gets dirty. It is made to last, so you can enjoy it from season to season.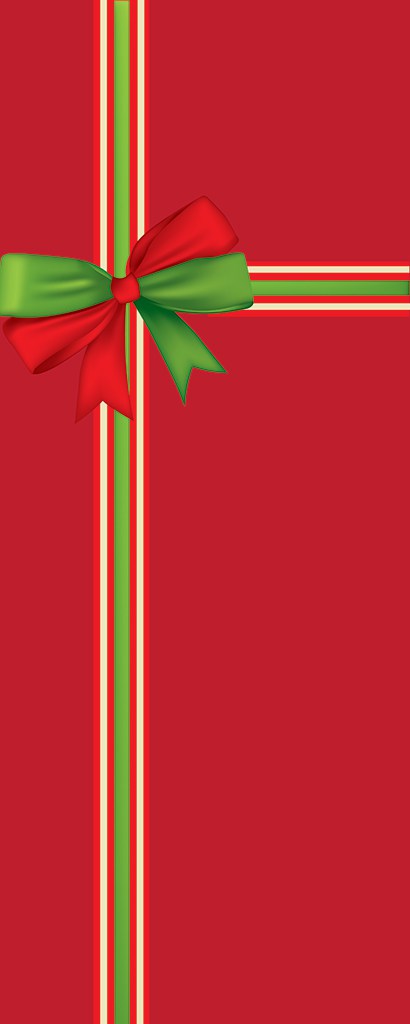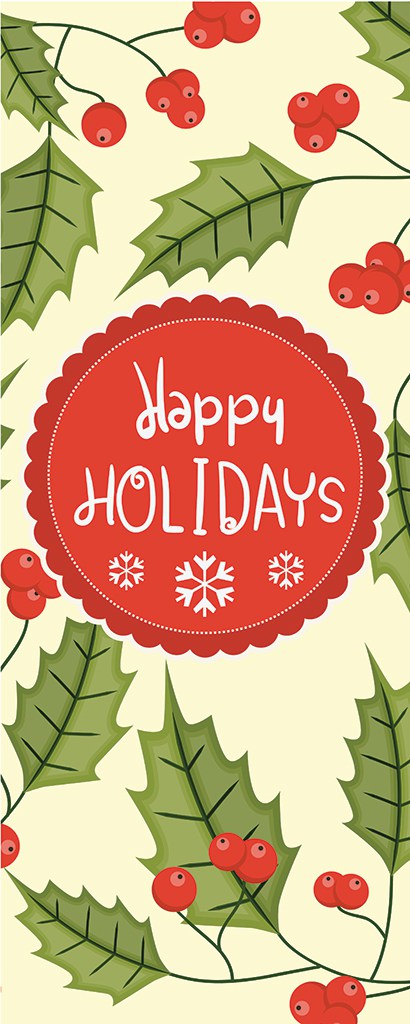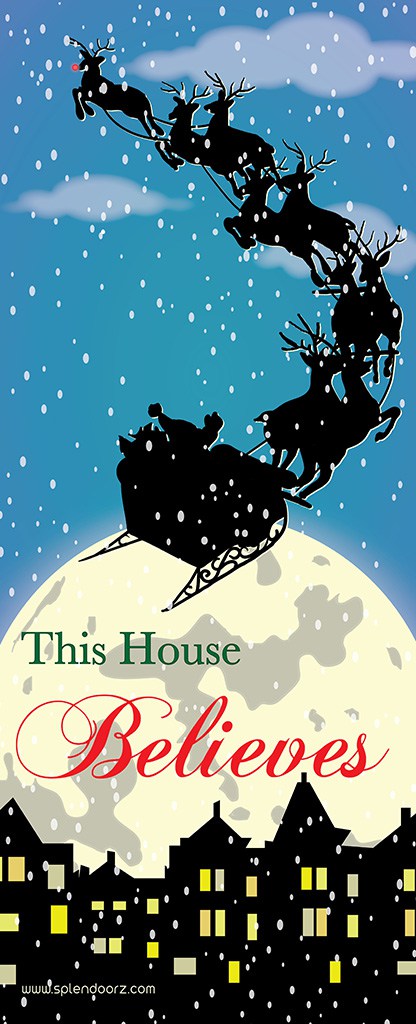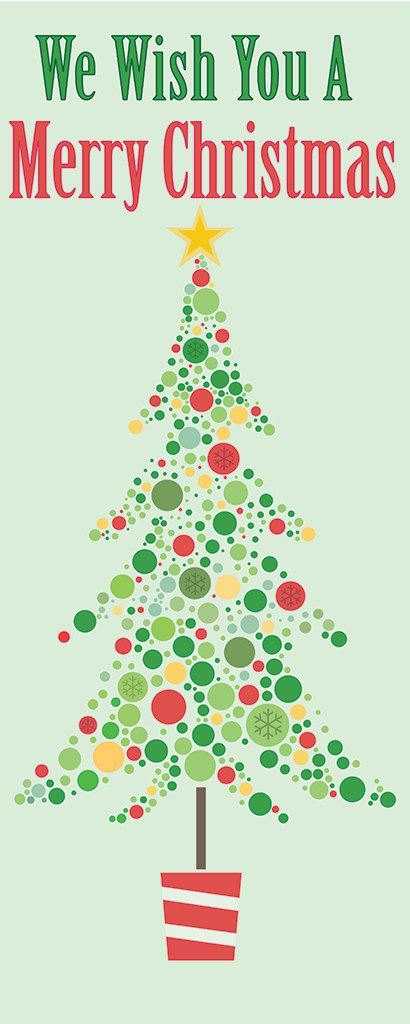 Imagination wanted…. Your Creative Journey Departs Today >> www.ugobags.com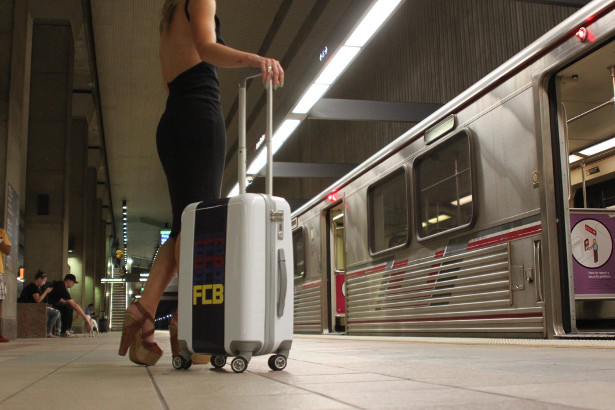 FACEBOOK | TWITTER | INSTAGRAM
All of us have our different preferences in art and style. We hope to achieve a marrying of art and style with function regarding luggage, since so many of us now travel around the U.S and the world! Because 70% of luggage is dark colored and generic, it is so easy for people to mistake luggage on the carousel.
At UGOBAGS, we allow people to design the look of their luggage, so their luggage becomes unique and an extension of themselves.
We wish you safe and stylish travels!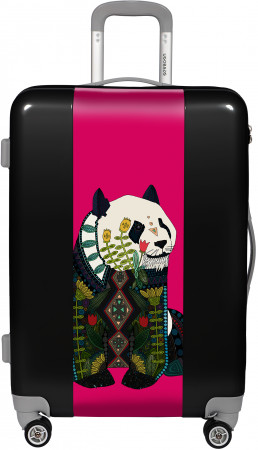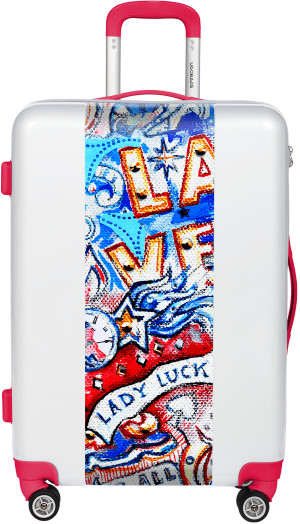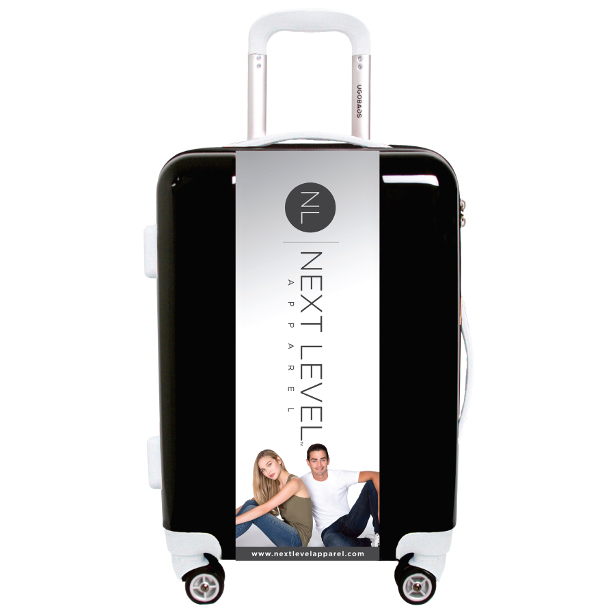 PROTEIN WATER CO
THE UK'S FIRST & ONLY COMPLETELY NATURAL PROTEIN INFUSED WATERS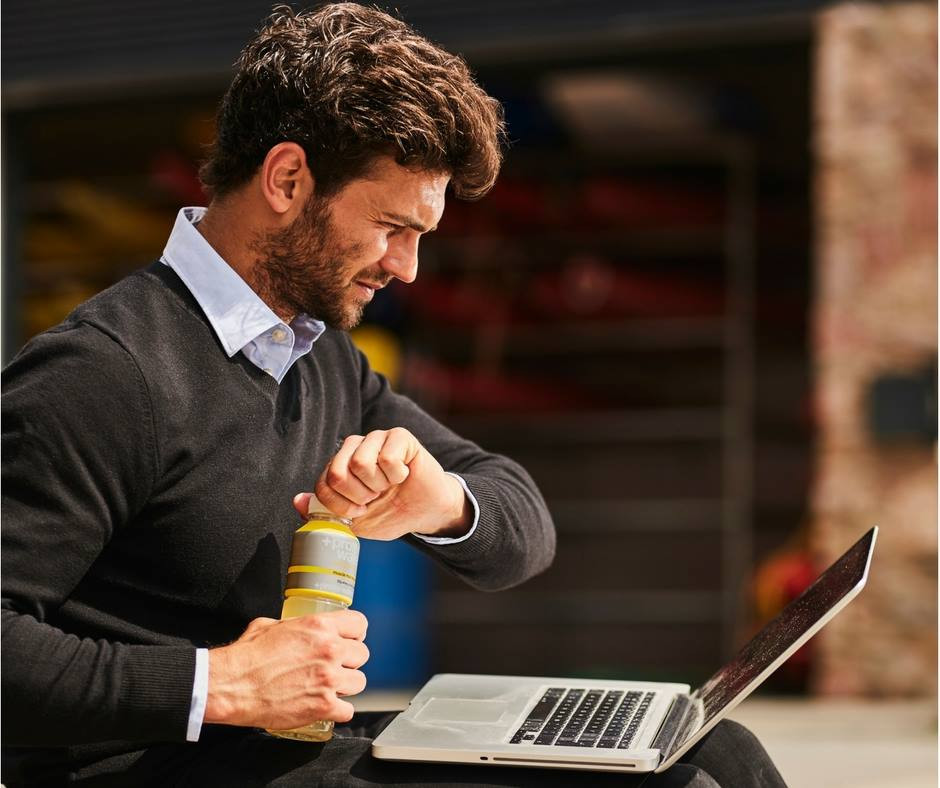 INSTAGRAM | FACEBOOK | TWITTER
NEW RANGE OF DRINKS DESIGNED TO MAXIMISE HEALTH, WELLBEING & PERFORMANCE IN LIFE
Protein Water Co (www.proteinwater.co) is an award winning innovative British brand, which produces the UK's first and only completely natural protein infused waters. Free from added sugar, artificial additives and preservatives, the whole range is designed to maximise health, wellbeing and performance in life.
Its Muscle Maintenance range delivers a mighty protein hit to support the whole body: 20g of protein in each bottle; over a third of the UK's suggested daily intake.
But protein is not just for the gym. It boosts energy levels, helps manage weight, works to stabilise blood sugar levels, improves concentration and supports the absorption of important nutrients.
The range is perfect for anyone looking to improve their performance in life, whether they need more energy to juggle work and home or just hit their professional goals in a high-powered job. Unlike protein shakes, Protein Water is light, requires no prep or cleaning and can be put in a gym or work bag and enjoyed on the go.
Protein Water also provides a way to enjoy a high level of protein without the calories. It has an excellent nutritional profile, only using premium whey protein isolate, which provides the highest percentage of protein per gram than any other protein. It delivers 20g of protein at just 100 calories, satisfying hunger and keeping drinkers fuller for longer.
Every 500ml bottle combines the highest quality protein with spring water, delivering a clear, crisp and refreshing taste with absolutely no nasties. It has a clean and GMO-free ingredient profile with no added sugar, zero fat, and absolutely no artificial sweeteners, flavours, colours or preservatives.
The Protein Water Co Muscle Maintenance range has an RRP of £2.35 for a 500ml bottle and is available in three unique varieties:
Grapefruit & Yuzu
Cranberry & Raspberry
Coconut & Mango
The Protein Water Co Muscle Maintenance range is available in Boots, Whole Foods Market, Fenwick, Kettlebell Kitchen, HIIT Kitchen, and independent retailers nationwide, as well as directly from the website www.proteinwater.co
The Founder Story
The idea behind Protein Water Co was born whilst founder Henry Western was travelling the UK as a professional motocross rider. He became frustrated with the lack of functional and naturally low-sugar soft drink options available on-the-go. As a health conscious but time-poor sportsman, he knew the benefits of adding extra protein into the diet and wanted to create a product that would make it easily available to everyone.
Crabbie's Ginger IPA RRP 1.80
– The first of it's kind, bringing a new daring taste sensation to craft beer
– Combines 300 years of craft expertise, blending iconic Crabbie's spices with hoppy Sadler's Red IPA
– Contains one third fewer calories than premium cider brands with a light and refreshing taste
– The first of several planned new additions to 'The Crafty Ginger Collection' with a new Crabbie's stout set to launch soon
– Available in selected Tesco stores 20th November, Drinksupermarket and Amazon
TWITTER | FACEBOOK | PINTEREST | INSTAGRAM | YOUTUBE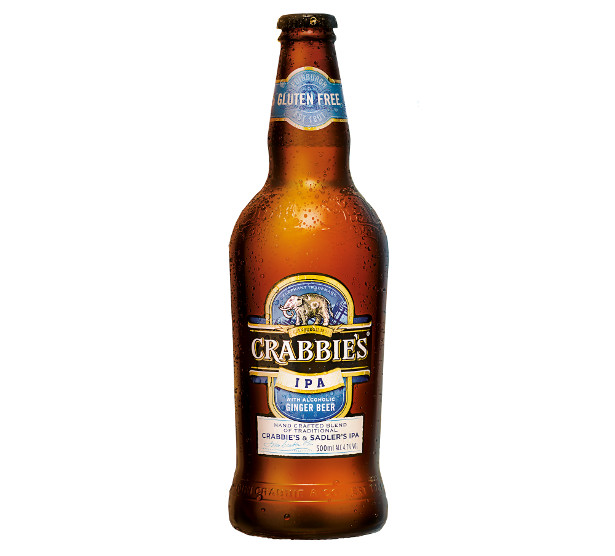 Tushy the Priceless Gift Of A Clean Booty this Christmas! www.hellotushy.com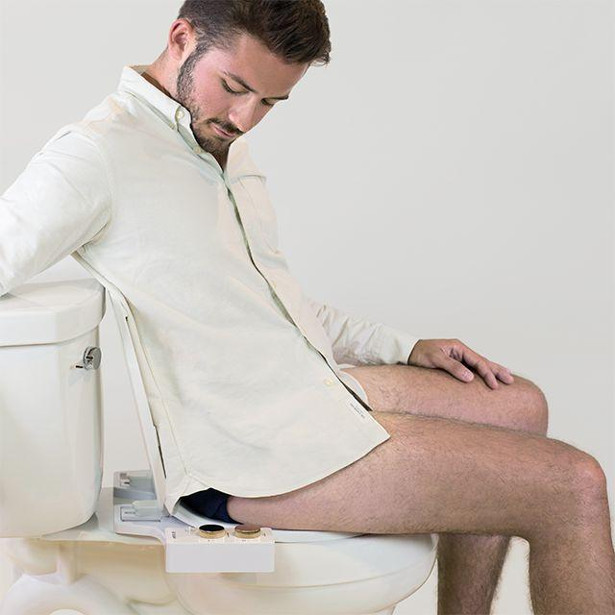 FACEBOOK | TWITTER | PINTEREST | INSTAGRAM | YOUTUBE
The TUSHY is a modern bidet attachment that washes your rear end with a precise stream of fresh water after every bowel movement. For only $69, TUSHY easily attaches to any standard toilet in 10 minutes without plumbing or electricity and offers pressure control, a self-cleaning nozzle, and an angle adjuster. Stop the unsanitary and gross act of wiping with toilet paper and wash with TUSHY. The simple bidet will upgrade your toilet to a royal throne and leave you with that just-showered feeling every time you use the bathroom. Say goodbye to dingle berries and skid marks left behind by basic toilet paper. No matter how intense the crap, TUSHY can handle it. They also have a wonderful giveback program in which they've partnered with an organization called Samagra that provides clean latrine and bathrooms people affected by the Global Sanitation Crisis in the urban slums and rural India. For each TUSHY purchased, they donate to Samagra to provide a family of 7 access to clean community toilets. Giving back is what the holidays are for!
See more at :- www.hellotushy.com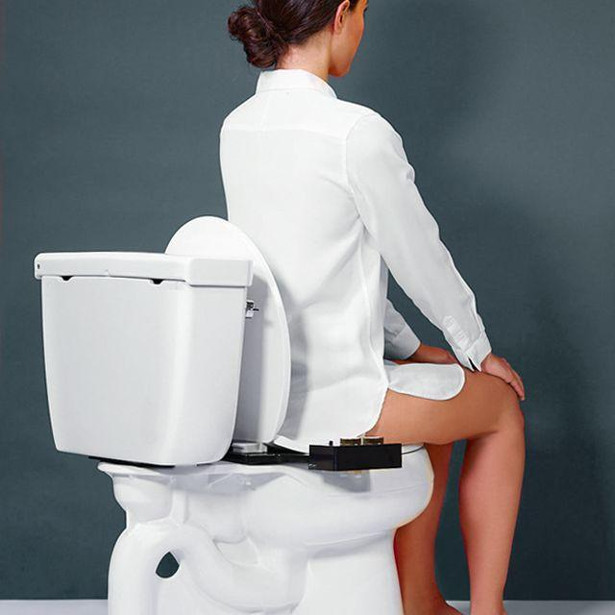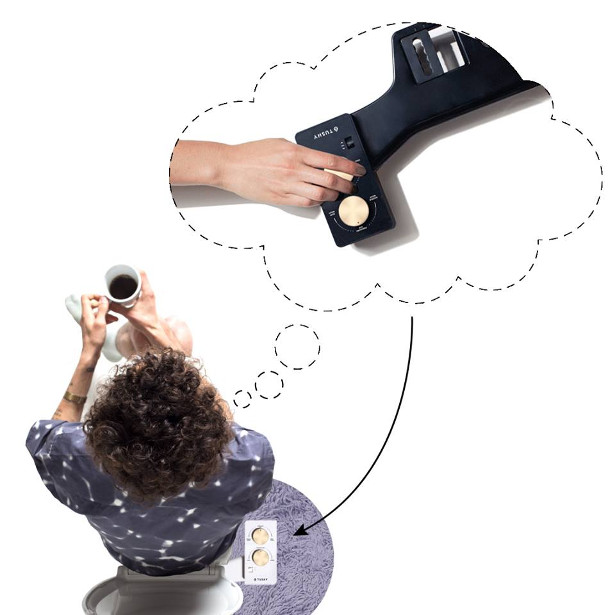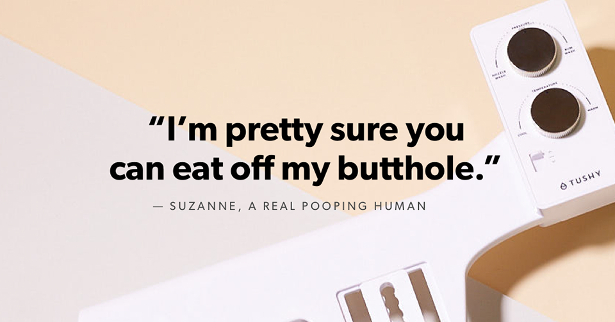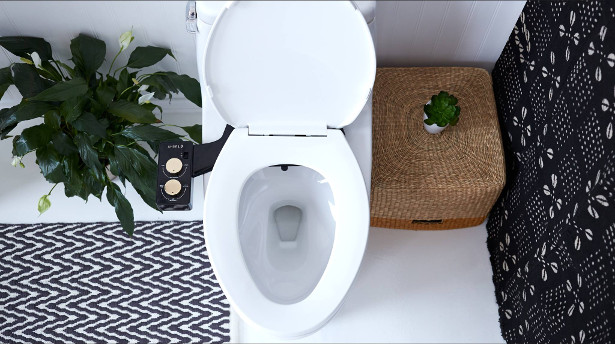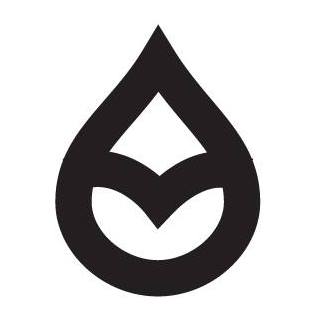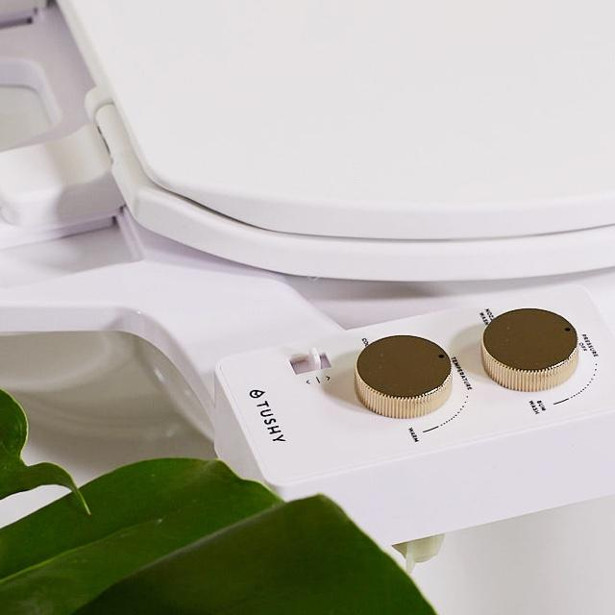 Look like the pros while adding protection to your head. 2nd Skull® is a protective headgear company with patented products for any sport. www.2ndskull.com
TWITTER | FACEBOOK | YOUTUBE | INSTAGRAM
According to a recent survey, nearly one in five teen athletes reported having a concussion. While we know activity and sports have tremendous physical and mental benefits on kids and teens, repeated head injury during developing years can have long-term impact. For kids in sports such as rugby, football, baseball, lacrosse, and hockey, the gift of added protection this holiday season can bring a peace of mind to parents everywhere.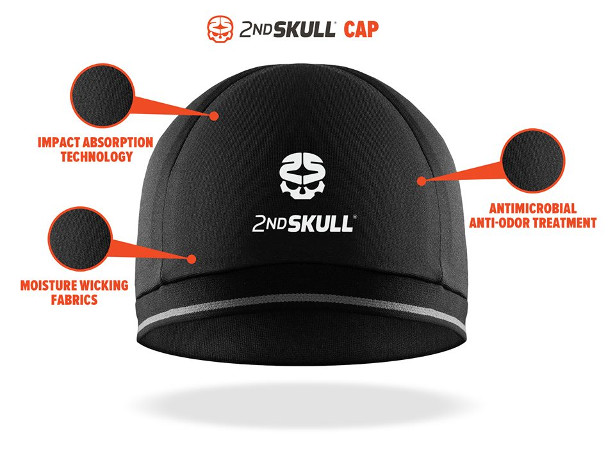 2nd Skull's protective skull caps fit under helmets–or the headband can be worn alone–to improve safety and mitigate the impact of blows to the head during play. Its extra thin layer of XRD technology, an extreme energy absorbing material, is designed to mitigate blows to the head and improve safety during play. Extensive biomechanical testing of the 2nd Skull caps at independent labs have been conducted in the U.S., Canada and the U.K. — with results showing reduction in linear and rotational impact when worn with a helmet.
The cap retails for $59.99 and you can view where to buy here.
2nd Skull is a recent recipient of a $100,000 grant through the NFL Challenge, to conduct additional impact testing on the cap and research to optimize performance related to specific player positions!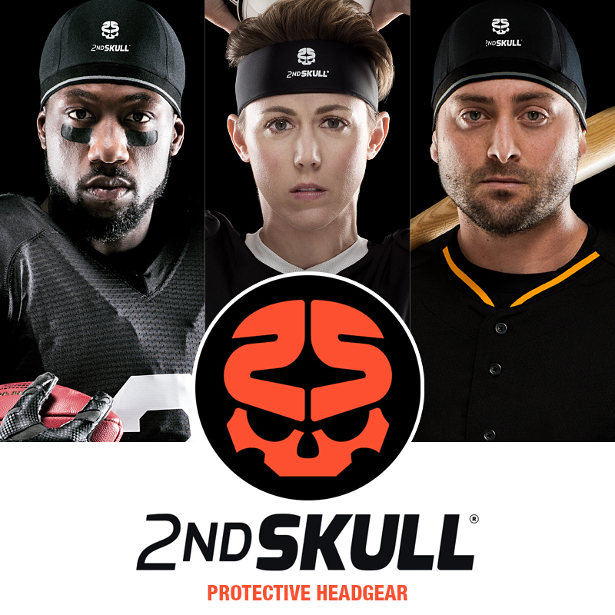 "Fathers and Sons – Sports and Life" by Keith Guernsey, what a wonderful Christmas Stocking filler for a dad and a son! amzn.com/153338763X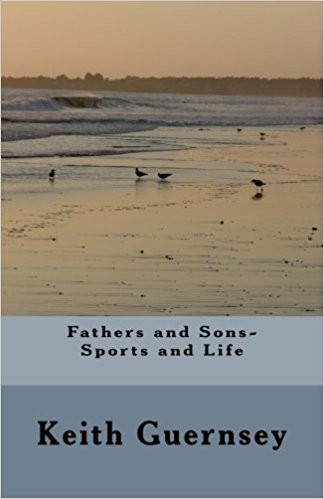 "Fathers & Sons – Sports and Life" is a story of an uncommon love and devotion between fathers and sons. It is a story of my recovery from two rounds of life-threatening brain surgeries to play on three championship softball teams in two states. It includes a chapter on the most controversial sports topic of our time; Deflategate. "Fathers…" is also a sequel to "Confessions of a Beantown Sports Junkie."
For Him
Haynes Explains range, Boris Starling, £6.99 (www.haynes.co.uk)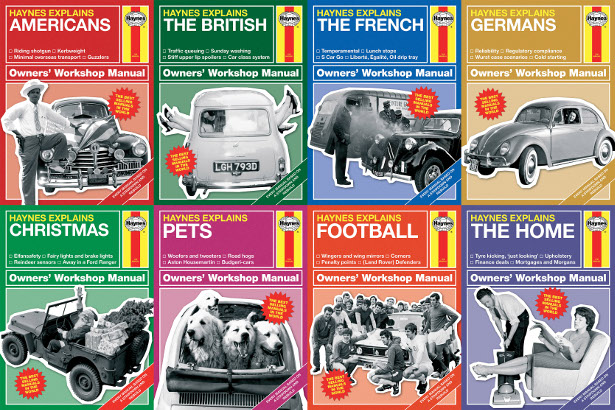 Making for the ideal stocking filler or Secret Santa gift, Haynes has joined forces for a second time with international best-selling author, Boris Starling, to add eight new pocket-sized manuals to its multi-selling 'Haynes Explains' series, which launched last year. Making for the perfect gift, Boris Starling wittily spins his take on Haynes' inimitable style based on a strip-down and rebuild of a particular 'model'.
The eight new brilliantly observed titles cover a whole raft of important subjects, including a jovial but affectionate look at 'The French', 'Germans', 'Americans' and 'The British'. Meanwhile for those looking to decipher the mechanics behind daily life, four additional titles include 'Christmas', 'Pets,' 'Football' and 'The Home'. Adding to the hugely popular existing range of titles which take a highly amusing look at 'Babies', 'Teenagers', 'Marriage' and 'Pensioners', these eight new books take the total number to 12 in the series.
Retailing at £6.99, each manual is based on a strip-down and rebuild that readers familiar with Haynes manuals would expect to see, including exploded views, flow charts, fault diagnosis and the occasional wiring diagram.
Robot Wars: Build Your Own Robot Manual, £22.99 (www.haynes.com)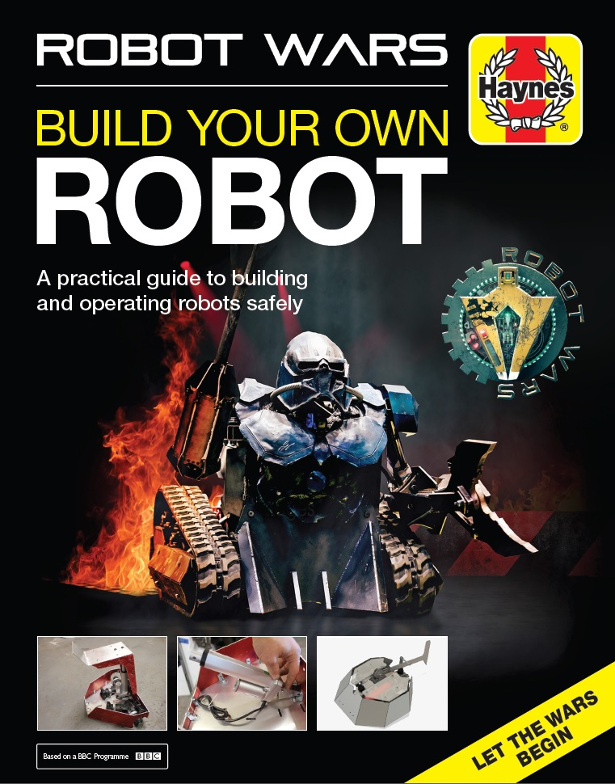 This manual provides a unique behind-the-scenes look at the show – the arena, and both house and competitors' robots. It offers step-by-step extensively illustrated instructions for building three project robots, from a simple 'self-navigating' robot, to a fully controllable Robot Wars challenger. Essential reading for all Robot Wars fans.
Haynes Road Cycling Manual, Luke Edwardes-Evans, £22.99
(www.haynes.co.uk – book number H6075. ISBN 9781785210754)
Whether new to cycling or highly experienced, the Road Cycling Manual from Haynes covers every aspect of modern road cycling from choosing a bike, set-up and fitness training, through to riding techniques and bike maintenance. This fully-illustrated manual makes a great companion for anyone looking to start a post-Christmas fitness surge, target a spring sportive, or even emulate the elite riders of the Tour de France!
Adopting Haynes's famous step-by-step approach, the manual takes the reader through all the types of road cycling, from leisure and commuting to touring and sportives. It covers all the options when choosing and buying a bike, along with all the necessary accessories and clothing. It also provides comprehensive instructions on preparing the bike for a long distance ride, everyday maintenance and upgrading various components. The manual also looks at the physical and technical side of cycling. From providing advice on getting into shape and what to eat, to bike handling and cornering techniques, it is the ultimate resource for the improving cyclist.
Home Improvements & DIY
Haynes Kitchen Upgrade Manual, Andy Blackwell, £22.99
(www.haynes.co.uk – book number H6082)
Making for a great Christmas gift, fans of make do and mend who want to take things a step further when it comes to DIY in and around the home will relish some of Haynes' handy Manuals which provide some helpful pointers. For many it's the most important room in the house, and now publisher Haynes is helping homeowners to achieve their dream kitchen on a budget with its latest home maintenance title, the Kitchen Upgrade Manual.
For savvy homeowners looking to save money, or those hoping to put their DIY skills to the test, the Kitchen Upgrade Manual presents expert advice and easy-to-follow instructions on how to plan and install a new kitchen. It also includes a chapter on how to improve and renovate an existing one.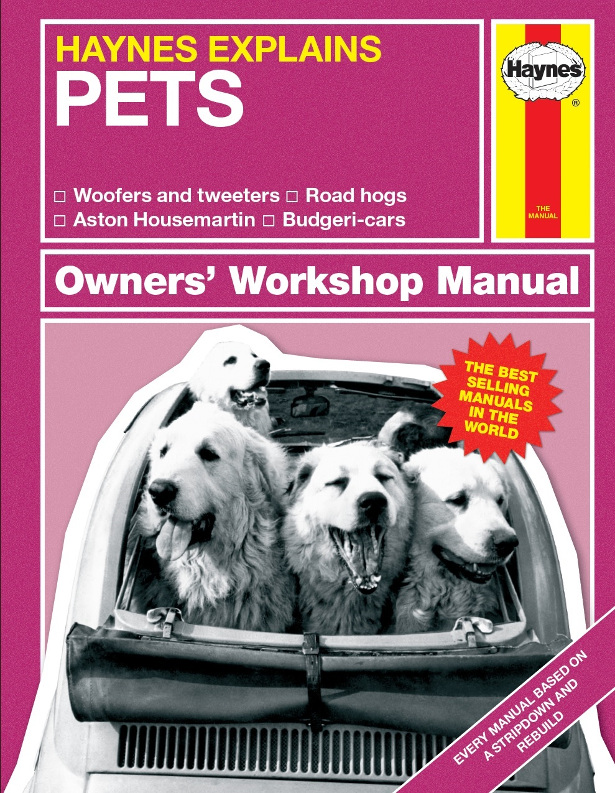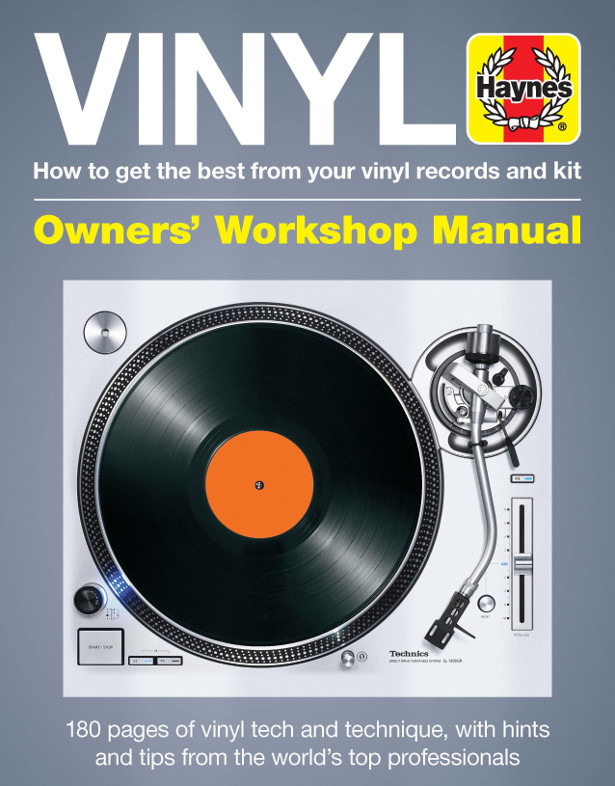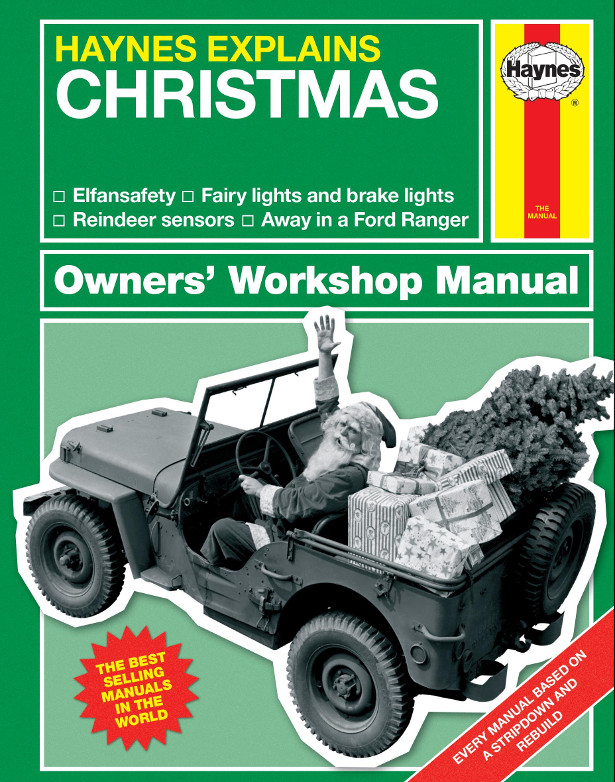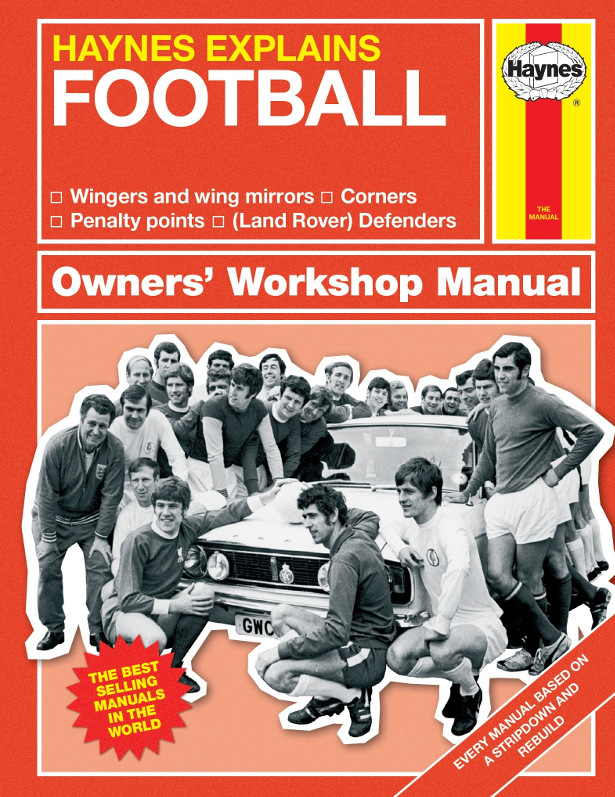 Stylish Christmas Gifts from HAIG CLUB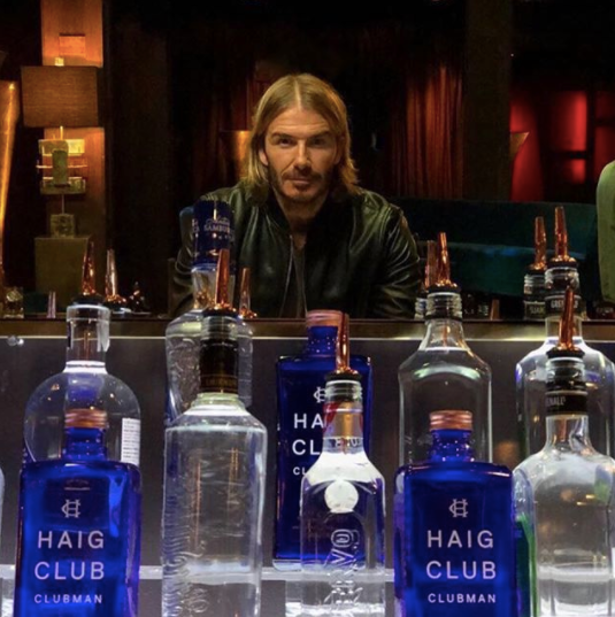 FACEBOOK | TWITTER | INSTAGRAM
Up the style stakes this Christmas season with the gift of HAIG CLUB, the stunning Single Grain Scotch Whisky from the House of Haig, created in partnership with David Beckham. With its unique and striking square bottle design, HAIG CLUB brings a contemporary twist to Scotch and is a flawlessly stylish Christmas gift for both whisky lovers and newcomers to the Scotch scene.
Crafted using a unique process that combines grain whisky from three cask types, HAIG CLUB offers a fresh, clean flavour with sweet notes of butterscotch and toffee for a deliciously smooth taste. This versatile Scotch works wonderfully over ice, in long drinks, or cocktails – making for the perfect drinkable gift this festive season, whatever your loved one's style.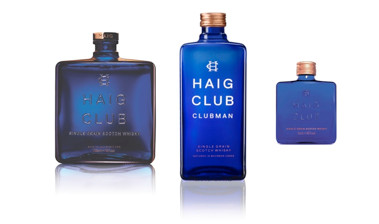 HAIG CLUB CLUBMAN is the latest stylish addition to the House of Haig collection. With its vibrant and modern aesthetic, CLUBMAN inherits the same bold and progressive spirit as Haig Club, with the liquid encased in a distinctive elongated square bottle which creates a stand-out silhouette.
HAIG CLUB CLUBMAN has been matured exclusively in American Oak casks that have previously held bourbon, allowing the sweet, gentle Single Grain Scotch Whisky from Cameronbridge to interact with the vanilla, butterscotch and sweet toffee flavours found in the casks. The result is a wonderfully smooth and sweet Scotch which pairs beautifully with cola.
A charmingly chic miniature HAIG CLUB (5cl) is also available, making Haig Club the ultimate luxury stocking filler and party accessory this Christmas.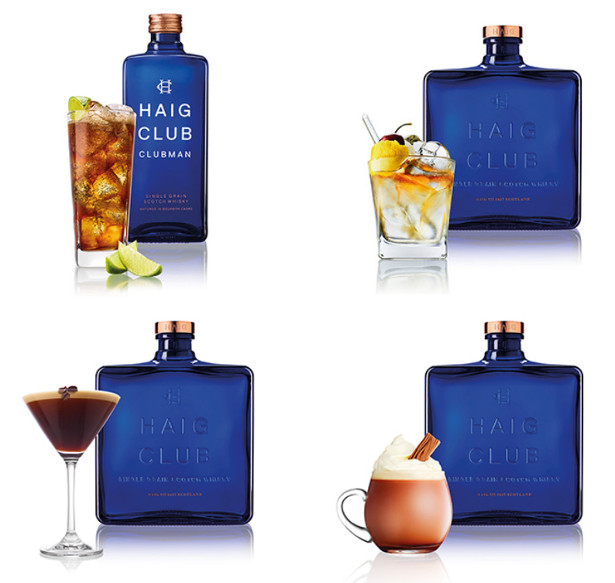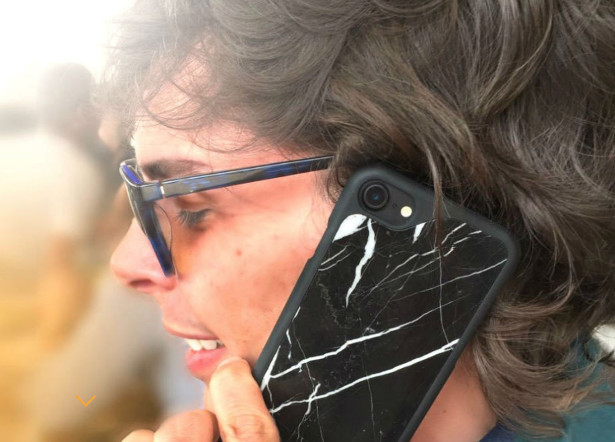 MIKOL. Marble Cases. Details Make The Difference.  www.mikolmarmi.com Each marble piece can be personalized.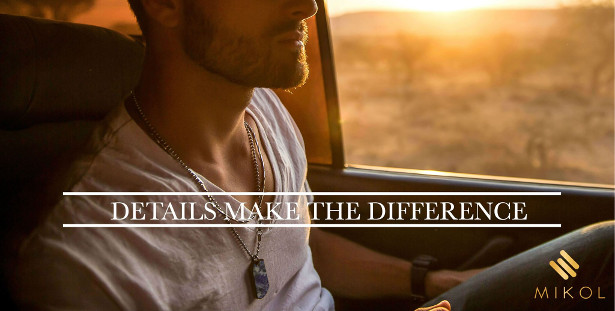 TWITTER | FACEBOOK | GOOGLE+ | PINTEREST | INSTAGRAM | LINKEDIN
Natural marble fashion accessories including engraving option. Each marble piece can be personalized.
Some unique ones are handcrafted marble iphone 8 case and marble notebook (world's first)
Also newly introduced terrazzo version for the iphone X case made out of recycled granite, quartz, marble, glass, etc.
The stone beads are great gifts and match well with the above products.
See more at :- www.mikolmarmi.com
About Mikol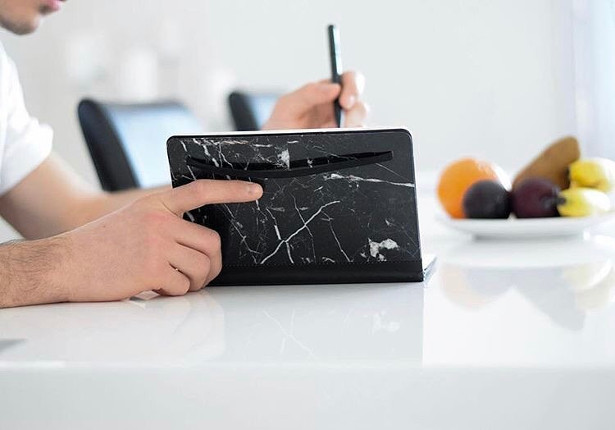 Being normally very expensive and more for industrial use, we want everyone to be able to own and appreciate marble; combining the beauty, uniqueness that is truly one of a kind and the elegance that is often associated with marble. Using our advance technology that is ahead of the industry, we were able to solve this problem by lightening the marble, ensuring its durability and creating a new material to our everyday use and a new material into the fashion World!

Hawkshead Relish Christmas Themed Range is just perfect at this time of the year.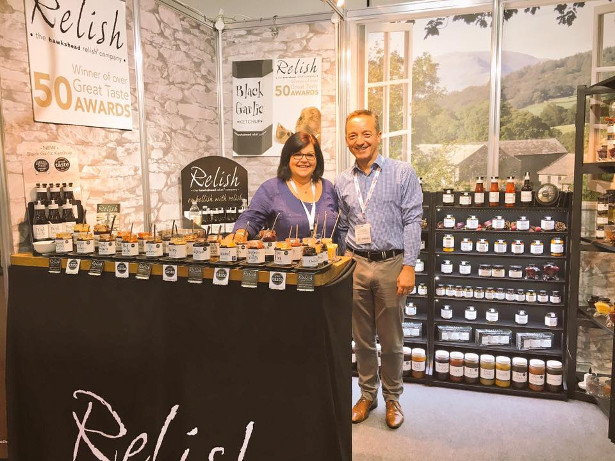 FACEBOOK | LINKEDIN | PINTEREST | GOOGLE+ | TWITTER | INSTAGRAM
Based in the Heart of the Lake District…
Hawkshead Relish truly represents the essence of the history of this majestic area.
The production site is a 16th century farm barn where all the preserves are cooked
by hand in traditional open pans in small batches.
Hawkshead Relish supply speciality food outlets throughout the U.K and in over 27 countries worldwide.
If you are interested in becoming a stockist then please fill in our online wholesale enquiry form: http://www.hawksheadrelish.com/wholesale/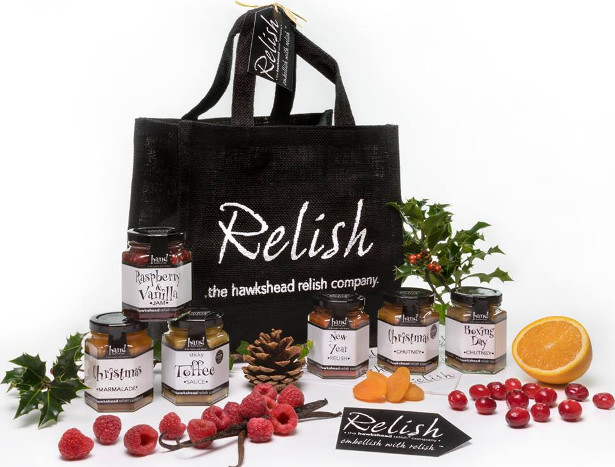 Hawkshead Relish also have a retail shop, situated in the centre of the picturesque south Lakeland village of Hawkshea. The shop is packed with all sorts of foodie treasures, including the staff ! You will not only find the full range of our Hawkshead Relish, Chutneys, Pickles, Preserves, Marmalades, Jams and Pickles but also a few more that we make exclusively for our shop . Alongside this array of condiments you will also find cakes, biscuits, puddings, cheese , spices, beers, wines, spirits and old fashioned cordials to name but a few. At the shop you can have your own choices made up into hampers, boxes and gift bags to your specification and best of all you can taste your way around the range before you buy.
The shop is open daily (except for Christmas Day and Boxing Day and New Years Day). Winter Opening: 9.30am – 5.00pm, Summer Opening 9.00am – 5.30am (we change when the clocks do!).
Hawkshead is a lovely village with plenty of small independent shops, cafes, pubs and places to stay so come along and make a weekend of it, with Grizedale Forest just a mile away and so much to see and do, it s not just a pretty village, you need to come and stay a while to absorb the community spirit (and there's plenty in the village pubs !)
Hawkshead Relish Runners Up at prestigious Nat West Great British Entrepreneur of the Year Awards >> www.hawksheadrelish.com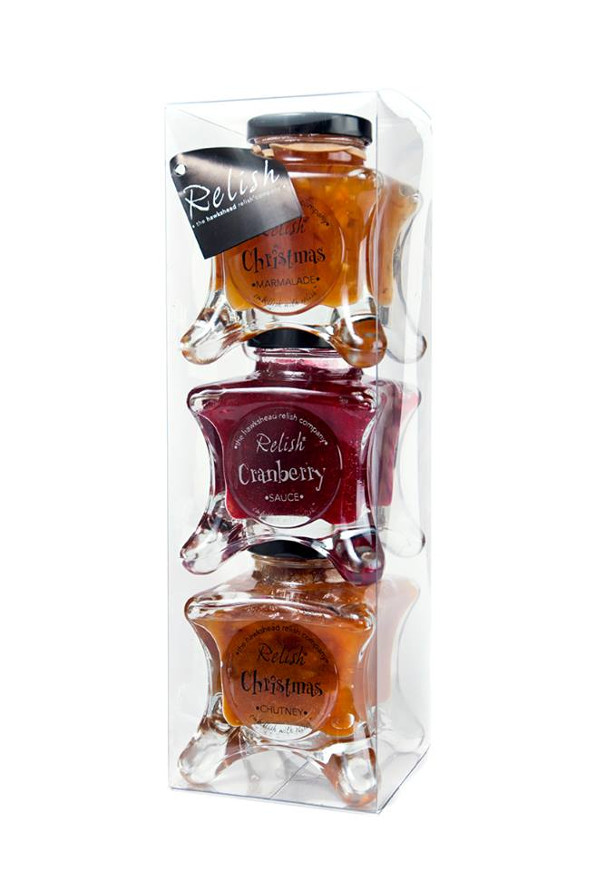 Mark & Maria Whitehead MBE from the Hawkshead Relish Company were delighted to receive the runners up award at the prestigious Nat West Great British Entrepreneur Awards at a glittering event held at the Imperial War Museum in Manchester on Tuesday Night (14th November)
The awards now in their fifth year celebrated businesses across the North of England, with Hawkshead Relish being finalists in the Family Business category. Judges included Go-Compare founder Hayley Parsons OBE and ex dragon James Caan CBE.
The awards founder Francesca James said" The judges this year have had an incredibly hard job narrowing down winners from such an impressive shortlist. Each and every one of the winning entries has made a huge impact on entrepreneurship in their region and the wider UK economy"
Mark Whitehead MBE said "We are delighted to be runners up in this hotly contested category, for such a small business from the heart of the Lake District to receive this recognition out of the many shortlisted family businesses is a huge achievement and a credit to all our staff and family without whom none of this would be possible"
Maria Whitehead MBE went on to say "We have had a fabulous year of recognition for the company and the team that we work with, winning the Family Business of the Year in London in May and now this really proves that small family businesses are a force for good in Cumbria and we are so proud of all our team here at Hawkshead Relish"
For nationwide stockists & further information on this & the full range see :- www.hawksheadrelish.com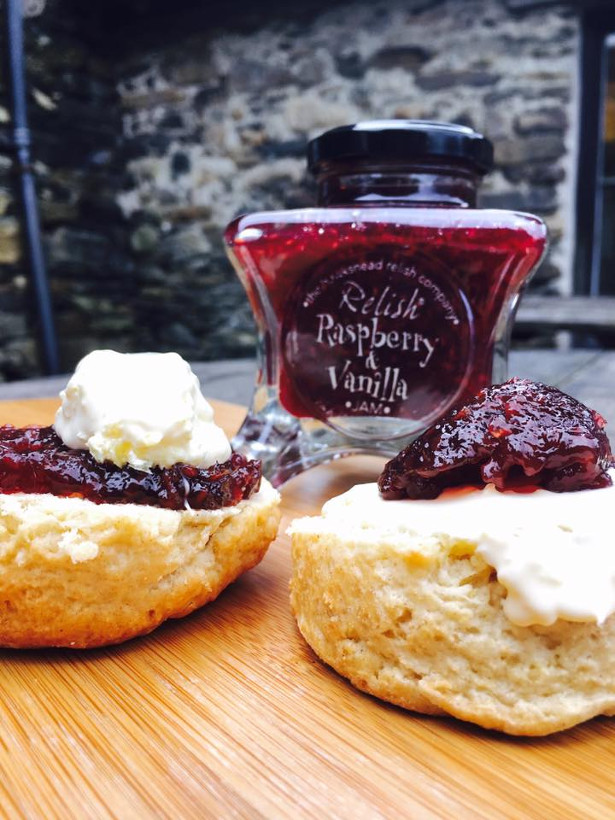 This Christmas, Rascals bring to you the only games your family will need over the Christmas period. You'll get stockings full of presents with the brand new The Very Merry Christmas Game, Mr & Mrs & the Really Nasty Horse Racing Game!
You can bring out 'your festive side' with The Very Merry Christmas game, your 'really nasty' side, as a scheming gambler in The Really Nasty Horse Racing Game, or 'your competitive side' and see how well you really know your significant other or best friend with the hugely popular Mr & Mrs Family and Pocket Editions.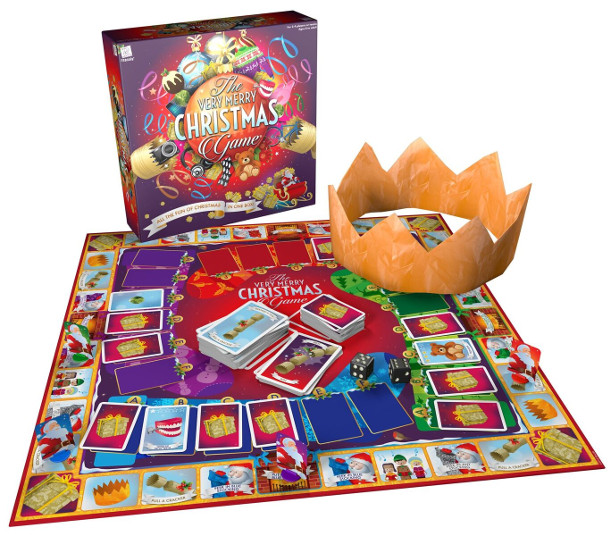 Suitable for ages 8 and above and for 2-4 players or teams, The Very Merry Christmas Game brings the whole family together to compete for the most lavish set of presents to fill their stockings. Be warned though as the presents can be really nice or really naff and players may not find out what they have been given until the end of the game.
Pull a cracker using the Cracker Cards to steal a better present from someone else's stocking. You can even use real crackers if you have them. Land on the Carol Singers space and players have to sing their favourite festive song to avoid losing one their prezzies!
Scheme your way to the best presents in the game but watch out for the dreaded sprout cards as they could have a bad effect on you!
You get all the fun of Christmas in this one box. The Very Merry Christmas Game will become a must for your family every year!
The Very Merry Christmas Game will be available from Debenhams and Amazon for £19.99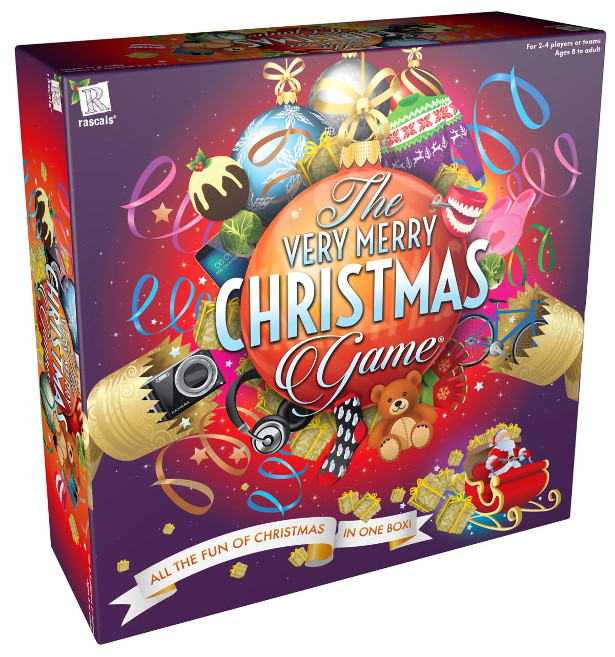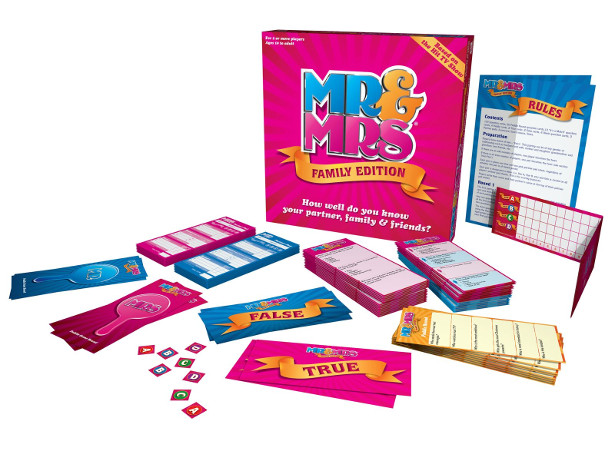 Mr & Mrs is based on the hugely popular All Star Mr & Mrs hit ITV show hosted by Phillip Schofield which is planned to air later this year and have a special Christmas show, where players are challenged to answer in-depth and entertaining questions about their partner, friends or family members. The new Pocket Edition is suitable for age 10+ and allows fans to play whilst on the move. It has over 300 questions and is guaranteed to cause laughter, blushes, blank looks and a whole lot more!
Mr & Mrs Family Edition RRP £19.99 from Debenhams, John Lewis, WHSmith, Amazon, Next, House of Frasier
Mr & Mrs Pocket Edition RRP £9.99 from Debenhams, John Lewis, Amazon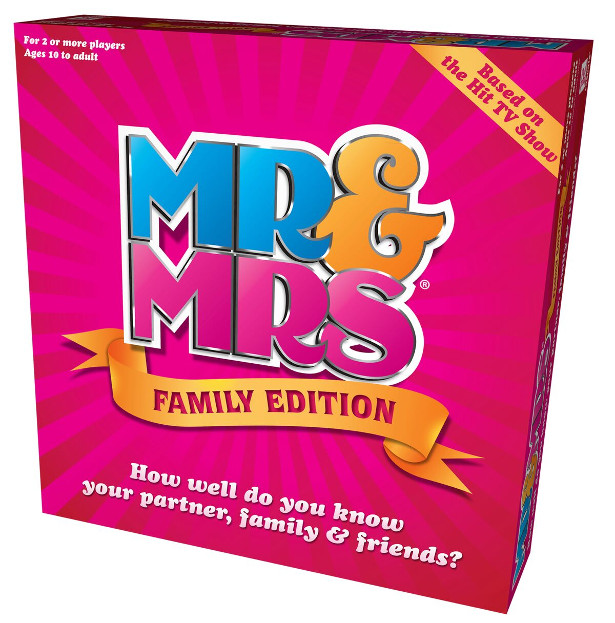 The Really Nasty Horse Racing Game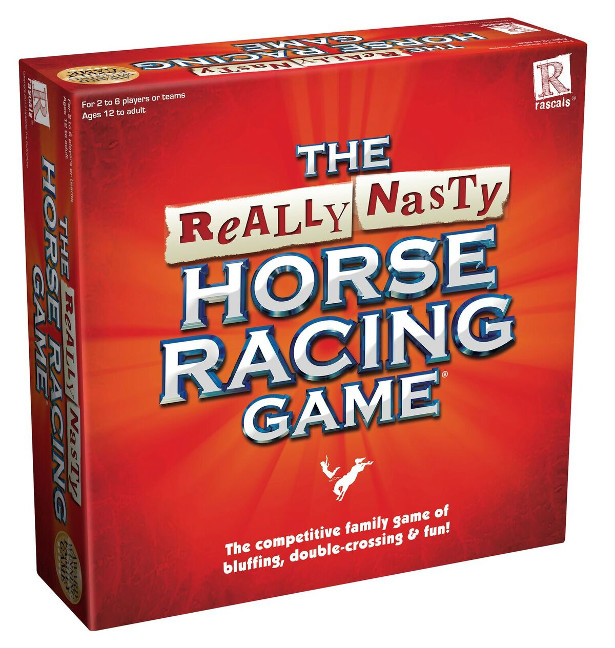 Families can enjoy a 'day at the races' when playing this devious family board game. Just as in a real race meeting, players race their horses around the board to win at all costs. Be devious, bet your own horse or someone else's but don't tell anyone who you've bet on. For 2 to 6 players or teams and ages 12 to adult.
The object of the Really Nasty Horse Racing Game is to win the most money at the race meeting by getting your horse placed first, second or third in a race or by placing bets on winning horses. There is also a set of mischief cards to help you create havoc with the other horses and riders in the race.
Available to buy from: Debenhams, Amazon RRP £19.99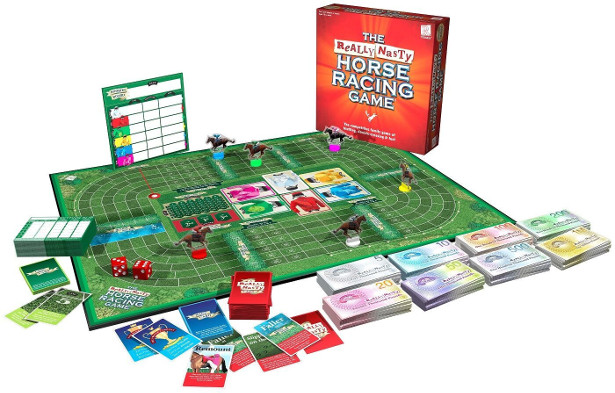 Belle 3 Musique trio presents Happy Holidays! Original, Heartwarming Music Combined With Beautiful Cover Art Makes An Excellent Holiday Gift! belle3musique.bandcamp.com/album/happy-holidays
The Happy Holidays album can be purchased online as an instant download or as a CD. It is $15.
See more at :- www.belle3musiquetrio.com
Instagram: @belle3musique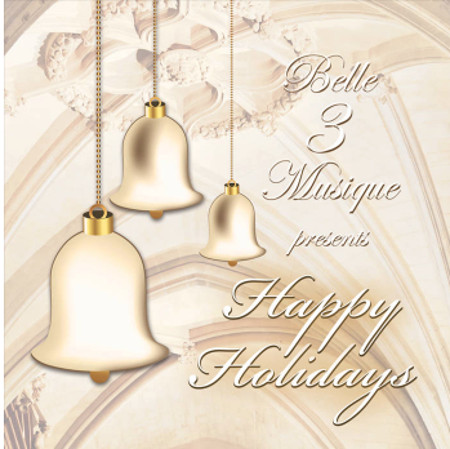 Purchase at:- www.belle3musique.bandcamp.com/album/happy-holidays
Beautiful cover art combined with heartwarming music makes an excellent holiday gift.
Includes unlimited streaming of Happy Holidays via the free Bandcamp app, plus high-quality download in MP3, FLAC and more.

The PainPod™ is 3-in-1 advanced medical device capable of providing pain relief, aiding recovery, and improving physical performance. www.painpod.co.uk ALL NEW PainPod Mi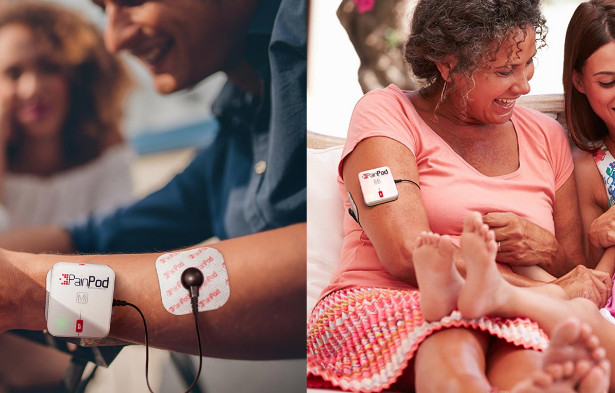 FACEBOOK | TWITTER | INSTAGRAM | YOUTUBE
To alleviate acute and chronic pain, the PainPod™ works by passing gentle bio-friendly treatment currents through the skin while facilitating a release of endorphins in the process to help improve mood. PainPod™ is used in physical therapy to aid recovery from surgery or injury by increasing circulation and reducing pain. And is also capable of improving performance for athletes by boosting oxygen intake so you can perform at your best.
Using the latest advancements in Personal Physical Therapy device technology, PainPod™ is commonly used: for recovery in physiotherapy, occupational therapy, rehabilitation and after surgery; in modern medicine for pain relief; and in fitness for performance and repair.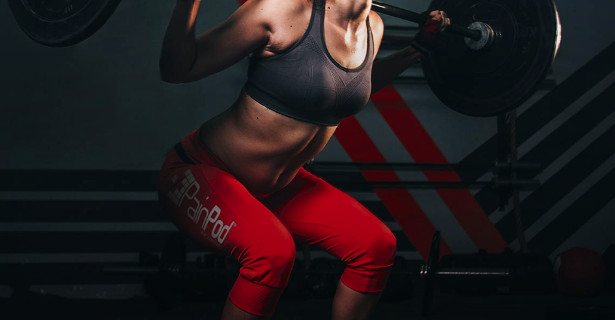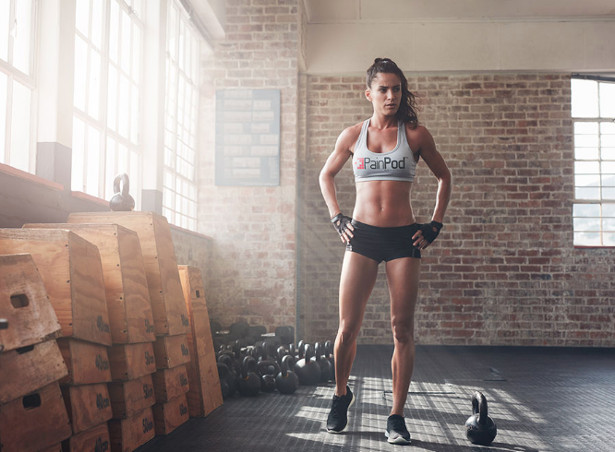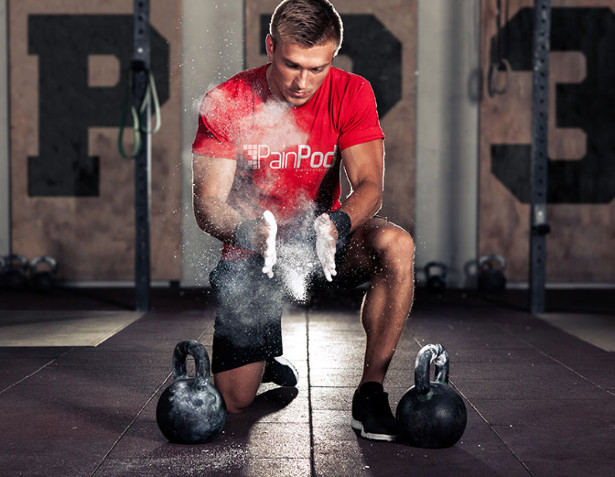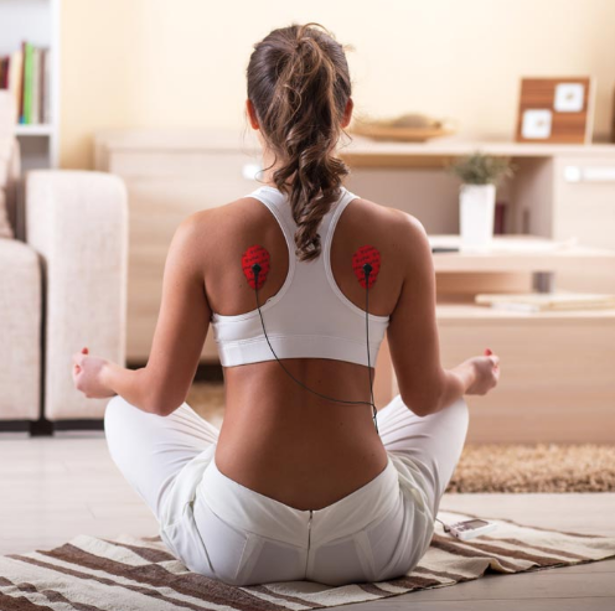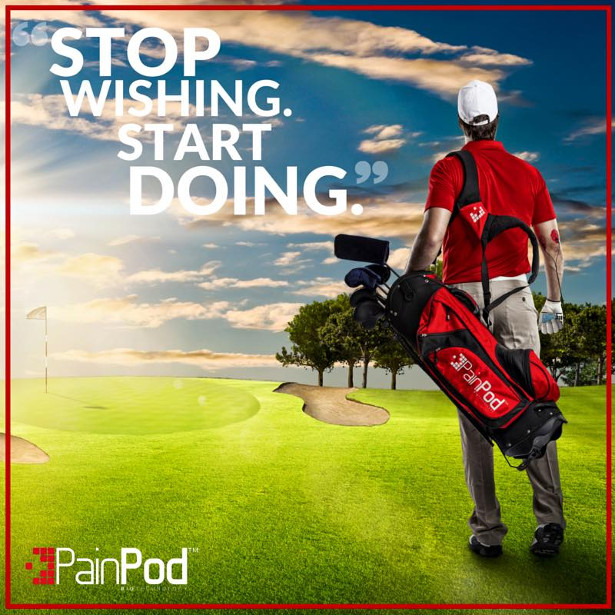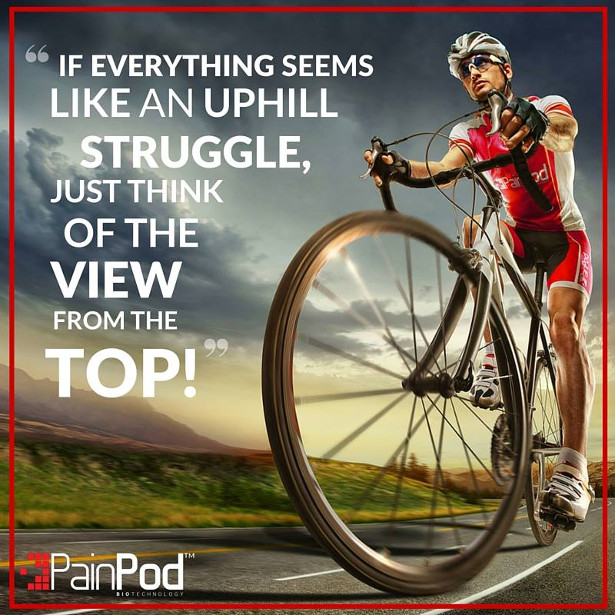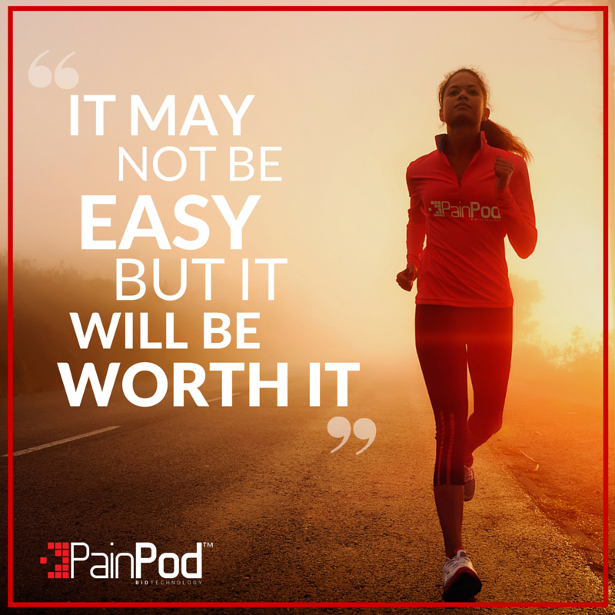 NEW! Gifting sets at Holland & Barrett, Dr Organic Virgin Coconut Oil Nourish & Hydrate Gift Set & Dr Organic Rose Otto Nourish & Rejuvenate Gift Set. www.drorganic.co.uk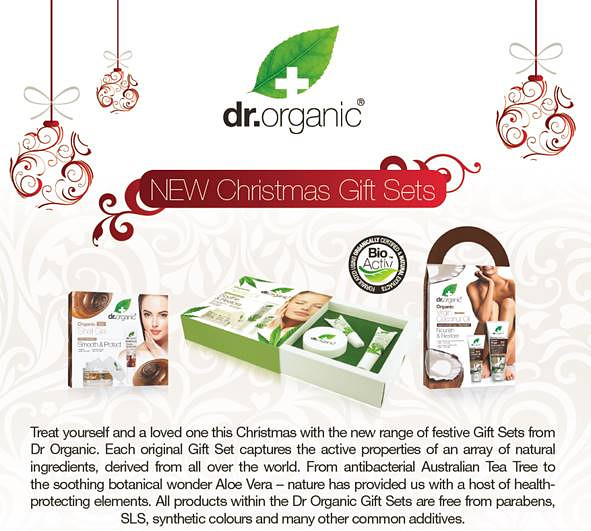 FACEBOOK | TWITTER | INSTAGRAM
Dr Organic Virgin Coconut Oil Nourish & Hydrate Gift Set (£11.99, Holland & Barrett)
A soothing and nourishing Duo Pack combining Coconut Oil Day Cream and Coconut Oil Night Cream. We have carefully blended these exotic, replenishing creams with a proprietary selection of bioactive, organic and natural ingredients, resulting in a comprehensive facial treatment that leaves your skin softened, hydrated and deeply nourished.
• Virgin Coconut Oil Day Cream 50ml
• Virgin Coconut Oil Night Cream 50ml
See more at :- www.hollandandbarrett.com/shop/product/dr-organic-coconut-oil-nourish-hydrate-gift-pack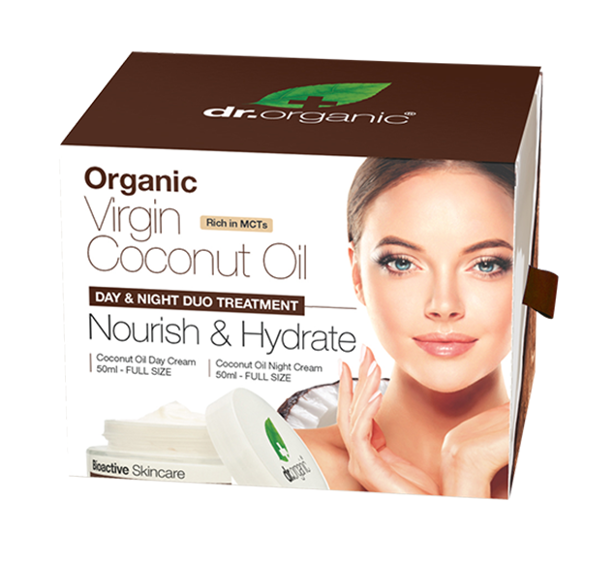 Dr Organic Rose Otto Nourish & Rejuvenate Gift Set (£14, Holland & Barrett)
A moisturising and rejuvenating Duo Pack combining Rose Otto Day Cream and Rose Otto Night Cream. We have carefully blended these nourishing creams with a proprietary selection of bioactive, organic and natural ingredients, resulting in a comprehensive facial treatment that leaves the skin feeling hydrated, restored and fresh with a radiant glow.
• Rose Otto Day Cream 50ml
• Rose Otto Night Cream 50ml
See more at :- www.hollandandbarrett.com/shop/product/dr-organic-rose-otto-nourish-rejuvenate-gift-pack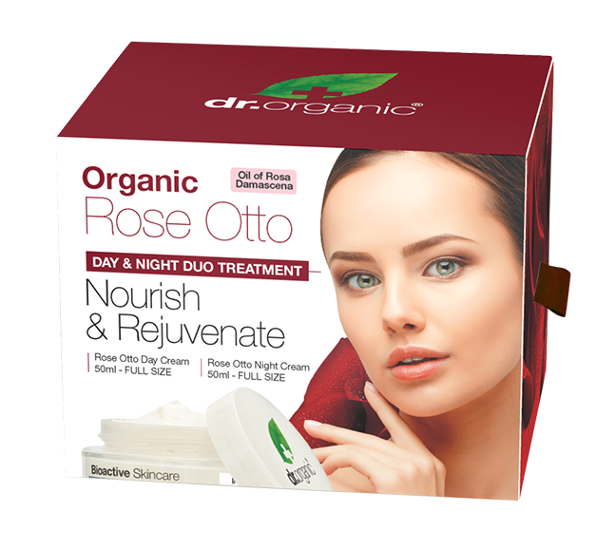 THE GREEN ROOM REVIEW IN PICTURES: ENGLAND v ARGENTINA
FACEBOOK | TWITTER | LINKEDIN | GOOGLE+
With the Autumn Internationals back and in full swing, England kicked off the series with their match against Argentina. Of course, Hospitality Finder were back at the home of England Rugby ready to open the doors to The Green Room once again.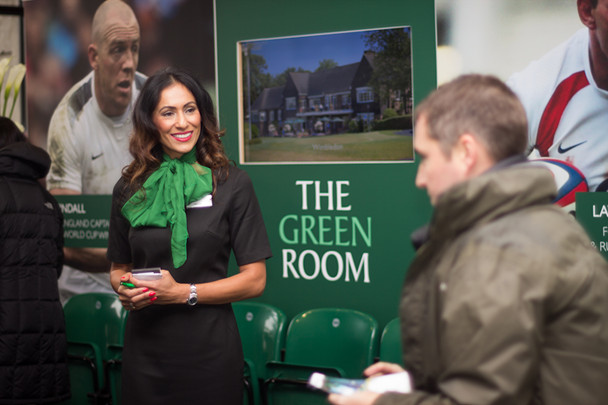 It wouldn't be The Green Room without a Champagne and drinks reception, and that is exactly what Hospitality Finder's guests were treated to upon arrival, before taking to their seats to enjoy the day's entertainment.
A sumptuous four-course meal was served including:
– Cured English ham, tomato mousse, olive soil and heritage tomatoes
– Rack of English lamb, potato puree, roasted young leek, tender stem and cherry puree
– Blackberry vanilla torte, red fruit compote, vanilla cream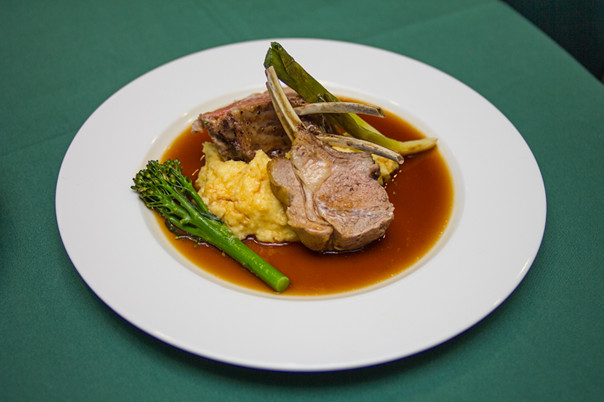 The highlight of The Green Room is certainly the panel of rugby legends in addition to official compere Mark Durden-Smith. First up was a Q&A with the legendary Rugby World Cup winning coach Sir Clive Woodward, who shared his dismay at Aston Merrygold leaving Strictly Come Dancing before addressing the subject at hand – Rugby!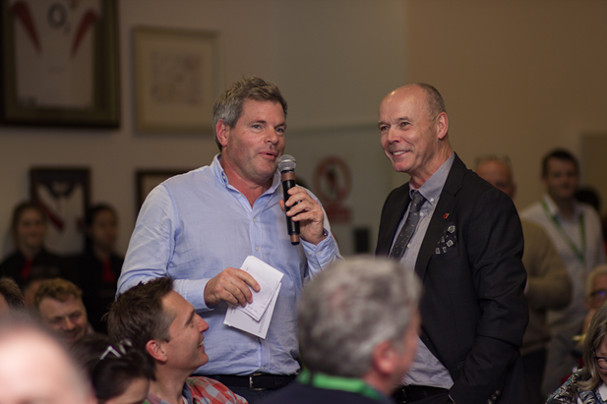 Following this was the panel of Rugby experts David Flatman, Austin Healey and Hospitality Finder ambassadors Lawrence Dallaglio and Mike Tindall. But it is not just rugby legends that are seen in The Green Room, it is also a star-studded place to be with guest appearances at this game including Darren Gough, Andrew Ridgley and Simon Le Bon.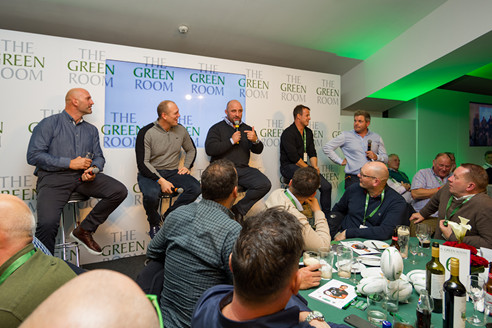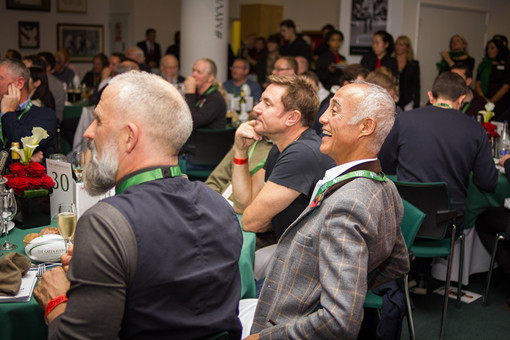 Once lunch had been served, guests made their way down to their official category A match ticket to enjoy the game. Eddie Jones' men were on form and managed to replicate their success the last time these two Rugby giants met in the 2016 Autumns, England came away with a 21- 8 victory.

Back to The Green Room where the experience continued with a post-match Twickenham tea, that consisted of:
– Steak and ale pie
– Spinach, mushroom and ricotta pie
– Roasted beef, caramelised shallot, spinach and Roquefort roasted sandwich
– Bakewell tart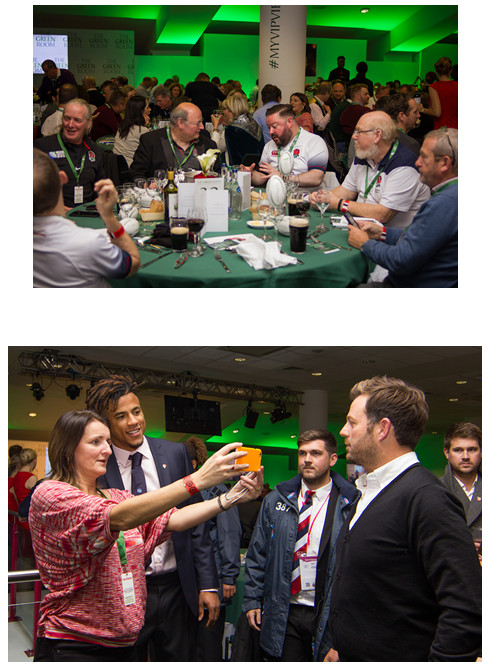 The Green Room panelists were back on stage to give their review of the match and to entertain the audience with more stories from their Rugby days. Following this was special guest and current England player Anthony Watson, fresh from the pitch to give his review of the game. Watson also picked two lucky winners from the prize draw, who won two VIP tickets to the Green Room experience at Cheltenham Festival and England v India at the Kia Oval Green Room.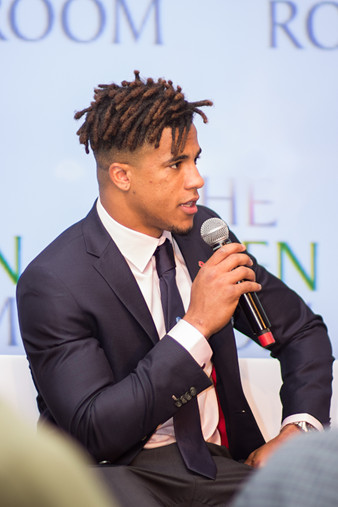 The Green Room 2018 returns to Twickenham for the Six Nations. Hospitality Finder will also be taking it to the Cheltenham Festival with our Cheltenham ambassador Sir AP McCoy and to the Kia Oval for England v Australia and England v India with newly signed ambassadors Kevin Pieterson and Darren Gough. Find out more here.
A Gentleman's Guide to Beard and Moustache Management. www.thehistorypress.co.uk. By Chris Martin.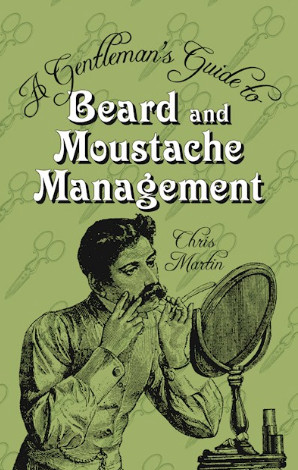 FACEBOOK | TWITTER | PINTEREST
With beards and moustaches more popular than ever, this delightful little book sets out to answer this pressing question. And if a trim is not required, then it will show you how to wax, polish and maintain your face furniture so that it is always in tip-top condition.
Alongside these manly grooming tips is a guide to famous facial-hair aficionados, from Karl Marx to Des Lynam; a breakdown of styles; and a perambulation through hirsute history, including an explanation of why the beard was considered sacred by the ancient Greeks and slovenly by ancient Romans. So whether it's the Handlebar or the Chevron; the Goatee or the Spade – peruse this book for hints and tips of how to handle your facial fuzz.
Available at :- www.amazon.co.uk/Gentlemans-Guide-Beard-Moustache-Management
Chris Martin is the former editor of the publishing industry website Bookends. He is the author of Greenwich Mean Time, Celebrity Tattoos and the Golf Companion, as well as Has Britain Gone Bonkers. He has two children, two cats and has enjoyed an on-off relationship with the Goatee for over twenty years. He lives in London.

Christopher Courtney London Launches The Ultimate In Muscle Ease Therapy Collection. christophercourtney.co.uk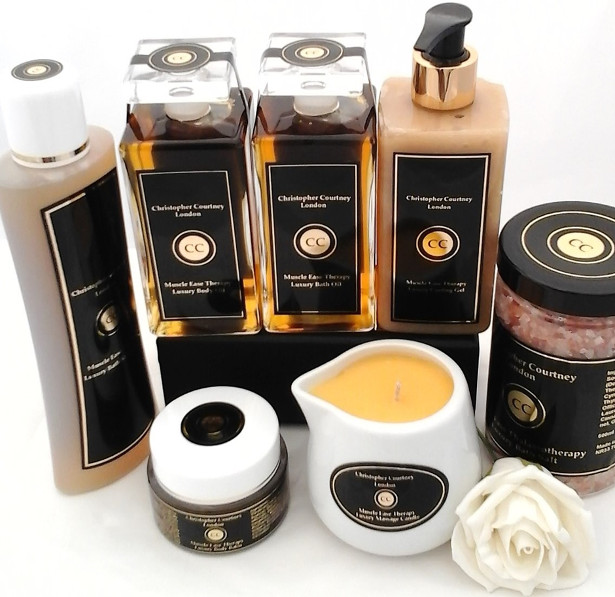 Award-winning luxury skincare brand Christopher Courtney London unveils their exquisite Muscle Ease Therapy range. The collection is developed to counteract the effects of any sporting activities, tight and sore muscles and listlessness. The range is also designed to de-stress, relax, soothe and calm the mind and body and generally improve well-being, circulation and guarantee a deep peaceful sleep when used in the evening – must have products whether you are active or not!
The luxury range harnesses natural and organic minerals, vitamin rich actives and the power of aromatherapy renowned for its therapeutic benefits for result driven products to improve wellness, restore, energise and rejuvenate.
The collection consists of Muscle Ease Therapy – Thalassotherapy Luxury Bath Salt combining pink Himalayan salt, Dead Sea salt, Epson salt, rich butters, organic and pure essential oils for a therapeutic mineral rich bath to ease knotted muscles, aches & pains, improve circulation and revitalised. Muscle Ease Therapy – Luxury Bath Oil. For an enjoyable and deeply relaxing, de-stressing and revitalising bathing experience. Muscle Ease Therapy – Luxury Body Oil. For cashmere soft and satin smooth skin, relief of poor circulation, stiffness and muscular aches. Muscle Ease Therapy – Luxury Bath/Shower Gel, a refreshing pick me up product when you are short on time, also great for the gym bag too. Muscle Ease Therapy – Luxury Cooling Gel, a multifunctional gel which helps to ease aches and pains, bruises and sprains – it can be used anywhere. Muscle Ease Therapy – Luxury Balm. Immediately soothes sore and aching muscles, feeds and nourishes the skin too. Muscle Ease Therapy – Luxury Massage Candle ultimate luxury in spa sport massage therapy for increased blood circulation, for quick muscle recovery, as well as improving wellness and creating a relaxing state. Muscle Ease Therapy – Professional Muscle Ease Therapy- Luxury Massage Gelee. A wonderful product for Sports Therapy, Deep Tissue Remedial and Swedish Massage to help clients relax and unwind, de-stress, soothe, restore and energise.
Priced At £18.95 – £54.95
Available: www.christophercourtney.co.uk.
Twitter: @ccskincareldn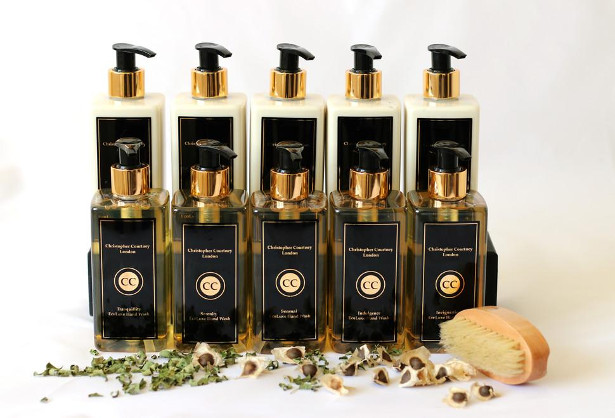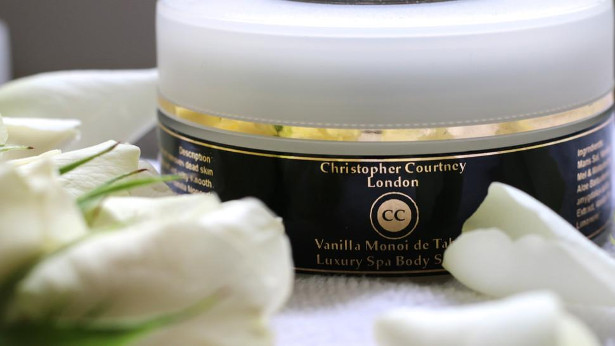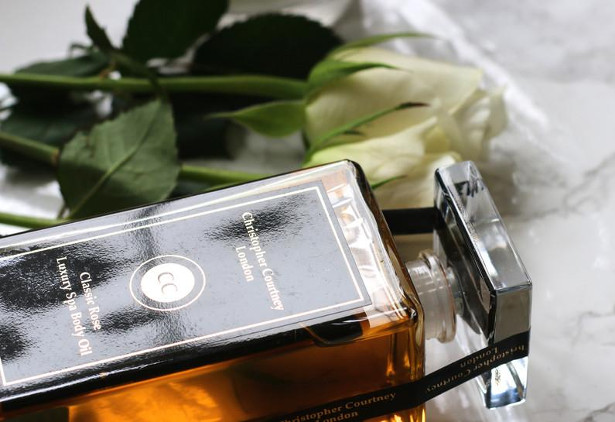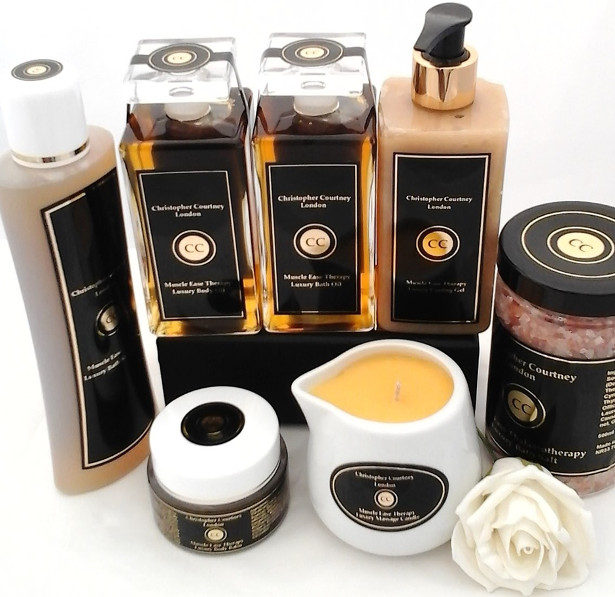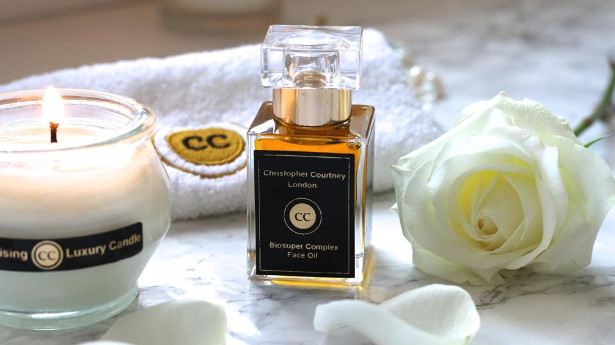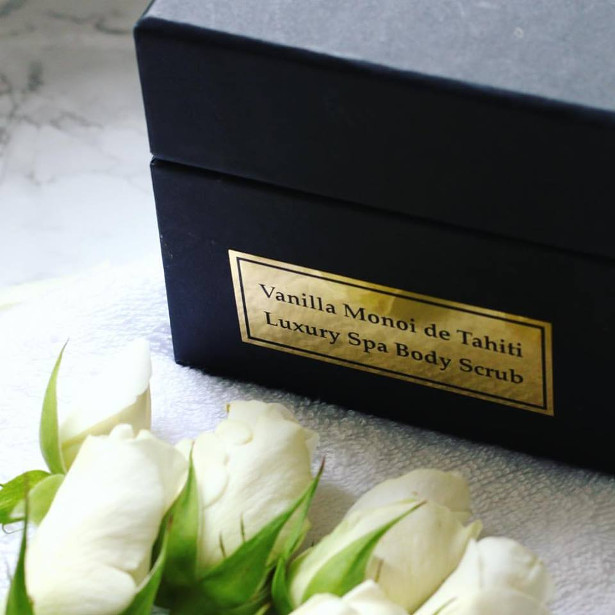 www.ohmme.com  eco-friendly athleisure wear brand incorporating Bluesign® fabrics and Green Defence technology.
FACEBOOK | TWITTER | INSTAGRAM | GOOGLE+ | YOUTUBE
OHMME, which is an eco-friendly athleisure wear brand incorporating Bluesign® fabrics and Green Defence technology to keep the fabrics smelling fresh. With new collections bi-annually OHMME is the anti-thesis to fast throw away fashion. Built conscious
and designed to last.
The Dharma pants are created to allow for restriction free movement, and are perfectly fitted so there will be no sweat patches during your training or yoga practice. This strong polyester jersey is resistant, elastic, and feels great to the touch. And because of the fabric's low level of absorption, sweat simply evaporates. Fast drying and wrinkle resistant, this sweat wicking garment will keep its shape. Available in dark heather grey, light grey, blue and black, this item is a favourite for style and comfort.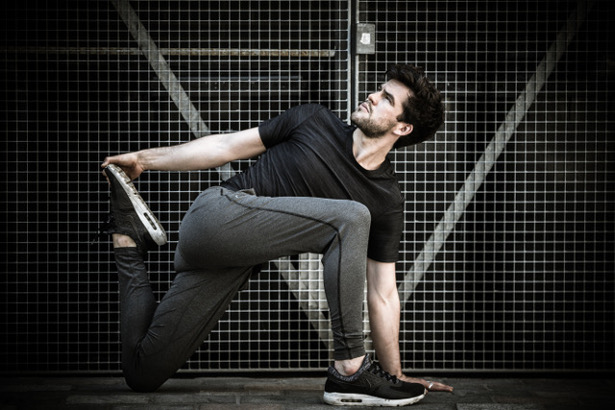 The Denim pants are truly unique to OHMME with an urban look but sportwear fit. Leaving behind the 5-pocket style of jeans using an eco-friendly fabric with a denim look.Its side pockets are large enough for your phone and wallet. Practical, fast-drying, and wrinkle-resistant, these pants will not lose their shape!
The Namoustache pants are acroyoga streetwear, designed in collaboration with Daniel Scott who is an an acroyoga teacher. The 3/4 length covers more than regular shorts, these elegant yet playful pants come with an embroided back pocket perfect for your moustache wax strips, keys or any essential small items!
The Zhú boxers are not just another pair of underwear. Tight fitting, adapted for workouts and yoga, these brief's horizontal fly is an original, more hygienic and aesthetic alternative to the traditional vertical opening.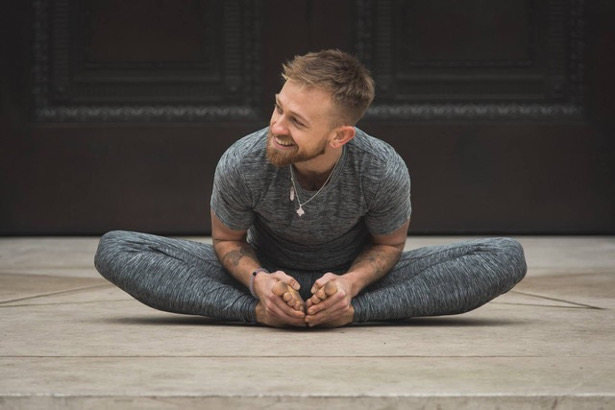 Try it, you'll never go back to the old style! We choose bamboo fibre because it is extremely soft and breathes well. Its moisture wicking and moisture absorption properties are even more efficient than those of regular cotton or microfibre. Because of its sustainable manufacturing, bamboo fibre is a better alternative to conventionally grown cotton. The bamboo keeps you cool, and by choosing this model you are mindful of the environment.
Bamboo also has a unique antimicrobial bio-agent found naturally in the fibre which makes your shorts antibacterial and odour resistant.
Zhù Boxer Shorts
 See more at :- www.ohmme.com/shorts/zhu-boxer?utm_source=intouchrugby&utm_medium=referral&utm_content=intouchrugby&utm_campaign=intouchrugby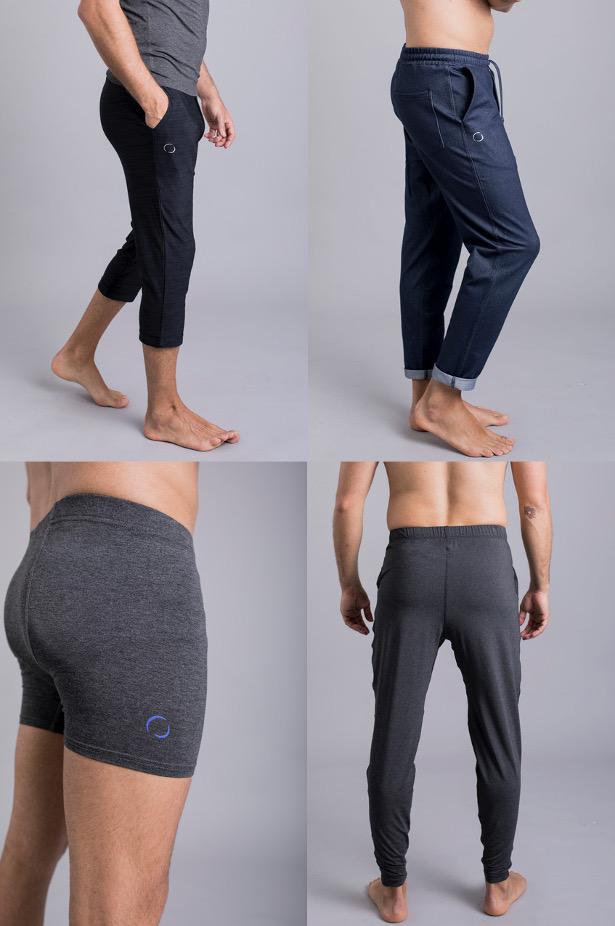 Dharma Graphite
 See more at :- www.ohmme.com/pants/dharma-graphite?utm_source=intouchrugby&utm_medium=referral&utm_content=intouchrgby&utm_campaign=intouchrugby
Denim Yoga Pants
 See more at :- www.ohmme.com/pants/denim-pants?utm_source=intouchrugby&utm_medium=referral&utm_content=intouchrgby&utm_campaign=intouchrugby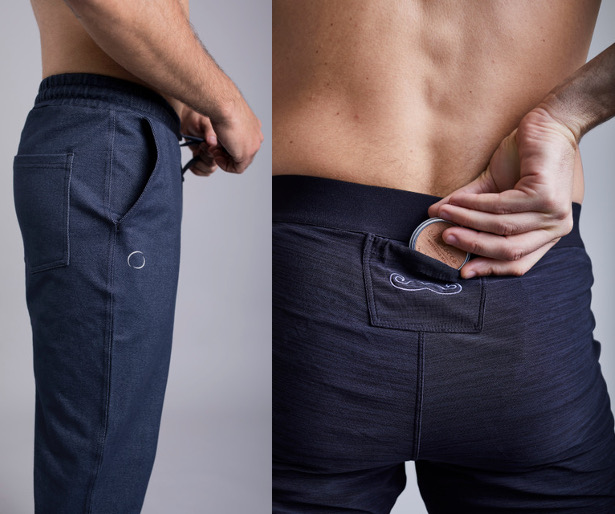 Namoustache
 See more at :- www.ohmme.com/pants/namoustache?utm_source=intouchrugby&utm_medium=referral&utm_content=intouchrgby&utm_campaign=intouchrugby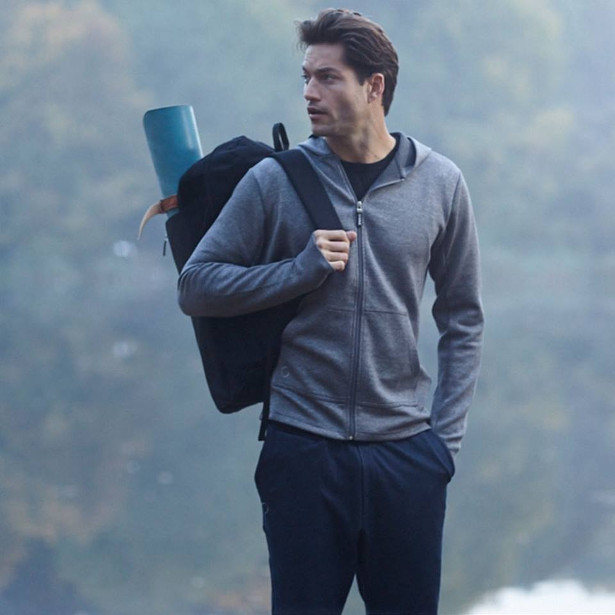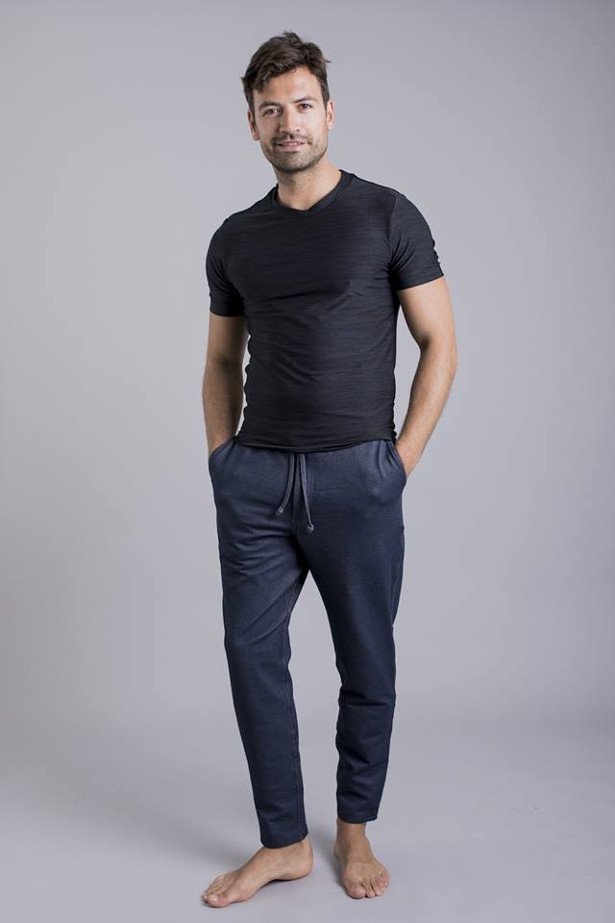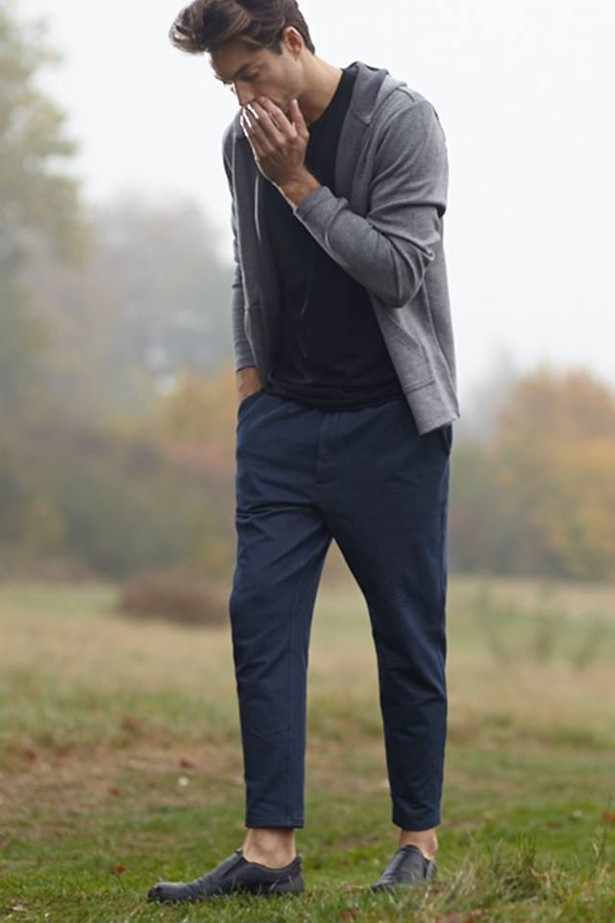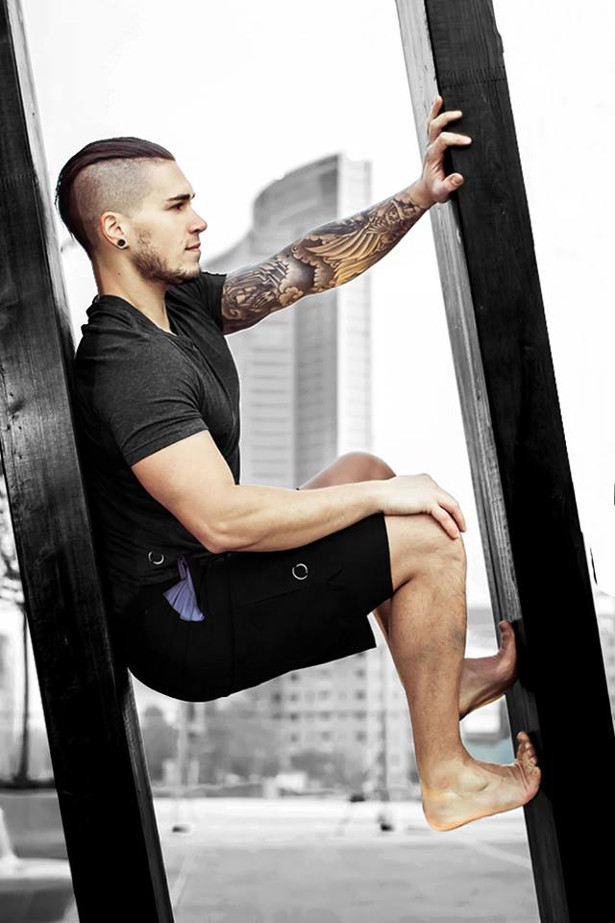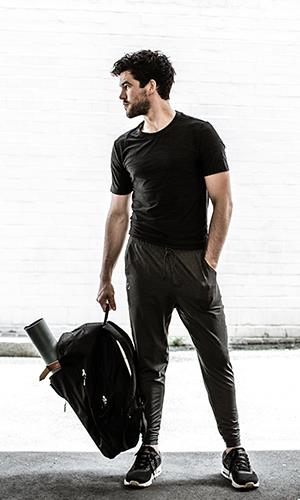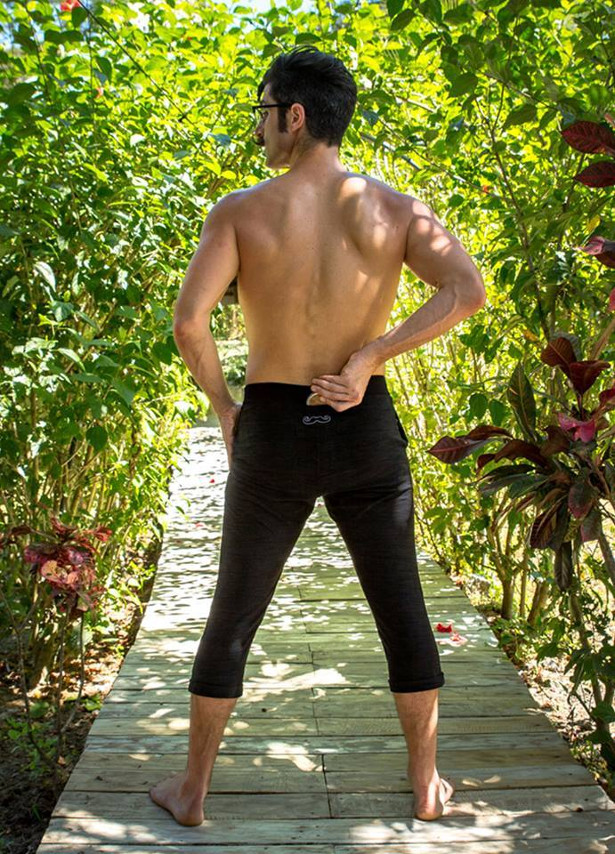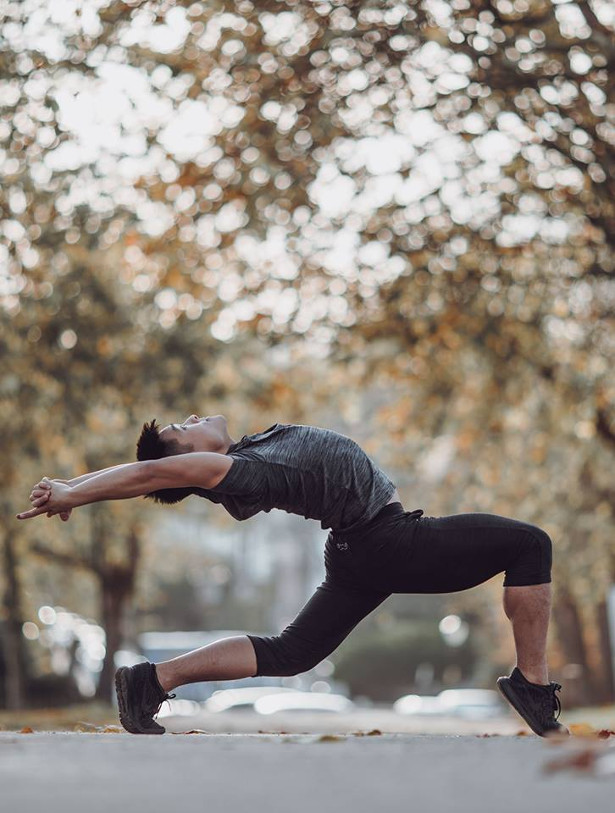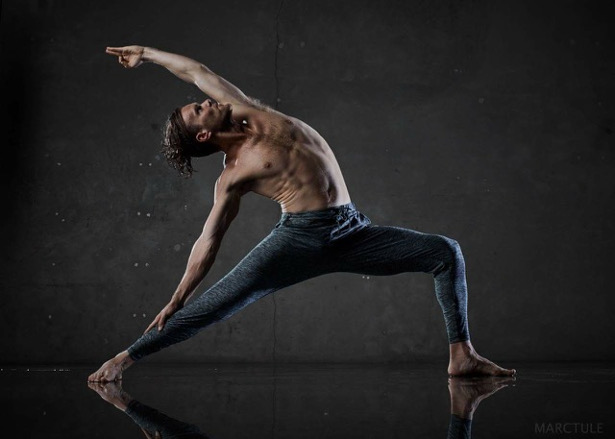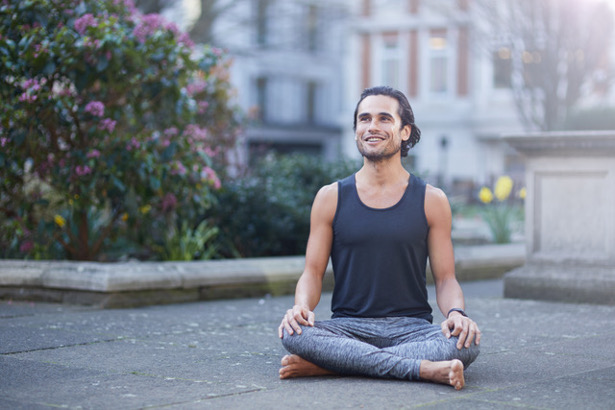 Demijohn, the liquid deli
New Christmassy Treats for the Festive Season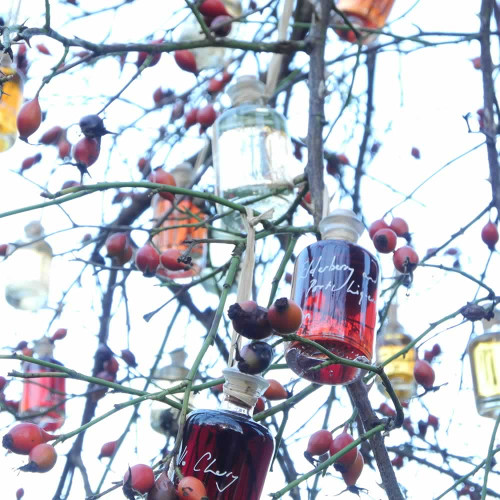 TWITTER | FACEBOOK | INSTAGRAM | YOUTUBE | GOOGLE+
Are you Gin Bore-beld? Demijohn has the solution…
Fun Christmas Decorations
We have made it much easier to purchase sets of our charming miniature 40ml Apotheker bottles online. They are now available in a set of 6, set of 12 or a set of 24 with one simple click of the mouse. We have had great fun using the sets as stocking fillers, for decorating our Christmas tree, wreath or table centre pieces. Please feel free to share photos of your inspired creations with us via social media or email, we would love that!
Click to buy your Christmas miniature bottle set
Are you Gin Bore-beld? Demijohn has the solution….
Competition Time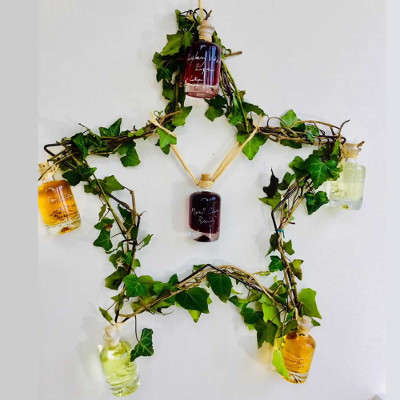 If you have yet to enter our competition for a Ball of Sloe Gin there is still time. Thankyou to all those who have entered so far and good luck!
Click to buy your Christmas miniature bottle set
 Echomaster! Rear Parking Sensor Kit with LED display & Warning Buzzer!  www.echomaster.com
FACEBOOK | TWITTER | GOOGLE+ | INSTAGRAM | YOUTUBE
For EchoMaster, we protect your precious cargo. Backup cameras, blindspot detection, dash cams, monitors and even seat heaters. Attaching the deck for your reference. Please let me know if you'd like to review any samples.
Give yourself a helping hand while parking, this eight sensor kit reduces risk and simplifies parking with an audible and visual alert when objects are detected.
Key Features:
-Detection Range: 1.5 m/4.9 ft
-Plastic bumper friendly
-Paintable sensors for perfect factory match
-IP65 waterproof rating
-Operating temp: -30°C to 70°C
BluJax! NO MORE AUX CORDS! BLUETOOTH ADAPTER TO STREAM YOUR SMARTPHONE'S MUSIC THROUGH YOUR CAR'S SPEAKERS
A blutooth adapter plays music from any smartphone, music player or tablet through your auxiliary input.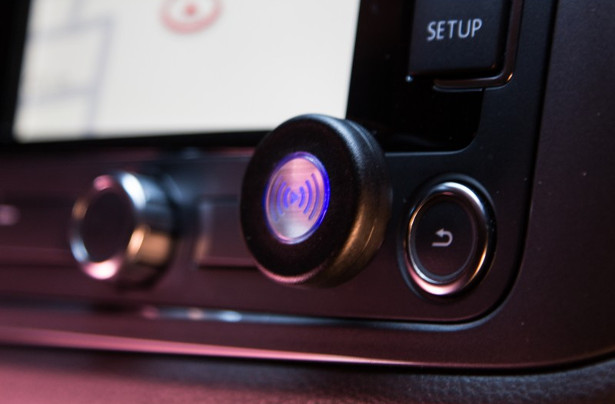 FACEBOOK | YOUTUBE | TWITTER | INSTAGRAM
NO MORE AUX CORDS! BLUETOOTH ADAPTER TO STREAM YOUR SMARTPHONE'S MUSIC THROUGH YOUR CAR'S SPEAKERS
No more AUX cords! Small Bluetooth adapter dongle to auto stream your smartphone's music through your vehicle's speakers hands free.
Tired of juggling ugly, unwieldy cables and wires just to stream music from your smartphone?
Driving without any music is incredibly boring, but what are you supposed to do? Most older cars don't come equipped to sync with your smartphone via Bluetooth dongle. In fact, your car might predate smartphones entirely.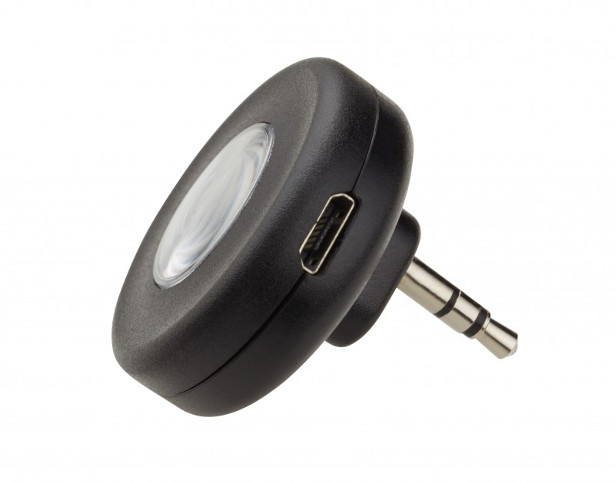 At iSimple, we believe that less is more. After all, "simple" is in our name. That's why we've done away with cable connections with BluJax, a new way to stream music from your phone. Don't let its space-saving design fool you — it's a powerful device that ensures awesome audio quality.
BluJax is a Bluetooth adapter that plugs into any standard AUX jack. This compact little device packs a powerful punch. Just plug into your AUX port, and sync it with your phone's Bluetooth. It takes less than sixty seconds. Now, you can enjoy music streaming from Spotify, Pandora, Google Play, Youtube Red, iTunes, or whatever else you're using.
With a battery life of about eight hours, BluJax can go all day before you'll actually need to charge it. When it does need to charge, you can use the included charger in any USB port. Not only is it great for listening to music in car, but it doubles as a way to stream music from you phone through any stereo system with an AUX input.
Key Features
Compatible with any standard 3.5mm AUX input (in your car) and any phone with Bluetooth
Wireless music streaming
Control your music's playback wirelessly
Pair once, and you're good to go
8 hour battery life
Includes charger for any USB outlet
Works in the car and at home
See more at :- isimple.com/catalog/listen-to-music
iSimple is the brand with multiple solutions to get any smartphone connected to any vehicle, no matter what limitations your older vehicle has.
Our brand iSimple is all about connecting your phone to your car. We have multiple solutions to get any smartphone connected to any vehicle, no matter what limitations your older vehicle has. Any car can have music stream, voice recognition, hands-free calling and texting.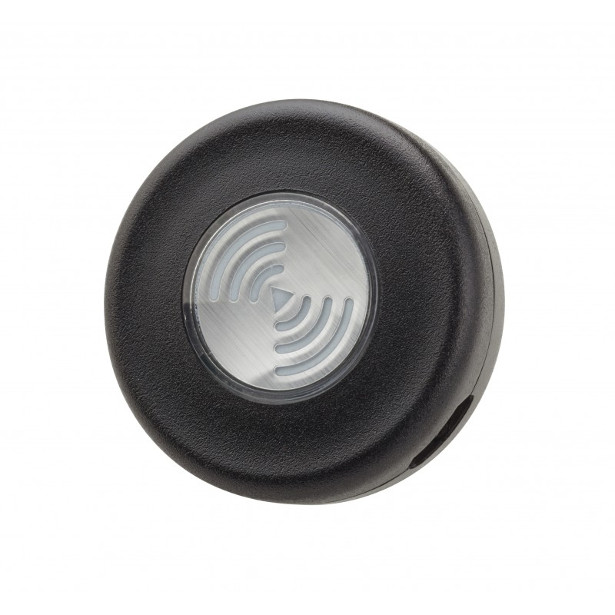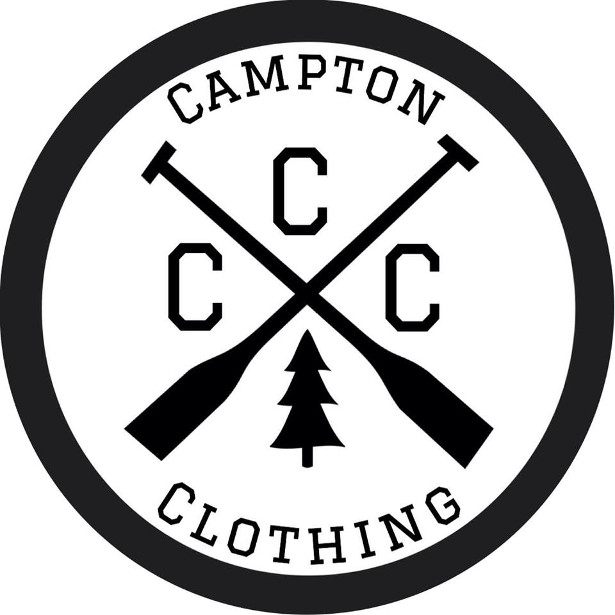 Made in Canada, USA & UK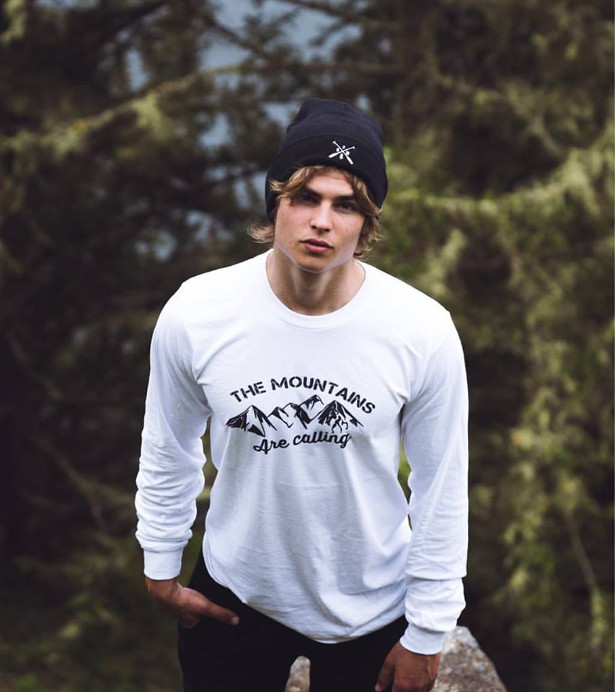 FACEBOOK | TWITTER | INSTAGRAM
"We love making cool and comfortable clothing for all your adventures. We have something for the whole family and we promise you'll love it for years to come. Our styles and designs are inspired by the great outdoors and nature! We donate 10% of all profits to the Wildlife Conservation Network. Check us out, we'd love to become your next favourite online store. We manufacture out of Canada and the USA."
Best wishes, Campton Clothing.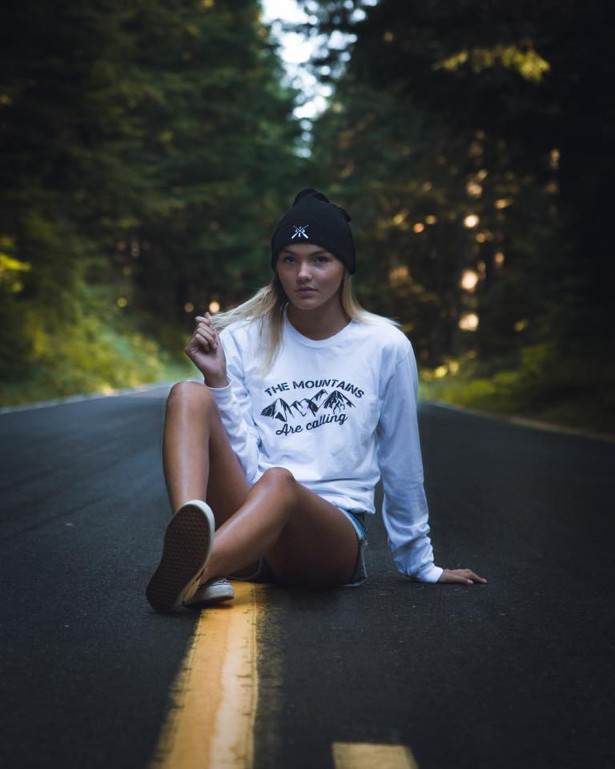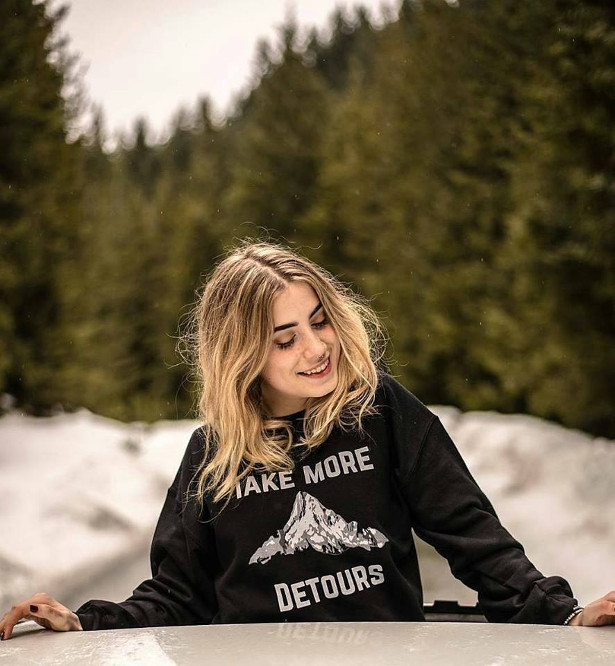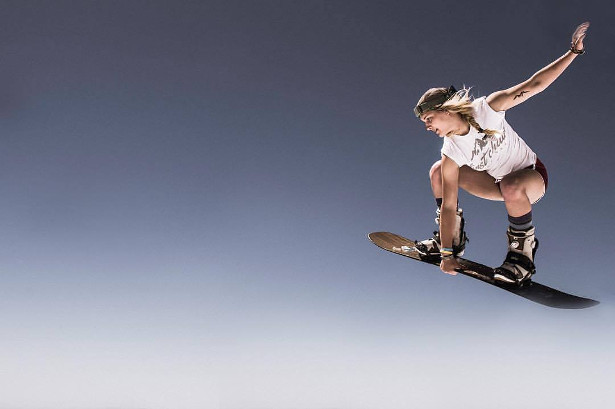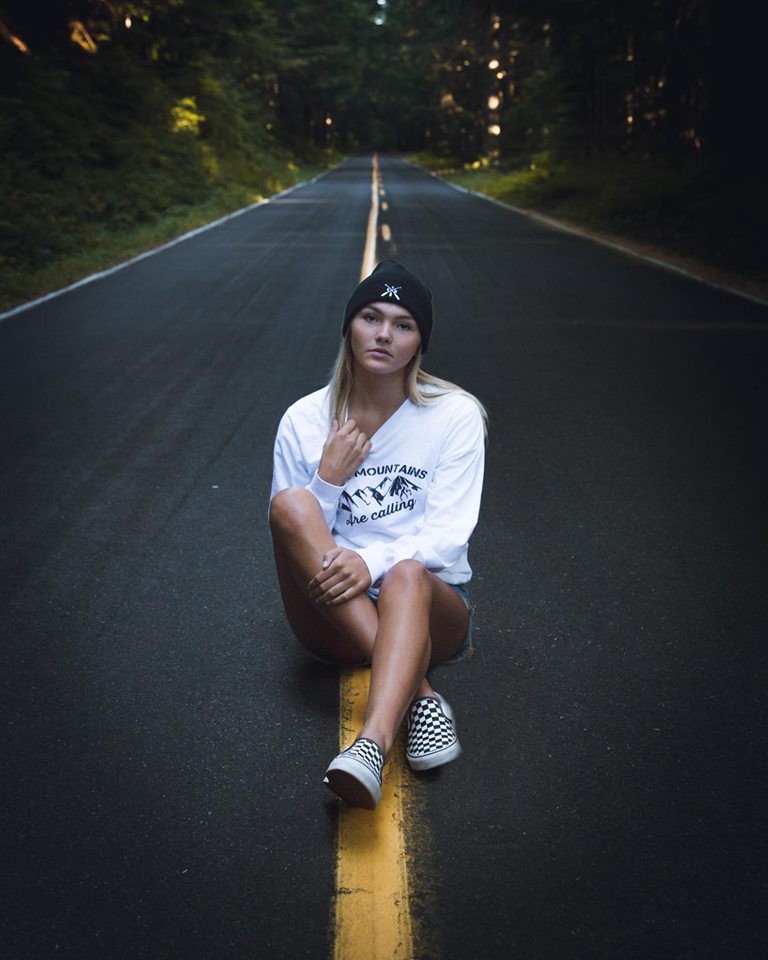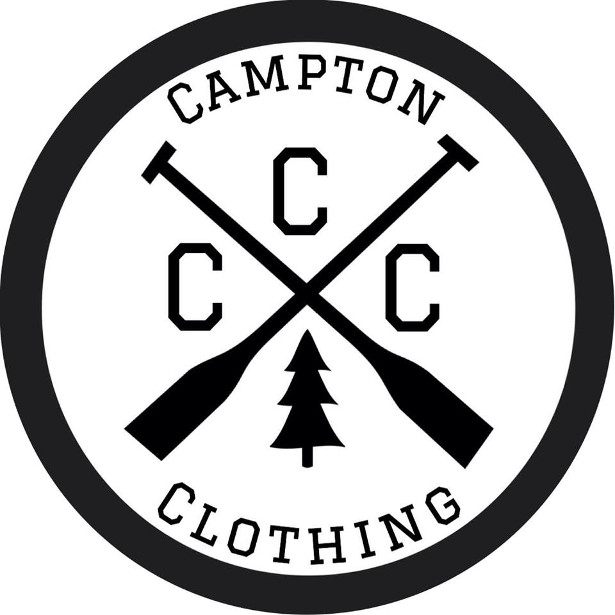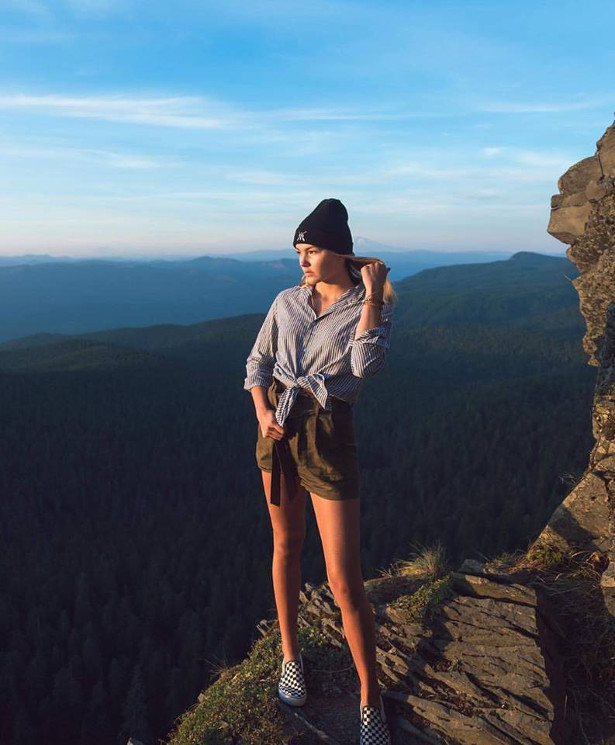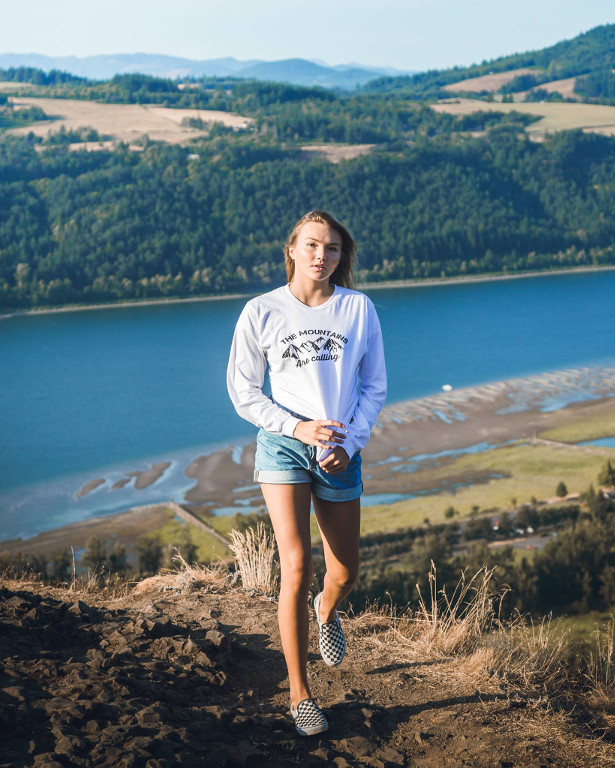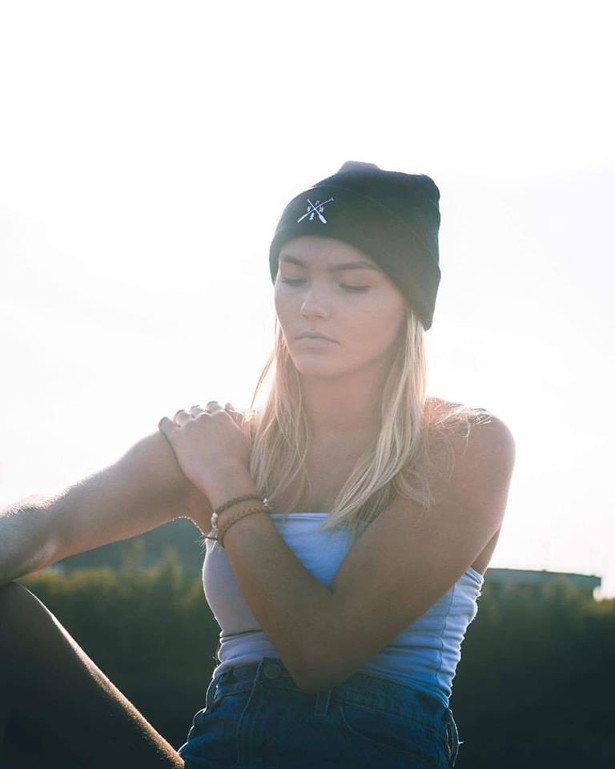 Melissa Allen Mood Essentials. Unisex Fragrances, designed with purpose.  www.mamessentials.com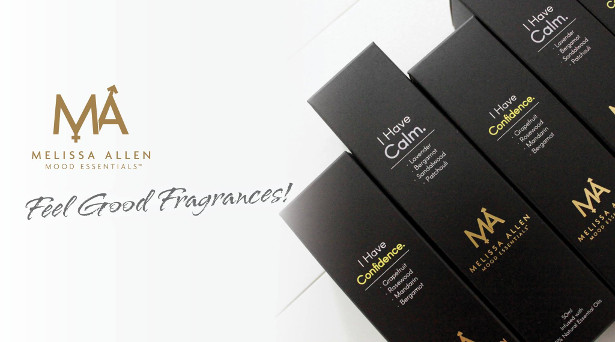 FACEBOOK | INSTAGRAM
A different approach to fragrances, Melissa Allen Mood Essentials are a range of unisex fragrances designed with purpose. Infused with 100% Natural Essential oils, designed to make you smell great and help you feel joy and support no matter what you do.
Melissa Allen Mood Essentials not only smell great but they help soothe the mind and body, helping you become the best version yourself!
Infused with 100% Natural Essential Oils, Melissa Allen Mood Essentials™ are uplifting unisex fragrances to add to your collection of perfumes and colognes to use throughout the day to help keep you smelling great and feeling great!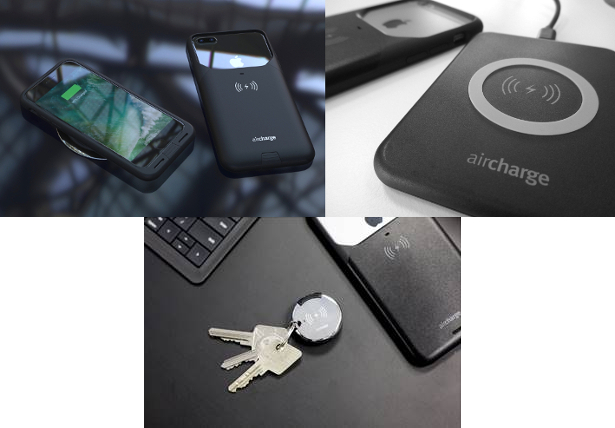 FACEBOOK | TWITTER | PINTEREST | YOUTUBE | INSTAGRAM | FLICKR
Aircharge, the world's leading company for wireless charging solutions has unveiled its brand new range of Christmas stocking fillers. The sleek selection of accessory products, priced from £24.99 to £85.99, lets users charge any mobile device whether at home or on the go at nearly 5,000 public wireless charging locations, without having to rely on cables or access to power outlets. Aircharge is the only brand with "Made for iPhone" certification across a full range of wireless charging cases for iPhone models. Whether it's the new iPhone, or the latest Bluetooth headphones, make sure your gadgets are ready when you are. All products are available from Amazon.co.uk and, select products from John Lewis.
AIRCHARGE STOCKING FILLERS FOR 2017
AIRCHARGE iPhone 7/7PLUS WIRELESS CHARGING CASE
Overview: Aircharge is the only brand in the world to offer a full range of "Made for iPhone" (MFi) certified wireless charging cases for 5/5s/SE/5/6S, 6 Plus/6s Plus and 7/7Plus. The slim and lightweight cases allows users to wireless charge any iPhone with any Qi wireless charger worldwide, and the retractable connector provides easy access to the Lightning port.
Colour: Black
Price: iPhone 7/7 Plus: £44.99. iPhone 5/5s/SE/6/6S, 6 Plus/6s Plus, £40.00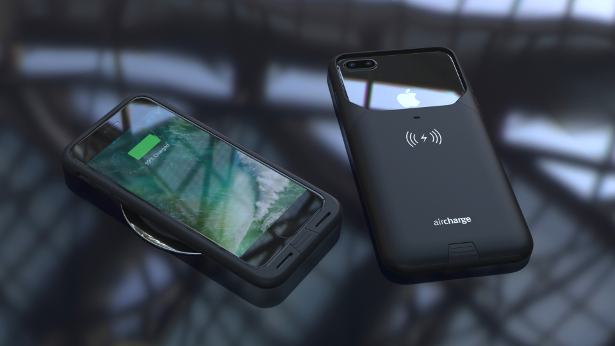 AIRCHARGE SLIMLINE WIRELESS CHARGER
Overview: The Slimline Wireless Charger is designed with practicality and simplicity in mind. Weighing only 45g, it enables users to charge any mobile device wherever they are.
Colours: White, Black
Price: £24.99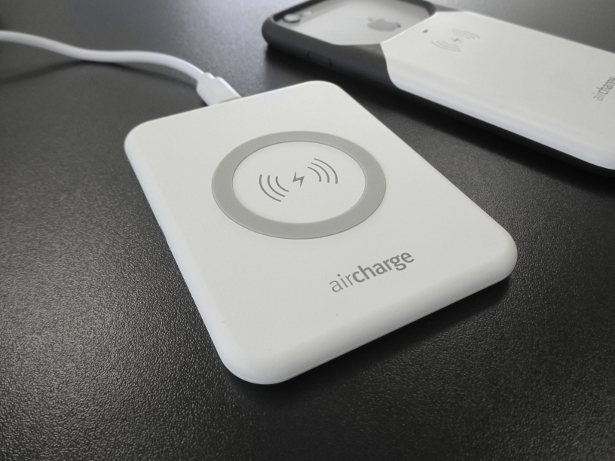 AIRCHARGE WIRELESS CHARGING KEYRING
Overview: Crafted with premium materials, the Wireless Charging Keyring features both a Micro USB and MFi Lightning Connector, enabling iOS and Android users alike to wirelessly charge their favourite portable tech gadgets and accessories on the go. It is compatible with any Qi wireless-enabled charger, which can be found in locations such as McDonalds and Starbucks. The free Aircharge locator app maps nearly 5,000 public Qi wireless charging locations worldwide so you're never caught short.
Colours: Black nylon (£29.99), Silver aluminium (£40)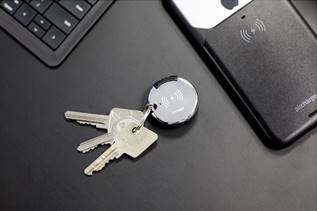 AIRCHARGE EXECUTIVE WIRELESS CHARGER
Overview: Available in three different styles, the Executive Wireless Charger has a unique and contemporary look to suit the modern home or office. Crafted with premium materials, the durable device enables users to wirelessly charge all Qi compatible devices, from mobile phones to Bluetooth headphones and Aircharge accessories, wherever they are.
Colours: Black nylon (£74.99), Ebony veneer (£85.99), Grey leather (£85.99)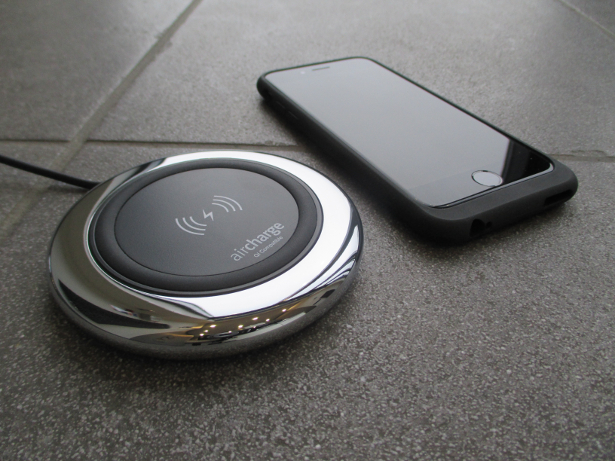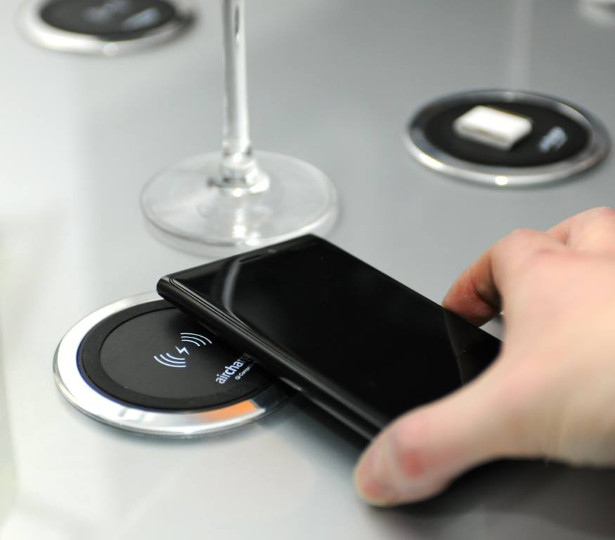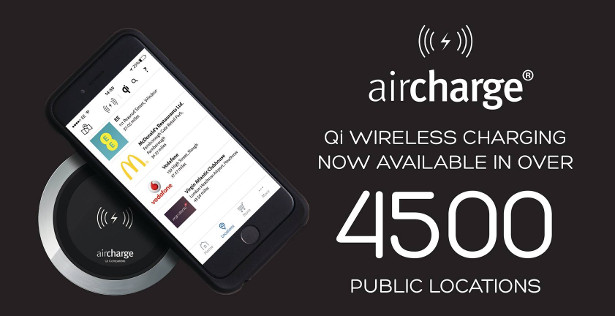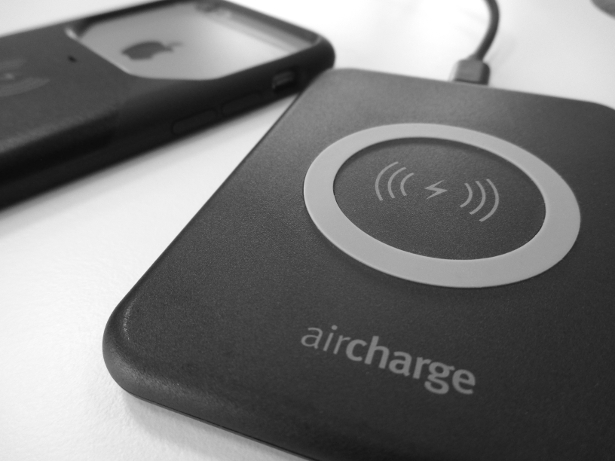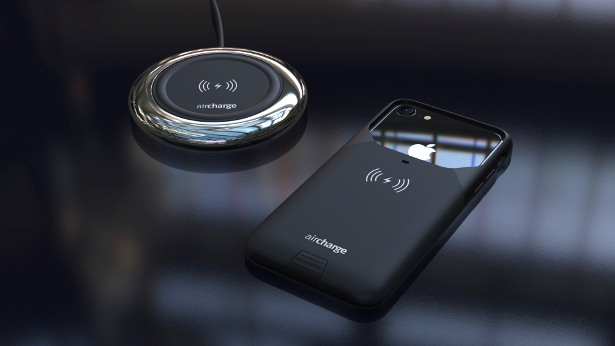 Fastcut Plus Edition Create action
videos in just 60 seconds!
www.magix.com/gb/fastcut-plus-edition

FACEBOOK | TWITTER | MAGIX MAGAZINE | SOUNDCLOUD
Celebrate adventure: Turn your breathtaking experiences into exciting video clips with music. It's that easy! Select recordings, apply template, and Fastcut does the rest.
Includes 60 Plus Soundtracks Trim & rotate recordings Export in SD, HD, Full HD, UHD Image stabilization Set clip highlights Create your own templates Advanced editing functions
NEW FEATURES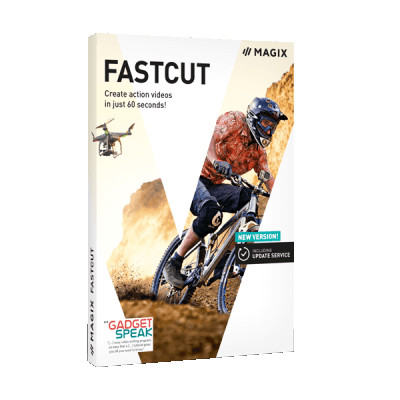 FASTCUT – NOW AVAILABLE FOR FREE You want freedom in all of life's situations – so why not video editing? Access full flexibility when editing your videos and recordings with Fastcut, now available for free.
SIMPLIFIED USER INTERFACE With its simplified user interface, Fastcut is geared towards users who want to create a video as quickly and easily as possible, but have no previous experience. In no time at all, transform your experiences – from action-packed to beautiful – into a perfectly edited video.
FASTCUT PLUS EDITION OR HIGHER
Set clip highlights Decide exactly which favorite moments in your videos you'd like to see in the finished movie.
Simply set highlight markers and Fastcut will perfectly integrate them into the selected template.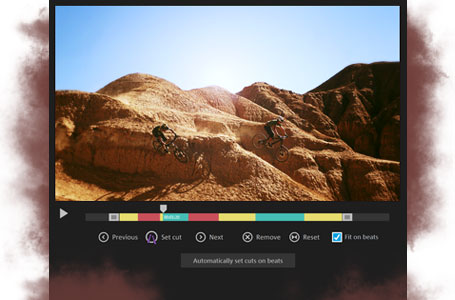 Decide clip order You no longer have to make sure your clip selection is made in the final order. You can change it after the fact by simply drag-and-dropping.
Automatic beat recognition No need to set cuts in your own templates by hand – Fastcut does this for you with automatic beat recognition! Edit your templates Would you like even faster cuts and more lens flare? No problem: Edit your templates as often as you like without losing the settings. Save clip adjustments Now, all changes to individual clips such are cut markers and highlights are automatically saved as a preset for later projects. Edit audio Would you like to use only a section of your song in a template? Simply trim it to the perfect length. Import & export templates Export your own templates from the program. Afterwards, you can import it to any PC with Fastcut.
Smart Preview Thanks to a technical innovation in proxy generation, you'll benefit from smooth previews without any delays. This way you can directly see which template fits your recordings best. 10 new editing templates With 10 new editing templates, the automatic template selection is now expanded to a total of 60. There's something for everyone, guaranteed. Arctic Dubstep Wait for it: Slow start with an ultimate twist.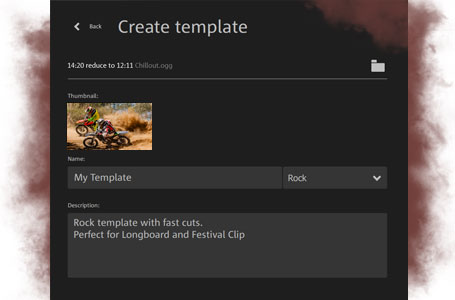 Delicious new recipes from California Walnuts for every meal!
FACEBOOK | TWITTER | INSTAGRAM | PINTEREST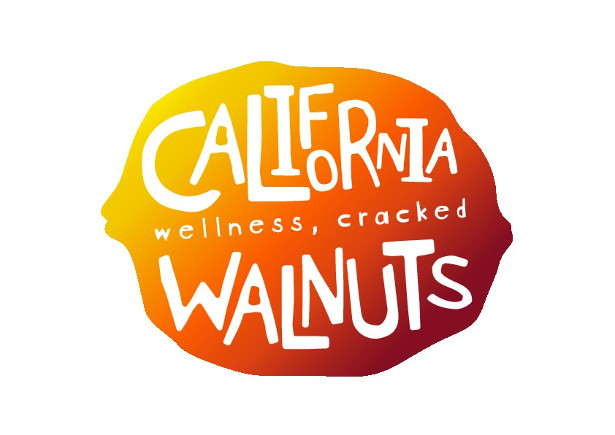 California Walnuts brings to you some delicious new recipes for every meal. There are some lovely breakfast options, such as the Mango, Walnut and Turmeric Smoothie Bowl, Walnut, Fig and Berry Chia Pot, California Walnut and Date Yoghurt Toast and the Spinach Ham and Walnut Cloud Eggs.
Lunch-wise, try the Walnut Falafel Buddha Bowl, Goats' Cheese, Griddled Cherry and Gremolata Toasts and the Cauli-Rice and Egg Buddha Bowl.
And then for main meal ideas which are the perfect mid-week dinners during the winter months – the Pomegranate Glazed Chicken with Walnut Couscous, Plaice Goujons with a Walnut Crust (seen below) and the Souk Spiced Aubergines with Walnuts Pomegranate and Tahini Yoghurt, all below!
Plaice Goujons with a California Walnut Crust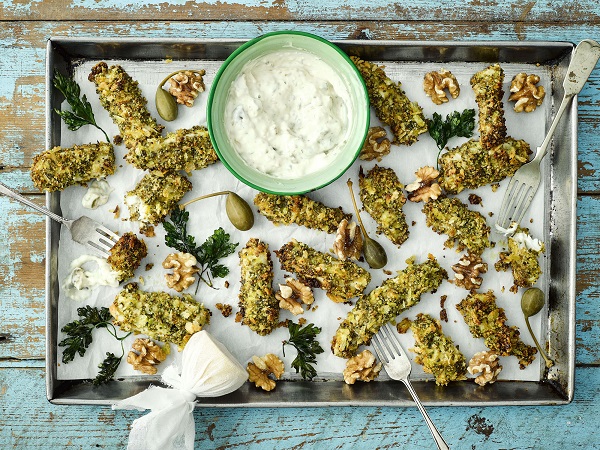 Fish fingers like you've never seen them before… With a crunchy walnut and panko crumb and a hint of Dijon, these goujons will go down a treat. Serve on a platter to share with a good dollop of tartar sauce.
Preparation time: 45 mins
Serves: 4
You'll need:
90g California walnuts, toasted
Small bunch of parsley
Zest of 1 lemon
40g panko bread crumbs
A pinch of salt and pepper
4 tbsp mayonnaise
2 tsp Dijon mustard
Half a tbsp water
300g plaice, skinned and cut into fingers
2 tbsp sunflower oil
Tartar sauce, to serve
Method
Preheat the oven to 180°C.
Place the walnuts, parsley and lemon zest into a food processor and blitz to a fine crumb. Mix with the panko bread crumbs and salt and pepper, and place on a dinner plate.
Mix together the mayonnaise and Dijon, then loosen with the water to form a good dipping consistency.
Dip the plaice fingers into the mayonnaise mix and then roll in the bread crumbs to coat.
Place on a flat baking tray lined with parchment and brush with a little sunflower oil. Drizzle the goujons with a little oil and place in the oven for 15- 20 minutes (or until cooked through and crispy on the outside).
Serve with tartar sauce and a lemon wedge.
Pomegranate Glazed Chicken with California Walnut and Pomegranate Couscous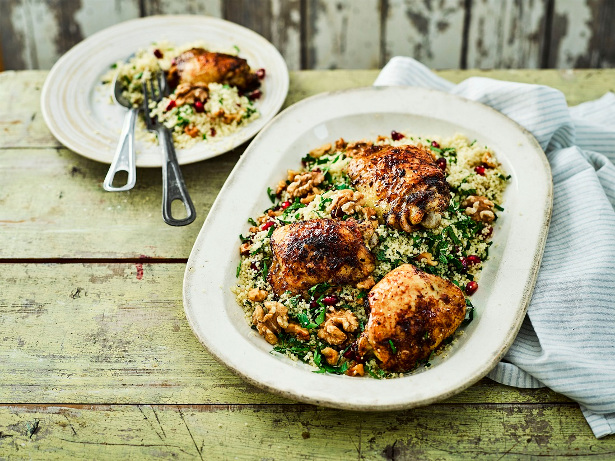 This sticky pomegranate and sumac glazed chicken, served with our nutty, herby, jewel-studded couscous, is a sure-fire winner at BBQs. Move over burgers and hot dogs!
Preparation time: 1 hour 20 mins
Serves: 2
You'll need:
For the chicken:
1 large clove of garlic, minced
1 tbsp sumac
1 tbsp olive oil
A pinch of salt and pepper
4 chicken thighs, bone in and skin on
60ml pomegranate molasses
For the couscous:
160g couscous
30ml extra virgin olive oil
20ml lemon juice
10ml pomegranate molasses
Seeds from half a pomegranate
Small bunch of flat leaf parsley, roughly chopped
Small bunch of mint, roughly chopped
80g California walnuts, toasted and roughly chopped
Method
Mix together the garlic, sumac and olive oil, season with the salt and pepper and massage into the chicken thighs. Leave to marinate for at least 1 hour.
Once marinated, place the chicken thighs on a barbeque over medium hot coals.
After 10 minutes brush the chicken with the pomegranate molasses – continue cooking until sticky and glazed on the outside and cooked right through on the inside. (If you're unsure you can pierce the chicken with a skewer – if the juices are pink keep cooking the chicken until they run clear).
Cook the couscous as per the packet instructions. Meanwhile, whisk together the extra virgin olive oil, lemon juice and pomegranate molasses.
Mix into the couscous along with the pomegranate seeds, fresh herbs and walnuts. Serve alongside the chicken.
Souk Spiced Aubergines with California Walnuts, Pomegranate and Tahini Yoghurt
Bringing together warming spices, the creamy nuttiness of California walnuts, and powerful flavour of tahini, this mouth-watering dish perfectly showcases the flavours of aubergine and pomegranate. Perfect for a side or veggie main.
Preparation time: 40 mins
Serves: 4
You'll need:
2 tsp lightly toasted cumin seeds
1 tsp cinnamon
2 tsp ground coriander
1 tsp garlic granules
1 tsp paprika
1 tsp turmeric
3 aubergines, cut into wedges
Olive oil
A pinch of salt and pepper
6 tbsp yoghurt
2 tbsp tahini
A squeeze of lemon
2 tbsp pomegranate molasses
Seeds of half a pomegranate
60g California walnuts, toasted and roughly chopped
Small bunch flat leaf parsley, roughly chopped
Metho
Preheat the oven to 200°
Mix all the spices together and put to one side. Brush the sliced aubergine with olive oil, place on a baking tray and sprinkle over the spices. Season with salt and pepper.
Place in the oven for 25-30 minutes, turning over halfway, until tinged golden brown around the edges.
Mix the yoghurt with the tahini adding a squeeze of lemon, then dilute with a splash of water to create a good drizzling consistency.
Drizzle the aubergines with the tahini yoghurt and pomegranate molasses. Sprinkle over the pomegranate seeds, chopped walnuts and flat leaf parsley to serve.
Spinach, Ham and California Walnut Sunshine Cloud Eggs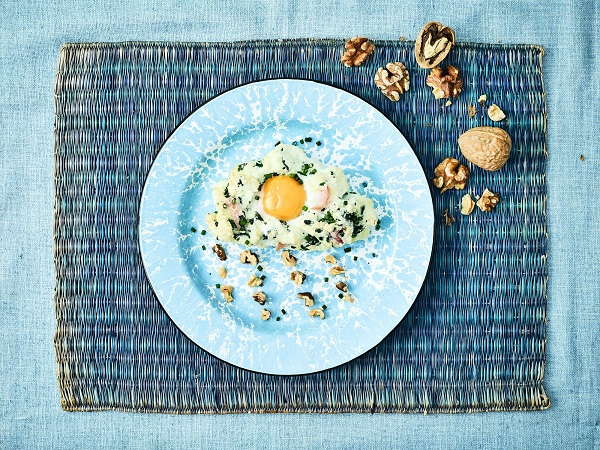 This beautiful breakfast brings a whole new meaning to 'sunny side up'. Bursting with flavour, a source of protein and oh-so Instagram-worthy, nothing will brighten up your morning quite like these cute cloud eggs with a nutty twist.
Preparation time: 25 mins
Serves: 2
You'll need:
100g spinach
4 eggs
1 slice smoked ham, roughly chopped
30g California walnuts, toasted and chopped
1 tbsp finely chopped chives
Method
Preheat the oven to 200°
Wash the spinach, then wilt down in a saucepan (no need to add any extra water).
Plunge the wilted spinach into cold water and drain through a colander. Squeeze out as much water as possible with your hands, scrunching the leaves up into a ball. Slice finely and put to one side.
Separate the eggs, placing the yolks into a small bowl and the white into a large mixing bowl. Whisk the whites until you have stiff peaks, then fold in the spinach and ham.
Line a baking tray with parchment and spoon the white mixture onto the tray to form four cloud shapes. Using a teaspoon make a small indentation in each, then carefully place one yolk into each cloud.
Place into the oven and bake for 5-7 minutes, or until the white is tinged golden but the yolk is still runny.
Sprinkle with walnuts and chives to serve.
Tropical Mango, California Walnut and Turmeric Smoothie Bowl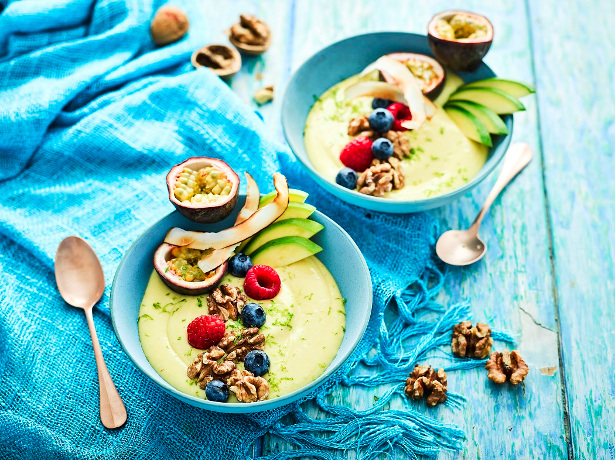 This tropical breakfast treat is sunshine in a bowl! Refreshing mango, creamy coconut milk, crunchy walnuts and fresh berries make for a fruity combo that's almost too pretty to eat…
Preparation time: 10 mins
Serves: 1
You'll need:
Flesh from half a mango (reserving a few slices to garnish)
1 small piece of fresh turmeric
Half a banana
200ml coconut milk
Squeeze of lime juice (plus a little zest to garnish)
8 California walnut halves
A handful of raspberries and blueberries
1 passion fruit
1 tbsp of coconut flakes
Method
Place the mango, turmeric, banana and coconut milk into a blender and blitz until smooth. Add lime juice to taste and blend again until combined.
Pour the smoothie into a bowl and garnish with the reserved mango, berries, walnuts, passion fruit, lime zest and coconut flakes.
Goats' Cheese, Griddled Cherry and Gremolata Toast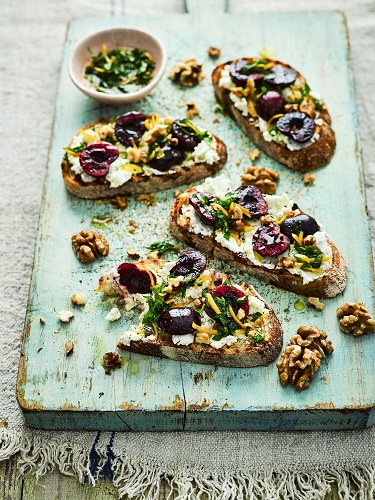 With the tang of goats' cheese, the sweetness of cherries, and the smooth creaminess of California walnuts, get your gremolata on and upgrade your toast! Ideal for an easy starter, or a fancy lunch.
Preparation time: 15 mins
Serves: 4
You'll need:
Small bunch flat leaf parsley, roughly chopped
Zest of 1 orange
1 small clove of garlic, minced
2 tbsp extra virgin olive oil
A pinch of salt and pepper
100g cherries, cut in half and destoned
8 slices of sourdough bread
120g soft goats' cheese
60g California walnuts, toasted and roughly chopped
Method
To make the gremolata, mix together the parsley, orange zest, garlic and extra virgin olive oil, and season to taste.
Heat a griddle pan until searing hot, then place the cherries in cut side down. Sear for 2 minutes.
Lightly toast the bread until golden brown and spread each slice with the goats' cheese. Top each toast with the cherries and gremolata and finish with a sprinkle of walnuts to serve.
California Walnut and Date Yoghurt Toast
Perfect for breakfast, lunch or dinner, this easy to prepare dish contains the natural sweetness of dates, peppery rocket, and that California nuttiness – toast just got gourmet!
Preparation time: 5 mins
Serves: 2
You'll need:
4 tbsp Greek yoghurt
3 dates, roughly chopped
8 California walnut halves, roughly chopped
Half a clove of garlic, minced
1 tbsp walnut oil
A pinch of salt and pepper
2 large slices of bread, toasted
2 tbsp pomegranate seeds
A handful of rocket
Method
Stir the yoghurt and place in a mixing bowl. Add the dates, walnuts, minced garlic and walnut oil and stir to combine. Season to taste with salt and pepper.
Top the toasted bread with the date mixture, then sprinkle with pomegranate seeds and rocket to serve.
California Walnut Falafel Buddha Bowl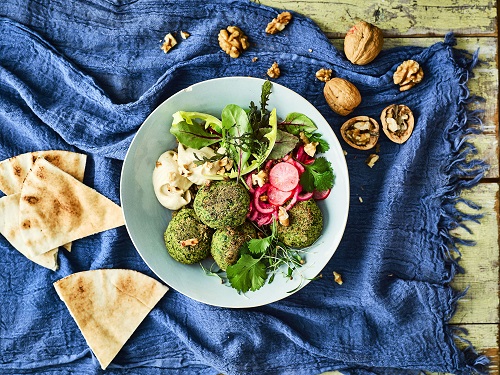 This bowl of goodness will please any palate! Whip up this plant-based feast with nutty falafels, radishes, hummus and quinoa for a lunch time treat.
Preparation time: 30 mins
Serves: 2
You'll need:
For the quick pickled radishes:
1 small red onion
6 radishes
1 lime
50ml rice vinegar
For the falafel:
1 400g tin of chick peas, drained
1 clove of garlic
1 tbsp ground cumin
80g California walnuts, toasted (plus a few extra halves to garnish)
Medium bunch of coriander (reserving a few leaves for garnish)
1 tbsp olive oil
1 pouch of pre-cooked quinoa
2 tsp olive oil
4 tbsp hummus
2 handfuls of green salad leaves
1 piece of flatbread, toasted
Method
To make the radish and onion pickle, peel and finely slice the red onion and thinly slice the radishes. Place into a small bowl.
Zest and juice the lime and add to the bowl along with rice vinegar. Put to one side whilst you prepare the remaining ingredients.
Place the chickpeas, garlic, cumin, walnuts and coriander into a food processor and blitz until the mixture comes together.
Roll into 8 evenly sized balls and flatten each ball slightly. Add the olive oil to a non-stick frying pan over a medium heat and fry on both sides until golden brown.
Heat the quinoa as per the packet instructions. Split between two large bowls and drizzle each with olive oil, stirring through to combine.
Top each bowl with the falafel, hummus, pickled radish and salad leaves. Sprinkle each bowl with the reserved walnuts and remaining coriander leaves and serve with warm flatbread.
California Walnut, Fig and Berry Chia Pot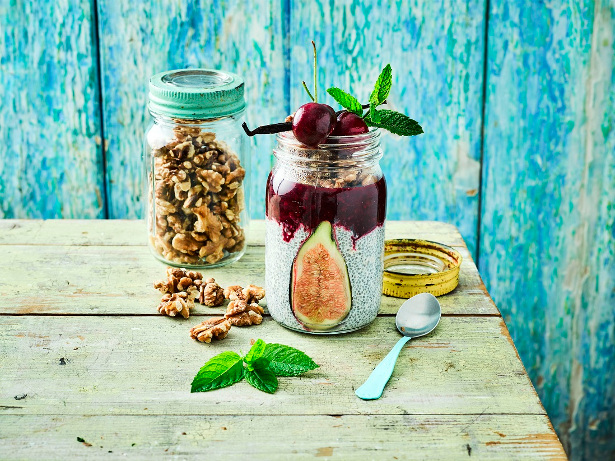 This creamy chia pudding combines the autumnal flavours of fig, walnuts and berries for a beautiful breakfast that will set you up for the day ahead. Prep the night before for a quick and easy brekkie option.
Prep time: 20 mins (plus 1 hour for chilling)
Serves: 1
You'll need:
1 vanilla pod
25g California walnuts, toasted and chopped
3 tbsp chia seeds
2 tbsp Greek yoghurt
1 tbsp maple syrup
120ml milk (of your choice)
1 fresh fig
100g frozen mixed berries, defrosted
4 California walnut halves, toasted
2 cherries
A sprig of mint
Method
Split the vanilla pod in half with a sharp knife and scrape out the seeds, then mix together the vanilla seeds, chopped walnuts, chia seeds, yoghurt, maple syrup and milk. Leave aside for 15 minutes to allow the chia seeds to swell.
Cut the fig in half. Spoon a layer of the chia seed mixture into the bottom of a jar, then place the fig halves in the jar, pressing the cut faces up against the edges of the glass.
Spoon in the remaining chia mixture and place in the fridge for at least 1 hour or overnight.
Place the berries into a small saucepan over a medium heat and add a splash of water to loosen the mixture.
Heat through, breaking the berries down a little with the back of a spoon to form a jam-like consistency.
Spoon the berries into the jar on top of the chia mixture. Decorate with the cherries, mint and walnut halves to serve.
Cauli-rice and California Walnut Crusted Egg Buddha Bowl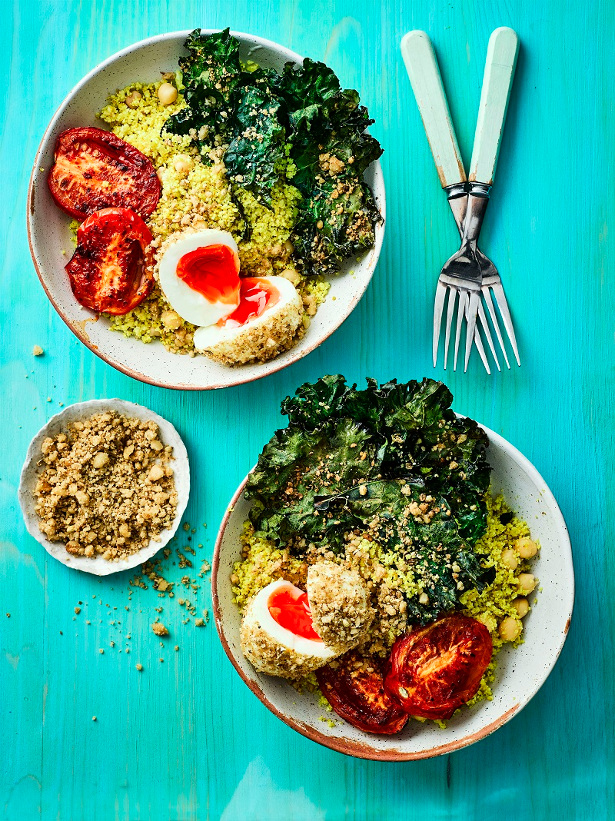 Looking for a low carb option? We've got you covered. With spicy cauli-rice, warming harissa tomatoes, a walnut encrusted egg and crispy kale, this buddha bowl is packed with nutrients – and flavour!
Preparation time: 45 mins
Serves: 2
You'll need:
For the cauli-rice:
1 large cauliflower
1 tbsp olive oil
1 tsp turmeric
1 tsp cumin
A pinch of salt and pepper
1 x 210g tin of chickpeas
For the tomatoes:
2 tsp harissa
1 tbsp extra virgin olive oil
2 plum tomatoes
For the eggs:
1 tsp cumin seeds
1 tsp sesame seeds
1 tsp coriander seeds
50g California walnuts, roughly chopped
2 eggs
50g kale leaves
2 tsp olive oil
Method
Preheat the oven to 180°
Prepare the cauliflower by removing the outer green leaves and discarding. Break into florets, place in a food processor and whizz in batches until coarse.
Empty the cauli-rice into a mixing bowl, then add the olive oil, cumin, turmeric and salt and pepper and mix well.
Mix the harissa with the extra virgin olive oil. Cut the tomatoes in half and toss in the harissa oil, then place into a small roasting dish.
Next, toast the spices in a dry frying pan until fragrant. Place into a pestle and mortar with the walnuts and grind to medium/fine texture.
Prepare the kale by removing any woody stems. Massage 2 tsp of olive oil into the leaves, making sure they all get an even coating, then sprinkle with 2 tsp of the walnut spice mixture.
Tip the cauli-rice out onto two baking trays lined with parchment and roast in the oven for 12 minutes.
Roast the tomatoes for 15 minutes.
Lay the seasoned kale out on a flat tray lined with parchment and roast for 15-20 minutes.
Boil the eggs for 5 minutes (or a little longer if you like the yolk to be cooked through).
Mix the chickpeas into the cauli-rice and spoon into two large bowls, then top with the kale and roasted tomatoes.
Peel the eggs and roll into the walnut spice mix, then place on top to serve.
Beetroot and California Walnut Cupcakes with Cream Cheese Frosting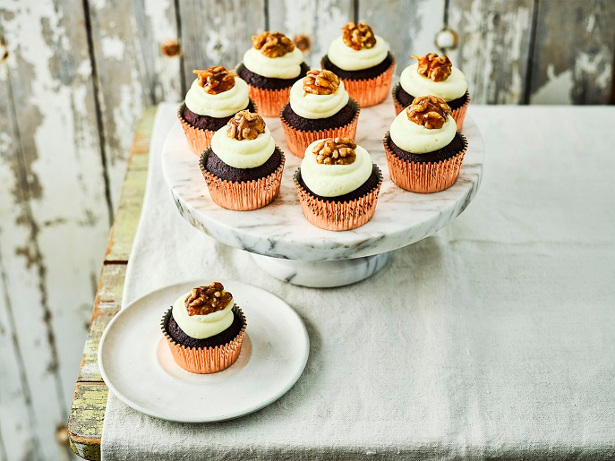 These tasty treats are nutty, moist and oh so creamy! Try after dinner when you fancy a little something sweet, or pop one in your lunchbox to improve your day no end.
Preparation time: 25 mins
Serves: 12
You'll need:  
12 cupcake cases 
For the cupcakes:
170g vacuum-packed cooked beetroot
2 eggs
140ml walnut oil
1 tsp vanilla essence
170g plain flour
1½ tsp baking powder
3 tbsp cocoa powder
Pinch of salt
70g soft brown sugar
100g golden caster sugar
3 tbsp chopped California walnuts
For the caramelised California walnuts:
60g white caster sugar
1 ½ tbsp liquid glucose
12 California walnut halves
For the frosting:
125g butter
125g cream cheese
Splash of milk
250g icing sugar
Method
Preheat the oven to 180°
Place the beetroot, eggs, walnut oil and vanilla essence into a blender and blitz until smooth.
Sift together the flour, baking powder, cocoa powder, salt, brown sugar and golden caster sugar into a large bowl.
Mix the wet ingredients into the dry with an electric hand whisk until fully combined. Stir the California walnuts into the batter.
Line a 12-hole muffin tray with cupcake cases and divide the cake batter equally. Bake in the oven for 15-20 minutes or until risen and cooked through, then leave aside to cool.
Place the white caster sugar and liquid glucose into a small pan over a medium heat, swirling the pan from time to time until the sugar liquefies and turns a lovely golden caramel colour.
Carefully dip the California walnut halves into the caramel, removing them individually with a spoon, and placing them on a sheet of baking parchment making sure they are separated. Leave aside to cool down.
To make the frosting, place the butter into a large mixing bowl and whisk with an electric whisk until white and fluffy. Add the icing sugar, cream cheese and milk and whisk until just combined.
Fit a piping bag with a large open nozzle and pipe a circle of icing on the top of each cupcake. Top with a caramel-coated California walnut to serve.
Personalised Christmas & Rugby Cakes > www.bakerdays.com & they are delicious!!!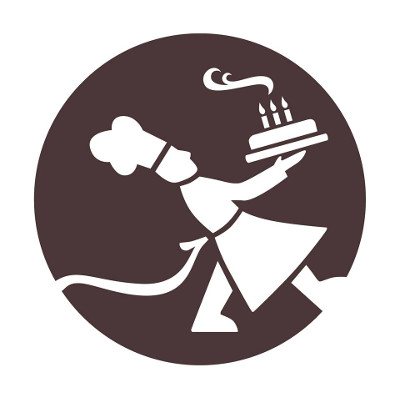 FACEBOOK | TWITTER | GOOGLE+ | PINTEREST | INSTAGRAM | SNAPCHAT
bakerdays  specialise in personalised cakes and cupcakes for every occasion.
The Letterbox cake is a special little cake that can be posted through the door, creating the perfect surprise gift for those close by or far away. Sent in a gift tin to keep your cake in perfect condition, it will stay fresh for up to two weeks upon arrival. With thousands of fully personalisable designs to choose from, it is the perfect gift for all of life's special moments.
Prices start at £14.99.
Next Day Delivery Available when ordered before 2pm
Christmas Cakes
If you're looking for the perfect Christmas Gift or a deliciously festive centre piece to your Christmas celebrations, we have just the thing! We have a great range of Christmas and Seasonal cakes for you to choose from in a variety of scrummy recipes!
For Christmas see the full range at :- www.bakerdays.com/products/personalised-cakes/christmas-cakes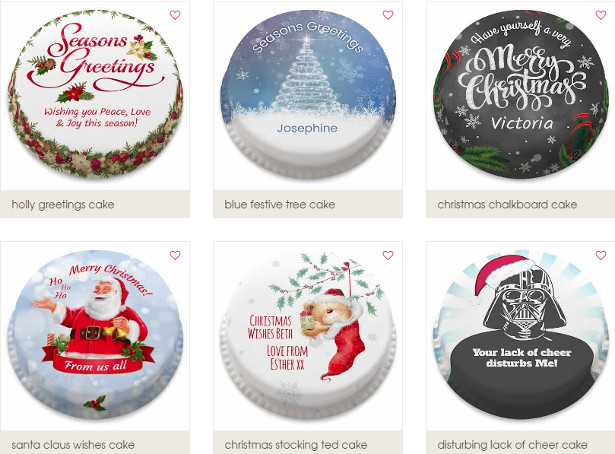 Rugby Birthday Cakes
Scrum-my cakes for the whole team! Our delicious recipes and great range of sizes means there is a cake for everyone! Just personalise the text and photo on any of rugby cakes to make a unique and special gift or party centre piece for the birthday boy or girl!
& for personalised rugby designs see :- www.bakerdays.com/products/personalised-cakes/birthday-cakes/rugby-cakes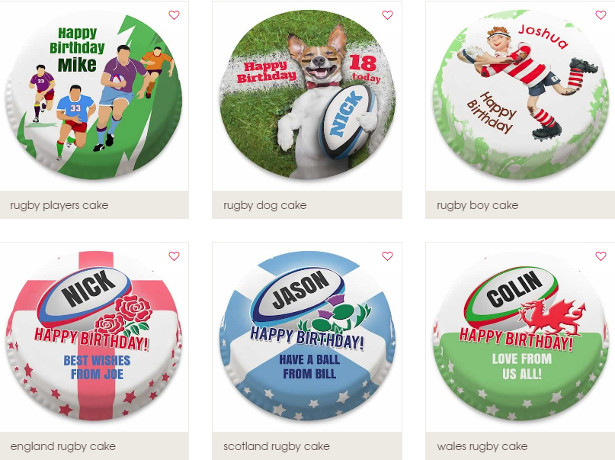 For those who take care of their health and fitness Clif Bar…. stocking filler! www.clifbar.co.uk

Committed to creating delicious, healthy food made in a way that respects and protects the places where people live, work and play; we use organic ingredients in all of our products. In addition to using only the highest quality ingredients available, we do not use artificial colours, flavours, sweeteners, preservatives or ingredients sourced from genetically-modified organisms.
On a journey towards sustainability, we work diligently to reduce our environmental footprint in all areas of the business from the field to the final product. We are guided by five equally-weighted bottom lines to sustain our people, brands, business, community and planet.